Make Thanksgiving a little easier this year with this holiday stuffed turkey breast! Don't forget to enter our holiday giveaway below to win a blue Rachel Ray cookware set this season!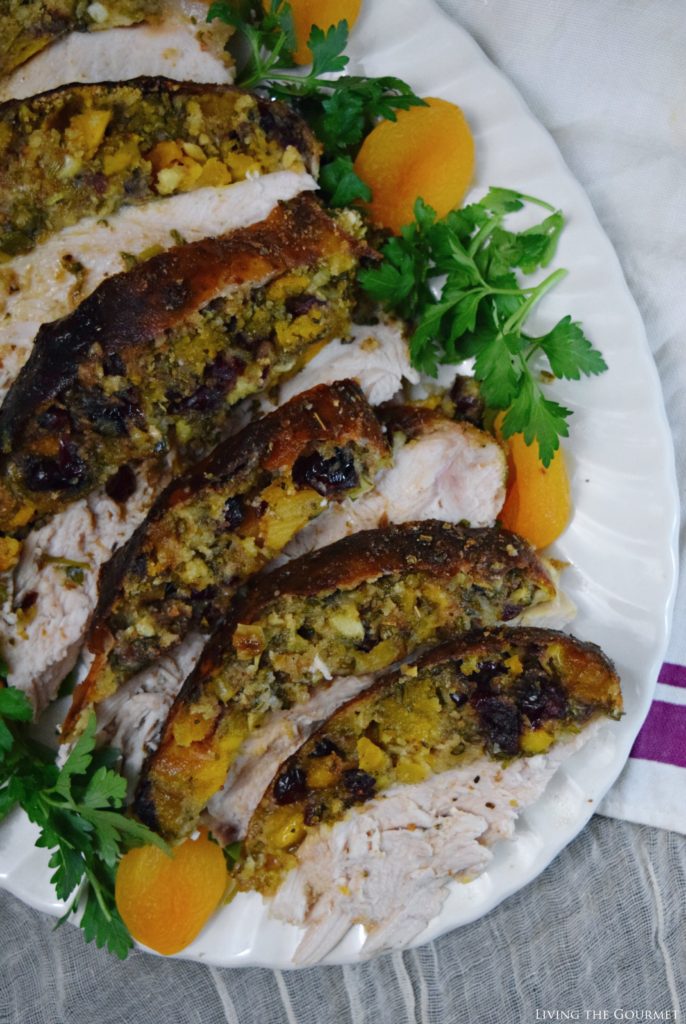 Almost by its very nature, the holiday season simply insists that we the focus on the 'big things.' The 'big days,' the intentional memory-making, the long lists of guests and the pressure to 'impress' them, and of course the attempts to uphold family tradition while at the same time trying leave one's own mark. There are shopping lists to be filled, menus to be planned, and a seemingly endless array of 'busy work' to be done all in preparation for these 'big' holidays.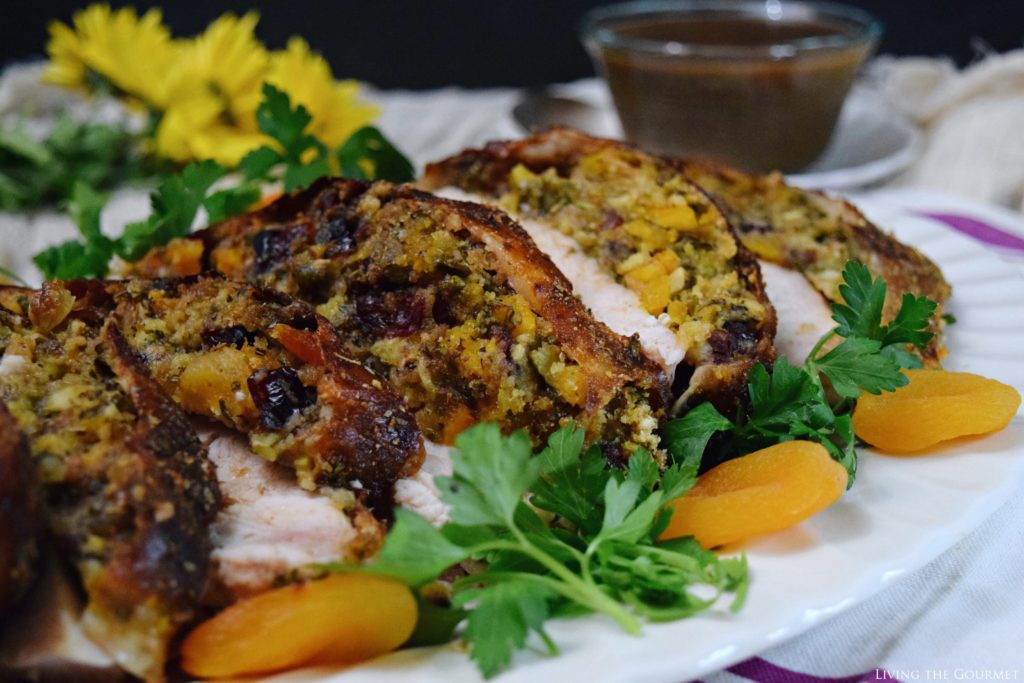 With Thanksgiving nearly here, the focus of course is 'fussing' about turkey, plotting out ways to best prepare it, and how to plan the rest of evening's menu around the stuffed fowl. Despite this, there's precious little 'eating' of turkey throughout the season or in all of this lead up. One meal does not make a season, after all. But, of course, few of us ever consider this tiny bit of irony, and it's hardly any wonder why. With this year's bout of intentional memory-making crowding both our minds and our schedules, focusing one's attention on the smaller and perhaps more pleasant details seems almost anathema to the increasingly hectic spirit of the season.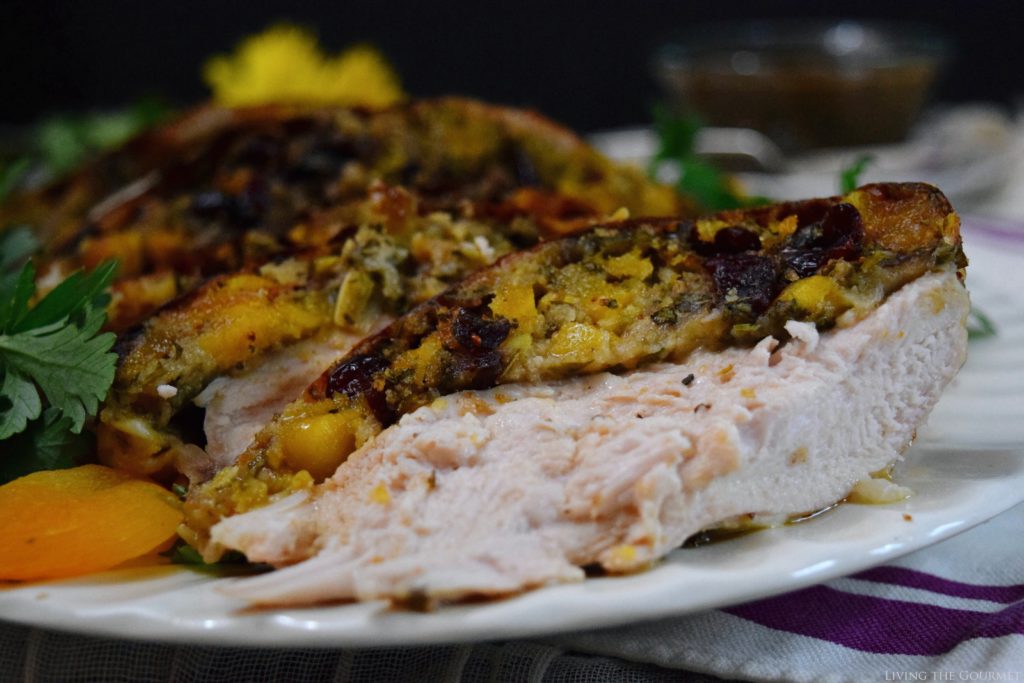 Yet, it is the 'moments for self' and the 'little things' that truly accentuate not just the season, not merely our memory-making, intentional or otherwise, but which highlights our very humanity. Think for a moment how often a stray turn of phrase, an aroma, or the lyric from a song, otherwise seemingly innocuous details, provide the spark for a memory. For this reason, I like to pepper the lead up to Thanksgiving with a few turkey dinners for myself and my kids, both for the memories, and for the much loved seasonal flavors.
Which brings us to today's recipe – Stuffed Split-Turkey Breast with a Honeyed Fruit Stuffing. Simply put, this is a sort of a "Thanksgiving Preview."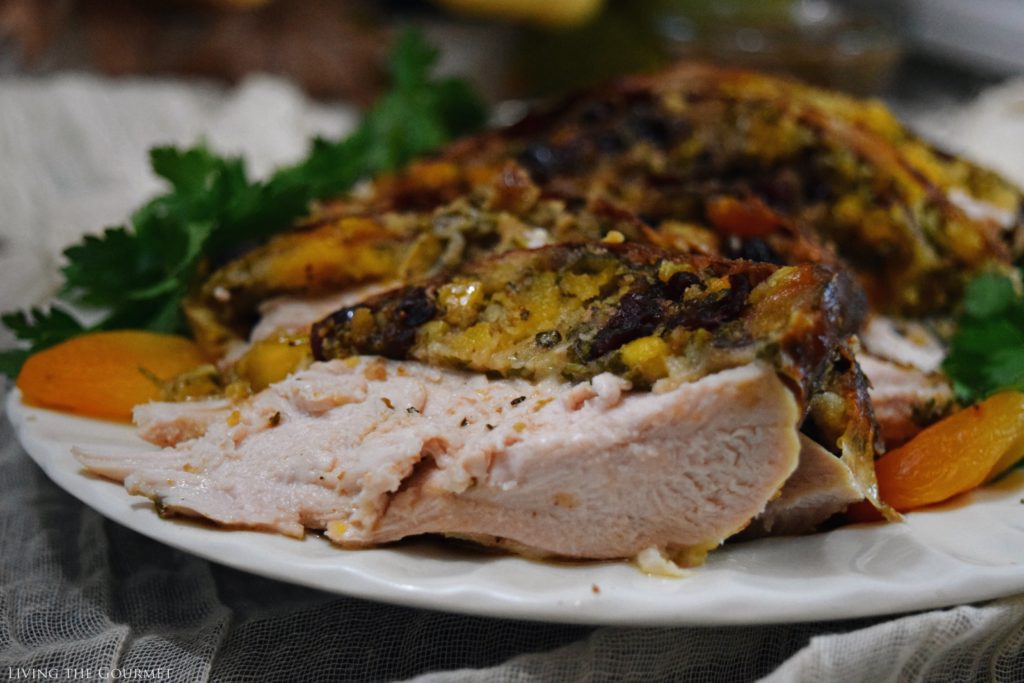 To start, we rub down the turkey breast with the herb and spice mixture outlined below, and message that into the turkey, being careful not to 'displace' or 'detach' the skin. After that, we prepare the stuffing using a base of chopped dried apricots and chopped dried cherries, which we enhance with fresh lemon juice, honey, and garlic. After combining that with the rest of the ingredients outlined below, we stuff this generously under the skin as described below.
Print
Stuffed Turkey Breast
Author:
Prep Time:

10 minutes

Cook Time:

1 hour 20 minutes

Total Time:

1 hour 30 minutes

Yield:

4

1

x
Category:

Main Dish
3

lb

. split turkey breast
For the Turkey Rub:
1/2 tsp

. ground cumin

1/2 tsp

. ground coriander

1/2 tsp

. dried oregano
Dash of ground nutmeg

1/4 tsp

. salt

1/4 tsp

. black pepper

2

tbs. olive oil
For the Stuffing:
2

stalks of celery - chopped

3

cloves of fresh garlic - chopped

1/4

cup

of fresh Italian Parsley - chopped

1/4

cup

of fresh cilantro - chopped

1/4

cup

of chopped dried apricots

1/4

cup

of chopped dried cherries

1/2

cup

of plain bread crumbs

3

tbs. fresh lemon juice

1/4

cup

of honey

1/2 tsp

. salt

1/2 tsp

. black pepper
Instructions
For the Turkey Rub:
Combine all of the ingredients for the rub in a small bowl and mix.
Gently message the turkey breast with the rub.
For the Stuffing:
Gently lift the skin of the turkey breast and gently push the stuffing mixture under the skin.
Preheat Oven 325 degrees F.
Place the prepared turkey breast in a baking dish.
Bake for 1 ¼ hours or until the meat thermometer reads 175 – 180 degrees F.
Let the turkey rest for 12 – 15 minutes before carving.
Recipe Card powered by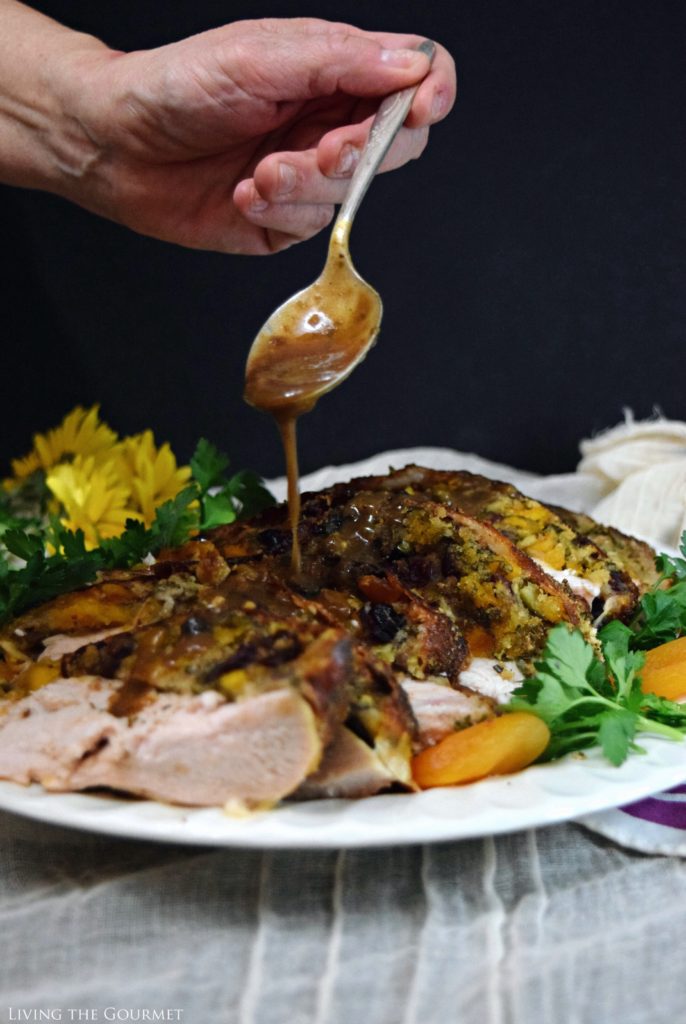 Next, I like to put together a quick from-scratch gravy, and usually pair the turkey breast either with roast potato wedges or baked sweat potatoes. Of course, you can do all of this in style, from start to finish, with a premier Rachel Ray cookware set by entering this giveaway.
What are some of the ways you keep yourself focused on what's important this holiday season? Or what are some of your favorite seasonal recipes? We would love to hear from you.
Enjoy the Love!
0