There is nothing quite as comforting as chicken soup on a brisk evening. I've added roasted fall vegetables to this classic and served it alongside thin bread crisps for the a delicious, hearty meal.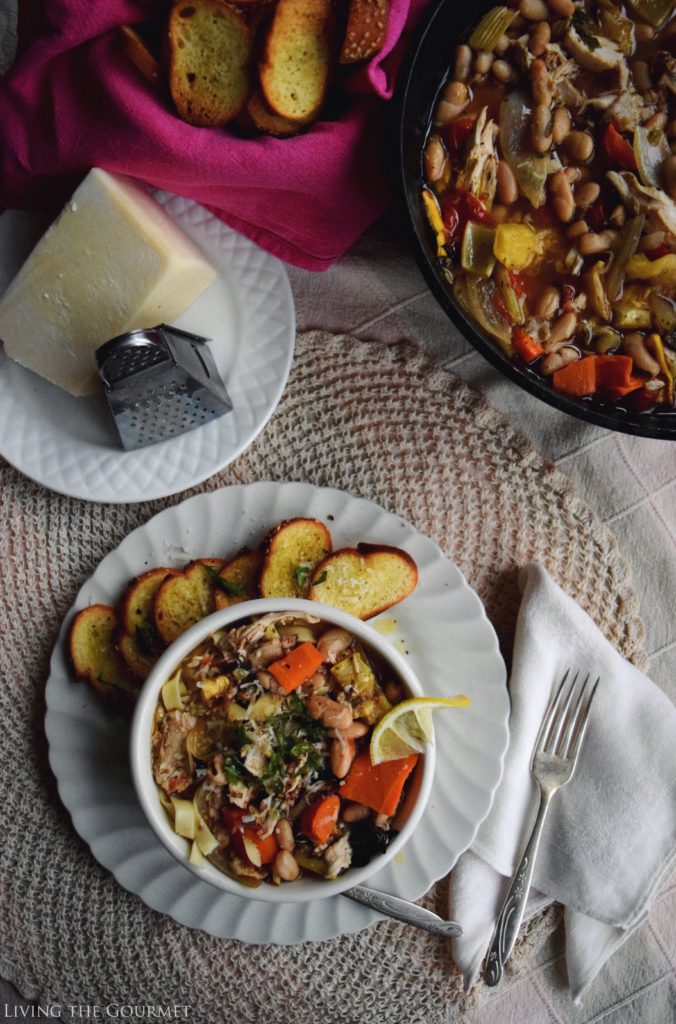 Through the voice and explorations of the lighthouse keeper Elton, Lovecraft spoke of 'Xura,' a place of 'unattained pleasures.' Beyond that land, past the basalt pillars of the west, Elton hoped to explore Cathuria, a fabled realm of Hope, where he believed the gods dwelt in unending happiness and splendor. Yet, spurred on by vanity, once passed the basalt pillars of the west, Elton lost control of his ship as the sea began rushing ever westward, and was swept off the edge of the world, having been forsaken in his vanity by the same gods he had arrogantly hoped to join.
The connection between these two places is obvious. Hope, unattained, begets sorrow, adding yet another 'unattained pleasure' to the treasure troves of Xura. In Elton, we see a classic dreamscape roughly outlining the course of human consciousness. However, just as Plato was fond of prying unintended lessons from the words of those with whom he conversed, there is perhaps a lesson in the tale of Elton and his White Ship, that was perhaps unintended by the author himself. Taking for granted the voyage of our life, it is easy to bypass pleasures and ambitions, both large and small, if our gaze is set forward past the veil of our uncertain future. Just as Elton would have been wisely advised to stay within the land Sona-Nyl, so too are we advised to partake of life's joys, both large and small, when they present themselves.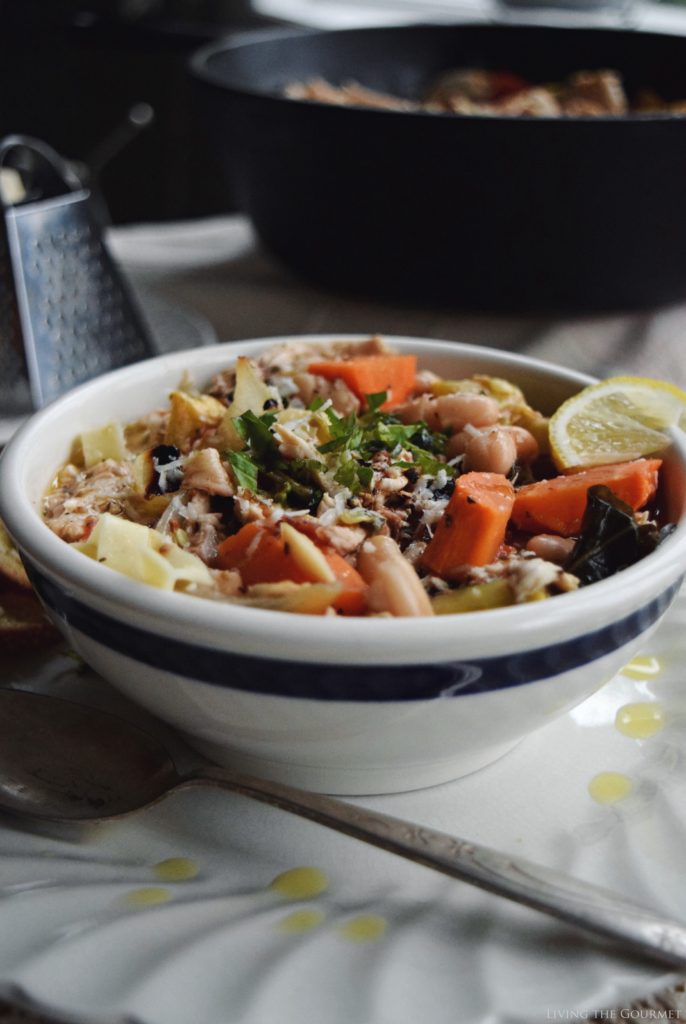 This is, largely, one of the key ideas behind the perennial culinary subject of 'saving time,' and 'easy tricks' for fitting home cooked meals and fresh ingredients into our rushed modern lives. A good meal, a bit of respite, and a moment to take that proverbial 'breath,' are not only supremely healthful and thoroughly enjoyable, but they help remind oneself of one's own humanity. As Emperor Nero remarked of the Domus Aurea, his notorious gilded palace, "Finally, a dwelling worthy of a human being," so too should we set aside moments 'worthy of our humanity.'
I found myself relating to this very subject late yesterday afternoon. The previous night I was bound by the invisible chains of responsibility to my keyboard, and was kept there well past the indecent hours of the early morning, which was followed by the less-than-pleasant sleep that one invariably finds at that hour. Needless to say, the busy day that followed did little for the situation. After finishing the day's work, I found myself seated in my favorite antique chair beside my bay window. Accompanied by an oversized book and a cup of tea, it was a moment worth savoring. An hour later, and I had barely turned a page, having instead let my mind wander like a specter up and down the tired river that crisscrosses the New English scenery of the small bit of world beyond the window.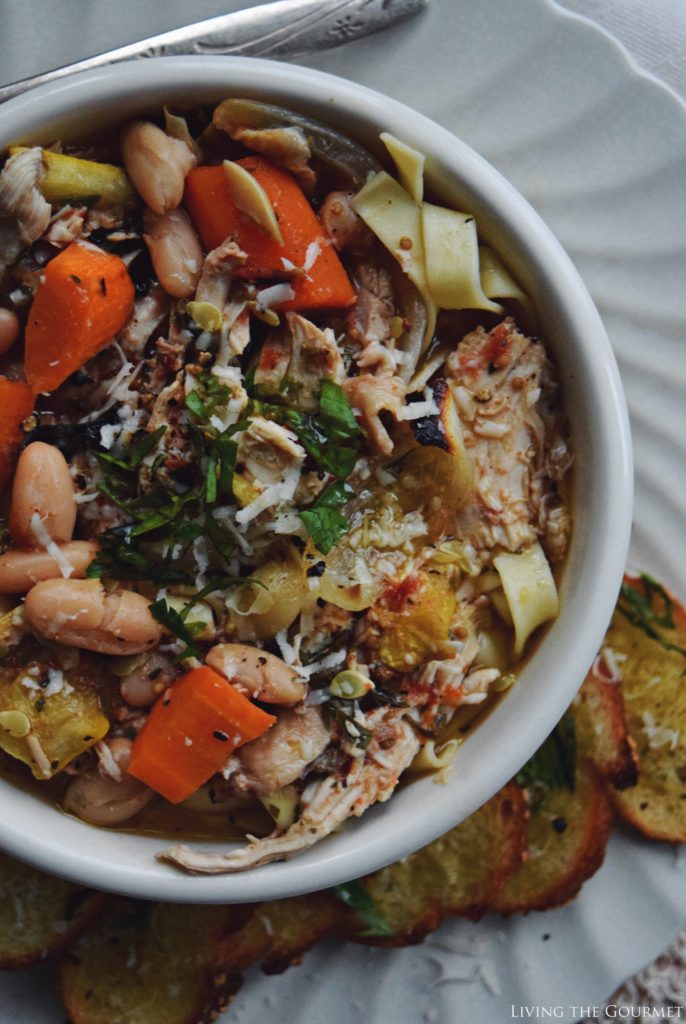 In that mildly sentimental moment, I was tempted to end the day with a 'quick bite,' and turn in for the rest I so needed. However, I couldn't help thinking about what would pair absolutely perfectly with that moment beside the window with my book and my tea. Would I let this simple pleasure be unattained? Of course not.
I thought of the usual classics in such situations. Pasta topped with garlic, olive oil, and blistered tomatoes, or perhaps a chef's omelet. Yet, I wanted something slightly 'warmer,' something more apropos for the onset of autumn.
I also wanted something that would allow me to have copious amounts of leftovers for the next few days which would, assuredly, be just as busy. Save time, and have something delicious. A simply unbeatable combination.
Of course, Chicken Noodle Soup was the answer to the quandary, with just a few signature LTG tweaks.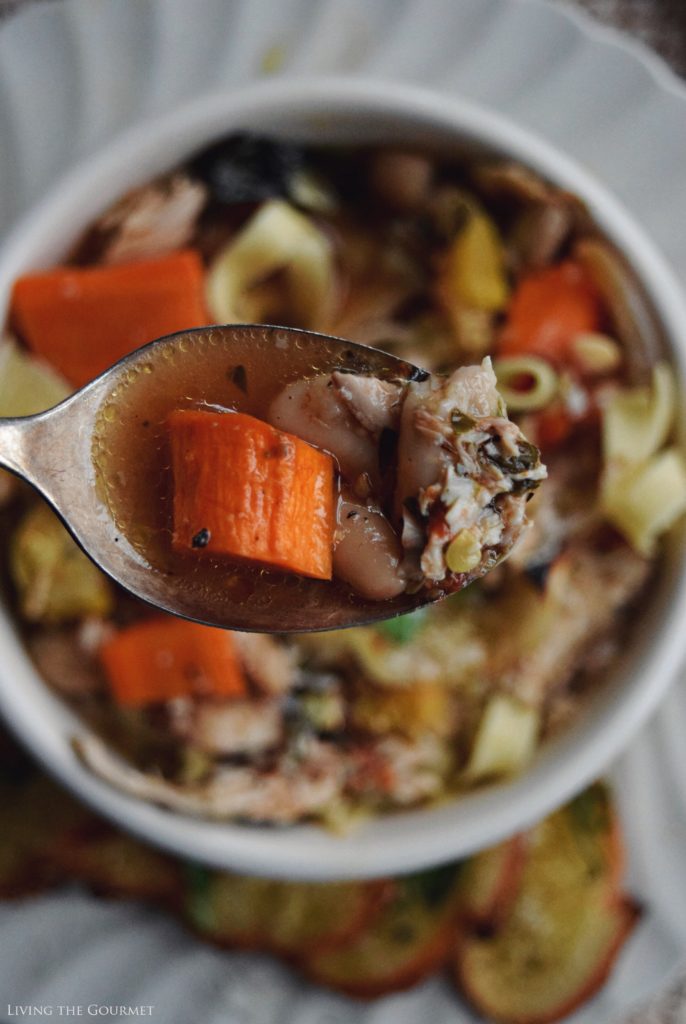 To start, I prepared a butter rub as shown below, and applied that to the chicken. I then marinated an assortment of autumn vegetables in olive oil, lemon juice, salt, pepper, and dried oregano, and baked the vegetables on a baking sheet. Meanwhile, I roasted the chicken in a sauce pot. After this was done, I removed the chicken from the pot, and then added in the chopped vegetables, water, and seasonings and let this simmer to create a delicious broth. Meanwhile, I shredded the chicken, then added that to the pot with cannelloni beans. Once all of that's done, it's time for the noodles. That said, you can use whatever your favorite noodles are, though I do prefer something hardy and substantial for this soup.
Once that's finished, serve the soup over the noodles, garnish with fresh basil and parsley, top it with a drizzle of olive oil, a squeeze of lemon, and some parmesan, and you're done.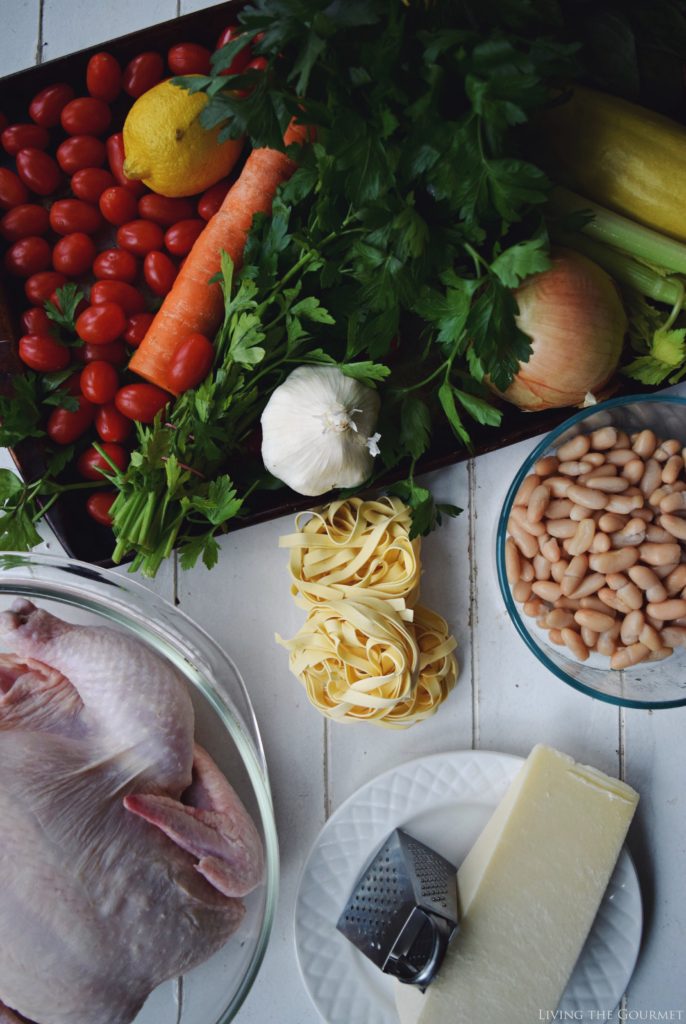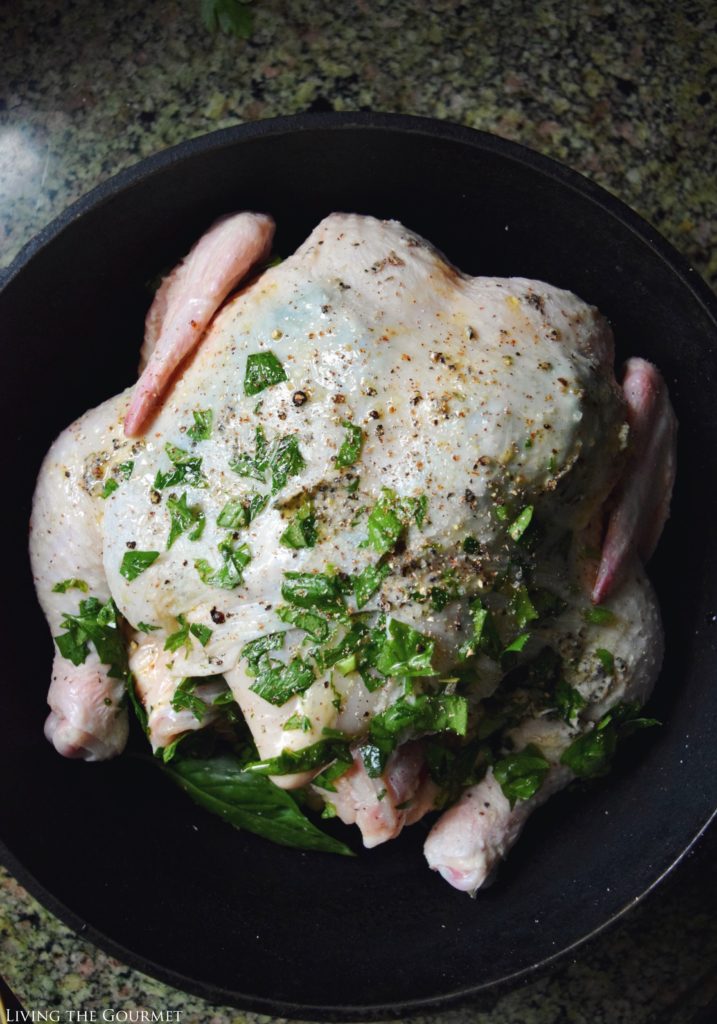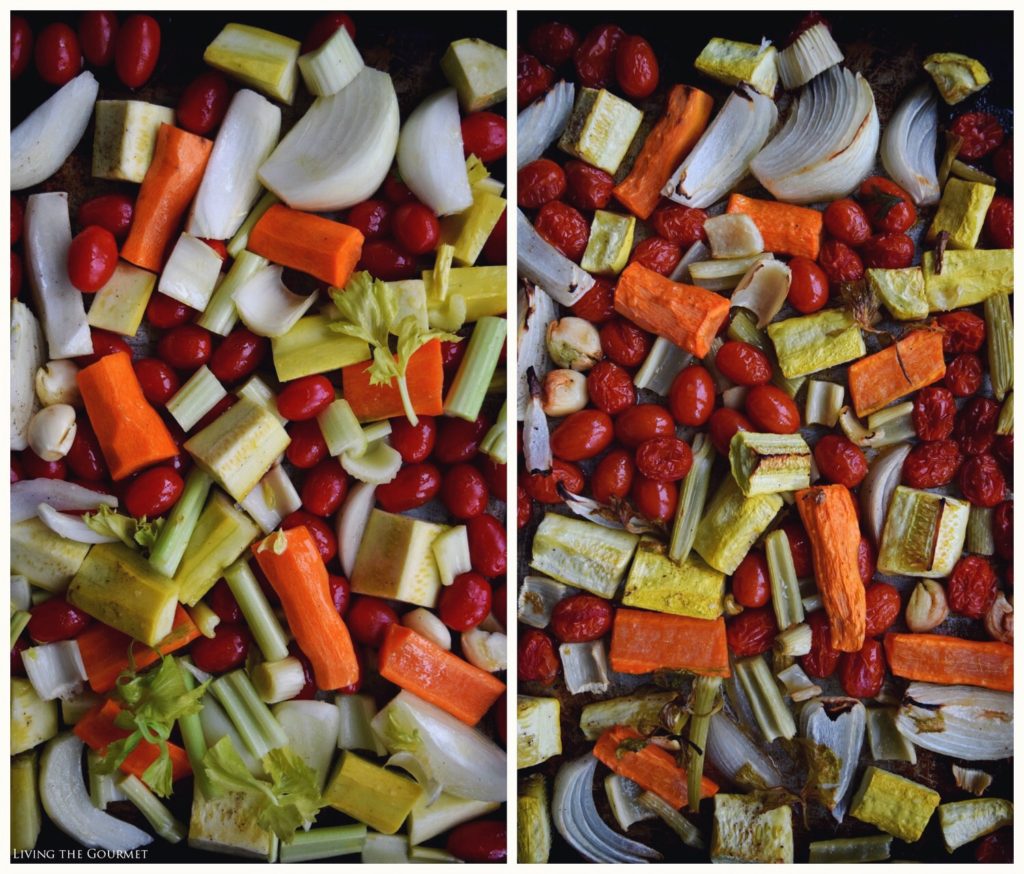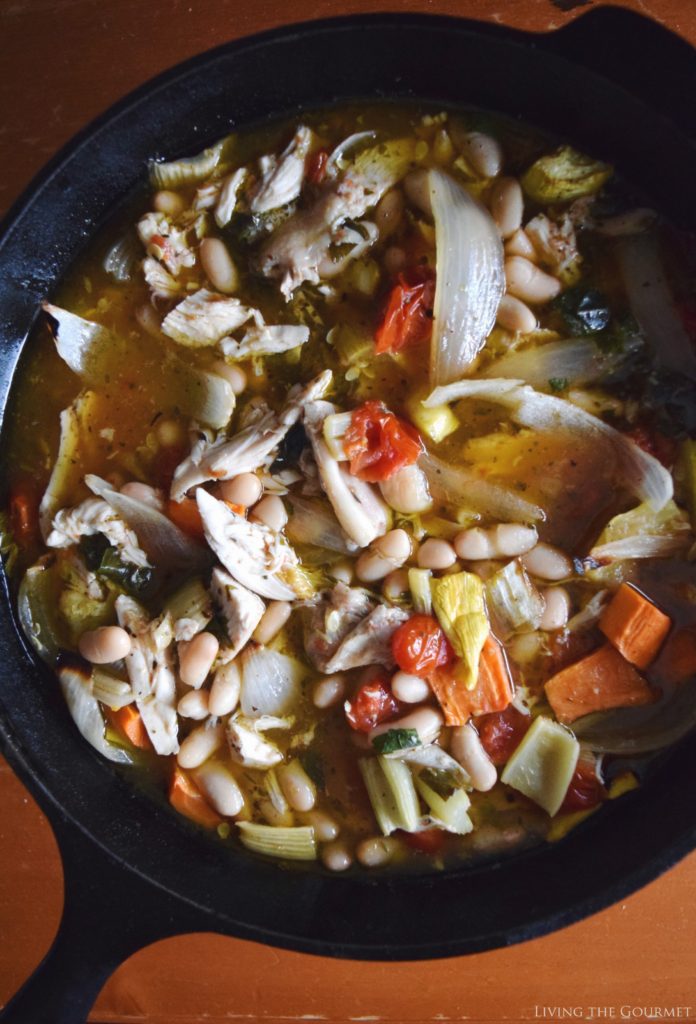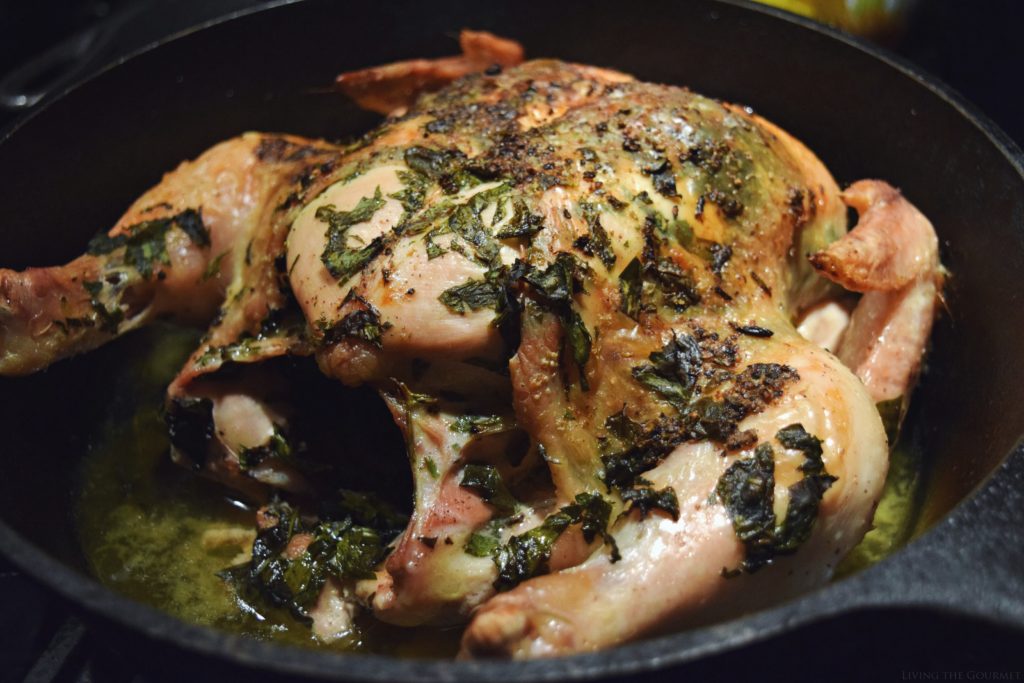 Print
Roasted Veggie and Chicken Soup
Author:
Prep Time:

15 minutes

Cook Time:

1 hour 30 minutes

Total Time:

1 hour 45 minutes

Yield:

4

-6

1

x
Category:

Soup
3

lb

. chicken – whole

15.5 oz

. can of cannenellini beans – drained and rinsed

1

lb

. of your favorite noodles
Romano or Parmesan cheese for grating
For the Rub (under the chicken skin):
10

fresh basil leaves – chopped

1/4

cup

fresh Italian parsley – chopped

3

tbs. olive oil

1/4 tsp

. salt

1/4 tsp

. black pepper

1/4 tsp

. dried oregano
Fresh ground nutmeg
Butter Rub for the Chicken:
4

tbs. butter – softened

1/4 tsp

. salt

1/4 tsp

. black pepper

1/4 tsp

. dried oregano
Fresh ground nutmeg
Roasted Veggies for the Soup:
2

large carrots – cleaned and cut into

four

ths

1

large sweet onion – sliced

1

yellow squash – peeled and quartered

4

celery stalks – cut into

four

ths

4

–

5

cloves of garlic – in the skin

1

pint

grape tomatoes
Marinade for the Veggies:
Juice of

1/2

lemon

4

tbs. olive oil

1/4 tsp

. salt

1/2 tsp

. black pepper

1/2 tsp

. dried oregano
Instructions
For the Roasted Chicken & rub under the skin:
Combine the chopped parsley, basil, olive oil, salt, pepper, dried oregano, and few gratings of fresh nutmeg together in a small bowl and mix.
Gently lift the chicken skin and stuff the mixture under the skin.
Butter Rub for the Chicken:
In a small bowl combine the softened butter, salt, pepper, dried oregano and a few gratings of fresh nutmeg and rub all over the chicken.
Place the chicken in a heavy sauce pot; preferably cast iron and add a cup of water to the bottom of the pot.
Roast the chicken at 400 degrees for approximately 1 ½ to 1 ¾ hours or until the juices run clear and the skin is a beautiful golden color.
For the Roasted Veggies & Soup:
Preheat Oven 400 degrees:
Combine all of the ingredients for the marinade; add the veggies and toss until the veggies are coated. Place the veggies on a baking sheet.
Bake 25 – 30 minutes until a slight char is achieved.
When chicken is cooked remove from the pot for carving; leaving the broth at the bottom. This is the base for the soup.
Pinch the garlic from its skin and place with the roasted veggies in the broth at the bottom of the pot and add 3 cups of water to the pot.
Add ½ tsp. each of salt, pepper and dried oregano and a little fresh grated nutmeg to the soup.
Carve the chicken; reserving 2 cups of shredded chicken for the soup.
Add the shredded chicken and the cannellini beans and gently simmer the soup for 25 – 30 minutes.
Prepare the noodles as directed and drain.
Prepare each soup bowl with a handful of noodles topped by the chicken soup.
Garnish with chopped fresh basil and parsley a drizzle of olive oil, a gentle squeeze of fresh lemon juice and fresh grated parmesan or Romano cheese and fresh ground black pepper.
Enjoy the soup with fresh crostini.
Recipe Card powered by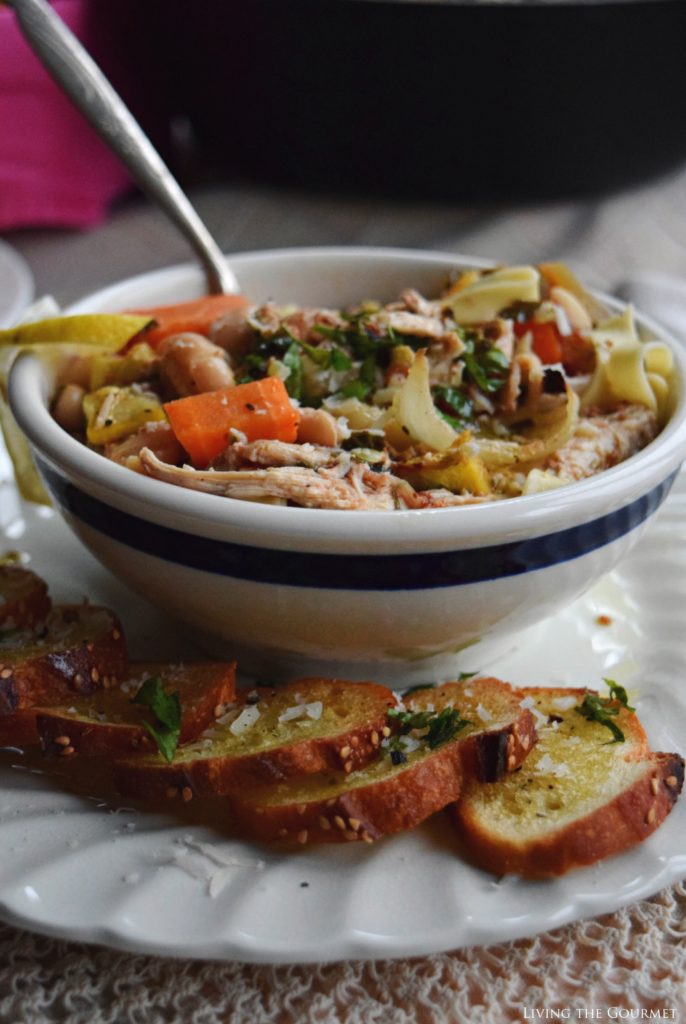 Enjoy with Love!
0