Flakey sheets of filo are baked around fresh salmon filets with an herbed cream cheese spread for an elegant weeknight meal.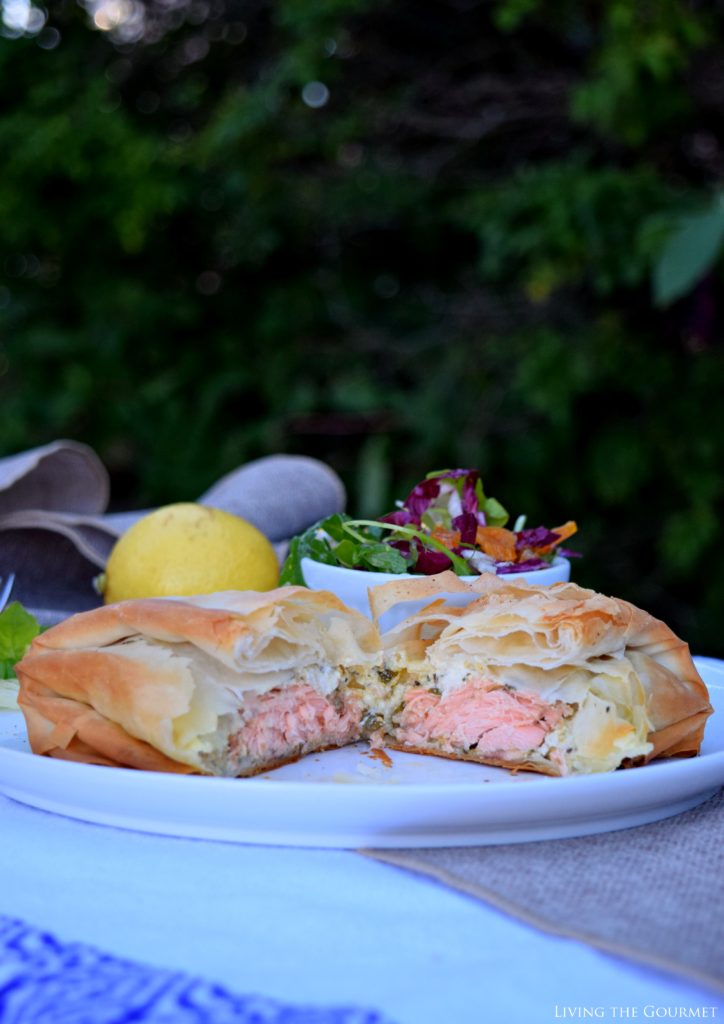 Part of the human condition is to lament the present in favor of an idealized past. Looking back to the ancient Greeks, Plato, through the voice of Socrates, lamented the 'frivolous and obscene youth' of his 'modern' Athens, while heaping praise upon past generations, and upon the Homeric traditions that the youth were forsaking. Millennia after him, St. Augustine, similarly, condemned the decadence of his 'modern' Rome and how the society was decaying around him, while pining for the 'virtuous' empire of a distant and foggy past.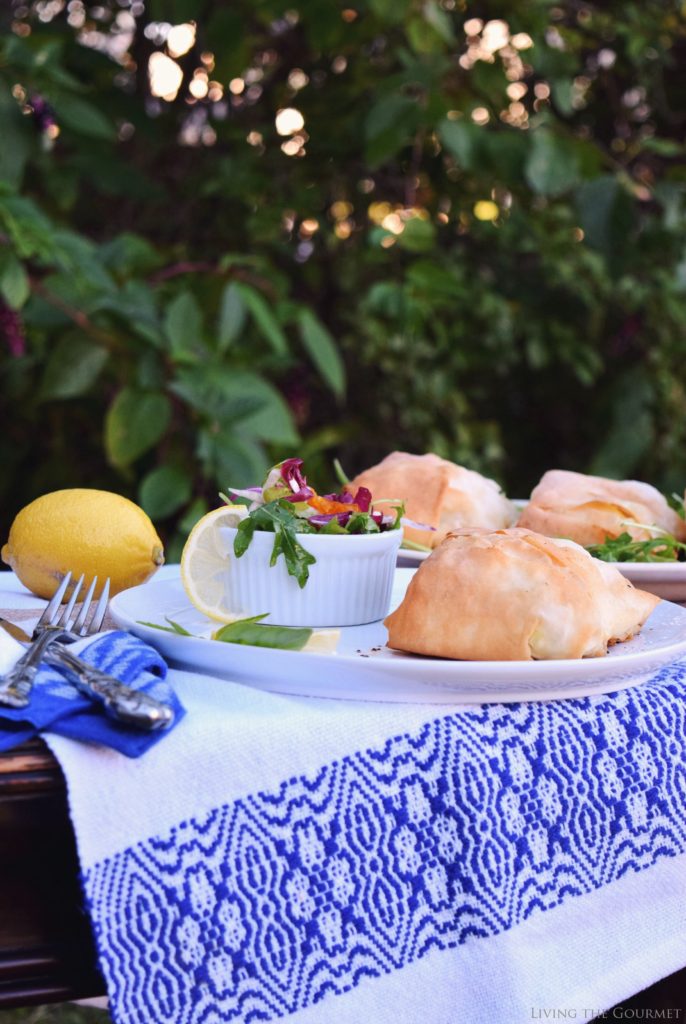 For those of us not lamenting the rise or fall of an empire, or decadent youth bent upon forgetting the traditions of mythical heroism, this 'idealistic past' probably runs more along the lines of classic 'good old days syndrome,' as one of my professors once phrased it. I was reminded of this just the other day during a brief chat I was having with a blogging acquaintance of mine. We both have a penchant for collecting old cooking magazines, and we were comparing some of our recent finds like a pair of 'literary archeologists.' While most of what we compared was largely of a sentimental value, or would have found a ready audience in the faces that once populated the kitchens and dining rooms of our grandparents, it remains true that much of what was once old is in fact being made new again. Tuscan cuisine, little known French wines from once forgotten regions, and tips for saving time proved as valuable in decades past as they do today – albeit a more modern headline would likely read 'Tuscan-Fusion' and 'upcoming Argentine regions.'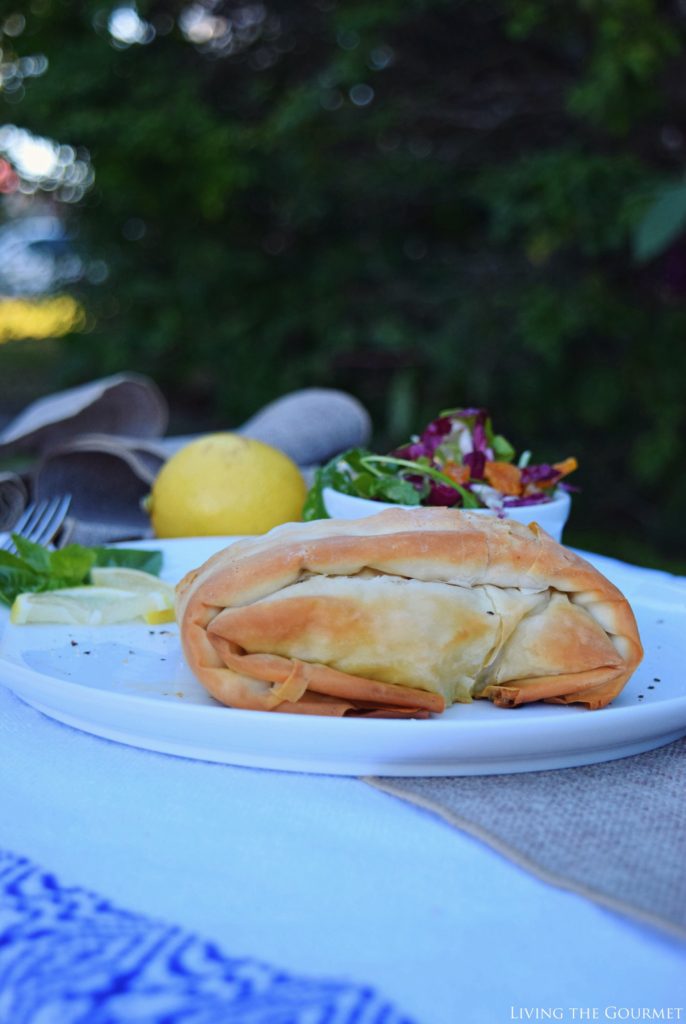 The particulars have changed, but the themes remain identical.
However, this did set me to reminiscing about some of the 'former-favorites' that I would have seen on the Sunday dinner tables of my youth, or the 'homey' recipes that I once prepared for my own kids or for company.
For example, I used to do a lot with filo dough, both in terms of pastries and savory dishes. Spinach pie was a favorite for both of my kids, and was an absolute crowd pleaser for big family get-togethers. Everyone always insisted that it must have taken forever to put together, and without fail someone would be sure to ask for tips on managing those oft-tricky sheets of Hellenic dough.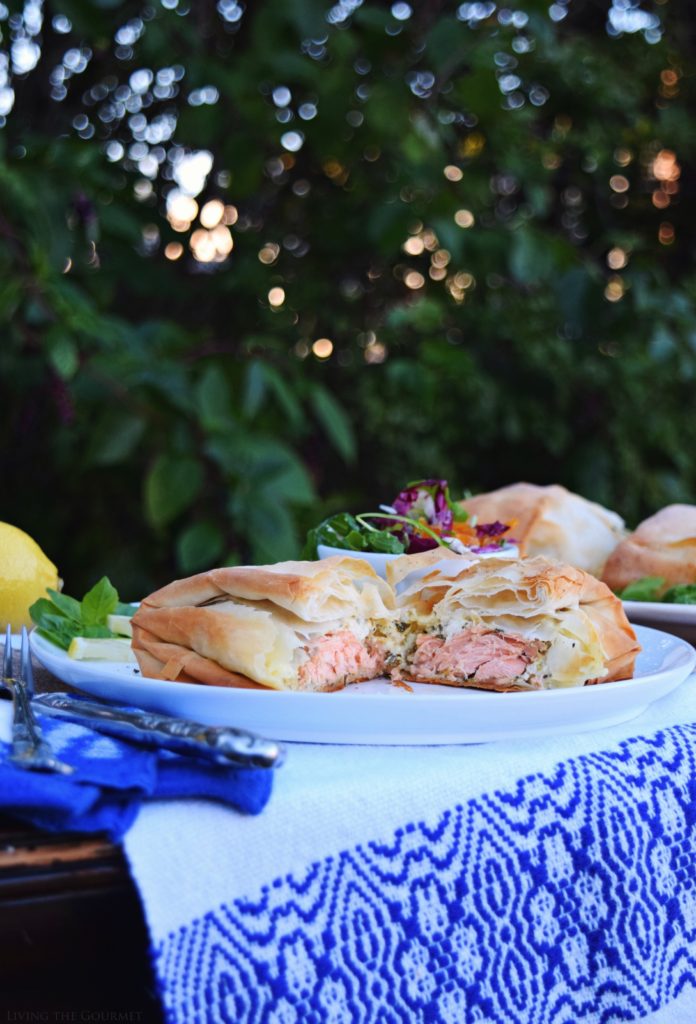 With that lodged in my subconscious, I ended up bringing home a box of filo from my last grocery run. However, despite all of this talk of the old and nostalgia, I wanted to do something a bit different from the 'homey' objects of my reminiscence, and put a more elegant spin on what I would be making with the filo. With my imagination fueled by the old magazines, I found myself trying to imagine the sort of dish that an old time, high-end hotel might serve to its guests, particularly if they were seaside.
And that's where today's recipe comes in – Fresh Salmon Filo Pastries.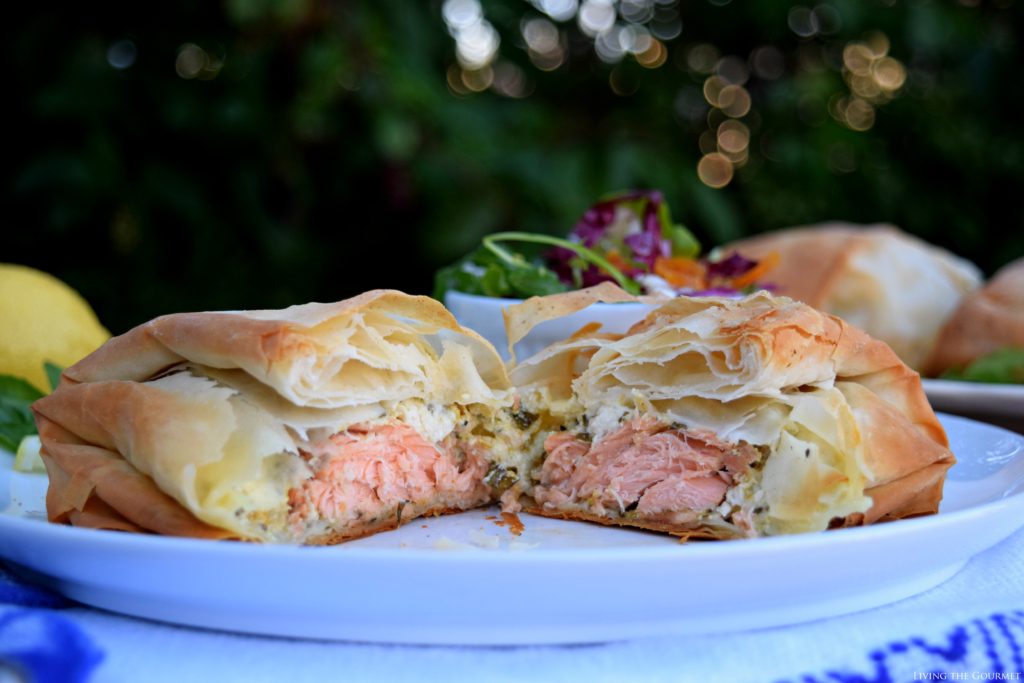 To start, I marinated the salmon in Jamaican curry with ground cumin, pepper, salt, fresh basil, olive oil and garlic, as shown below. I then prepared the cream cheese filling with lemon juice, brown sugar, dried apricots, milk and fresh basil.
Now, once that's done, here comes the slightly tricky part – the filo. You're going to need some melted butter to do this right. To start, lay a sheet out and brush it with butter, then top that sheet with another sheet, and brush that with butter as well. You want to layer down about four sheets of filo, and then set your 4×4 piece of salmon in the center of the layered sheets. Cover the top of the salmon with a layer of the cream cheese filling and then fold the filo over as shown below. Once that's done, bake them, and serve.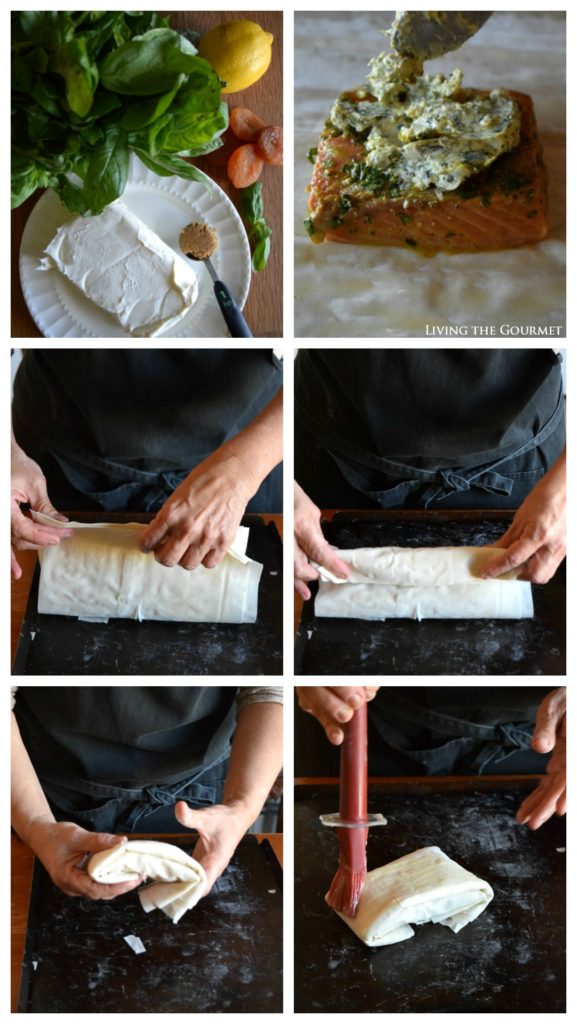 Print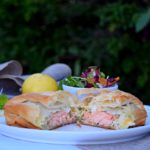 Fresh Salmon Cream Cheese Filo Packages
---
Author:

Total Time:

35 minutes

Yield:

4

-

6

1

x
2

lbs. fresh skinless salmon filets – cut into approximately 4 inches by 4 inch pieces
Filo Dough

¼

lb. butter – 1 stick
For the Marinade:
1 tsp

. Jamaican curry

1 tsp

. ground cumin

½ tsp

. fresh ground black pepper

½ tsp

. ground coarse salt

3 tsp

. brown sugar

8

–

10

fresh basil leaves – chopped

1 tsp

. finely chopped garlic
Juice of

½

lemon

3

tbs. olive oil
For the Cream Cheese Filling:
8

–

10

fresh basil leaves – chopped

6

dried apricots

2 tsp

. brown sugar
Juice of

½

lemon

3

tbs. milk

8 oz

. bar of cream cheese
---
Instructions
For the marinade:
Combine all of the ingredients for the marinade in a large shallow bowl and stir.
Add the salmon filets and gently message with the marinade.
Combine the basil leaves, apricots, brown sugar, lemon juice, milk and cream cheese in a food processor and process.
To Make into the Salmon Packages:
Gently melt the butter in a small frying pan on a low heat.
Lay out one sheet of filo dough and brush with the butter. Top the filo dough with another sheet and brush with butter. Repeat this process two more times until you have buttered four sheets of filo dough.
Place a 4 x 4 inch piece of salmon in the middle and top it with the cream cheese mixture.
Roll up the salmon in the filo dough to make a neat packet and brush the top and sides with butter.
Preheat Oven 400 degrees F.
Place the packages on a baking sheet.
Bake for 20 minutes or until the packages are a beautiful golden color and the salmon flakes.
Prep Time:

15 minutes

Cook Time:

20 minutes

Category:

Main Dish
Recipe Card powered by
That said, I was very pleased with the final product, a crisp filo enveloping a moist herbed cream cheese center, in turn veiling a savory salmon center. These are absolutely perfect for company, whether formal or relaxed, or 'just because' on a cozy Sunday night.
Enjoy with Love!
0