This decadent dessert is a chocolate lover's dream come true! Soft cake on top and creamy chocolate espresso pudding on the bottom. Speckled with chopped TWIX® candies for an extra delightful surprise.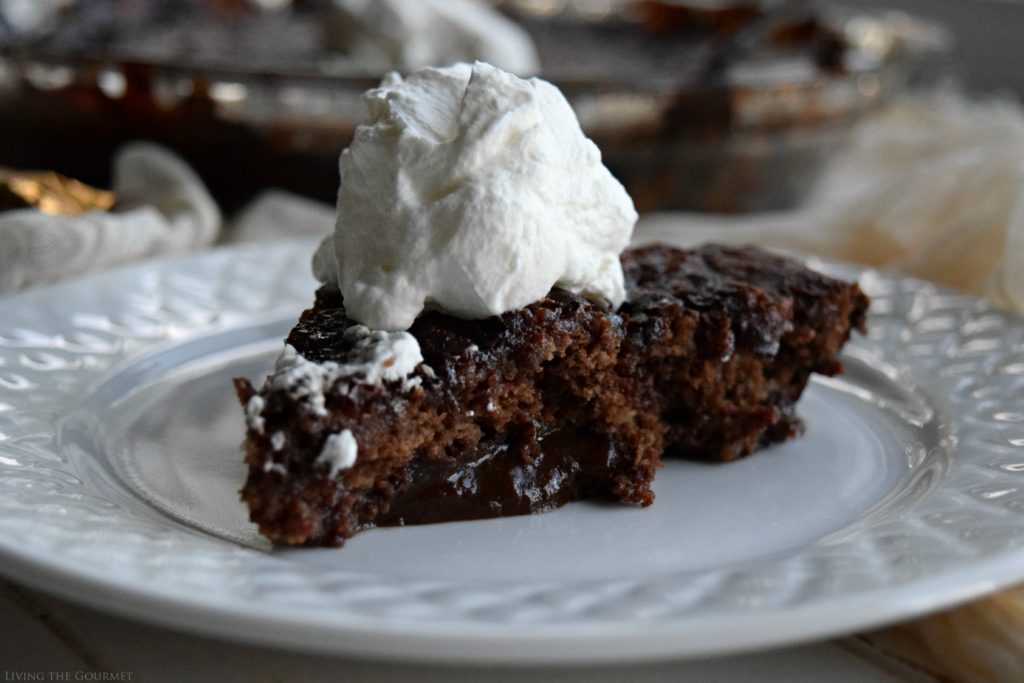 Of the countless days and nights that compose our lives, and of the innumerable worries that rend our nerves, our minds keep but a scant record. A mere handful of our days shall ever be recalled, while only a scant few nights shall ever emerge again from the depths of our subconscious. Of our many pains and worries, and day to day concerns, almost all shall be edged into oblivion by the passage of time. Of our pleasant moments, a select few shall resist the onward march of our lives, and remain like treasures before our mind's eye, revisited, reinterpreted, and relived more times than we can count.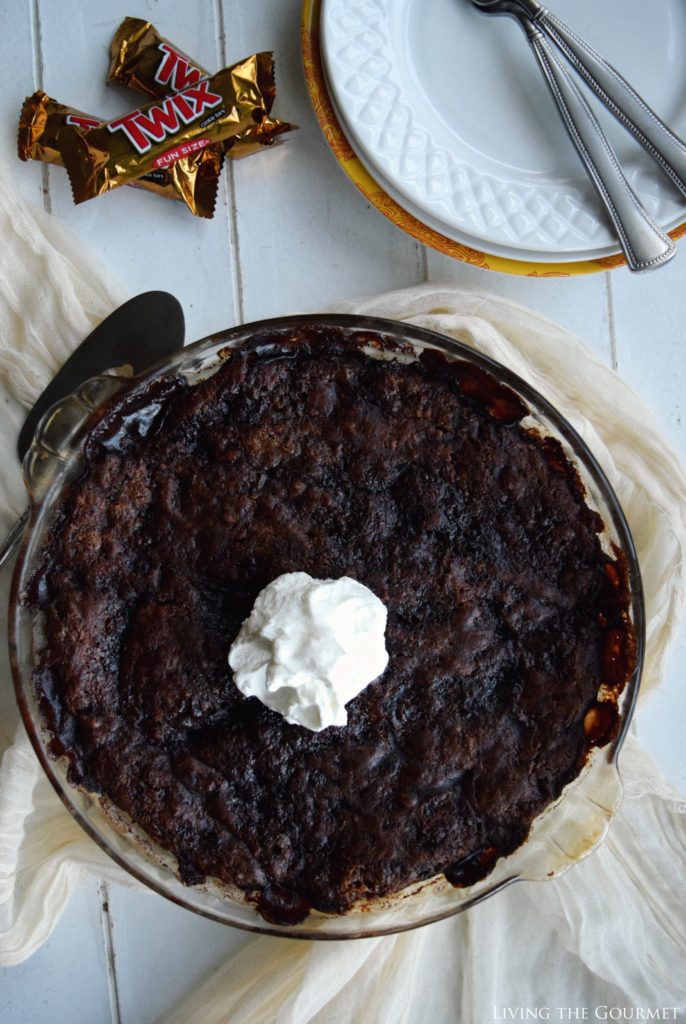 I've spoken to this quite a bit here on Living the Gourmet, and I will admit that this was on my mind when I was planning out the menu for my recent dinner with my brother and my nieces, since the inspiration for much of it came from an bit of lighthearted chatter that stuck in my mind from his previous visit. He had remarked in passing about a chocolate-pudding pie he had noticed in the bakery window of his supermarket, and how it had caught his. For whatever reason, that's bit of conversation above anything else is what stayed with me from his last visit. That said, I decided to weave that into the night's dessert.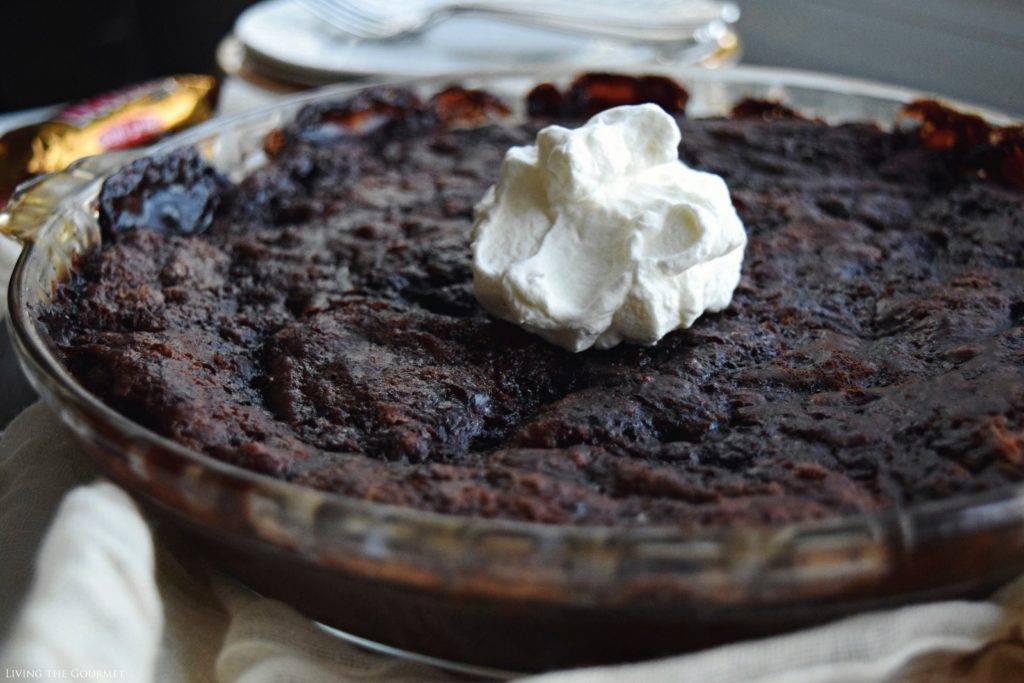 However, rather than prepare the standard chocolate cream in pie crust, I decided instead on reversing that equation. To do this, I prepared a brownie-like cake infused with chunks of Twix candies, and set that in a bed of chocolate-coffee pudding.
To do this, I started out by combining sifted flour, sugar, unsweetened cocoa, baking powder, and salt in a bowl, and then stirred in evaporated milk, oil, and vanilla as shown below. After that, I chopped up several small Twix bars and mix those in, and set this in a pie dish as shown below. After sprinkling the batter with brown sugar and cocoa powder over the batter, here's where things get fun. I take one and three-quarters of a cup of black coffee, and simply pour this over the completed batter, resist all urges to stir, and then bake.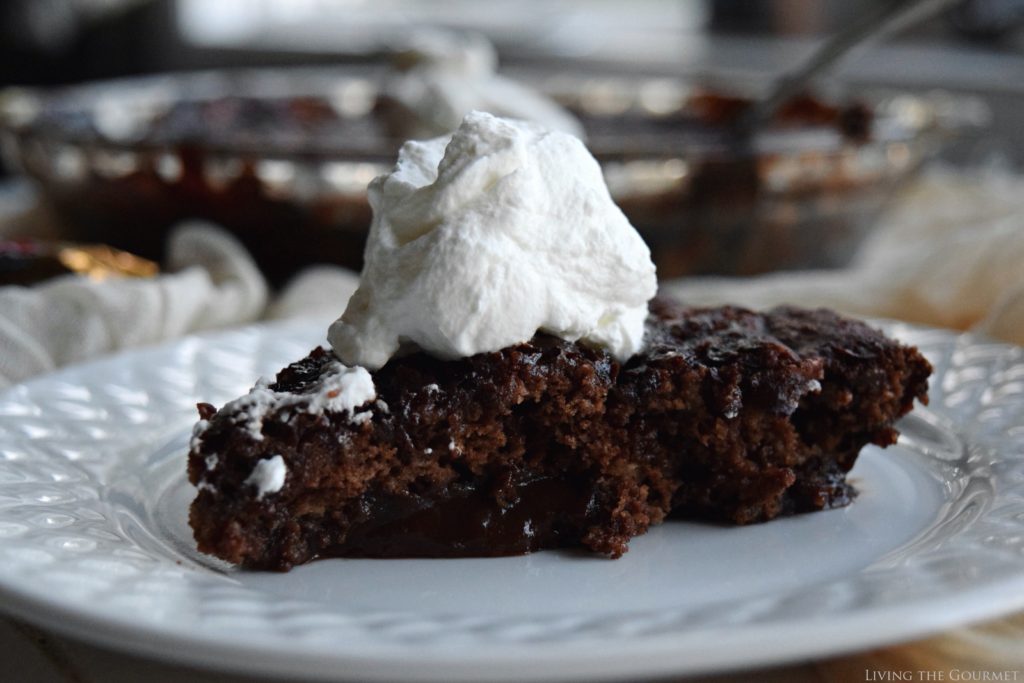 Print
Chocolate Espresso Pudding Pie
Author:
Prep Time:

10 minutes

Cook Time:

40 minutes

Total Time:

50 minutes

Category:

Dessert
1

cup

flour – sifted

2/3

cup

sugar

2

tbs. unsweetened cocoa

2

tsps. Baking powder

1/4 tsp

. salt

1/2

cup

evaporated milk

1 tsp

. vegetable oil

1 tsp

. vanilla extract

4

fun-size TWIX® candy bars – chopped

1

cup

firmly packed brown sugar

1/4

cup

unsweetened cocoa

1 3/4

cups

espresso or hot coffee
Butter for greasing 9 inch pie dish
Instructions
Preheat Oven 350 degrees F.
Prepare the pie dish.
Combine the first five ingredients in a medium sized bowl and stir.
Combine the evaporated milk, oil and vanilla and stir into the bowl with the dry ingredients.
Stir in the chopped TWIX® pieces. Place this mixture into the pie dish.
Combine the brown sugar and the ¼ cup cocoa powder and sprinkle this mixture over the batter.
Pour the coffee over the batter: DO NOT STIR!
Bake at 350 for 40 minutes or until the cake springs back when touched lightly in the center.
Serve with fresh whip cream.
Recipe Card powered by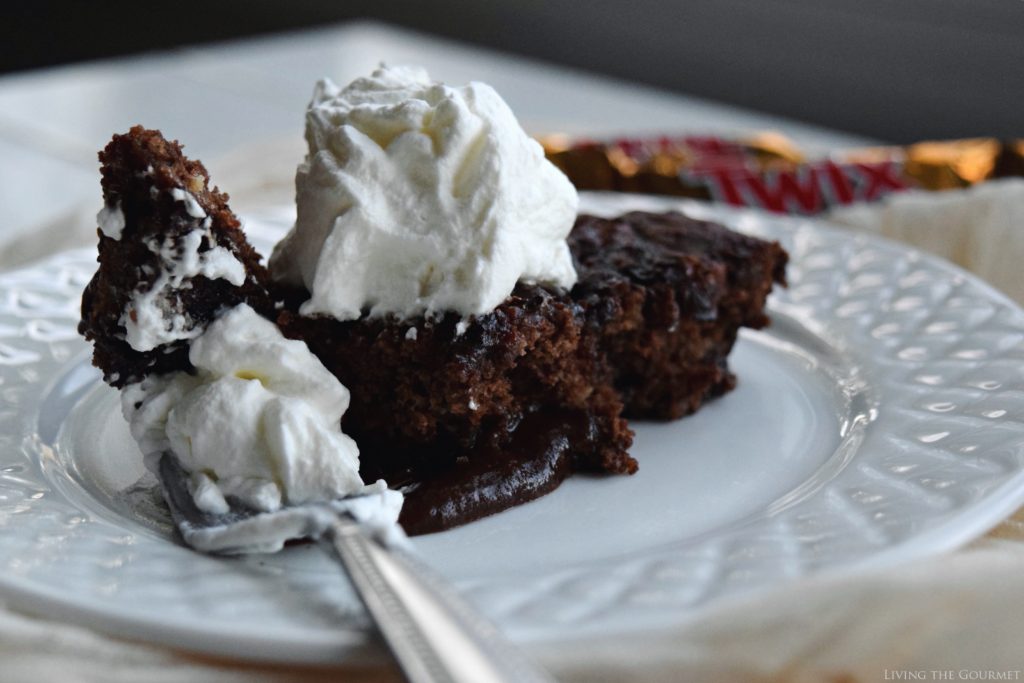 The end result is a brownie-like cake set over a bed of rich chocolate-coffee pudding. I like to serve this with copious amounts of fresh whipped cream. Needless to say, I couldn't have been happier with the result, and both my brother and my nieces were very pleased with it.
Enjoy with Love!
1