I will admit that I almost never serve a wine that I haven't first reviewed. I'm particular that way. When I'm having guests over, and I've taken great care and effort with the meal, it seems only logical that the 'accentuation' of the meal that being the wine, should also be treated with similar if not equal care. After all, is there a less elegant way to spoil a recipe than with a poor quality, or poorly paired, wine?
However, last week I made an exception to that rule. As anyone who has read my previous wine reviews, I'm fond of saying that there is never an excuse for a poor Greek wine, and earlier this month I was offered the opportunity to sample and review several Greek bottles – a 2015 Moscofilero from Skouras winery, a 2011 Xinomavro from the Alpha Estate, and 2003 Vinsanto from the Hatzidakis winery.
However, as it turns out, I received the bottles just a few days before I was due to host a dinner for my brothers and their families, and I honestly could not resist serving the bottles straight away. This is, of course, the very definition of 'living on the edge.'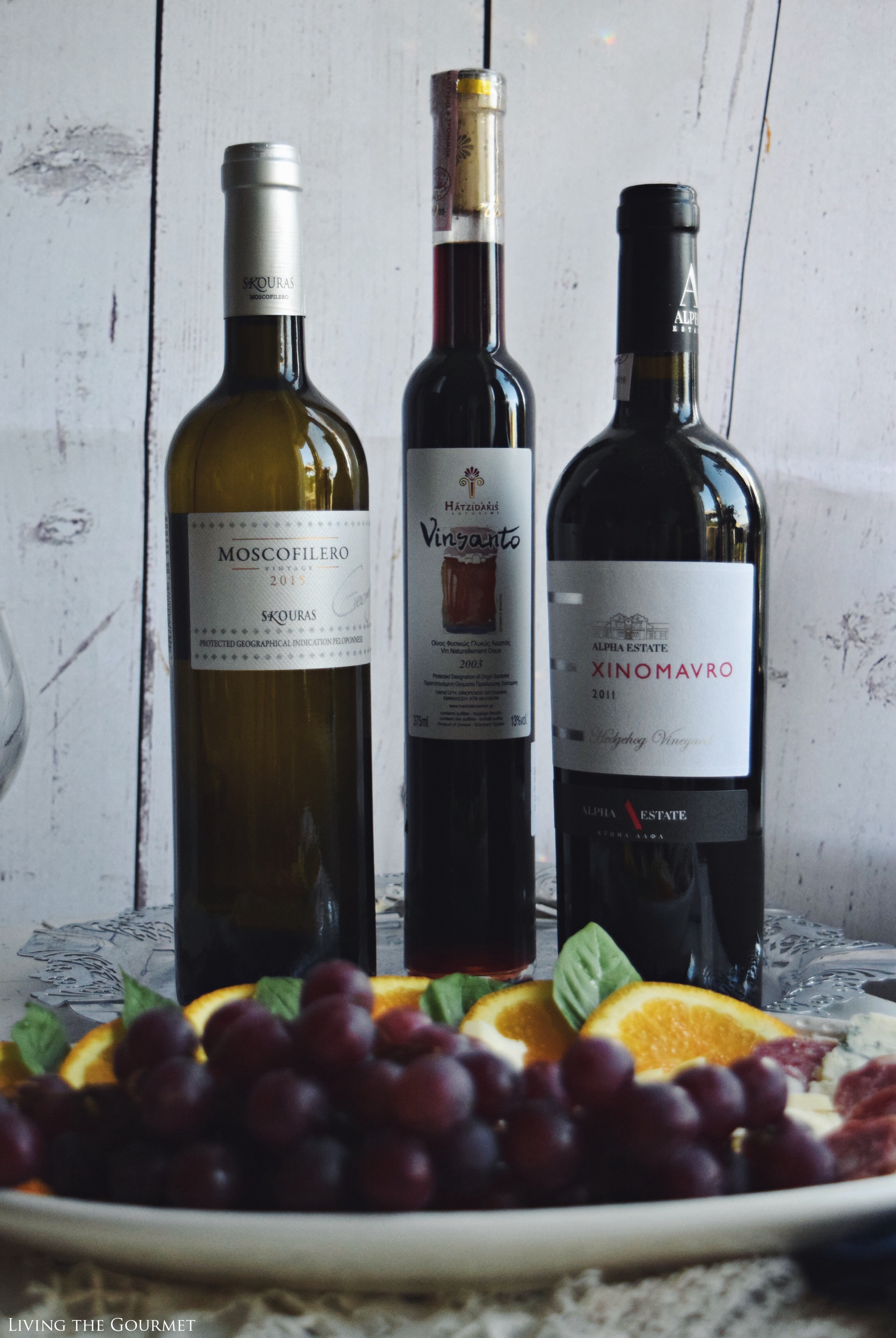 The company arrived late in the afternoon, and that meant appetizers served out on the porch. To match the weather and the setting, I served a classic antipasto consisting of cured meats, asiago, gorgonzola, feta, Kalamata olives, infused dipping oil, and a loaf of crusty bread, alongside a summer fruit salad. To accompany the spread, I served the Moscofilero.
For those unfamiliar, Moscofilero grapes are produced in the AOC Mantinia region of the Peloponnese, and tend to create an intensely aromatic grape. The wine from these grapes are usually quite spicy, and usually very floral. Bouquets consisting exclusively of roses, white flowers, or violets are typical. This allows Moscofilero to be served either as an aperitif, or with meals.
The bottle I received introduced itself with a pale yellow coloration, which caught the sunlight with hints of straw and translucent gold. The bouquet was predominantly floral, as was to be expected, with notes of fresh cut flowers off the top of the glass, and hints of either morning grass or sliced melon into the middle. Towards the bottom of the glass, the grape's more acidic characteristics began to predominate. On sampling, the wine was instantly and intensely acidic, with a dominating mouth feel. Vague spicy notes linger in the background of the flavor. The finish is quite pleasant.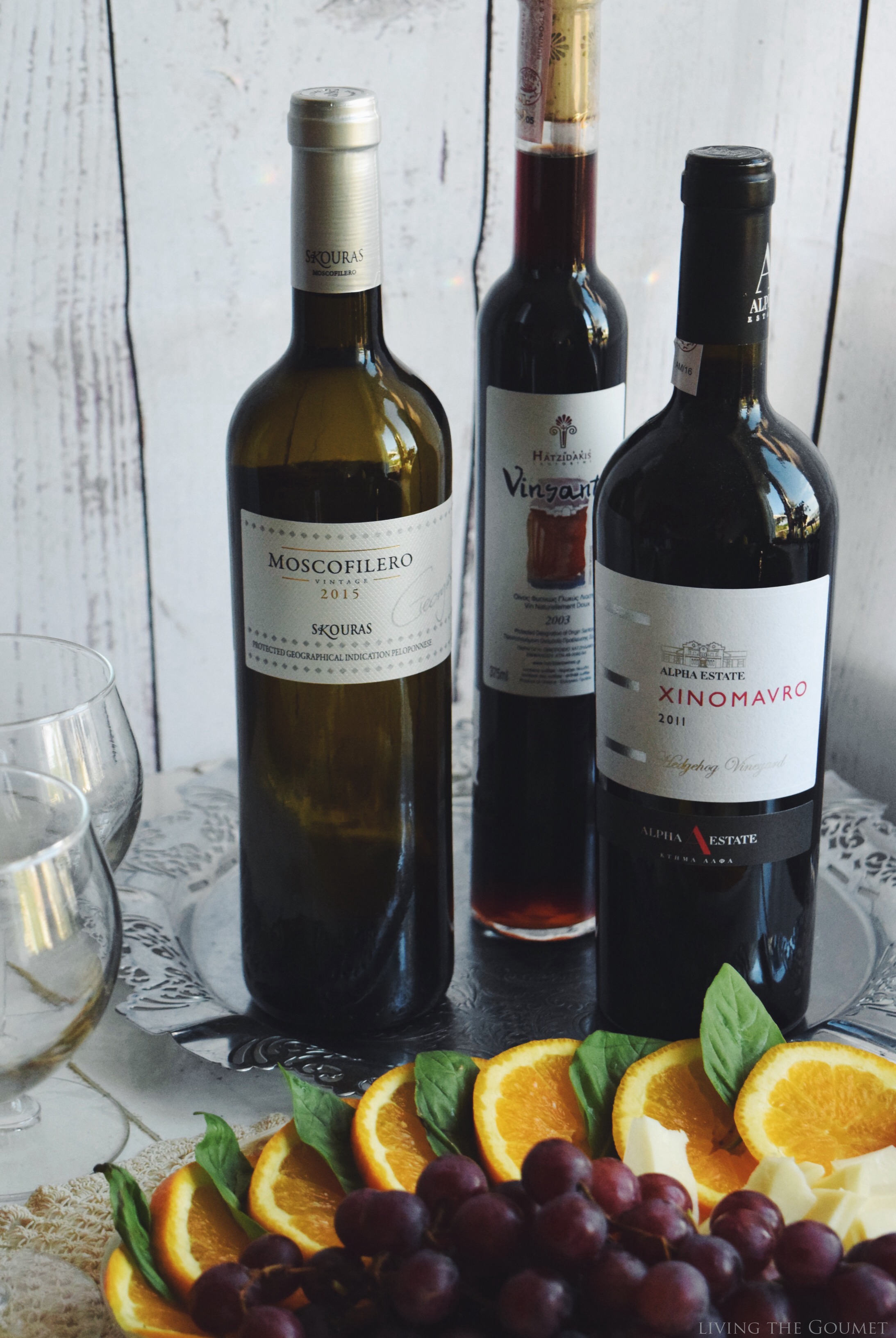 After we had finished, and allowed ourselves a moment out on the porch, I served dinner inside beside the bay window. I prepared marinated grilled chicken with herbs and a warmed caper, parsley, garlic and oil dipping sauce, which I paired with sliced potatoes and onions with an arugula salad. I served this with the Xinomavro.
Let me begin by saying that "Xinomavro" translates to "Black Acid." Though grown across much of Greece, Xinomavro is the predominant varietal produced in in the Greek province of Macedonia. The wine produced from these grapes possesses superb aging potential, abundant tannins, and a very full bodied texture. The bouquet often lacks any fruit essences in favor of more earthen or vegetal qualities such as olives, spice, herbs, tobacco leaf, or sundried tomatoes, though red fruit essences such as dark cherry or gooseberry are not uncommon. Its earthy qualities tend to be accentuated by aging. These qualities, however, are found strictly in well-made Xinomavro, since almost anything less tends to produce a bitterly austere or even downright sour experience – hence its name. Produce the "black acid wine" right, or be stung.
On pouring, I was instantly pleased, with the wine possessing a very dark ruby coloration, with deep garnet along the rim, showing that the four year old bottle had already benefited from its short aging. Off the top of the glass the bouquet was initially quite spicy, but this mellowed into muted red fruit essences toward the middle of the glass and into the bottom. Vague tobacco or perhaps either driftwood or leather perforated somewhat through the mix. On sampling, the Xinmavro was true to form, with a very intense mouthful and at times overpowering tannic qualities carried on a ripened blackberry notes. Overall, it made for an excellent pairing with the dinner.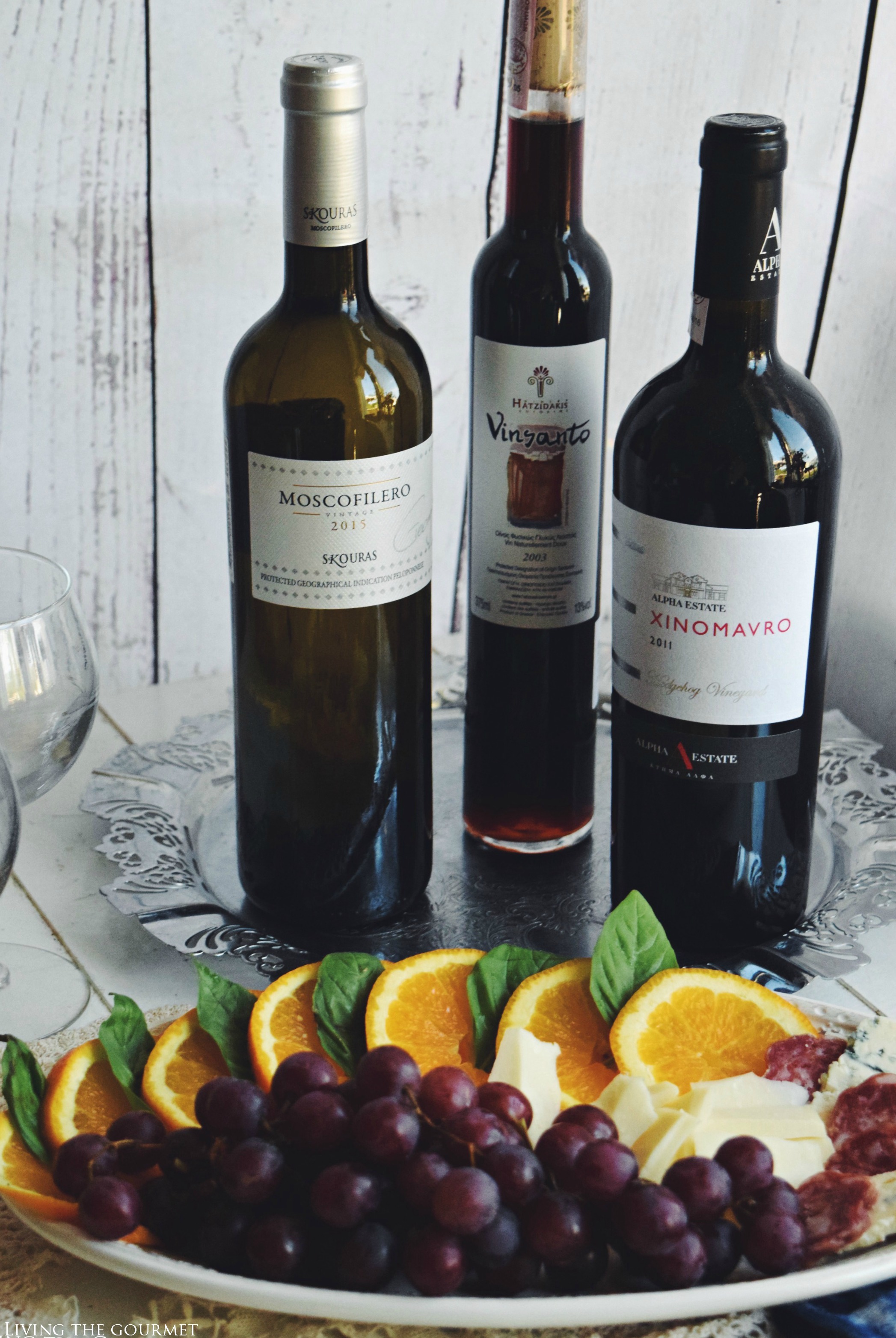 For dessert, I served a rich layered chocolate cake with homemade chocolate frosting, which I knew would pair excellently with the Vinsanto. The Vinsanto is produced from overripe assyrtiko and aidani grapes, which are then dried in the sun for fifteen days, and then aged for around a decade in oak barrels. The resulting wine often possesses intensely fruity aromas.
I'll begin by saying I was very pleased with the Vinsanto, which introduced itself with instant fruity essences, chiefly honeyed raisins or dried cherry, which paired predictably well with the chocolatey dessert. On the palate, the wine is quite silky, instantly pleasurable with almost caramel or buttery qualities to it. I would recommend this strictly as a digestif or dessert wine.
All of that being said, I was very pleased with the wines I received, all of which possessed excellent quality, and helped make my dinner a success. It goes without saying that I can recommend any of these to my readers, especially if they are looking to sample Greek wines.
This message is intended for persons 21+. Please enjoy responsibly.
Cheers,
Mike
0