This shop has been compensated by Collective Bias, Inc. and its advertiser. All opinions are mine alone. #BlackBoxSummer #CollectiveBias The following content is intended for readers who are 21 or older.
Crispy, crusted chicken is perfectly paired with a fresh spring salad and a smooth glass of Black Box Wine. To complete the seasonal meal, finish off the evening with a refreshing fruit sorbet!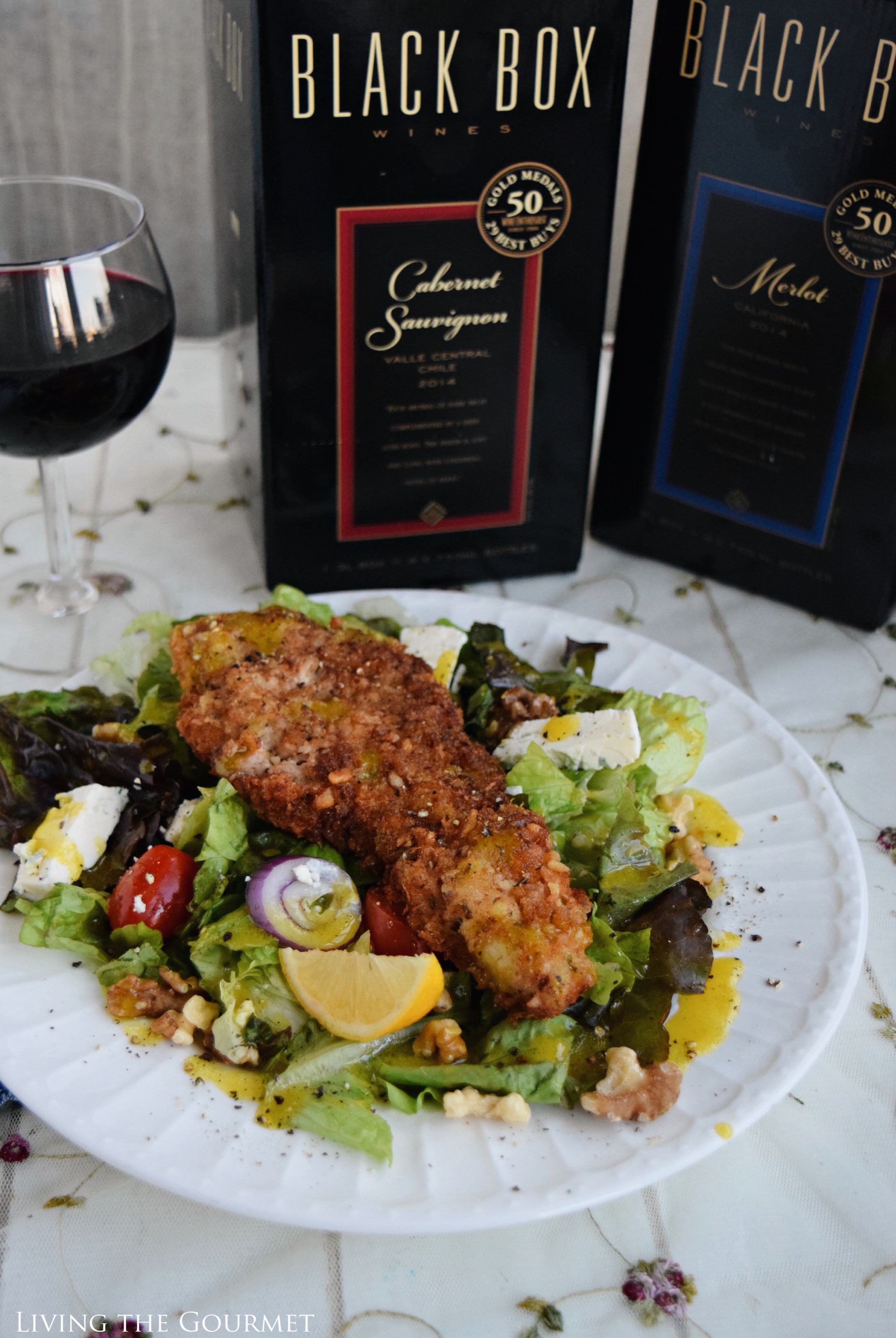 There's a line from 'Dirty Rotten Scoundrels' about wine that sums up some of the more pretentious aspects of wine, pretentions I've become rather acquainted with recently. "You can't drink them, Freddy, they're too valuable." "So you sell them?" "I would never sell them, they mean too much to me."
While I've certainly encountered my fair share of bottles meant almost exclusively for cellaring, it does at times take conscious effort to remember that the purpose of wine is ultimately about heightening one's enjoyment of life, as opposed to collectible status symbols or 'bottled gems' – albeit there are quite a few such vintages that merit such high regard.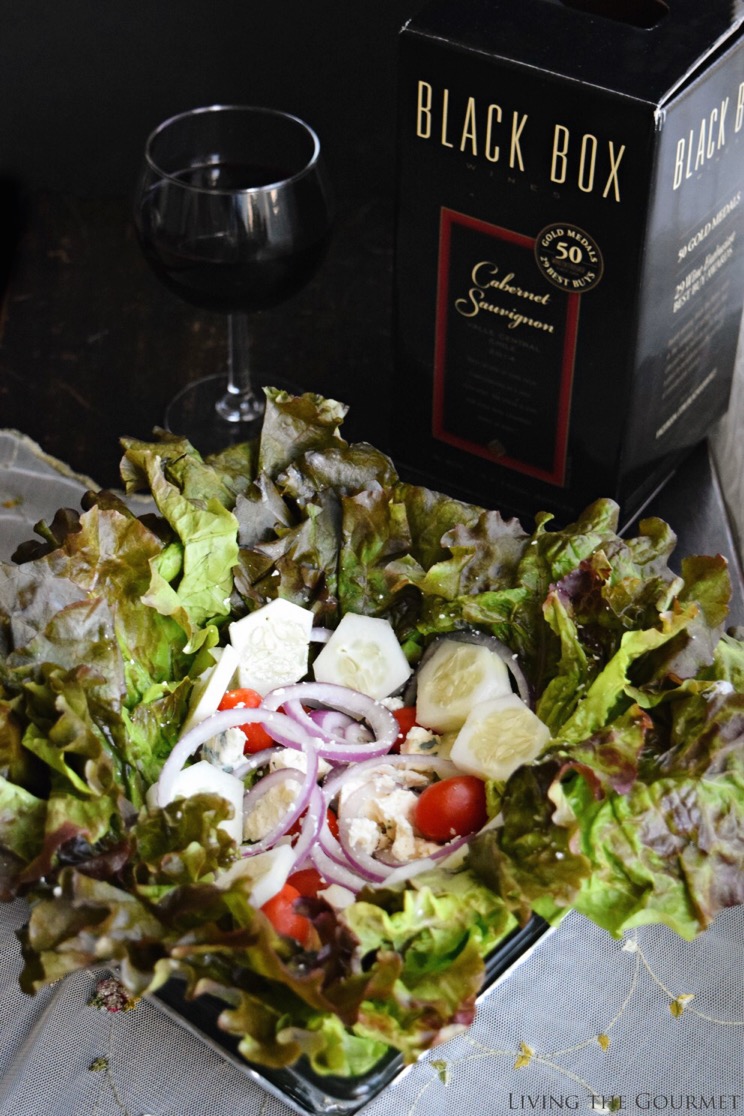 To that point, one of the first things I learned about wine is that preference and palate are foremost. For example, in his book Tasting Wine and Cheese: And Insider's Guide to Mastering the Principles of Pairing, Adam Centamore related a story about his father and wine. It ran roughly that his father's favorite wine was a simple ten to fourteen dollar merlot, and that he would drink that merlot from a juice glass, and keep the bottle in the fridge for weeks at a time.
All of this, of course, as Adam explained, was vinicultural heresy…except for one very important point – the fact that this was how his father enjoyed his wine.
The story concluded that for his father's 70th birthday, Adam brought his father a several hundred dollar bottle of Merlot from one of the most exclusive labels in the world. His father's reaction to tasting the wine ran along the lines of "Meh." Adam concluded the story with, and I paraphrase, "Bravo, dad, that was exactly the reaction I was hoping for."
In other words, pretentions lose their value when they instead become impediments to enjoyment, and the sole purpose of wine, lest we forget, is enjoyment.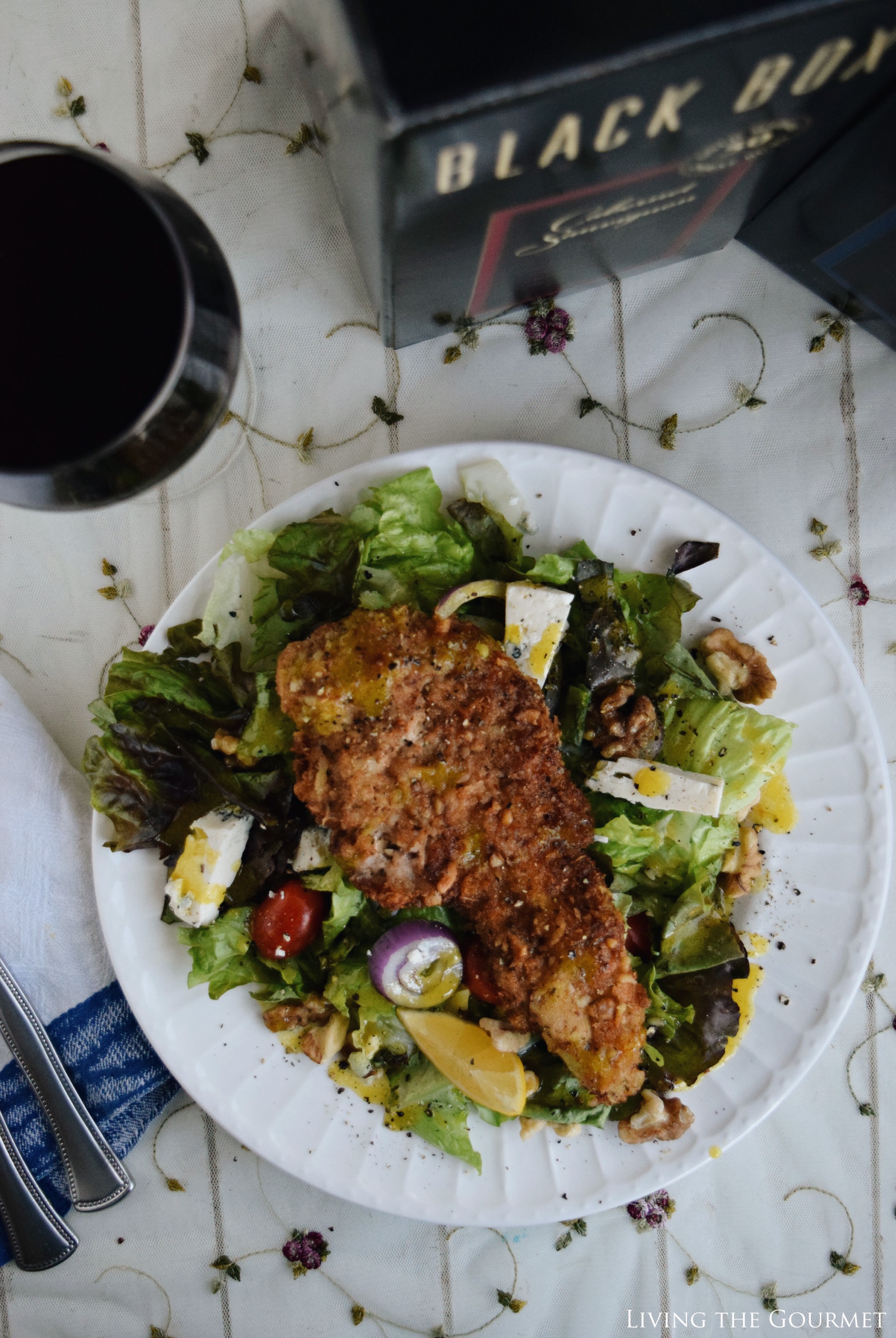 While planning one of my first spring dinner parties, one of my friends ended up proving precisely that point, albeit inadvertently.
While putting together the menu, I knew that we would start with the usual platter of cheese, starter meats, and bread with oil, but for what came next I wanted something a little less predictable. I decided on breaded chicken cutlets, but for a twist I decided on using both panko and chopped walnuts as the coating. I prepared this with a red leaf lettuce salad, a honey mustard vinaigrette, and crumbled blue cheese for a perfect spring plating.
To pair with the laid back setting, one of my guests suggested I try Black Box Wines, in particular their cabernet sauvignon and merlot. I'll admit, I wasn't familiar with Black Box Wines, but when I saw that they had won more than fifty Gold Medals for quality, as well as 29 Wine Enthusiast Best Buys, I was willing to become acquainted with open mind. Since they cost 40% less than comparable bottled wines, they're great for informal gatherings, and once opened they remain fresh for up to six weeks in their eco-friendly packaging.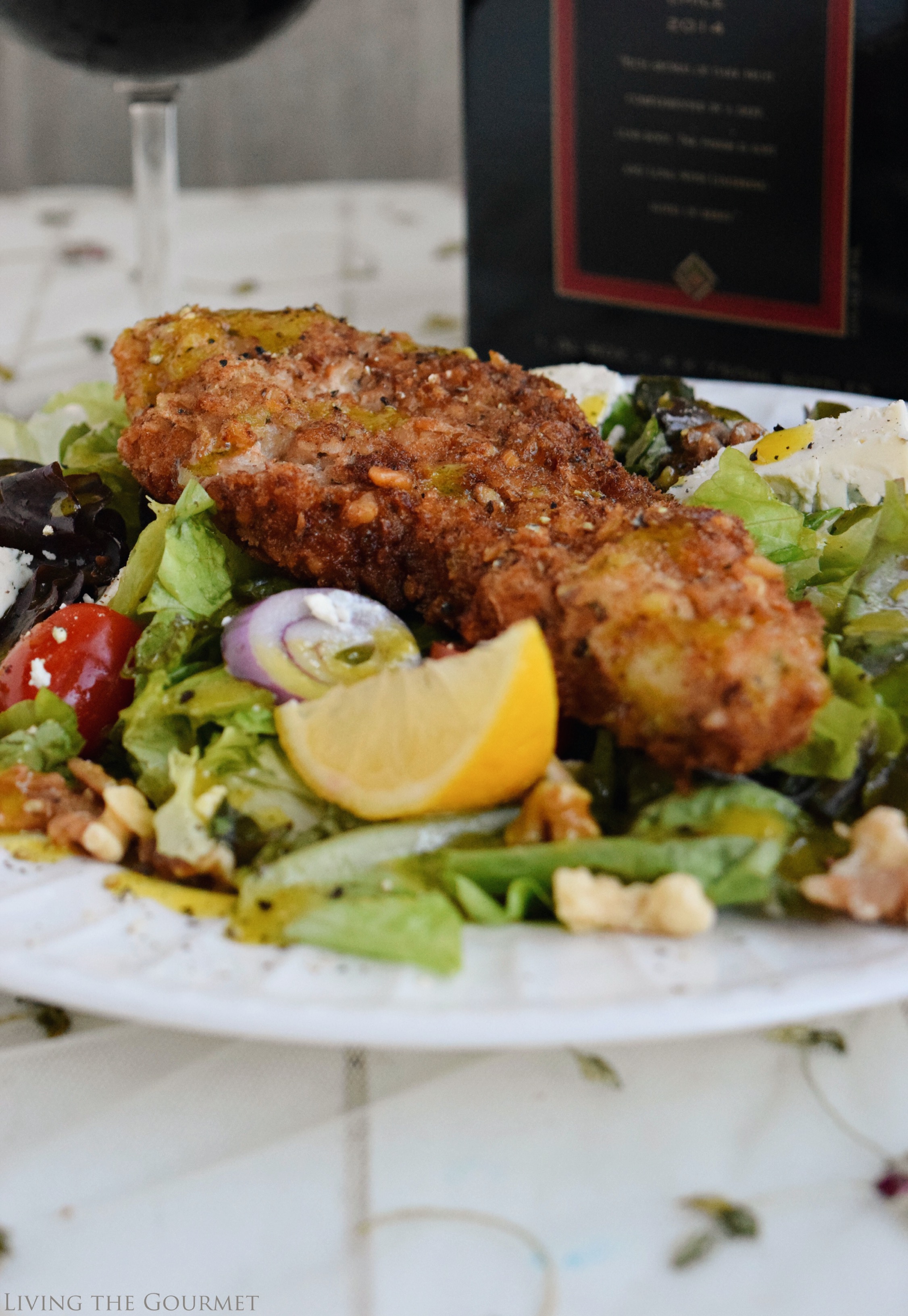 Once my friend showed me how one properly 'uncorks' a Black Box, a first for me, we were set to go.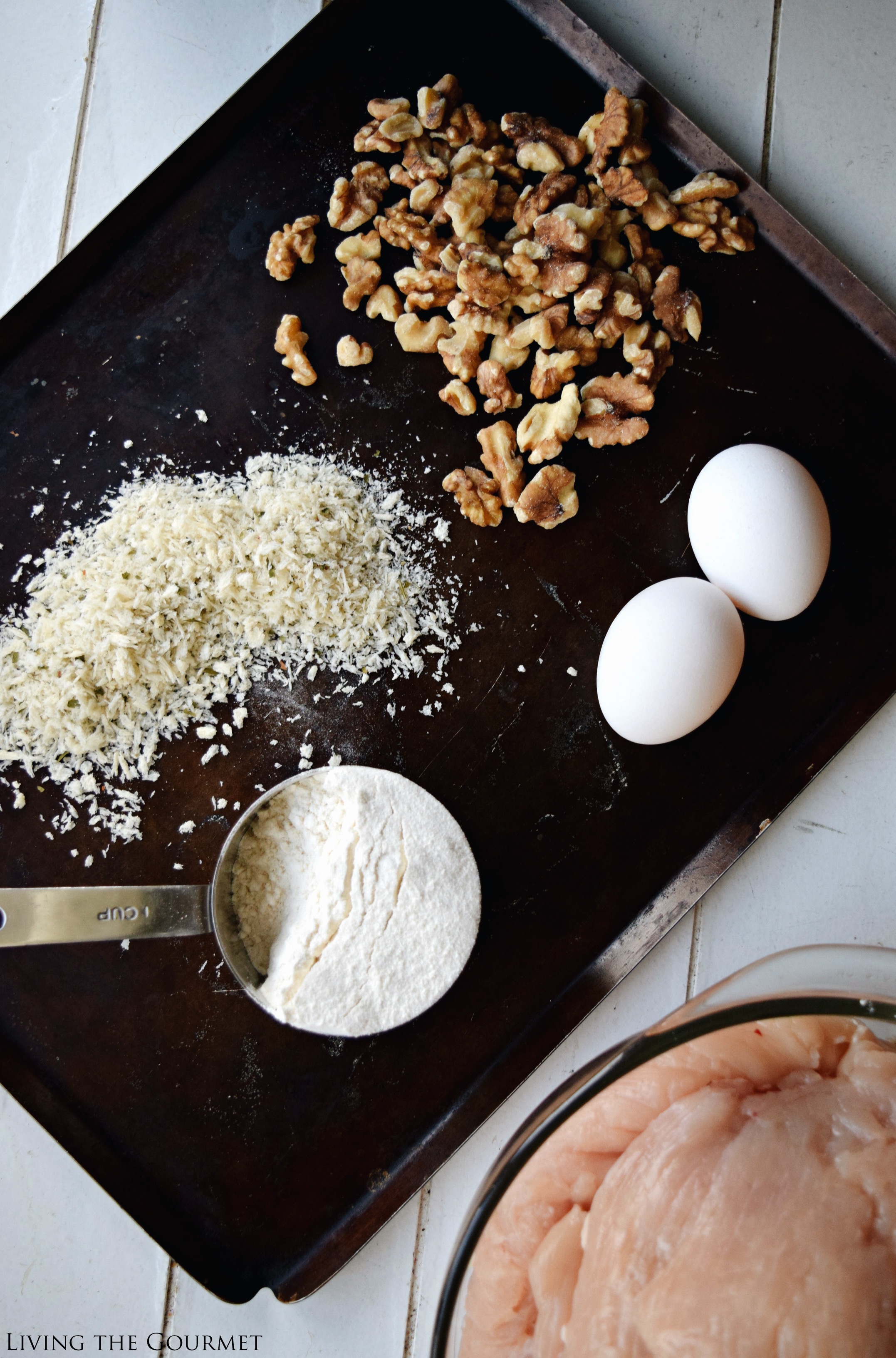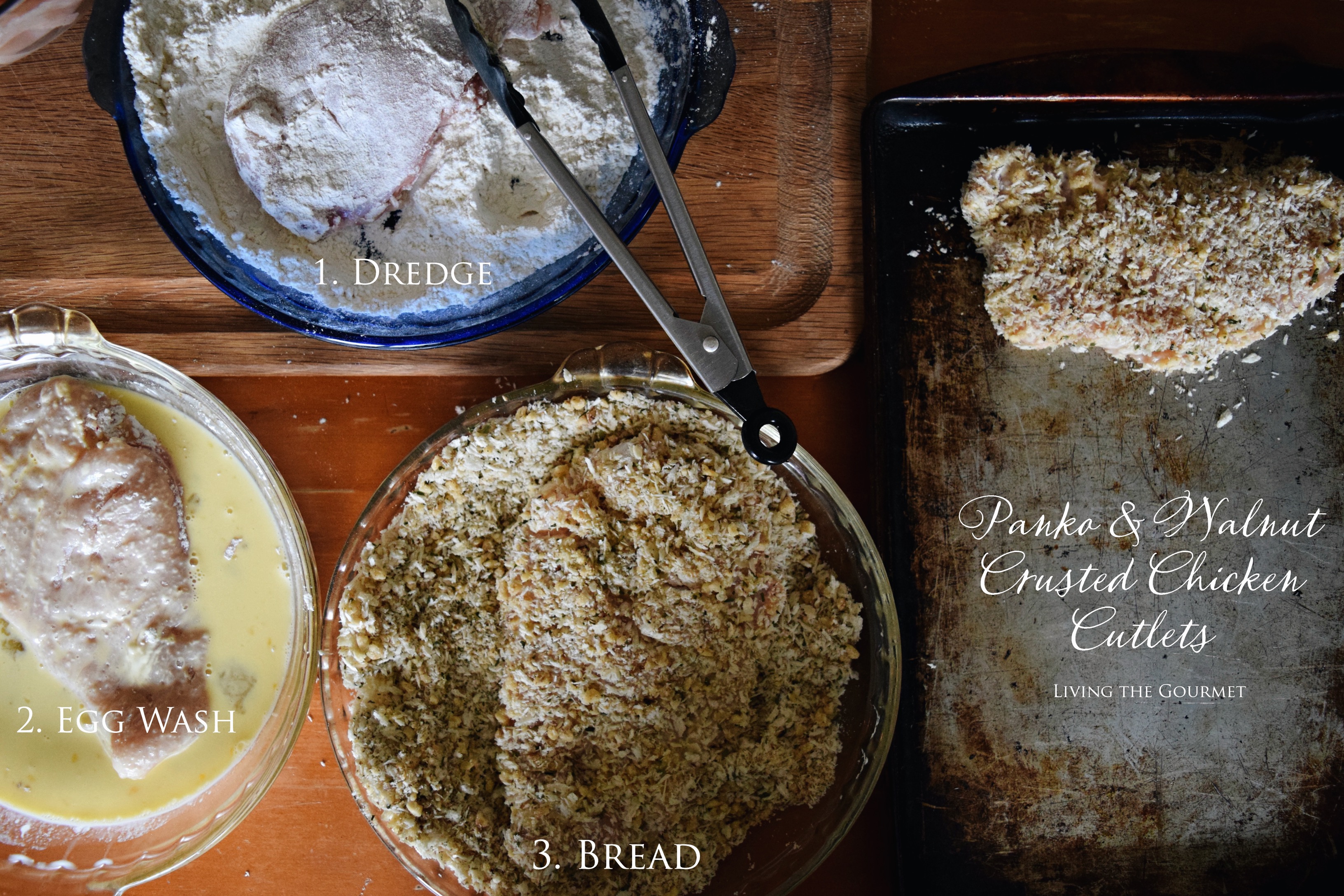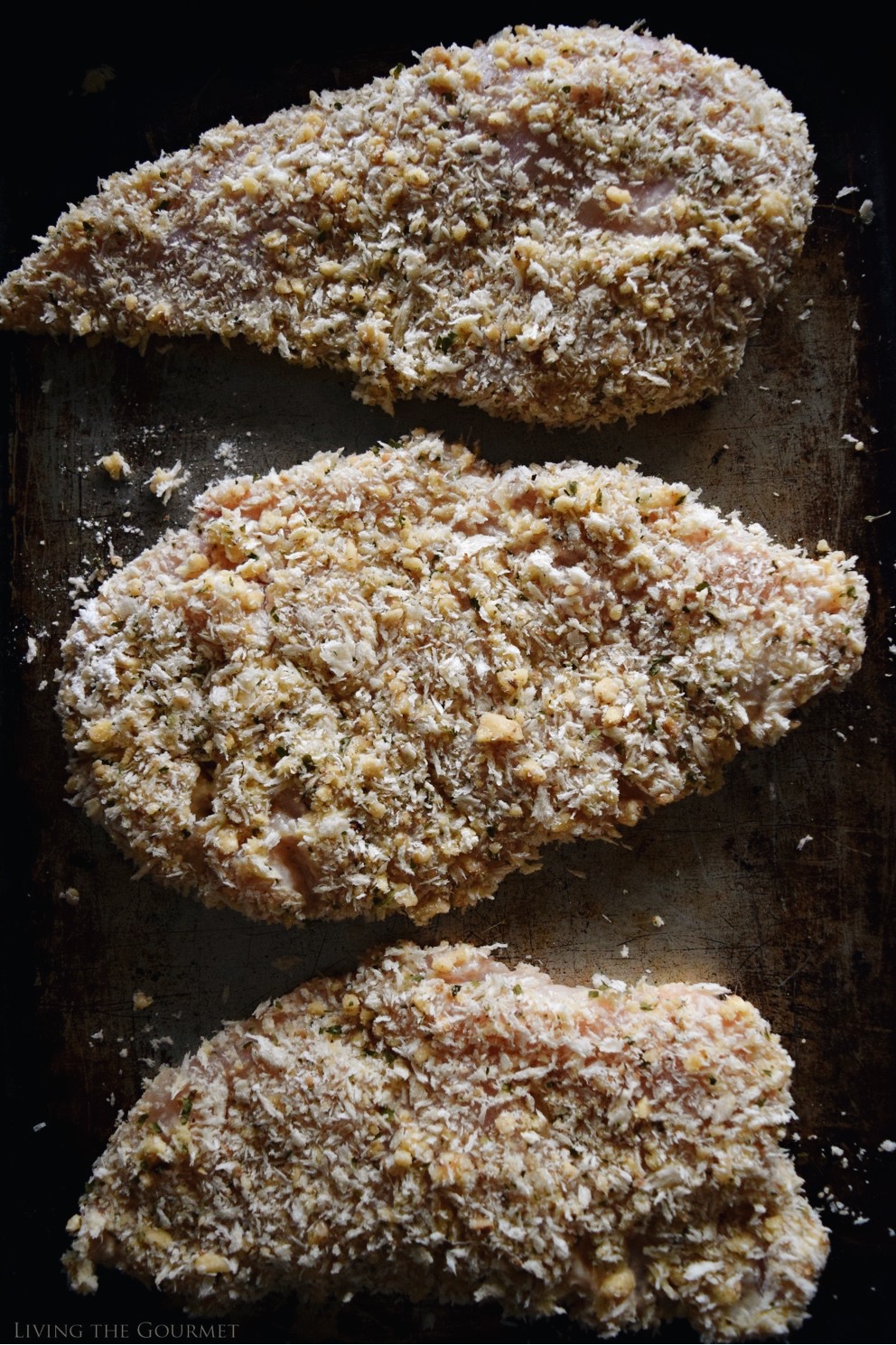 Print
Panko and Walnut Crusted Chicken Cutlets Pineapple Berry Sorbet
Author:
Prep Time:

5 minutes

Cook Time:

20 minutes

Total Time:

5 minutes

Yield:

6

1

x
Category:

Main Dessert
For Chicken Cutlets:
3

lbs. of boneless chicken cutlets – pounded

2

cups

of panko

1

cup

of walnuts – chopped

2

cups

of flour

2

eggs beaten – plus a splash of milk
Vegetable oil for frying
For Salad:
Your favorite salad greens
Grape tomatoes
Cucumber – sliced
Red onion – sliced thin
Chunks of blue cheese
For the Honey Mustard Dressing:
1/4

cup

of yellow mustard

1/4

cup

of honey

1/4

cup

of apple cider vinegar

1/2

cup

of olive oil

1/2 tsp

. salt

1/2 tsp

. black pepper

1

clove of roasted garlic – chopped

2

cups

of frozen pineapple – cut into chunks

1

cup

of frozen mixed berries

1/2

cup

of sugar

3/4

cup

of heavy cream
Instructions
For Chicken Cutlets:
Combine the panko and the chopped walnuts in a shallow bowl.
Set up two more shallow bowls; one for the flour and one for the egg wash.
Dredge the cutlets first in the flour, then in the egg wash and finally in the panko and walnut mixture.
Heat a large cast iron frying pan with about 1/4 inch of vegetable oil.
When the oil is hot carefully place about two prepared cutlets in the oil. Do Not Overcrowd the pan.
When the cutlets are golden on one side; about two to three minutes, carefully turn over and finish cooking on the other side; about another two to three minutes; the cutlets should be white on the inside when they are fully cooked.
The cooking time will depend on how thick the cutlets are.
Place the cutlets on a plate prepared with a paper towel to absorb any excess cooking oil.
For Salad & Dressing:
Prepare the salad greens in a serving bowl set aside.
In a small bowl combine the mustard, honey, vinegar, olive oil, salt, pepper and crushed garlic.
Mix until smooth and creamy.
Store in the refrigerator until ready to serve.
Combine in a food processor the frozen pineapple, frozen berries, sugar and heavy cream.
Process until smooth.
Serve immediately.
Recipe Card powered by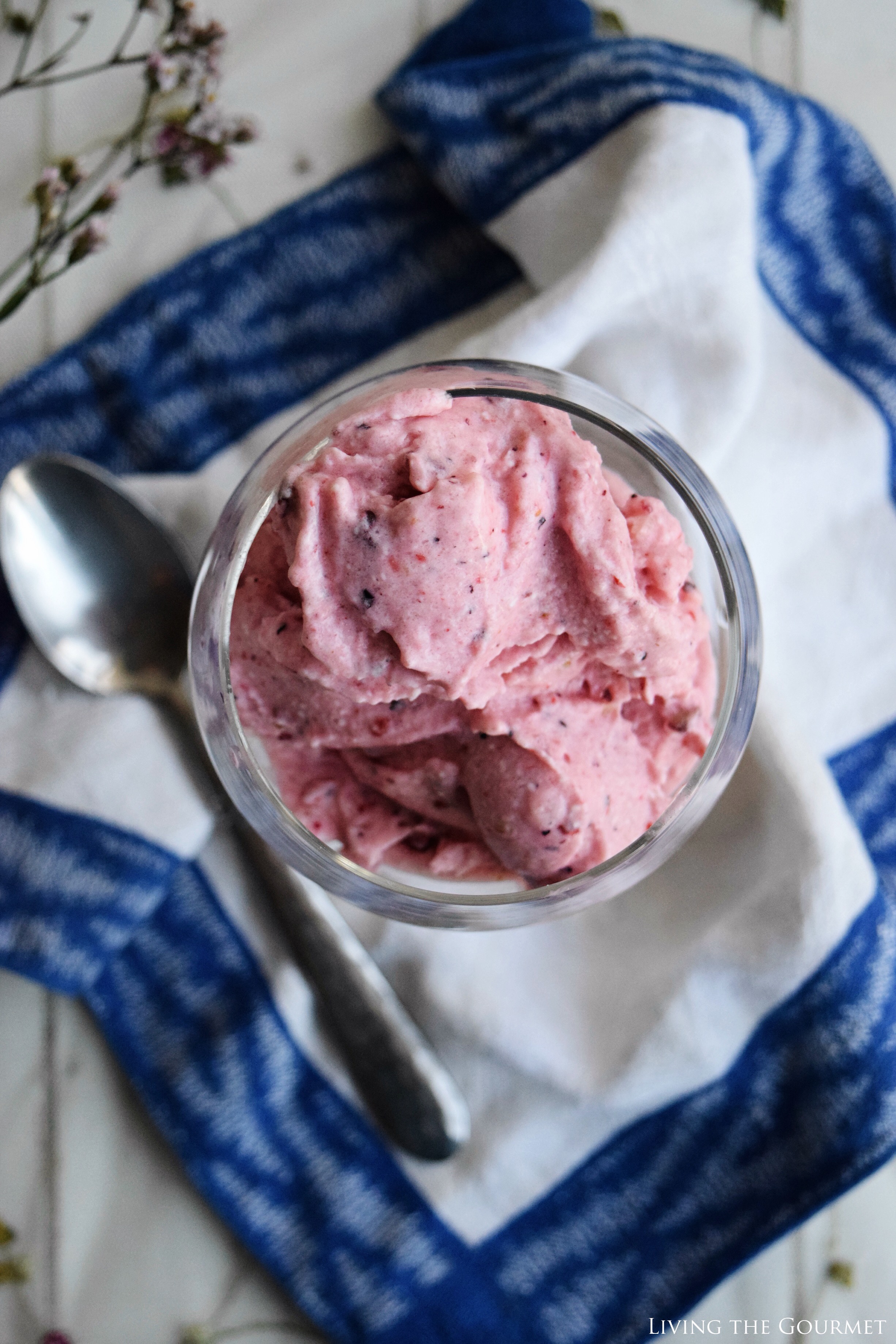 What are some of your favorite spring pairings? We would love to hear from you!
Looking for more great entertaining ideas? Check out the Simple Entertaining Social Hub for all the inspiration you'll need this summer!
Enjoy with Love!
0