This shop has been compensated by Collective Bias, Inc. and its advertiser. All opinions are mine alone. #GoldfishMix #Walmart #CollectiveBias
Bring smiles and spread joy with this delicious Fish and Chips recipe featuring a childhood classic snack – Goldfish® crackers!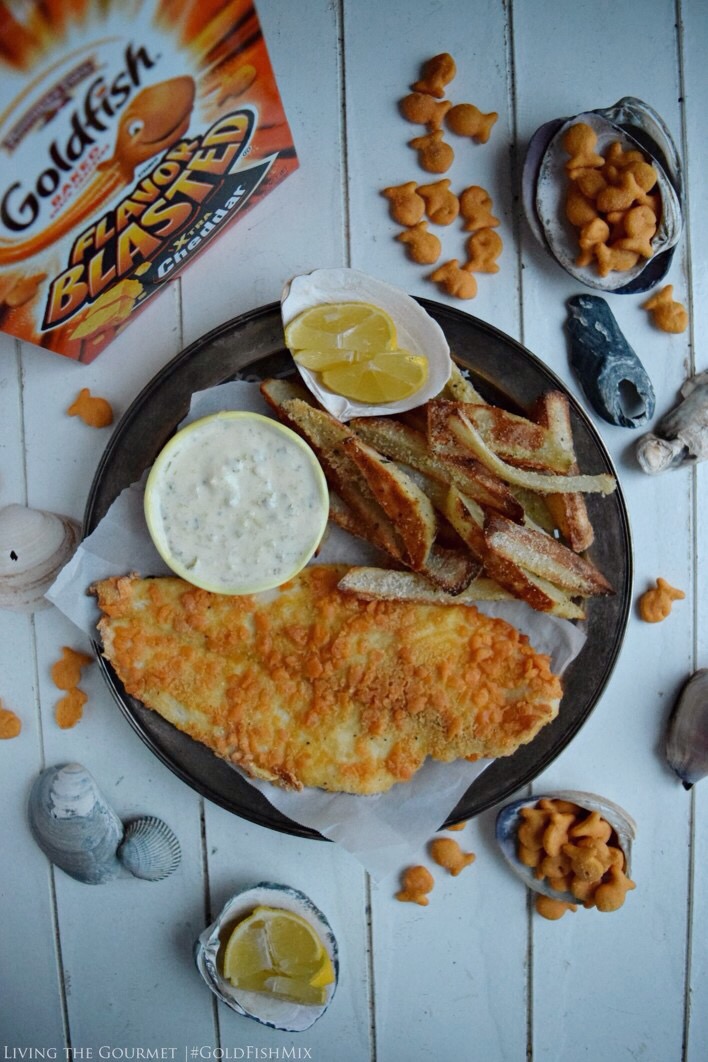 H.P. Lovecraft remarked in "The White Ship," through the voice of Basil Elton that "Ocean is more ancient than the mountains, and freighted with the memories and the dreams of Time."
Like the ancient Greeks, born into their island realms, it is easy to become enthralled when looking out at the dark expanse of the sea, extending endless beyond one's vision. The air carries the scent of the ocean, heralded by the call of the gulls and the rippling crash of the waves against sea-damp sand and weathered piers. Unchanged, one becomes small, achingly aware not just of the temporal nature of mortality, but of mortal futility. For the same earth we've yet to truly master is beholden to the deep, it's realm of genesis, for it is the seas from which the mountains arise, and the seas to which they shall inevitably return in the numberless millennia yet to pass. As I was well reminded, even the river itself need merely swell to rise up and reclaim all that was once within its watery domain.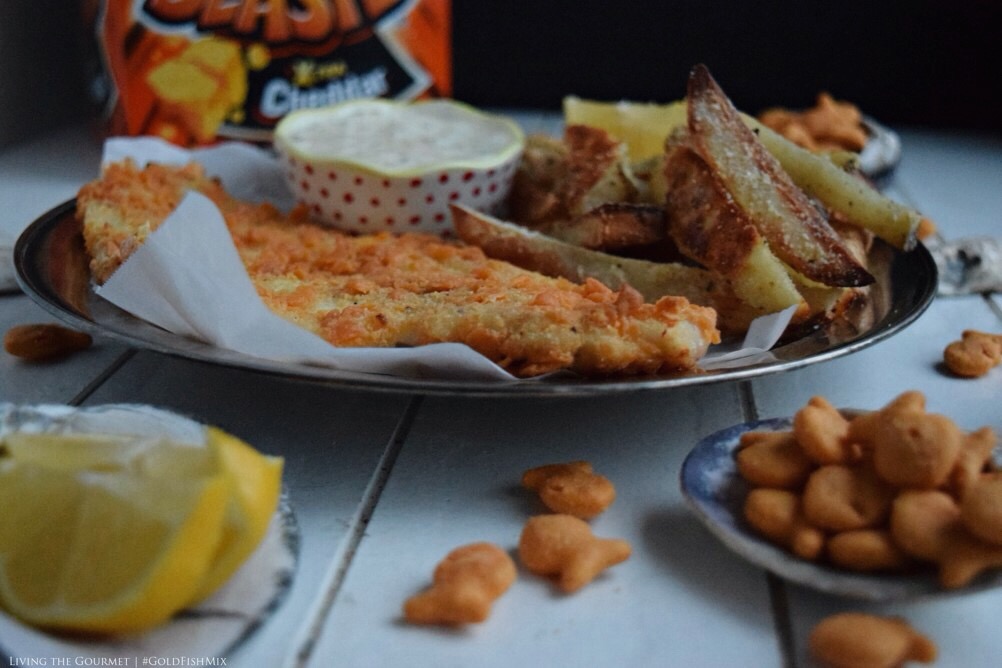 You see, if you've been following Living the Gourmet as of late, then you're probably aware of the bout of wintry weather that we've had as of late, rife with winter flood, slush, and snow. You're also likely aware that, for me, it could not have possibly come at a worse time – the construction of my new bulkheading, an outdoor project that positively disagrees with ice, snow, flooding, and blizzard winds. Since that post, however, I'm pleased to say that the job has been finished, and the joy currently being experienced by this coastal river dweller is something I can scarcely put to words.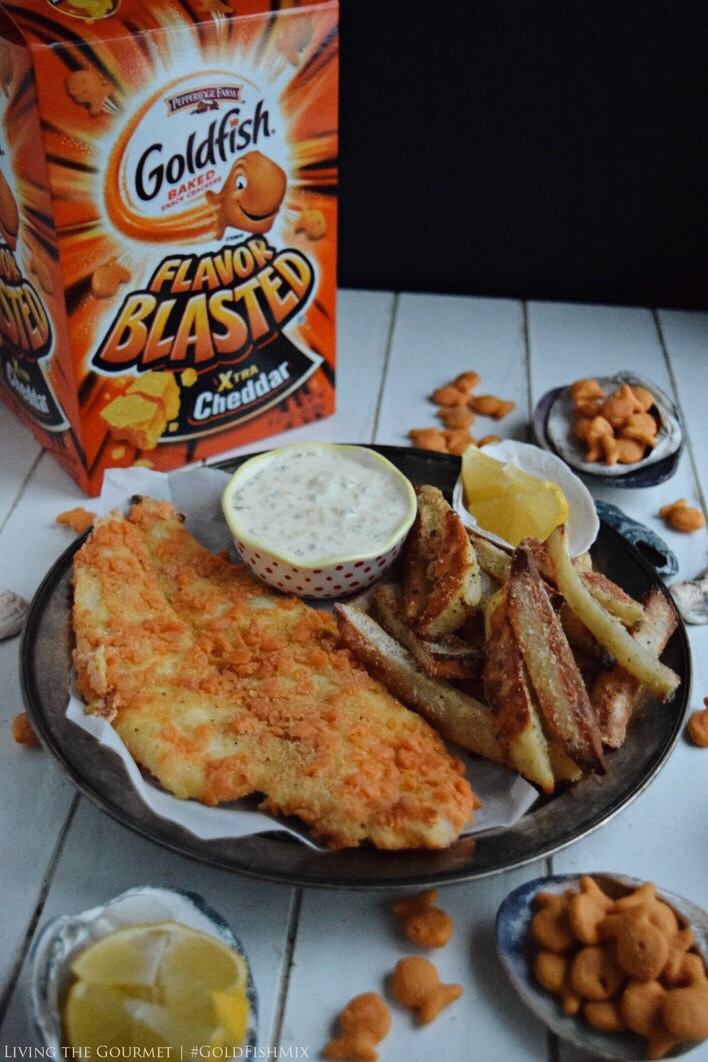 To celebrate, I decided to do what we 'urbanesque' river bound denizens do best – to throw a nautical themed party. Even though we would still be trapped inside due to the cold, I just couldn't resist. I invited my brothers, along with my nieces and nephews and their young families, and decided to put together a quintessential 'city by the sea' tablescape. However, I had to keep things just as appealing for my young nieces and nephews as for their parents.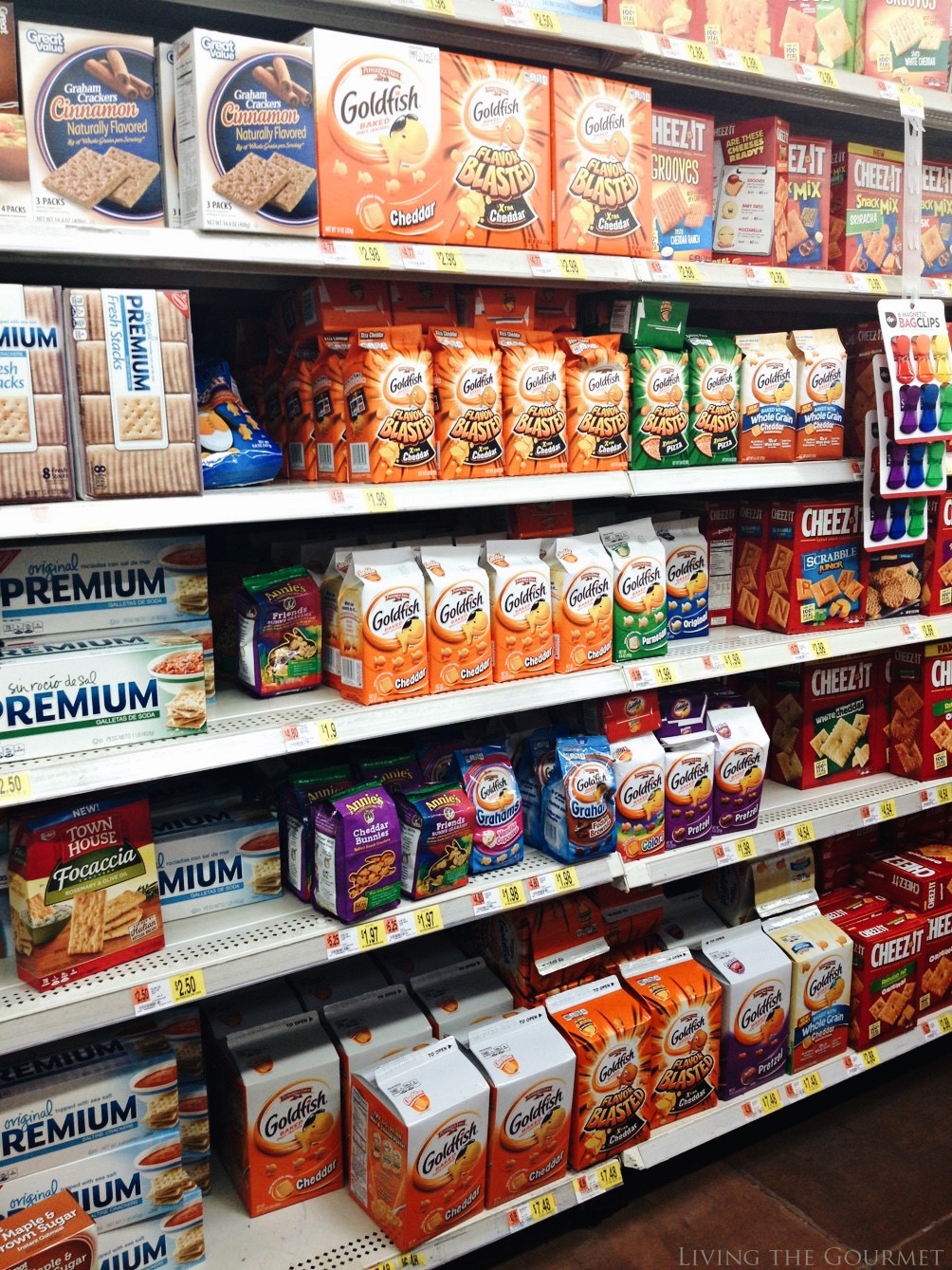 To do that, I decided on a classic Fish-N-Chips dinner, but with a less than conventional twist. First, I decided to bake it. Second, rather than using a standard coating, I would instead batter them with a base consisting of Goldfish® crackers, which I picked up during a recent supply run to Walmart. I purchased the 30oz bulk cartons which are on rollback, to ensure I would have enough on hand both for cooking and for snacking. For this particular recipe I prefer the Flavor Blasted® XTra Cheddar crackers, which adds a nice layer of complexity while also giving the Fish-N-Chips a fun twist both the parents and their kids were sure to love. It's a win-win.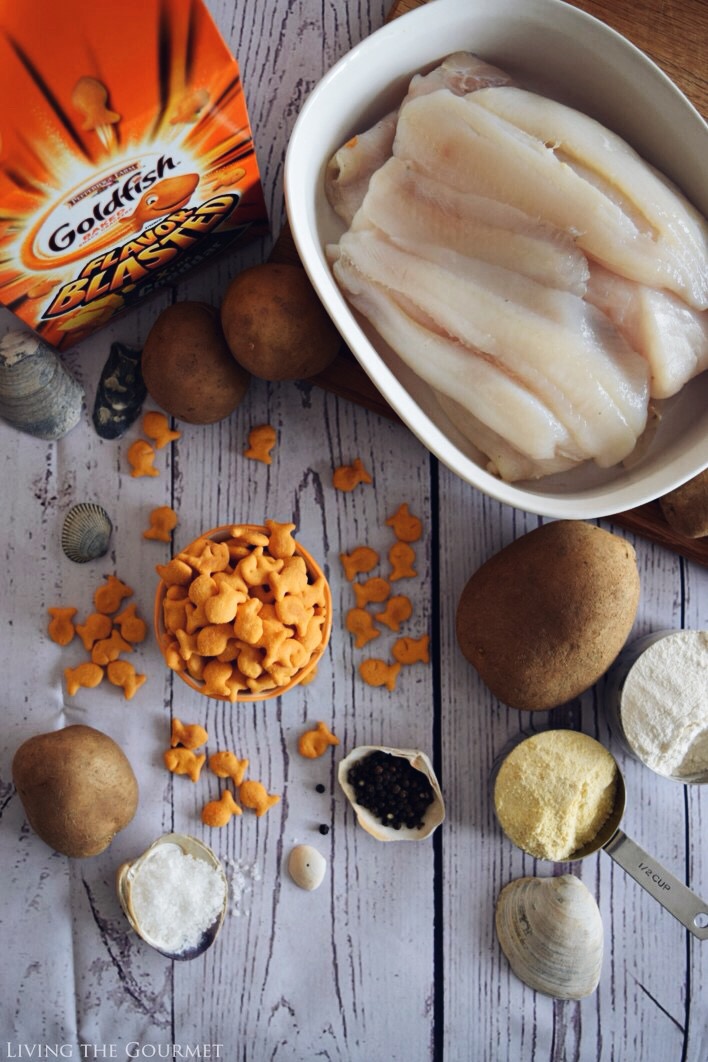 This was a perfect recipe for the occasion not just because it's both seasonal and regional, but because it also allows my nieces and nephews to get in on the kitchen action, which in all honesty is a must given the weather. Besides, it's the little moments like these that really build memories. To start things off, I let them crack the eggs and crush a portion of the Goldfish® crackers as shown below. While they did that, I prepared the fish to be breaded.
Now, my son prefers cod while my daughter prefers flounder, so I'm using both today. However, you can get away with almost any sturdy white fish that will keep together nicely after being baked. While I battered the fish as shown below, my niece and nephew mixed the tartar sauce, which is a simple mix of mayo, relish, and lemon juice. After that's done, I prepared the steak fries as outlined in the recipe, and then set them in the oven to bake along with the fish.
Once that was all done, it was time to enjoy the meal and celebrate the completion of my long awaited dock. Now, remember, while you're doing all of the above it is simply a necessity to eat copious amounts of the Goldfish® crackers by the handful.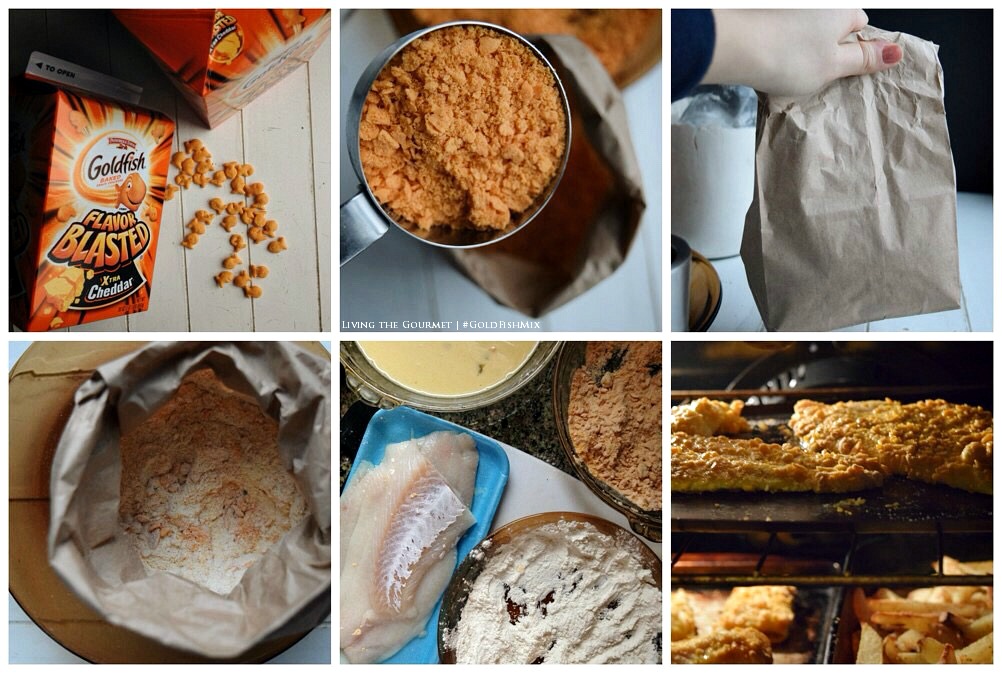 Print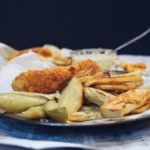 Goldfish® Crackers Crusted Fish and Chips
---
Author:

Prep Time:

10 minutes

Cook Time:

20 minutes

Total Time:

30 minutes

Yield:

6

1

x
For the Fish:
2

lbs. of flounder or cod filet

3

eggs – beaten

1 cup

milk

1 cup

flour

1 cup

cornmeal

2 cups

Goldfish® crackers, crushed
Canola oil
For the Chips:
3

–

5

lbs. of potatoes, peeled and sliced into wedges

1/2 cup

cornmeal

1 tablespoon

cornstarch
Salt and Pepper to taste

1 tablespoons

dried oregano
Oil for drizzling
For the Tartar Sauce:
1/2 cup

of mayonnaise

1/2 cup

of relish

1/2 tsp

. sugar

3

tbs. lemon juice
---
Instructions
For the Fish:
Preheat oven to 400 degrees F.
Place three shallow bowls; one with the flour, one with the egg and milk wash and one with the cornmeal and crushed Goldfish® crackers.
Dredge the fish filet first in the flour then in the egg wash and finally in the cornmeal and Goldfish® cracker mixture. Place on a baking sheet and drizzle with a little oil of your choice.
Bake for 15-20 minutes depending on the thickness of the fillets. The fish should flake easily with a fork when cooked.
For the Chips:
Preheat Oven 400 degrees F.
Peel the potatoes and slice potatoes. Soak in a bowl of cold water to release the starch, drain and gently pat dry to remove moisture.
Toss the potato slices with cornmeal, cornstarch, salt, pepper, oregano and a little oil.
Place on a baking sheet and bake for 10-12 minutes and then remove from oven and turn the potatoes over to finish cooking for another 10-12 minutes or until golden.
For the Tartar Sauce:
Place the mayonnaise, relish, sugar and lemon juice in a small bowl and mix.
Recipe Card powered by
What are some of your favorite seasonal recipes? Or what are some of your creative uses for Goldfish® crackers? We would love to hear from you.
Enjoy with Love,
Catherine
xo
4