This shop has been compensated by Collective Bias, Inc. and its advertiser. All opinions are mine alone. #SweeterEaster #CollectiveBias
Little wafer cups brushed with chocolate double as egg shells filled with Strawberry Mousse then sprinkled with M&M's® Pastel Plain candies for the ultimate Easter inspired treat. Delicately placed in basket with assorted candies, it is a perfect centerpiece for your holiday tablescape.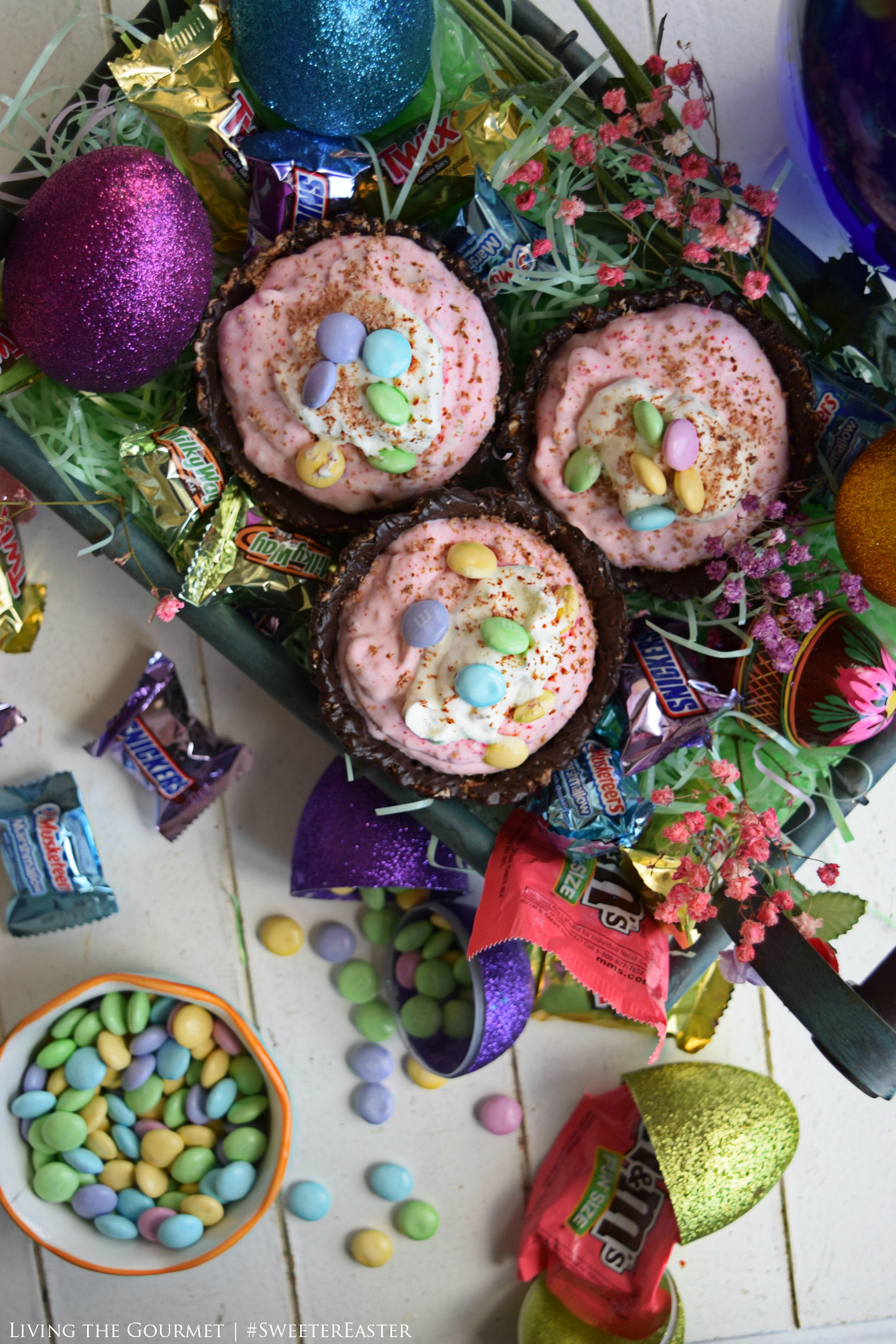 If you're anything like me, your sweet tooth is simultaneously your best friend and your worst stumbling block. Again, if you're like me, your fondest memories, and most decadent pleasures, come in the form of sweets consumed with a 'tomorrow be damned, we only live once' attitude. For example, one doesn't merely 'enjoy' a particularly rich dessert, one instead appreciates every second of the dessert's cloud-like texture from spoon tip to finish, savoring every nuance of flavor, alternating between creamy notes and sugar essences set against a chocolate backdrop.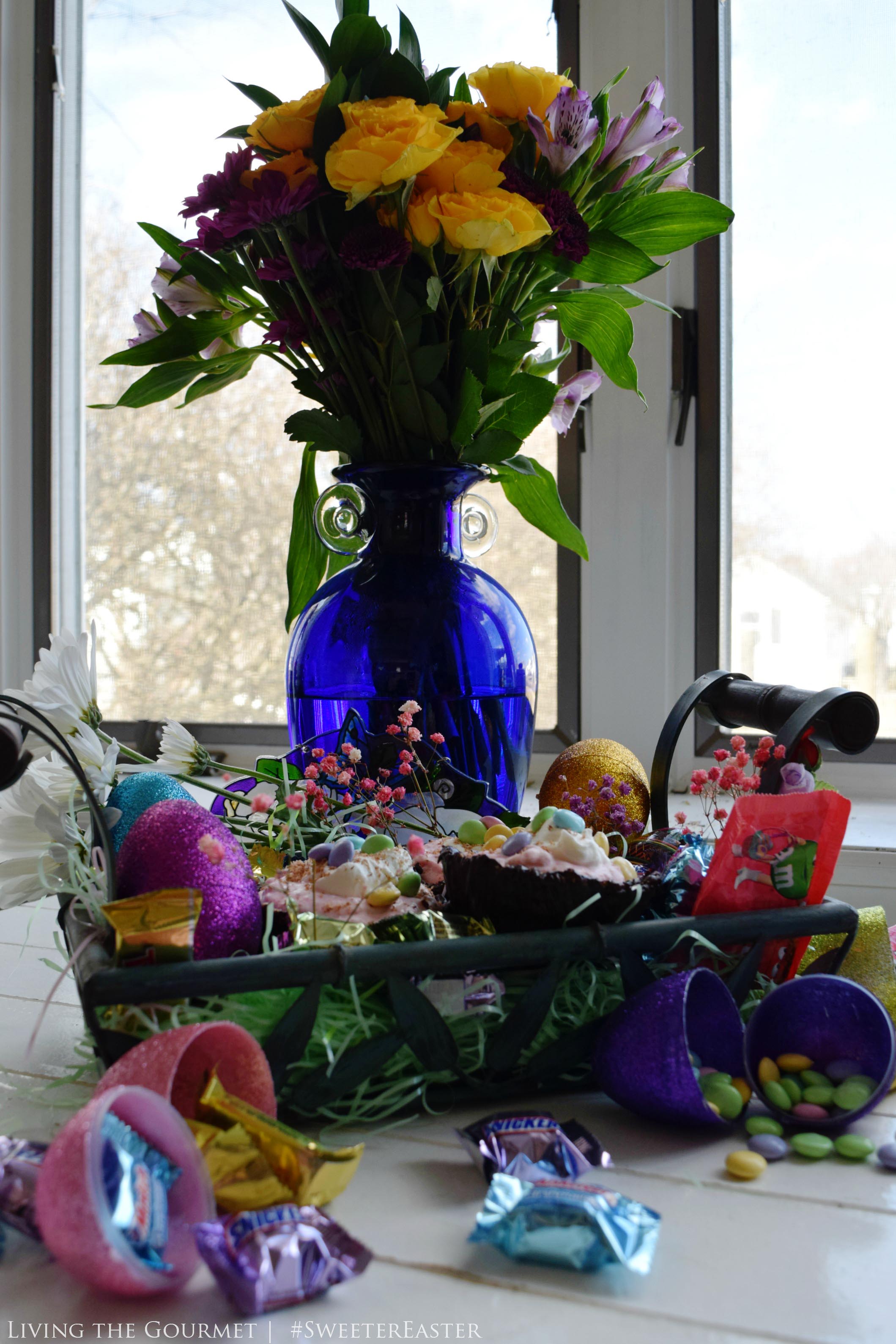 Thus, whenever a holiday like Easter rolls around, you're overjoyed not so much at the prospect of celebrating rebirth, but instead at the excuse to indulge just a little bit extra…alright, a lot extra. Of course, such special indulgence requires special attention to detail, flavor, and form. For example, while children might be content with baskets stuffed strictly with prewrapped candy, you're an adult with a practiced palette developed over the course of years, and will therefore only be satisfied with the very best of what the season has to offer. And let's be honest, we all want to impress the guests and make a real show of sating that palette yearning for something sweet.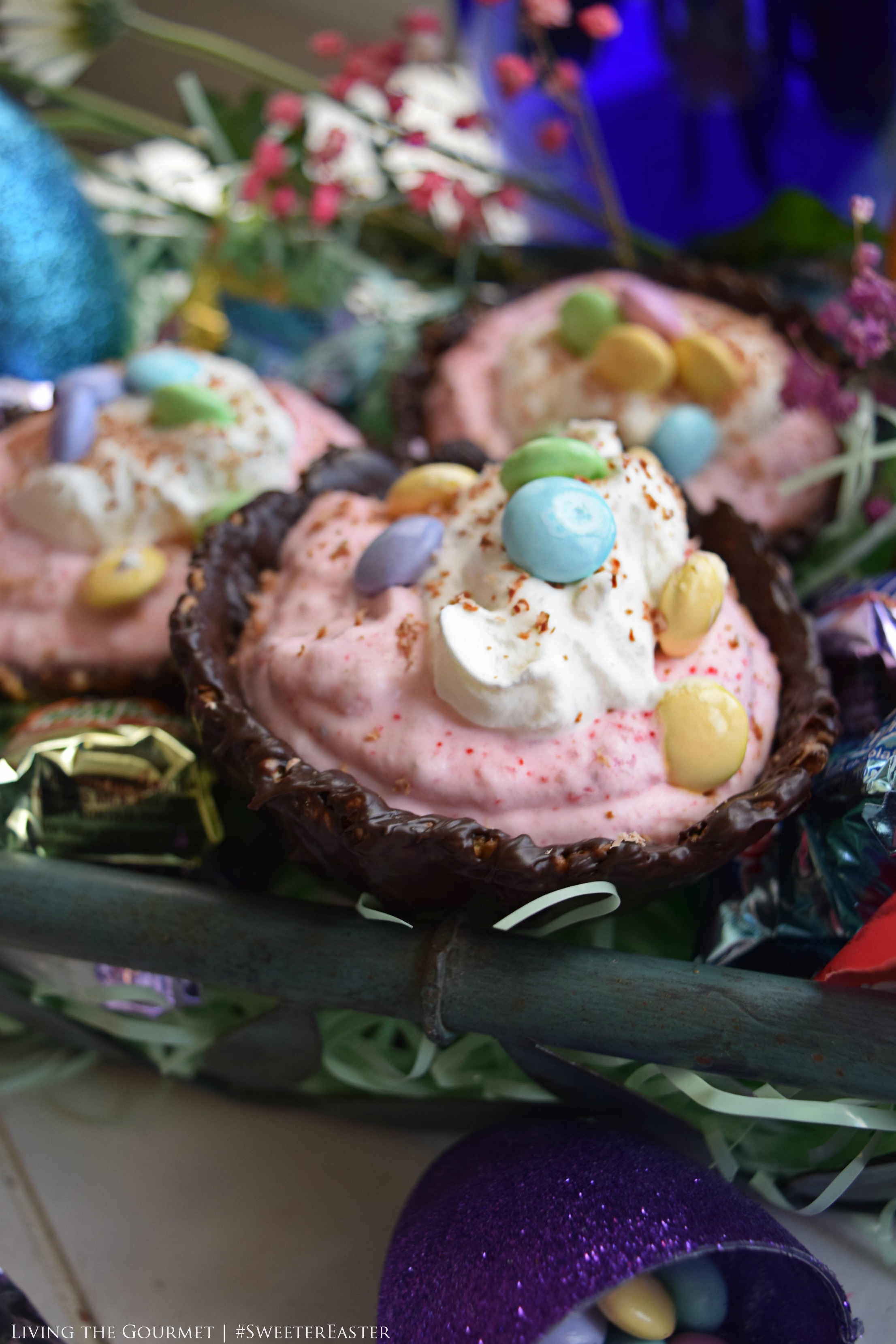 For example, in my family, while baskets are prepared aplenty for the youngsters amongst us, we also exchange baskets among the adults, and that is where the real showmanship comes into play. I don't merely try to outdo the gifts I receive, I also try to outdo the offerings I prepared from the year prior – which brings me to today's challenge…I mean recipe.
I decided ahead of time that I wouldn't simply 'stuff' the basket or bake something, I was instead going to make the basket centerpiece something that one wouldn't normally associate with Easter baskets, or something that one might even think could 'not' be put in an Easter basket.
This brings us precisely to today's recipe arrangement – a strawberry mousse prepared inside chocolate shells which are then arranged in an Easter basket decorated with all of the season's trappings.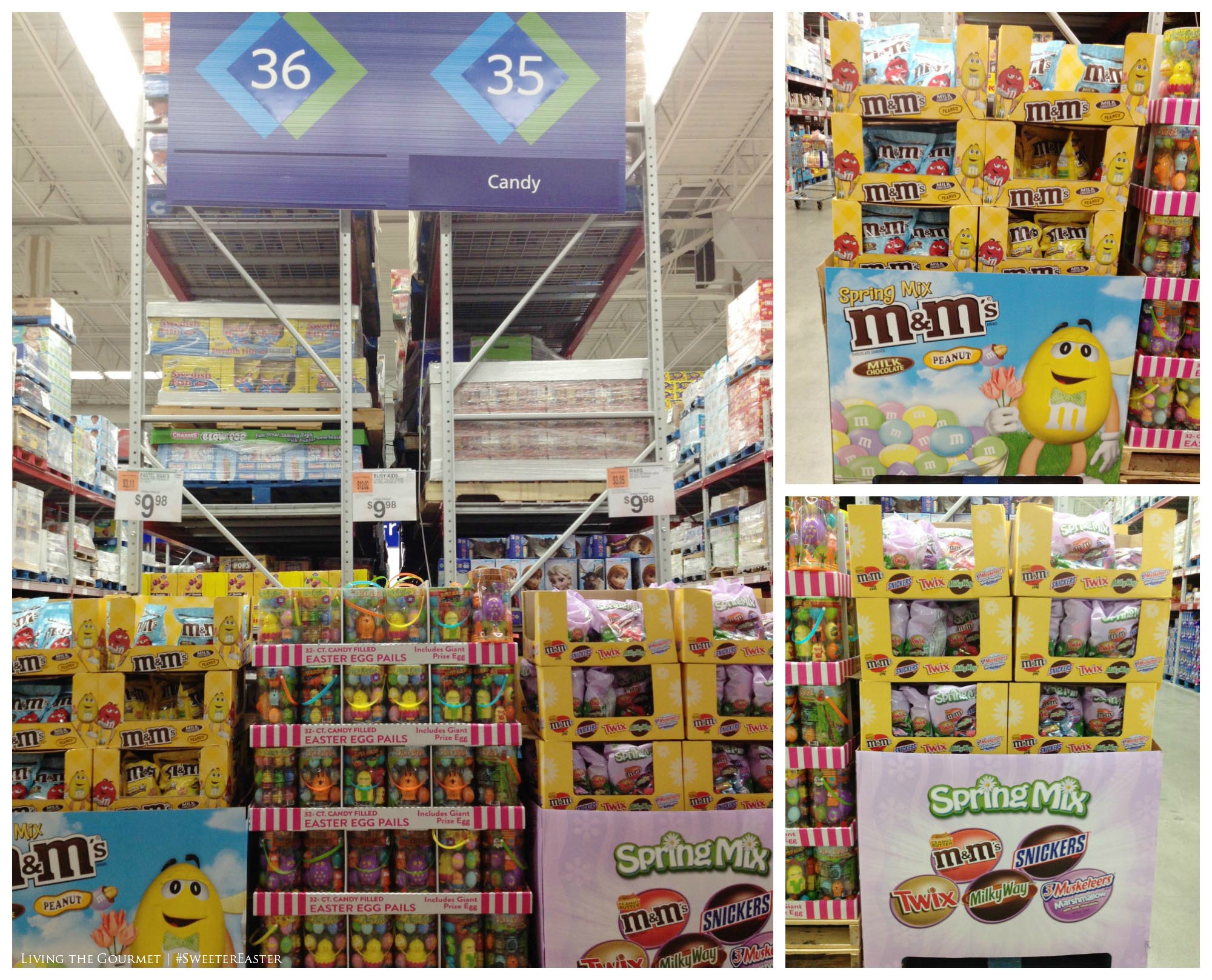 However, after coming up with the idea, I'm going to admit that even I myself doubted whether or not it would work, and so I decided to do a test run. After a quick supply run to Sam's Club, where I picked up a 56oz bag of M&M's® Pastel Plain and MARS Spring Minis Mix 52 oz., along with some baking chocolate for the shells, it was time to turn my kitchen into a testing ground.
Now, my first attempt at preparing chocolate Easter shells didn't go exactly according to plan, or at all according to plan for that matter. Nor did my second or third run at it, and needless to say, after going through several different methods and more than a few bars of baking chocolate, I was feeling rather defeated. I will spare you the details of those attempts. Yet, without the chocolate shells, preparing mousse inside an Easter basket simply wasn't going to work.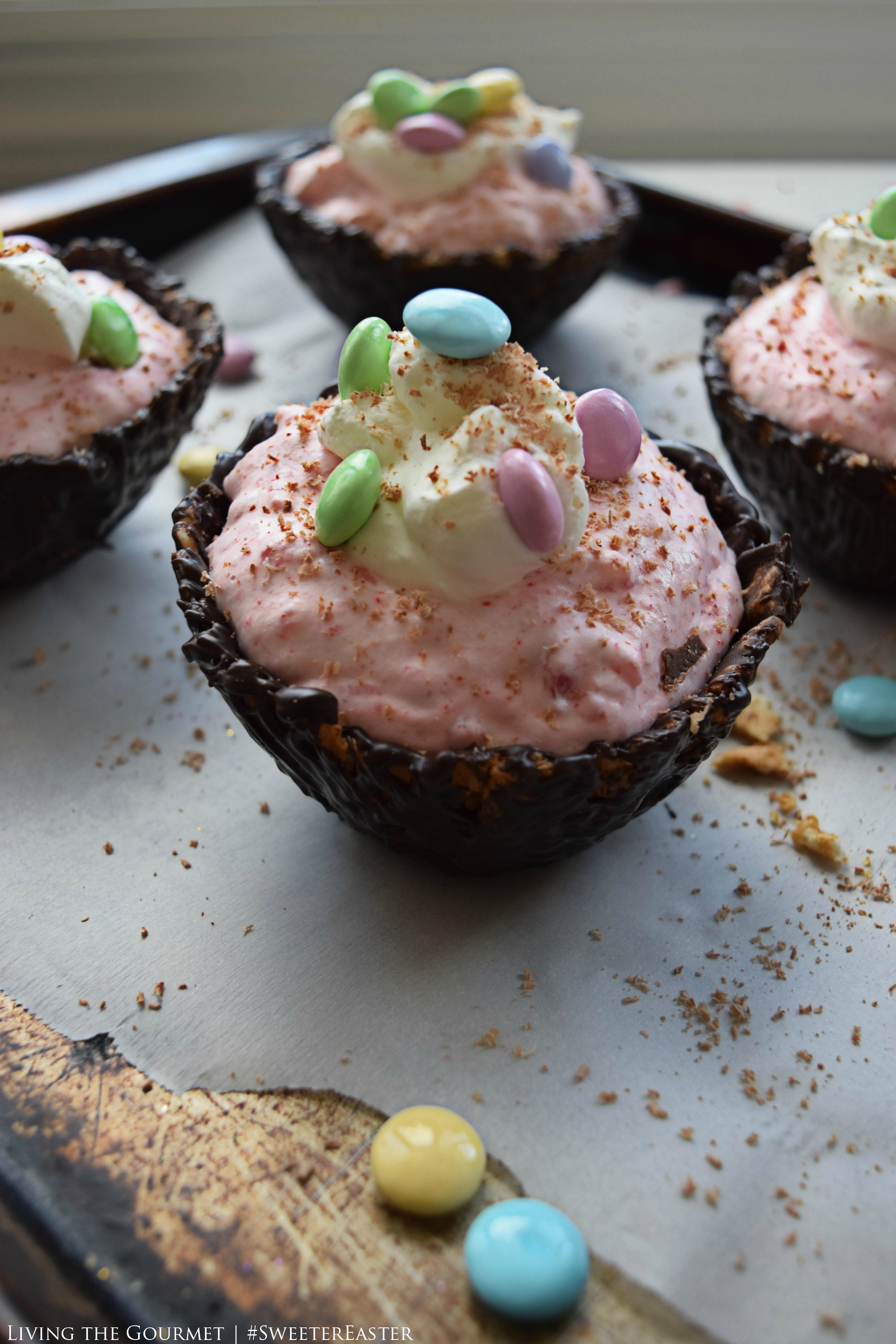 Sifting through my pantry as I contemplated going back to the drawing board on my basket idea, I happened across a pack of wafer bowls I had picked up recently and it struck me –cover the bowls in chocolate.
If there are "Culinary Gods", they were thanked copiously that afternoon.
After covering the bowls in chocolate as shown and described below, it was clear sailing. I prepared the strawberry mousse, speckled it with the M&M's® Pastel Plain, and once it was all assembled, I simply couldn't have been happier with the end result.
I had prepared a fresh strawberry mousse, and set it inside an Easter Basket. Yes, this year is going to be especially sweet.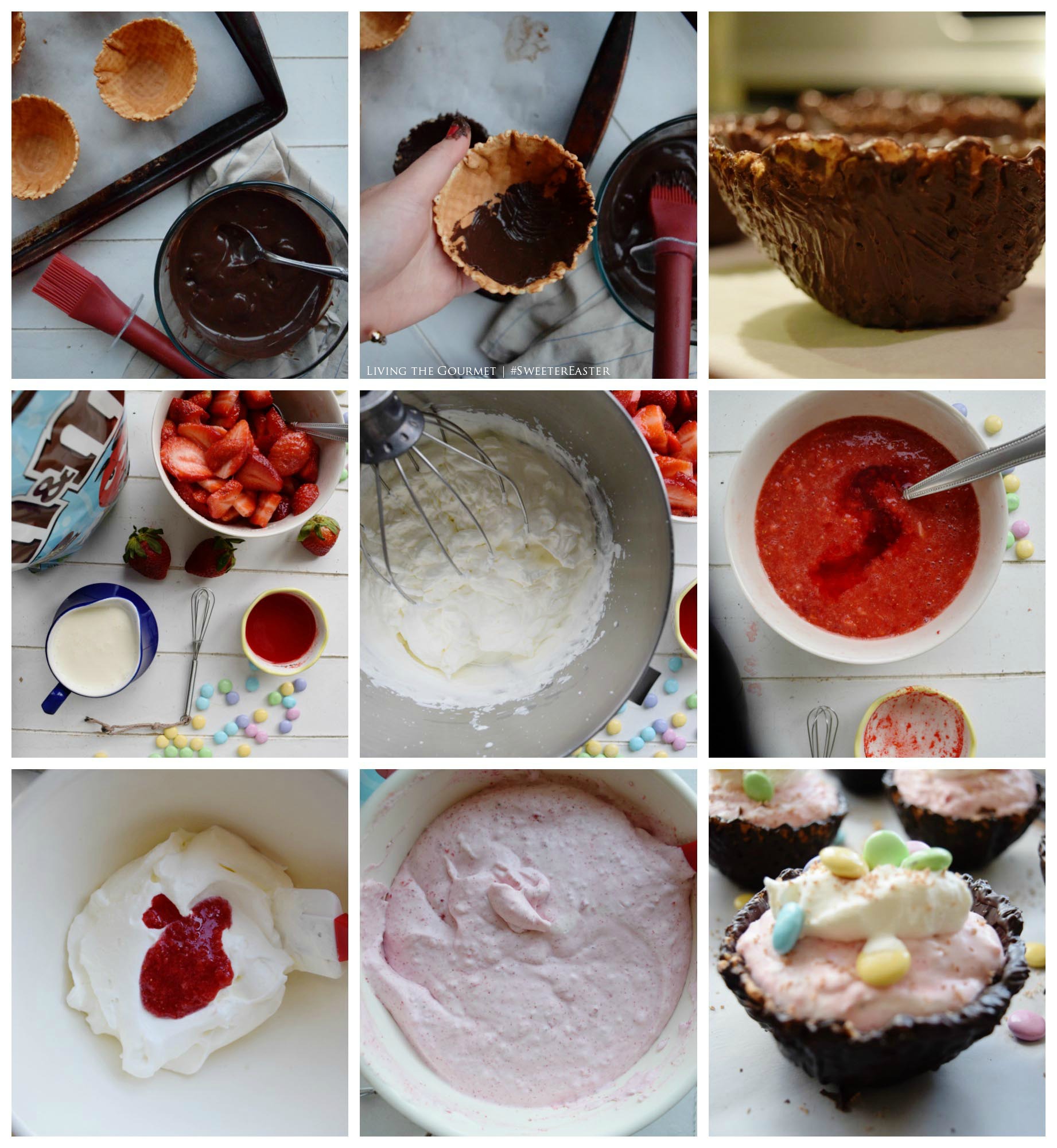 Print
Chocolate Easter Eggs with Strawberry Mousse
Author:
Prep Time:

20 minutes

Total Time:

20 minutes

Yield:

6

1

x
Category:

Dessert
6

waffle bowls

1 1/4

cup

dark chocolate melting candies
Strawberry Mouse:
2

cups

whipping cream

1 tablespoon

confectioner's sugar

1 teaspoon

vanilla

2

cups

sliced fresh strawberries

1 tablespoon

sugar

2 tablespoons

water

3/4 teaspoon

strawberry gelatin
M&M's® Pastel Plain – for garnish
MARS Spring Mix Minis – for garnish
Instructions
In a double broiler over low heat melt 1 cup melting candies. Once the candies have softened, stir occasionally until smooth. Remove immediately from the heat and fold in remaining 1/4 cup of chocolates.
Brush each wafer cup with chocolate and place on a parchment lined baking sheet and refrigerate to set while preparing the mousse.
In a small bowl toss together fresh strawberry slices with 1 tablespoon of sugar. Let stand for 5 minutes. Place the strawberries in the food processor and puree.
In another separate small measuring cup of bowl, stir 2 tablespoons of water with gelatin. Let stand for 5-10 minutes, just until the mixture has thickened. Add the gelatin to the strawberry puree. Cover and refrigerate for about 15 minutes until the mixture has thickened slightly.
In the meantime, in a large bowl, whip cream with confectioner's sugar and vanilla until firm peaks form. Set aside some whipped cream for later for assembly.
Add the strawberry mixture to the whipped cream, 1/2 cup at time, folding gently between each addition. Cover and refrigerate for 15 – 20 minutes, or until ready to serve.
Assembly:
Assemble your Easter Eggs before serving.
Fill each prepared wafer cup with strawberry mouse, top with a dollop of reserved whipped cream.
Shave one of the chocolate candies from the Spring Mix Minis over each egg cup, then top with M&M's® Pastel Plain candies.
Place the eggs in your Easter basket display for a festive touch and serve.
Notes
Prep Time does not include Inactive Prep Time.
Recipe Card powered by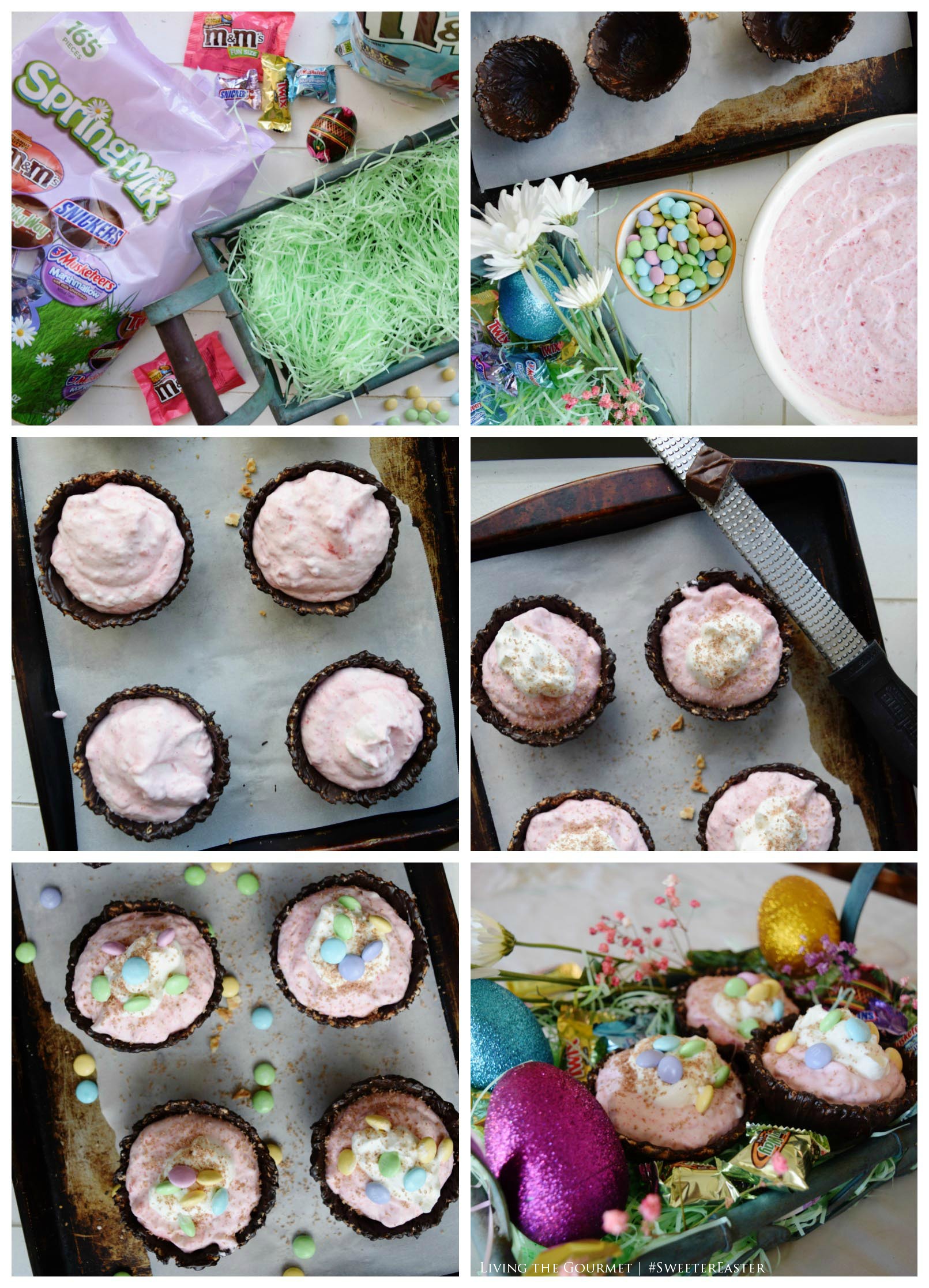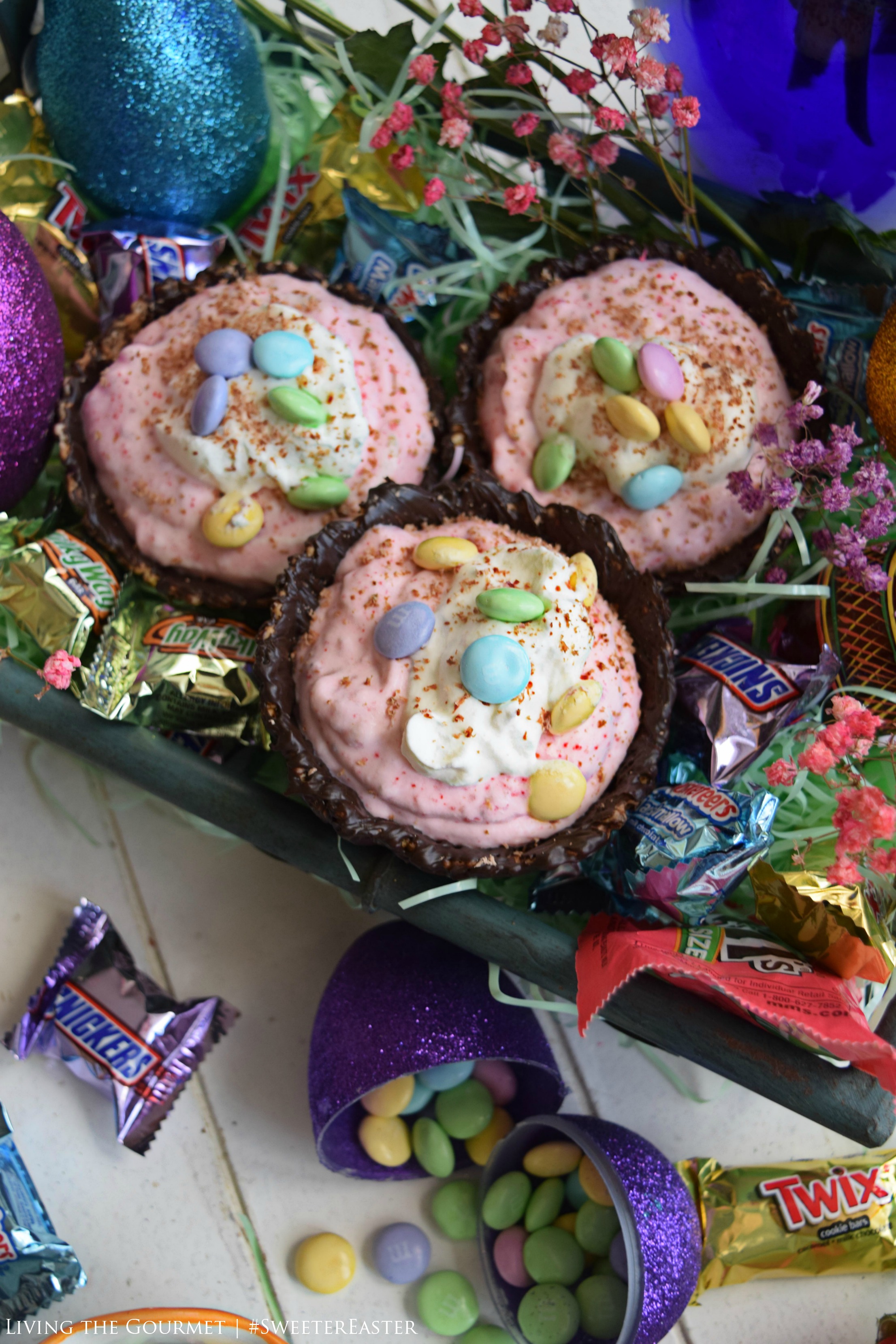 What are some of your most creative Easter Baskets? We would simply love to hear from you.
Enjoy!
0