Looking for something easy to prepare this holiday season? With Hefty Freezer Bags & Hefty Slider Bags, I was able to throw together an early Thanksgiving bruncheon in a pinch preparing marinated turkey breast served alongside sliced grilled pineapple and sweet yam fries.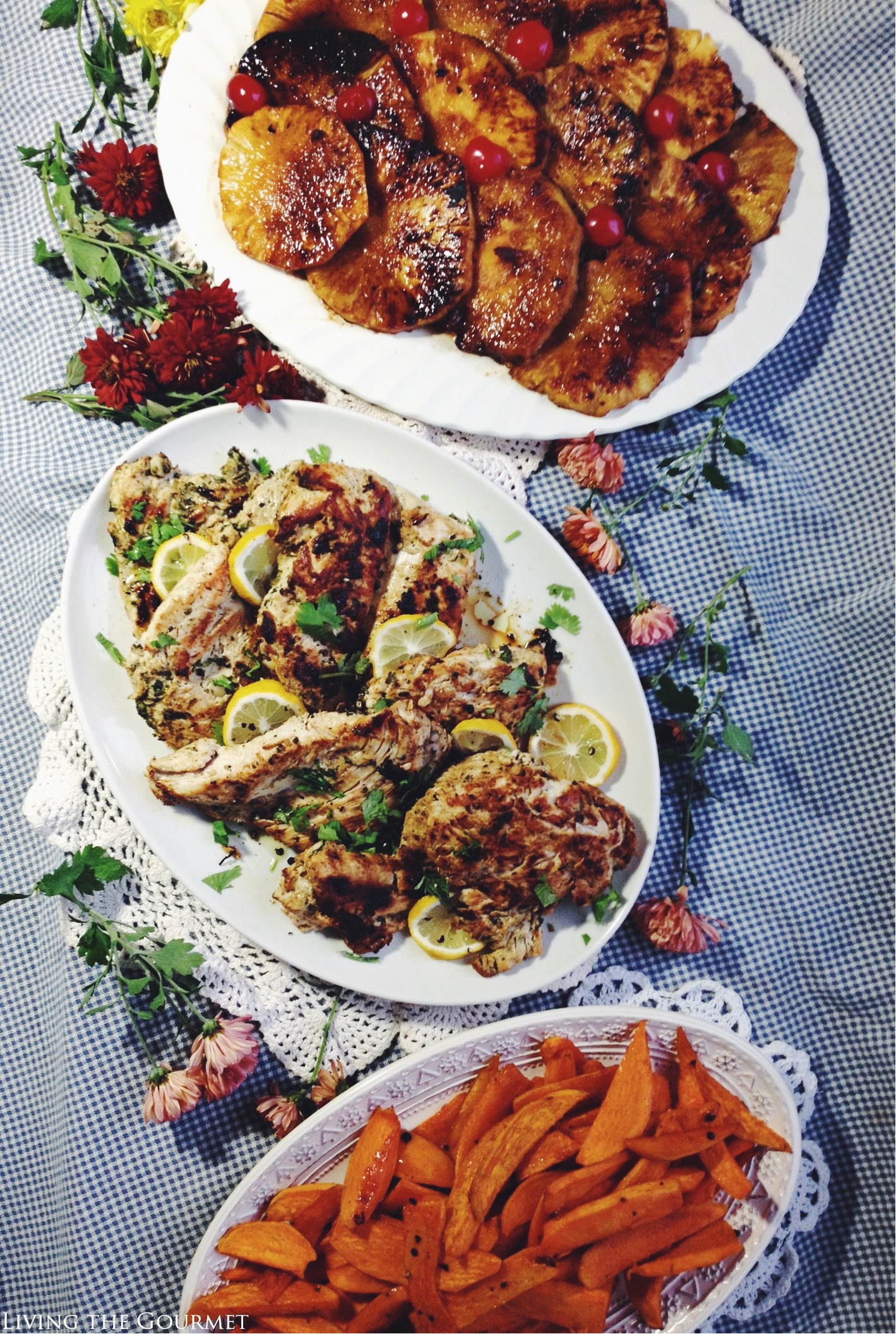 Robert Frost wrote of autumn, "My sorrow, when she's here with me, thinks these dark days of autumn rain are beautiful as days can be; she loves the bare, the withered tree; she walks the sodden pasture lane." Yet, just as the drear of autumn is upon us, and just as the short lived days of winter have wrapped us in their icy grasp, the season for feasting is upon us.
It's safe to say, however, that the grander the feast the 'grander' the amount of planning and work it requires to pull off. It was with precisely that in mind that I wrote just recently about a citrus recipe I had developed for Thanksgiving, and how I had done so at the end of a particularly long day. Whether spurred on by repeated requests for content surrounding 'ease' and 'time conservation,' or through my own wrestling with my schedule, I decided I wanted to try to put together a proper 'feast' while both conserving time and cutting down on complexity, but without sacrificing any the flare or flavor – just the opposite.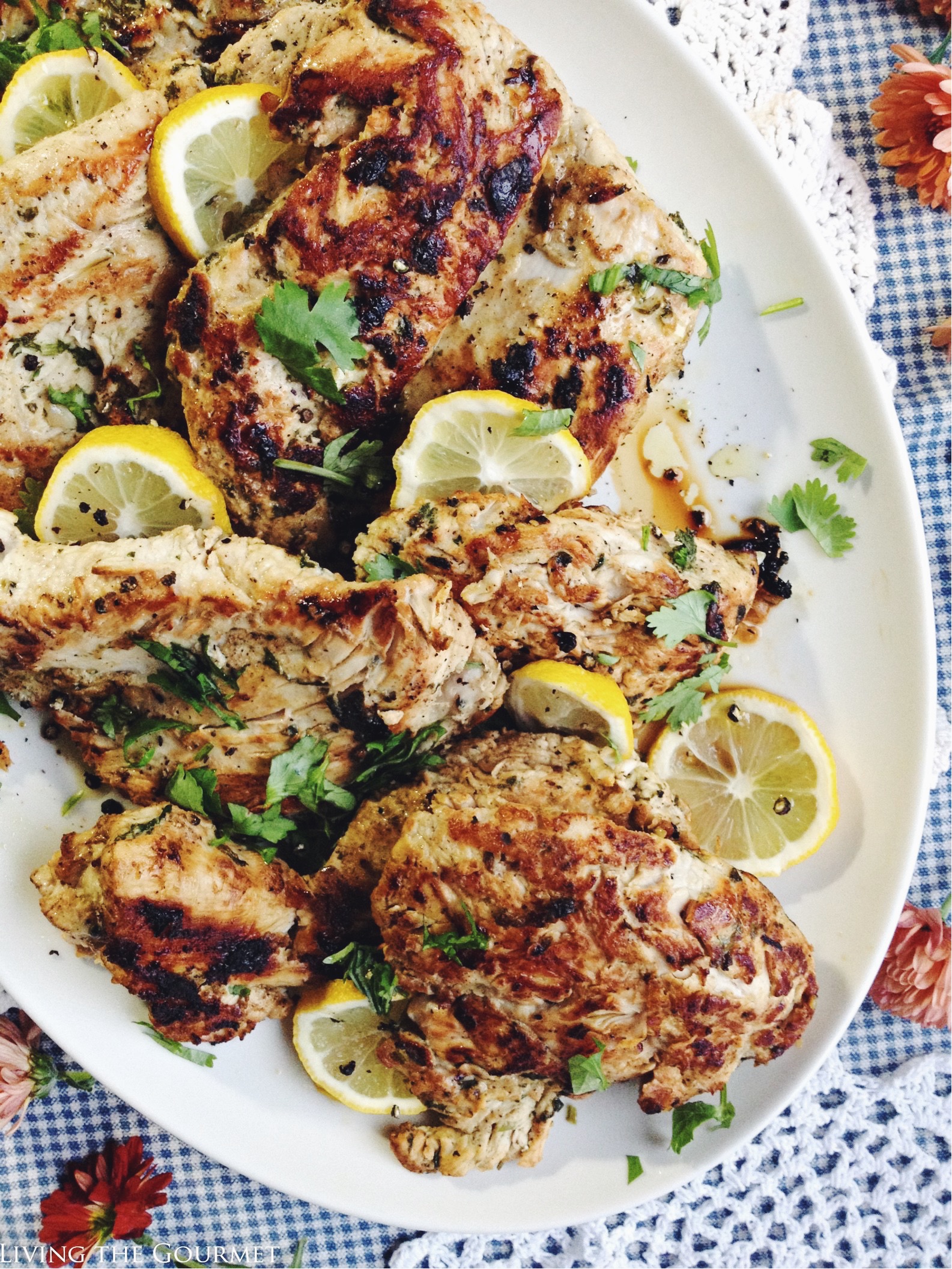 To do this, I decided, I would put together three exceptionally seasonal recipes, each perfect for Thanksgiving – marinated Turkey served with grilled marinated pineapple, and yam fries.
To start things off, you're going to need a pack of Hefty Storage Slider Bags, and a pack of Hefty Freezer Slider Bags. First, clean and slice your turkey as described below, and then place it in one of the zip lock Hefty bags. Now, prepare a marinade with lemon juice, cilantro, garlic and olive oil, as shown below, and combine that in the bag with the Turkey. It's important to note that this can be done ahead of time, since the longer the turkey marinates the better it will taste.
Print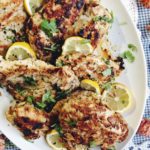 Marinated Turkey Breast Marinated Yam Fries Marinated Grilled Pineapple Slices
---
Author:

Prep Time:

5 minutes

Cook Time:

10 minutes

Total Time:

15 minutes

Yield:

4

-

6

1

x
3

lbs. boneless turkey breast – slightly flattened
For the Marinade:
3

tbs. lemon juice

3

–

4

cloves of garlic – chopped

3

tbs. olive oil

1 cup

fresh cilantro – chopped

1 tsp

. salt

1 tsp

. ground coriander

1 tsp

. black pepper

1 tsp

. grated nutmeg

7

yams – peeled and sliced lengthwise into wedges
For the Marinade:
3

tbs. brown sugar

2

tbs. lemon juice

2

tbs. olive oil

1/2 tsp

. salt

1 tsp

. garlic powder

1

fresh pineapple – sliced

2

tbs. teriyaki sauce

2

tbs. orange juice

4

tbs. brown sugar

1 tsp

. cinnamon

1/2 tsp

. ground cloves
Maraschino cherries for garnish
---
Instructions
Combine all of the ingredients for the marinade in a bowl.
Add the turkey breast to the bowl and toss.
Transfer all of the ingredients to a Hefty Slider Bag or Hefty Freezer Bag and refrigerate at least one hour or up to overnight.
Heat a large cast iron frying pan with a tablespoon of olive oil; add 2 to 3 pieces of turkey breast to the pan; DO NO OVERCROWD the pan.
Sauté the breast for 6 – 8 minutes on one side, depending on how thickness of the turkey breast and until a nice golden char is achieved on one side; turn over and finish cooking on the other side, until the juices run clear when sliced and the meat is no longer pink.
Prepare the marinade in a bowl and add the potato slices.
Place the mixture into a Hefty Slider Bag and refrigerate until ready to use.
Preheat Oven 425 degrees F.
Place the potatoes on a shallow baking sheet and bake for 15 minutes then flip the fries to assure they cook evenly. Bake another 10 – 12 minutes.
Combine all of the ingredients for the marinade and place in a bowl.
Add the sliced pineapple to the marinade and transfer to a Hefty Slider Bag.
Refrigerate until ready to use.
Heat a griddle and place the sliced pineapple. Allow the pineapple to reach a beautiful char on one side then flip and finish grilling on the other side.
Place on a serving platter and garnish with Maraschino cherries.
Recipe Card powered by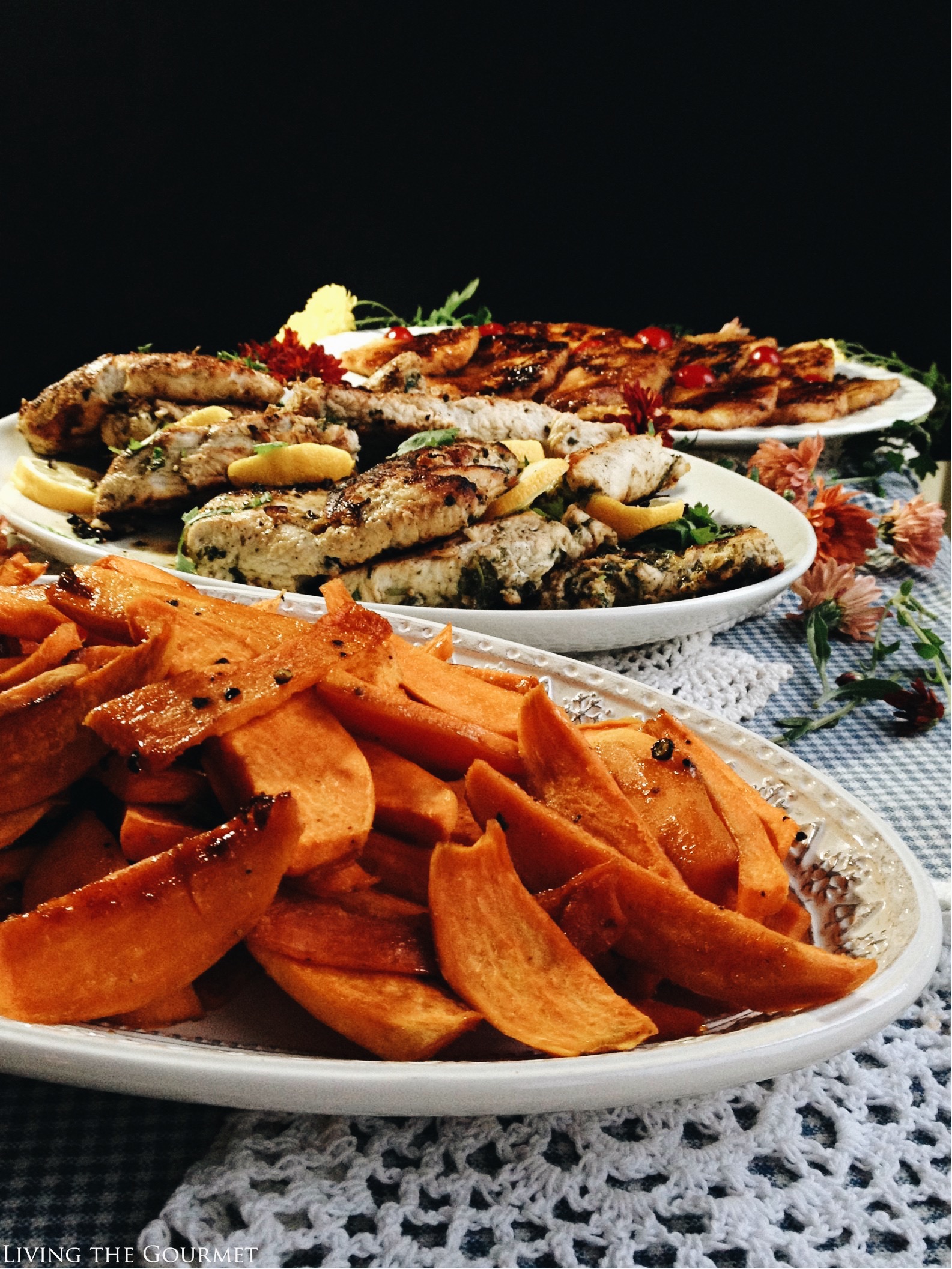 What are some of the tricks you use to save time during the holiday season? Or what are some of your favorite tricks for infusing flavor into your holiday favorites while still keeping things simple? We would love to hear from you, and check out more tips on how Hefty can help this holiday season! There also lots of fun craft ideas you can make with Hefty this Thanksgiving for the kids.
Thank you to Hefty for sponsoring today's post and showing how to make Thanksgiving a little less chaotic!
If You Enjoyed Today's Recipe…
Be sure to follow us on Instagram to stay up to date with all things Living the Gourmet, and for more great recipes, tips and tricks.
Did you make this recipe?
If so, let me know in the comments down below, or post a picture to Instagram, or to Pinterest, and I'll give you a shoutout on Instagram, or post your pin to one of my Pinterest boards!
Enjoy with Love!
1