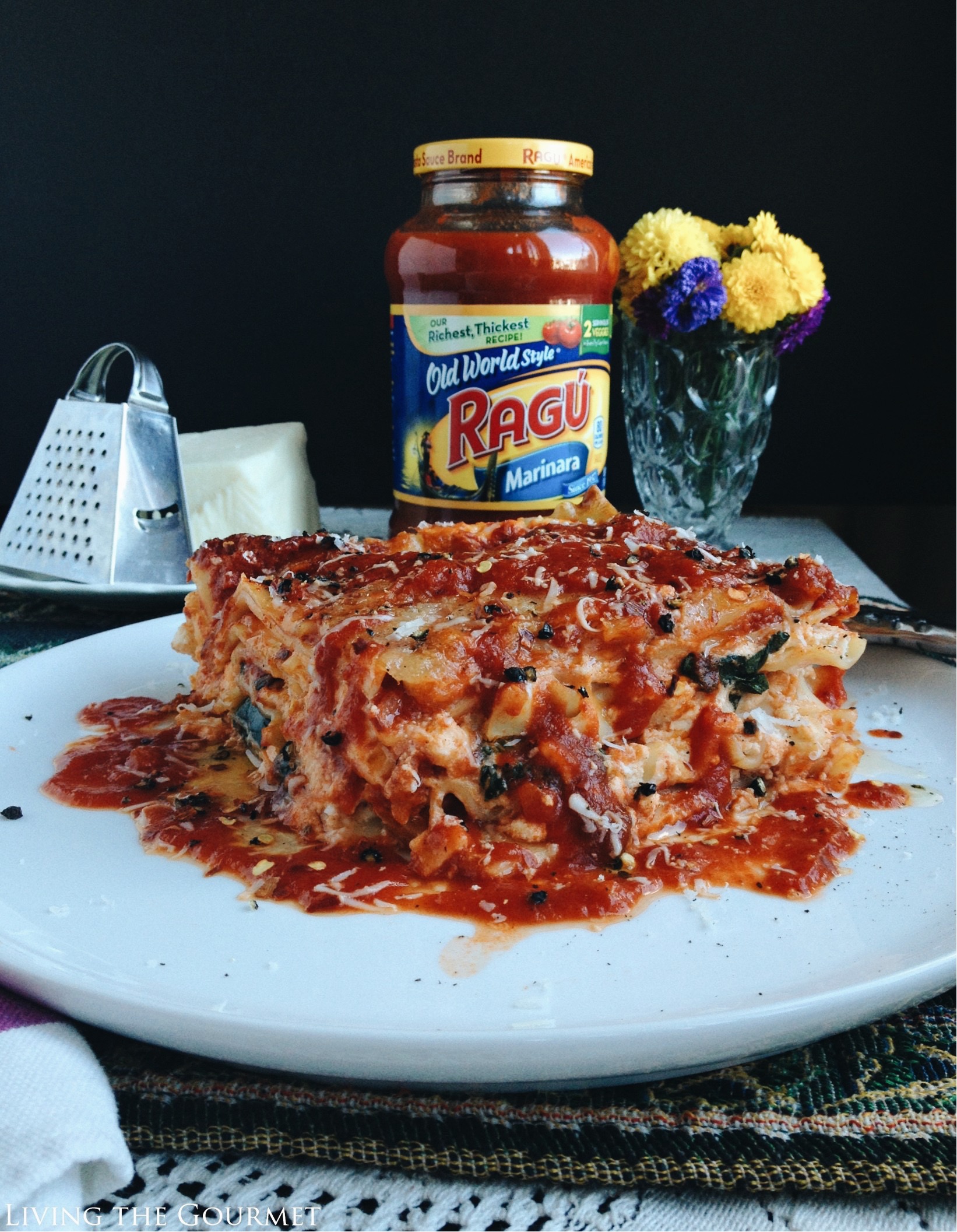 Closing my eyes, I reach back, and find myself standing in an achingly familiar doorway. My gaze reaches beyond the small foyer into a dining room, and traces the crowd mingling around the table. My presence, as I have now become accustomed, goes unnoticed.
Instantly familiar, this is a scene I have watched play out a dozen or more times. Yet, now, through the dim lighting, many of the faces are blurred to my eyes, as if I were watching through a pane of misted glass. Music lingers over the scene, a faint but joyful static, while voices and jovial laughter lash across the room like waves from one end of the dining room table to the other. Glasses chime with impromptu toasts, and the music grows louder. Eager to rejoin them, I take my place at the table, the same space I have occupied so many times before, yet here too I go unseen and unheard, like a ghost passing through the dark. Yet, I am content to watch and to listen, and though I know each word before they speak it, I'm eager to hear it all again.
Up close, the faces take shape, each frozen in time, and are as clear as crystal, instantly and intimately familiar. Yet, like a child staring longingly through a bakery window, I can see them but I cannot touch them, nor they I. We speak, the same conversation as when last I visited, and they greet me with their voices like echoes across a moonlit field, faded and distant, and growing more so with each passing moment.
I close my eyes to the vision of yesterday as I reopen them to the reality of the present, a journey that is at once sweet, painful, and warming.
Much like the humans who make and treasure them, memories are a strange, imperfect, and often contradictory thing. Tainted by time and distance, distorted by bias, and punctuated with inconsistency, they are the ever fading sum total of all that has created us.
Thinking back over my own memories, I can't help realizing how the atmosphere in which I grew up was a running lesson for what I do here at Living the Gourmet.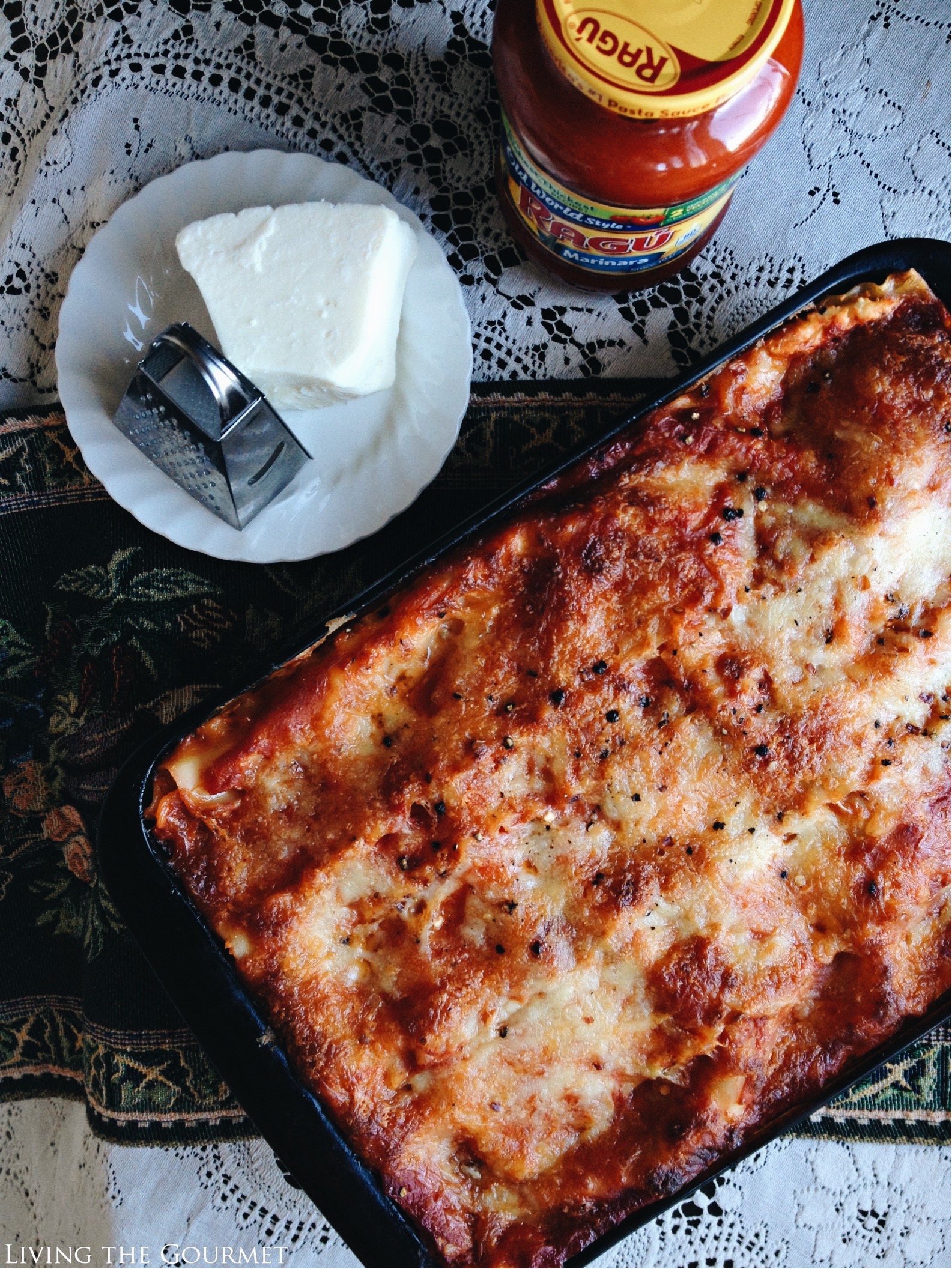 Whether it was watching my father roasting sausages at midnight to celebrate the New Year, or helping my mother bake pairs of grain cakes for the holidays, or watching my grandfather soak his peaches in wine, or learning which Italian liquor to serve after which meal, my heritage didn't 'merely' leave me with memories, it helped build the foundation of what I do today. Lingering for hours over a meal with the family wasn't something we 'tried' to do in order to create moments or celebrate occasions, it was simply how we lived. Everything that went into creating what went on the table was simply a piece of the evening's mosaic. Meals were family orientated social events, simply put, but not by design. It just happened.
Now, lingering over meals with friends and family is considered a form of high entertaining, something the culinary industry has forged an entire genre around. In so many ways, I suppose, growing up was my first lesson in the 'gourmet,' since so many of the recipes, ingredients, and techniques I took for granted are now considered vogue, such as marrow bones, mascarpone, anisette, and limoncello. Even prosecco is seeing a renaissance in production and price, on par with cava which is now rivaling champagne as the bubbly of the edgy and fashionable.
Thinking back, a lot of 'classics' come to mind. I mentioned the grain cakes, but also more familiar items such as towering pots of meatballs, freshly made zeppoli, homemade macaroni, and of course long trays of from scratch lasagna.
While I can't recall the last time I made quite as many meatballs for a single occasion as my mother, or the last batch of macaroni I made by hand, from scratch lasagna has remained an absolute must in my house, and that's what we have on offer for today's recipe.
You'll notice that I use Ragu Old World Style Marinara as the base for the sauce, since it really helps either when cooking for a large crowd or on a tight schedule without sacrificing any of the flavor we've all come to love, especially since it features no artificial flavors, corn syrup. It's also super affordable, which is always nice.
Flavors and quality aside, I also can't help relating to Assunta Cantisano's story, the founder of Ragu, who started selling her homemade sauces during the height of the Great Depression. Having access only to her vine-ripened tomatoes and homegrown herbs, the sauces she created were authentic and delicious from the outset, and by the sixties Assunta's sauce had become a staple in American homes.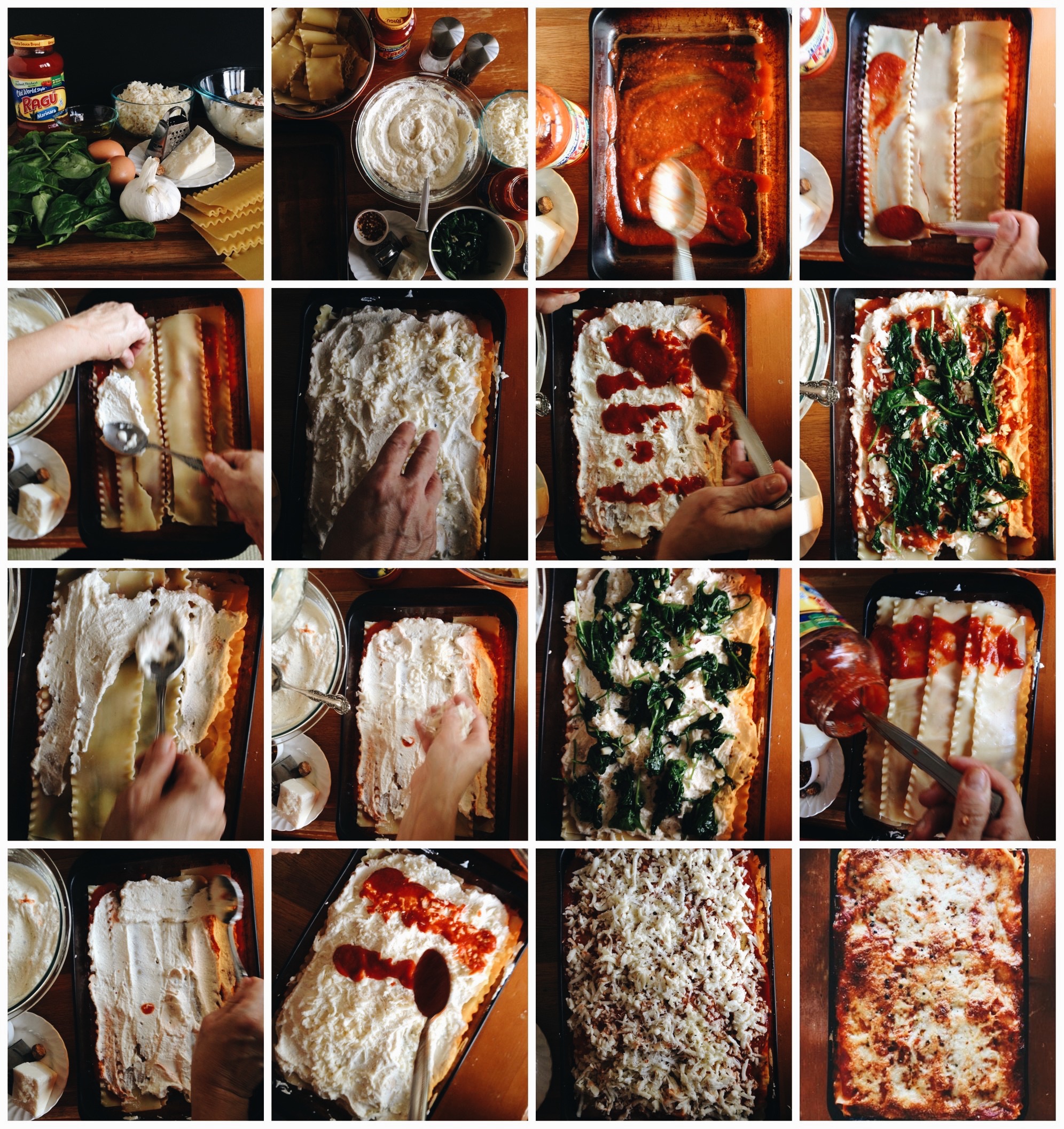 To start things off, prepare your lasagna noodles as directed on the box, then drain them and set them aside to cool. Meanwhile, mix your ricotta, eggs, sugar, salt, pepper, red pepper, nutmeg, and parmesan in a large bowl to create a classically rustic filling. Then heat a large frying pan with a two tablespoons of olive oil, preferably cast iron, and chop in a few cloves of garlic, to which you'll add your spinach once the garlic has become fragrant; allowing the spinach to gently wilt.
Now comes the fun part. Using your largest baking dish, cover the bottom with roughly two to three ladles of sauce, and lay down a layer of lasagna noodles so that the bottom of the dish is completely hidden. Now, picture an old time brick layer, and smooth out a generous helping of the ricotta mixture over the lasagna noodles, followed by grated cheese, shredded mozzarella and sauce. Now layer noodles over the mixture and repeat this layering process this time adding the spinach. Then cover the top layer of noodles with sauce, shredded mozzarella, grating cheese, and a drizzle of olive oil and you're good to go.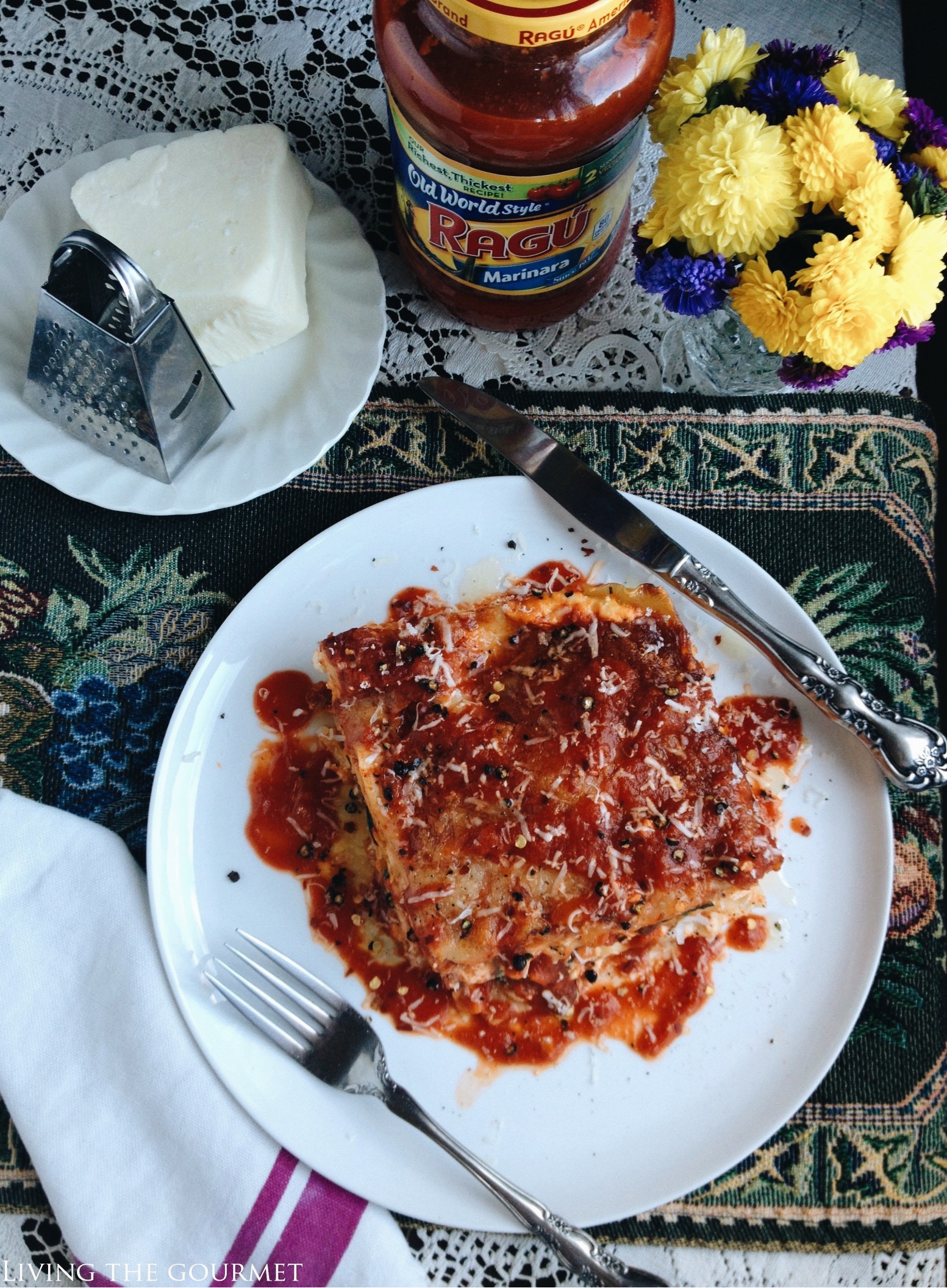 Print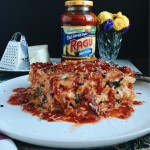 Family Style Lasagna
---
Author:

Prep Time:

15 minutes

Cook Time:

45 minutes

Total Time:

1 hour

Yield:

6

-

8

1

x
1

lb. lasagna noodles

32 oz

. ricotta cheese

2

eggs

1 tsp

. sugar

16 oz

. mozzarella cheese – grated

12 oz

. of fresh baby spinach

3

cloves garlic – chopped

1/4 tsp

. fresh grated nutmeg

1/4 cup

of grated Parmesan or Romano cheese

1/4 tsp

. salt
Dash of red pepper flakes
Dash of ground black pepper
Olive oil
---
Instructions
Prepare lasagna noodles as directed; drain and let cool.
Place ricotta cheese in a large bowl; add the eggs, sugar, salt, ground black pepper, pinch of red pepper flakes, fresh ground nutmeg and grated Parmesan cheese. Mix the entire ingredients together well with a fork.
Heat a large frying pan with 2 tablespoons of olive oil and add the chopped garlic.
When the garlic is fragrant add a handful at a time of the spinach; toss and gently wilt down the spinach. Turn the heat off when then spinach has wilted down.
Prepare a baking dish with two to three ladles of sauce.
Place a layer of lasagna noodles in the pan and top with the ricotta mixture, shredded mozzarella, grated cheese, spinach, red pepper flakes and sauce.
Repeat this process ending with noodles, sauce, mozzarella, grated cheese, ground black pepper, red pepper flakes and a drizzle of olive oil.
Preheat Oven 350 degrees F.
Bake for 45 – 50 minutes.
Let the lasagna rest for 10 – 15 minutes before serving
Recipe Card powered by
What are some of your fondest memories? What are some of the recipes that go with those memories? We would love to hear from you.
Share your recipes to Ready. Set. Cook! a recipe contest running on Food.com that is challenging homecooks to create new and unique recipes featuring Ragu sauce!
Don't forget to enter our giveaway below for a chance to win a $75 VISA giftcard! Please note giveaway is open to U.S. residents only; must be 18+ to enter!
Enjoy with Love,
Catherine
xo
Thank you to Ragu for sponsoring today's post!!
1