Brace yourselves...Thanksgiving is this Thursday!
I am amazed at how quickly this year has gone by, and if you feel the same way then I have some good news for you. The Butterball Turkey Talk Line is open and the experts are sharing this tips and tricks for this holiday season right here on Living the Gourmet this weekend.
Today we are speaking with Master Chef Anthony Seta, one of only 65 of the certified Master Chefs by the American Culinary Federation. The title is the highest level of certification a chef can receive.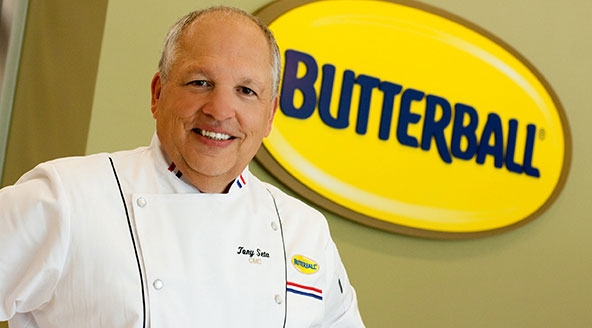 Sharing your favorite memories with friends and family has always been a special part of the Thanksgiving holiday. Some people may remember savoring that unexpected side dish their grandmother made when they were a kid. Others may remember the year their mom forgot to turn on the oven and dinner was served much later than was planned, the point is, Turkey has a way of bringing people together. In fact, it's hard to think of a Thanksgiving without it. This year, Butterball is asking family and friends to "throwback" to their favorite Thanksgiving memories and reflect on the holiday meal.
Cooking that holiday meal takes a lot of planning and preparation, whether it's your first time cooking Thanksgiving dinner or you're an old pro at roasting the turkey. Fortunately there are professionals to help. Butterball Turkey Talk-Line experts have been helping families by providing advice for 35 years – the 50+ experts help more than 3M holiday cooks each November and December.
Enjoy with Love,
Catherine
xo
0