This shop has been compensated by Collective Bias, Inc. and its advertiser. All opinions are mine alone. #FallWithATwist #CollectiveBias
With the holidays underway, it's not always easy staying on track, nor is there always enough time to cook a full homemade meal. MorningStar Farms is here to help keep meals simple, delicious and healthy, so you can focus on the holidays and get more done!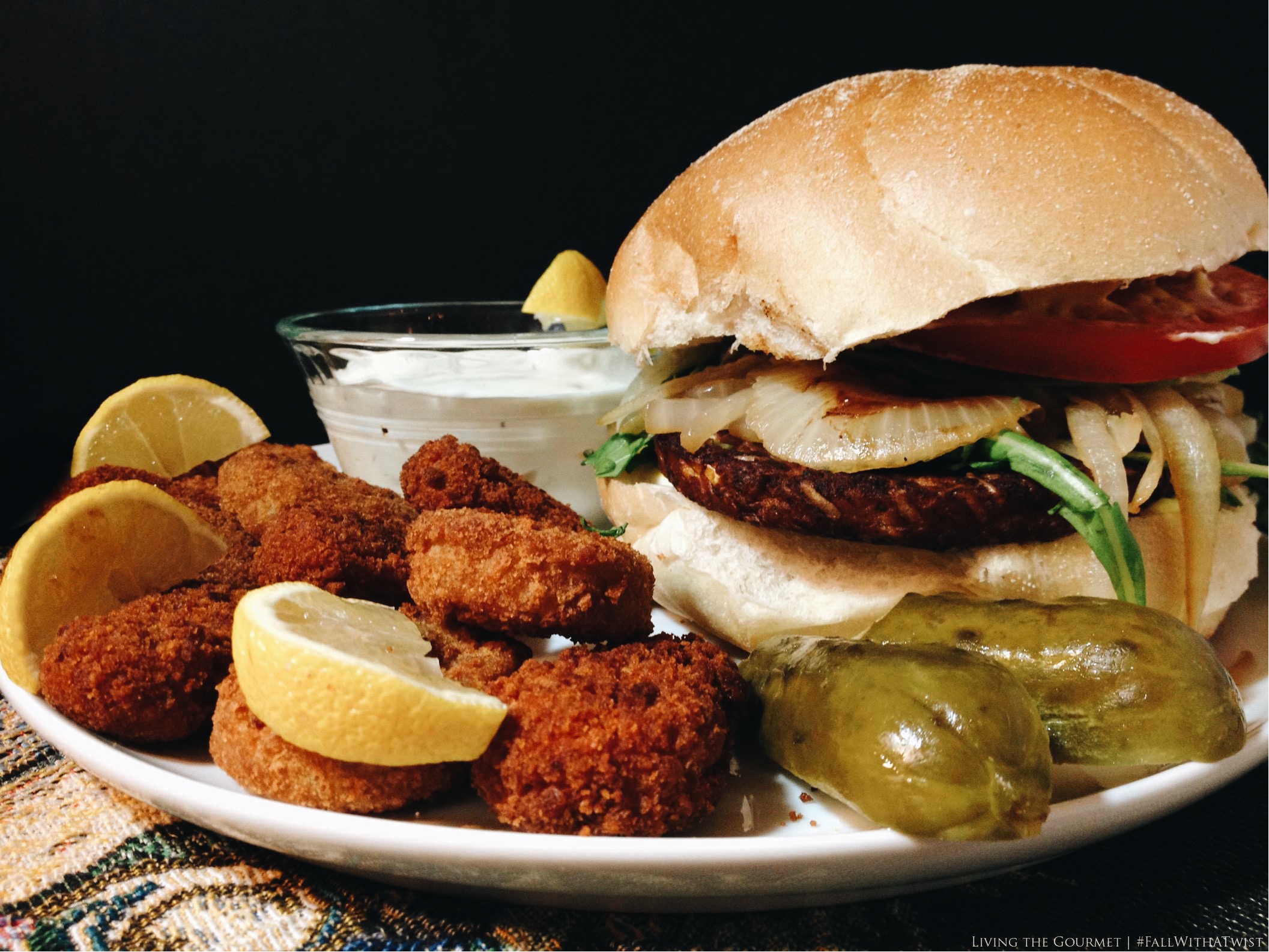 Through the ages, the idea of simplicity 'being its own virtue' has echoed quite clearly. For example, in Classical Athens, Plato, through the voice of Socrates, proclaimed simplicity to be a form of wisdom. Nearly two thousand years later, Da Vinci considered simplicity to be the ultimate sophistication, while Longfellow remarked that "In character, in manner, in style, in all things, the supreme excellence is simplicity."
Yet, I would hardly consider Plato's 'Phaedrus' or 'Timaeus' to be simple works. After all, does anyone seriously think the deconstruction of the Sophists or the weaving of the tale of Atlantis to be simple matters? Nor would I consider the Viola Organista to be a 'simple' design by Leonardo. Similarly, Longfellow's poetry maybe 'simple' in construct when compared to the verses of Poe or CS Lewis, yet that simplicity is nevertheless little more than a clever veil.
As such, when preparing 'simple' meals, I have never subscribed to the idea that a simple meal also needs to be a plain, bland, or otherwise unpleasant affair. Just the opposite in fact. For example, I've written a few times now about the importance of unwinding and reminding oneself of one's humanity after a long day with a pleasant meal, and how even the tightest of schedules affords time to eat properly. While this is certainly a matter of health, I find it even more a matter of comfort and enjoyment.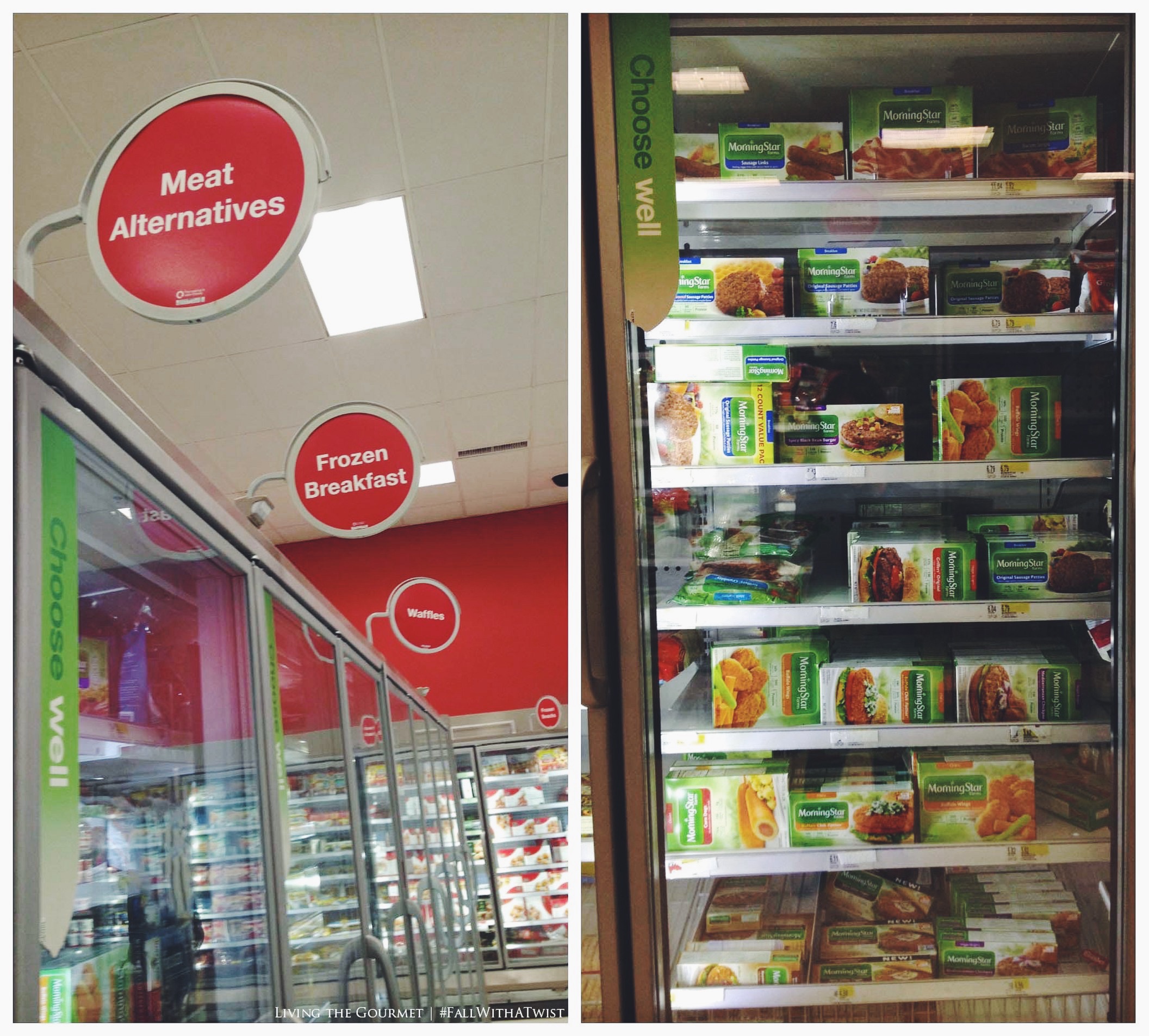 During the lead up to the holidays this becomes especially important, since our already busy schedules become all the tighter, and it can be surprisingly tempting to leave the 'good eating' to the holiday evenings themselves, while skimping in the lead up for the sake of time. I actually found myself thinking about precisely that while I was shopping a few days ago at Target, where I was doing some early supply runs. Between preparing content for the site, and planning out holiday meals for my family, my own schedule has been, to put it bluntly, a mess.
Yet, I'm hardly one to let a messy schedule get in the way of a good meal, and as I've said before, it's simply unnecessary. What is necessary, however, is an eye for the deceptively simple, to keep prep quick and easy, while keeping the platting and flavor 'deliciously complex.'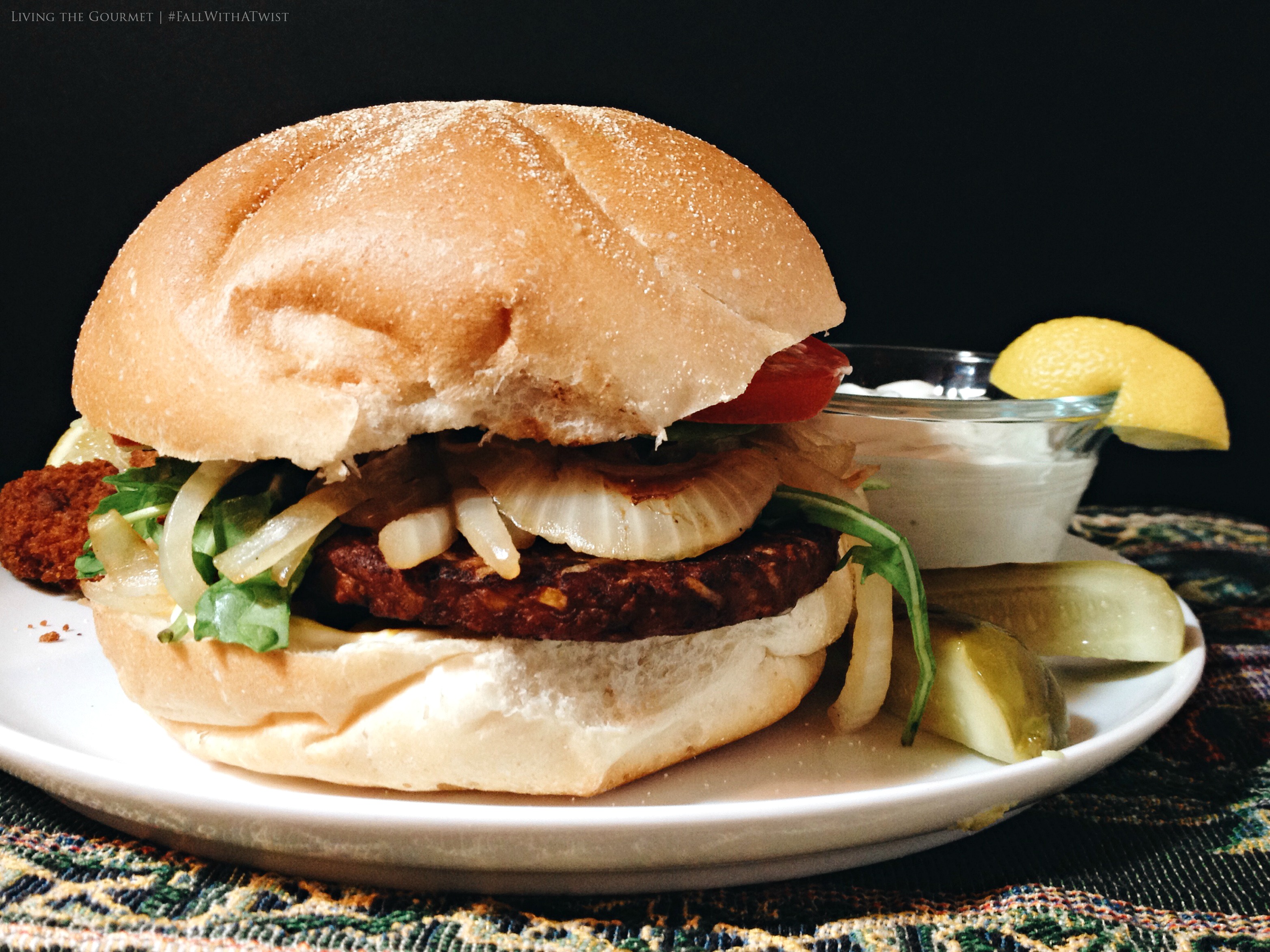 To start things off after I got from the aforementioned run to Target, I prepared a set of MorningStar Farms Spicy Black Bean Veggie Burgers, which I picked up while I was there. To pair with the burgers, I grilled up a few onions, as shown below, sliced a tomato, arugula, sliced avocado, a combo of mayo and mustard and assembled them together on hearty keiser rolls. All told, the entire process took under a half an hour, and is a meal that anyone and everyone can enjoy.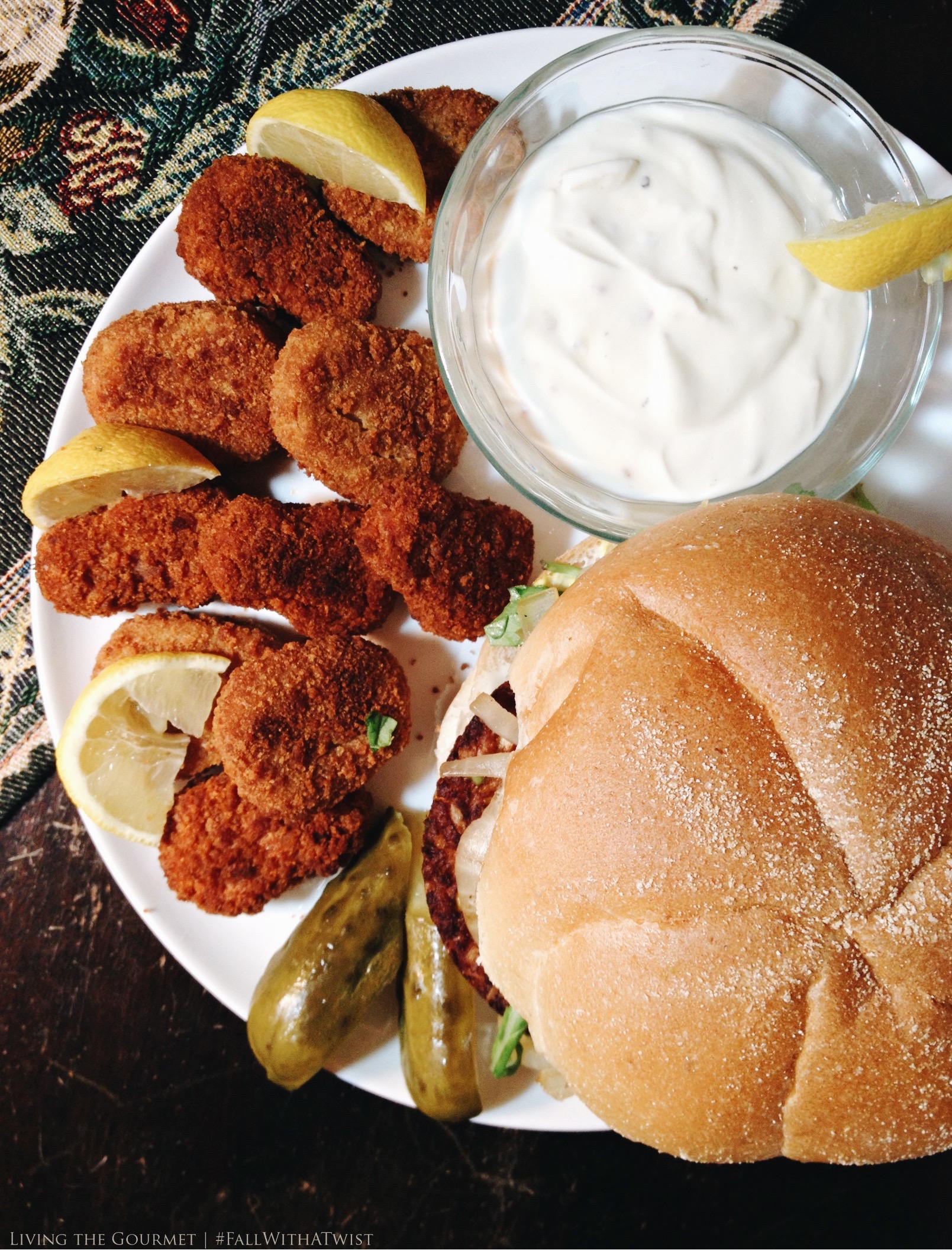 To serve either alongside the burger, or even on their own, I cooked up a package of the MorningStar Farms Chik'n Nuggets and Buffalo Wings, which I paired with a sweet and spicy dipping sauce featuring garlic, red pepper, Greek yogurt, fresh lemon juice and honey.
All told, it was a simple but enjoyable meal, perfect for those cramped spaces on the calendar. What are some of the ways you fit in meals during these busy pre-holidays weeks? We would love to hear from you.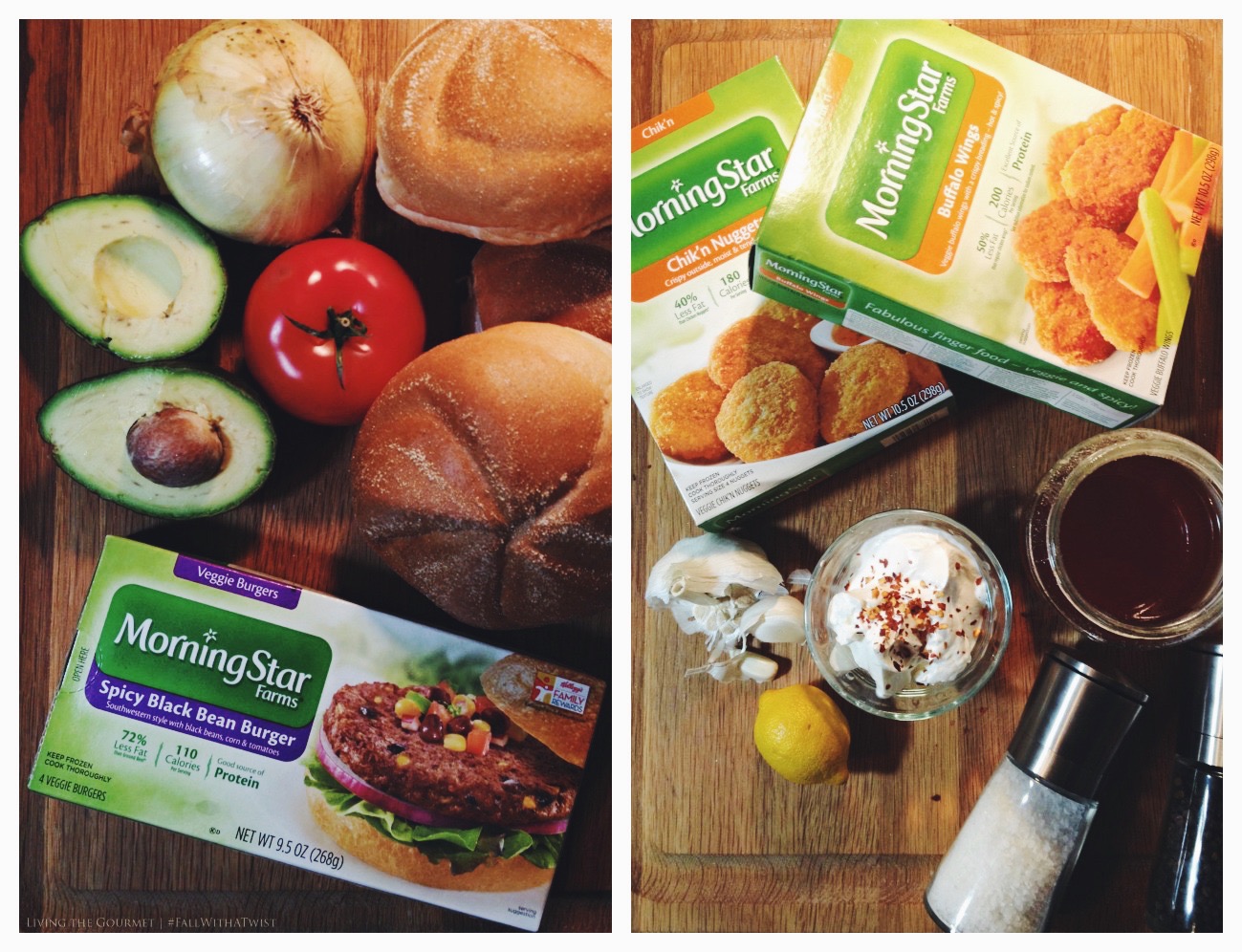 Living the Gourmet
Yields 2-4
Black Bean Veggie Burgers and Spicy Dipping Sauce
10 minPrep Time
15 minCook Time
25 minTotal Time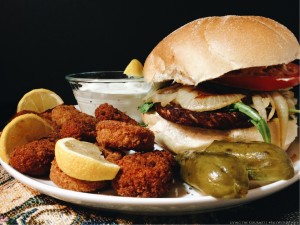 Ingredients
2 MorningStar Farms Spicy Black Bean Burgers
1 tomato – sliced
1 avocado – sliced
1 – 2 onions – grilled
Your favorite salad greens
Mayonnaise
Mustard
1 package MorningStar Farms Chik'n Nuggets
1 package MorningStar Farms Buffalo Wings

Dipping Sauce:

2 cups Greek yogurt
Juice of 1 lemon
3-4 tbs. honey
1 large garlic clove – grilled and chopped
1/4 - 1/2 tsp. red pepper flakes
Instructions
Heat a large frying pan and add the sliced onions. Grill until golden.
Prepare the veggie burgers as directed.

To Build the Burger:

Place the mayonnaise and mustard on each side of the roll; then begin to build the burger with salad greens, sliced tomato, sliced avocado, grilled onions and the veggie burgers.
In the meantime, prepare the Chik'n Nuggets and Buffalo Wings as directed.

Dipping Sauce:

Heat a frying pan and char the garlic clove in the skin. Pinch the garlic from the skin and chop.
Combine Greek yogurt, lemon juice, honey, chopped garlic and red pepper flakes in a bowl and mix.
7.8.1.2
205
https://livingthegourmet.com/2015/11/black-bean-veggie-burgers-and-spicy-dipping-sauce.html
Enjoy with Love,
Catherine
xo
2