This shop has been compensated by Collective Bias, Inc. and its advertiser. All opinions are mine alone. #EffortlessPies #CollectiveBias
Effortless and delicious is how prepping for the holidays should be. Enjoy these no-bake mini pies made with Dannon® Greek Yogurt Oikos® Pumpkin Pie and a swirl of Reddi-wip®. To make these easy desserts extra special, we topped them off with candied pecans and a sprinkle of cinnamon sugar.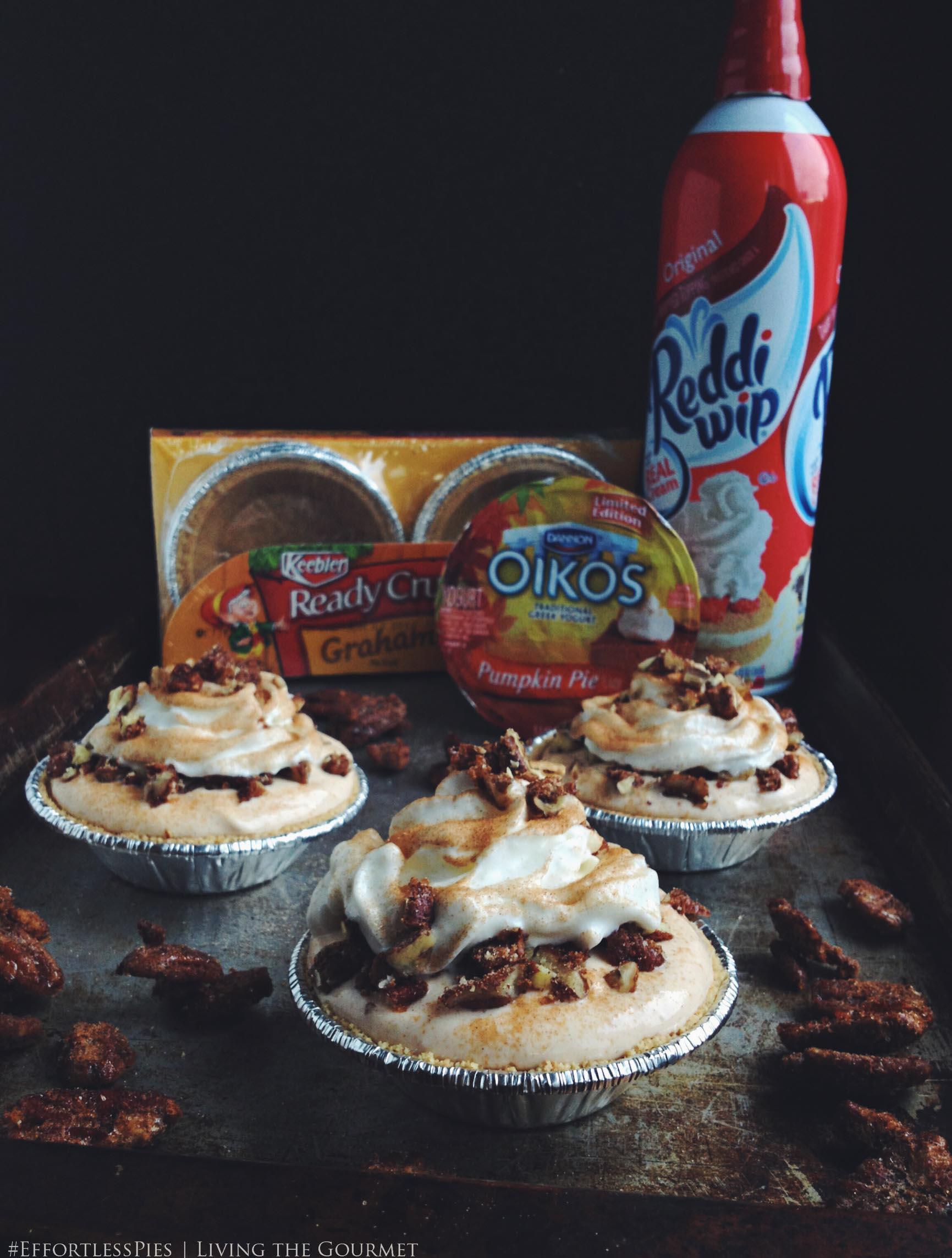 According to Leonardo da Vinci, simplicity is the utmost sophistication…a mantra apparently lost on those who wrote of his fabled 'code.'
In the art of entertaining, few sentiments ring truer. Simplicity leaves less room for error, allows for greater attention to detail, and lends a certain 'sophistication' in and of itself. For just as a wine can become muddled by the mere fact of an overly complex bouquet, so too can a table, recipe, or even an entire event suffer from becoming overwrought by a plethora of poorly connected items, ingredients, or themes.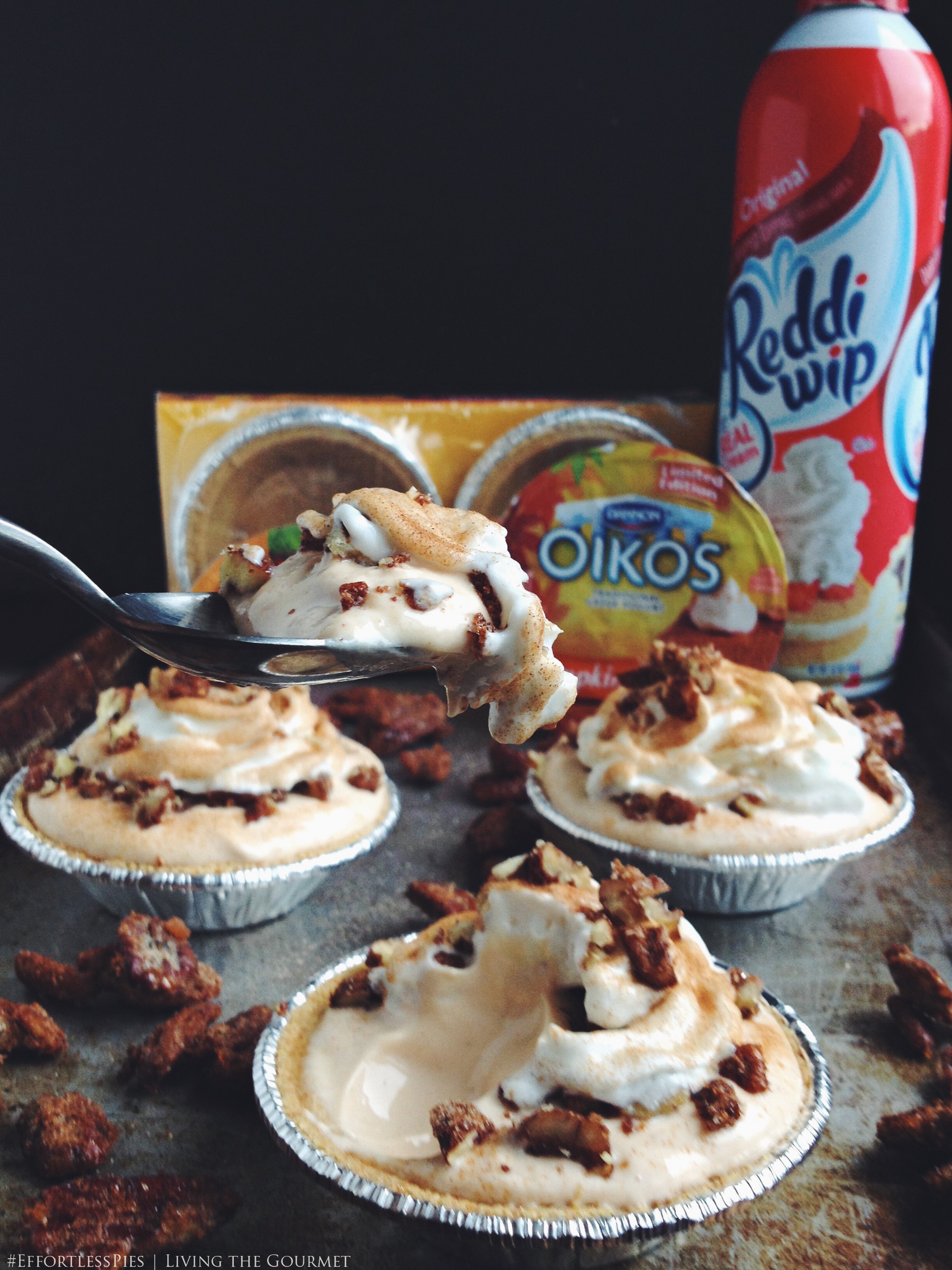 Simplicity, however, is also key to keeping things interesting in spite of a busy schedule, or just plain fatigue. Whether it's due to the back to school rush, a busy workweek, or the hectic preparations of the impending holiday season, it can be all too tempting to fall into the dreaded rut of a long line of painfully bland and otherwise uninteresting meals.
Aside from the havoc this can wreck on one's health, it is simply no way to live. And yet here arises the grand conundrum of it all – the quest to find simplicity can be an exceptionally complicated task.
In precisely that vein, what we have on offer today is a deceivingly simple 'pie,' which is as pleasing to the eye as it is the palate. With only three core ingredients, these are perfect for the back-to-school season, since their quick to prepare and easy to clean up after. They can also be by the tray for a perfect end to an informal gathering, or can add a sweet note to end off a workweek meal.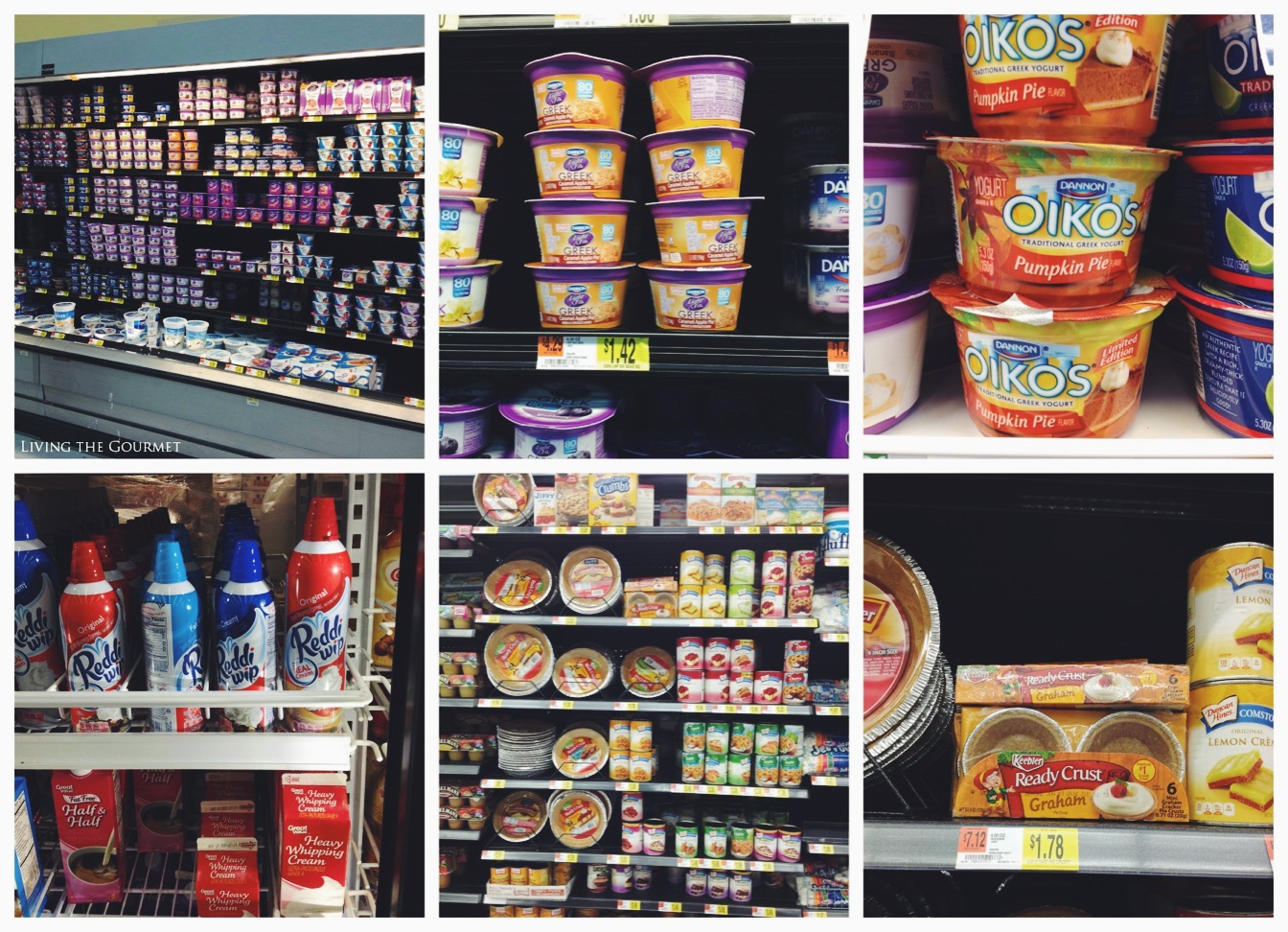 To begin our Pumpkin Pie Yogurt Pies (because using pie twice in the name makes it twice as good), we start out with a pair of Dannon® Greek Yogurt Oikos® Pumpkin Pie yogurts, which I just had to buy after spotting them at Walmart, and mix those with a 1/4 cup of Reddi-wip®. We then divide that evenly between the three pie crusts, top with additional Reddi-wip®, candied pecans, which I like to make ahead of time, and a dash of cinnamon sugar. Then serve immediately.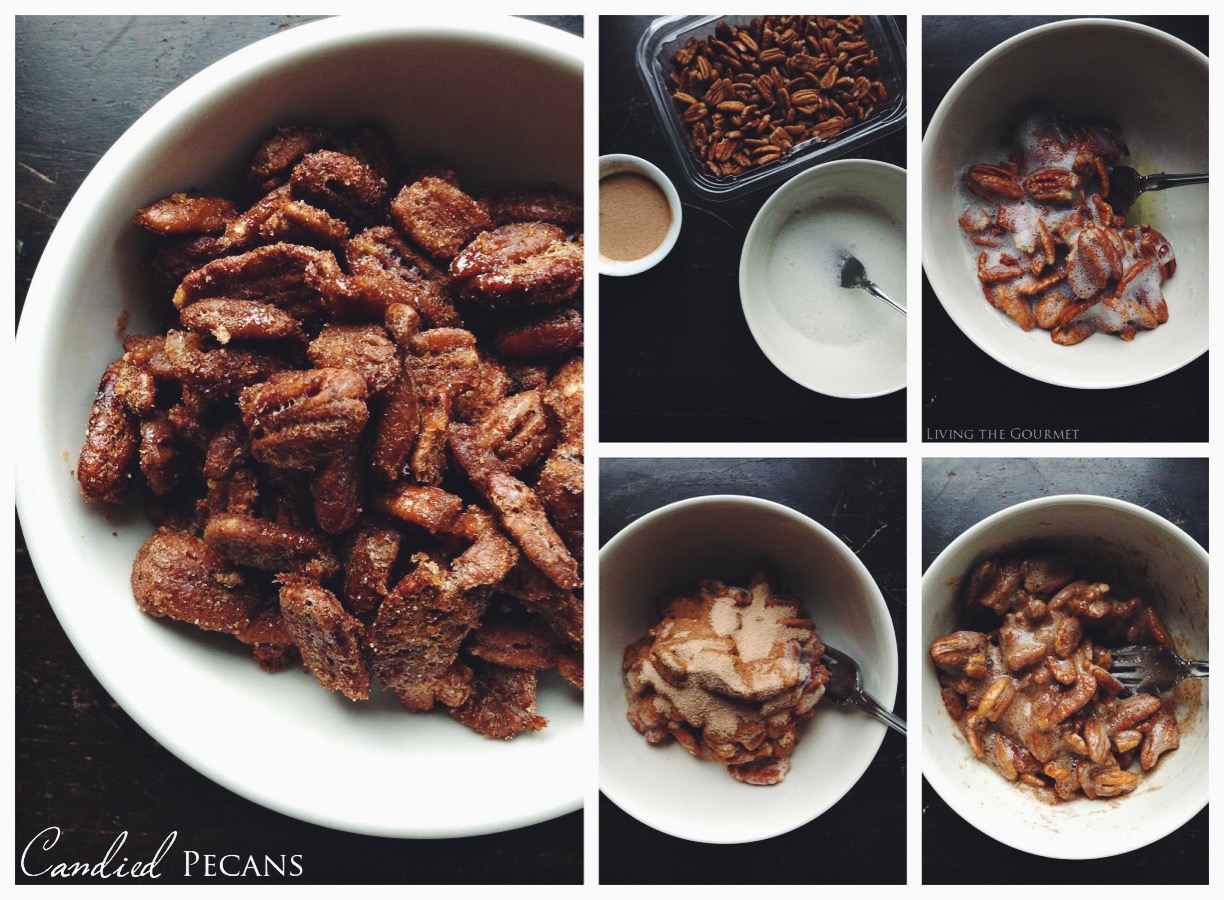 Simplicity itself.
What are some of the ways to you keep things simple in kitchen during these hectic holiday months? We would love to hear from you.
Check out more #EffortlessPies ideas for all your holiday inspiration!
Living the Gourmet
Yields 3
No-Bake Pumpkin Cream Mini Pies
10 minPrep Time
10 minCook Time
20 minTotal Time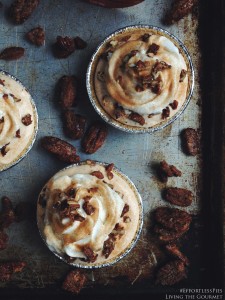 Ingredients
3 Keebler® Ready Crust® Mini Graham Cracker Pie Crust (6 count)
2 containers Dannon® Greek Yogurt Oikos® Pumpkin Pie
Reddi-wip® original 13oz can
1/2 cup chopped, candied pecans (recipe for candied pecans below)

Candied Pecans:

2 cups whole pecans
1 egg white
1/4 cup cinnamon sugar
Instructions
For Candied Pecans:

Whisk egg white until foamy. Add pecans and toss until coated.
Add cinnamon sugar. Toss and lay out on a parchment lined baking sheet.
Preheat oven to 350 F. degrees and bake 10 minutes on one side; flip and bake 5 minutes on the other.

Assembly:

In a small bowl, combine yogurt and 1/4 cup Reddi-wip®.
Divide evenly between three pie crusts.
Top with Reddi-wip®, chopped candied pecans and a sprinkling of cinnamon sugar.
Serve immediately!
7.8.1.2
8
https://livingthegourmet.com/2015/10/no-bake-pumpkin-cream-mini-pies.html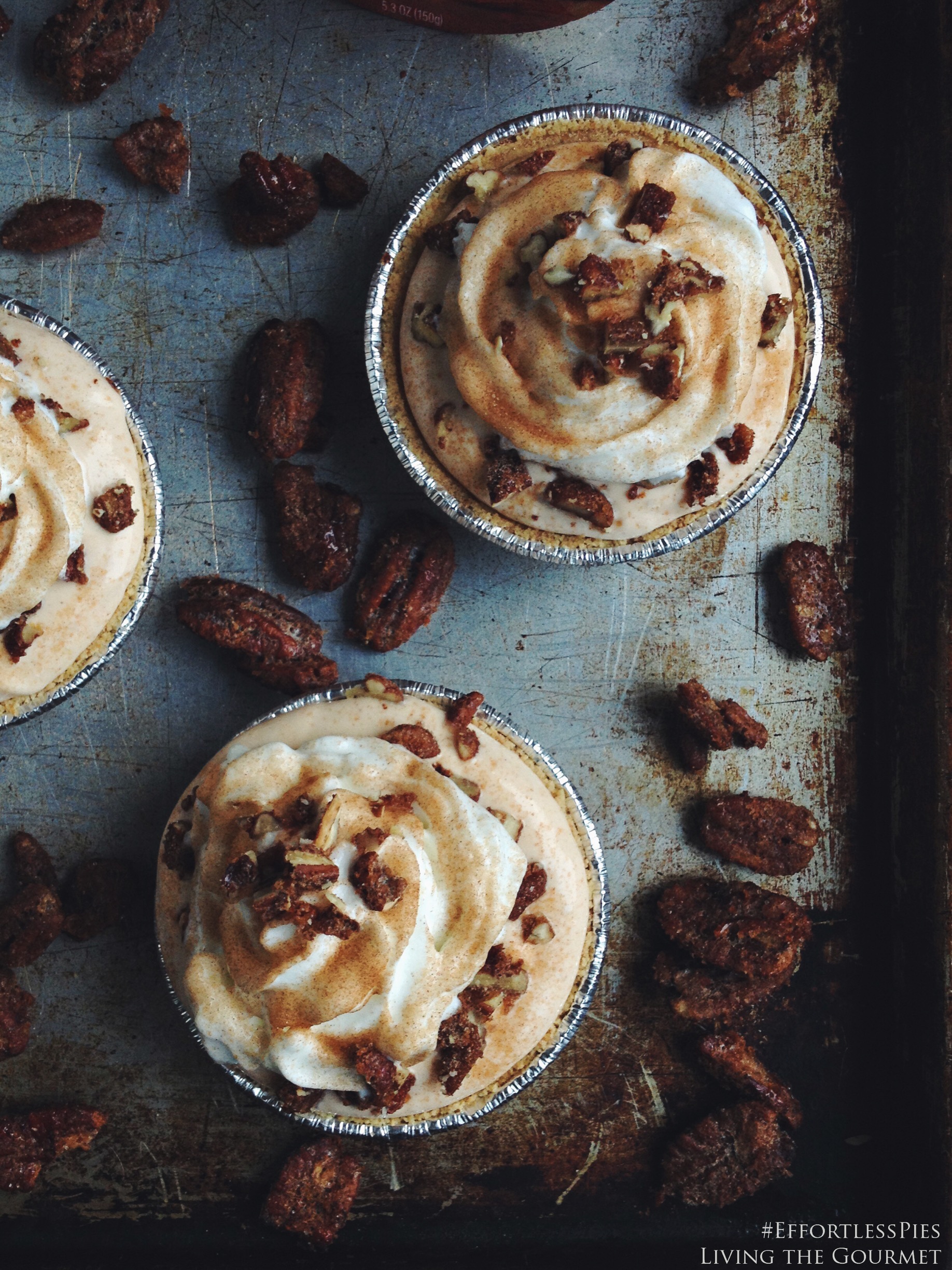 Enjoy with Love,
Catherine
xo
0