We received SweeTango Apples for review. All opinions expressed are our own.
Spiced apples are baked into a flaky bed of puff pastry, then topped with chopped pecans and a vanilla drizzle. This tart is a simple yet elegant autumn delight that is best served warm with fresh cream or a scoop of ice cream.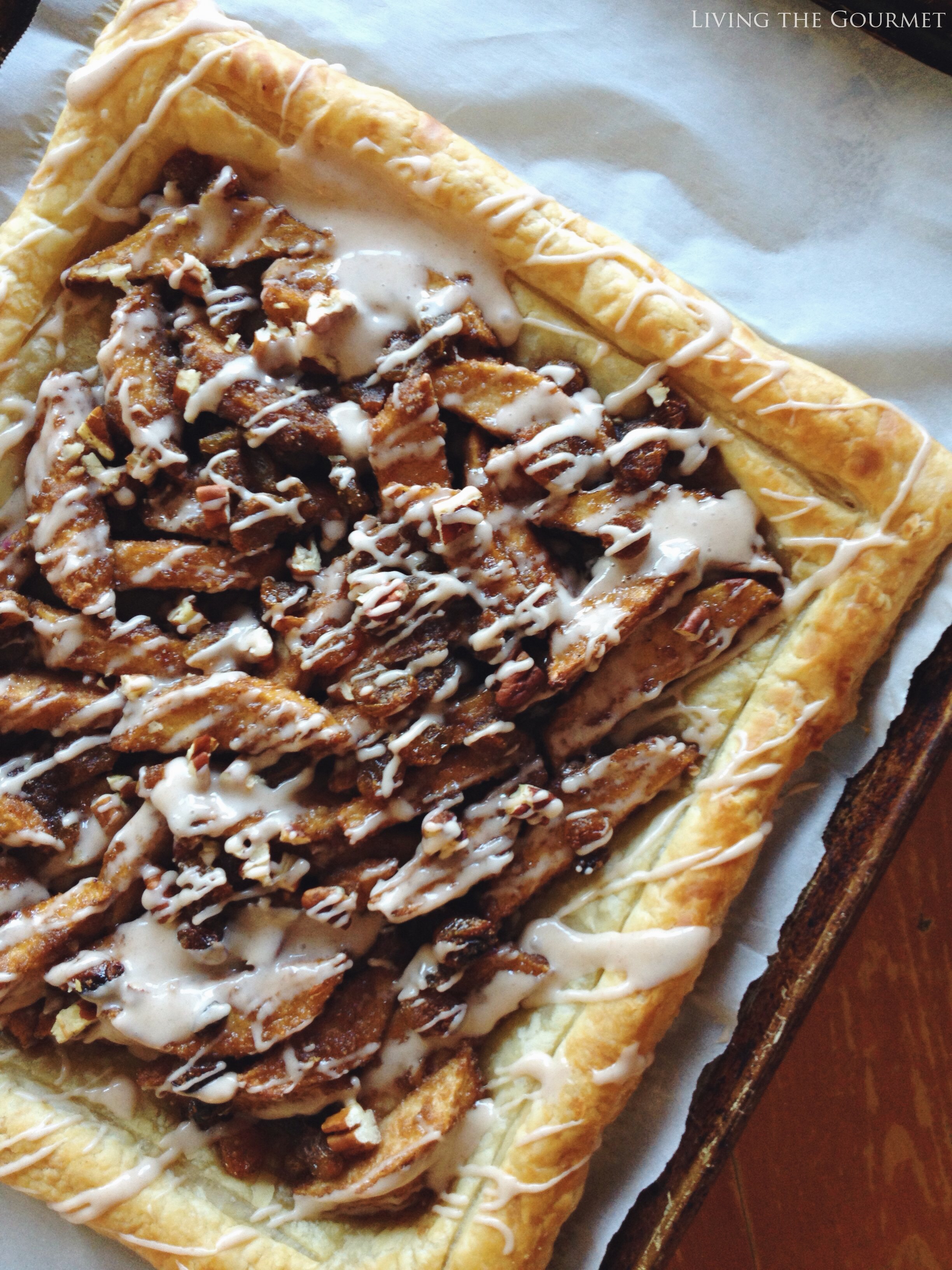 I needed a dessert in a pinch this past Labor Day and never expected to have created such a wonderfully delicious tart in such a short amount of time. Fortunately, I had that 'just in case' sense and photographed the process and finished product.
Recently, Living the Gourmet received some beautiful, crisp SweeTango Apples to help ring in autumn, which came in handy with this dessert. Be sure to pick up a bushel at your favorite grocery store and don't forget to share your love for SweeTango by tagging #SpotSweeTango on Facebook, Twitter or Instagram!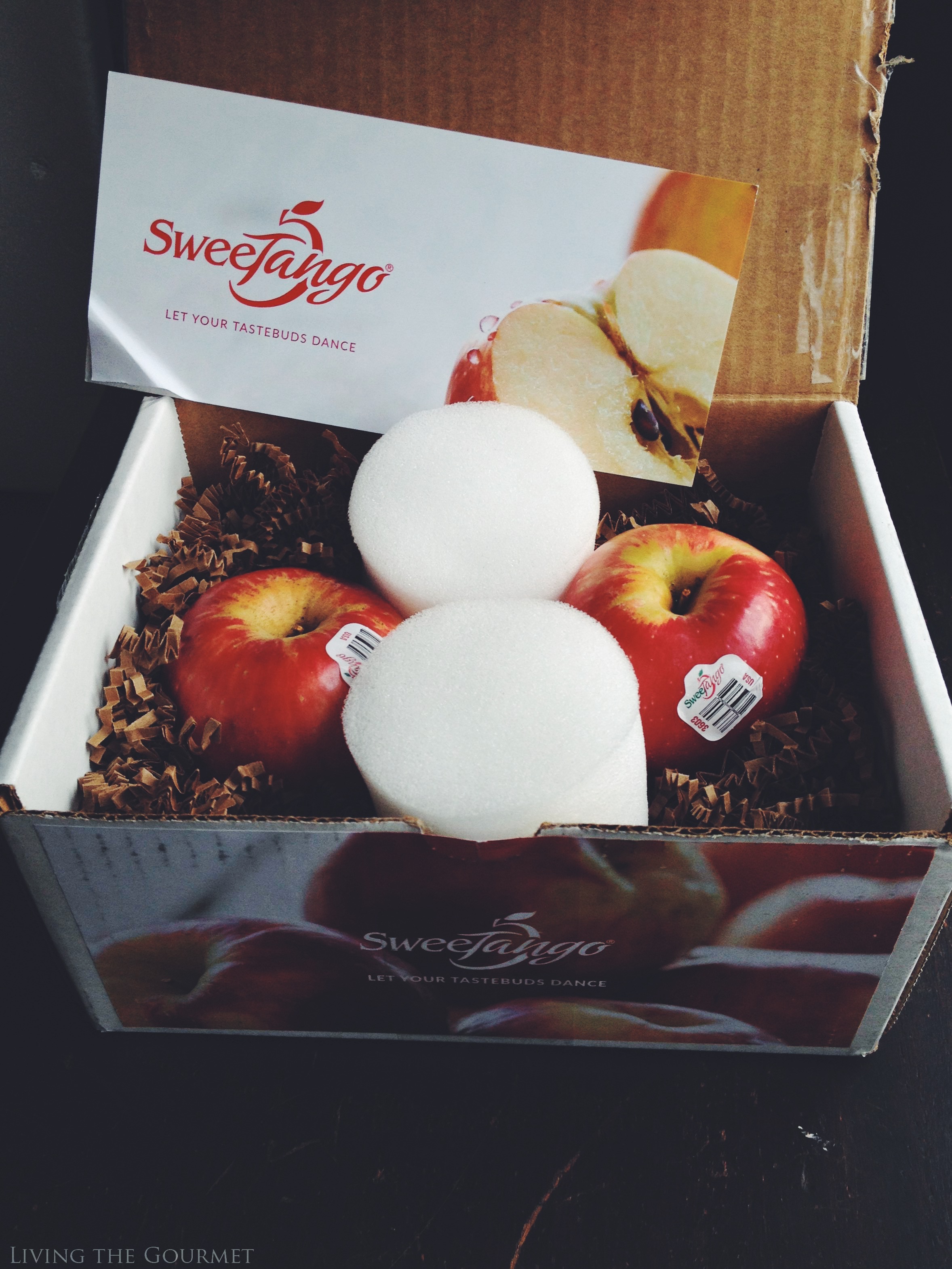 Despite the warmer than expected temps, fall was definitely in the air yesterday as my beautiful tart puffed to golden perfection. The warm scent of apples and spices filled my senses.
I began by tossing apple slices and currants with my go-to spice mixture that is comprised of powdered vanilla, cinnamon, brown sugar, nutmeg, cloves, ginger and just a pinch of black pepper. I then spread the mixture over a sheet of puff pastry that had been indented, sprinkled with pecans, and baked. Once cooled, I drizzled the tart liberally with a spiced vanilla drizzle and served it warm with ice cream.
To my delight, it was hit. We enjoyed the end of the evening outside by candlelight, with a slice of my apple tart and homemade lattes. It was a beautiful note to end the summer season on and I cannot wait to make another one of these tarts for our next get together.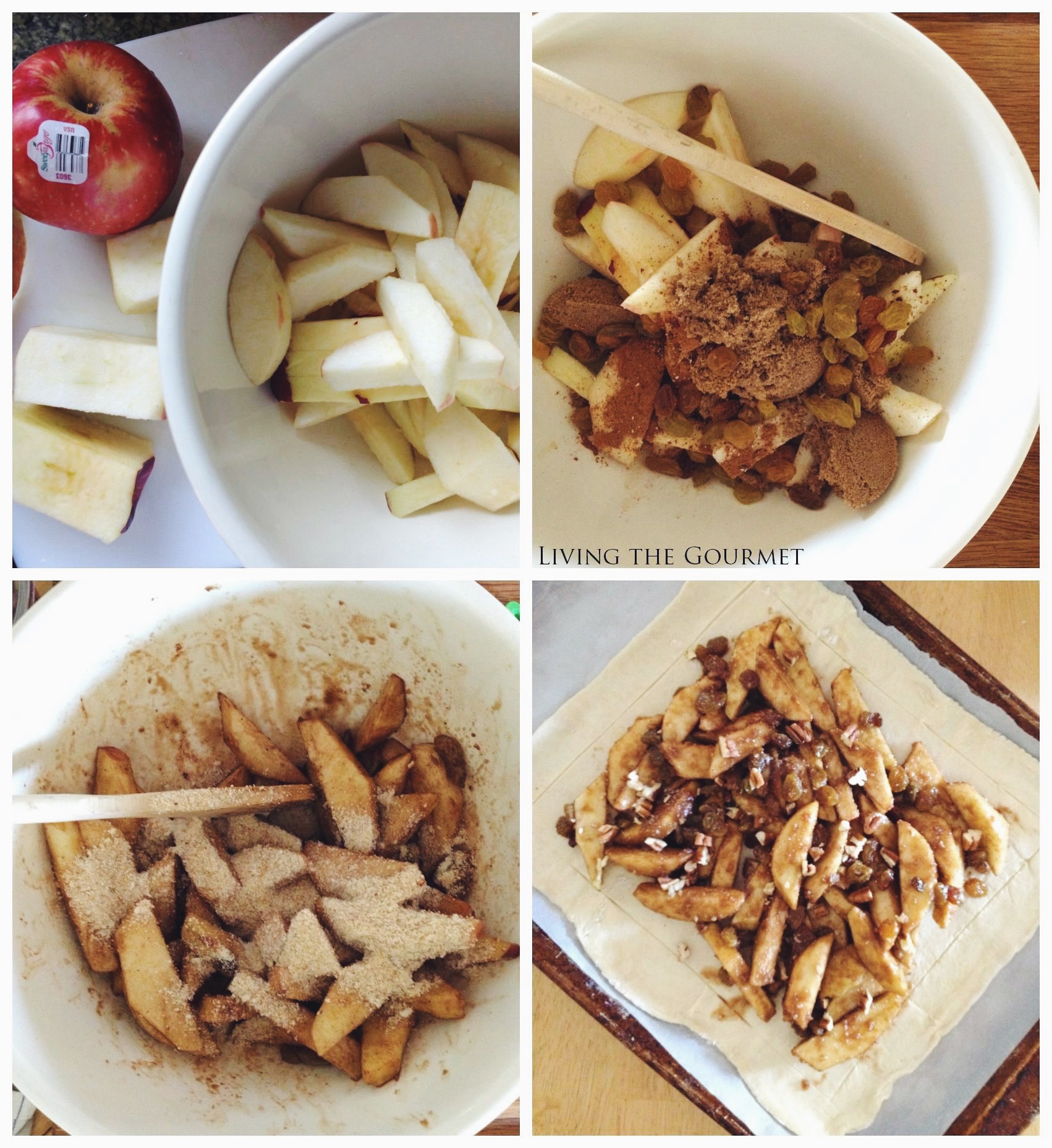 Living the Gourmet
Autumn Apple Tart
5 minPrep Time
15 minCook Time
20 minTotal Time
5 based on 1 review(s)
Ingredients
1 sheet frozen puff pastry
3 medium apples- peeled and sliced
1/2 cup currants
1/4 cup brown sugar
1/2 teaspoon cinnamon
1 teaspoon vanilla extract or vanilla powder
1/4 teaspoon nutmeg
1/4 teaspoon ginger
Pinch of cloves
Pinch of black pepper
2 tablespoons plain bread crumbs
5 pecans, chopped

Vanilla Cinnamon Drizzle:

1 cup confectioner's sugar
1 teaspoon vanilla
1/2 teaspoon cinnamon
1-2 tablespoons milk
Instructions
Preheat oven to 350 degrees F.
Roll the puff pastry out and lay out on a parchment lined baking sheet.
Use a paring knife to trace a smaller rectangle within the puff pastry, leaving a 1-inch border but not cutting all the way through.
In a small bowl toss together apple slices, currants and spices. Add breadcrumbs and toss again.
Spread the mixture out within the rectangle and sprinkled with chopped pecans. Bake for 15-20 minutes or until the pastry has puffed and is golden.
Remove and let cool completely.
In a small bowl whisk icing sugar, cinnamon, vanilla and milk. Drizzle liberally over the tart and let set before serving.
7.8.1.2
170
https://livingthegourmet.com/2015/09/autumn-apple-tart.html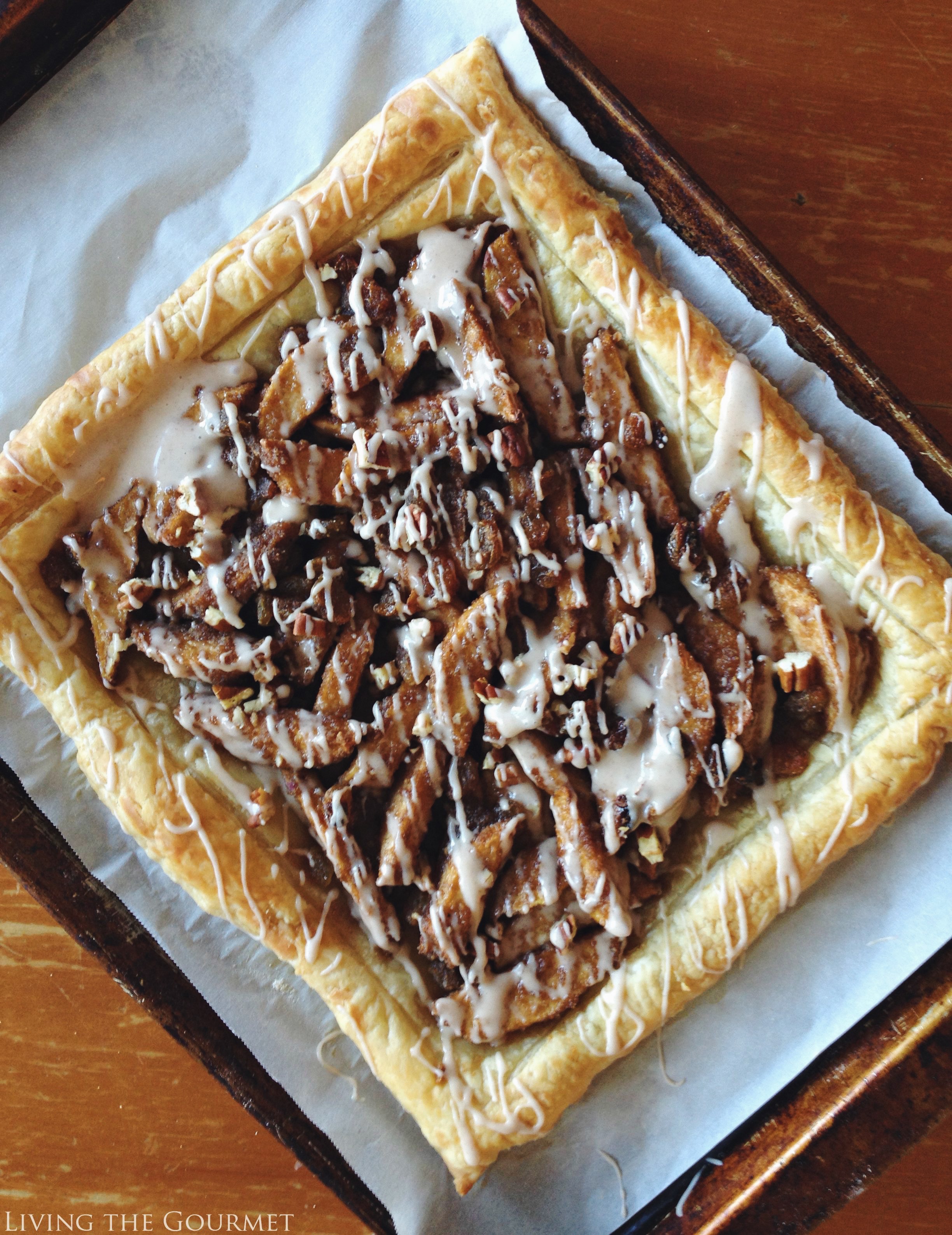 If You Enjoyed Today's Recipe…
Be sure to follow us on Instagram to stay up to date with all things Living the Gourmet, and for more great recipes, tips and tricks.
Did you make this recipe?
If so, let me know in the comments down below, or post a picture to Instagram, or to Pinterest, and I'll give you a shoutout on Instagram, or post your pin to one of my Pinterest boards!
Enjoy with Love!
0