Living the Gourmet had the pleasure of catching up with Chef Fabio Viviani about the "America's Better Sandwich" Contest to benefit Feeding America.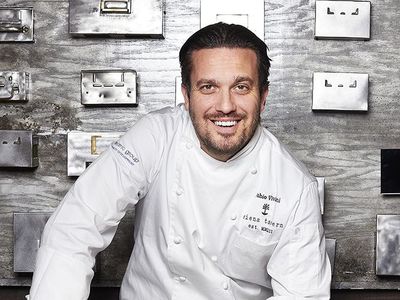 Chef Fabio Viviani, who is best known for Bravo's Top Chef, is a best-selling cookbook author and successful restaurateur.
Today Chef Fabio Viviani is bringing back "America's Better Sandwich" Contest and is showing Americans that a guilt free sandwich, made with "better-for-you" ingredients like whole grains, can co-exist in a world filed with flavor and enjoyment.
From June 15 to August 23, 2015, sandwich lovers nationwide can visit www.americasbettersandwich.com to submit up to two recipes in five sandwich categories: Open Face Artistry; Breakfast in Bread; Love, Healthfully; Creative Classics and Fueling Good — all for a Grand Prize of $25,000 (that's a whole lot of dough!). Entries will be judged on nutritional quality, perceived ease of preparation, unique and creative flavor profile.
Winning sandwiches will be announced on National Sandwich Day, November 3. For every eligible recipe submitted, and every consumer vote received during the online voting phase (September 21-October 18), a loaf of bread (up to 100,000 loaves) will be donated to Feeding America- so be sure to enter!
Enjoy with Love,
Catherine
xo
0