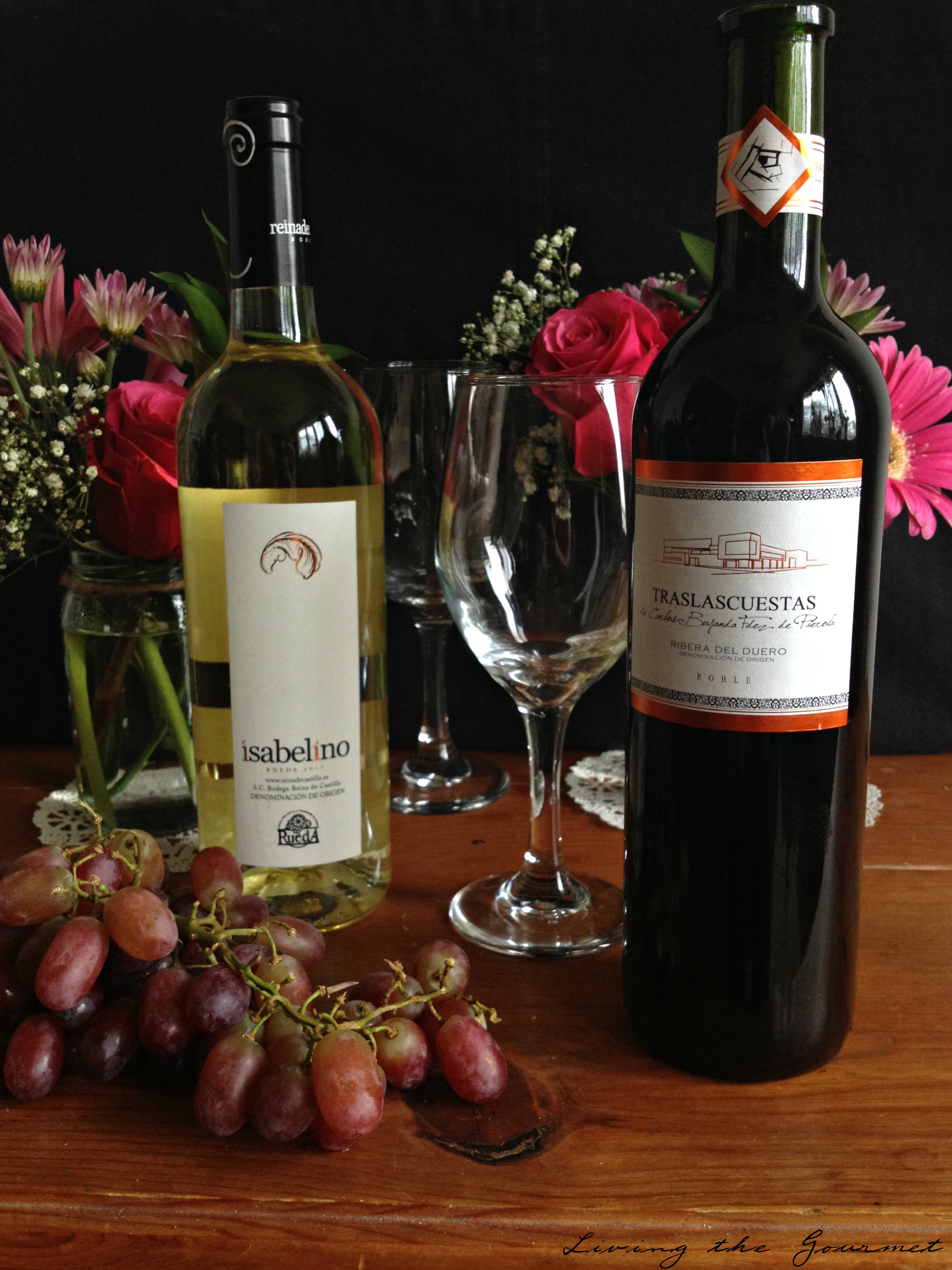 The shift to summer themes often focuses around the lighter fare, the transition from indoor entertaining to outdoor entertaining, and how to get the most out of both. However, one of the most important but also one of the most frequently overlooked aspects of elegant summer entertaining is the shift to seasonal wine pairings.
Just as there are separate dishes appropriate for separate occasions, and certain cuisines better suited for certain seasons, the same is true with vintages. In other words, one is best served by keeping the wintery dinner party bottles on a separate rack from your outdoor or warm weather bottles. Summer bottles often feature lighter, more 'carefree' profiles that make them ideal for summery seafood fare, or as a contrast to grilled dishes.
As was I gathering ideas and outlining specifics to demonstrate this point, the muses decided to make my task infinitely simpler than it perhaps should have been. Late last month, just a few days after we had planned the LTG Wine Week, Living the Gourmet was contacted by the representatives of Ribera y Rueda Wine asking if we would sample a pair of their bottles, and if we would consider sharing our thoughts in the context of a summer theme.
To put this in context, the Ribera and Rueda regions, only about an hour from Madrid, have a winemaking history dating back more than 2000+ years, laying the groundwork for what would become traditional Spanish winemaking, which in turn evolved into what we enjoy today. In other words, to find regions of Europe with a more ancient and elaborate winemaking history one would have to go back an additional several centuries to the Roman Republic, who brought industrialized winemaking to Spain, or several millennia earlier to Late-Neolithic Greece, from whose colonists and traders wine was introduced into Sicily and Italy.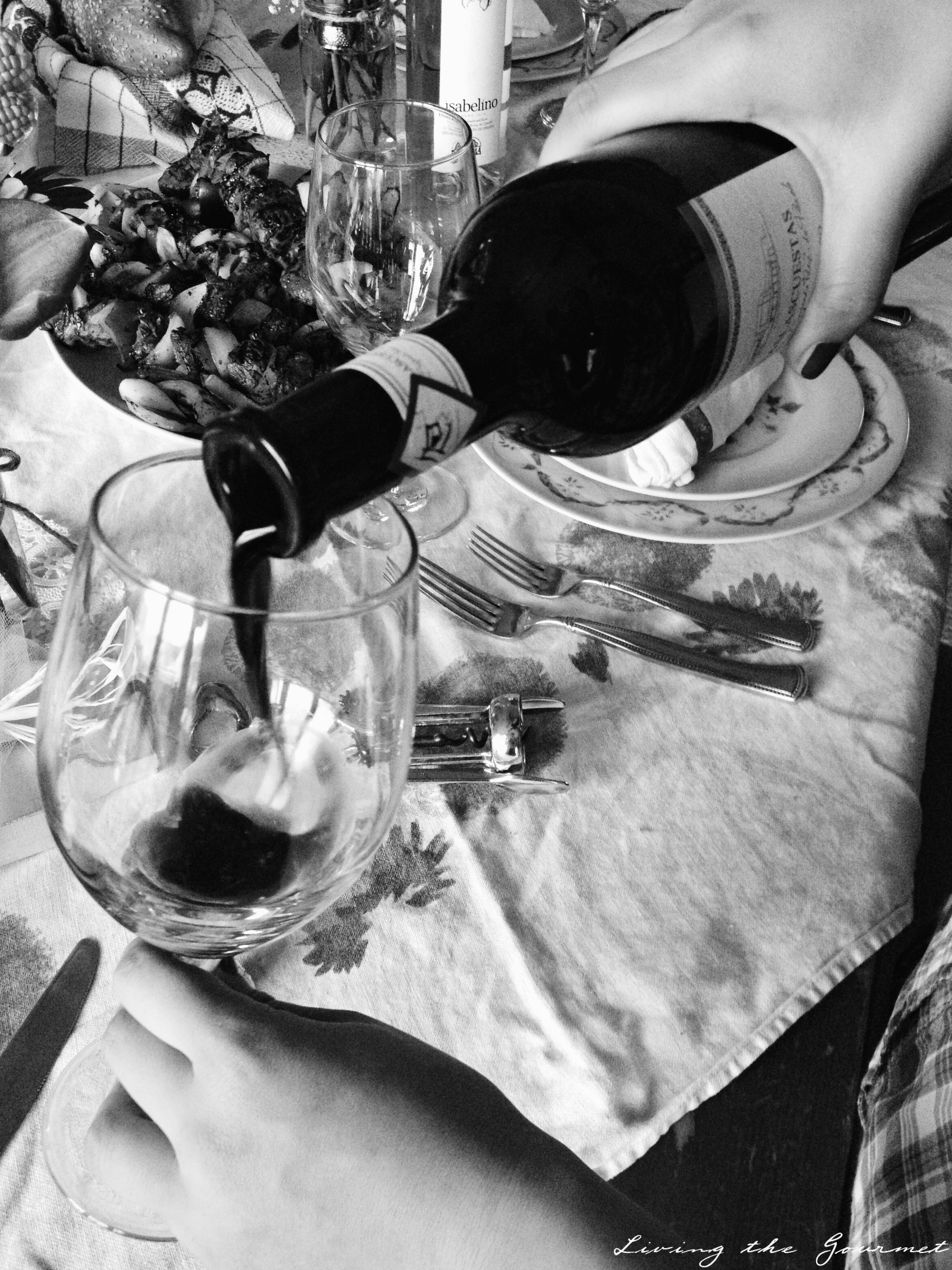 Today, however, Ribera y Rueda wines are all about popping open a bottle for an outdoor soirée, a night on the couch or an unexpected food pairing. As the winemakers are fond of sayings, "Ribera y Rueda wines say Sí to it all!"
We received two bottles, a Rueda Verdejos, and a Ribera del Duero Tempranillos, both labelled with their respective Denominación de Origen, assuring their quality.
The Rueda Verdejos, a white grape varietal, is a crisp, refreshing wine, light on the palette with notes of scrub herbs and fruit carrying throughout against a backdrop of excellently balanced acidity. The winemakers suggest serving it with mussels, though I can easily see it serving perfectly alongside lightly prepared white fishes such as basa, preferably herbed.
The Ribera del Duero Tempranillos is a robust, vaguely masculine wine, featuring a deep, ruby-crimson hue, and a warm aroma distantly reminiscent of an old world taverna. The wine greets the mouth with dry ripe fruit and spice herbs, which linger on the palette. Not surprisingly, the winemakers suggest serving the wine with barbeque, a suggestion I thoroughly agree with, though I could also envision the wine pairing excellently with lamb, red sauce, or a quality red meat.
In the context of summer entertaining, I found myself imagining the Rueja Verdejos as a 'day wine,' served with appetizers and conversation, and then opening the Ribera around sunset to serve alongside a summer fire, or with dinner.
While the wines understandably appear to serve contrasting functions at an event, I nevertheless wanted to create an atmosphere and menu for which I could serve them together, and in so doing to create a spread or tablescape of harmonized contrast. While I puzzled over how to achieve this at first, the solution, I realized, would be deceivingly simple despite resulting elaborate appearance.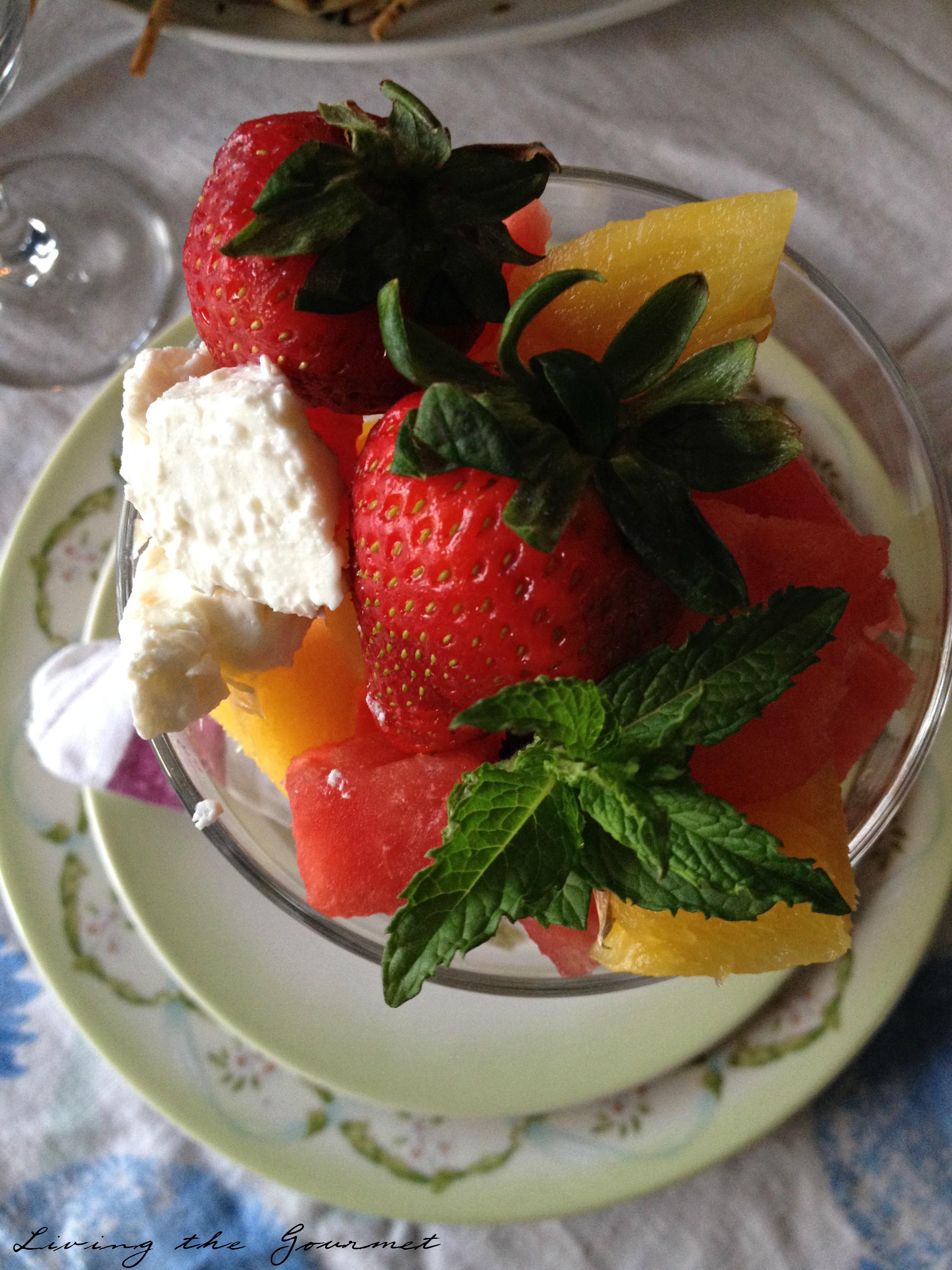 I decided on a classic Mediterranean themed Surf-N-Turf spread, which would allow me to bend the menu such that it would slant towards both wines more or less equally. The surf aspect, and the appetizer, would complement the Rueja, while the turf would be enhanced by the presence of the Tempranillo.
To begin, the appetizers, 'la tapas' or perhaps 'el preludio' is more apropos in this case, consists of a sliced tomato salad with olive oil and basil, served alongside a loaf of Italian bread presented family style, while a side of Kalamata olives add a rustic undertone. Served with the Rueja, the spread serves as a prelude of the meal to come, while also setting the tone for the night, easing the spirit into the relaxed haze of a balmy summer evening with friends and family.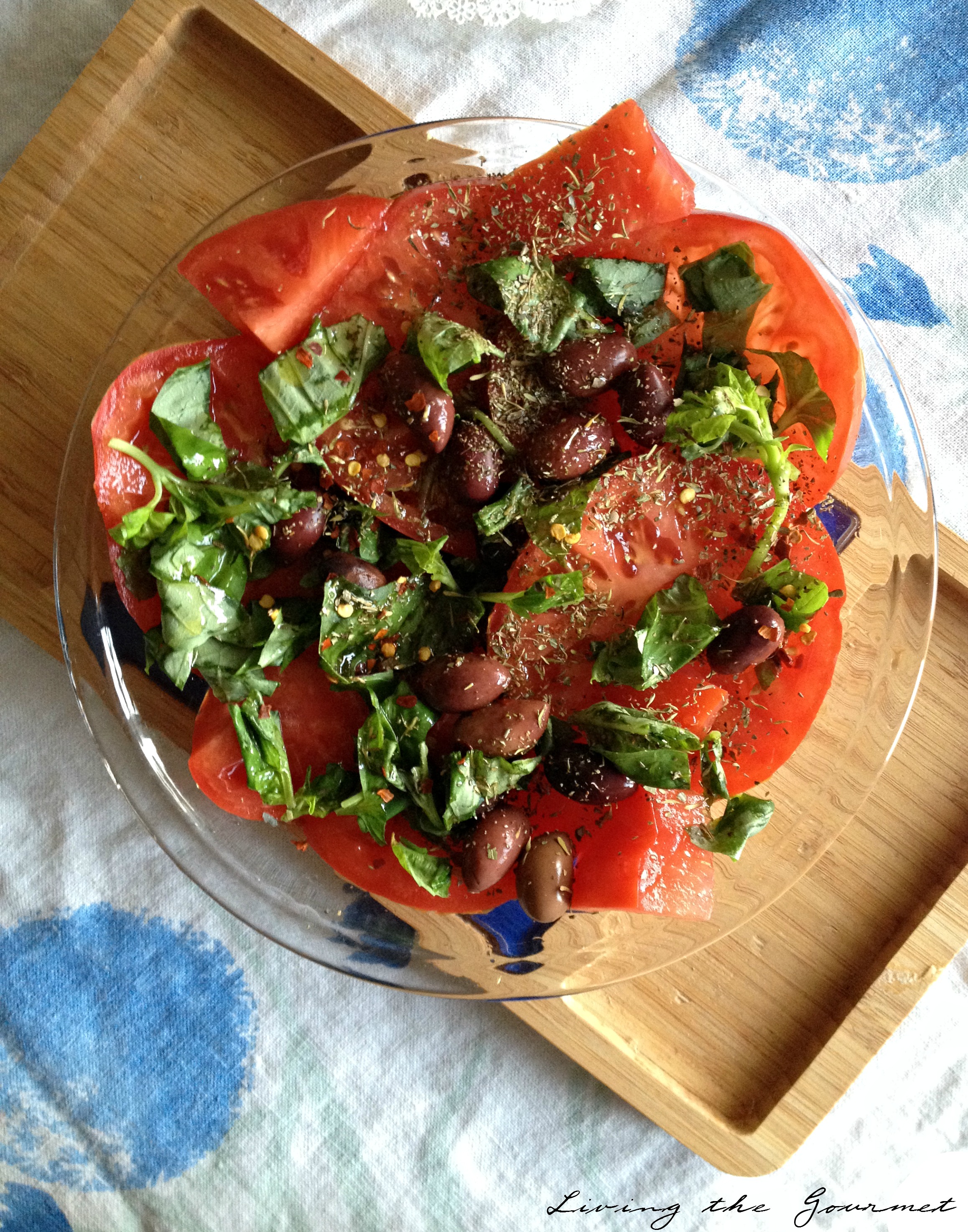 Living the Gourmet
Tomato & Basil Salad Mediterranean Wild Shrimp Mediterranean Beef Kabobs Baked Fresh Salmon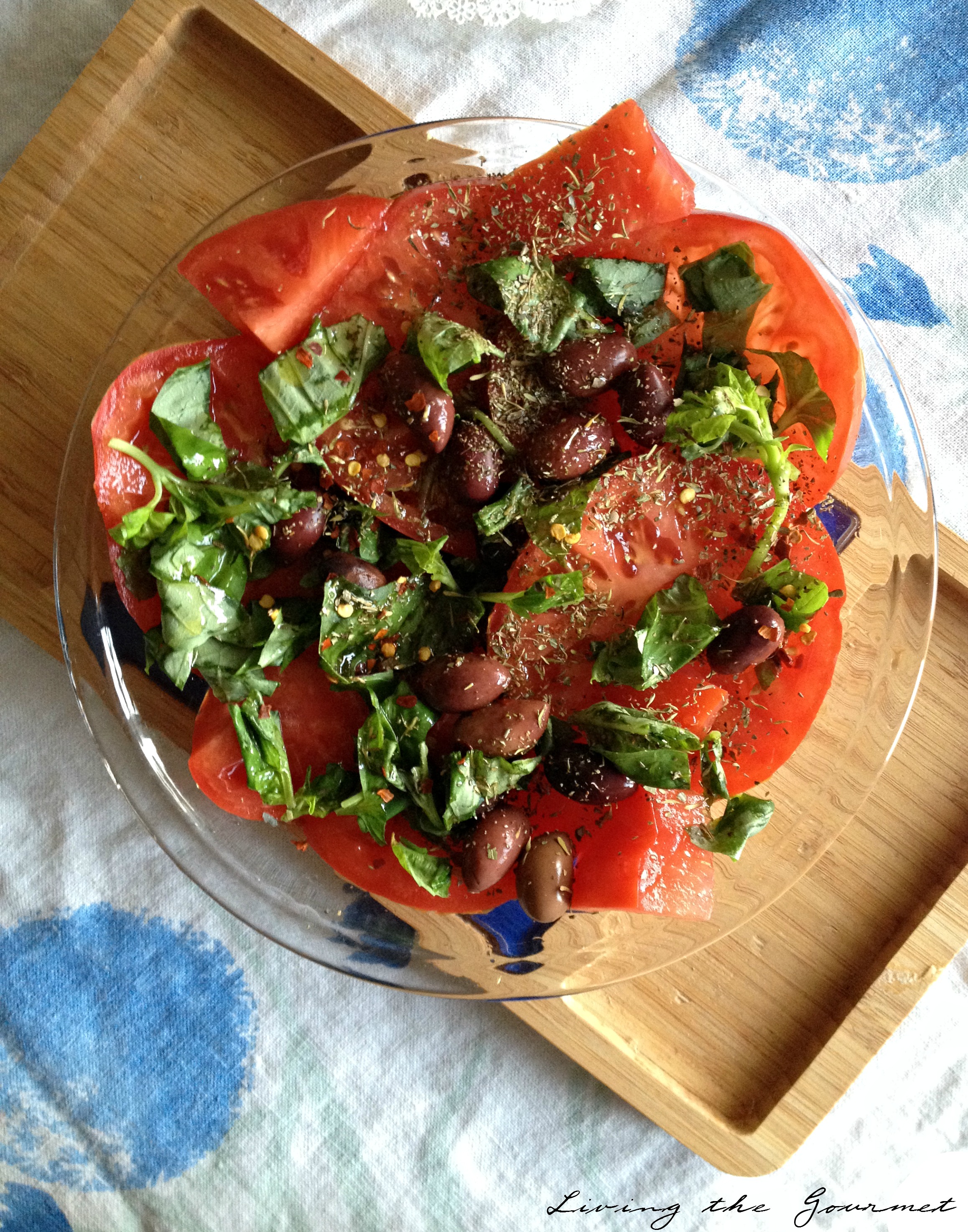 Ingredients
2 beefsteak tomatoes - sliced
1/4 tsp. salt
1/2 tsp. dried oregano
1/4 tsp. red pepper flakes
3 – 4 tbs. olive oil
3 -4 tbs. fresh basil
2 cloves garlic – chopped
Kalamata olives
2 lbs. of wild raw shrimp in the shell

For the Marinade:

Juice of l lemon
2 cloves of garlic – chopped
1/2 tsp. dried oregano
1/2 tsp. red pepper flakes
1/4 cup of Italian parsley – chopped
4 tbs. olive oil
3 lbs. boneless shell steak – cubed
1 large sweet onion – sliced
2 bell peppers – sliced
Skewers – soaked in water for 10 – 15 minutes

For the Marinade:

3 – 4 tbs. olive oil
1/2 tsp. salt
1/2 tsp. black pepper
1 tsp. dried oregano
Juice of 1 lemon
3 cloves garlic – finely chopped
1 tsp. capers – plus 1 tbs. caper juice
4 tbs. Italian parsley – chopped
2 lbs. of salmon filet

For the Marinade:

1/4 cup of teriyaki sauce
3 tbs. of soy sauce
1 tbs. of sesame oil
2 tbs. of olive oil
2 tbs. of rice wine vinegar
Juice of 1/2 lemon
3 clove of garlic – finely chopped
2 inch piece of ginger – finely chopped
4 tbs. of Italian parsley – chopped
4 tbs. of fresh dill – chopped
Instructions
Layer the tomatoes in a shallow serving dish. Top the tomatoes with the fresh basil, oregano, salt, red pepper flakes, garlic, and olive oil. Finish the dish topped with the Kalamata olives.
Combine all of the ingredients for the marinade in a bowl; add the shrimp; cover and refrigerate for at least one hour.
Heat a grill or griddle. Place the shrimp on the griddle. Grill for about 2 – 3 minutes on each side; until the shells are hot pink and the shrimp is opaque.
Serve with lemon wedges.
Combine all of the ingredients for the marinade in a large bowl; add the cubed beef and place in the refrigerator for at least one hour.
Prepare the skewers alternating with the beef, peppers and onions.
Heat a grill or griddle. Place the kabobs on the grill. When a nice char is achieved on one side turn over and finish cooking on the other side.
The total cooking time depends on how well done you like your beef.
Combine all of the ingredients for the marinade in a large bowl; place the salmon filet in the bowl and cover. Refrigerate for at least one hour.
Heat a large heavy frying pan and with a drizzle of olive oil and add the salmon; skin side down.
Cook half way through; about 5 -7 minutes and finish cooking in the oven at 350 degrees for another 5 – 7 minutes, for medium rare. Let the salmon rest for a few minutes before serving.
7.8.1.2
122
https://livingthegourmet.com/2015/05/wineweek-surf-turf-w-ribera-del-duero-y-rueda-wine.html
In the end, it was a perfect summer spread, combining the elegance of a dinner party with the relaxed atmosphere of a summer evening. The wines, both well paired and of high quality, play an important role in helping to achieve this, which is why seasonal pairings should never be overlooked.
To be perfectly honest, I would have expected nothing less from the Ribera and Rueda regions, whose bottles have become renowned over the past several decades. That said, there is no doubt that I can wholeheartedly recommend Ribera y Rueda, no matter the occasion. Visit Ribera y Rueda tumblr page to learn more about this beautiful wine.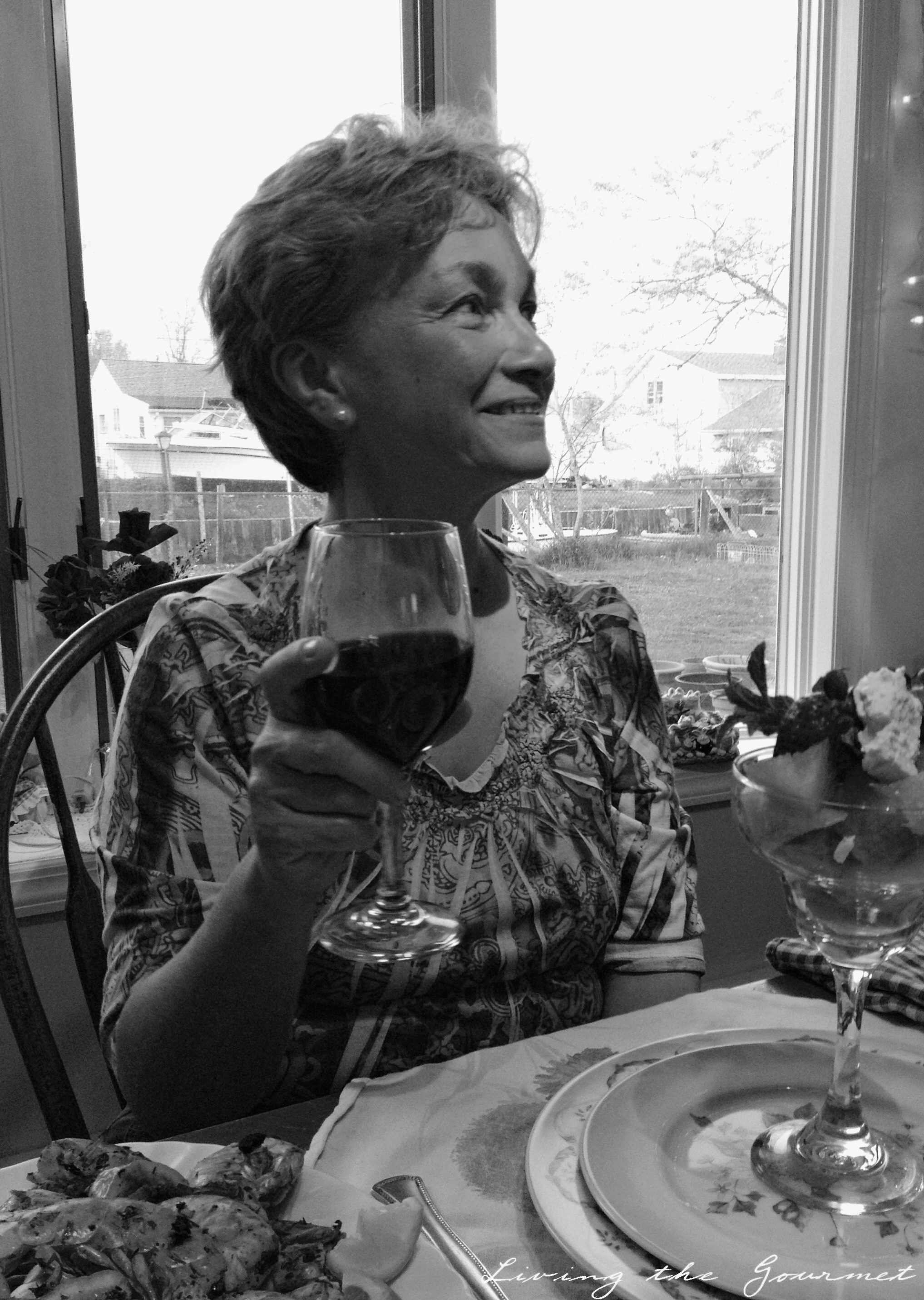 Recipes developed by Catherine Pappas | Forward written by Michael Pappas
Linking up to these parties!
I was selected for this opportunity as a member of Clever Girls and the content and opinions expressed here are all my own.
This message is intended for persons 21+. Please enjoy responsibly.
0