This shop has been compensated by Collective Bias, Inc. and its advertiser. All opinions are mine alone. #LoveDoveFruits #CollectiveBias
As the Ides of March approach, and the snowline begins to recede, it isn't the rebirth of Spring or even the absence of frigid temperatures that I find myself focusing on. Instead, as Spring emerges from the melting snows, I find myself rewriting menus, plotting out spring themed décor, devising new table settings, and researching my area's seasonal produce. I could almost swear that Spring was breathing new life into my agenda rather than my yard's dormant trees.
Indeed, now that winter is nearly out of sight, it is also almost entirely out of mind.
March also cues a long list of birthdays and 'family holidays' for which I invariably play the host. All labors of love, to be certain, but even the most beloved of labors can begin to stretch one thin. 'Just another hour' becomes a desk-bound mantra chanted to the rising sun as late night work bleeds into the early morning. Family and friends become unwitting taste testers for the new Spring menu, and birthday gatherings morph into dress rehearsals for theme-settings.
Yes, I am a veritable Multitasker Extraordinaire who needn't fear a long line of near sleepless nights…or so I would like to believe. But alas, just as being left out in the sun too long will turn even the finest of cheeses sour, so will working too hard for too long turn one's creativity stall. How does a Multitasker Extraordinaire unwind? With a no-bake cheesecake of course. With no need to turn on the oven, it's perfect for the ever warming weather and lengthening days, while its dense, creamy body retains just enough 'weight' to remain subtly apropos for these final bouts of a departing winter.
Yes, even when unwinding, the show must go on.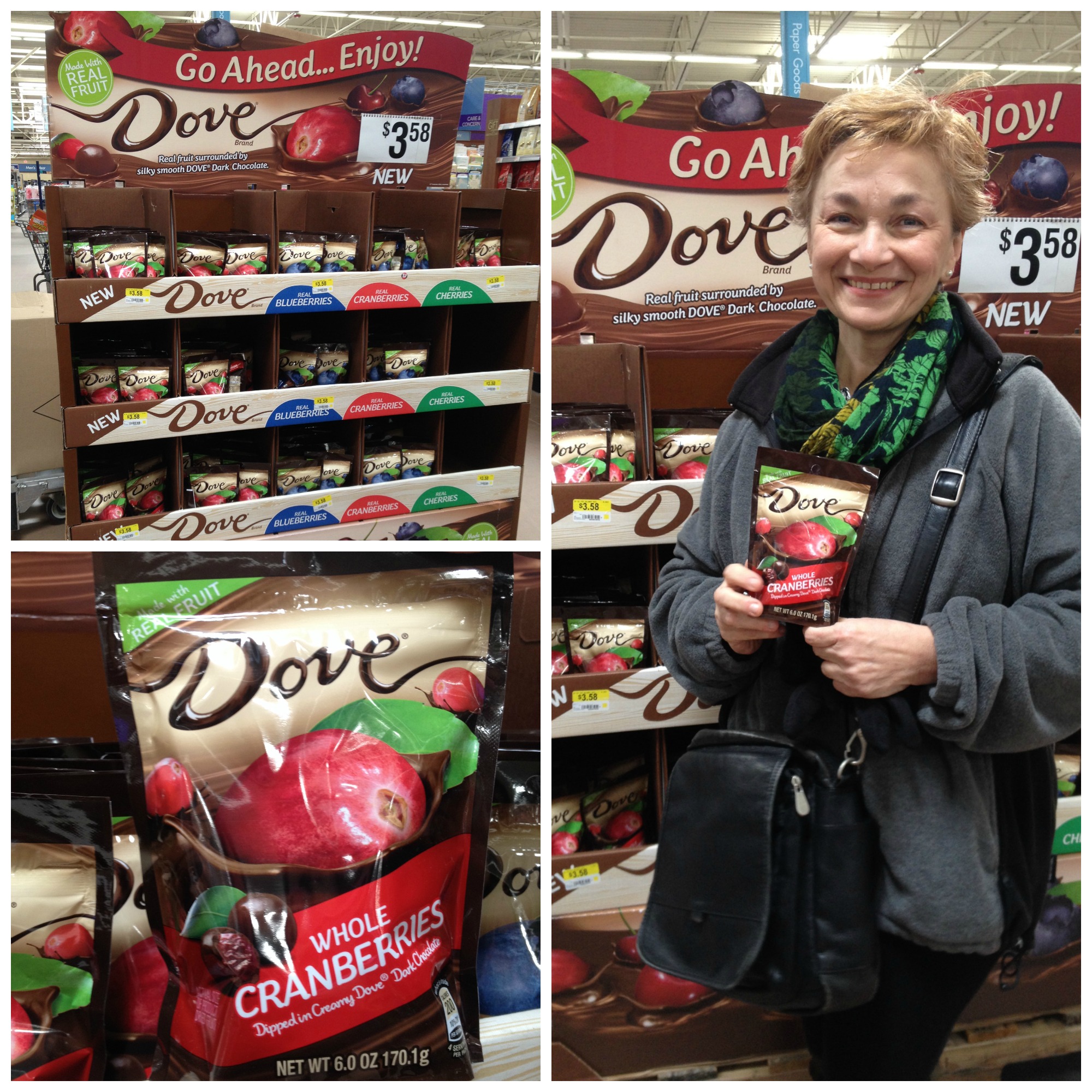 The idea for the cheesecake came to me, albeit vaguely at first, after spotting a new DOVE® product while shopping at Walmart – DOVE® Fruit. While these chocolate covered blueberries and cranberries are delicious on their own, I instantly thought about using them as a topping either on fresh ice cream or in one of my Spring themed desserts.
However, after tasting them, I decided I really wanted to do something special with them, and that's when I settled on the cheesecake. The following day, after the cheesecake had set, I settled down beside my bay window, and allowed myself to indulge as I quite literally watched the snow melt, and the ice recede beneath a pristine sapphire sky.
As for the cheesecake itself, with a dense body set over a rich graham-cracker crust, its smooth texture hints of a thick vanilla-lemon mousse. Grated chocolate adds sweet-earth tones, while scattered chocolate covered cranberries and blueberries meld perfectly into the creamy body, while at the same time standing out as distinct notes against the palette.
I simply adored DOVE® Fruit, so for more great DOVE® Fruit recipe ideas head over to the DOVE® Fruit social hub. You can also download a coupon to save on your DOVE® purchase.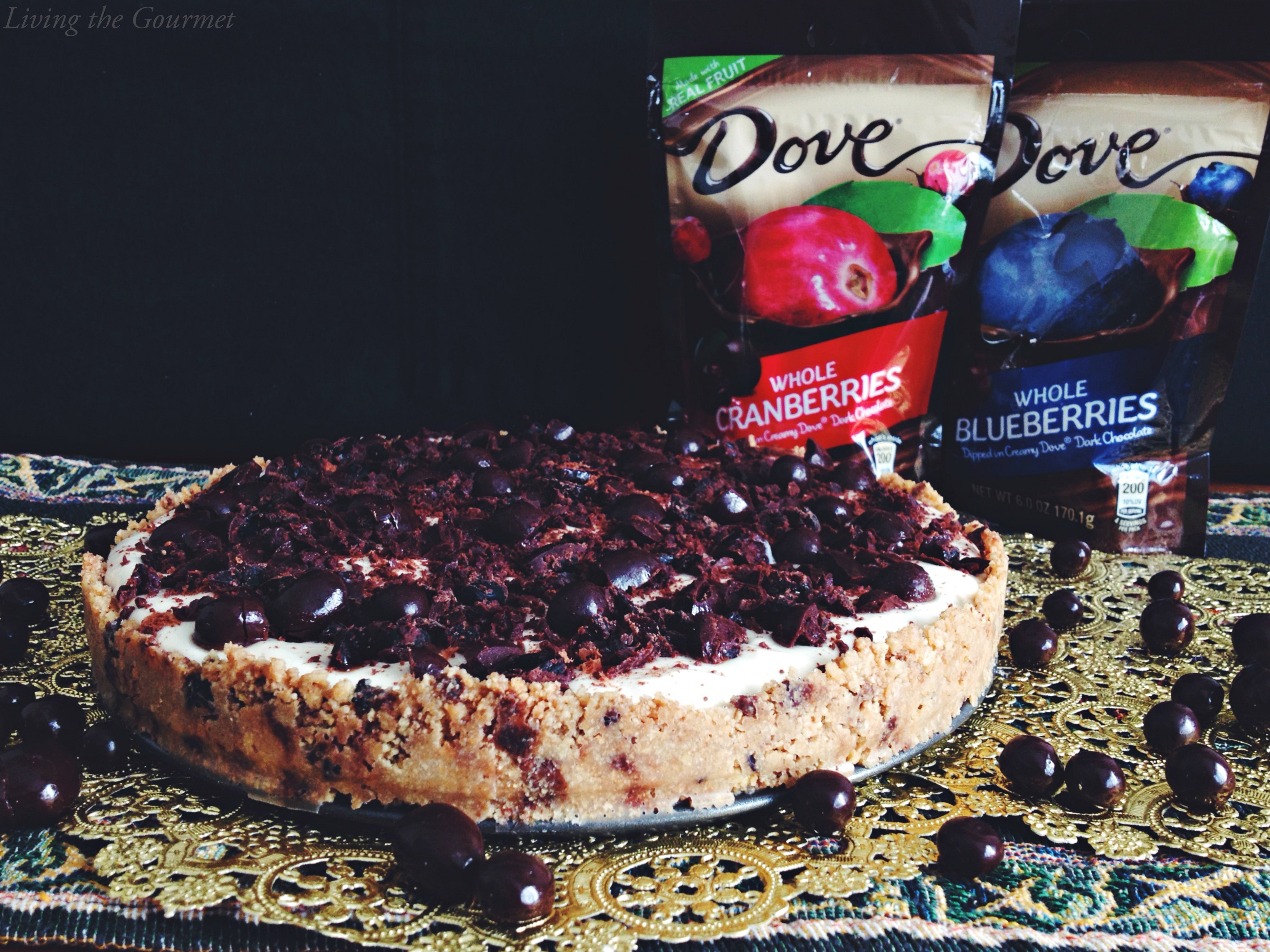 No-Bake Cheesecake with DOVE® Fruit
Adapted from Martha Stewart
Prep Time: 10 minutes
Inactive Prep Time: 2 hours – overnight
Ingredients:
2 packages ground graham crackers
11 tablespoons unsalted butter, melted
2 tablespoons sugar
2 – 8-ounce packages cream cheese
14-ounce can sweetened condensed milk
1/4 cup fresh lemon juice
1 teaspoon vanilla
DOVE® Fruit Cranberries & DOVE® Fruit Blueberries, chopped and whole
For the crust:
In a medium bowl, combine graham crackers and sugar. Stir; then add melted butter. Add 1/4 cup chopped DOVE® Fruit Cranberries & DOVE® Fruit Blueberries.
Fit the crust to the bottom of a 9″ spring-form pan and press about 1″ up the sides of the pan. Set aside.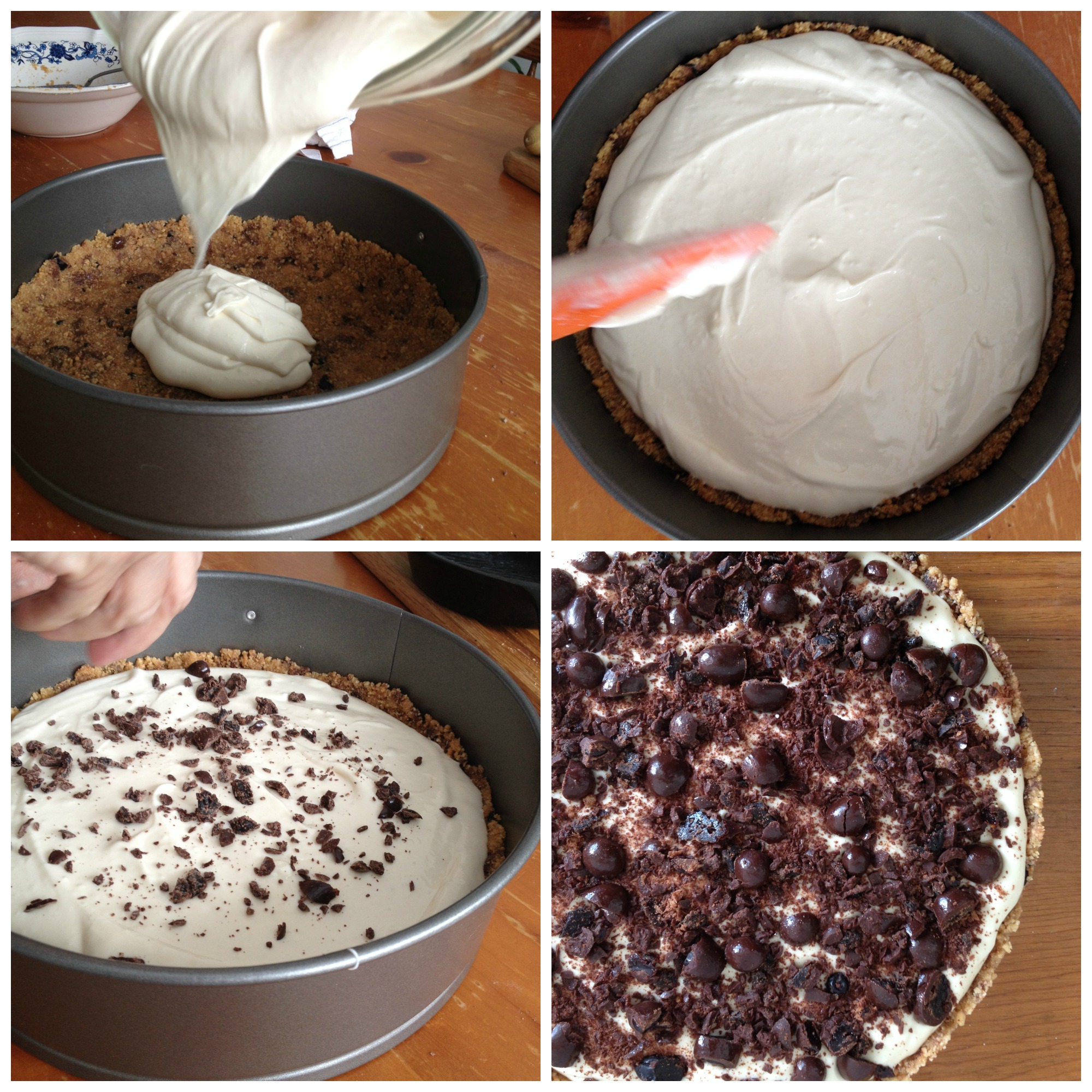 For the cheesecake filling:
In the bowl of your stand mixer, beat the cream cheese until smooth. Add sweetened condensed milk, lemon juice and vanilla.
Pour the filling into the prepare crust shell and smooth evenly with a rubber spatula.
Top with chopped and whole DOVE® Fruit Cranberries & DOVE® Fruit Blueberries. Refrigerate until firm.
Note, this cheesecake may also be placed in the freezer and taken out 15 to 20 minutes before serving.
0