This post has been sponsored by Mark T. Wendell. All opinions expressed are my own.
Sometimes, words fail us and that's ok because some emotions cannot be put into words. Some things must be shown in order to be felt. Knowing glances, a smile, a small yet unexpected gesture- these are things that express what we cannot say.
Not all poems can be written out. Baking is my poetry. Something made by hand, with love, and shared, that is how I express my appreciation.
In collaboration with Mark T. Wendell, I am pleased to be sharing this Blueberry Lavender Crumb Cake, my ode to Mother's Day.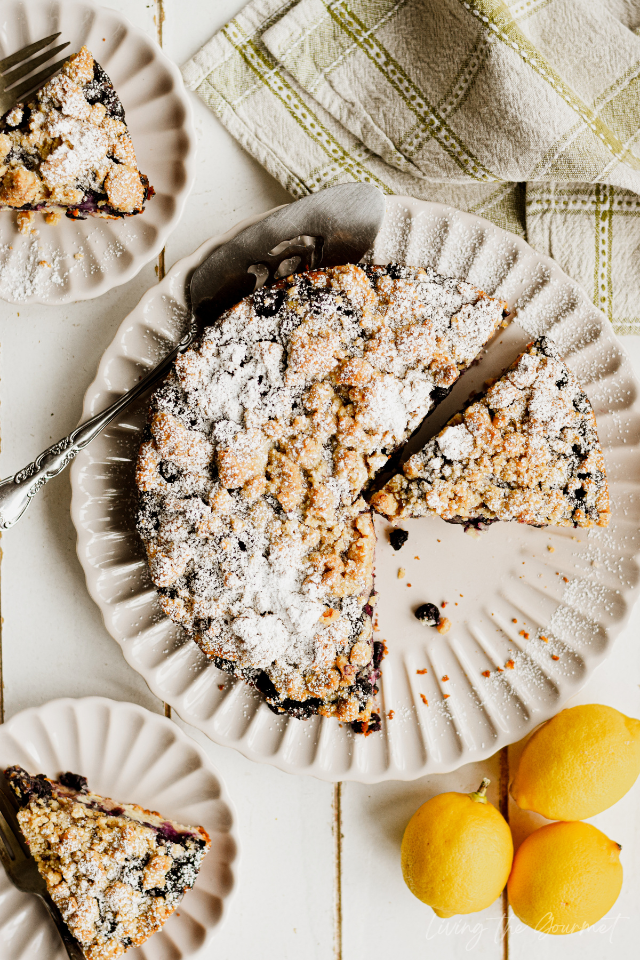 Crumb De La Crumb
The best part of any crumb cake is of course, the crumb. The famous New York Style Crumb Cake boasts of a crumb topping that's as thick as the cake. So you may be wondering now, what is the difference between a New York crumb cake and a regular crumb cake?
The answer is not as simple as you might expect. People commonly mistake crumb cake and coffee cake. A traditional coffee cake is a yellow cake base with a delicate streusel topping, whereas with a crumb cake you get almost as much crumb as you do cake. The slight difference comes down to a single ingredient that you'll find in the topping itself however. The East Coast crumb cake has a hint of warm cinnamon to its topping which differentiates it from a classic deli crumb.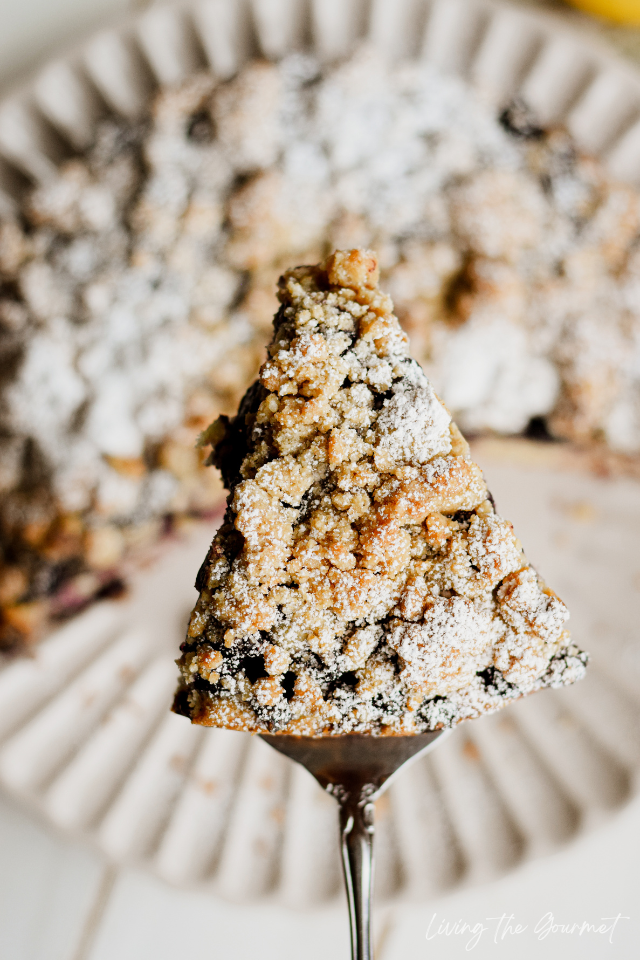 There are a multitude of variations out there, as with most recipes nowadays. If you're looking for a seasonal twist, a popular one to try might be an Apple Crumb Ring which is always a year round delight.
But if you're looking for something a little more unexpected, this Blueberry Lavender Crumb Cake is the one for you. Today's cake is made up of three layers- a rich cake base, a layer of fresh blueberries sweetened with lavender sugar and lemon zest, then a buttery crumb that will leave you wanting more.
To finish it off, we sprinkled it with just a dusting of confectioner's sugar like any classic New York delicatessen might. It comes together surprisingly quickly too.
If you would like, you can substitute the blueberries with strawberries, peaches, or even rhubarb. The fruit layer is incredibly versatile and can transform any tablescape with whatever is seasonally available to you.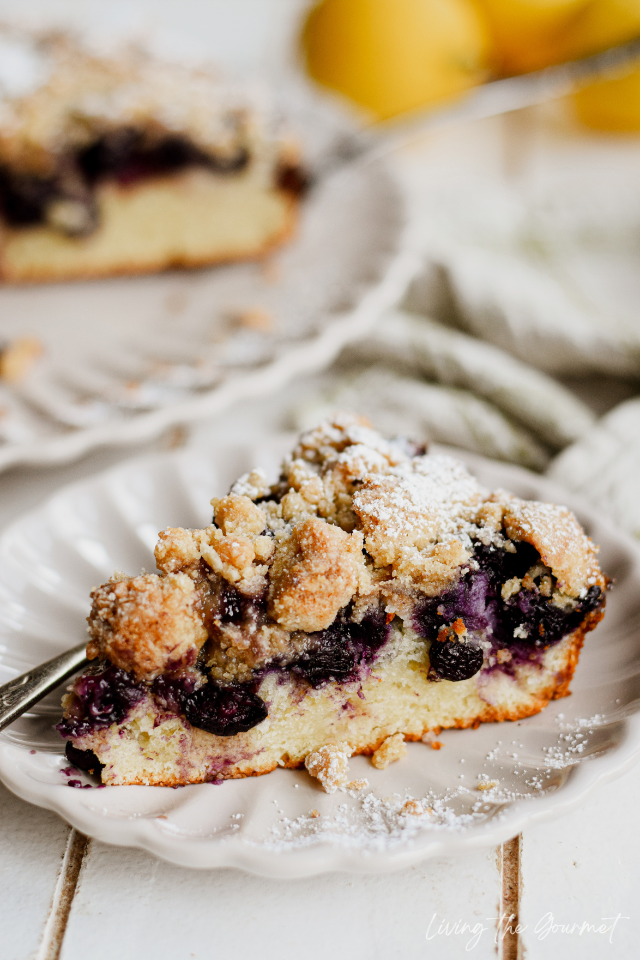 The Finishing Touch
Well then, you have your perfect day planned. A beautiful day in May served with a little slice of heaven too. Now all you need is the finishing touch.
From when I was little, my favorite thing to do was surprise my mother with a pot of tea. In fact, the tea set pictured in today's post, was given to me as a young girl because whenever we celebrated a special occasion, we would always have tea. It's a tradition I still hold to this day.
Mark T. Wendell has introduced a beautiful medley of spring and summer teas that I think would be absolutely perfect to gift for Mother's Day. What's more is that they are the perfect accompaniment to today's recipe as well.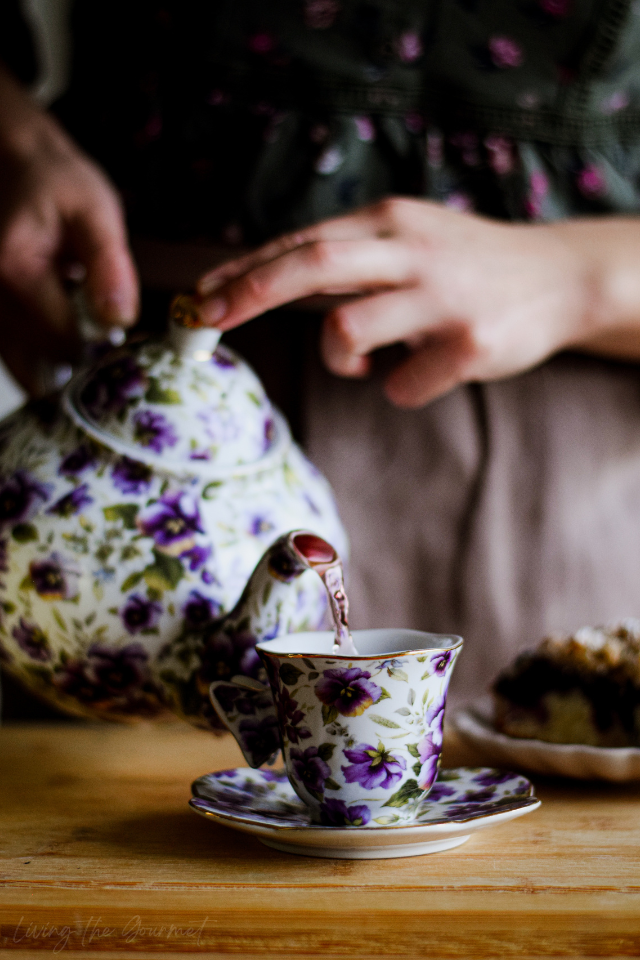 Garden Basket Fruit Tisane - Served with today's recipe, this melange of apple pieces, blackberry pieces, blackcurrant pieces, sour cherry pieces, raspberry pieces, rosehip pieces and hibiscus flowers is a delicious treat for the senses. For those curious tisane does not contain actual tea leaves. It is an herbal drink so it's a perfect caffeine-free tea alternative. Garden Basket Fruit Tisane is naturally sweet and is delicious served hot or iced with a sprig of mint for a refreshing afternoon drink.
Green Paradise Blend - This flavored green tea is a blend of select sencha style China green tea leaves with pieces of strawberry, raspberry, rhubarb, and cornflowers mixed in. Visually appealing with its red, white and blue pieces contrasting the dark green tea leaves, this Paradise green tea has a fresh taste with a delicate sweetness. It's also a perfect summer refreshment with its beautiful floral sweetness.
Sunshine Medley Fruit Tisane - With a crisp taste of grenadine and pineapple, the Sunshine Medley is a unique blend that contains papaya, apple, pineapple and orange pieces. This blend is further complemented with hibiscus petals, rosehips, rose petals and sunflower petals. Its blended citrus fruits and flowers make it a delightful tisane whether it's served hot or cold.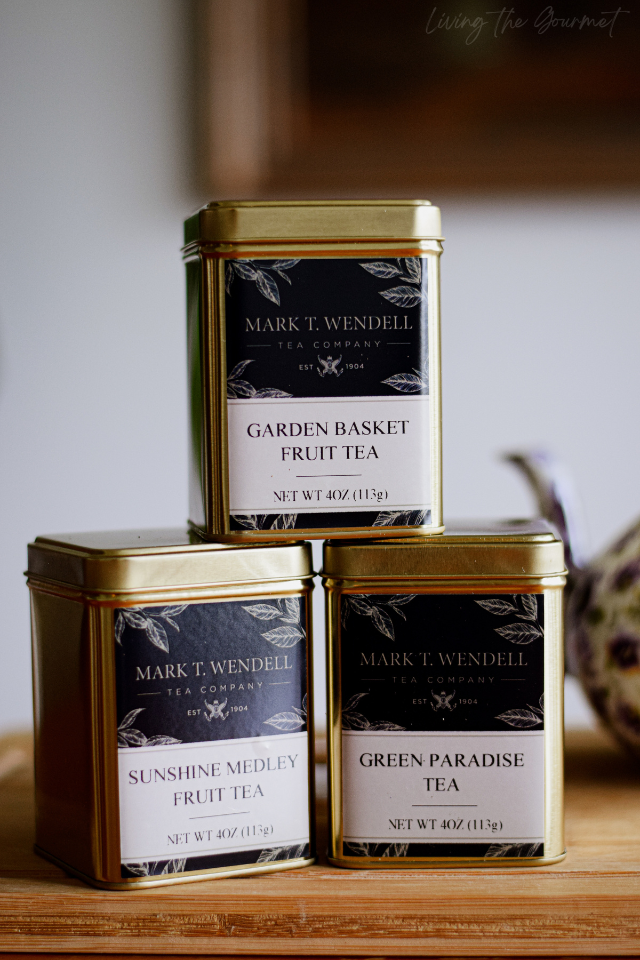 The beautiful part about Mark T. Wendell, aside from their delicious and distinctive blends, is that all their teas are loose leaf. Loose leaf tends to be of a higher quality, and because of this, there is often more concentrated amounts of the benefits present in the tea.
So whether you're serving it to your guests, enjoying a cup yourself, or giving it as a gift, Mark T. Wendell offers the best selections from various tea importers and suppliers like Grace Rare Teas.
Today and always, LTG readers get 15% off any order of $50 or more when you use the code LivingtheGourmet at checkout. Cheers, friends!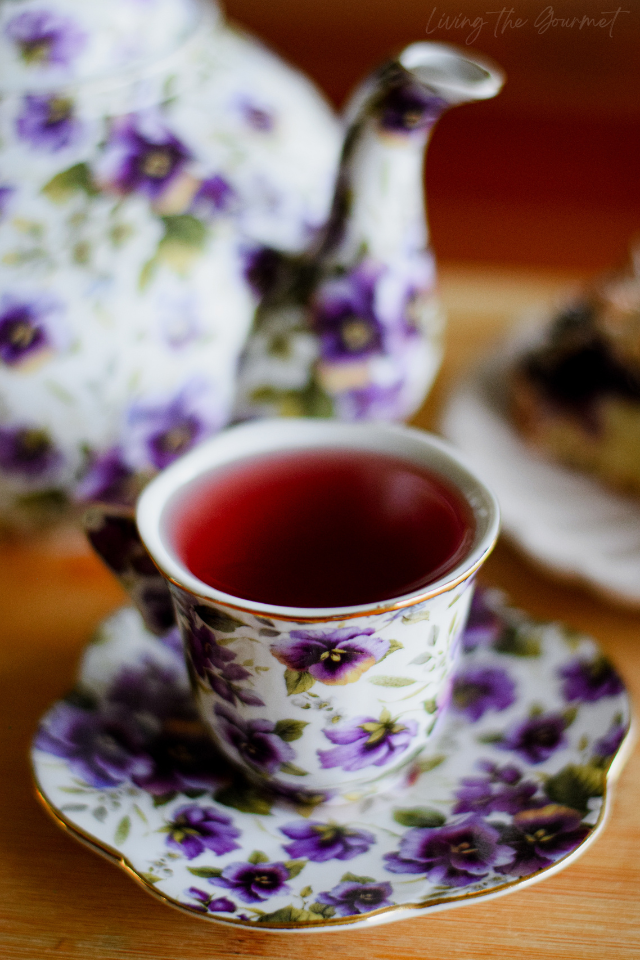 Print
Blueberry Lavender Crumb Cake
---
Author:

Total Time:

1 hour

Yield:

8

slices

1

x
For the Crumb Topping:
4 tablespoons

unsalted butter, melted

1/2

cup

AP flour

1/4

cup

granulated sugar

2 tablespoons

brown sugar
For the Blueberry Filling:
1 1/2

cups

blueberries

2 tablespoons

AP flour

1 teaspoon

lemon zest

2 teaspoons

granulated sugar

1 teaspoon

lavender buds
For the Cake:
1 1/4

cups

AP flour

3/4 teaspoons

baking powder

1/8 teaspoon

salt

1/2

cup

unsalted butter, softened

3/4

cup

granulated sugar

2

large eggs

1 teaspoon

vanilla

1/4

cup

Greek yogurt (or sour cream)
---
Instructions
For the Crumb Topping:
In a small bowl, mix together all the ingredients for the crumb topping.  If the mixture looks a little too saturated, add a little more flour, 1 tablespoon at a time, until large crumbs form.  Set aside.
For the Blueberry Filling:
In a mortar and pestle, crush the lavender buds.  In a small dish, combine the crushed buds with the sugar and lemon zest.
In a large bowl, toss the blueberries with flour and the lavender sugar until completely coated.  Set aside.
For the Cake:
Preheat the oven to 350 degrees F.   Grease and line a 9-inch cake pan with parchment paper.  Set aside.
In the bowl of a stand mixer, cream butter and sugar until smooth.  Add the eggs and mix again until whipped.  Lastly, add the vanilla and yogurt.  Mix again until combined.
In a separate bowl, whisk the flour, salt, and baking powder.
Add the dry ingredients to the butter mixture.  Mix on low speed until incorporated.  The batter will be thick but smooth and creamy.
Transfer the cake batter to the prepared cake pan.  Spread the batter evenly.  Top with the blueberry mixture evenly, and finally sprinkle the crumb topping over the entire layer of blueberries.
Bake for about 45-50 minutes depending on the range of your oven, or until the cake tester comes out clean.
Let the cake cool completely on a wire rack before transferring to a cake plate.  Dust with confectioner's sugar before serving.  Enjoy!
Prep Time:

15 minutes

Cook Time:

45 minutes

Category:

Dessert

Method:

Bake

Cuisine:

American
Keywords: crumb cake, cake, dessert, blueberry, lavender
Recipe Card powered by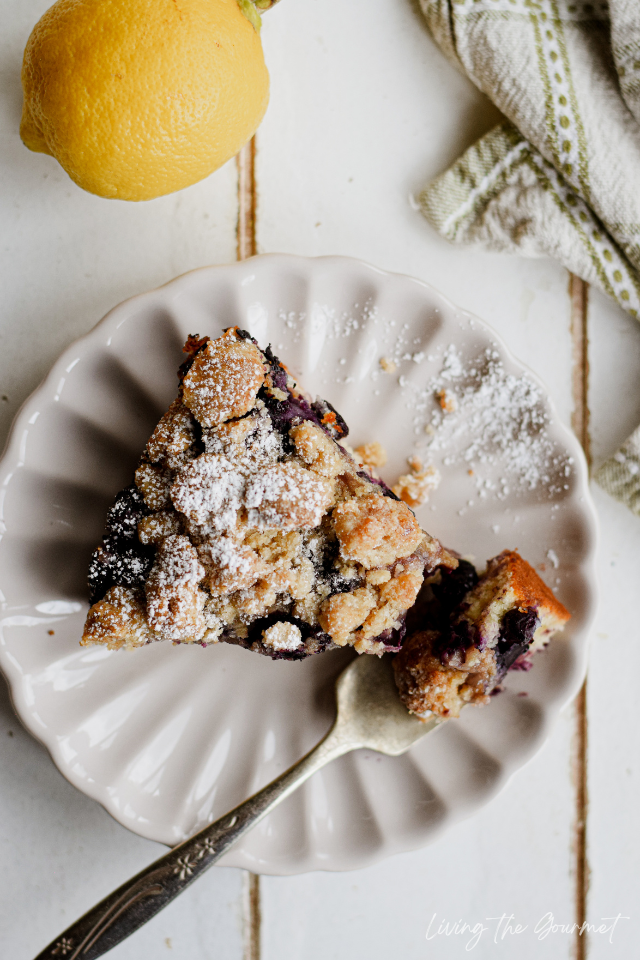 If you enjoyed today's recipe, be sure to like, share, and subscribe so that you never miss a post.
If you tried today's recipes, or any of the suggested pairings or variations, be sure to let us know how it turned out. We love hearing from you. Happy Baking!
4