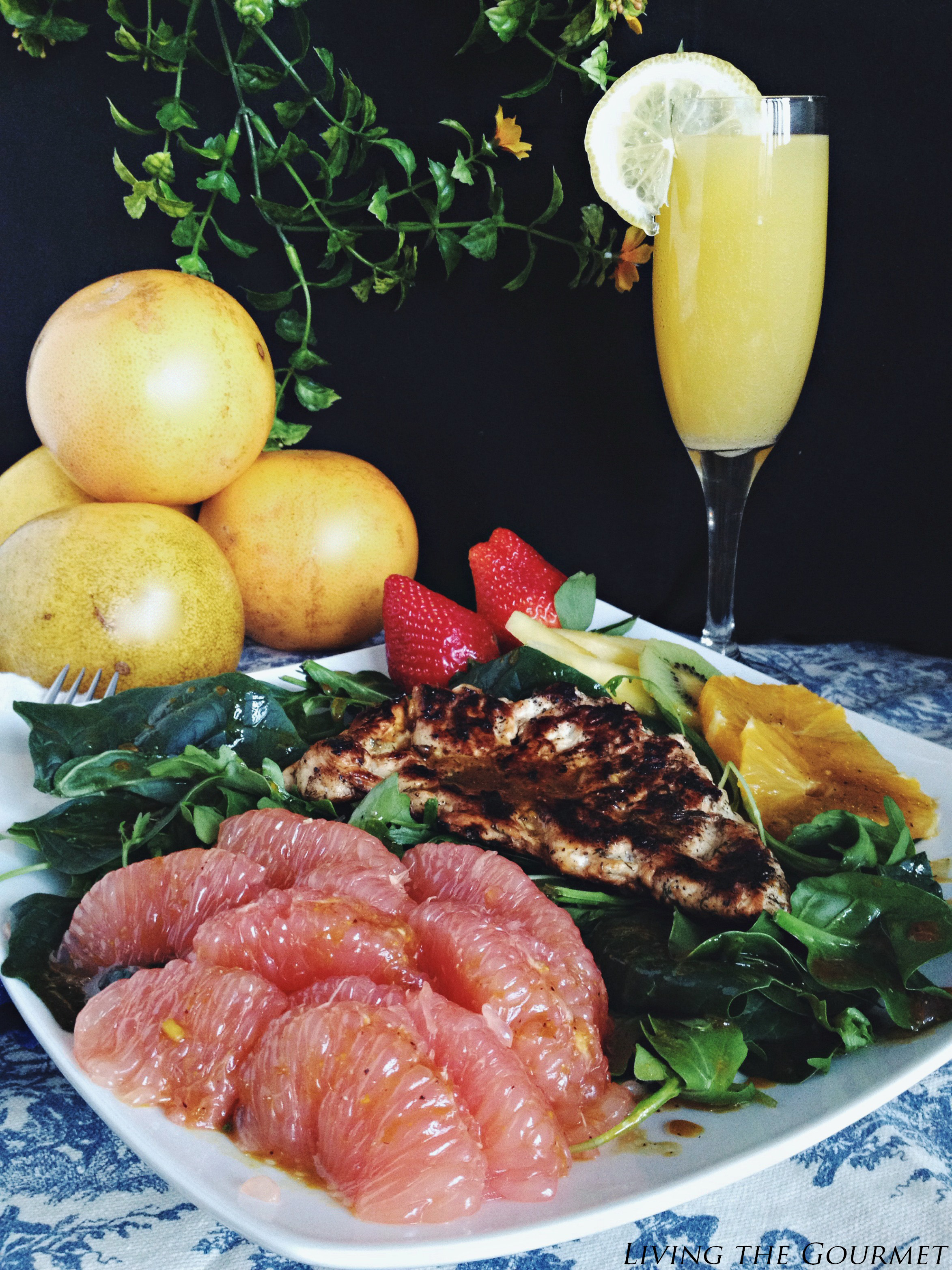 I've been writing a lot about health so far this year, and I had been planning on giving another glimpse into my journey for this post, another snapshot in words of my progress in chiseling out a New Me for the New Year. However, while perusing the selection of wintery produce at my local market, I realized the powerful effect that food can have on the memories we create for ourselves.
For example, when I came across a selection of Florida grapefruits, I found it hard not to remember my grandfather, and the quartered grapefruits he would eat religiously every morning. As I put together a bag of about six of the grapefruits, I started to think that he may have been on to something. One half of a grapefruit provides a full day's worth of vitamin C, in addition to significant amounts of vitamin A, potassium, and fiber. In other words, they are the perfect way to start the day.
However, over the course of my years, I've discovered that finding reliably good grapefruits can be an exercise in frustration. Many are too dry, too bitter, or so sweet that they no longer actually taste like grapefruit, lacking that telltale 'bite' – despite looking like specimens of perfection.
That's where the 'Florida Difference' really comes into play. While Florida grapefruits are notorious for their awkward appearance, what's on the inside is where their superior quality becomes most apparent.
Florida grapefruits come from uniquely fertile soil, and are further enhanced by the lush subtropical climate, making them juicy and sweet, while still maintaining a crisp 'bite.' In fact, this juicy sweetness is at its peak right now in the January to March months.
While grapefruit is typically regarded as a breakfast item, it is nonetheless a good bit more versatile than that, and that's how I decided upon this recipe. I wanted to put an unexpected twist on the grapefruit in order to showcase its versatility. I wanted something light, something refreshing, and then I decided I wanted to add another layer, and create a dish that's almost Summer-seasonal in taste and composition, but with the addition of wintery ingredients.
This light and refreshing grilled chicken dish features a sweet and savory mix of salad greens, strawberries, grapefruit, and citrus. With the sweetness of the strawberries offset by the bite of the grapefruits, and the savory notes of chicken accented by the citrus tones, this a perfect dish for any time of year.
Living the Gourmet
Grilled Chicken Citrus Salad with Balsamic Vinaigrette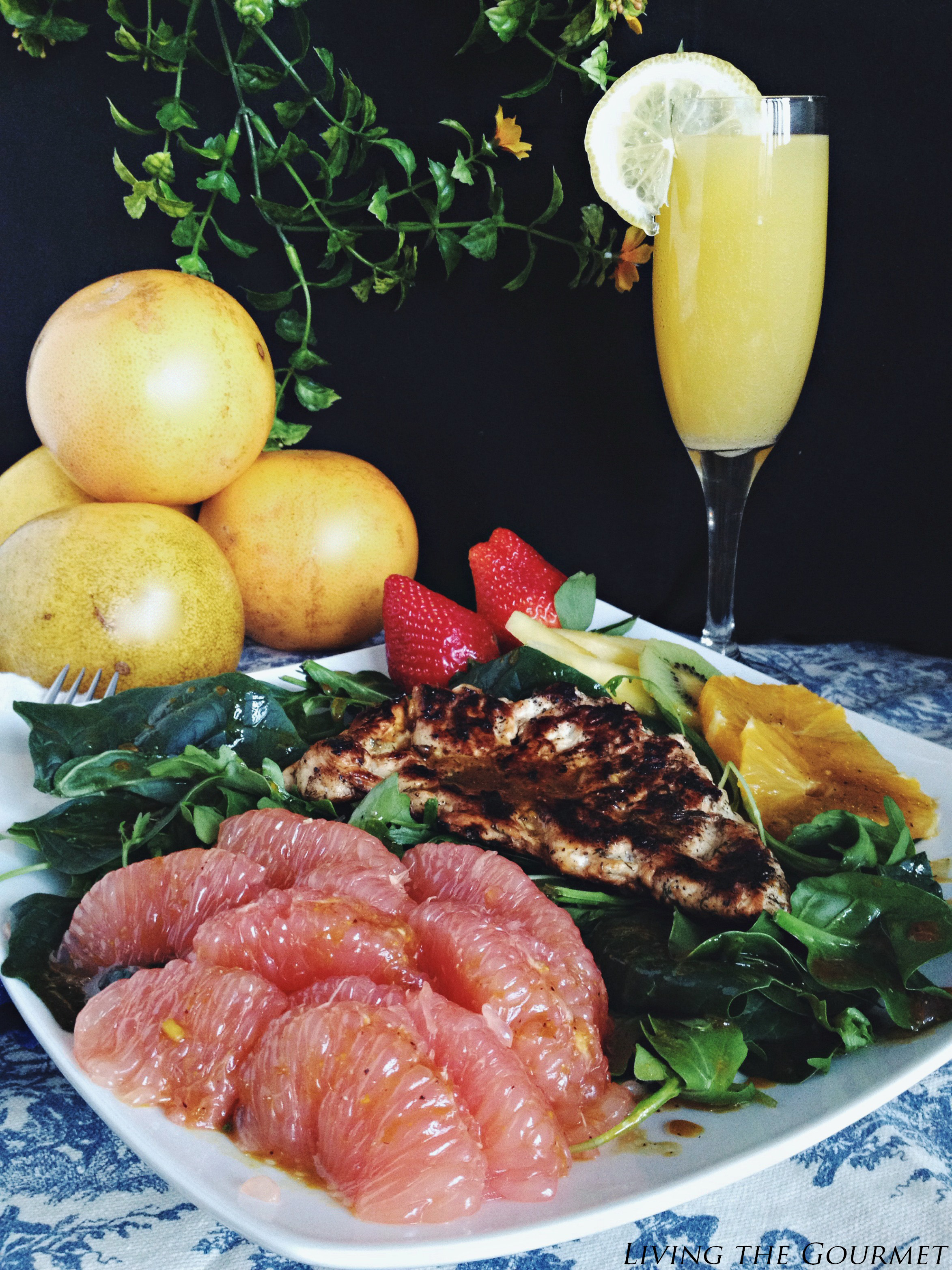 Ingredients
For Chicken & Marinade:

3 – 4 lbs. of boneless chicken breast – sliced thin
1/2 inch piece of fresh ginger – peeled and chopped fine
3 cloves of garlic – chopped
1 tbs. sugar
3 tbs. balsamic vinegar
Juice of 1/2 an orange
Juice of 1/2 a lemon
2 tbs. soy sauce
2 tbs. canola oil
1 tsp. salt
1 tsp. black pepper
4 tbs. fresh dill – chopped

For the Citrus Salad:

4 Fresh Florida Grapefruit – peeled and sectioned
Fresh strawberries
Fresh kiwi – peeled and sliced
Fresh pineapple - sliced
Fresh orange – peeled and sliced
Your choice of fresh salad greens

For the Balsamic Vinaigrette:

2 tbs. mustard
2 tbs. honey
1/4 inch piece of fresh ginger – peeled and chopped fine
1/4 cup balsamic vinegar
1/2 cup olive oil
1/4 tsp. salt
1/4 tsp. black pepper
Juice of 1/4 of lemon
Instructions
For Chicken & Marinade:

Combine all of the above ingredients in a bowl and add the chicken; cover and refrigerate for at least one hour.
Heat a large frying pan; add the chicken. Do not overcrowd the pan.
When the chicken is golden on one side and turning white at the edges; turn over to finish cooking; approximate cooking time will be 8 to 12 minutes or 6 to 8 minutes for flattened chicken. When the chicken is firm to the touch and the juices run clear the chicken is cooked. The cooking time will depend on the thickness of the chicken slices.
Plate the salad with the grapefruit, fresh fruit and the chicken.
Spoon the balsamic vinaigrette over the salad, fruit and the chicken.

For the Citrus Salad:

Prepare the salad greens and fresh fruit. Refrigerate the salad greens and fruit while preparing the chicken.

For the Balsamic Vinaigrette:

Combine all of the ingredients for the dressing in a small bowl and whisk.
7.8.1.2
73
https://livingthegourmet.com/2015/01/grilled-chicken-citrus-salad-with-balsamic-vinaigrette-featuring-florida-grapefruit.html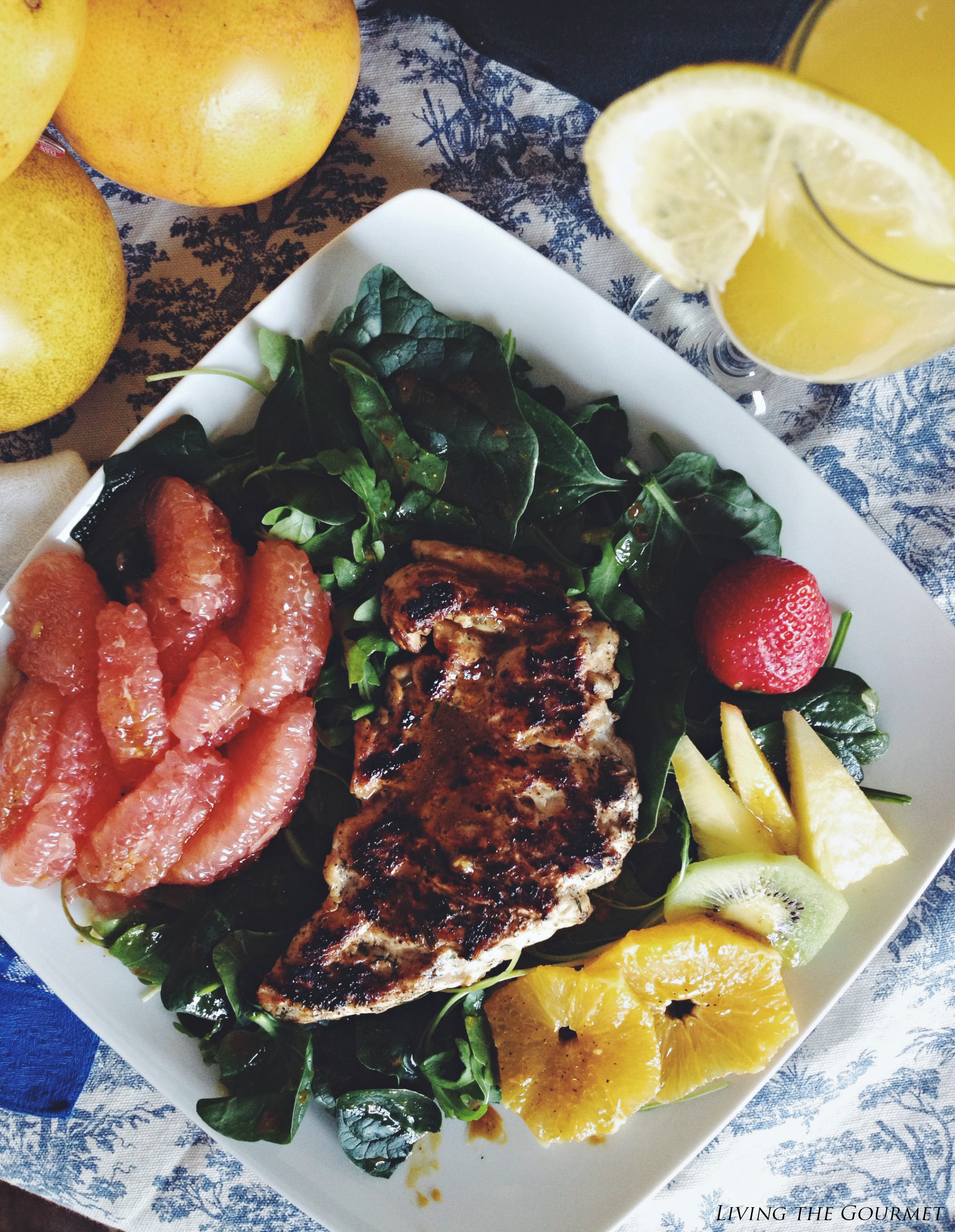 I was selected for this opportunity as a member of Clever Girls and the content and opinions expressed here are all my own.
0