These fresh chicken nuggets are given a quick pan-fry before finishing up in the oven.
The result is juicy nuggets with a crispy cornmeal coating, served with a pomegranate salsa for a refreshing and satisfying meal.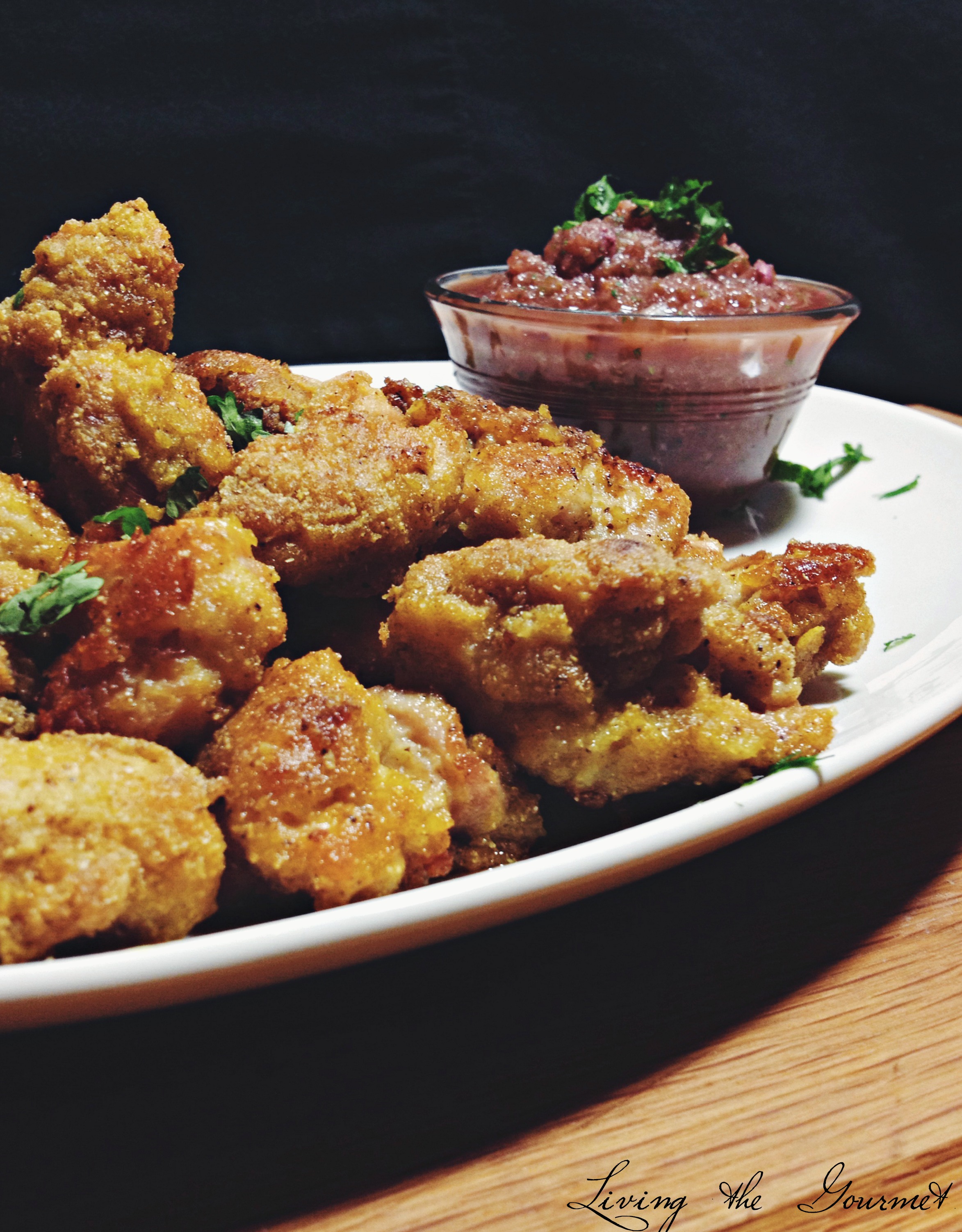 The holidays have visited and have left much too abruptly. I am not quite sure exactly why this seems to happen, but I seem to be left in the dust. I wish time would slow down just a bit.
I really did not have this in mind at all when I began de-boning the chicken thighs; though I got to thinking about fun food and this popped into my head. I also had a bunch of pomegranate seeds to find some use for and that is how the salsa was born.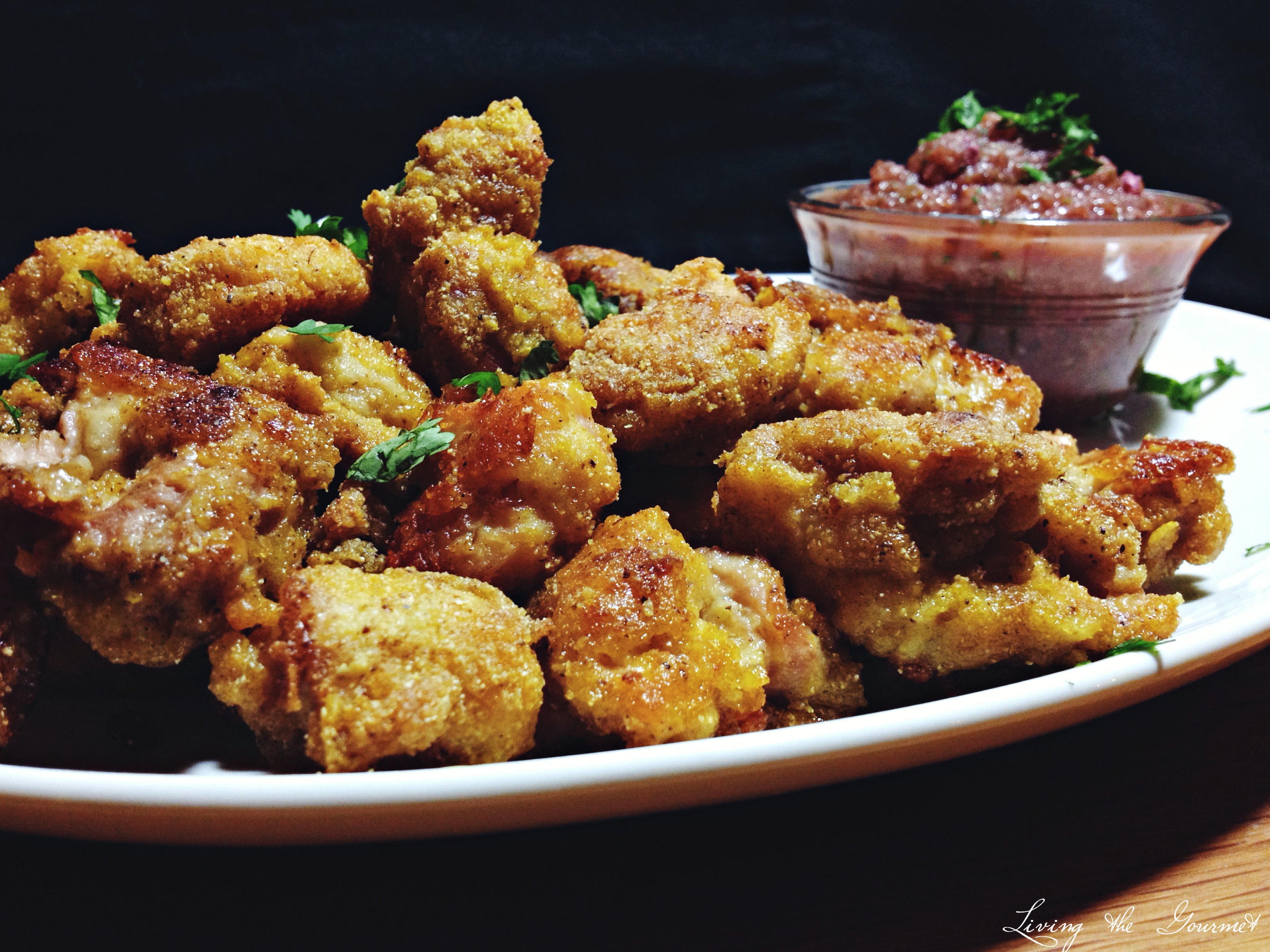 Living the Gourmet
Fresh Chicken Nuggets & Pomegranate Salsa
10 minPrep Time
30 minCook Time
40 minTotal Time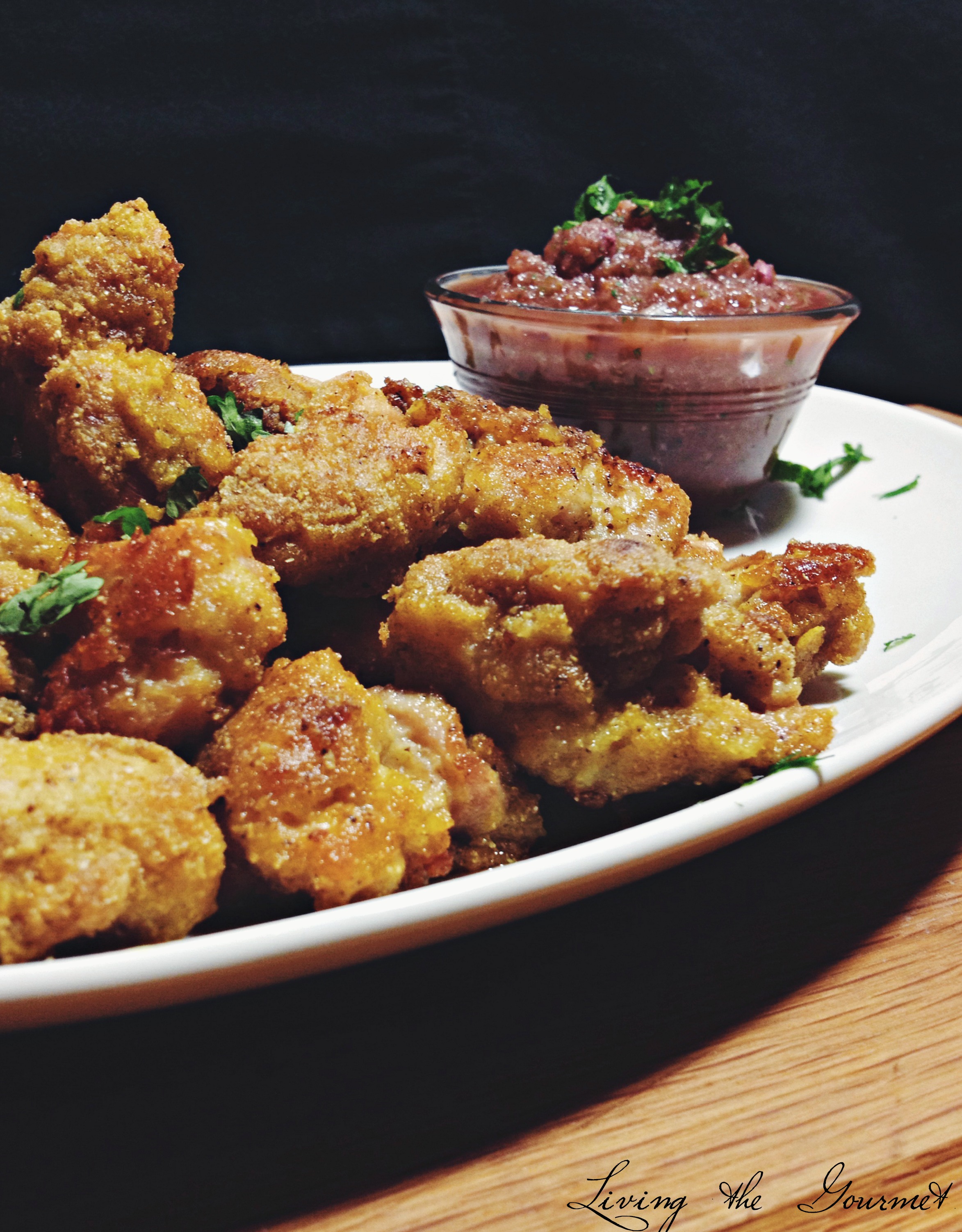 Ingredients
Fresh Chicken Nuggets:

2 lbs. boneless – skinless chicken thighs – cut into chunks
1 cup flour
1/2 cup cornmeal
1 tsp. sugar
1/2 tsp. cinnamon
1 tsp. salt
1 tsp. black pepper
1 tsp. curry
1/2 tsp. turmeric
1/2 tsp. paprika
Canola oil for frying

Pomegranate Salsa:

1 cup of Pomegranate Seeds – cooked or raw
1 jalapeño – grilled
1/2 sweet onion – grilled
1/2 vine ripe tomato – grilled
1/4 cup Cilantro
1 tsp. salt
1 tsp. black pepper
1 tbs. vinegar
1 tsp. sugar
1 cloves garlic
2 tbs. olive oil
Instructions
Fresh Chicken Nuggets:

Preheat Oven 350 degrees.
Combine all of the dry ingredients in a bowl and add the chicken pieces. Toss the pieces to coat as evenly as possible.
Heat a large frying pan with 1/4 inch of canola oil. Add a few coated chicken pieces, but do not overcrowd the pan.
When the chicken is golden on one side, 2 or 3 minutes; flip the pieces get the pieces golden on the other side. Place the pieces in a baking pan to finish cooking.
Bake about 25 - 30 minutes.

Pomegranate Salsa:

Combine all of the above in a food processor and give a few good chops.
Serve with the chicken pieces and cilantro for garnish.
7.8.1.2
62
https://livingthegourmet.com/2015/01/fresh-chicken-nuggets-pomegranate-salsa.html
Enjoy with Love,
Catherine
xo
**Link up to these parties and here.
0