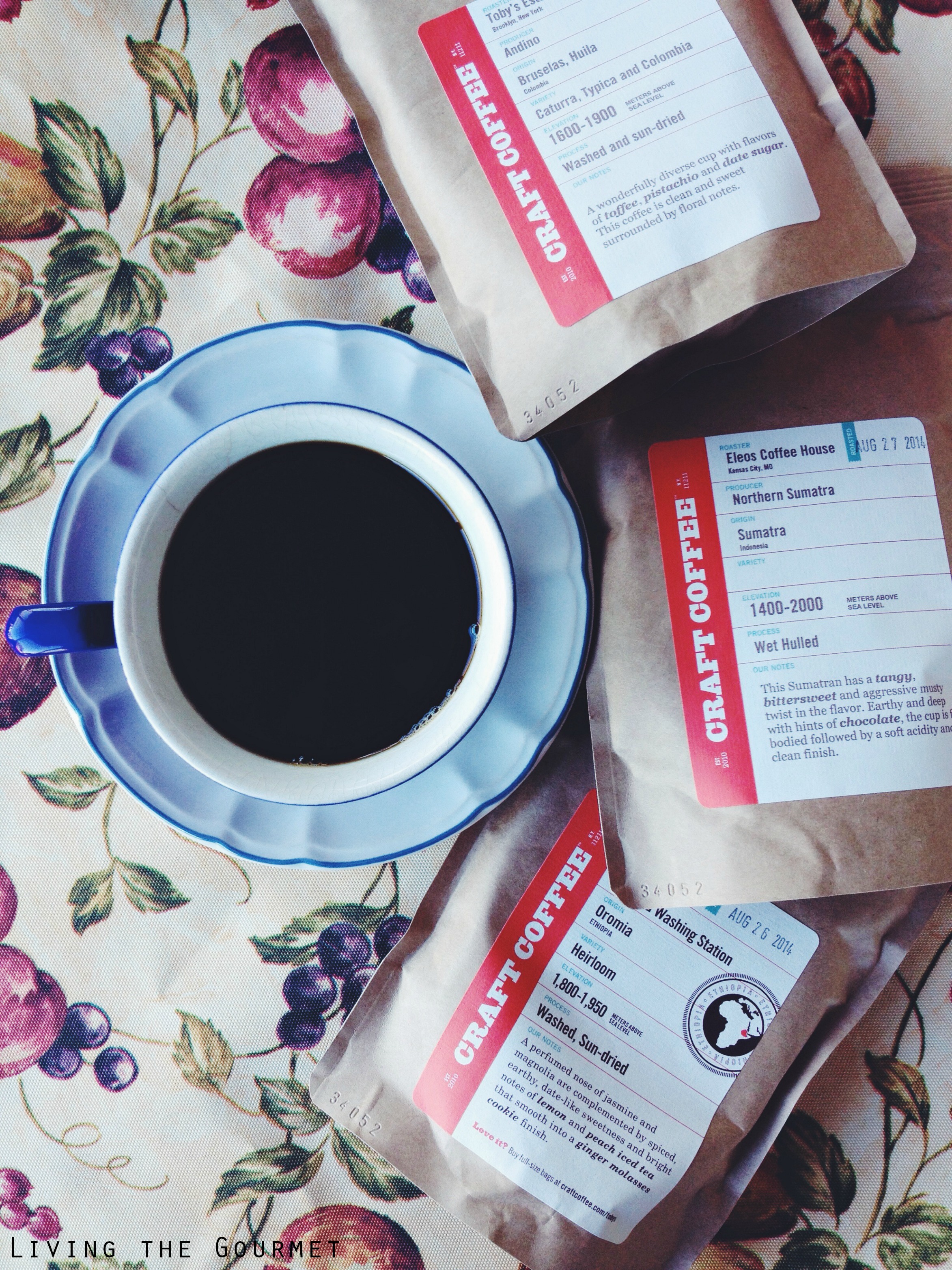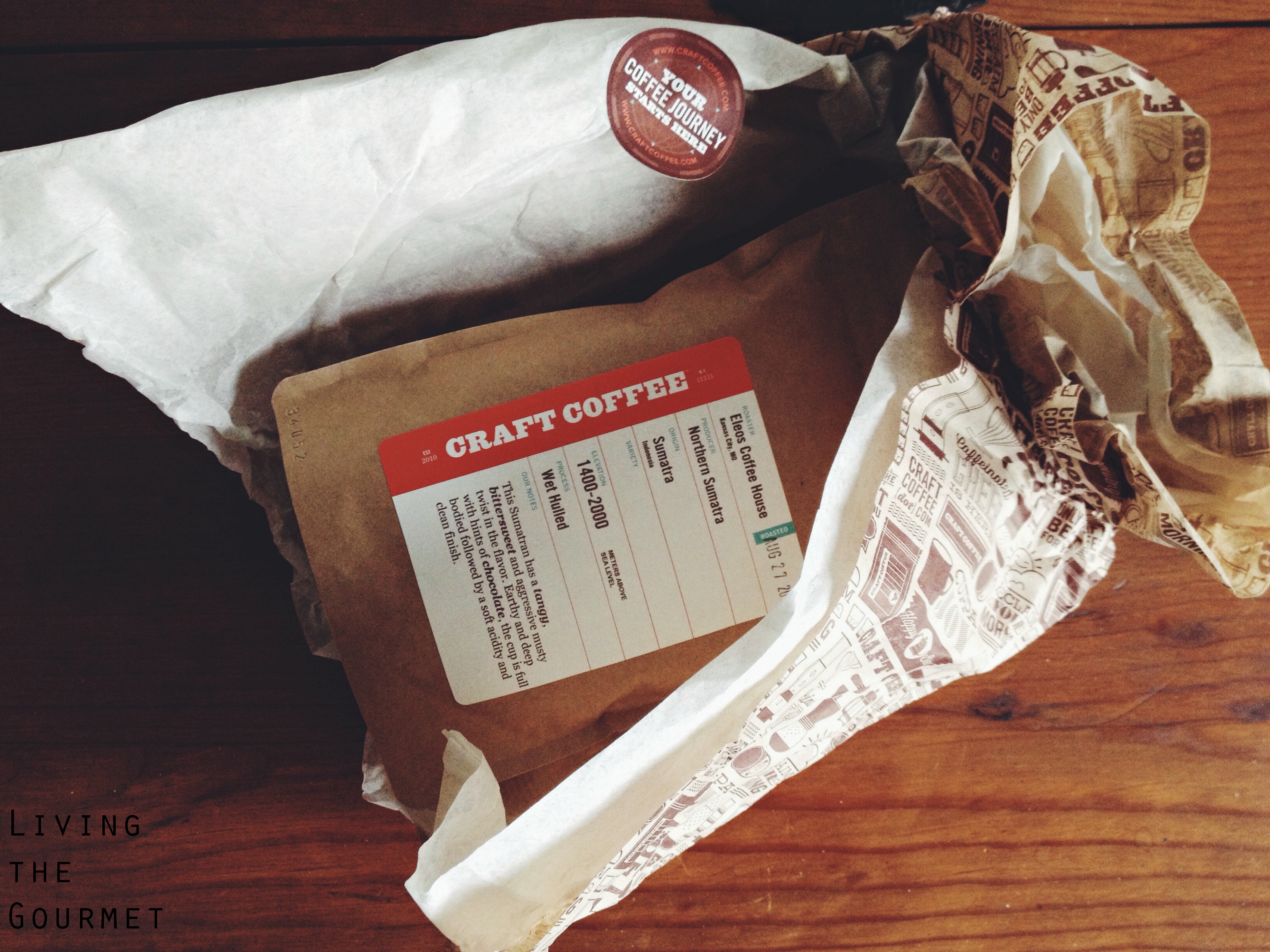 Living the Gourmet is pleased to present Craft Coffee.
Craft Coffee is a 'coffee service,' offering a variety of coffees prepared by independent coffee-roasters, with the coffee being roasted on as-ordered basis as opposed to in-bulk, ensuring both maximum freshness and flavor. The coffee is then delivered based on a customized schedule, ensuring premium convenience.
However, what truly makes Craft Coffee unique is their ability to select coffees for their subscribers based upon a statistical and scientific analysis of their coffee habits and palette. Living the Gourmet was given the opportunity to try this service, and Craft Coffee selected three coffees for us to sample based on a brief 'Coffee DNA Test.'
The first coffee was a Sumatran blend, produced in Northern Sumatra via a Wet Hulled process, and then roasted by Eleos Coffee House in Kansas City, MO. True to its description, it was a full bodied coffee with subtle hints of chocolate, and a slightly bittersweet aftertaste.
The second coffee was an Heirloom blend from Oromia, Ethiopia from Borboya Washing Station. The coffee was roasted by Toby's Estate in Brooklyn, New York, and offered a smooth texture, and a flavor laced throughout with rustic sweetness. As the description noted, the coffee also featured subtle lemon notes.
The third coffee was also roasted at Toby's Estate, and was produced by Andino in Bruselas, Huila, Colombia via a Washed and Sun-Dried process. A Caturra, Typica and Colombia variety, the coffee was somewhat 'lighter' than the others, very smooth and easy on the palette, with, true to the description, hints of pistachio and date sugar, making for a clean textured, slightly sweet brew.
Each bag we received was stamped with its roasting date, August 27, 2014, meaning the coffee was roasted less than two weeks prior to delivery.
For their subscribers, however, the coffee analysis will go significantly deeper than a questionnaire. In fact, Craft Coffee has spent the last three years evaluating thousands of different coffees from across the globe, while tracking thousands of ratings from their users. Combined with industry leading technology inside the Craft Coffee lab that scientifically analyzes every coffee to come through their doors, Craft Coffee can guarantee that you will love the coffee they select for you.
For both its convenience, and the quality of the coffee on offer, Living the Gourmet can wholeheartedly recommend Craft Coffee service to our readers.
I was given this product for review. All opinions expressed are my own. I was not financially compensated for this post.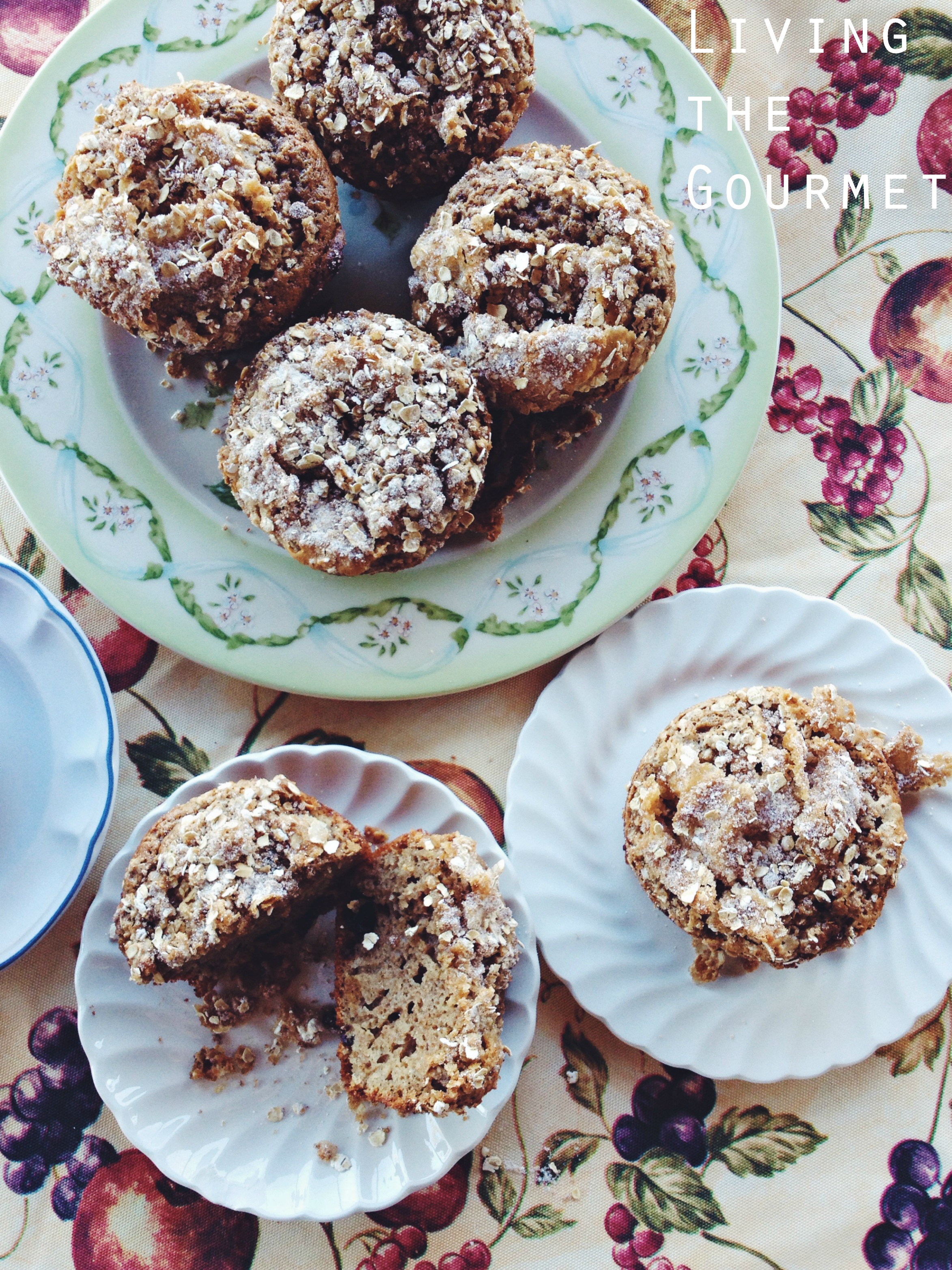 Yields 6 muffins
Spelt Raisin & Molasses Muffins & Craft Coffee
5 minPrep Time
15 minCook Time
20 minTotal Time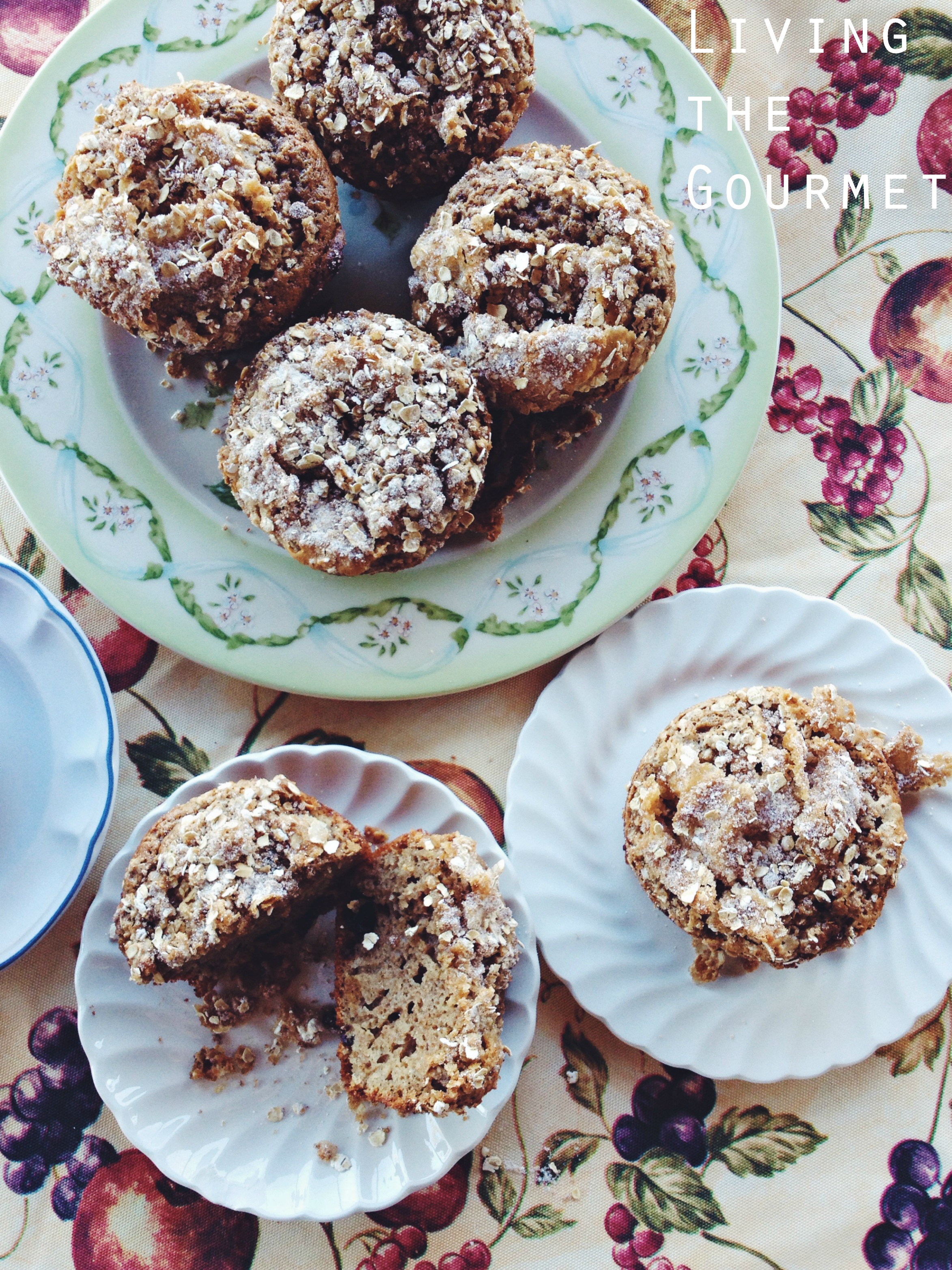 Ingredients
2 ½ cups spelt flour
½ cup sugar
½ cup raisins
1 tbs. molasses
½ tsp. salt
1 tsp. vanilla
½ tsp. cinnamon
¼ tsp. cloves
1 tbs. baking powder
1 apple - diced
1 tbs. canola oil
3 eggs
1¼ cup milk
Butter for greasing the muffin tin

Topping

2 tbs. brown sugar
3 tbs. oats
½ cup sugar
Instructions
Combine the dry ingredients in a large bowl.
In a food processor combine the molasses, raisins, vanilla and diced apple pieces. Give this combo a few good chops.
In a smaller bowl combine the eggs, milk and oil. Add the wet ingredients to the dry ingredients and mix gently.
Stir in the molasses mixture.
Butter the muffin tin.
Topping: In a small bowl mix together the above ingredients.
Top each muffin with the mixture.
Preheat Oven 350 degrees:
Bake 15 – 18 minutes or until the toothpick test comes out clean.
7.8.1.2
653
https://livingthegourmet.com/2014/09/spelt-raisin-molasses-muffins-craft-coffee.html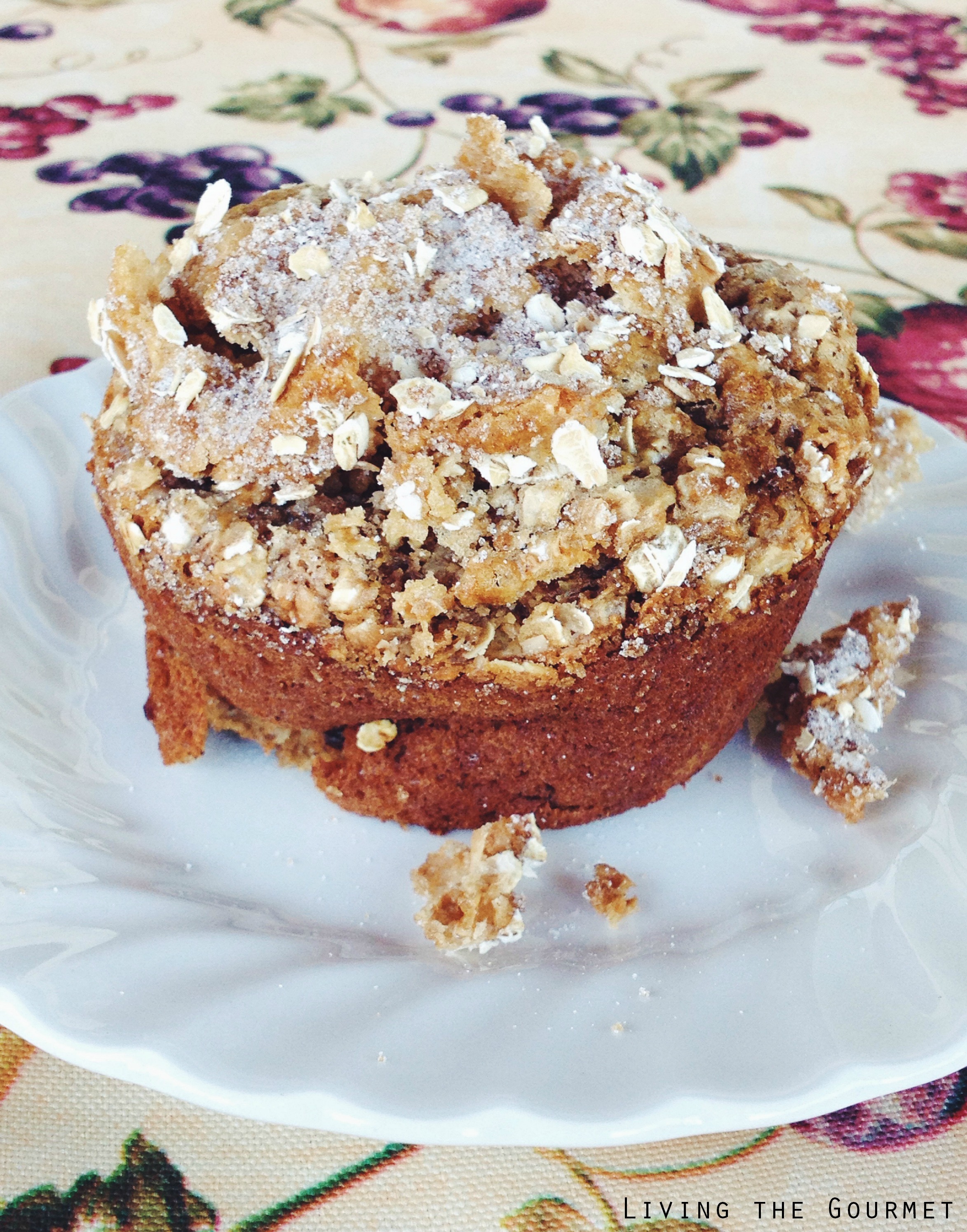 Enjoy with Love,
Catherine
xo
0