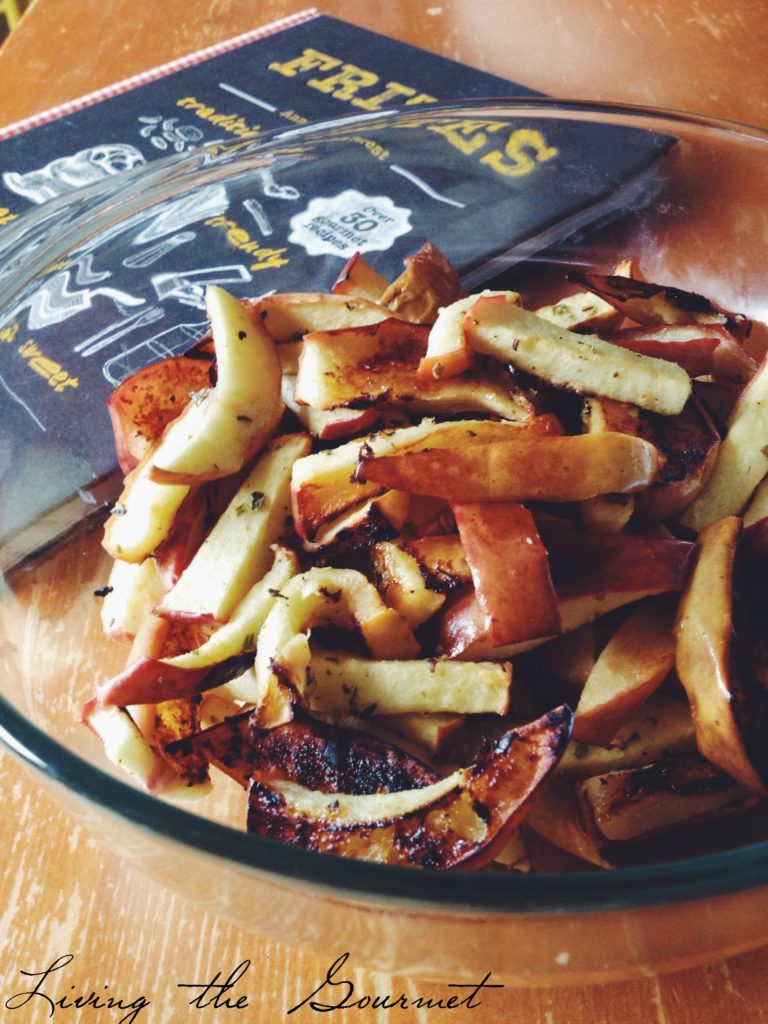 Living the Gourmet is pleased to present Frites by Anne de la Forest, from Jacqui Small publishing.
Frites is a cookbook devoted to a single food type — the 'Frite,' aka 'Chips' in the UK, or 'French Fries' in the US. The book opens with a brief introduction to the Frite, as if any is needed, detailing the 'iconic' status held by the fried potato globally. The author then delves into a treatise on the chemistry involved in frying, and how each stage of frying has been measured over the years to determine the best frying process, and the 'optimal' potato type.
The 'meat' of the book begins with a chapter entitled 'The Epic Tale of the Frite,' and gives us a brief look at the Frite's history, which was actually quite interesting. The history begins at the Ponte-Neuf bridge, with the first cookbook known to be devoted solely to potatoes having been penned shortly after the French Revolution. I found myself imagining Revolution-era "citoyen" peasants huddled in the glow of makeshift stoves frying potatoes under the Ponte-Neuf. Since then, however, the author tells us that Pont-Neuf potatoes have become a mark of quality in modern times, though in post-Revolution France, she explains, potatoes were solely an item for the poorer populations.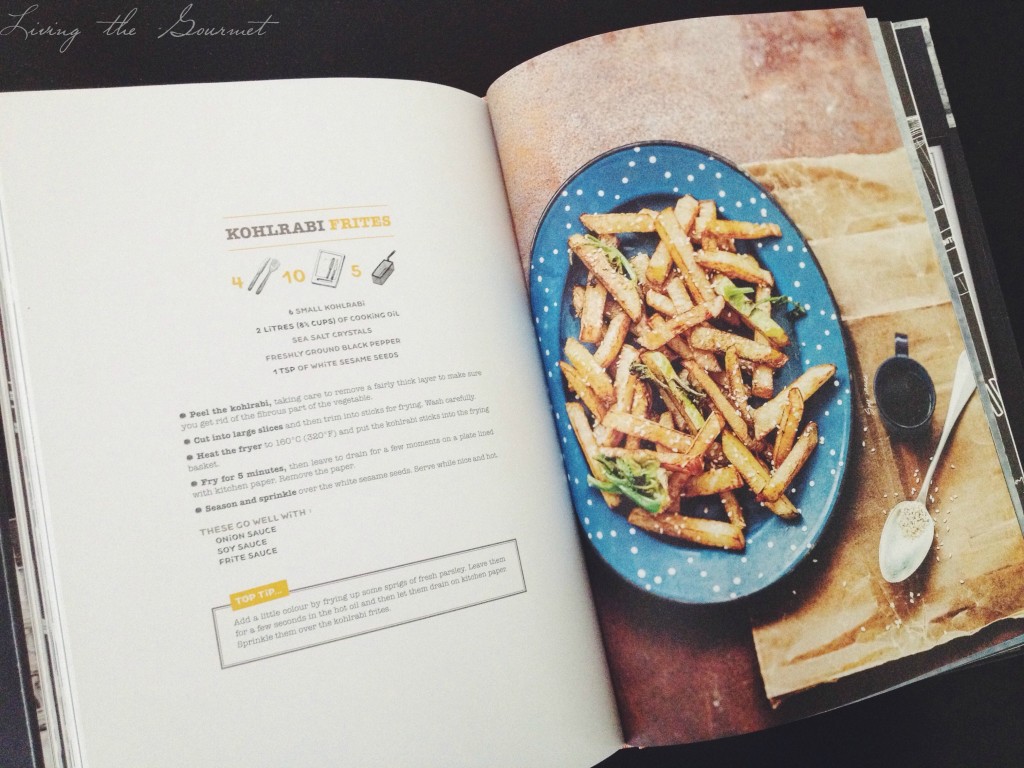 After a brief chapter that acts as a primer on proper potato cutting and preparation technique, the author opens the recipe portion of the book with several traditional frite recipes. The opening recipe is for classic Pont-Neuf Frites, essentially the basic 'french fry.' Belgian Frites make an appearance as well, being quite similar to their Pont-Neuf counterparts, with the exception of being fried darker, and with the option of frying them in a traditional beef suet. This chapter also holds my personal favorite, 'English Chips,' the simple fries often served in 'Fish and Chips.'
The next chapter covers what the author dubs 'Trendy Frites,' and introduces the reader to assuredly less familiar variations on the ever familiar item. The chapter opens with ribbon thin 'Skinny Frites,' and from there the items on offer range from 'Mashed Potato Frites' to 'Caramelized Honey Frites.' I found the Feta Frite to be particularly interesting. This chapter I feel perhaps best exemplifies the diversity of the Frite, and puts the author's own culinary technique and versatility on full display.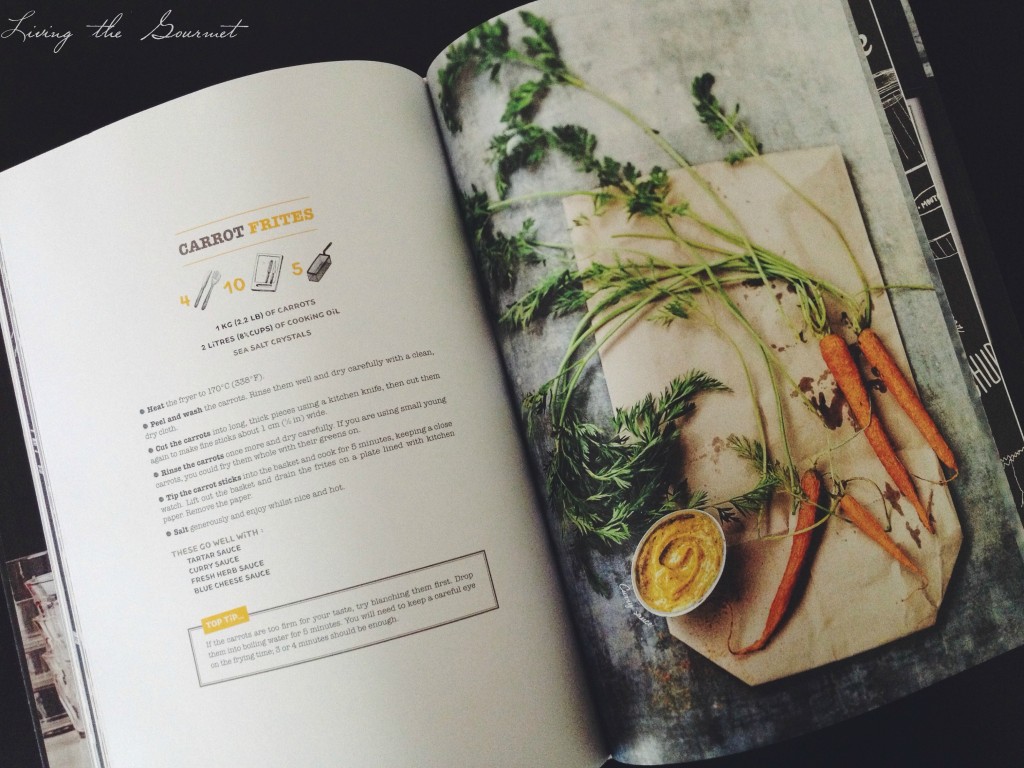 Trendy Frites transitions into Creative Frites, and features such items as Black Radish Frites, Pumpkin Frites, and Comte Cheese Frites, among others. While perhaps not quite as 'over the top' as the frites on offer in Trendy Frites, these frites nonetheless run along the same vein.
Finally, the book closes its frite journey with Sweet Frites, frites that can serve as dessert items, such as the apple frite, or as sweet compliments to a main course, such as the sweet potato frite.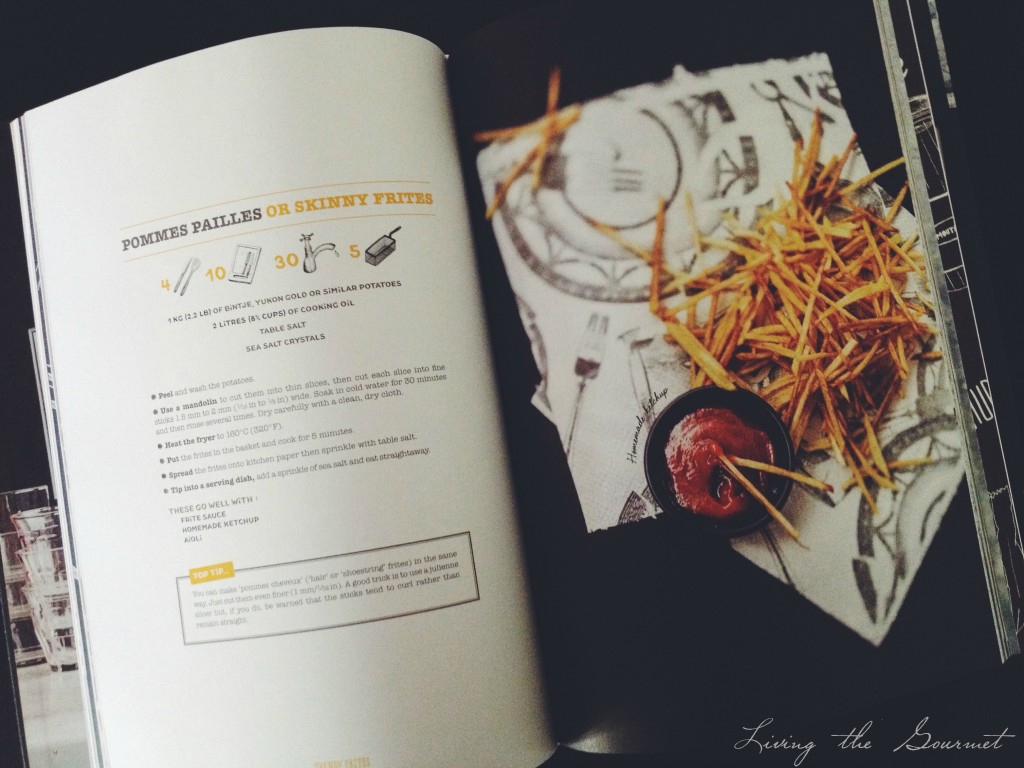 The book's final chapter of recipes is entitled Sauces, and offers items that go well beyond frites, and can be used in other recipes. For example, we're offered recipes for homemade ketchup and barbarecue sauce, items one might expect in a book about French fries, but then we're also offered perhaps less expected items such as curry and fresh herb sauce, and the author's take on a tartar sauce.
Overall, Frites is a pleasant and lighthearted journey through one of cooking's most easily and universally recognizable items – the French fry aka Chip aka Frite, and offers a surprisingly wide variety of takes on the item. That said, Living the Gourmet can easily recommend this book as an addition to any cook's library.
Review
— By —
Michael Pappas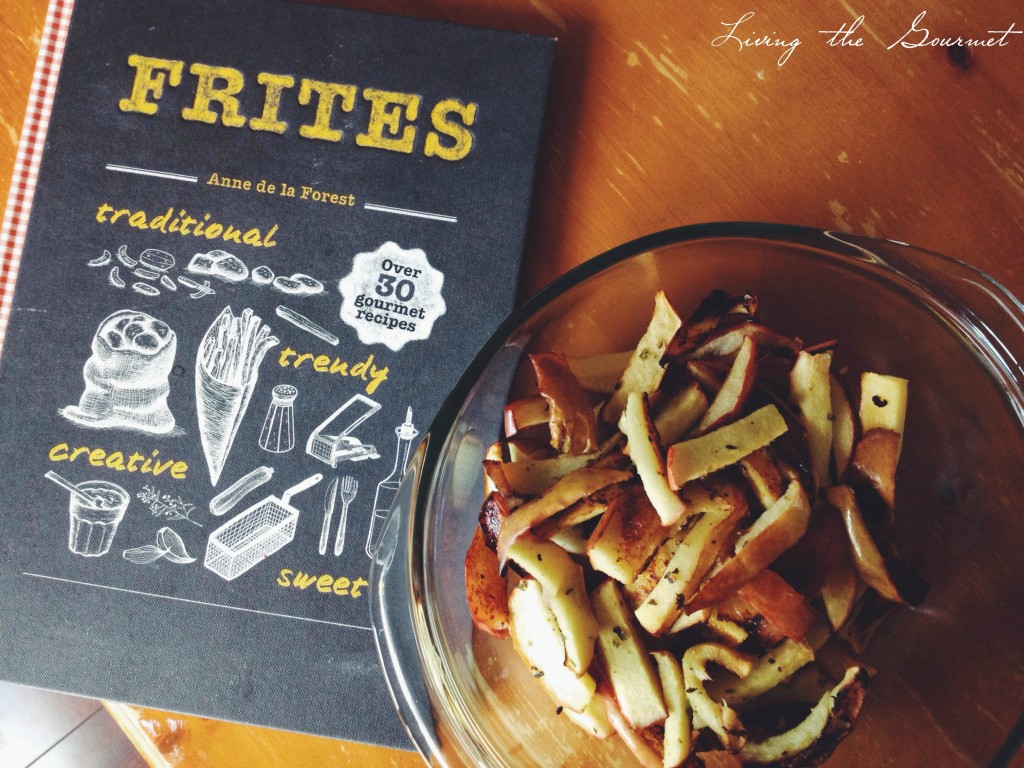 I adapted this recipe from Anne de la Forest's Apple Frites (page 108). However, I deviated and instead made savory apple frites. The original recipe called for butter and brown sugar. I thought it would be nice to switch things up a bit since most would expect a sweet apple frite.
Needless to say, these savory frites were a success!
Print
Savory Apple Frites featuring Frites Cookbook
Prep Time:

5 minutes

Cook Time:

10 minutes

Total Time:

15 minutes

Yield:

5

servings

1

x
5

apples, cored and julienned – (I used gala apples)

1 teaspoons

salt
Zest of

1

lemon

½ teaspoons

dried oregano
Pinch of black pepper

1

sprig fresh rosemary, finely chopped

2

cloves garlic, grated

2

–

3

tablespoons oil
Instructions
Preheat oven to 350 degrees F.
In a small bowl, combine salt and lemon zest. Mix until you have lemon salt.
Add herbs, pepper and garlic.
Toss in a large bowl with the apples.
Drizzle oil and transfer apple frites to a baking sheet. Spread out evenly to make sure they do not overlap.
Bake for 10 -12 minutes. The frites will be caramelized on the outside. Be sure they do not burn and that they do not get too soft.
Serve warm with your favorite condiment. (I preferred mine with ketchup :))
Notes
Adapted: Frites by Anne de la Forest
Recipe Card powered by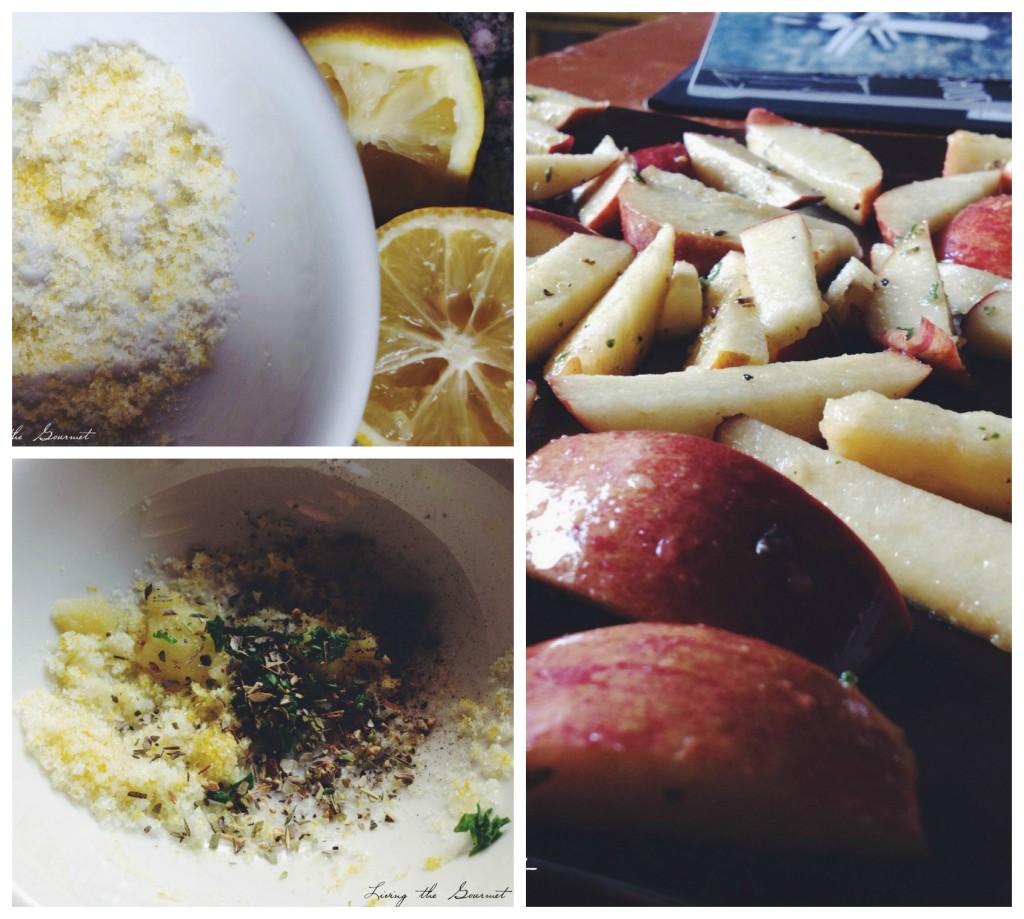 If You Enjoyed Today's Recipe…
Be sure to follow us on Instagram to stay up to date with all things Living the Gourmet, and for more great recipes, tips and tricks.
Did you make this recipe?
If so, let me know in the comments down below, or post a picture to Instagram, or to Pinterest, and I'll give you a shoutout on Instagram, or post your pin to one of my Pinterest boards!
Enjoy with Love!
1