Noodles in the rain. It's an iconic film scene, that of Harrison Ford eating noodles in the rain, set against the backdrop of a towering sci-fi Los Angeles soaked in rain and hazy neon. Somehow, even Blade Runner was made better by the inclusion of noodles. Whether topped in red sauce, submerged in broth, tossed with pork belly, or baked into a crispy pie, noodles – like butter – somehow make everything better.
I will admit that the very last thing I thought could be enhanced by the inclusion of noodles – spaghetti in this case, although today's recipe would work equally well with ziti, linguine, or penne – was an omelet. But here we are.
This omelet combines tender zucchini, golden strands of spaghetti, and along with a deliciously cheesy combination of mozzarella and Parmesan, all harmoniously united in an omelet that's as versatile as it is flavorful. Whether you're seeking a sumptuous breakfast, a light lunch, or a sensational side for dinner, this dish has got you covered.
Best of all, this recipe is a breeze to create, as we will show below. It can also be saved in the fridge for up to four days, making it a great make-ahead recipe. Read on for an ingredient checklist, prep tips, some variation suggestions to get your creative juices flowing, and a printable recipe card.
Now, let's get to it.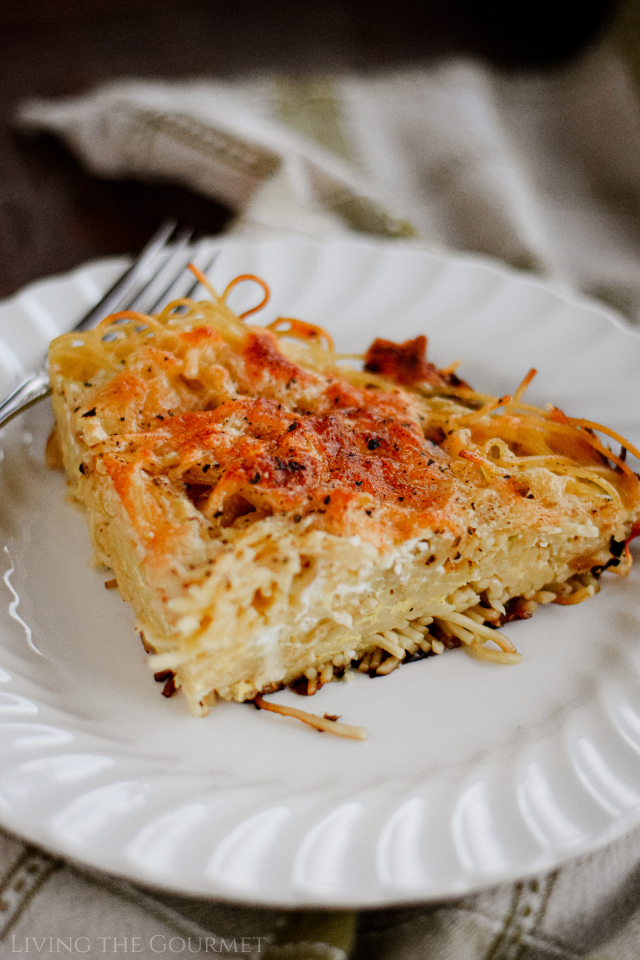 Reasons to Love this Recipe
Versatility: It can be enjoyed for breakfast, lunch, or dinner, making it a versatile option for any time of day.
Make-Ahead and Leftovers: The omelet can be made ahead of time and stored in the fridge. See below for tips on heating it up. However, it can also be enjoyed cold.
Simple Ingredients: The ingredients used are common pantry staples and fresh produce, making today's omelet a breeze to pull together.
Comfort Food: This omelet is satisfying and comforting without being overly heavy, making it perfect for cozy family meals.
Quick and Easy: It's a convenient recipe for busy weeknights or when you want a simple-yet-delicious meal without spending hours in the kitchen.
Perfect for using up leftover pasta: If you have leftover cooked spaghetti, this is an ideal way to transform it into a new, appetizing dish.
Ingredient Checklist – Everything You'll Need
2 medium-sized zucchini – peeled and grated

Note: Fresh zucchini with vibrant green skin works best.
Substitution: Yellow summer squash or any autumn squash can be used as a substitute.

6 eggs – beaten with a splash of milk

Note: The milk helps the eggs fluff.
Substitution: You can use dairy-free milk if desired.

1 small onion – sliced thin

Note: Red, yellow, or white onions can be used.

3-4 garlic cloves, crushed and chopped

Note: Fresh garlic provides the best flavor.
Tip: Use a garlic press for easy crushing and maximal extraction of the garlic's juices.

½ tsp. kosher salt

Note: Adjust salt to taste.
Tip: I do recommend a coarse salt.

½ teaspoon black pepper

Note: Freshly ground black pepper is recommended for the best flavor.

2 tbs olive oil

Note: As always, I highly recommend using a decent quality extra-virgin olive oil.

1 tbs butter

Note: Unsalted butter works well for this recipe.

8 oz mozzarella – grated

Note: Grate the mozzarella fresh for the best meltability.

½ cup grated parmesan or romano cheese

Note: Use freshly grated cheese for maximum flavor.

1 pound spaghetti

Note: You can use whole wheat or gluten-free spaghetti if preferred.
Substitution: Use your favorite pasta shape. Ziti, penne, or linguine all work great, as do pinwheels or bowties.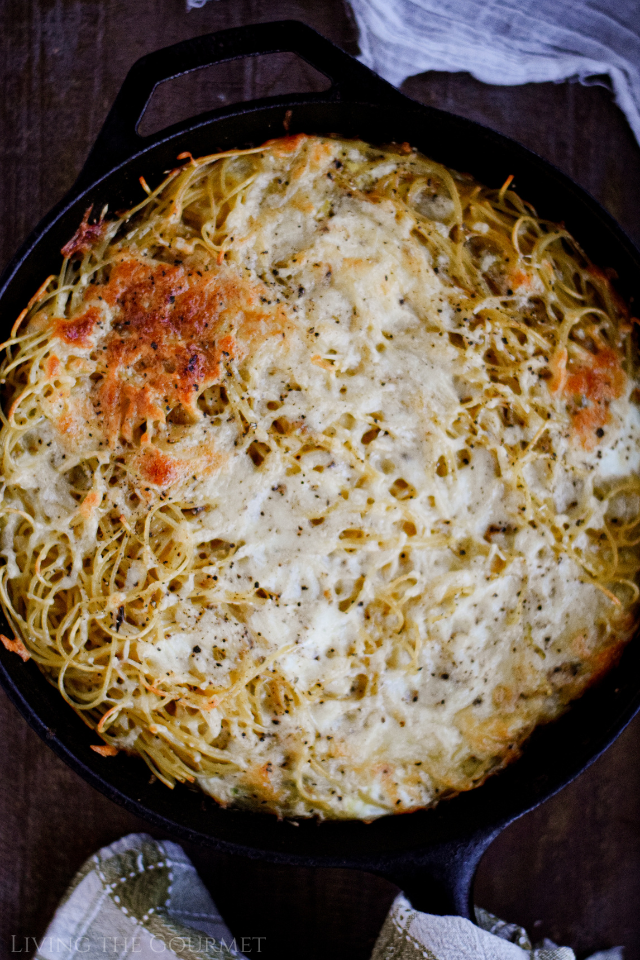 Variations – Getting Creative
This Zucchini and Spaghetti Omelet is a versatile dish that can be customized in various ways to you're your personal preferences.
To get your creative juices flowing, here are some potential variations to consider:
Herb Infusion: Enhance the flavor profile by adding fresh or dried herbs. Basil, oregano, thyme, or parsley can provide extra depth and aroma to the dish.
Protein Boost: For those who prefer a heartier meal, consider adding in cooked bacon, diced ham, or cooked ground sausage.
Cheese Selection: Experiment with different cheeses to vary the flavor. Cheddar, Swiss, Jarlsberg, or feta cheese are all excellent alternatives to mozzarella. You can also try a combination of cheeses.
Veggie Medley: Feel free to include additional vegetables such as bell peppers, mushrooms, spinach, or cherry tomatoes
Spice It Up: If you enjoy spicier dishes, add a pinch of red pepper flakes, cayenne, diced chilies, or a dash of hot sauce for extra kick.
Sun-Dried Tomatoes: Toss in some chopped sun-dried tomatoes, or pepperoncini for added depth of flavor.
Pesto Paradise: Stir in a spoonful of pesto sauce, either store-bought or homemade, to give the omelet a fresh basil and pine nut kick.
Fresh Lemon Zest: Add a hint of freshness by sprinkling lemon zest over the top before baking to brighten the flavors.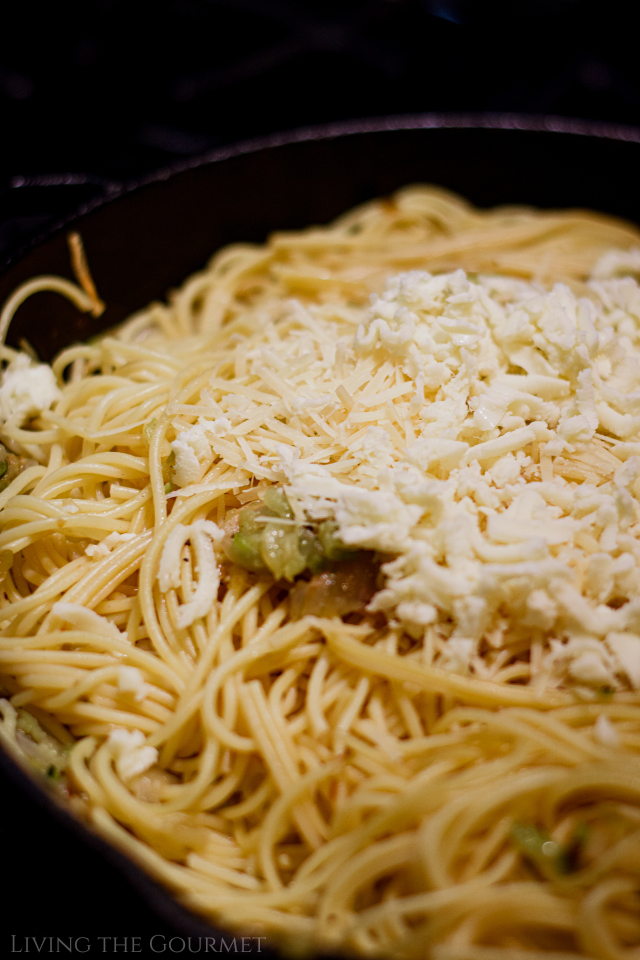 Ten Tips for Success
To make this Zucchini and Spaghetti Omelet a success, here are some preparation tips and tricks to keep in mind:
Grating Zucchini: Grate the zucchini with a box grater or give it a go in a food processor. After grating, squeeze out excess moisture by wrapping the grated zucchini in a clean kitchen towel and wringing it gently. This step prevents the omelet from becoming too watery.
Uniform Slicing: When slicing the zucchini, aim for uniform 1/4-inch thick rounds. This ensures even cooking and a consistent texture in the omelet.
Garlic Handling: Crush and chop the garlic finely for an even distribution of flavor. Also, feel free to adjust the garlic to your personal preference.
Mixing Eggs: When beating the eggs, make sure they are well combined. This creates a uniform egg mixture that will coat the spaghetti and zucchini evenly. Also, be sure to beat the eggs until you notice fine bubbles forming. This ensures there is enough air to allow the eggs to fluff through cooking.
Cooking the Pasta: Cook the spaghetti to an "al dente" texture, as it will continue cooking in the oven. Drain the pasta thoroughly to prevent excess moisture in the omelet.
Seasoning: Season the omelet components well. The zucchini, spaghetti, and eggs should all be seasoned with salt and black pepper. This ensures that every layer is thoroughly flavorful.
Cheese Distribution: When adding cheese, disperse it evenly to guarantee every bite has a cheesy touch. Adjust the amount of cheese to desired preference.
Preheating Oven: Preheat the oven to 350 degrees F (175 degrees C) before placing the omelet in it. A preheated oven ensures even and efficient cooking.
Watch the Omelet: Keep an eye on the omelet while it's in the oven. Depending on your oven, it may take around 20-25 minutes to achieve a nice golden color on top. You can also use the broiler for the last couple of minutes for extra browning.
Rest Before Cutting: Allow the omelet to rest for a few minutes after removing it from the oven. This makes it easier to slice without falling apart.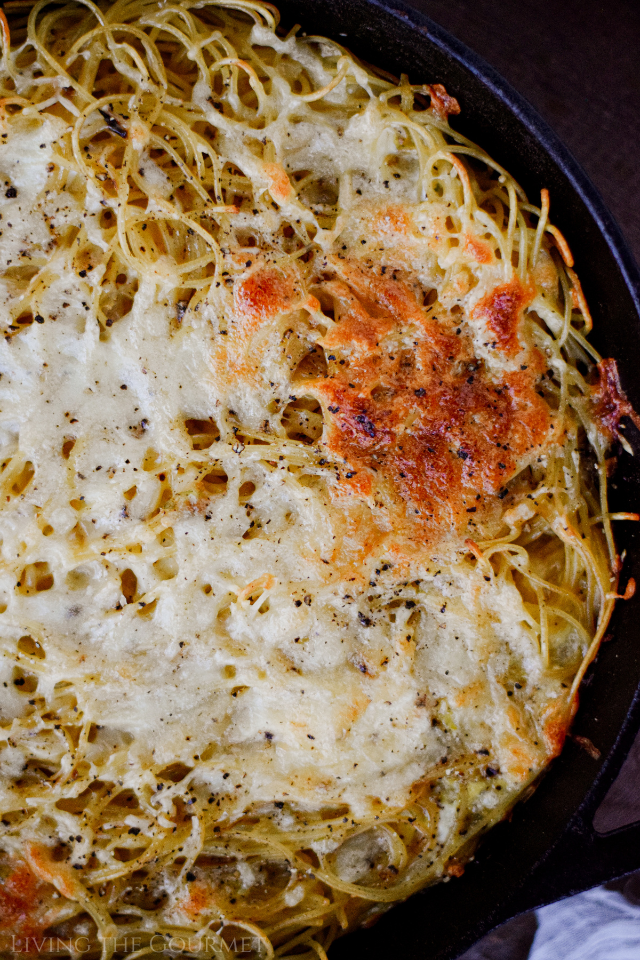 Leftovers – Storing and Reheating Your Zucchini and Spaghetti Omelet
Making this omelet ahead of time is a great way to ensure you've got a satisfying lunch or breakfast throughout the week.
Here are some tips on storing and enjoying your leftovers:
Cool Down: Allow any leftover omelet to cool down to room temperature before refrigerating. This helps prevent condensation inside the storage container, which can make the omelet soggy.
Slice or Portion: If you prefer, slice the omelet into individual portions before storing. This makes it easier to reheat only what you need.
Airtight Container: Place the cooled omelet or its portions in an airtight container. You can use a plastic container with a well-sealing lid or a food storage container. Alternatively, wrap the omelet tightly in plastic wrap and then in foil.
Label and Date: If you're storing it for more than a day or two, label the container or package with the date. This way, you can keep track of how long it's been in the fridge.
Refrigerate: Store the container in the refrigerator. The omelet can typically be kept safely for 3-4 days in the fridge.
Reheat: When you're ready to enjoy the leftover omelet, you can reheat it. You have a couple of options:

Microwave: Place a portion of the omelet on a microwave-safe plate and reheat it in 30-second intervals until it's hot all the way through.
Oven or Toaster Oven: Preheat your oven to about 350°F (175°C) and place the omelet portion on an oven-safe dish. Heat it until it's warm, which usually takes 10-15 minutes. For a crispier top, you can broil it for a couple of minutes at the end.
Serve: Once reheated, enjoy your leftover omelet as a quick and delicious meal.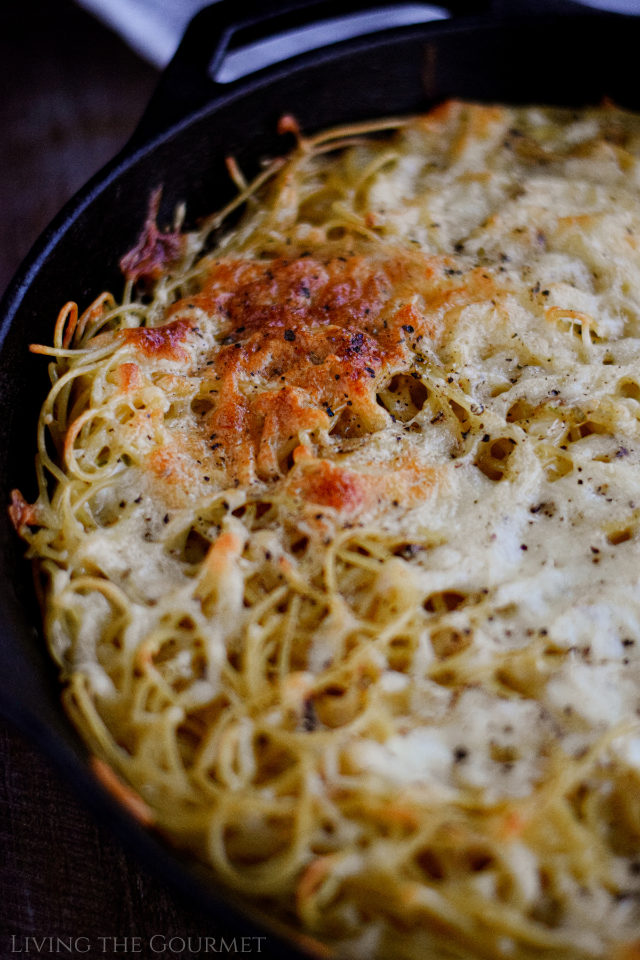 Print
Spaghetti and Zucchini Omelet
---
Author:

Total Time:

45 minutes

Yield:

6

servings

1

x
2

medium sized zucchini, peeled and grated

6

eggs, beaten with a splash of milk

1

small onion, sliced thin

3

-

4

garlic cloves, crushed and chopped

1/2 tsp

. salt

1/2 tsp

. black pepper

2

tbs. olive oil

1

tbs. butter

8

oz

. mozzarella, grated

1/2

cup

of grated parmesan or romano cheese

1

lb

. of spaghetti
---
Instructions
Heat a large cast iron frying pan with the butter and olive oil.
Add the grated zucchini, sliced onion and crushed garlic and saute until the garlic is fragrant and the zucchini is softened and translucent.  Add the seasonings and toss.  Turn the heat off while preparing the pasta.
Prepare the spaghetti and directed and drain.
Add the cooked spaghetti to the cooked zucchini.
Add the grated mozzarella and the grated parmesan cheese; reserving a bit to top the omelet with and toss.
Add the egg mixture and top with more grated cheese and grated mozzarella.
Cook on the stove top until the omelet is set; this will take a few minutes on a gentle heat so that the bottom does not burn.
Preheat oven 350 degrees F.
Place the omelet in the oven for about 10 minutes to get a nice golden color on top.
Serve with a nice salad or veggie.
Prep Time:

15 minutes

Cook Time:

30 minutes

Category:

Dinner
Keywords: pasta, italian, dinner, main dish, spaghetti pie, spaghetti
Recipe Card powered by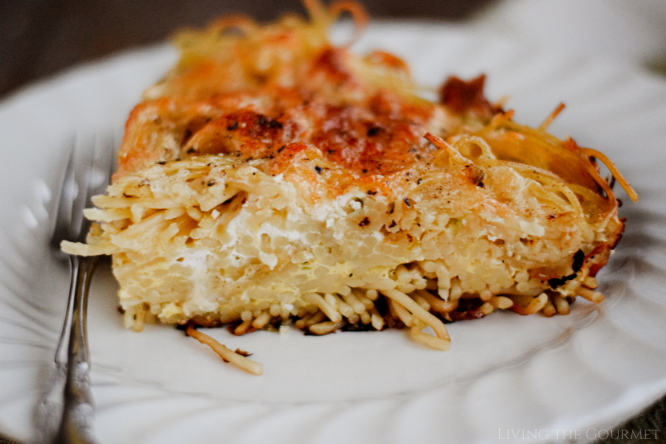 And that's our Spaghetti and Zucchini Omelet. If you enjoyed this recipe, or have any questions or suggestions, be sure to let us know in the comments below, we always love hearing from you.
Want more delicious recipes and beautiful photography? Subscribe to our newsletter, or follow us over on NewsBreak and MSN, so you never miss an update!
Happy Cooking!
0