Bursting with the luscious flavors of summer, get ready to indulge with our delightful Peach and Feta Salad with a Honey and Balsamic Glaze. If you're craving a dish that effortlessly captures the essence of the sun-kissed season, this vibrant salad has got you covered.
In this easy-to-make recipe, we've brought together the natural sweetness of ripe, juicy peaches with the creamy tang of feta cheese, harmoniously drizzled with a honey and balsamic glaze. As you take your first bite, the juicy peaches will refresh you with their sunny-sweet essence, complemented by the luscious creaminess of crumbled feta, all enhanced by the enchanting balance of the honey and balsamic glaze.
Prepare to be captivated by the simple beauty and flavors of this salad that perfectly embodies the spirit of summer. With each forkful, you'll be swept away by the refreshing combination of textures and the harmonious interplay of tastes that dance on your palate.
What's more, this salad is a breeze to prepare! With just a handful of fresh ingredients and a few drizzles of our honey and balsamic glaze, you'll have a stunning salad that's ready to impress in no time.
So, join us as we embrace summer's bounty and embark on a culinary adventure that will leave you refreshed and enchanted. Now, let's get to it.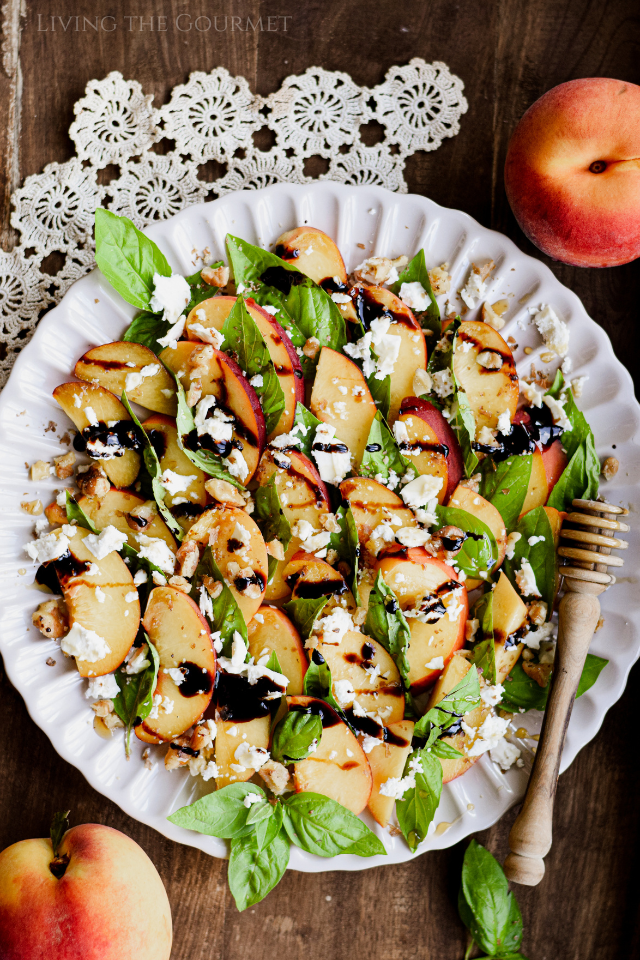 Ingredient Checklist – Everything You'll Need
3 - 4 peaches, sliced

Notes: Use ripe, sweet peaches for the best flavor and texture in the salad. Select peaches that yield slightly when gently pressed.
Tips: If you prefer a smoother texture, you can peel the peaches; otherwise, leave the skin on for added color and texture.
Substitutions: Nectarines or even mango slices can be used as substitutes if peaches are not available or in season.
Feta cheese, crumbled

Notes: Feta cheese provides a salty and tangy element that complements the sweetness of peaches and honey.
Tips: Crumble the feta cheese just before serving to retain its texture and prevent it from becoming too soft.
Substitutions: Goat cheese or ricotta salata cheese can be used as alternatives to feta, offering a similar creaminess and tang.
About 1/2 cup of walnuts, chopped

Notes: Chopped walnuts add a delightful crunch and nutty flavor to the salad.
Tips: Toast the walnuts in a dry skillet over medium heat for 3-4 minutes until fragrant to enhance their taste and texture.
Substitutions: Pecans, almonds, or pistachios can be used instead of walnuts for variation in taste and texture.
Honey

Notes: Honey adds a natural sweetness that balances the tanginess of the cheese and the acidity of the balsamic glaze.
Tips: Choose a high-quality honey for the best flavor; floral varieties work well with this salad.
Substitutions: Maple syrup or agave nectar can be used as substitutes for honey if desired.
Balsamic Glaze

Notes: Balsamic glaze adds depth and richness to the salad with its sweet and tangy flavor.
Tips: If you don't have balsamic glaze, you can make a quick version by simmering balsamic vinegar and a little sugar in a saucepan until it thickens.
Substitutions: A reduction of balsamic vinegar or a flavored balsamic vinegar can be used as a substitute for the glaze.
Fresh Basil leaves

Notes: Basil leaves provide a fresh and herbaceous aroma, enhancing the overall presentation of the salad.
Tips: Tear the basil leaves gently just before serving to release their flavor and aroma fully.
Substitutions: Fresh mint leaves can be used as an alternative to basil for a different herbal twist.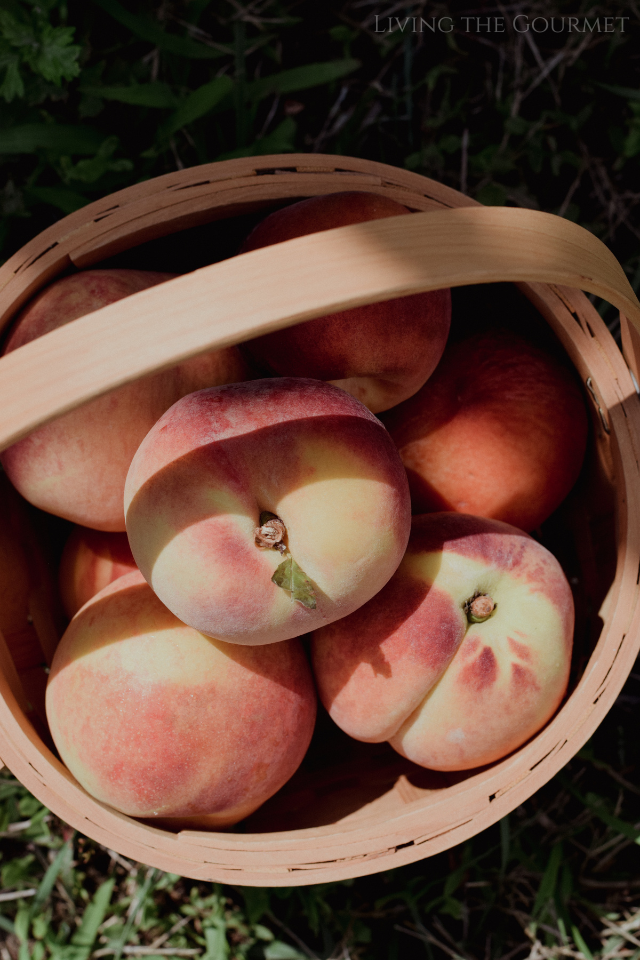 Why to Love (and try!) This Peach Salad
Bursting with Summer Flavors: This delightful Peach and Feta Salad brings together the juicy sweetness of ripe peaches with the savory creaminess of feta cheese, creating a harmonious blend of flavors that perfectly captures the essence of summer.
Refreshing and Light: With its fresh fruit and tangy feta, this salad offers a light and refreshing option for those warm sunny days. It's an ideal choice when you're craving something deliciously satisfying without feeling weighed down.
Quick and Easy to Prepare: Busy weeknights or last-minute gatherings won't be a hassle anymore. This salad comes together in minutes, making it an effortless addition to any meal or a great standalone appetizer.
Versatile and Adaptable: Whether you're serving it as a delightful appetizer or as a side dish to complement grilled proteins, the Peach and Feta Salad is incredibly versatile. You can easily customize it by adding arugula, mixed greens, or even a handful of roasted nuts for extra crunch.
Eye-Catching and Flavorful: The colorful presentation of juicy peaches, crumbled feta, and vibrant basil leaves make this salad a feast for the eyes as well as the taste buds. The honey and balsamic glaze drizzle add the perfect finishing touch, elevating the dish to a restaurant-worthy experience right in your own home.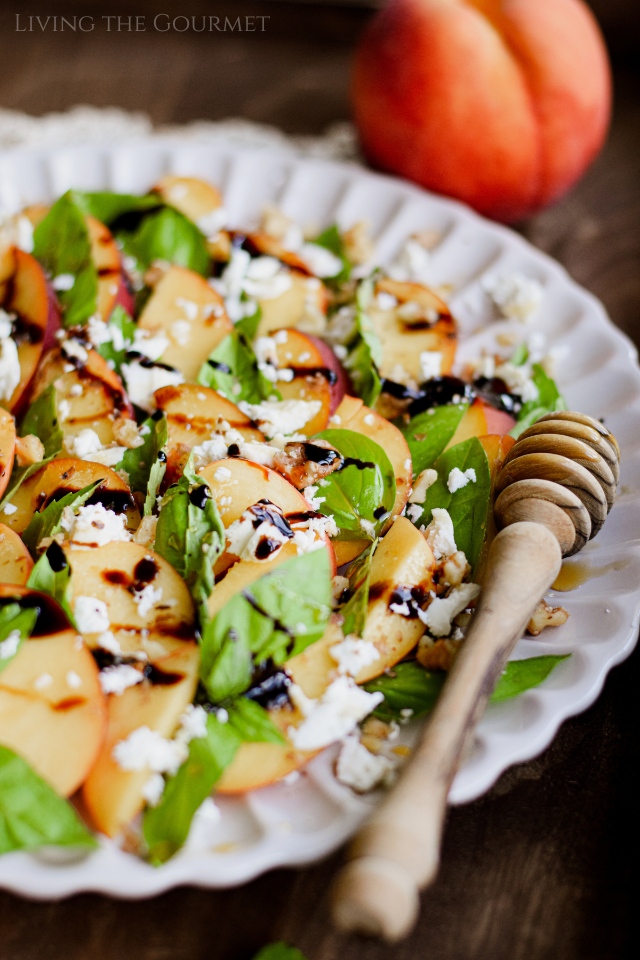 Serving Suggestions – How to Enjoy This Salad
Light and Refreshing Appetizer: Serve the Peach and Feta Salad in individual bowls or on a platter as a refreshing appetizer to kick off your summer gatherings. The combination of juicy peaches, creamy feta, and the tangy glaze will awaken the taste buds and leave your guests wanting more.
Side Dish Perfection: Pair this salad with your favorite grilled proteins, such as chicken, shrimp, or salmon, to create a delightful side dish. The sweet and savory flavors of the salad complement the charred notes of the grilled meats, taking your meal to a whole new level of deliciousness.
Mediterranean Feast: Embrace the Mediterranean vibes by incorporating the Peach and Feta Salad into a larger meal. Combine it with warm pita bread, hummus, olives, and roasted vegetables to create a scrumptious and wholesome Mediterranean-inspired feast.
Picnic Pleaser: Pack this salad into a container and take it along on your summer picnics. Its light and refreshing nature makes it an ideal accompaniment to sandwiches, wraps, and cold drinks. Enjoy the flavors of summer amidst nature's beauty!
Brunch Delight: Elevate your brunch game by adding a touch of elegance with the Peach and Feta Salad. Serve it alongside other brunch favorites like quiches, frittatas, or croissants, and let your guests enjoy a brunch experience like no other.
Dinner Party Star: Impress your guests at a summer dinner party with this vibrant salad as the star of the show. The combination of colors and flavors is sure to leave a lasting impression on your dining companions.
Refreshing Summer Drink Pairing: Complete the summer experience by pairing the Peach and Feta Salad with a refreshing summer drink. Sip on lemonade, iced tea, or even a fruity sangria, allowing the flavors to harmonize and enhance each other.
Lunchtime Favorite: Make your weekday lunches more exciting by incorporating this salad into your meal prep routine. It's a light and satisfying option that's easy to prepare and will keep you energized throughout the day.
With its delightful flavors and versatility, the Peach and Feta Salad with Honey and Balsamic Glaze is a recipe that fits into any occasion. From casual gatherings to elegant dinners, this salad is sure to be a hit and become a go-to favorite all summer long.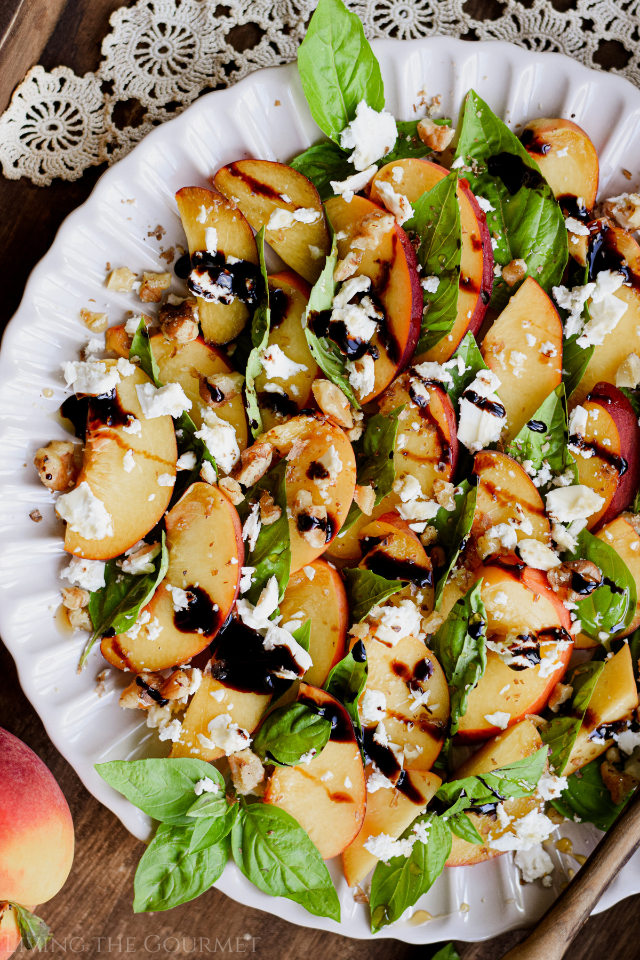 Variations and Substitution Options
Arugula Addition: For a peppery twist, add a handful of fresh arugula leaves to the salad. Arugula's unique flavor complements the sweetness of the peaches and enhances the overall taste.
Mixed Greens Medley: Create a colorful salad by incorporating a mix of your favorite greens, such as baby spinach, kale, or mesclun. The combination of textures and flavors will take this salad to a whole new level of freshness.
Nutty Crunch: Enhance the texture by sprinkling toasted pine nuts, almonds, or pecans over the salad. The nutty crunch pairs beautifully with the sweet peaches and creamy feta.
Cheese Substitutions: If you prefer a different cheese, feel free to substitute the feta with crumbled goat cheese, gorgonzola, or even fresh mozzarella. Each cheese brings its own unique character to the salad.
Herb Infusion: Experiment with different herbs to add depth to the salad. Try mint, cilantro, or tarragon to complement the other flavors in the dish.
Citrus Twist: Enhance the brightness of the salad by adding citrus segments like orange or grapefruit. The citrusy burst will create a refreshing and tangy element.
Red Onion Zing: For an added kick, thinly slice some red onion and mix it with the salad. The onion's mild spiciness balances the sweetness of the peaches.
Vegan Option: Make this salad completely plant-based by omitting the feta or using a vegan-friendly cheese substitute. Also, replace honey with agave syrup for a vegan-friendly sweetener.
Grilled Peaches: Take the salad to the next level by grilling the peach slices before assembling the salad. Grilling caramelizes the peaches, intensifying their natural sweetness and adding a smoky flavor.
Dressing Variations: Switch up the dressing by using a citrus vinaigrette or a raspberry balsamic glaze. Experiment with different dressings to find the perfect flavor combination.
Feel free to customize this Peach and Feta Salad to suit your taste preferences or the seasonal availability of ingredients. The possibilities are endless, and each variation will bring its own delightful twist to this already sensational salad!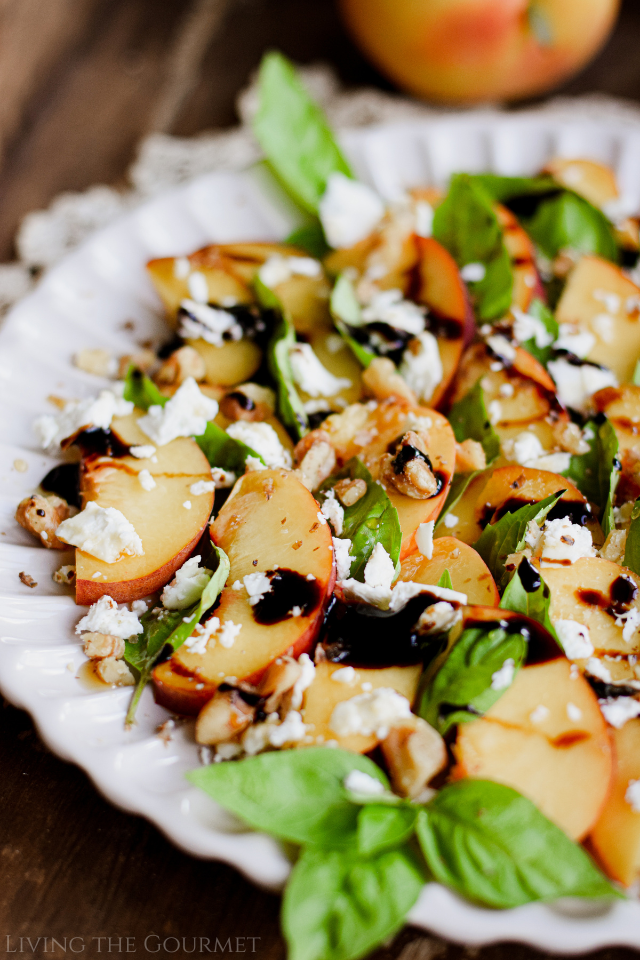 shop this post
Print
Peach and Feta Salad with Honey and Balsamic Glaze
---
Author:

Total Time:

10 minutes

Yield:

4

servings

1

x
3

-

4

peaches, sliced
Feta cheese, crumbled
About

1/2

cup of walnuts, chopped
Honey, drizzled
Balsamic Glaze, drizzled
Fresh Basil leaves
---
Instructions
Place the peaches and basil leaves alternately on your desired serving dish or tray.
Sprinkle the crumbled feta over the peaches, followed by the chopped walnuts.
Drizzle the honey over the dish and then a drizzle of balsamic glaze.
Serve and enjoy!
Prep Time:

10 minutes

Category:

Salad
Keywords: peaches, salad, fruit salad, peach salad
Recipe Card powered by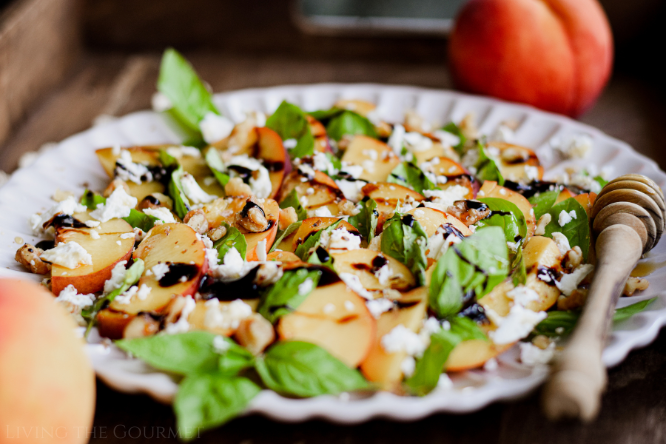 And that's our Peach and Feta Salad. If you enjoyed today's recipe, or have any questions or suggestions, let us know in the comments below. We always love hearing from you.
As always, be sure to like, share, and subscribe so that you never miss a post.
Happy Cooking!
0