Amid the hustle of modern life, there's something undeniably captivating about meals that transport us to faraway places, spurring on our imagination by leading our palates on culinary journeys. I would like to imagine that this pasta dish is a humble gateway to a quaint Italian trattoria, one veiled in aroma of a richly herbed sauce, and whose flavors evoke memories of sun-soaked terraces. In plainer terms, this is the kind of recipe that effortlessly bridges the gap between your weeknight cravings and the allure of fine dining.
What sets this recipe apart is its harmonious fusion of roasted eggplant, vibrant tomatoes, and the indulgent embrace of whipped ricotta. The best part? It doesn't require a master chef's touch – even if your culinary prowess is limited to boiling water, you can still craft a dish that will leave you craving seconds.
Now, let's talk pairings. Think of a velvety red Chianti, or a crisp and lively Pinot Grigio that elevates every bite to a new level of refreshment. Whether your wine preferences lean toward red or white, this dish plays harmoniously with both, making every sip and bite an exquisite marriage of flavors. Garlic bread or roasted vegetables would also be a delicious accompaniment. More on sides and wine pairings ideas below.
So, if you're looking for an Italian-inspired dinner that's both delicious and simple to make, our Eggplant and Tomato Pasta with Whipped Ricotta has got you covered. Now, without further introduction, let's get to it.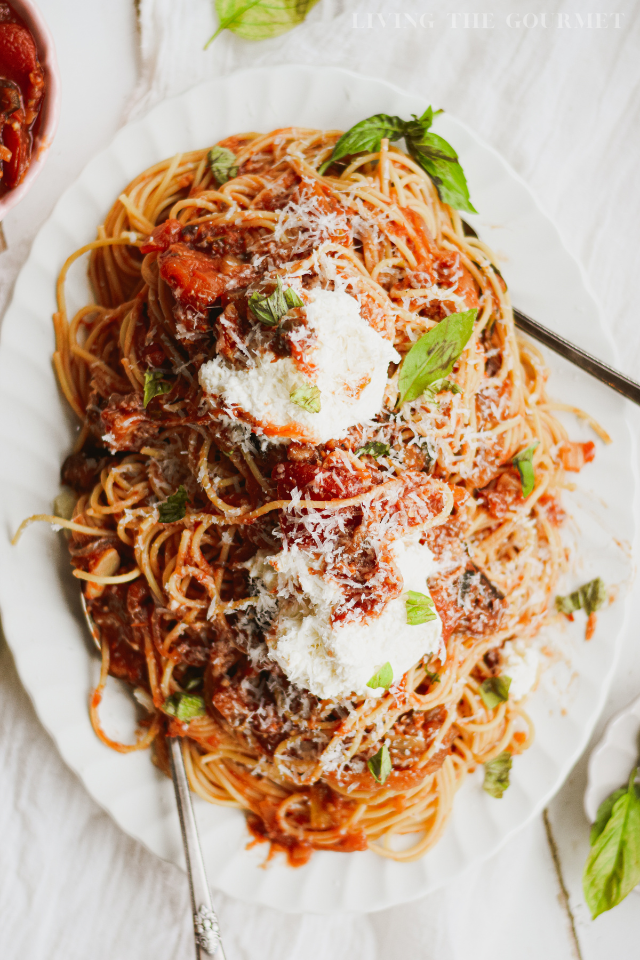 Ingredient Checklist – Everything You'll Need
Here's everything you'll need to make today's pasta, along with tips and relevant substitutions.
1 eggplant, cubed, with or without skin

Notes: Cubing the eggplant provides a satisfying texture and allows for even cooking.
Substitutions: Zucchini or bell peppers can be used as alternatives to eggplant for variation.

28 oz. can of crushed tomatoes

Notes: Crushed tomatoes form the base of the sauce, offering rich flavor and consistency.

1 sweet onion, sliced thin

Notes: Sweet onions add gentle sweetness and depth to the dish.
Substitutions: Vidalia, Walla Walla, or Maui onions are suitable alternatives.

3 - 4 vine-ripe tomatoes, cubed

Notes: Fresh tomatoes contribute bright acidity and freshness to the sauce.
Substitutions: Cherry tomatoes or canned diced tomatoes can be used as substitutes.

6 - 8 cloves of garlic, chopped

Notes: Chopped garlic infuses the dish with aromatic and savory notes.
Substitutions: Garlic powder can be used in a pinch, but fresh garlic is recommended for better flavor.

1/4 cup of fresh Italian parsley, chopped

Notes: Chopped parsley adds a fresh herbal element to the dish.
Substitutions: Fresh basil or cilantro can be used for a different herbaceous note.

6 - 10 fresh basil leaves

Notes: Fresh basil lends an aromatic and fragrant essence to the sauce.
Substitutions: Fresh oregano or thyme can be used as alternatives.

1 tsp. dried oregano

Notes: Dried oregano imparts a classic Italian flavor to the sauce.
Substitutions: Dried basil or Italian herb blend can be used for a slightly different flavor profile.

1 tsp. black pepper

Notes: Black pepper adds a mild warmth and depth to the dish.
Substitutions: White pepper or red pepper flakes can be used to adjust the level of heat.

1/2 tsp. red pepper flakes

Notes: Red pepper flakes provide a touch of heat and complexity.
Substitutions: Adjust the amount of red pepper flakes to suit your spice preference.

1 tsp. salt

Notes: Salt enhances the overall seasoning and brings out the flavors of the dish.
Substitutions: Use kosher salt or sea salt based on your preference.

1 tsp. sugar

Notes: Sugar balances the acidity of tomatoes and enhances their natural sweetness.

2 tbs. of grated Parmesan or Romano cheese

Notes: More or less depending on your preference.

3 - 4 scallions, chopped

Notes: Chopped scallions contribute a mild onion flavor and vibrant color.
Substitutions: These can be left out entirely if preferred or if you don't have any on hand.

1 tbs. capers, chopped

Notes: Chopped capers offer a tangy and briny flavor contrast.
Substitutions: Chopped Kalamata olives can be used for a similar briny element.

Fresh Parmesan or Romano cheese for grating

Notes: Grated cheese is a finishing touch that adds a burst of flavor.
Substitutions: Use any hard cheese you prefer, such as Asiago or Pecorino.

15 oz. container of ricotta cheese, whipped

Notes: Whipped ricotta becomes luxuriously creamy, and imparts this texture to the pasta.

Olive oil for drizzling

Notes: Olive oil adds a final touch of richness and flavor to the dish.

1 lb. of your favorite pasta

Notes: While I'm using spaghetti, feel free to use the pasta of your choice, such as linguine or fettuccine.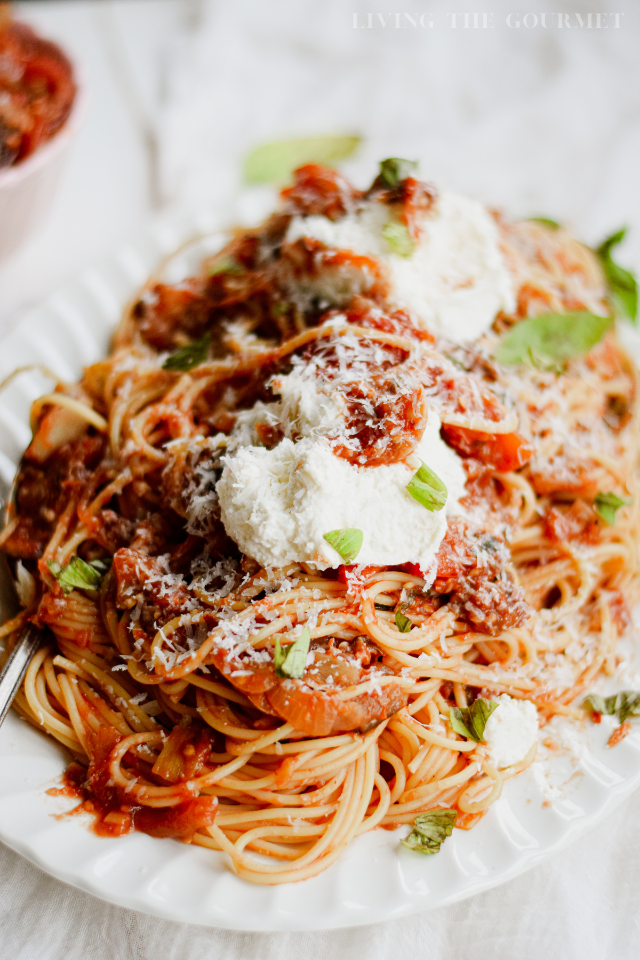 Completing the Meal – What Pairs Well
Garlic Bread: A classic accompaniment that perfectly complements the rich flavors of the Eggplant and Tomato Pasta.
Fresh Garden Salad: A simple fresh garden salad of mixed greens, cherry tomatoes, cucumber slices, bell pepper strips, red onion rings, and a light vinaigrette, would be an excellent starter to this pasta. Simple yet delicious.
Caprese Salad: A simple yet elegant salad of fresh mozzarella, basil, and balsamic vinegar, would not only highlight the beauty of fresh ingredients, but also pair delightfully with the pasta's Italian flavors.
Roasted Vegetables: Roasted bell peppers, warmed greens, zucchini, and blistered tomatoes tossed with oil and herbs, would make a fine accompaniment to this pasta.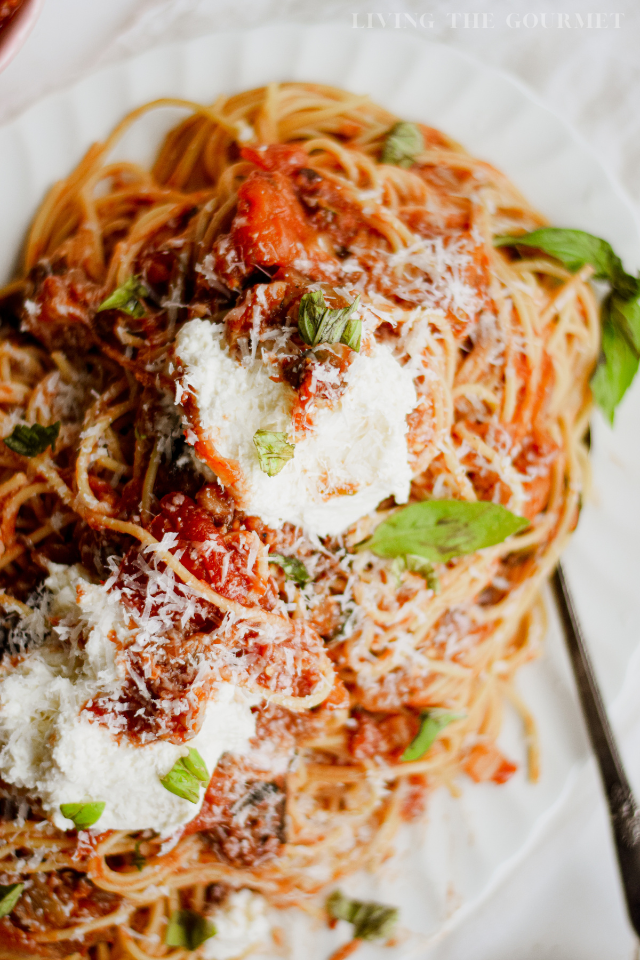 What to Sip – Wine Pairings
Chianti Classico: By far the best pairing for this particular dish would be a Chianti Classico, with its medium body and well-balanced acidity, which would beautifully complement the rich flavors of the Eggplant and Tomato Pasta. The wine's notes of red cherries, earthiness, and subtle spice would resonate particularly well with the mix of creaminess from the cheese. Serve slightly chilled to enhance the wine's fruitiness.
Pinot Grigio: Yes, you read that right. I'm suggesting a white wine as my next top pairing suggestion for this recipe. A crisp and refreshing Pinot Grigio brings a bright contrast to the dish's flavors. The wine's citrus notes, hints of green apple, and mineral undertones create a harmonious pairing.
Barbera: A wine known for its juicy acidity and fruit-forward profile, a decent Barbera would harmonize exquisitely with this pasta's flavor profile. The wine's red fruit flavors, gentle tannins, and lively acidity make it a delicious match for those looking for something beyond a by-the-book Chianti Classico.
Vermentino: A pairing that's more for its aromas than the palate, a good quality Vermentino comes alive with a lush and refreshing bright acidity, while offering citrus, floral, and herbal notes that align with the herbs and fresh tomatoes of the sauce. On the palate, the wine's acidity would complement the creamy whipped ricotta particularly well.
Experiment and Enjoy: Whether you opt for a red wine that mirrors the dish's richness or a white wine that offers contrast, the key is to select wines with good acidity and well-defined flavors. However, bear in mind that the "best" wine pairing is simply the wine that you happen to enjoy.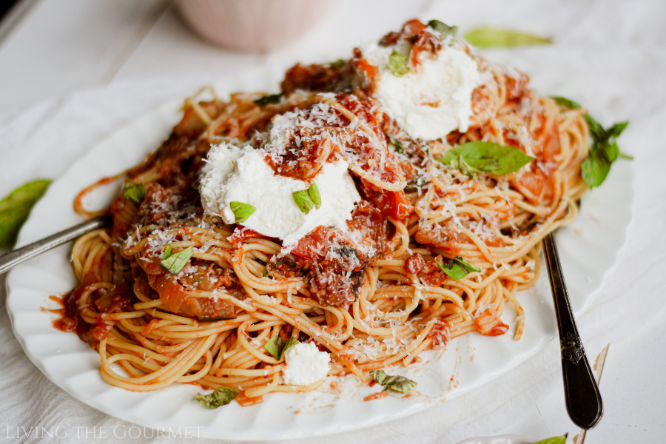 shop this post
Print
Eggplant and Tomato Pasta with Whipped Ricotta
---
Author:

Total Time:

40 minutes

Yield:

4

-

6

servings

1

x
1

eggplant - cubed - with or without skin

28 oz

. can of crushed tomatoes

1

sweet onion - sliced thin

3

-

4

vine ripe tomatoes - cubed

6

-

8

cloves of garlic - chopped

1/4

cup

of fresh Italian parsley - chopped

6

-

10

fresh basil leaves

1 tsp

. dried oregano

1 tsp

. black pepper

1/2 tsp

. red pepper flakes

1 tsp

. salt

1 tsp

. sugar

2

tbs. of grated Parmesan or Romano cheese

3

-

4

scallions - chopped

1

tbs. capers - chopped
Fresh Parmesan or Romano cheese for grated

15 oz

. container of ricotta cheese - whipped
Olive oil for drizzling

1

lb

. of your favorite pasta
---
Instructions
Heat a large cast iron pan and place the cubed eggplant in the pan.
Sprinkle with sugar and salt and let the eggplant get a nice golden color.
Add a tablespoon of olive oil to the pan after the eggplant turns a nice golden color.
Add the onion and garlic to the pan and toss.  Allow the onion to get a bit golden and the garlic to become fragrant.
Add the tomatoes to the pan and again, sprinkle with sugar and salt and the rest of the seasonings.
Toss, and allow the tomatoes to soften. Add the scallions and toss.
Add the crushed tomatoes and capers and toss and allow to simmer for a bit on a gentle heat.  Add a tablespoon or two of olive oil.
Add the grated cheese, half of the basil leaves and toss.
Taste for seasonings.  Re-season if you desire.  At this point I generally adjust the seasonings by adding a bit of sugar, salt and oregano.
Whip the ricotta, using egg beaters or just using a fork.
Prepare the pasta as directed.  Do NOT overcook your pasta.
Lift the pasta into the pan draining a bit as you lift it; and toss.
Plate the dish on a platter.  Top with the whipped ricotta, drizzle of olive oil, fresh grated cheese, fresh ground black pepper, the rest of the fresh basil leaves and sprinkles of red pepper flakes.
Prep Time:

15 minutes

Cook Time:

25

Category:

Main Dish

Cuisine:

Italian
Keywords: pasta, whipped ricotta, italian, eggplant
Recipe Card powered by
And that's our Eggplant and Tomato Pasta with Whipped Ricotta. If you have any questions or suggestions, be sure to let us know in the comments below. We always love hearing from you.
As always, if you enjoyed today's post, be sure to like, comment, and subscribe.
Happy Cooking!
0