Summer is the season of simplicity and delicious flavors, and our Bacon Basil Pasta recipe embodies exactly that. With just a handful of basic ingredients, this dish comes together effortlessly, making it the perfect recipe for busy summer days when you want a satisfying meal without spending hours in the kitchen.
Imagine twirling forkfuls of al dente pasta coated in a tantalizing blend of olive oil, butter, and garlic. The aroma alone will have your taste buds dancing with anticipation. But that's just the beginning. We take it up a notch by adding crispy, crumbled bacon, which imparts a smoky and savory note that perfectly complements the pasta. And to elevate the flavors even further, we sprinkle in fresh basil, infusing the dish with its delightful aroma and herbal essence.
The beauty of this recipe lies in its simplicity and versatility. It's a classic combination of ingredients that never fails to satisfy. Whether you're hosting a summer gathering or simply enjoying a cozy meal at home, our Bacon Basil Pasta is a crowd-pleaser that will that sure to become one of your summer favorites.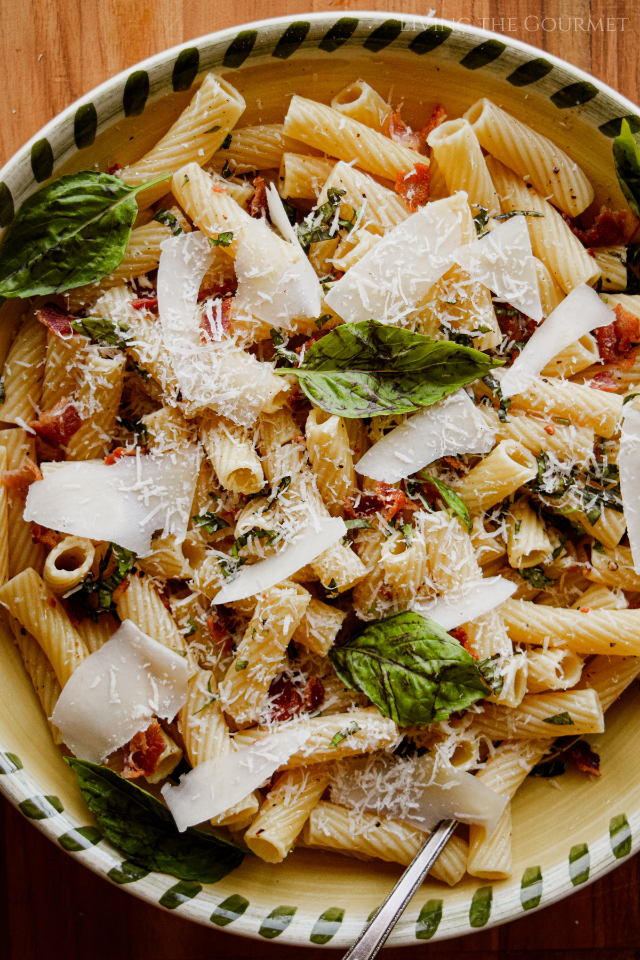 Pairing this pasta dish with complementary flavors is a breeze. For a light and refreshing option, serve it alongside a simple green salad dressed with a lemon vinaigrette. The citrusy notes will cut through the richness of the pasta, creating a harmonious balance of flavors. If you're in the mood for something heartier, pair it with grilled chicken or shrimp for a protein-packed meal that's sure to satisfy.
As the temperatures rise and the days become longer, our Bacon Basil Pasta is a go-to recipe that embodies the essence of summer. It's quick, flavorful, and uses minimal ingredients, allowing you to spend more time enjoying the sunshine and less time in the kitchen. So, gather your loved ones, pour a glass of chilled white wine, and indulge in this delightful pasta dish that captures the flavors of the season. Get ready to savor every bite and create lasting memories around the table.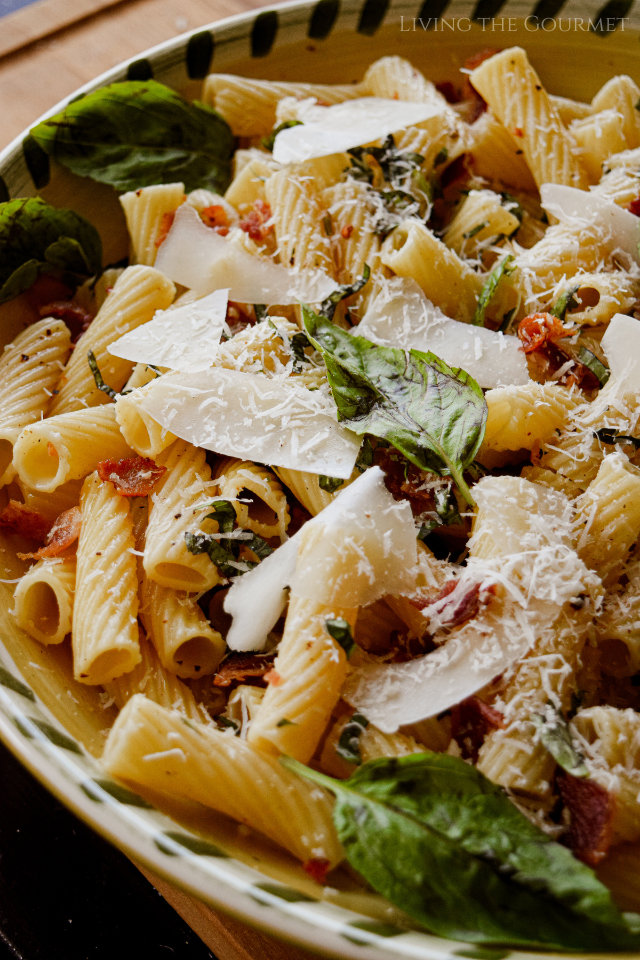 Ingredient Checklist – Everything You'll Need
Here's the ingredient checklist for our Bacon Basil Pasta recipe with accompanying notes, tips, and substitutions:
1 lb. favorite pasta

Notes: You can use any type of pasta you prefer, such as spaghetti, penne, fusilli, or linguine.
Tips: Cook the pasta according to the package instructions until al dente for the best texture. Be sure to salt the cooking water for added flavor. Tips below for making the best pasta every time.
5 strips crisp bacon, crumbled

Notes: Choose a high-quality, smoked bacon for the best taste and texture, this means bacon from premium pork belly with minimal processing, and that used traditional dry curing.
Tips: Crisp the bacon in a skillet or bake it in the oven until browned and crispy. Drain on paper towels before crumbling.
1/4 cup fresh basil, chopped

Notes: Fresh basil adds a fragrant and herbaceous flavor to the dish.
Tips: Tear the basil leaves or chiffonade them (roll them up and thinly slice) for a beautiful presentation and even distribution of flavor.
3 cloves garlic, thinly sliced

Notes: Garlic provides a savory and aromatic element to the pasta.
Tips: Use a sharp knife to slice the garlic thinly to ensure even cooking. Adjust the amount of garlic according to your preference for intensity of flavor.
Salt and pepper to taste

Notes: Seasoning enhances the flavors of the dish and brings out the best in each ingredient.
Tips: Taste and adjust the seasoning as needed. Remember that the bacon and Parmesan cheese also contribute to the overall saltiness, so be mindful of that when seasoning.
1/8 tsp chili flakes (optional, for a hint of spice)

Notes: Chili flakes add a subtle kick of heat to the dish.
Tips: Adjust the amount of chili flakes based on your spice tolerance. You can omit them if you prefer a milder flavor.
1/8 tsp fresh nutmeg (optional, for added depth of flavor)

Notes: Freshly grated nutmeg adds a warm and aromatic note to the pasta.
Tips: Use a microplane or a fine grater to grate fresh nutmeg for the best flavor. If you don't have nutmeg, you can omit it, but it adds a delightful touch.
2 tablespoons extra virgin olive oil (EVOO)

Notes: Extra virgin olive oil lends a fruity and rich flavor to the dish.
Tips: Choose a good quality EVOO for the best taste. You can adjust the amount of oil based on your preference for richness and moisture.
2 tablespoons butter

Notes: Butter adds richness and a creamy texture to the pasta.
Tips: Use unsalted butter for better control over the seasoning. Feel free to adjust the amount of butter according to your taste preferences.
Fresh grated Parmesan cheese, for serving

Notes: Freshly grated Parmesan cheese adds a salty and nutty flavor to the pasta.
Tips: Grate the cheese just before serving for optimal freshness and flavor. You can also try other hard cheeses like Pecorino Romano or Grana Padano for variation.
Remember to reserve some pasta water before draining the cooked pasta. It can be used to adjust the sauce consistency if needed. Feel free to experiment with these ingredients and make adjustments based on your taste preferences. Enjoy the delightful combination of flavors in this Bacon Basil Pasta!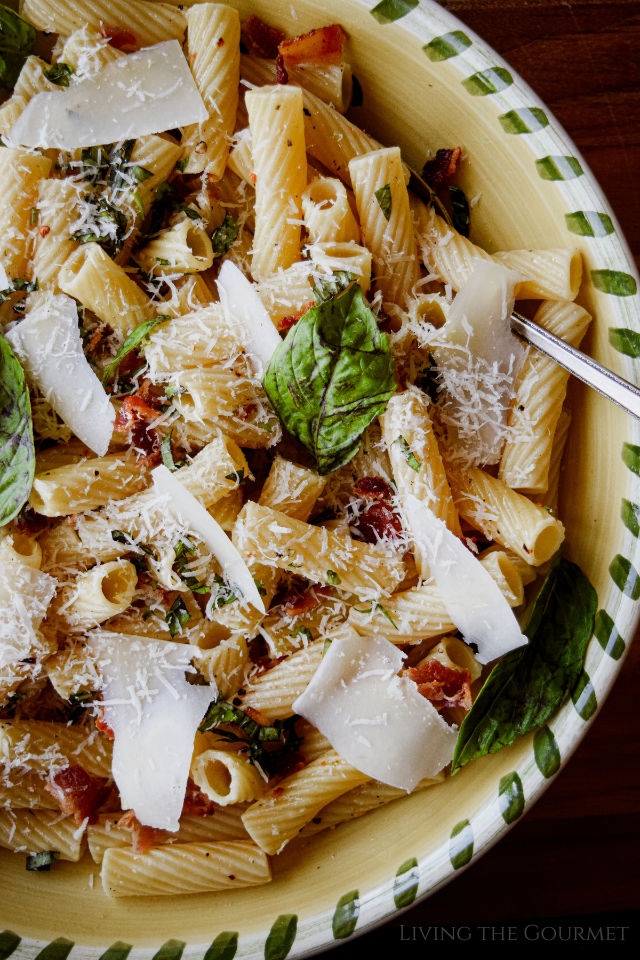 Pasta Primer – Eleven Tips for the Perfect Noodle
Here are eleven super simple tips to help you prepare the best pasta every time.
Use a large pot: This means giving the pasta enough room to cook. Choose a pot that is large enough to hold the pasta with plenty of water to allow it to cook and expand freely. This helps prevent the pasta from sticking together.
Salt the water: Add a generous amount of salt to the boiling water before adding the pasta. This enhances the flavor of the pasta as it absorbs the salted water during cooking.
Follow the cooking time on the package: Different pasta shapes and brands may vary in their cooking times. It's important to follow the instructions on the package for the best results. Taste the pasta a minute or two before the recommended cooking time to ensure it is cooked to your desired level of doneness.
Cook pasta al dente: Al dente means the pasta is cooked to be firm to the bite. It should have a slight resistance when chewed. Cooking pasta al dente prevents it from becoming mushy and helps it retain its shape and texture.
Stir the pasta: Stir the pasta shortly after adding it to the boiling water to prevent it from clumping together. Stir occasionally during cooking to ensure even cooking and to prevent sticking.
Reserve pasta water: Before draining the cooked pasta, reserve a cup of the starchy cooking water. This water can be used to adjust the consistency of sauces, add moisture to the pasta, or help bind ingredients together in the dish.
Rinse pasta only when necessary: In most cases, it's best to avoid rinsing cooked pasta with water as it can wash away the starches that help sauces adhere to the pasta. Rinsing is typically done when preparing cold pasta salads or to stop the cooking process for pasta meant to be used later.
Finish cooking pasta in the sauce: For a more flavorful pasta dish, finish cooking the pasta in the sauce for the last minute or two. This allows the pasta to absorb the flavors of the sauce and ensures better integration of flavors.
Don't overcook delicate pasta shapes: Delicate pasta shapes such as angel hair or fresh pasta cook quickly, usually in just a few minutes. Keep a close eye on them and test for doneness frequently to avoid overcooking.
Pair pasta with the right sauce: Consider the characteristics of the pasta shape and choose a sauce that compliments it. For example, lighter, oil-based sauces work well with long and thin pasta shapes, while thicker sauces with chunks of ingredients are better suited for short and sturdy pasta shapes.
Don't forget to pre-season the pasta: After draining the cooked pasta, toss it with a drizzle of olive oil or a knob of butter 'before' add in the sauce. This is to prevent it from sticking together and to add some extra flavor to the noodles themselves.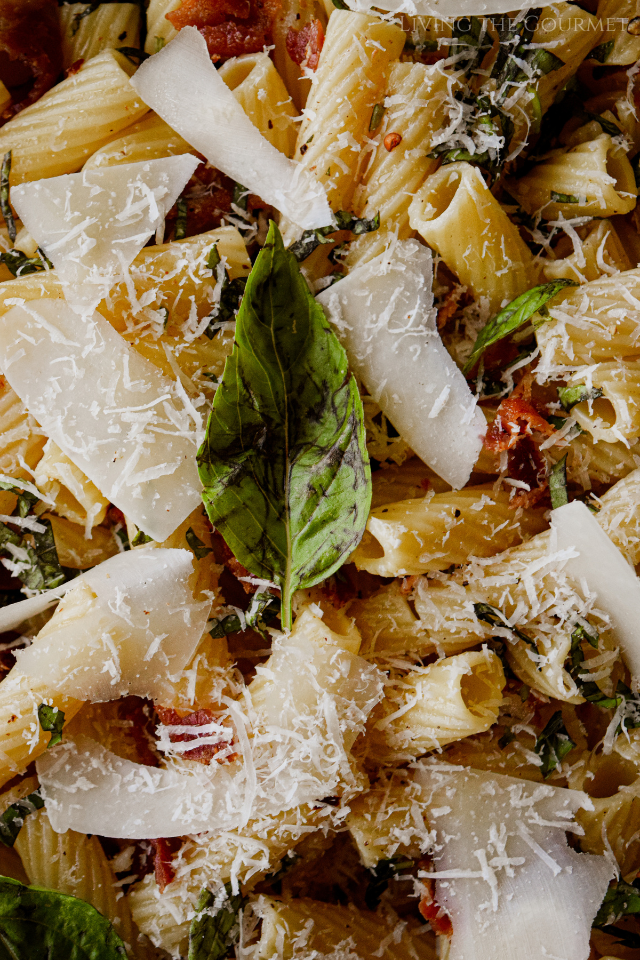 Summer Salads to Enjoy with this Summer Pasta – Pairing Tips
When it comes to enjoying a delightful pasta dish, why not take it up a notch by pairing it with a refreshing salad? The combination of pasta and salad creates a harmonious balance of flavors, textures, and nutrients, making it an ideal choice for a well-rounded and satisfying meal. Whether you're looking for a light and vibrant side or a complete vegetarian feast, there's a salad that perfectly complements your pasta dish. Let's explore some tantalizing salad options that will elevate your dining experience.
Caprese Salad: Bring the taste of Italy to your table with a classic Caprese salad. Combine ripe tomatoes, fresh mozzarella cheese, and fragrant basil leaves. Drizzle with balsamic glaze and extra virgin olive oil. This salad adds a burst of freshness and acidity that pairs beautifully with the rich and savory flavors of the Bacon Basil Pasta.
Mediterranean Salad: Transport your taste buds to the Mediterranean with crisp romaine lettuce, juicy cucumbers, tangy Kalamata olives, ripe cherry tomatoes, and creamy feta cheese, dressed with a zesty lemon vinaigrette. This Mediterranean Salad brings a vibrant and refreshing element that complements the Bacon Basil Pasta perfectly.
Arugula and Parmesan Salad: For those who appreciate a peppery kick, an arugula and Parmesan salad is an excellent choice. Combine fresh arugula leaves with shaved Parmesan cheese, toasted pine nuts, and a squeeze of lemon juice. The bold and slightly bitter flavor of arugula adds a pleasant contrast to the richness of the pasta, while the Parmesan brings a savory and nutty note.
Grilled Vegetable Salad: Make the most of summer's bountiful produce with a grilled vegetable salad. Toss a medley of grilled zucchini, eggplant, bell peppers, and red onions with mixed greens. Drizzle with a tangy vinaigrette and sprinkle with fresh herbs like basil or parsley. The smoky and charred flavors from the grilled vegetables beautifully complement the Bacon Basil Pasta.
Spinach and Strawberry Salad: Indulge in a delightful mix of sweet and savory with a spinach and strawberry salad. Combine fresh baby spinach leaves, juicy strawberries, crumbled feta cheese, and toasted almonds. Drizzle with a light raspberry vinaigrette. The sweetness of the strawberries adds a refreshing contrast to the savory pasta, while the feta cheese provides a creamy and tangy element.
Remember, the key to a successful pasta and salad pairing is to create a harmonious balance of flavors, textures, and colors. Experiment with different salad combinations and dressings to find your perfect match. These salad suggestions will add a fresh and vibrant touch to your meal, transforming it into a satisfying and well-rounded dining experience. So, let your creativity soar and enjoy the delicious synergy between pasta and salad!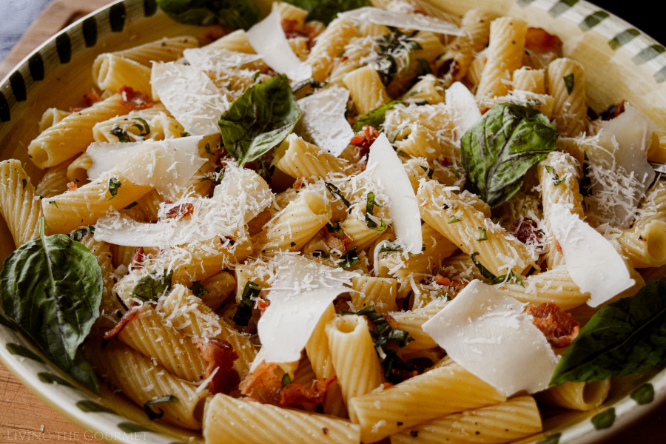 products for this recipe
Print
Bacon and Basil Pasta
---
Author:

Total Time:

40 minutes

Yield:

4

servings

1

x
1

lb

. favorite pasta

5

strips crisp bacon, crumbled

1/4

cup

fresh basil, chopped

3

cloves garlic, thinly sliced
Salt and Pepper to taste

1/8 tsp

chili flakes

1/8 tsp

fresh nutmeg

2 tablespoons

EVOO

2 tablespoons

butter
Fresh grated Parmesan cheese
Reserved pasta water
---
Instructions
Cook pasta as instructed.  Reserve about ½ cup of pasta water.

In a medium sized cast iron pan, heat oil and butter with garlic until butter is melted and garlic is golden. Season with salt, pepper, and red chili flakes. Add ¼ cup of reserved pasta water.

Toss with the pasta in a large bowl. If the pasta needs a little more liquid, you can add a tablespoon or more of the reserved pasta water.

Sprinkle with basil, grated nutmeg, crumbled bacon, and lots of cheese.  Serve and enjoy!
Prep Time:

15 minutes

Cook Time:

25 minutes
Keywords: pasta, bacon, basil, pasta salad, side salad
Recipe Card powered by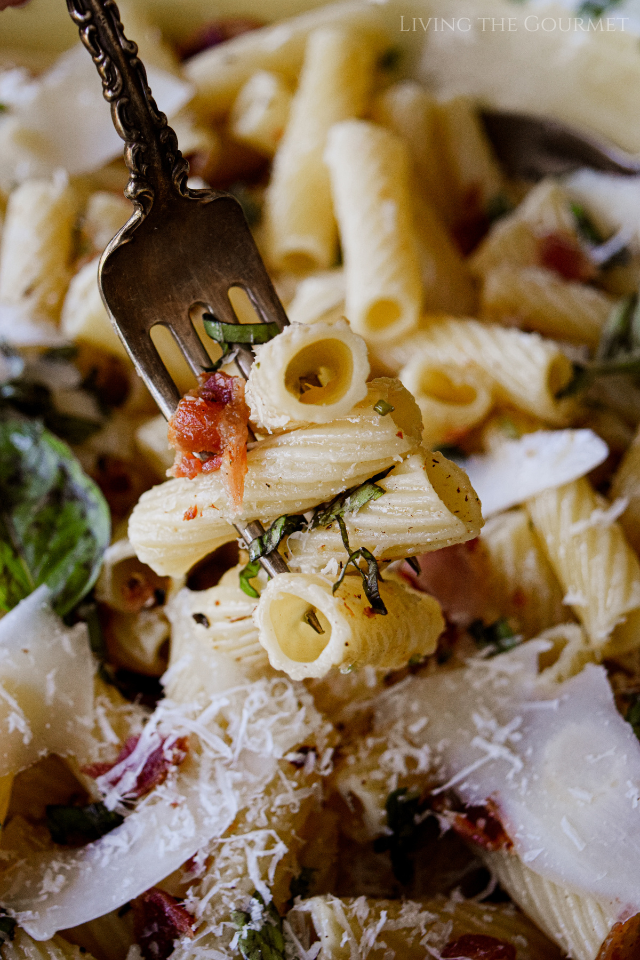 And that's our Bacon Basil Pasta. If you enjoyed today's recipe, be sure to like, share, and subscribe so that you never miss a post.
As always, if you have any questions or suggestions, be sure to let us know in the comments below. We love hearing from you! Happy Cooking!
As an Amazon Associate I earn a small commission from any purchases made through the affiliate links within this post. For more information on this please see our disclosure policy. Thank you!
0