Summer has arrived, and what better way to celebrate the joys of the warmer weather than with a dish that perfectly captures the essence of the season? Whether for a backyard cookout, a picnic in the park, or a weeknight dinner indoors, this summer chicken recipe is sure to become your latest crave. So get ready to tantalize your tastebuds with an irresistible Roasted Spatchcock Chicken, prepared with a decadent homemade BBQ Sauce Recipe.
This versatile grilled chicken recipe adapts effortlessly to the ever-changing whims of the warmer weather. On sunny days, fire up the bbq and grill the chicken to perfection, giving it that coveted smoky char. The result? Juicy, succulent chicken with crisped-to-perfect crisp, infused with the mouthwatering flavors of our homemade BBQ sauce. But if the weather takes an unexpected turn; this dish can also be easily prepared indoors by roasting it in the oven – as we're doing today.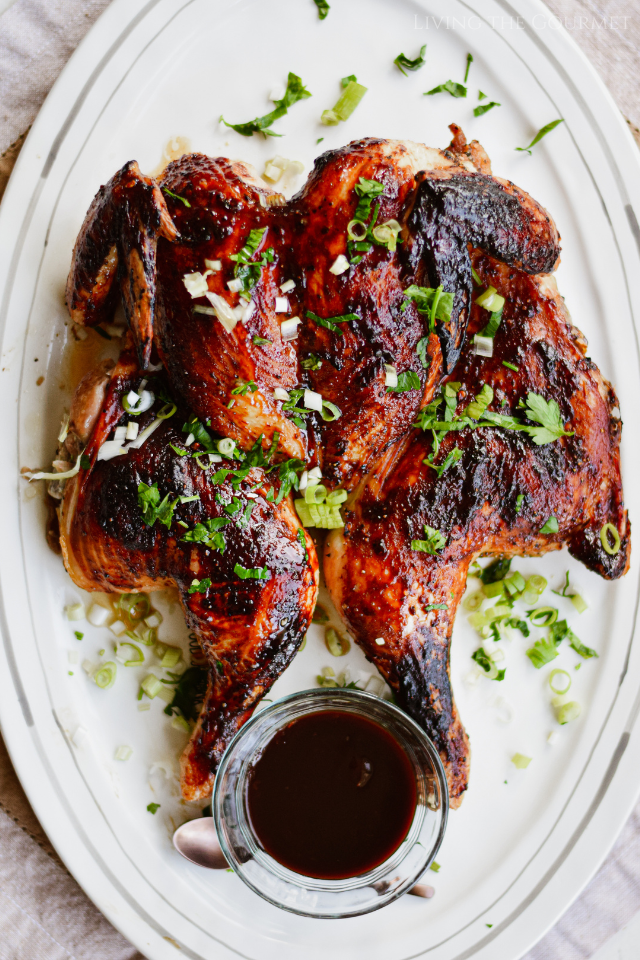 The star of this recipe is the spatchcocked chicken. But why go through the effort of spatchcocking in the first place? It's simple. By removing the backbone and flattening the bird, you achieve a remarkably even cooking time, which results in moist, succulent meat throughout. The unique texture and juicy tenderness are elevated even further by the enticing blend of spices in the rub, featuring notes of garlic, nutmeg, and a hint of fiery red pepper flakes. The combination of layered flavor and juicy chicken ensures each bite is more delicious than the last.
Now, let's talk about some perfect accompaniments to make this dish a true summer feast. Picture a table adorned with vibrant grilled vegetables, their smoky sweetness harmonizing effortlessly with the savory chicken. Add a side of buttery cornbread, with its golden crust and tender crumb, to complement the richness of the meat. And what's a summer gathering without a refreshing bowl of coleslaw, providing a delightful contrast of cool and crunchy textures? These pairings not only enhance the flavors of the chicken but also create a complete and satisfying meal that will impress your family and friends.
And so, my dear readers, I invite you to join me on this the first of my summertime gastronomic adventures. Below, I'll provide you with an ingredient checklist, a step-by-step guide to perfecting your spatchcocking technique, and a few variations for the BBQ Sauce Recipe to help you make this dish your own.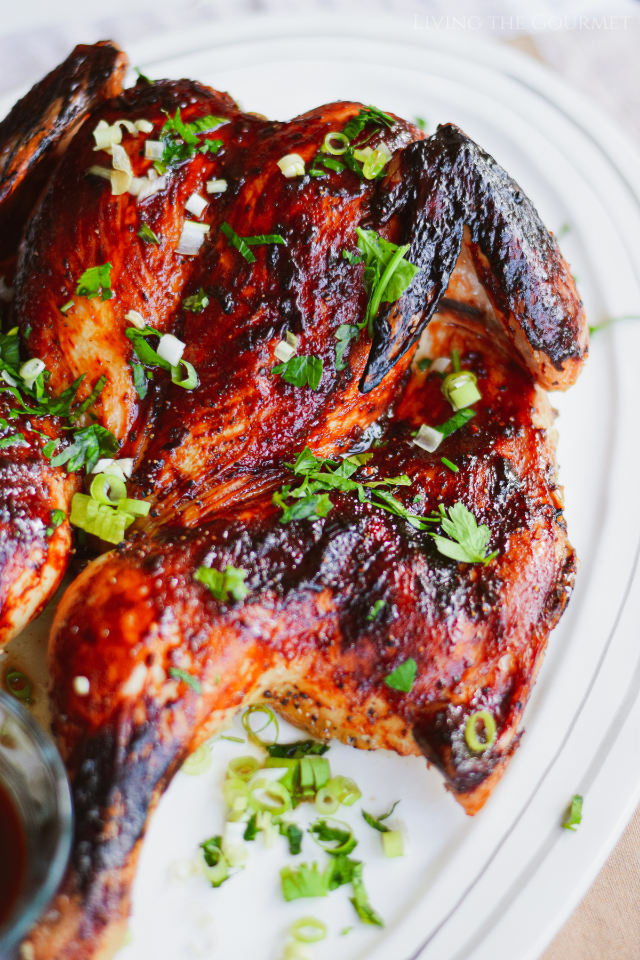 Ingredient Checklist – Amounts, Notes, Tips, and Substitutions
Whole Chicken (2½ - 3 lb.):

Note: Choose a fresh, high-quality chicken for the best flavor and texture.
Tip: If desired, you can use a larger or smaller chicken, adjusting the cooking time accordingly.

Cooking Oil (2 tbs.):

Note: Use a neutral-flavored oil like vegetable, canola or sunflower oil.
Tip: If preferred, you can substitute the oil entirely with melted butter [LINK: https://www.thekitchn.com/butter-substitute-for-oil-23023163 ] or olive oil for added flavor.

Garlic Powder (2 tsps.):

Note: Garlic powder provides a convenient and consistent garlic flavor.
Tip: For a more pronounced garlic taste, you can substitute with minced fresh garlic cloves.
Substitution: Grated fresh garlic with a pinch of salt can be used in place of garlic powder.

Salt (1 ½ tsp.):

Note: Salt acts to bind meld the flavors of the recipe.
Tip: Save your gourmet salts for other recipes, as the nuances will 'not' show up here. Also, be mindful to adjust the amount of salt based on your preference.

Ground Black Pepper (1 tsp.):

Note: Purely for depth of flavor.
Tip: Freshly ground black pepper is recommended for the best flavor, but pre-ground pepper works as well.

Sugar (1 ½ tsp.):

Note: Sugar balances the flavors and aids in caramelization.
Tip: You can use brown sugar or honey as a substitute for a slightly different flavor profile.

Fresh Grated Nutmeg (about ¼ tsp.):

Note: Nutmeg adds a warm, aromatic note to the rub.
Tip: If you don't have nutmeg, you can omit it, or substitute with a pinch of ground cinnamon.

Red Pepper Flakes (¼ - ½ tsp.):

Note: Red pepper flakes provide a subtle heat to the rub.
Tip: Adjust the amount of red pepper flakes according to your desired level of spiciness.
Substitution: A similar amount of cayenne if you prefer yours 'much' spicier. Do adjust to your preferred heat level, as cayenne is quite a bit spicier than red pepper flakes. You can also consider substituting in an equal amount of your preferred chili flakes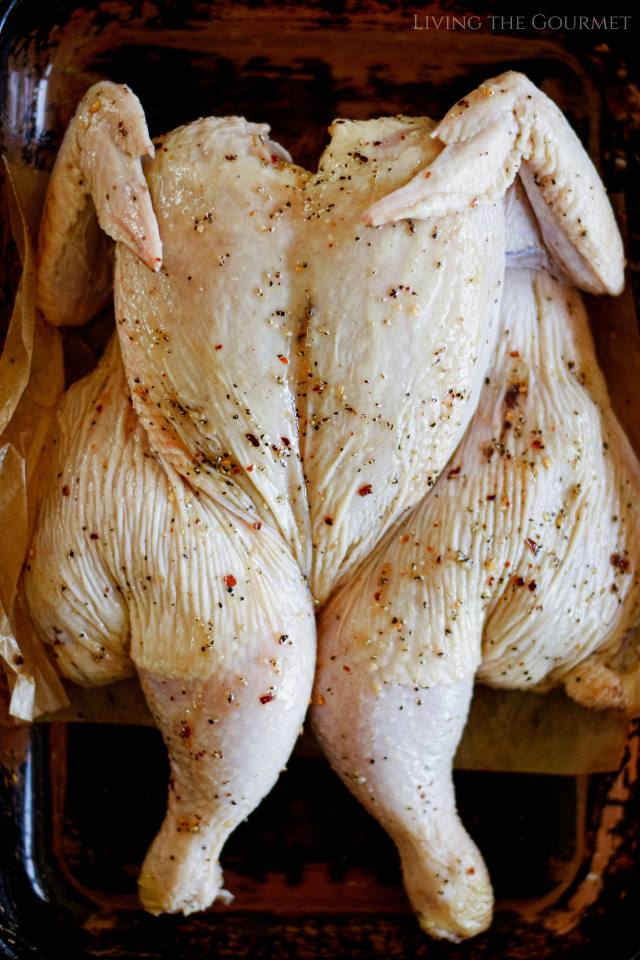 BBQ Sauce (5 tbs): Here are the ingredients for my homemade BBQ Sauce. However, feel free to use your own, or even your favorite bottled BBQ Sauce is you're short on time or ingredients.
Ketchup (2 tbs.):

Note: Ketchup provides a tangy and sweet base for the BBQ sauce.
Tip: Opt for a high-quality ketchup for the best flavor.

Balsamic Vinegar (2 tsps.):

Note: Balsamic vinegar adds a rich and slightly sweet tang to the sauce.
Tip: If you prefer a milder flavor, you can substitute with apple cider vinegar. You can also experiment with red wine vinegar, although I would stay away from white wine or champagne vinegars.

Sesame Oil (1 tsp.):

Note: Sesame oil imparts a distinctive nutty flavor to the BBQ sauce.
Tip: If you don't have sesame oil, you can use a neutral cooking oil or omit it altogether.

Soy Sauce (1 tbs.):

Note: Soy sauce adds a savory umami element to the sauce.
Tip: Use low-sodium soy sauce if desired, or substitute with tamari for a gluten-free option.

Chili Paste (1 tsp.):

Note: Chili paste adds a spicy kick and depth of flavor to the BBQ sauce.
Tip: Adjust the amount of chili paste based on your heat preference, or use hot sauce as a substitute.

Sugar (½ tsp.):

Note: Sugar balances the flavors and helps to achieve a caramelized glaze.
Tip: You can use brown sugar, honey, or maple syrup as alternatives for a different sweetness profile.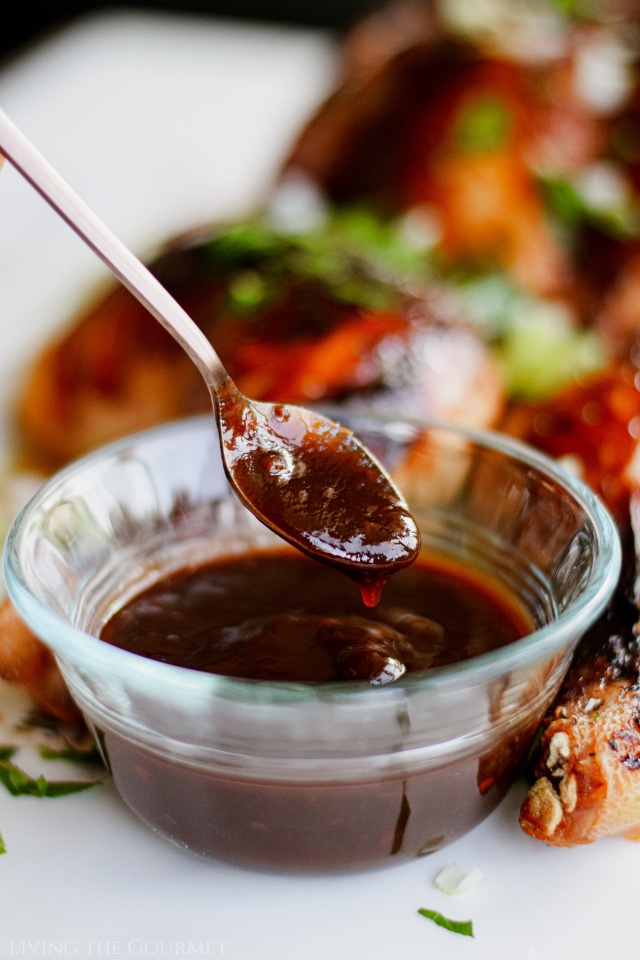 The BBQ Sauce – Variations
Spicy BBQ Sauce: Add some heat by incorporating ingredients like cayenne pepper, hot sauce, or diced jalapeños into the sauce.
Honey BBQ Sauce: Balance the smoky flavor with the sweetness of honey for a delightful combination.
Mustard BBQ Sauce: Include a tangy kick by mixing in some Dijon or whole grain mustard.
Asian-Inspired BBQ Sauce: Infuse the sauce with flavors like soy sauce, ginger, garlic, and rice vinegar for an Asian twist.
Fruit-infused BBQ Sauce: Experiment with incorporating fruit purees or juices like pineapple, peach, or mango to add a fruity note to the sauce.
Smoky Chipotle BBQ Sauce: Enhance the smokiness by adding chipotle peppers in adobo sauce or smoked paprika.
Bourbon BBQ Sauce: Introduce a hint of richness and complexity by incorporating bourbon into the sauce.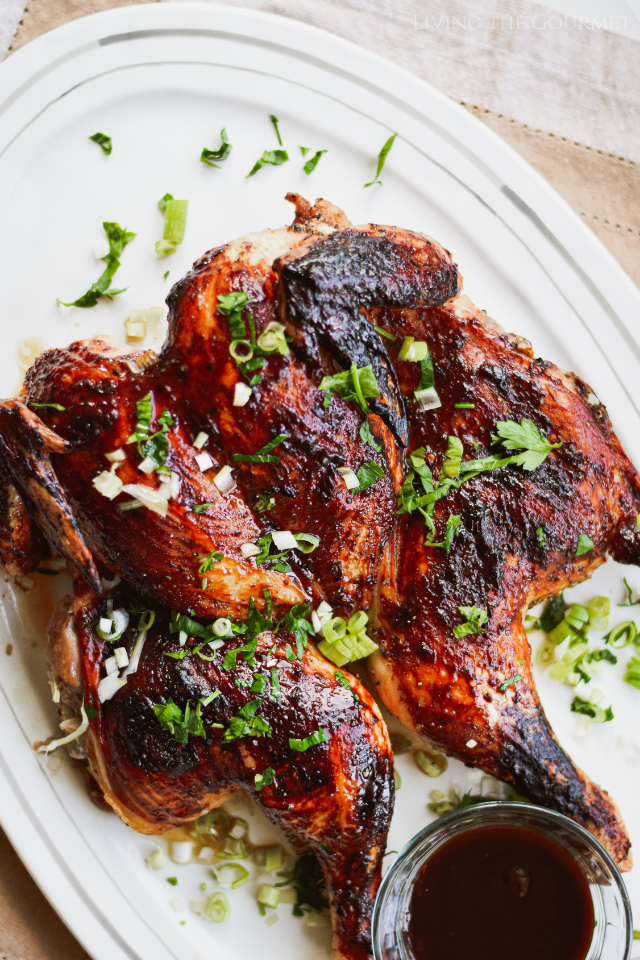 Spatchcocking Technique – How to Spatchcock a Chicken, Tips and Tricks
Choose the right tools: To make the process easier, have a pair of kitchen shears or sharp poultry scissors on hand. These will help you easily cut through the backbone and any small bones. If this is your first time spatchcocking, I strongly recommend 'against' attempting this process without either shears or poultry scissors.
Ensure a clean workspace: Start by clearing a clean and spacious workspace. This will allow you to maneuver the chicken without any obstacles and maintain hygiene throughout the process.
Secure the chicken: Before you begin, make sure the chicken is securely placed on a stable cutting board or surface. You can use a damp kitchen towel underneath to prevent it from slipping.
Remove excess moisture: Pat the chicken dry with paper towels to remove any excess moisture. This will keep the chicken from slipping while spatchcocking. It will also help the rub adhere better and ensure a crispy skin after you're done spatchcocking.
Locate the backbone: With the breast-side down, locate the backbone of the chicken. It runs along the length of the bird, from neck to tail.
Cut along the backbone: Using the kitchen shears or poultry scissors, start from one end of the backbone and cut along the length of the backbone on one side. Repeat on the other side to completely remove the backbone.
Flatten the chicken: Flip the chicken over and open it up. Use your hands to press down firmly on the breastbone until you hear a slight cracking sound. This will flatten the chicken and ensure even cooking.
Remove any remaining small bones: Feel around the cavity and along the rib bones to check for any small bones that may have been missed during the initial cut. Remove them carefully to ensure a safe dining experience.
Practice caution: Exercise caution. Take your time and work slowly, especially if this is your first time cutting through bone and joints.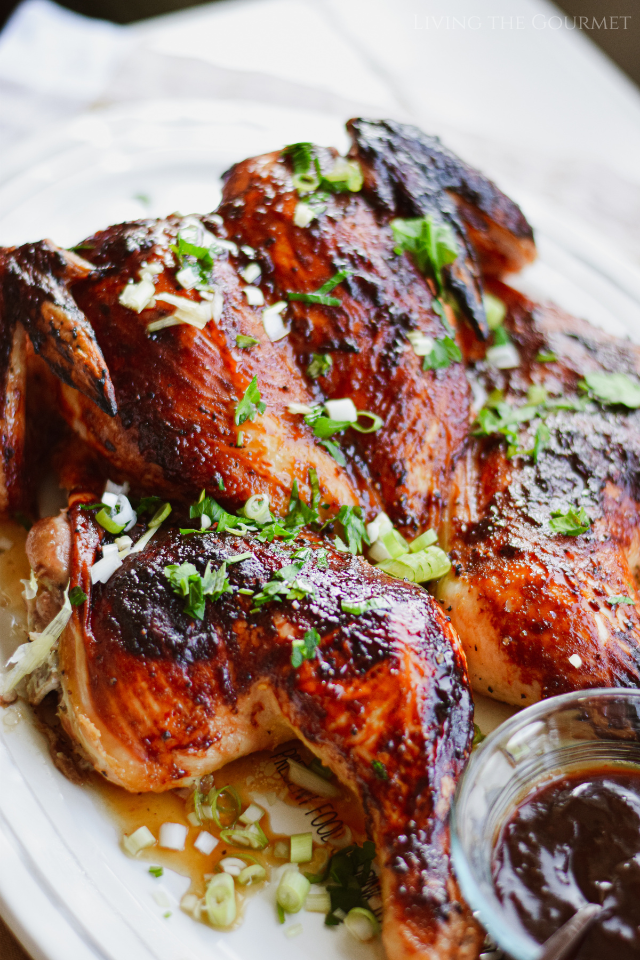 Barbecuing the Chicken – Here's How
If you prefer the smoky flavors and charred goodness that grilling imparts, you can easily adapt this recipe for the grill. Follow these simple steps to grill the spatchcock chicken to perfection:
Preheat the Grill: Preheat your grill to medium-high heat (around 375-400°F or 190-200°C). Make sure the grill grates are clean and well-oiled to prevent sticking.
Prepare the Chicken: Follow the steps for spatchcocking the chicken as mentioned earlier in the recipe. Pat it dry with paper towels and apply the rub mixture, ensuring all sides are well coated.
Grill the Chicken: Place the chicken on the preheated grill, skin-side down. Close the lid and let it cook for about 10-12 minutes, or until the skin is nicely charred and crispy.
Flip and Baste: Carefully flip the chicken using sturdy tongs or a spatula. Brush the skin side generously with the BBQ sauce. Close the lid and continue grilling for another 10-12 minutes.
Check for Doneness: Insert an instant-read thermometer into the thickest part of the chicken, away from the bone. The internal temperature should reach 160°F (71°C) or until the juices run clear. If needed, continue grilling for a few more minutes until the desired doneness is achieved.
Rest and Serve: Once cooked, remove the chicken from the grill and let it rest for a few minutes. This allows the juices to redistribute, resulting in a juicier and more flavorful chicken. Serve the grilled spatchcock chicken with a side of the remaining BBQ sauce for dipping or drizzling.
Note: Grilling times may vary depending on the heat of your grill, the size of the chicken, and other factors. It's always recommended to use a meat thermometer to ensure the chicken is cooked thoroughly and reaches a safe internal temperature.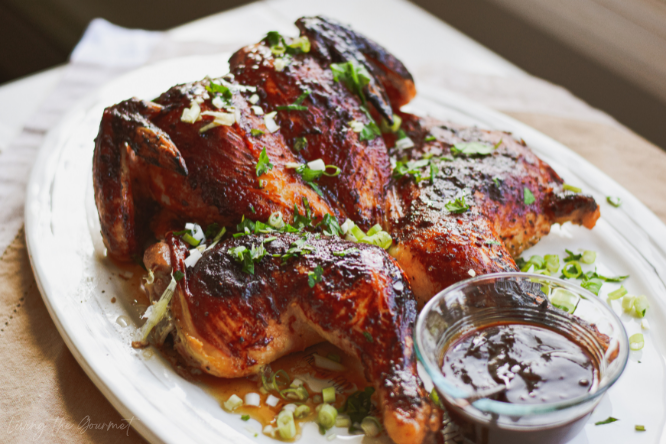 Print
Roasted Spatchock Chicken with Smoky BBQ Sauce
---
Author:

Total Time:

1 hour 5 minutes

Yield:

4

servings

1

x
2 1/2

-

3

lb

. chicken, spatchcocked
Rub for the Chicken:
2

tbs. vegetable oil

2

tsps. garlic powder

1 1/2 tsp

. salt

1 tsp

. ground black pepper

1 1/2 tsp

. sugar
Fresh grated nutmeg - about 1/4 tsp.

1/4

-

1/2

tsp. red pepper flakes
For the BBQ Sauce:
2

tbs. ketchup

2

tsps. Balsamic vinegar

1 tsp

. sesame oil

1

tbs. soy sauce

1 tsp

. chili paste

1/2 tsp

. sugar
---
Instructions
How to Spatchcock a Chicken: 
Rinse the chicken inside and out and pat dry.
Place the chicken breast-side down.   Pat the chicken dry with a paper towel, position the chicken breast-side down.  Remove the backbone by cutting down either side of the backbone, cutting up through the rib bones as you go. Remove any tiny bones you may feel.  Open the chicken out and turn it over and flatten with your hand
For the Chicken & Sauce:
Combine the ingredients for the rub in a small bowl.
Pat the chicken down with paper towels thoroughly.
Rub the chicken with the rub mixture.
Place the chicken on the lined cast iron frying pan.
Combine all the ingredients for the BBQ Sauce in a small bowl and mix.
Make a second batch to serve with the cooked chicken.
This sauce also serves well as a dip for cut vegetable sticks and chips.
Preheat Oven 375 degrees F.
Cook chicken for 30 – 35 minutes.  Remove from oven and brush with the bbq sauce.
Place back in the oven and continue cooking for another 20 – 25 minutes.
Remove once more and brush again with the bbq sauce.
Place back in the oven and cook for another 10 – 15 minutes or until the internal temperature registers 160°F when checked with an instant read thermometer or the juices run clear from the thigh area.
The cooking time depends on the size of the chicken.
Prep Time:

15 minutes

Cook Time:

50 minutes
Recipe Card powered by
And that's our Roasted Spatchcocked Chicken with Smoky BBQ Sauce. If you enjoyed today's recipe, or have any questions, be sure to let us know in the comments below. We always love hearing from you.
Also, be sure to like, share, and subscribe, so that you never miss a post. Happy Cooking!
0