These grilled summer vegetables are the perfect side this season. It's a simple wholesome dish best enjoyed alongside your favorite cut of meat or on their own with crusty Italian bread.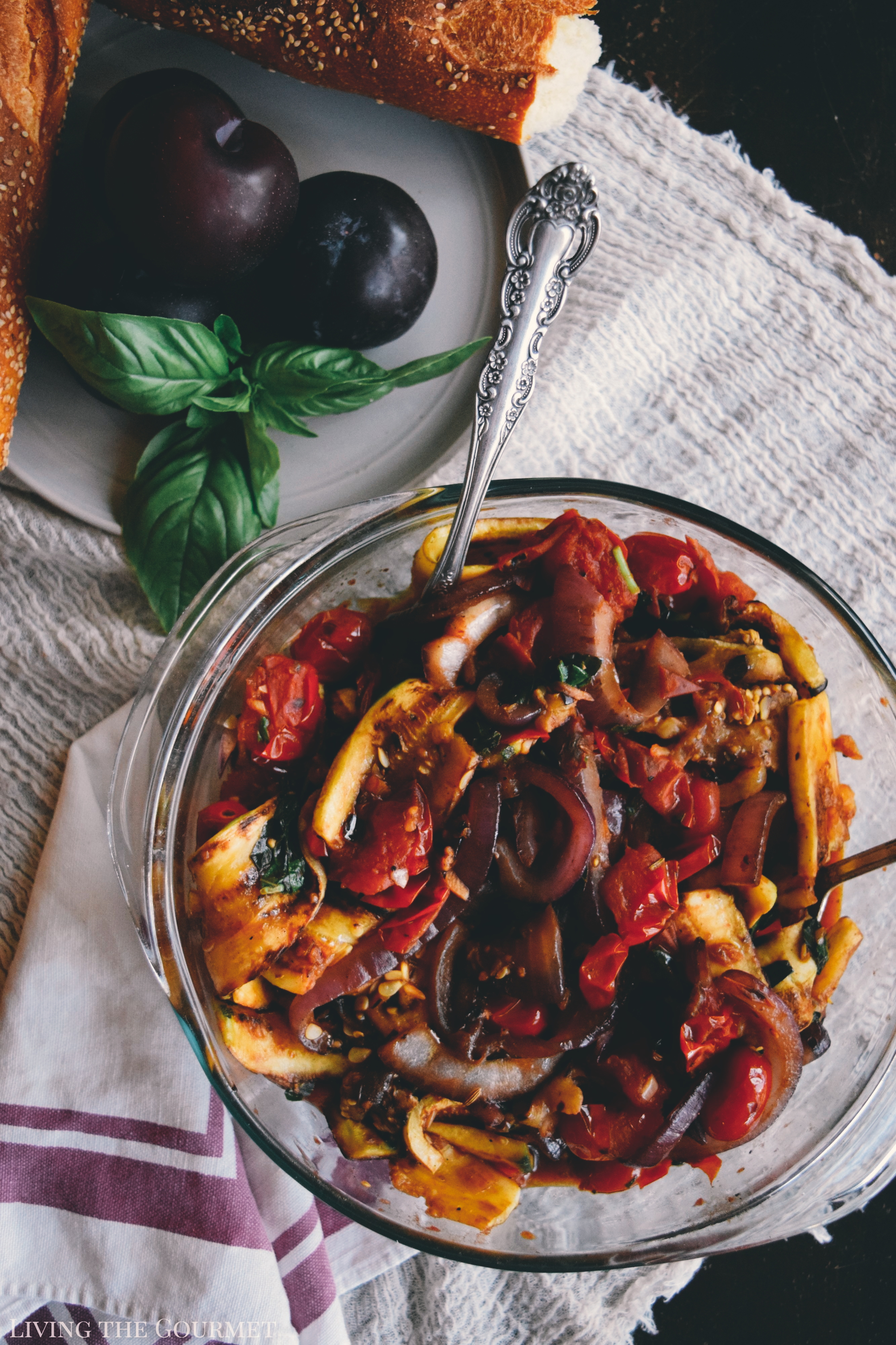 Almost since the first human put pen to paper, humans have been lamenting that we're running out of things to say. From Manson lyrics decrying that "There's nothing left to say anymore," to classical philosophers pining that "The thing that hath been, it is that which shall be; and that which is done is that which shall be done: for there is no new thing under the sun," we, as a species, are perpetually decrying the supposed limits of our own imaginations…often while in the process of defying those same 'imagined' limitations.
In the fashion and entertainment industry, we're all familiar with the maxim that "Everything is made new again." In the world of cooking, let me give you a rather pertinent example of this.
Suppose I were to grill you up some assorted vegetables, zucchini, and onions either in cast iron with freshly pressed olive oil, or over an open fire with various Mediterranean or Aegean seasonings, and then serve it to you with homemade bread or flatbreads and topped it off with a salt-preserved cheese. What would you think of that? You would likely consider that to be a rather decent example of "Old World gourmet."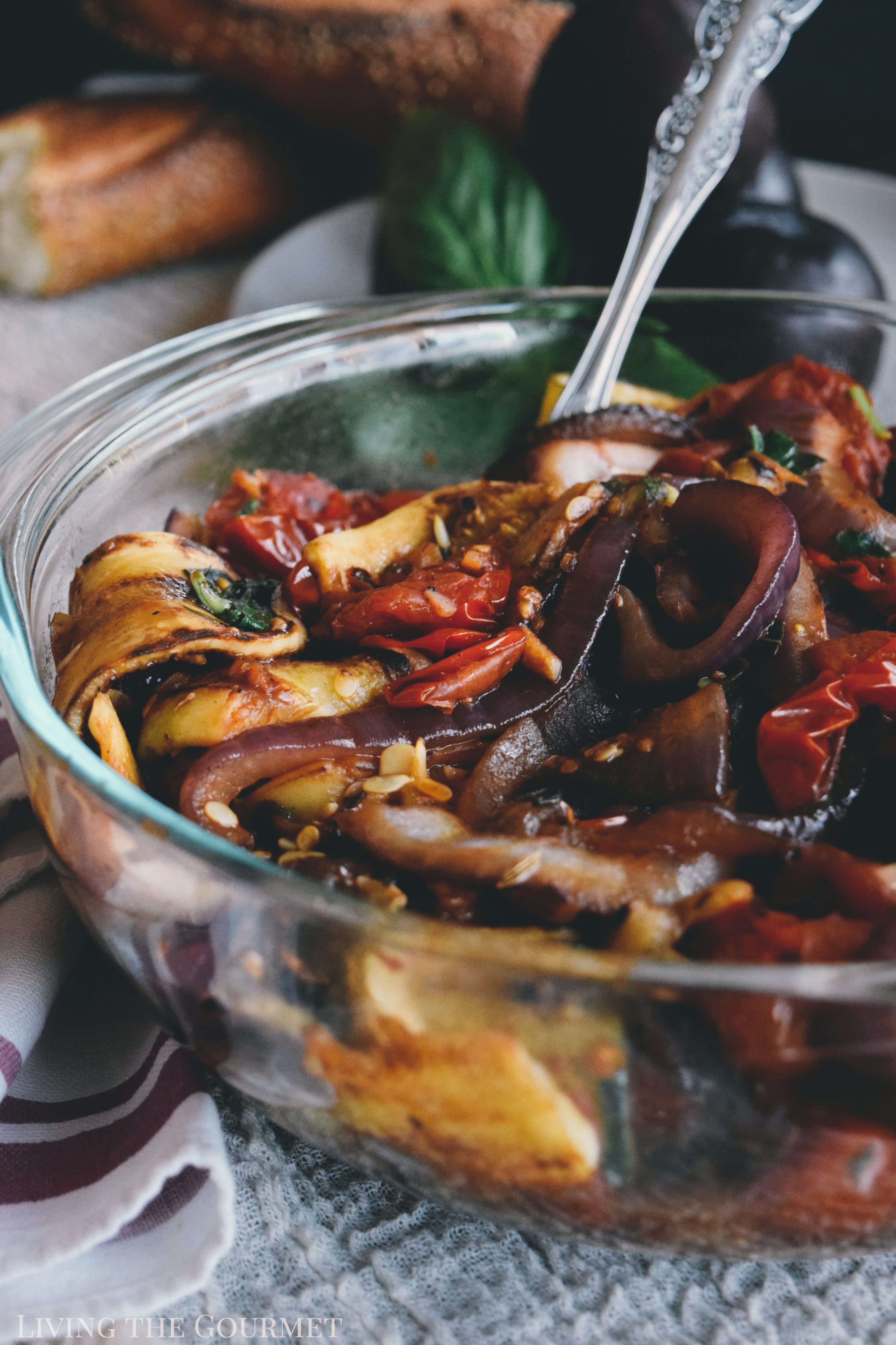 Now consider that the aforementioned ingredients, combined in various incarnations, were staples of the Eastern Roman Empire's peasantry in Greece and Turkey, and later of Ottoman peasants in those same territories.
You see, if there's one thing I've learned while working on Living the Gourmet, it's that there's a golden rule that runs roughly, "If the peasants ate it once upon a time, or your grandparents considered it 'easy cooking,' you can serve it up with a fancy name and charge any price you wish for it."
I was reminded of this the other day after I prepared basically that the same recipe – albeit with a few 'Living the Gourmet' twists – Simple Grilled Eggplant and Zucchini. It's basically the recipe I just cited above as an example. Fancy that.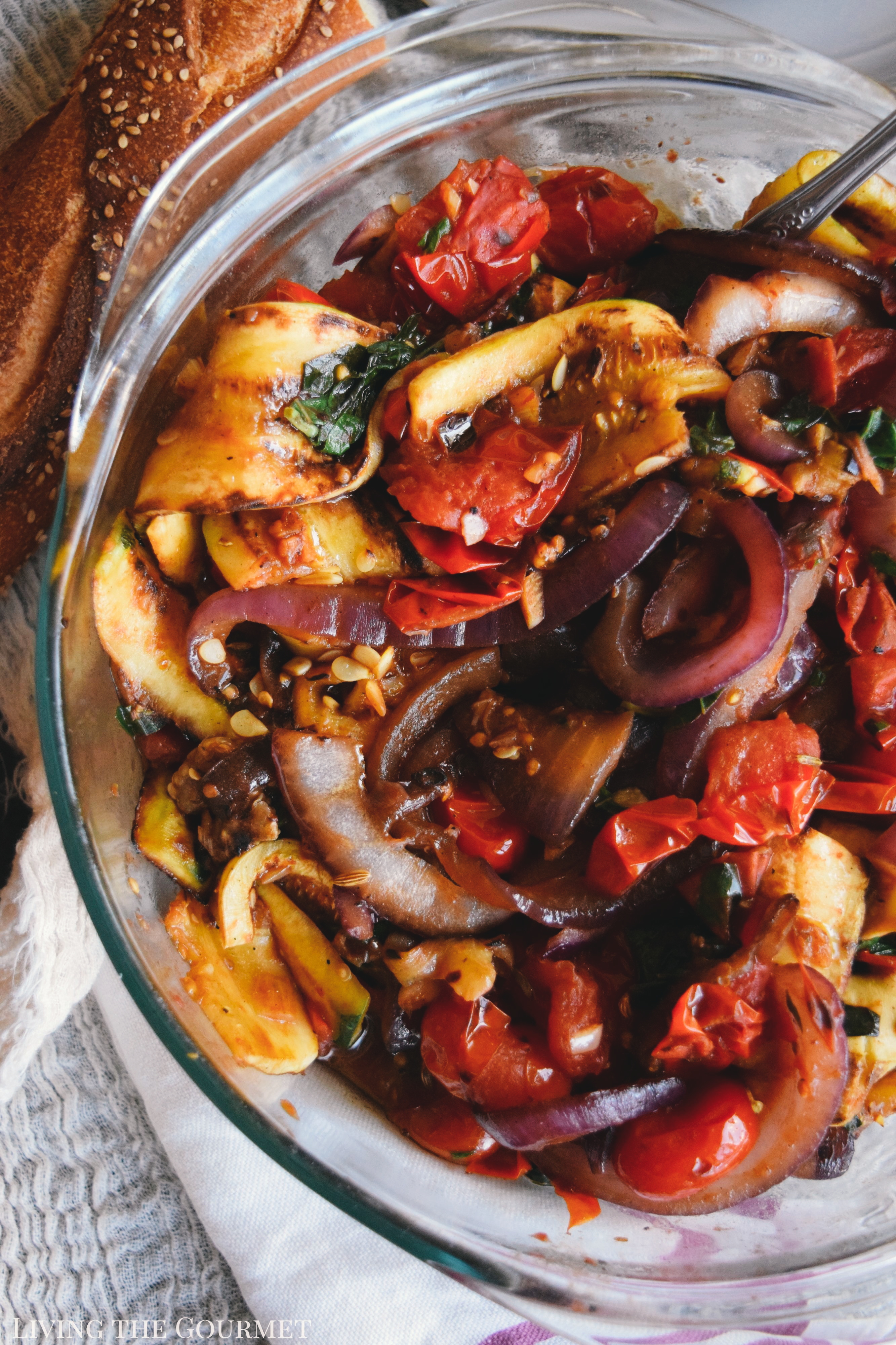 To start things off, we begin by peeling one nice sized eggplant. Be sure to peel it as thoroughly as you can manage without damaging it, since the skin tends to get quite rubbery on cooking. After that, slice it to about a quarter of an inch in thickness, or maybe just a tad thicker but no thinner otherwise you'll risk it turning to mush on cooking. Once that's taken care of, heat a large cast iron frying pan with olive oil, and set the slices in the pan to become golden.
Up next, set some tomatoes in a dry pan and sprinkle them with sea salt and a just a tad of olive oil, and then let them char slightly, moving them around every now and again during the process to ensure an even char, and then press them carefully with a spatula to open them up. Note of caution – tomatoes have a tendency to 'pop' or 'explode' or 'go boom' during the pressing process, so watch out.
Add some chopped garlic, basil, wine, and seasonings to the tomatoes, and let that cook down for a minute or two. Then add the tomato sauce to a bowl with the grilled veggies, and toss that with a touch of olive oil. Taste for seasoning throughout this process, and adjust to your preference.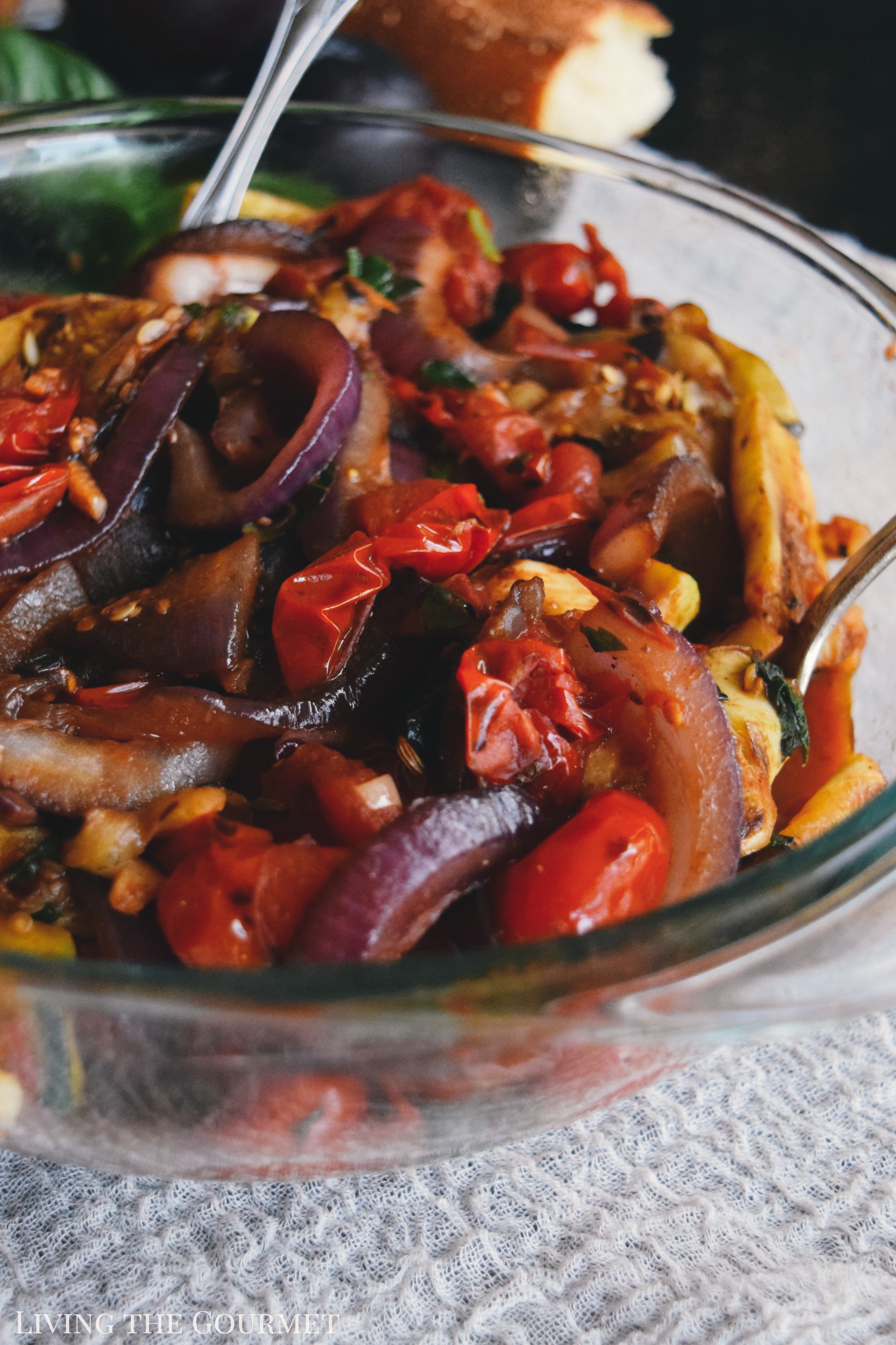 Print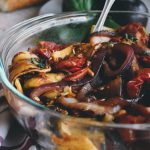 Grilled Summer Vegetables
---
Author:

Total Time:

25 minutes
1

eggplant – peeled and sliced to ¼ inch thickness

1

large red onion – sliced

3

–

4

zucchinis – peeled and sliced lengthwise to ¼ inch thickness

2 pints

of grape tomatoes

4

–

5

cloves of garlic – chopped
Healthy bunch of fresh basil – chopped

2

–

3

tbs. wine

½

tbs. salt
Pinch of sugar

½ tsp

. fresh ground black pepper

½ tsp

. dried red pepper flakes

½ tsp

. dried oregano
Olive oil – for drizzling
Fresh grated Romano or Parmesan cheese
---
Instructions
Heat a large cast iron frying pan. Add a few slices of eggplant then drizzle each with a little olive oil.
When one side becomes golden and slightly charred, turn over and grill the other side until the eggplant becomes soft and golden. Continue this process with the rest of the eggplant, onion slices and the zucchini slices. Remove each piece from the pan and place in a serving bowl.
Next, place the tomatoes in a dry pan and sprinkle with Kosher or sea salt and a drizzle of olive oil. Let the tomatoes get slightly charred and move them around the pan to char on all sides and then slightly press with a spatula. Be careful since they will slightly explode as they are pressed.
Add the chopped garlic, basil, wine and seasonings and cook down for a minute or two.
Add the tomato sauce to the bowl with the grilled veggies and toss with a drizzle of olive oil.
Taste for seasoning.
Serve with a good crusty Italian bread and fresh grated cheese or thinly sliced cheese.
This may be refrigerated and served chilled with a nice antipasto.
Prep Time:

10 minutes

Cook Time:

15 minutes
Recipe Card powered by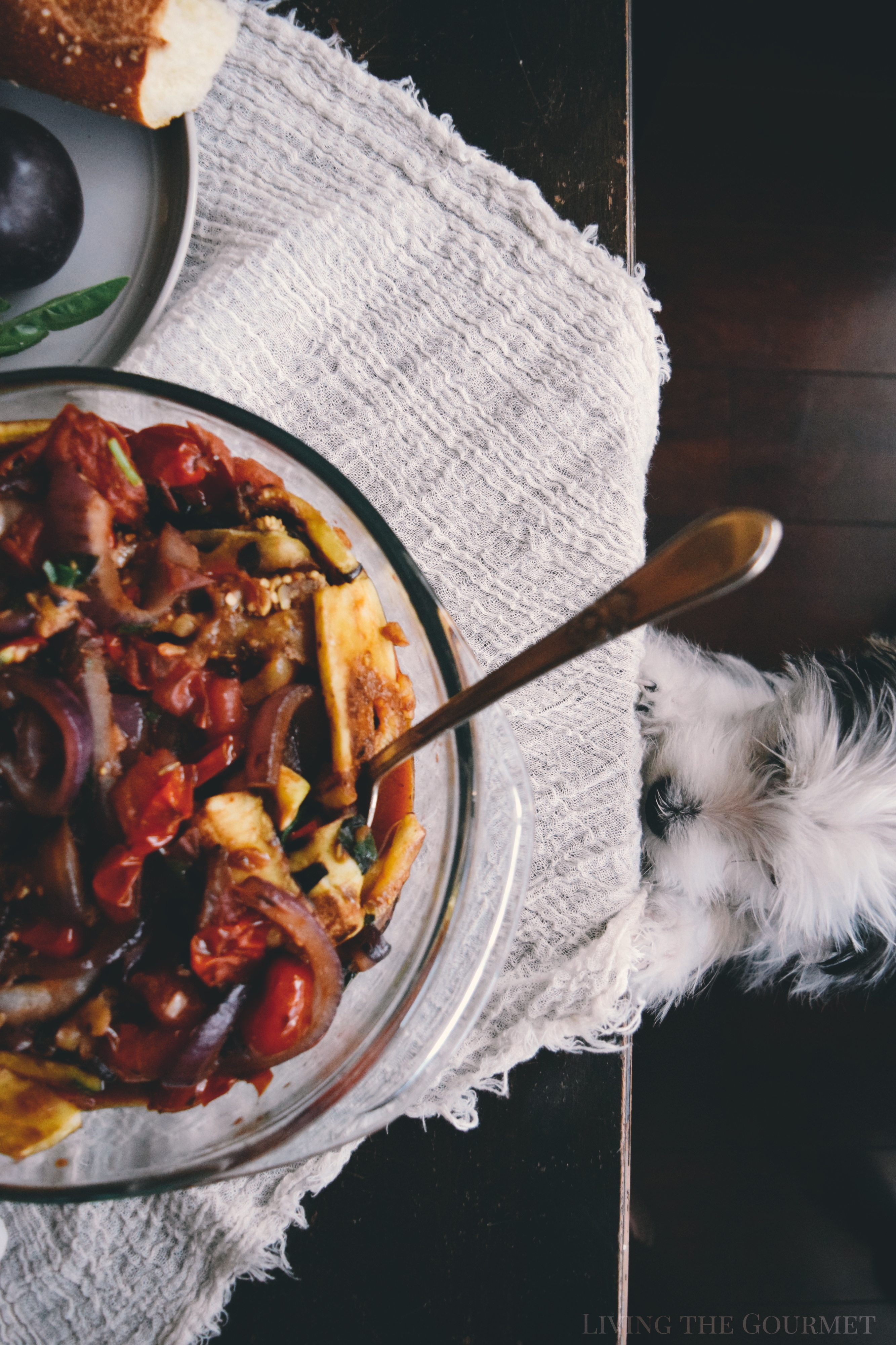 Serve this with a nice portion of a crusty bread, some cheese, and you've got a delicious late summer meal. On a side note, this can be refrigerated and served as the centerpiece of a larger antipasto spread.
Enjoy with Love!
2