This three-layer Apple Crumb Ring Bundt boasts of brandied apples, a rich sour cream cake, and a brown butter crumb topping for the ultimate accompaniment to a hot cup of coffee.
Sometimes I feel like I spend more time chasing time than living in it. I think we all feel that way, especially when the seasons are transitioning. It's hard to believe that school is already starting up, summer is already proclaimed to be over and yes, I've even seen a few pumpkin spice recipes creep up into my feed.
While I am looking forward to cooler days ahead, some favorite comfort foods and spiced lattes, another part of me is also sad to bid summer adieu so soon, which in New York is already short enough. The days have come and gone too quickly for me to grab and truly enjoy the season.
Remember what Frodo said to Sam at the end of The Return of the King? "Your time may come. Do not be too sad, Sam. You cannot be always torn in two. You will have to be one and whole, for many years. You have so much to enjoy and to be, and to do."
So, perhaps I'll get to do all that I wanted in the fall.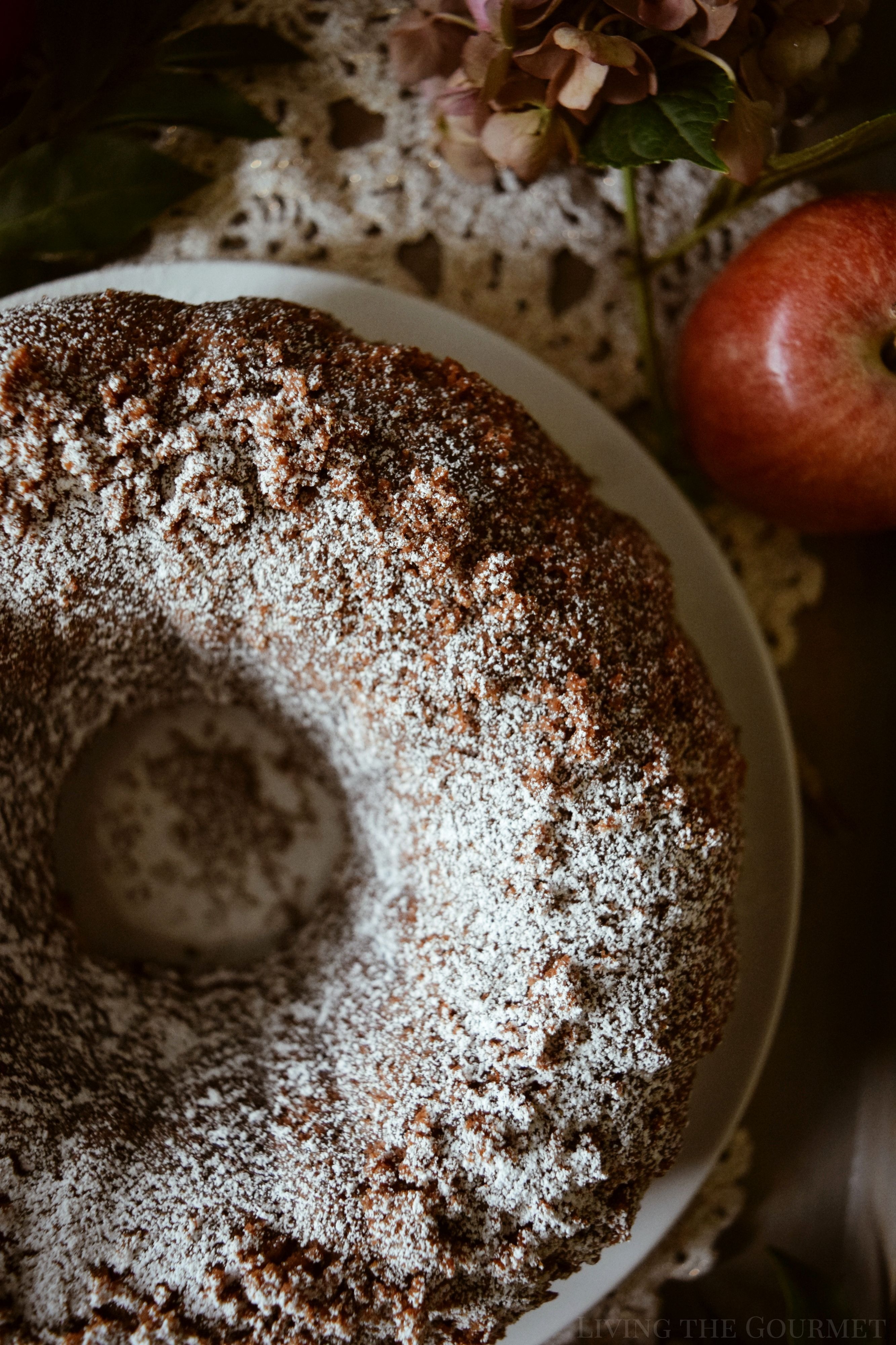 It would seem that I'm not the only one getting on board the early fall train. Our lovely hostess, Wendy, from A Day in the Life on the Farm chose apples for the theme of this month's #BundtBakers.
When I saw the big reveal for this month's bake along, I got strong Autumn vibes and knew immediately what I wanted to make. Sitting with a cup of coffee and a slice of crumb cake is probably my idea of a perfect fall morning. Yes, cake for breakfast is an indulgence of mine that I especially enjoy when the weather gets cooler. That's not to say you can't enjoy this cake in the afternoon or evening as well...it's one of those sweet treats that happens to be suitable for all occasions.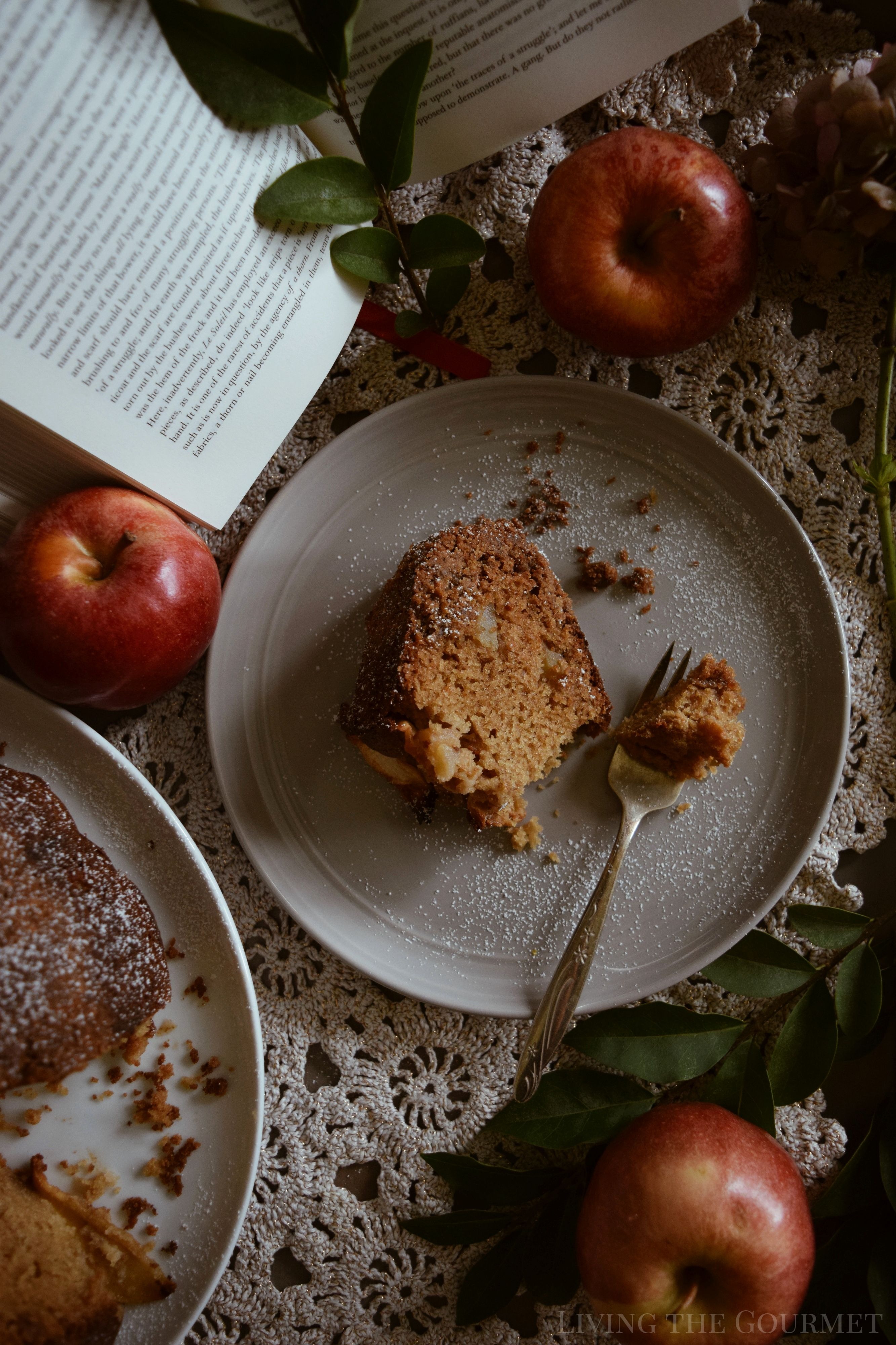 So, in the words of my beloved uncle, "Let's get baking!"
I tend to think of this bundt as a 3-layer cake. No, it's not like the traditional layer cake that may come to mind, but it has three layers of texture and flavor that are all very distinct and when these layers come together, they forge one harmonious dessert.
The first layer is made of thinly sliced apples that are infused with warm cinnamon and rich brandy. Some of those apples also get tossed into the cake batter, adding some depth to our cake base, which brings us to layer #2 - the sour cream cake. It's buttery and rich but also very light thanks to some adjustments like swapping out AP flour for cake flour which ensures a more delicate texture. Then we whipped sour cream and whole milk together for a creamy addition making sure this cake wasn't crumbly, but rather moist while retaining it's richness. Finally, we have our third layer- the crowning glory- the brown butter crumb topping.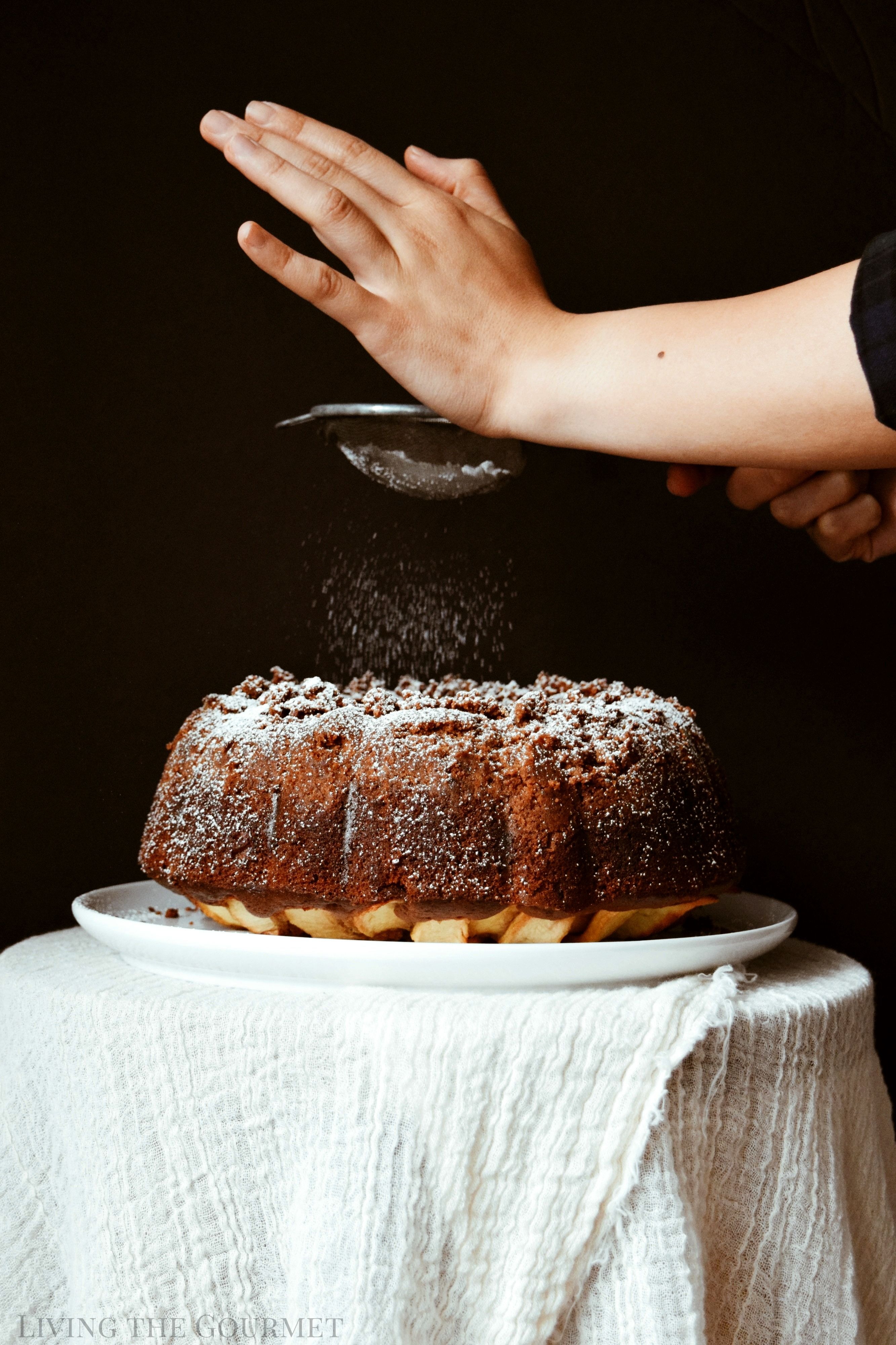 There are many variations to crumb cake but as a nod to my all-time favorite, the NY-Style Crumb Cake, I kept the crumbs big and the ratio even. The crumb layer is as thick as the cake layer- as it should be.
Finish it off with a generous dusting of confectioner's sugar and there you have it, a beautiful Apple Crumb Ring.
So let me ask you this, are you sad to see summer go? Because a slice of this and a cup of coffee on a cozy fall morning is pretty hard for me to resist. Summer can pack its bags and take its humid temperatures along with it.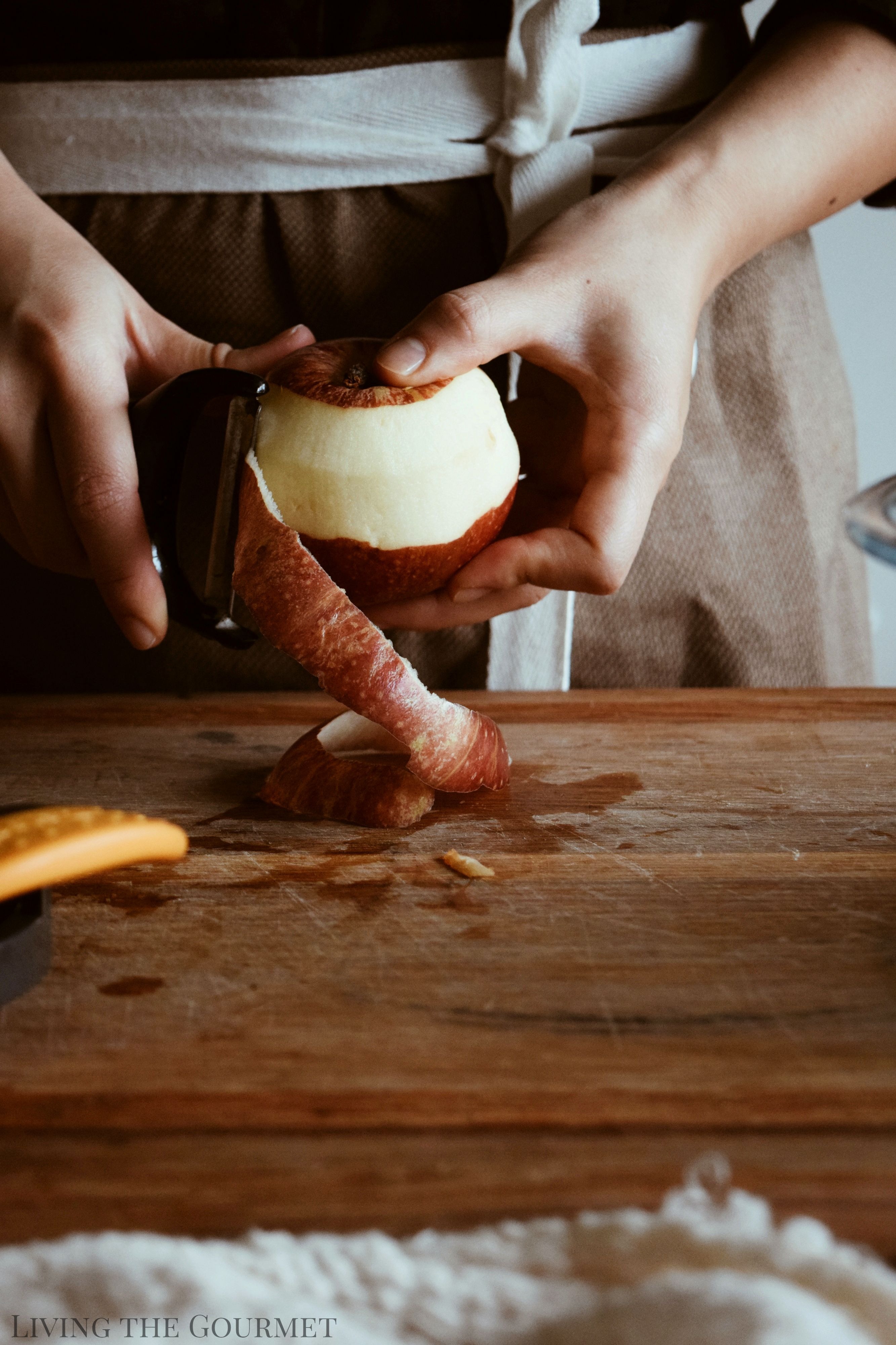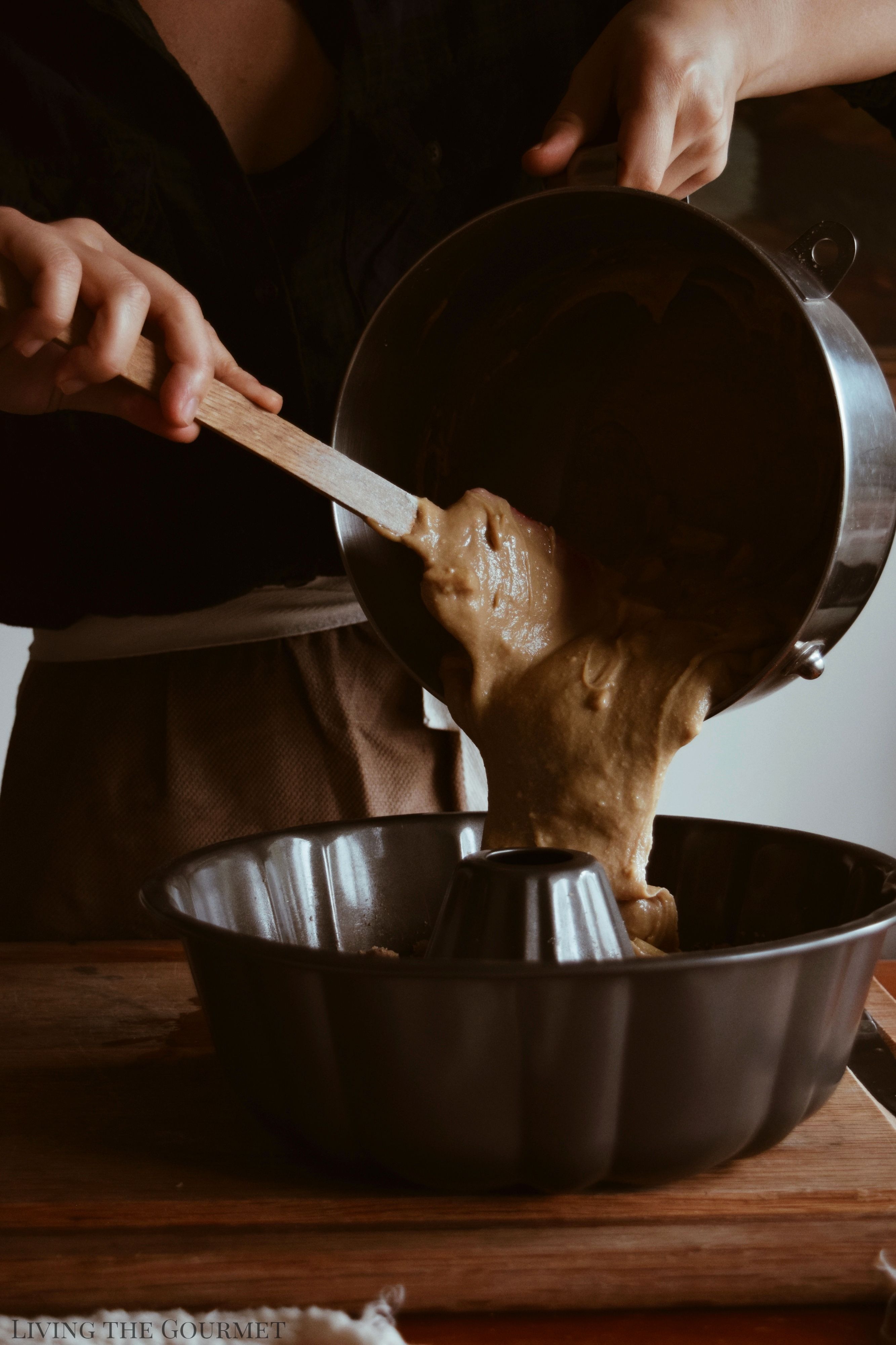 Print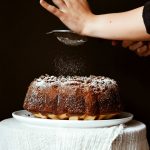 Apple Crumb Ring Bundt
---
Author:

Total Time:

1 hour

Yield:

1

cake

1

x
For the apple slices:
3

medium apples (honeycrisp or gala are good)- peeled, cored, and sliced

1 tablespoon

brandy or rum

1 teaspoon

cinnamon

1 teaspoon

vanilla
For the brown butter crumb topping:
1

cup

AP flour

1/2

cup

butter

1/3

cup

dark brown sugar

2 tablespoons

plain sugar

1/2 teaspoons

baking soda
For the sour cream cake:
2

cups

cake flour

1/2 teaspoons

baking powder

1 teaspoons

baking soda

1/2 teaspoons

coarse sea salt

1/2

cup

plain sugar

1/2

cup

dark brown sugar

2

large eggs

2 teaspoons

vanilla

1/2

cup

unsalted butter, softened

3/4

cup

sour cream

1/2

cup

whole milk
---
Instructions
For the apple slices:
In a medium bowl, toss the apple slices with the brandy, cinnamon, and vanilla. Store in the refrigerator until ready to use.
For the brown butter crumb topping:
In a small saucepan, melt the butter down and let simmer over medium heat until it has browned and is bubbling. Be careful not to burn it.
In a bowl, whisk flour, sugars and baking soda. Add the brown butter and mix until large crumbs form. If the mixture looks to moist, add more flour one teaspoon at a time.
For the sour cream cake:
Preheat oven to 350 degrees F. Grease a bundt pan and place the brown butter crumbs at the bottom of the bundt pan. Set aside.
In the bowl of your mix master beat together butter, sugar, and vanilla until whipped. Add one egg in at a time, beating on low speed between each installment. Scrape the sides of the bowl.
In a separate bowl, whisk flour, baking powder, baking soda and salt together. Set aside.
In another separate but small bowl, whisk sour cream and milk together well.
Alternate between the flour and the sour cream mixture, adding each to the beaten butter and sugar batter. Mix well between each addition, making sure there are no clumps. The batter should be smooth and airy. Fold ½ cup of the brandied apples, chopped, into the cake batter.
Pour the batter into the prepared bundt pan then top it off with the remaining apple slices. Bake for 35-40 minutes or until the cake tester comes out clean.
Transfer to a wire rack and let the cake cool before transferring to a cake plate. Dust with confectioner's sugar before serving.
Prep Time:

15 minutes

Cook Time:

45 minutes
Recipe Card powered by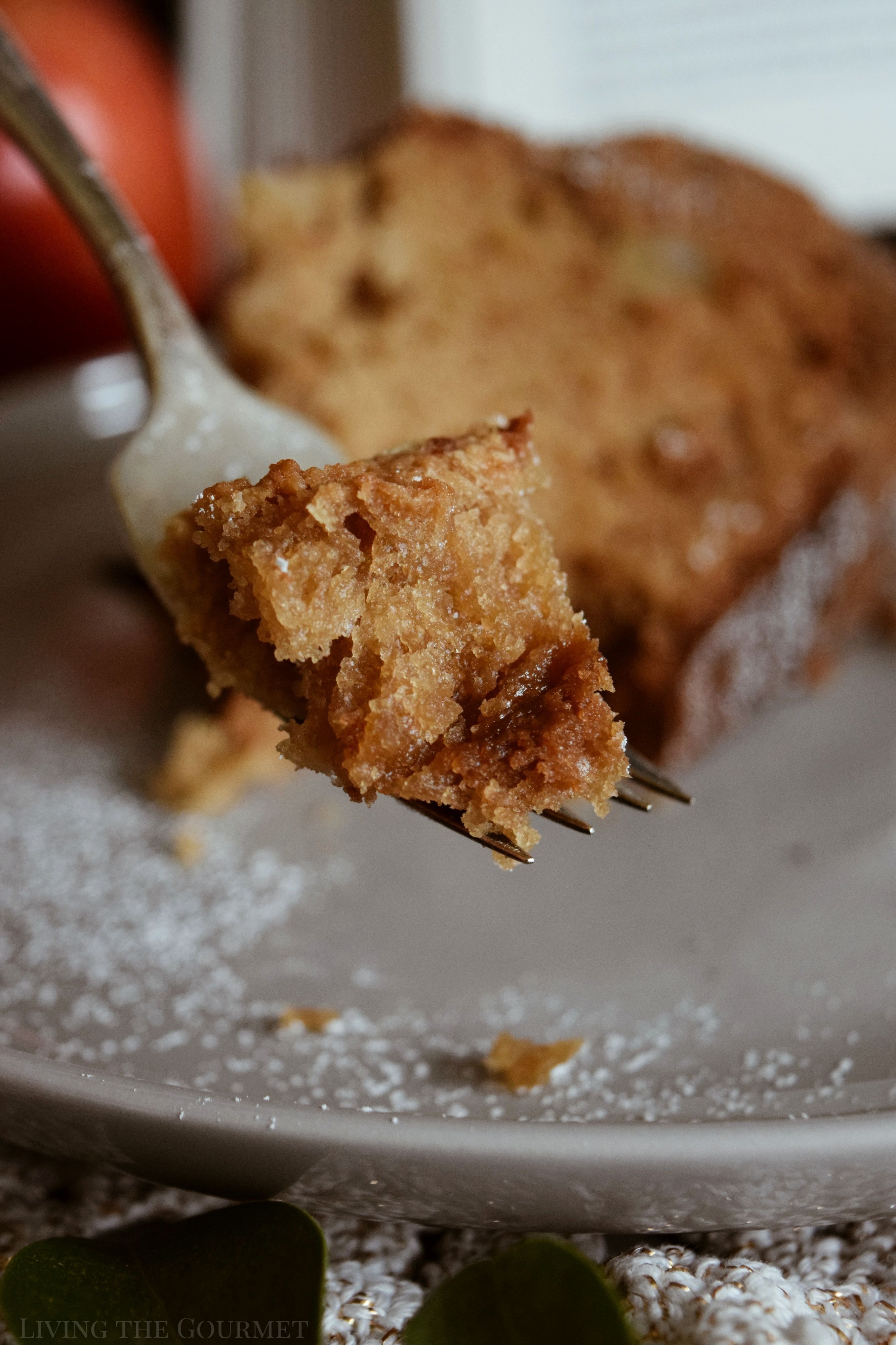 If You Enjoyed Today's Recipe…
Be sure to follow us on Instagram to stay up to date with all things Living the Gourmet, and for more great recipes, tips and tricks.
Did you make this recipe?
If so, let me know in the comments down below, or post a picture to Instagram, or to Pinterest, and I'll give you a shoutout on Instagram, or post your pin to one of my Pinterest boards!
Enjoy with Love!
---
#BundtBakers is a group of Bundt loving bakers who get together once a month to bake Bundts with a common ingredient or theme. You can see all our of lovely Bundts by following our Pinterest board. We take turns hosting each month and choosing the theme/ingredient. Updated links for all of our past events and more information about BundtBakers, can be found on our home page.
Enjoy more apple bundt recipes from these fabulous bakers:
3