Are you looking for an easy and comforting meal that the whole family will love? Look no further than today's Eggplant Parmigiana. This classic Italian dish is the perfect comfort food to see you through the final few months of winter.
We'll be oven baking today's parmigiana, which saves us the hassle and mess of frying, while also making the dish just a tad healthier – but without skimping on flavor. We'll be battering the eggplant slices in a mix of seasoned breadcrumbs, egg, and flour, and then baking them to golden perfection in the oven. We then layer the oven fried eggplant slices with a rich marinara sauce and copious amounts of mozzarella, and pop it back into the oven to bake.
Served fresh from the oven, while the melted mozzarella still moist and bubbly, and your dinner guests will be begging for seconds.
Ideal as the centerpiece for a grand Italian feast, this Eggplant Parmigiana pairs deliciously with a range of our favorite sides and starters. Consider introducing it with a lush charcuterie board to set the stage and whet your guests' palate. Serve it along breadsticks or a crusty artisan loaf to fully enjoy the sauce. Make it your own by layering it with sliced sausage, chop meat, or spinach, or add in ricotta cheese for added cheesy goodness.
So, if you're ready to make this classic Italian dish, read on for an ingredient checklist and tips and tricks for making this recipe your own.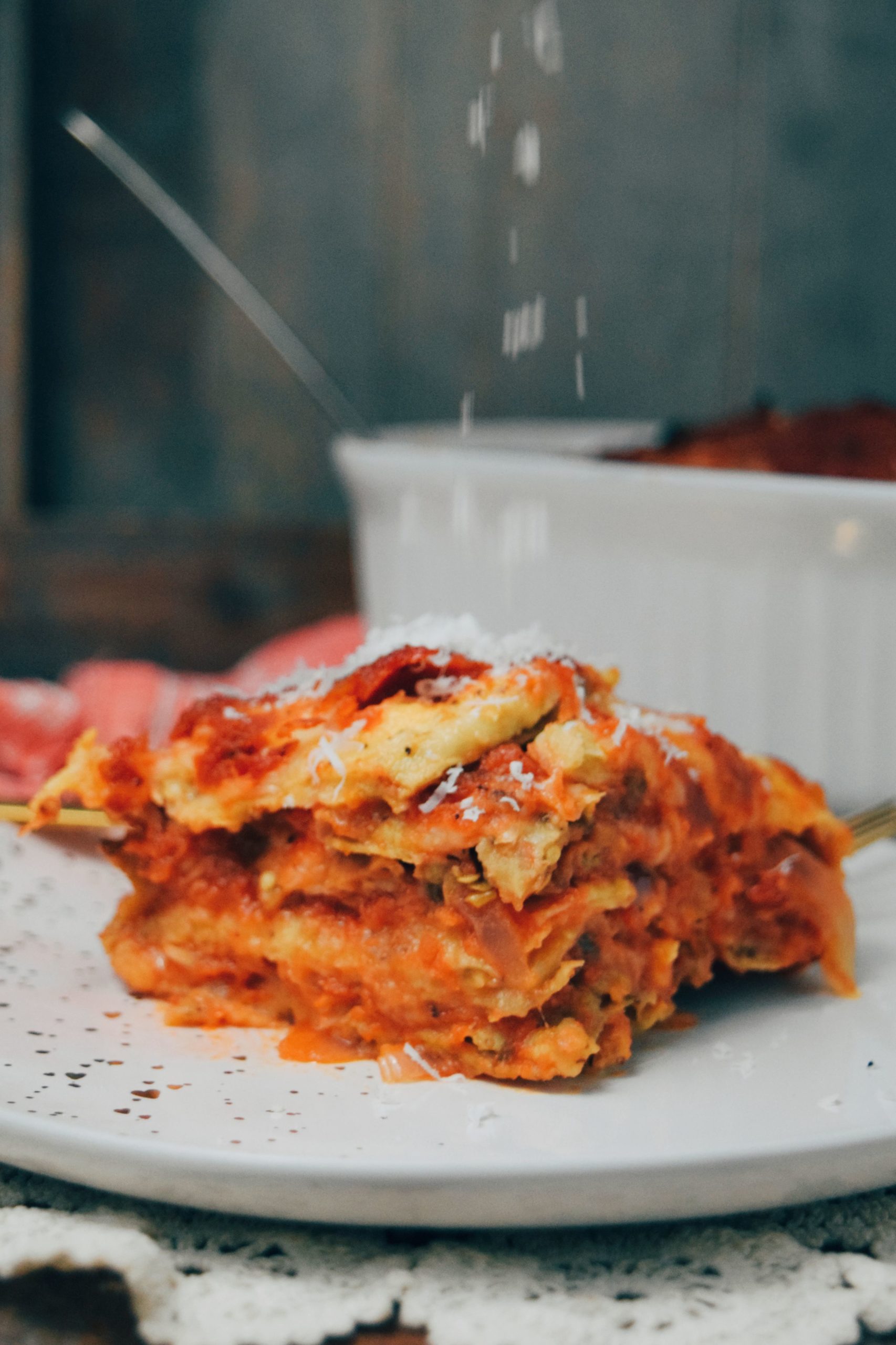 Ingredient Checklist – For the Eggplant
Eggplants. When selecting eggplant for Eggplant Parmigiana, look for firm, shiny skin that is free of blemishes and bruises. Also, the eggplant should feel heavy for its size. These are signs that the eggplant is fresh and of good quality.
Flour. For frying, you want all-purpose flour. This type of flour will help to create a crispy coating, whereas bread flour would create an unpleasantly 'hard' or 'tough' coating, while baking flour simply wouldn't survive the frying process. All-purpose flour is also less likely to burn during frying than its counterparts.
Eggs. Provide lift for the batter, and help the batter to stick to the eggplant, creating an overall better quality coating.
Cooking Oil. For drizzling over the eggplant slices before placing them in the oven.
Mozzarella. I suggest slicing your own, and then grating it. Pre-grated mozzarella tends to be dryer, and also tends not to melt as well.
Tomato Sauce. We want a rich, thick red sauce for today's parmigiana. See below for how we make it.
Olive Oil. I do suggest a decent quality extra virgin olive oil for today's recipe.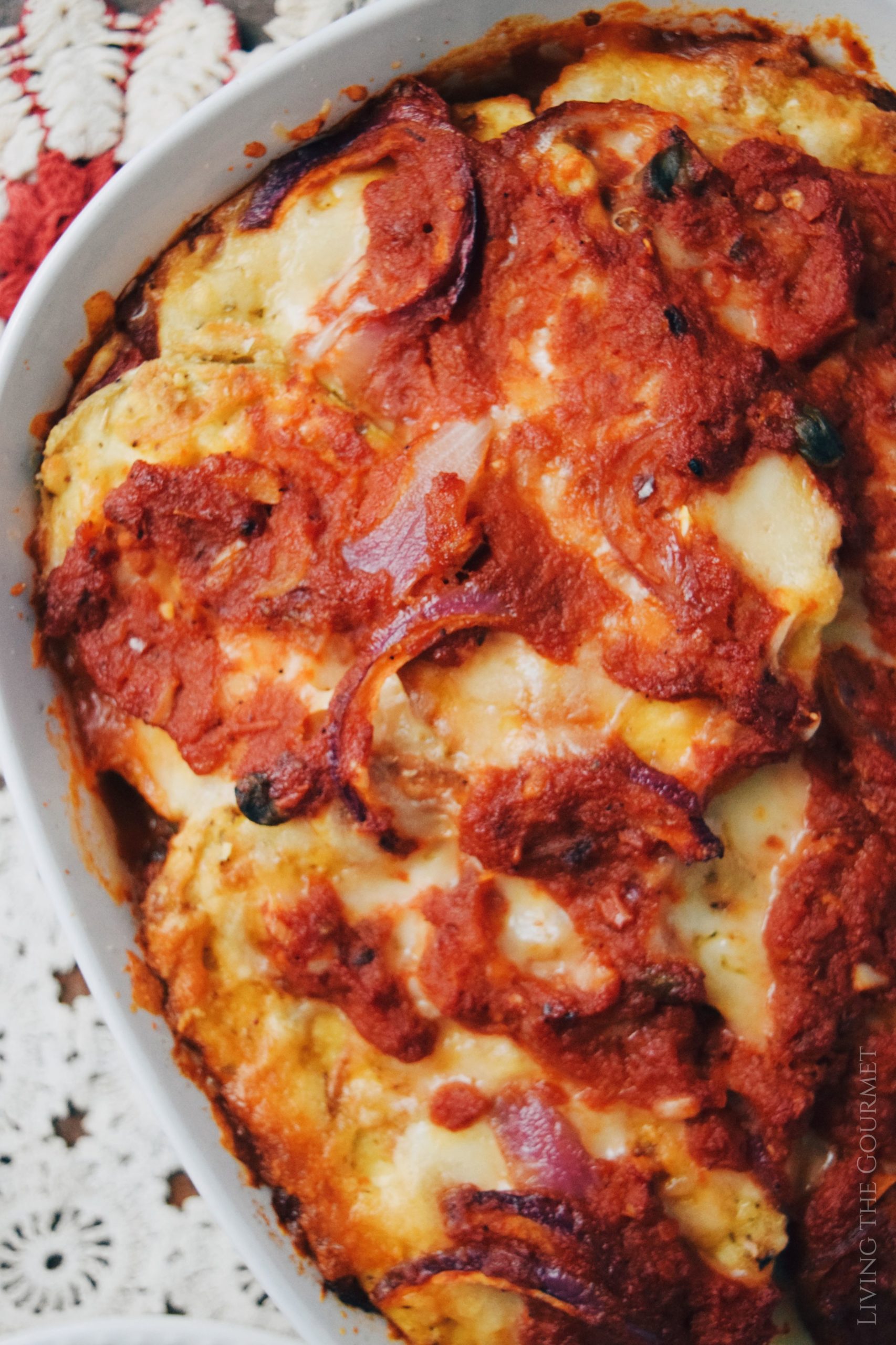 Ingredient Checklist – For the Sauce
Crushed Tomatoes. The base of the sauce. Use plain, crushed tomatoes.
Garlic. We're going to want to chop the garlic up fine for today's recipe. We don't want giant chunks of garlic in any of our bites.
Capers. For a nice 'salty' or 'brine' umami flavor.
Onions. Red, yellow, or white onions will all work fine for today's recipe. Whatever onion you happen to have on hand will work.
Red Pepper Flakes. For a touch of heat.
Dried Oregano. As always, dried oregano unless the recipe states otherwise.
Black Peppers. Pre-ground will work fine, as the baking process will dilute most of the subtle nuances that makes fresh ground or mortar ground preferable.
Salt. Plain table salt is all we're looking for.
Sugar. To cut through the acid of the tomatoes, enhancing the overall flavor.
Olive Oil. While you don't need to fuss over the quality of olive that's going into a cooked recipe as you would in a raw or lightly cooked recipe, I still do recommend using a decent quality olive oil.
Tips for Making the Best Eggplant Parmigiana
Start with the Eggplant. Start by selecting the freshest eggplant you can find. As stated above, look for firm, shiny skin that is free of blemishes and bruises.
Thickness Matters. Slice the eggplant into thin slices, about one-quarter to one-third of an inch thick. The thinner the slices, the crispier the eggplant will be. However, the thicker the slices, the more the interior 'softness' or 'moistness' will contrast with the crisp coating. As such, you need to find a balance that you personally like.
Get Fancy with the Crust. The basic breading mixture for the eggplant slices consists of seasoned breadcrumbs, eggs, and grated Parmesan cheese, but this is just a starting point. Experiment with different seasonings and mixtures. Consider stirring in some chili oil, or add your favorite chili flakes to the breadcrumbs. You might also consider experimenting with different consistency breadcrumbs, or even making your own.
Frying Tips. If not baking in the oven, I suggest using a cast iron pan, or a shallow copper pan. Use about a quarter of an inch to half an inch of oil. Then fry the slices until golden and crisp on both sides. This should take about two minutes per side. The oil should be about three-hundred and seventy-five-degrees Fahrenheit.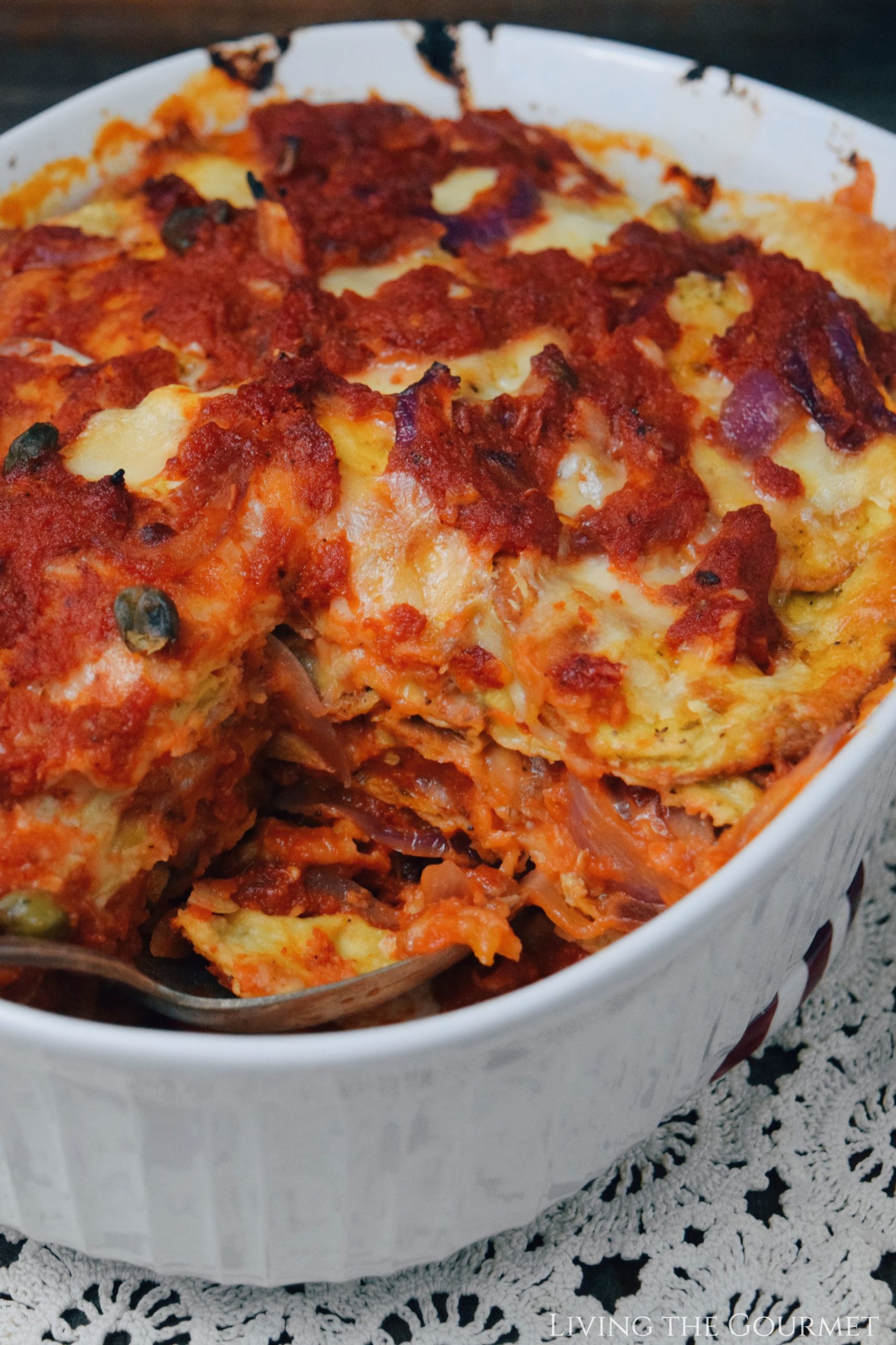 Pairing Tips
Wine. A good wine pairing for Eggplant Parmigiana is a full-bodied red wine, such as a Chianti Classico or a Montepulciano d'Abruzzo. These wines have enough structure to stand up to the flavors of the dish, while still being mellow enough to let the flavors of the eggplant and tomato sauce shine through.
Breadsticks. These are my go-to pairing for things like Eggplant Parmigiana and Lasagna. Dipping this in the red sauce, or wrapping the fried eggplant slices around them, is simply my idea of a good time. Really, it doesn't get much better than homemade breadsticks and eggplant parmigiana.
Charcuterie. A lush charcuterie board is a great opening to an eggplant parmigiana entrée. It also pairs deliciously 'alongside' the eggplant parmigiana. The mix of cured meat, sharp cheese, and olives is simply a match made in culinary heaven.
Crusty Bread. Artisan loaves, especially homemade, crusty bread is a must-have with a good eggplant parmigiana. There really is nothing quite like sandwiching the fried eggplant, sauce, and cheese within a hardy slice.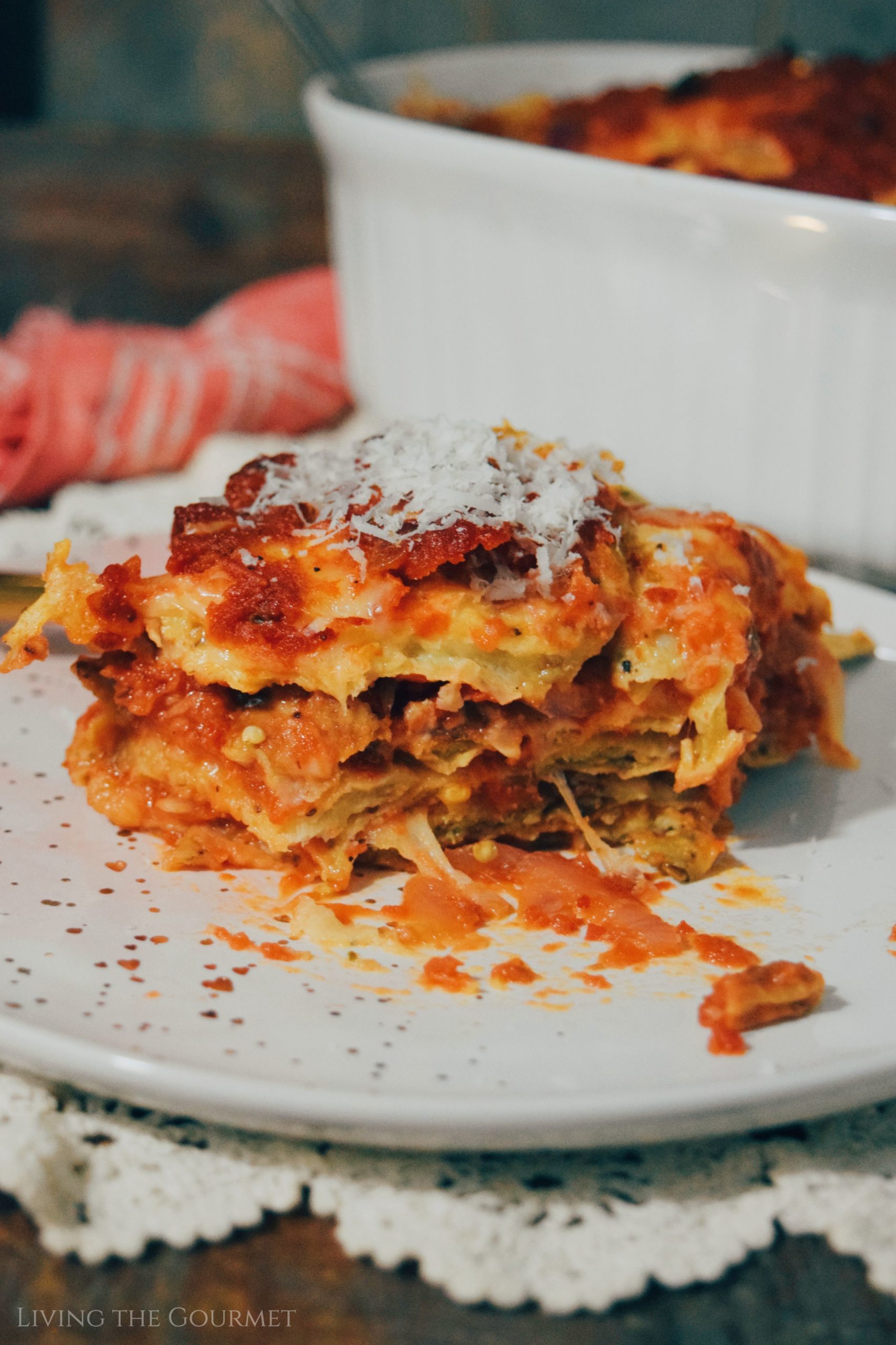 Print
Eggplant Parmigiana
---
Author:

Total Time:

1 hour 15 minutes

Yield:

4

-6

1

x
2

medium to large eggplants - peeled and sliced to about

1/4

inch thickness

2

cups

(or more if needed) of flour - seasoned with salt, black pepper and dried oregano

4

eggs beaten
Cooking oil for drizzling

16

oz

. of mozzarella - shredded

3/4

cup

of grated parmesan or Romano cheese
Tomato sauce
Olive oil
For the Sauce:
28 oz

. can of crushed tomatoes

5

-

6

cloves of garlic - the more the better - finely chopped

2

tbs. capers

2

medium sized onions - sliced thin

1 tsp

. red pepper flakes

1 1/2 tsp

. dried oregano

1/2 tsp

. black pepper

1 1/2 tsp

. salt

1/2 tsp

. sugar

2

tbs. olive oil
---
Instructions
For the Eggplant:
Preheat Oven 350 degrees F.
Divide the flour into two separate shallow dishes.
Set up three shallow dishes: one with flour, one with the egg wash and one with flour.
Dredge the eggplant slices first in the flour, then the egg wash and finally in the flour.
Place the prepared eggplant on a baking sheet lined with parchment.
Drizzle with cooking oil.
Place in the oven and bake for about 10 minutes on one side, until a nice golden color is achieved, then carefully turn over and bake on the other side, again, until a nice golden color is achieved.
Place on a platter while finishing cooking all of the eggplant.
For the Sauce:
Heat a large cast iron frying pan.
Add the sliced onions, garlic and seasonings.
Cook until the onions are softened and the garlic is fragrant.
Add the capers and the crushed tomatoes and simmer for 10 – 12 minutes.
Taste for seasonings.
Assembly:
Preheat Oven 350 degrees F.
Place a tablespoon or two of sauce at the bottom of a casserole dish.
Line the bottom of the dish with eggplant.
Top the eggplant with sauce, followed by the mixture of cheeses.
Repeat this process ending with cheese and the sauce.
Drizzle the top with olive oil and extra grated Parmesan cheese.
Bake for 25 – 30 minutes.
Let the eggplant parmesan rest for 10 – 12 minutes before cutting into.
Serve with a beautiful side salad, extra grating cheese.
Prep Time:

15 minutes

Cook Time:

1 hour
Recipe Card powered by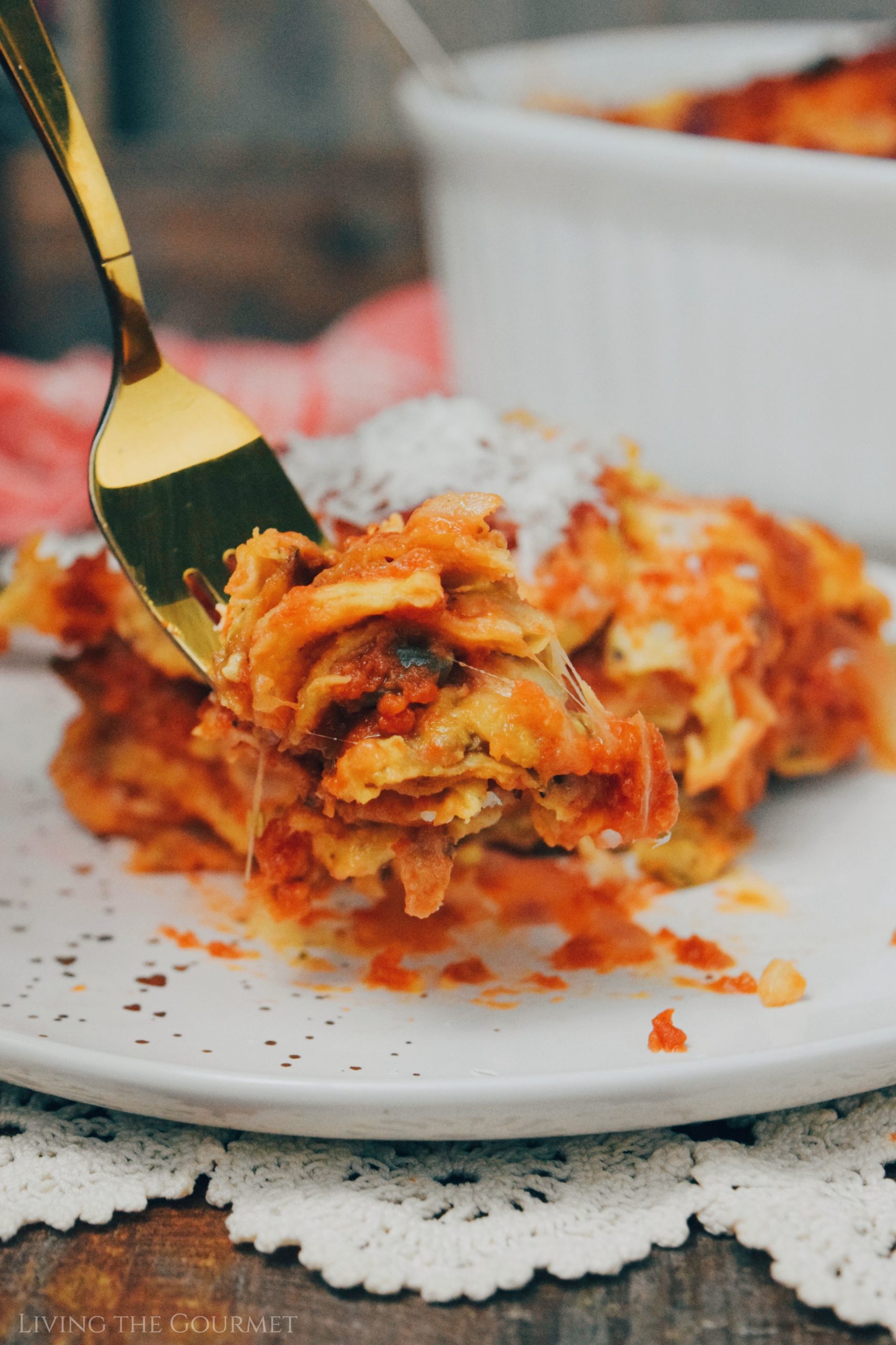 If you enjoyed today's recipe, or have suggestions for this or future content, let me know in the comments below! I love hearing from you.
Also, please be sure to like, subscribe, and share, it helps us mor than you can know.
Happy Cooking!
0