This post has been brought to you by Proshyan Distillery. All opinions expressed are my own. The following message is intended for those 21+. Please enjoy responsibly.
Today we're reviewing Teryan Extra Old Armenian Brandy, named for the prominent Armenian writer and intellectual Vahan Teryan.
This brandy has been aged for eight years, and is produced from distilled grapes grown on Mount Ararat.  To start, we'll be talking just a little about brandy, and how to tell the 'good stuff' from everything else.  After that, we'll be reviewing the Teryan Extra Old Armenian Brandy itself, as well as covering what I think are some of the best ways to enjoy this particular brandy.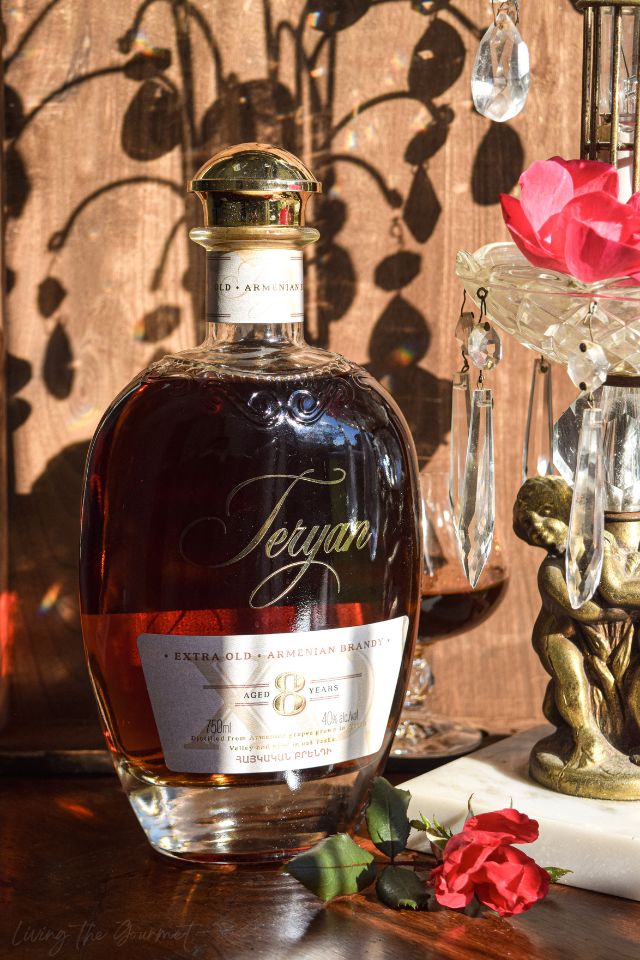 What Makes a Good Brandy? And what 'is' brandy, anyway?
Let's take those questions in reverse order.
To start, at its most basic, brandy is the result of putting wine through a distillation process. This distillation process roughly triples the effective alcohol by volume of the starting wine. Wine contains somewhere in the vicinity of 13% abv, give or take a few percentage points, whereas brandy can reach up to 60% abv. The distilled wine is then either aged, or colored with caramel in order to imitate the coloration that aging has on the liqueur. Some brandies are both aged 'and' colored with caramel. Brandy aged two years or less is considered 'unaged,' whereas the highest quality brandies can be aged up to a whopping thirty years.
Do note that brandies can also be produced from other fruits, with pears and apples being particularly popular for this purpose.
In terms of taste, think of brandy as a fruity liqueur, that's pleasantly – though subtly – sweet, that can be enjoyed on its own, usually to end off a meal. Flavors of oak or 'toasted oak' are common in aged brandies, courtesy of the wooden casks used for the aging process. As brandy ages, it becomes more mellow, but also more complex and nuanced in its flavor. Naturally, this means that unaged brandies tend to be very fruit-forward, and notably sweeter than their aged counterparts.
The Bottle – A Showcase
Today, we're reviewing the Teryan Extra Old Armenian Brandy.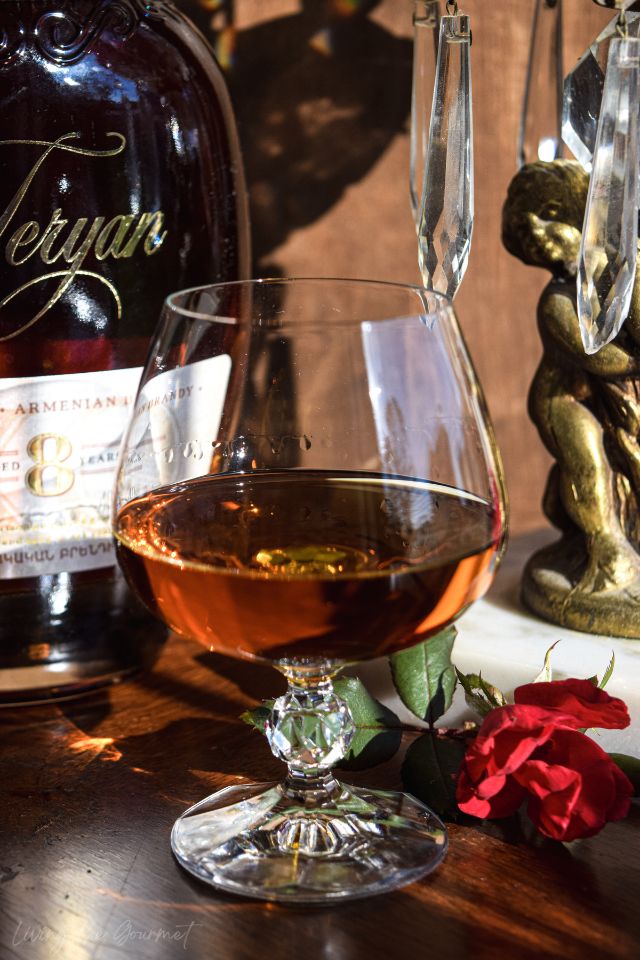 Tasting and Aromatics – The Review
The Teryan Extra Old introduces itself with a lovely deep copper color. Off the top of the glass, the brandy is intensely aromatic, featuring rich notes of molasses, chocolate, and coffee, with just a hint of what I'll describe as 'maple syrup.' On second whiff, green apple and orange rind manifest, with just a hint of lemon. On the palate, the brandy is full bodied, and quite dry, with the coffee and chocolate from the bouquet carrying over beautifully.
An excellent brandy that I can wholeheartedly recommend to my readers.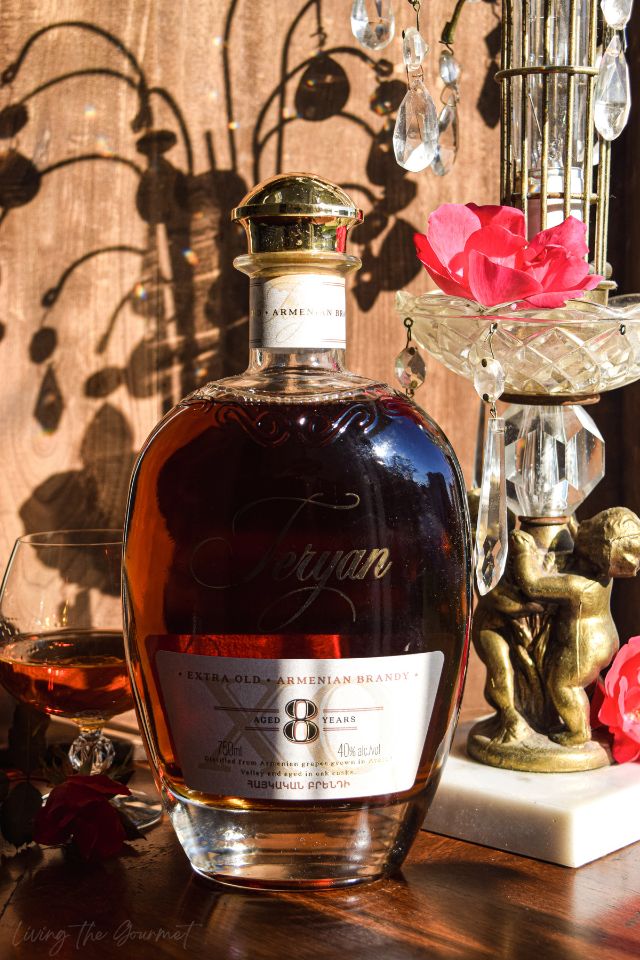 How to Enjoy The Teryan Extra Old
I would recommend drinking this particular brandy either neat or on the rocks. However, if you insist on cocktails, here are three of my favorite brandy-based cocktails.
The Brandy Cocktail. This cocktail exists almost solely to 'dress up' quality brandies that you don't want to ruin with overpowering ingredients. In a shaker, combine two ounces of brandy, half an ounce of orange curacao liqueur, and two dashes of bitters. Shake well. Strain into a chilled glass, and garnish with a lemon peel.
The Metropolitan. The Metropolitan is to brandy what the martini is to gin, or what the Manhattan is to whiskey. Again, the Metropolitan exists largely for the sake of dressing up higher end brandies. Combine two ounces of brandy, one ounce of sweet vermouth, half a teaspoon of simple syrup, and two dashes of bitters in a shaker. Shake well, and strain into a chilled glass.
The Brandy Daisy. The Daisy has been around since the late 1800s, and takes various forms. In a shaker, combine ice, two ounces of brandy, a few dashes of rum, three dashes of orange curacao liqueur, three-quarters of an ounce of lemon juice, and shake well. Then strain into a chilled glass, and top with an ounce of soda water.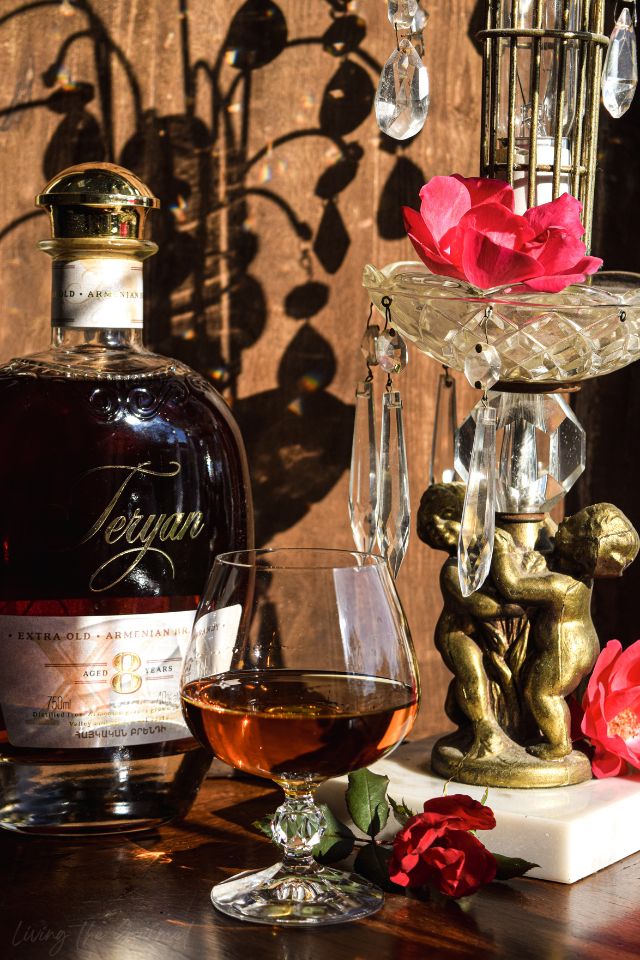 As an Amazon Associate I earn a small commission from any purchases made through the affiliate links within this post. For more information on this please see our disclosure policy. Thank you!
0