Today we're preparing an oven roasted chicken, rubbed down with a celery and fresh garlic and turmeric spice crust. The rub is pleasantly spicy, with fresh citrus and herbal notes, along with earthy and peppery essences. Crusted over the chicken, which roasts up beautifully moist and golden, it's a delicious combination.
We'll be serving the chicken over turmeric-yellowed rice, with slices of avocados, a drizzle of raw honey, and fresh lemon slices. Now, without further delay, let's get to it.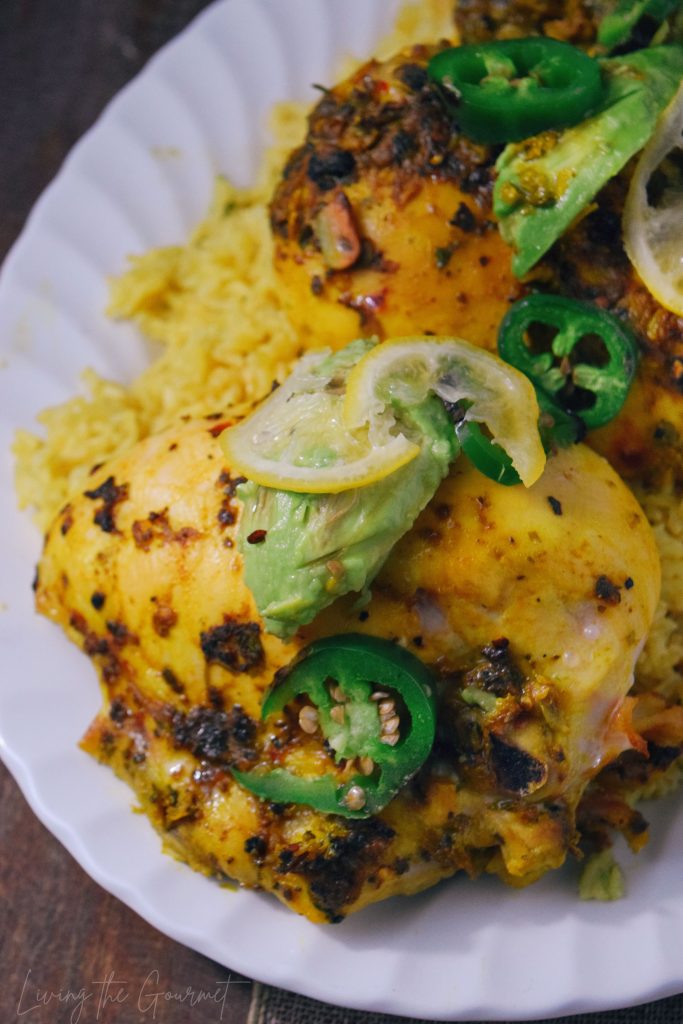 Why You'll Love Today's Chicken
1) The Rub. Easily the star of today's show, this rub is beautifully fragrant, courtesy of using my mortar and pestle everything from the celery to the dried oregano. The rub is just a touch spicy, and features layered earthy, herbal, and peppery notes. As a nice bonus, it couldn't be easier to make.
2) Versatility – Of the Rub. While today's rub goes beautifully on the chicken, this would also pair nicely on pork, especially tenderloin or a whole pork shoulder, as well as beef tenderloin.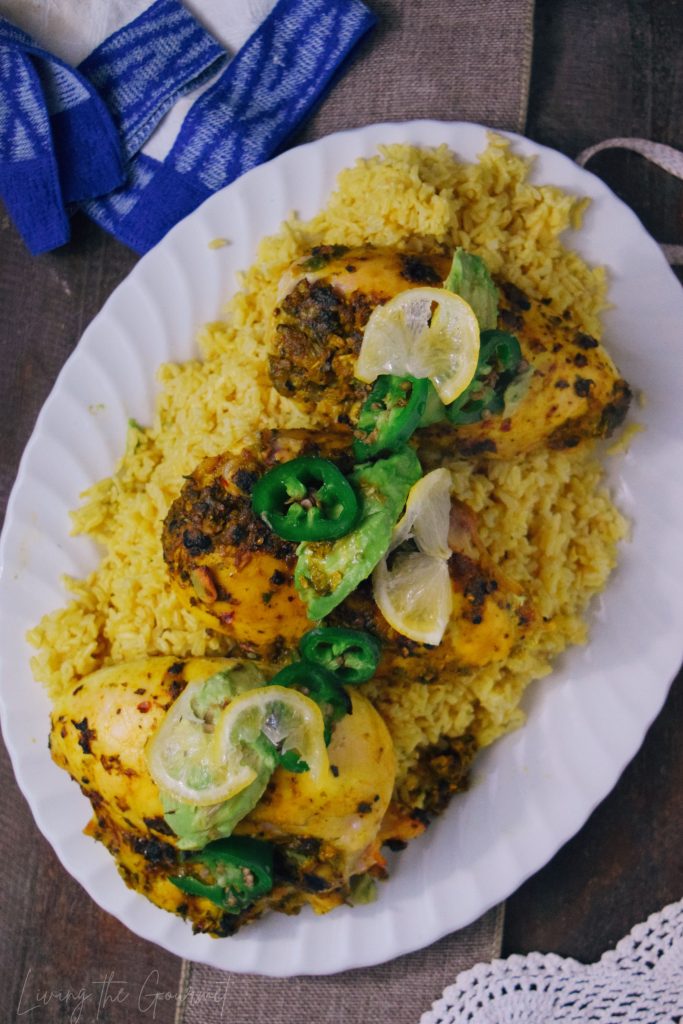 Ingredient Notes
1) Jalapenos. Ubiquitous, festive, flavorful, and just a tad spicy (yes, just a tad, more on that below), these are by far America's favorite chili pepper, and Mexico's – where it isn't uncommon for these little green guy's to be eaten as snack food. This may come as a surprise, but the secret to the success of the jalapeno has more to do with its 'bright' and 'crisp vegetal' flavor than its heat. In fact, jalapenos clock in at middling 2,500 to 10,000 units on the Scoville heat scale, and so jalapenos are best described as 'somewhat spicy.' By contrast, cayenne (which offers 'moderate' heat with a subtle 'smoky' or 'earthy' flavor) rates between 25,000 and 50,000 units on that same heat scale. For today's recipe, the jalapenos are providing background spice for our recipe.
Substitution: Any of your favorite chili peppers will substitute just fine.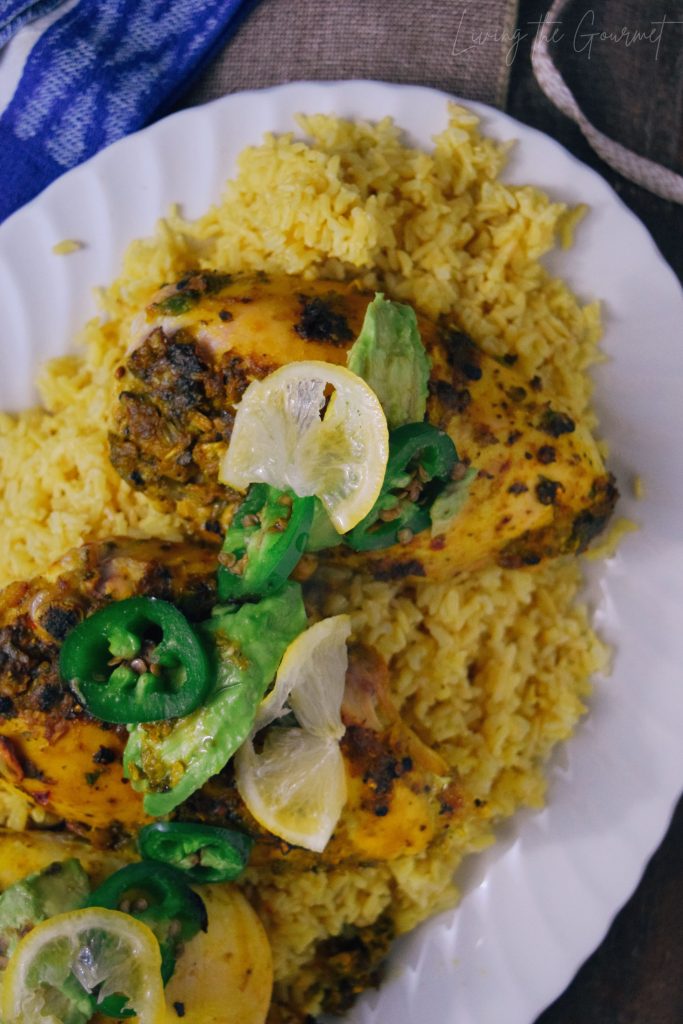 2) Turmeric. Fresh turmeric takes the shape of a gnarled and knobby root, almost indistinguishable from ginger in terms of appearance. This shouldn't come as a surprise, since the two roots are genetically very closely related. However, that's where the similarities end, as flavor-wise the two items couldn't be further apart. Whereas ginger is 'bright,' 'crisp' and 'spicy' all at once, turmeric has a 'musky' flavor that somehow coats the mouth even in the smallest of quantities, while being 'earthy' in the extreme and somewhat 'peppery.' Also, turmeric 'reddens' the foods it's added to, whereas ginger is 'color neutral.' A principle ingredient in curries, especially in Thailand, turmeric is almost exclusively used in its dried and powdered forms – although a number of Cambodian and Thai recipes do call for turmeric in fresh or pickled form.
3) Whole Peppercorns vs Cracked Pepper vs Ground Pepper. Whole peppercorns are what we're using today because we want the full aroma of the pepper, as well as the 'bright' and 'fresh' notes associated with the whole peppercorns. Seriously, bite into one of these, then compare it to cracked or ground pepper, and you'll instantly see what I mean. The cracked and ground pepper is almost 'stale' tasting by comparison, and has very little aroma.
Substitution: If you don't have whole peppercorns, or simply don't feel like grinding them down, pre-ground pepper will substitute just fine. According to Food52 one teaspoon of peppercorns equates to about a teaspoon and a half of ground pepper. However, The Spice House gives a slightly different measurement, where they state that eight peppercorns equate to about one quarter of a teaspoon of ground pepper. As there are roughly 65 peppercorns in a teaspoon (yes, I counted), this would equate to about two teaspoons. Thus, use 'about' one and half to two teaspoons of ground pepper.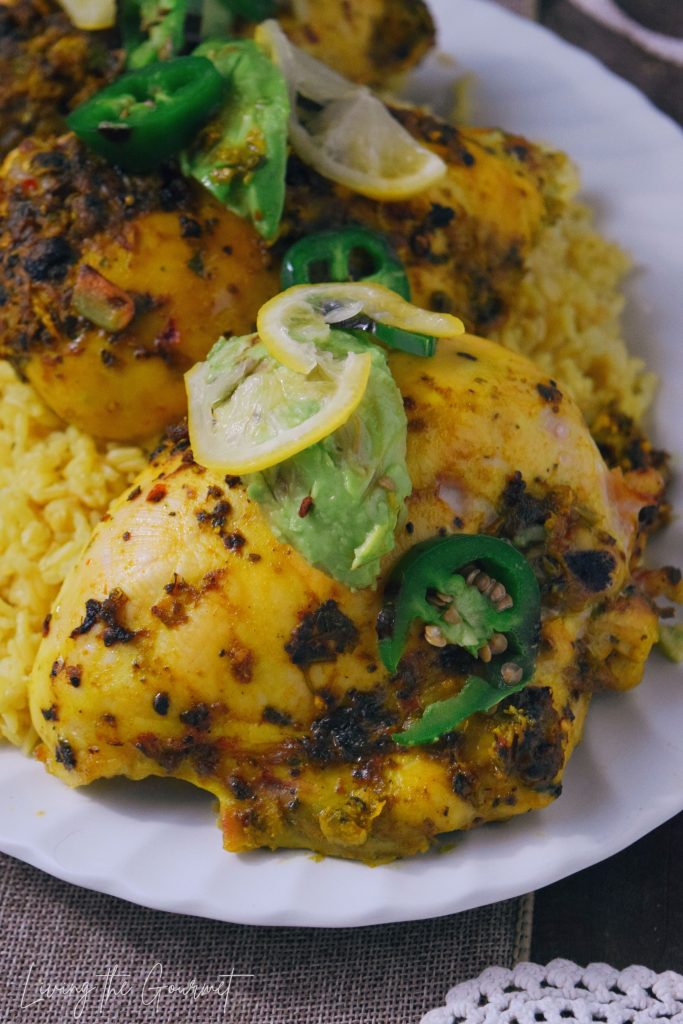 Avocados – How To Select, and then slice, an Avocado
Thankfully, we've left behind the peak of the avocado craze from a few years ago, but these things remain popular – and for good reason. Spreadable, moist, and just a tad oily with a 'neutral vegetal umami flavor,' avocados have a multitude of uses that go well beyond salads and guacamole – such as in today's recipe.
However, there's an 'art' to picking the right ones – and that's putting it mildly. More accurately, one might say that picking the right avocados is a 'maddening foray into hopeless guesswork.' Regardless, once you've got them home, how do you know when their ready eat?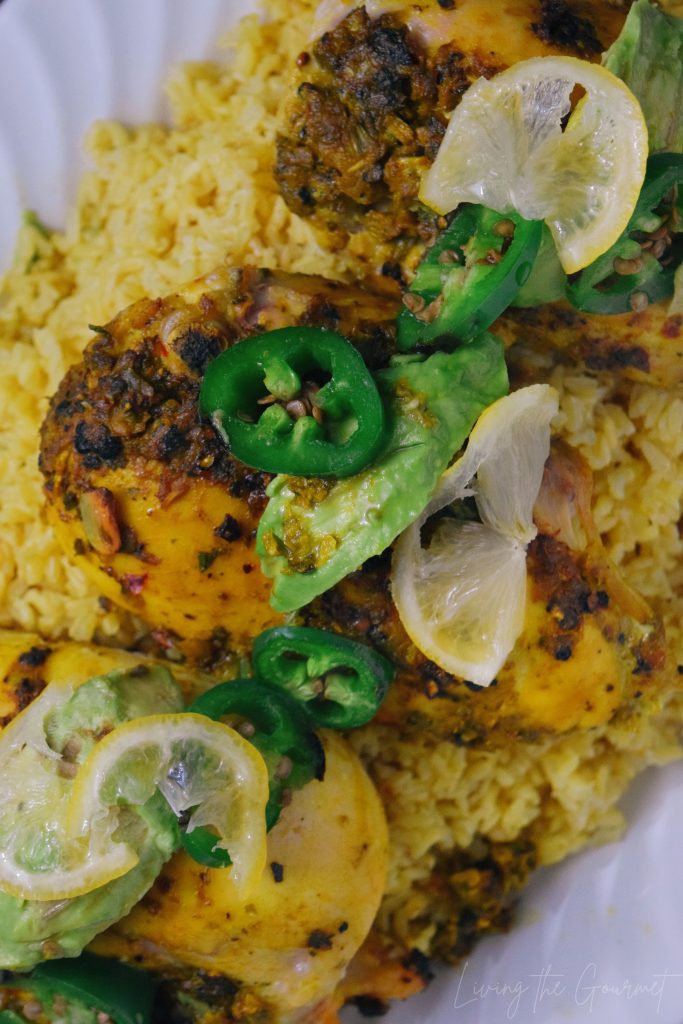 Here are a few tips for precisely those questions
1) Color First. While color varies slightly between varietals of avocado, in general if you plan on eating them within a day or two, you'll want to start by selecting avocados that are roughly lighter than 'forest green,' but darker than 'kelly green.' Hess avocados, by contrast, start off quite dark and turn almost black as they ripen. Brown, drab dark green, or splotchy black are all overripe – avoid those.
2) The Squeeze. Despite outlets ranging from ABC News to agricultural insiders pleading with consumers to stop squeezing avocados, we haven't and there's a reason we haven't – it works (kind of). Albeit, squeezing leaves behind a lot of bruised fruit, and people often aren't quite sure 'what' they're squeezing for other than that 'kind of soft means edible, maybe.' With that in mind, pressing ever so gently at the top of an avocado will tell you if it's ripe or not – no need to go giving these little green guys the stress ball treatment. If the top yields ever so slightly to gentle pressure, it's ready to eat.
3) The When. The question now is 'when' are you planning on eating them? If you don't plan on using your avocadoes 'right away,' there's no harm in stocking up on light green, rock hard avocadoes, since they'll ripen just fine at home if kept at room temperature. Remember, 'ripe' isn't synonymous with 'quality' or 'good taste,' it just means ready to eat. On that note…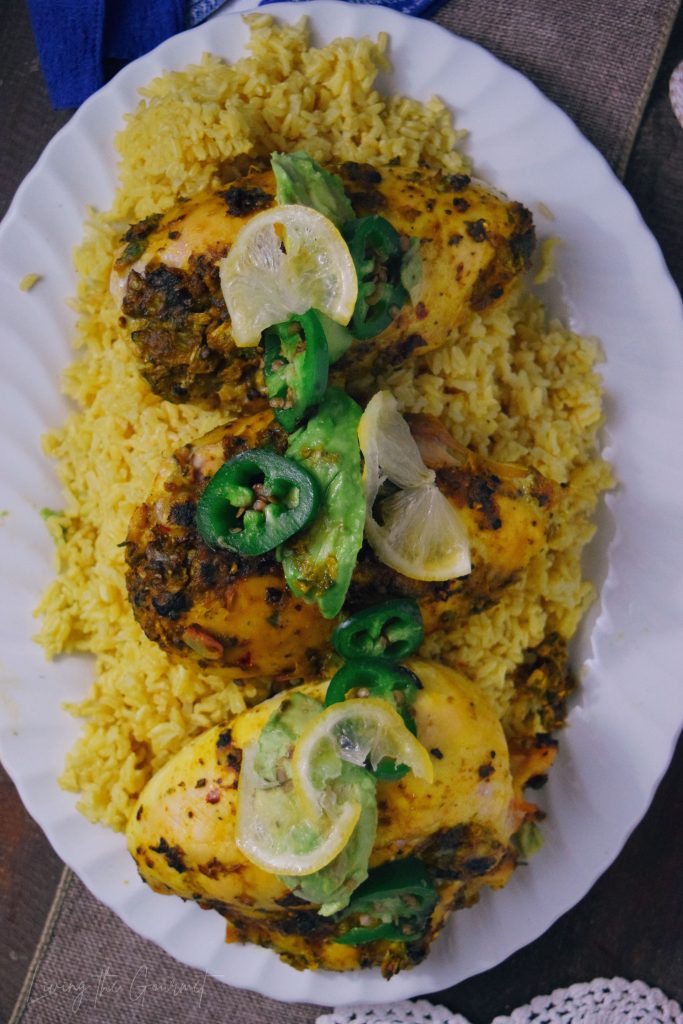 Slicing an Avocado
While this might sound like I'm bragging, I must admit that I never gave the process of slicing an avocado any thought, nor did I think this was a process people struggled with. But, lo and behold, 'avocado hand' is now a recognized 'condition.'
It seems that the slightly 'chubby pear shape,' and the almost perfectly circular oversized pit confounds some to the point of grievous injury.
So, here a few tips for slicing an avocado while keeping your hands nicely intact.
Follow these steps in order:
1) Slice it Lengthwise. Starting at the top of the thinner portion of the avocado, slice the avocado lengthwise, going deep enough until your knife hits the pit. Do this gently so as not to either dull your knife or injure yourself.
2) Continue the Slice. Steadying the knife perpendicular to the pit, continue cutting around the circumference of the pit in confident, gentle motions, until you have fully cut the avocado in half upon the axis of its circular pit.
3) Separate the Halves. It is now time to 'detach' the sliced avocado, such that you have roughly equal sized halves. Scoop out the pit.
4) The Rest Is Up To You. This part should be roughly self-explanatory, but you now have a properly pitted and halved avocado, that you can either slice onto salads, spread on bread, or make guacamole with.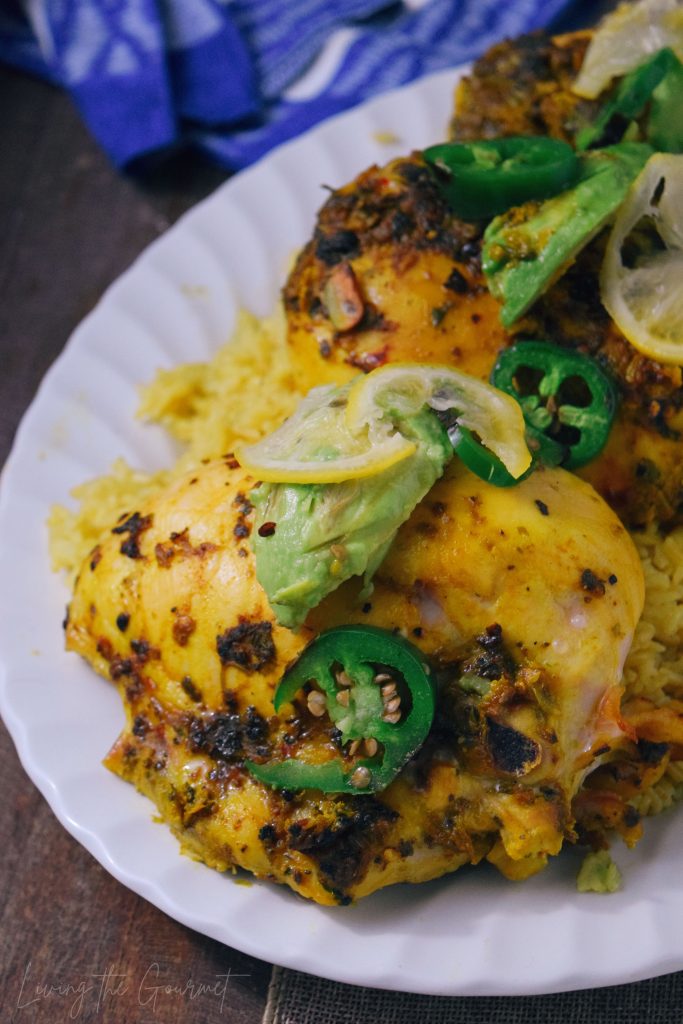 More Chicken Goodness from Living the Gourmet
1) Spicy Chicken Tacos. These tacos start off with pan grilled chicken coated in a garlic and lemon spice rub that's pleasantly hot, but also bursting with crisp citrus notes. Fresh from the griddle, we'll be piling the chicken onto homemade wheat tortillas with avocado, red bell pepper, and shredded lettuce.
2) Roast Chicken with Spaghetti. Oven baked chicken, roasted with over a bed of fresh tomatoes, red peppers, and plenty of garlic. The addition of sweet onions and white wine, creates layers complexity and warmth. We then toss all of that together with spaghetti, creating a delicious and satisfying one pan meal.
3) Cajun Spatchcocked Chicken. Spatchcocked chicken roasted in a spicy Cajun Butter. This chicken cooks up crisp, moist, and pleasantly spicy, with notes of chili and earthy undertones peppered throughout.
Print
Celery & Jalapeno Chicken
Author:
Prep Time:

15 minutes

Cook Time:

20 minutes

Total Time:

35 minutes

Yield:

4

servings

1

x
Category:

Main Dish
3

–

4

bone-in, skinless chicken breast

2 cups

of raw white rice – plus a dash of turmeric added to the water – cook the rice as directed

Fresh jalapeno – grilled

Fresh avocado – sliced

Lemon slices

Honey for drizzling
For the Rub:
Heart of the celery – about 4 stalks with the leaves

4

cloves of garlic

1 tsp

. of pepper corns

1 tsp

. of salt

1 tsp

. of turmeric

2

tsps. of dried oregano

1

tbs. of fresh lemon juice

1 tsp

. of olive oil
Instructions
Pace the peppercorns and the rest of the spices in a mortar and pestle an crush the seasonings.

Remove the seasonings and place the garlic in the mortar and pestle and crush the garlic; add the garlic to the crushed seasonings.




Add the celery with the leaves a few at a time and crush them in the mortal and pestle; then add to the seasonings.




Add the lemon juice and the olive oil to the celery, garlic and seasonings and stir.




Add this rub to the chicken breasts; cover and refrigerate for at least one hour or up to overnight.

Preheat Oven 375 degrees F.




Prepare the rice as directed with a dash of turmeric in the water to give the rice a nice golden color.




Make a rack out of celery stalks for the chicken breasts and place the celery stalks in a large cast iron frying pan.




Place the chicken breasts on the celery stalks and place in the oven.




Bake for 50 – 60 minutes or until the internal temperature reaches 165 degrees F: and the juices run clear.




Grill the jalapeno in a small cast iron frying pan until a nice char is reached on all sides.




Serve the chicken over the rice with the sliced grilled jalapeno, sliced lemon, the sliced avocado and a drizzle of honey.
Keywords: chicken, main dish, poultry
Recipe Card powered by
1