Today we're spatchcocking a chicken, and roasting it in a spicy Cajun Butter, which – if I'm being honest – is the star of today's show. This chicken cooks up crisp, moist, and pleasantly spicy, with notes of chili and earthy undertones peppered throughout.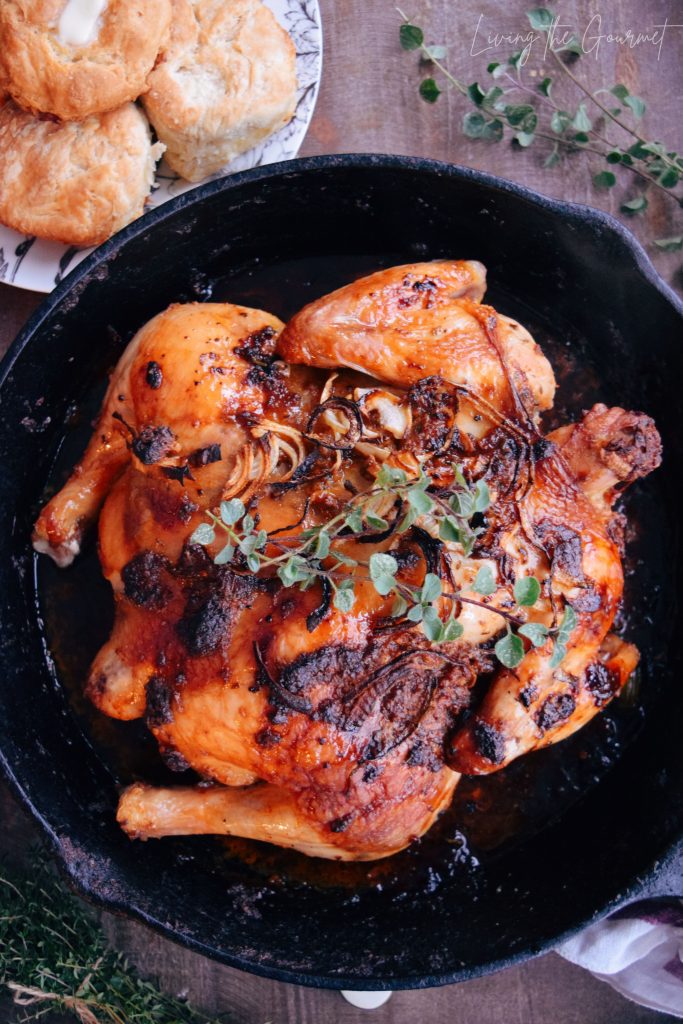 Why You'll Love Today's Chicken
1) The Cajun Butter. My son went nuts for this. It's easy to prepare, yet delicious and versatile. This Cajun Butter is something anyone who likes a bit spice should have in their culinary repertoire.
2) Super Simple…Sort Of. The spatchcocking is the hardest part of today's recipe, but once that's out of the way, today's recipe is as simple as rubbing down a chicken with butter, and then roasting it in the oven.
3) Crisp and Moist. As mentioned in the open, today's chicken remains moist beneath its crisped skin. This is due in part to the spatchcocking process, which promotes even cooking – more on that below.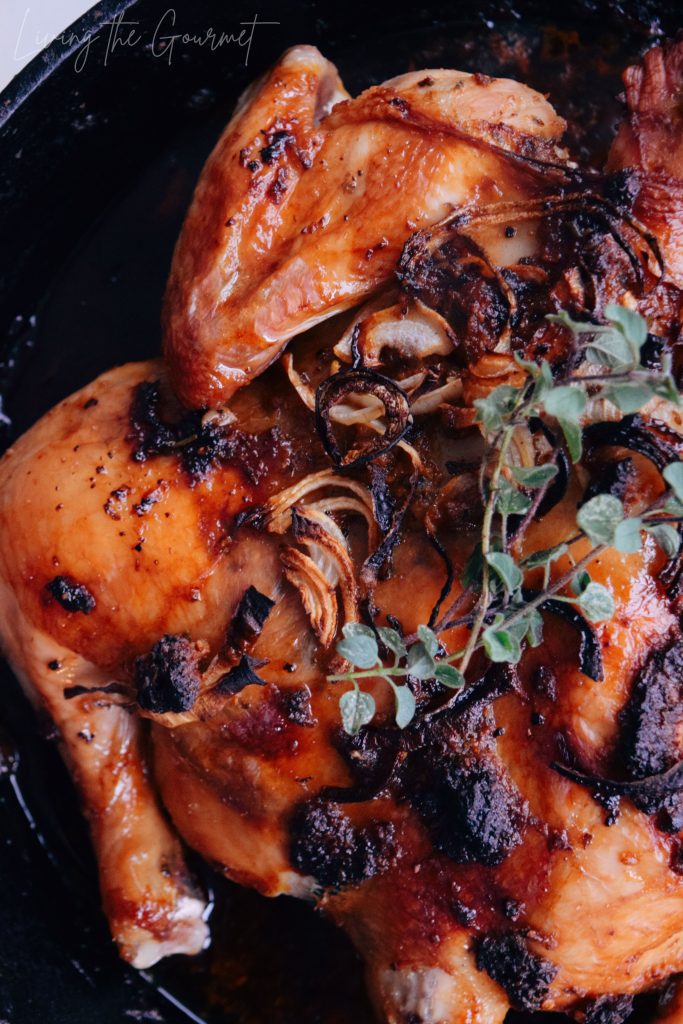 Ingredient Notes and Tips
1) Cayenne. Very few of the most iconic Cajun recipes are complete without some amount of cayenne (usually lots of it) – and today's Cajun butter is no different. However, most people are familiar with cayenne as the star ingredient in virtually all most readily available hot sauces you'll find on the shelves of your local supermarket. Cayenne Pepper is a moderately hot chili pepper, clocking in at about 25,000 to 50,000 on the Scoville Scale. However, we're using cayenne for more than just heat, since while it does possess a noticeable 'kick,' also packs a lot of 'earthy warmness,' and a bit of 'rustic spice' that you really just can't capture with many other spices, and it does so without the searing heat of chilies or other hotter peppers.
2) Lemon Juice. If you are using today's Cajun Butter as a spread, use fresh lemon juice, you 'will' taste the difference. However, if you're only using today's Cajun Butter for the chicken, feel free to use bottled.
3) Oregano. This is one of the rare occasions where fresh oregano is preferable to its dried counterpart. Today we're using fresh oregano, since the Cajun Butter features a variety of 'powerful' ingredients, and dried oregano would simply be overwhelmed to the point of vanishing. That said, there are things to keep in mind when using fresh oregano versus its dried counterpart. To start, the one word you'll likely come across when reading about fresh oregano is 'pungent,' and occasionally 'intrusive.' Fresh oregano has a tendency to steal the limelight. For this reason, it's at home in recipes with 'powerful' ingredients, or similarly 'pungent' ingredients.
4) Rosemary. One of the enduring questions I ponder is "Was rosemary made for rich, fatty foods? Or did we humans only truly begin to enjoy such foods learning to cultivate rosemary?" A perennial shrub that grows like a weed throughout the Mediterranean region, rosemary is best described as earthy, astringent, and sharp, qualities that make it ideal for both complementing and breaking through the fattiest of foods, such as lamb, pork, beef, and fatty fishes like shark and salmon. Today, we're using the rosemary to season the fattiest of foodstuffs – butter. Unlike most other herbs, rosemary maintains virtually all of its aromatics through the drying process, although the flavor profile is, in my opinion, quite muted compared to fresh. I do prefer fresh for this recipe, although dried will work nearly as well.
Spatchcocking – Butterflying with Bones. Why though?
When people think of butterflying a piece of meat, usually it's in reference to a fillet or steak, in which one is simply incising the meat such that it can be opened up and flattened out. This allows for more complete seasoning of the meat, and a quicker cooking time, in addition to more even cooking. This process is very simple, making it part of any chef's 'entry level' knifework.
Spatchcocking is the same principle, but applied to bone-in poultry.
According to the Culinary Institute of America, spatchcocking a chicken (or any whole poultry for that matter) serves those three same purposes, but with one additional benefit. Dividing the chicken allows for quicker cooking, more even cooking, and easier and more complete seasoning. In addition, it also allows for better access to the entirety of the bird for carving, especially the cavity and underside.
The basic way to spatchcock is essentially a five-part process that sounds a bit more intimidating than it actually is. First off, we begin by prepping the chicken. This involves removing the neck parts and gizzards (if there are any), and then rubbing down the chicken, inside and out, either with salt or lemon, or a mixture thereof. From there, using either a very sharp butcher's knife or a pair of butchery scissors (I strongly suggest butchery scissors for this), cut a clean pair of incisions down both sides of the backbone, from the tip of the neck down to the tail. Next, it's time to flatten the bird, this is done by pressing down fully on each of the wings until the bone cracks. No way around this, just do it. Next, most chefs will remove the wing tips – this is optional. Then, cavity-side down, place your spatchcocked chicken on your baking sheet or pan, and you're done.
Simple? No, not really. Hard? Not once you've gotten the hang of it. Worth the effort? Definitely.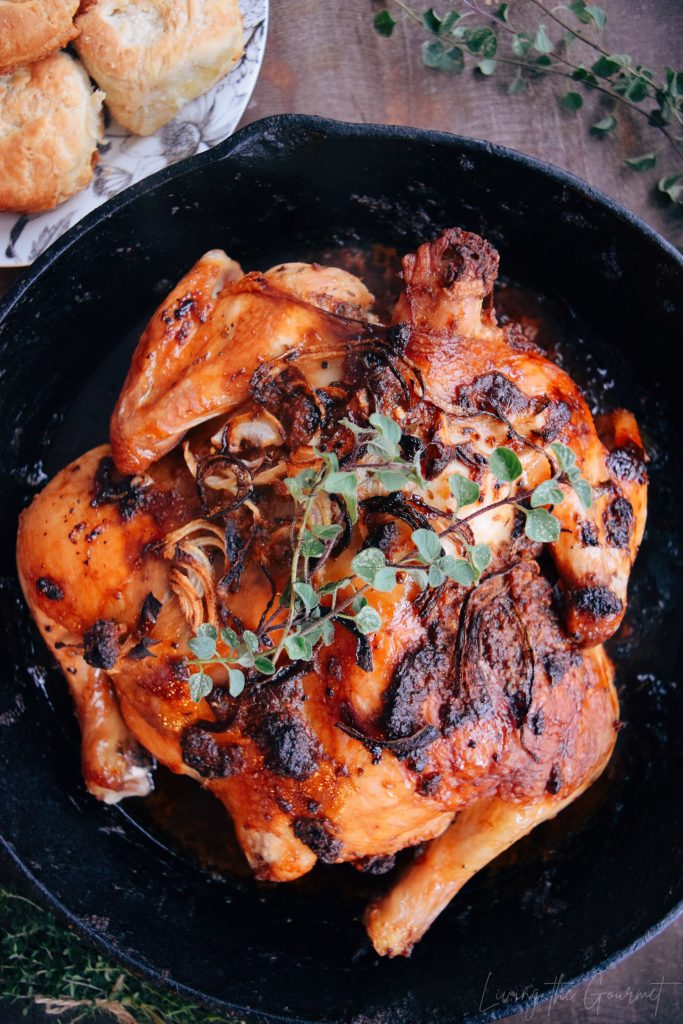 The Cajun Butter – The Star of the Show
Here are just a few more ways to enjoy today's Cajun Butter;
1) Eggs. Use the Cajun Butter in place of 'regular' butter to fry up eggs, to give your morning meal a little bit of a kick and some much needed flavor.
2) Brushed on Flatbreads. After mixing today's butter, let it soften (or simply melt it down), and then spread it onto homemade flatbreads – preferably while they're still warm. The Cajun Butter will seep into the flatbreads, infusing them with all that spicy earthy goodness.
3) Steaks. Frying up steaks in butter is delicious. Frying up steaks in Cajun Butter is 'more' delicious. Don't take my word for it, try it for yourself.
4) Cajun Garlic Bread. Rather than plain butter, swap this in for a kicked-up garlic bread.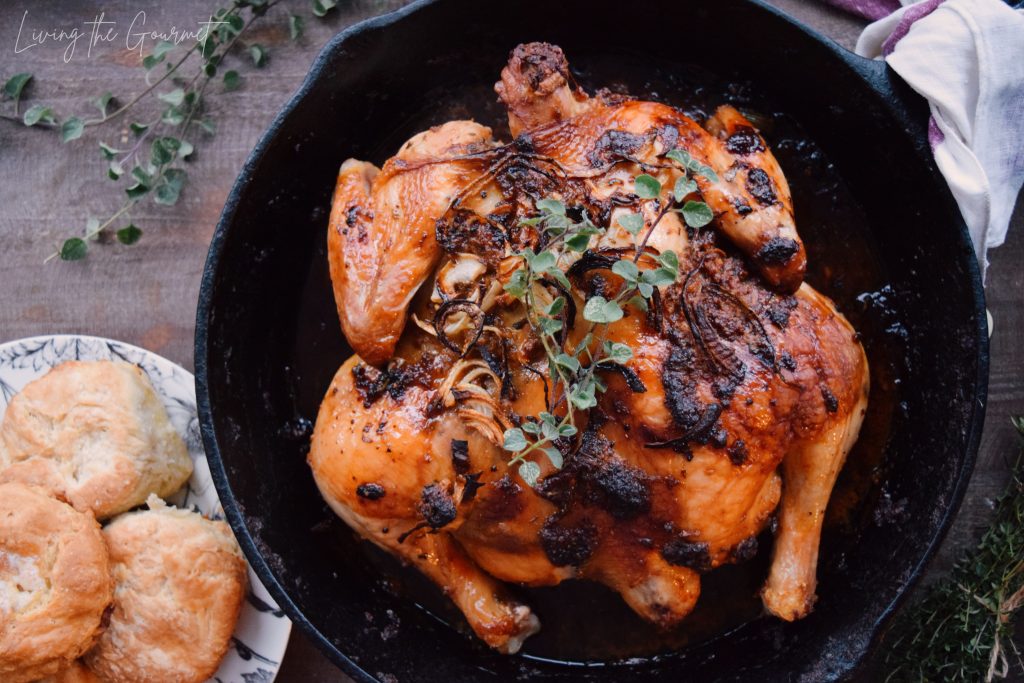 Print
Cajun Spatchcocked Chicken
Author:
Prep Time:

10 minutes

Cook Time:

2 hours

Total Time:

2 hours 10 minutes

Yield:

4

-6

1

x
5

–

5 1/2

lb. whole chicken – spatchcock style
6

–

8

cloves of fresh garlic

6

tbs. butter

2

tbs. fresh lemon juice

1 tsp

. cayenne pepper

2

tsps. red pepper flakes

2

tsps. salt

2

tbs. fresh rosemary

1 tsp

. paprika

1

tbs. fresh oregano

2

tbs. fresh thyme
Instructions
Clean the chicken and pat dry with paper towels.

Lay the chicken breast side down and using a sturdy kitchen knife carefully cut along the backbone.

Open the chicken and lay the chicken open side down and press down on the chicken.

Combine all of the ingredients for the Cajun butter in a food processor and process until smooth.

Carefully lift the skin and rub the chicken under the skin with the Cajun butter.  Rub a little on top of the skin too.

Loosely cover the chicken and place in the refrigerator for at least one hour or up to overnight.

Preheat the Oven 375 degrees F:

Cook the chicken for 20 minutes per pound plus an additional 10 – 20 minutes at a temperature of 375ºF.

Roast the chicken, until the dark meat reads 165° on a meat thermometer and the juices run clear.

Let the chicken rest about 12 – 15 minutes before carving.  Serve & Enjoy!
Keywords: spatchcock chicken, chicken, poultry, dinner, main dish, entrée, Cajun seasoning
Recipe Card powered by
0