This post has been sponsored by Kisoondo. All opinions expressed are my own.
Today we're putting together a batch of air-fried Sweet Potato Wantons, which we'll be pairing with a strawberry gochujang marinated steak platter. The combination is sweet and just a bit spicy, with delicious warming notes of red chili and earthy umami. We'll be doing all of this with a little (a lot of) help from my new friends over at Kisoondo, producers of premium Korean products since 1972, but more on them in just a minute.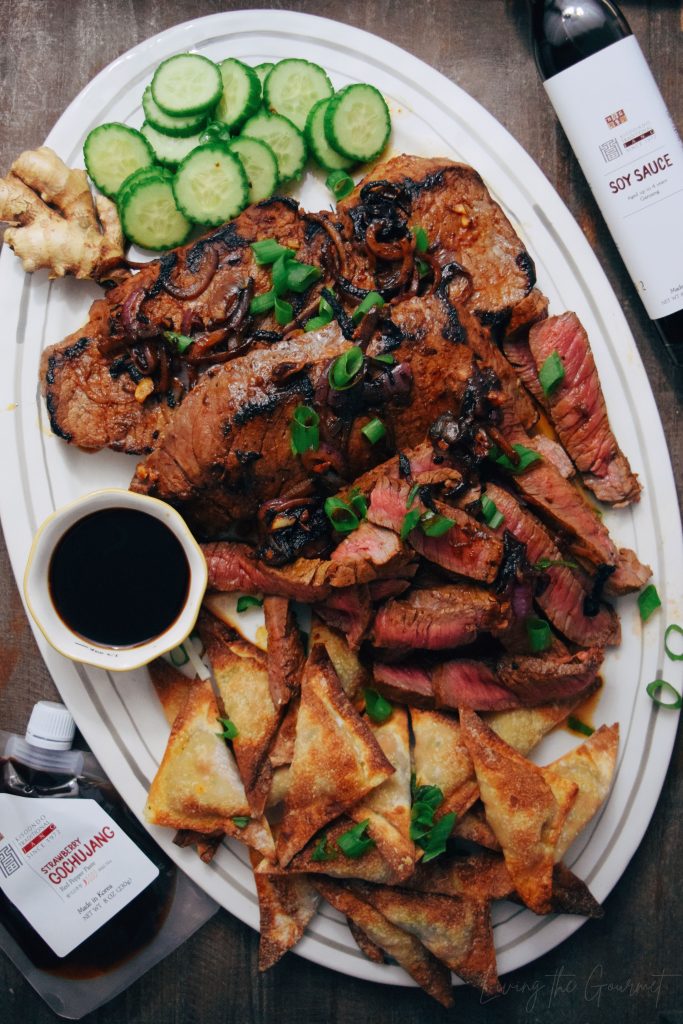 Why to try today's recipes
1) The Wantons. Today's wantons stray a bit from the usual fried wanton formula. Featuring a sweet and spicy mix of sweet potatoes and jalapenos, along with ginger and red onion, these wantons feature a pleasantly complex medley of flavors. While I'm air frying mine, you can of course deep fry or pan fry to achieve the same delicious results.
2) Versatile. Today's beef platter would pair deliciously with things like eggrolls, seaweed salads, stir fried noodles, roasted peppers, or simply a bed of dark leafy greens. It would also be delicious sliced thin in a sandwich, or mixed in with those previously mentioned stir fried noodles.
3) The leftovers are delightful. If you've got any beef leftovers, the possibilities are limitless. While it heats up nicely as is, consider chopping it up into stir fry, or adding it to your favorite peanut sauce with noodles, or slicing it thin for a sandwich. Similarly, the wantons heat up quite nicely either in a dry cast iron pan or in the toaster oven.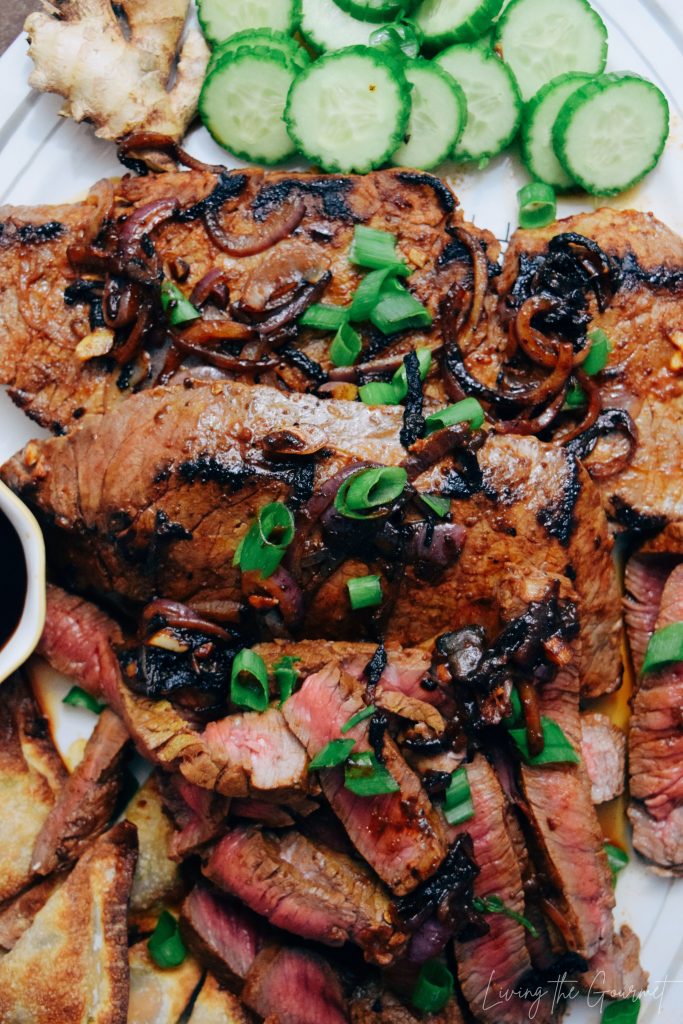 Ingredient Notes and Tips
1) Gochujang. What is it? Gochujang is Korean chili paste, and is roughly equal parts spicy, sweet, and savory (or smoky). Like 'most' commercially available chili pastes, gochujang is super versatile, being a great way to add spice to everything from sauces to dips to marinades. For that reason, chili paste has been a 'forever staple' in my pantry for almost three decades now. I became acquainted with bottled chili paste back in the early-1990s via a local Korean market, which stocked a single variety of Indonesian-style chili paste; 'sambal,' which has a watery consistency and is more of an 'ingredient' as opposed to being a 'sauce' or 'condiment.' Ironically, despite becoming acquainted with bottled chili paste via this Korean market, I had no idea that Korean-style chili paste, or 'gochujang,' even existed until my son introduced me to it earlier this year. Much to my surprise, I found it to be spicy, sweet, and savory all at once, with smoky notes lingering in the background alongside a pleasant 'saltiness.' It's also quite thick, having roughly the consistency of brown mustard, as compared to the somewhat 'watery' consistency I had become accustomed to in the 'oelek' variety of sambal. A cursory look at the primary ingredients in gochujang was enough to 'decode' its pleasantly complex flavor profile. Those primary ingredients include glutinous rice (the source of its thickness), fermented soybeans, Korean Red Chilies (capsicum anuum), and bamboo salt. The sauce's sweetness comes largely from the glutinous rice, but is added to via the choice in chilies, since capsicum anuum has a decided sweetness lurking beneath its heat.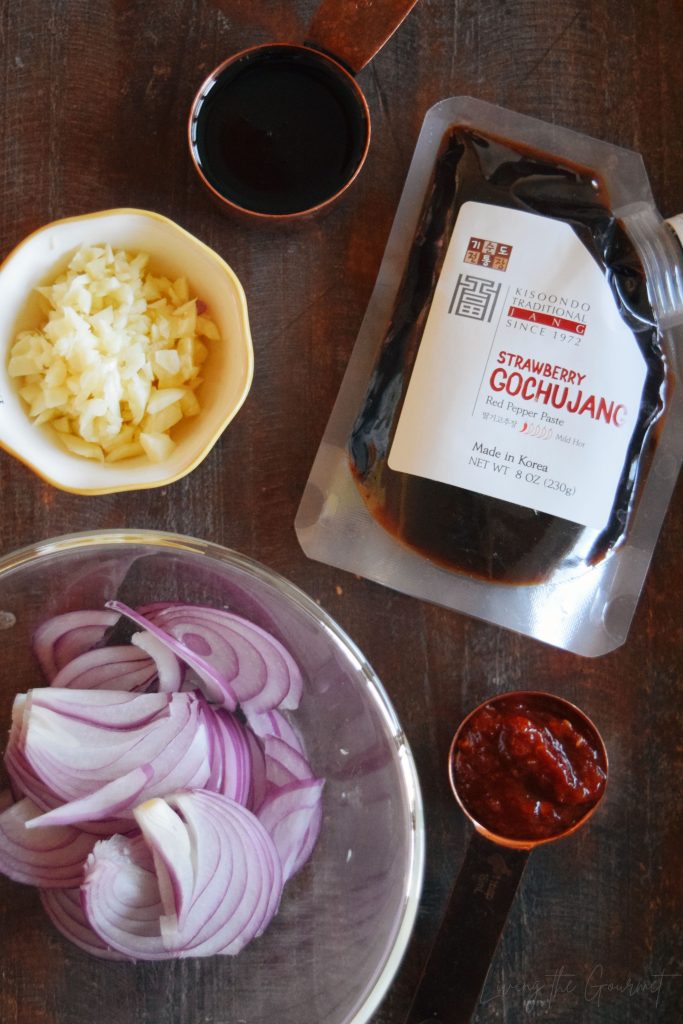 For today's recipes, we're using Kisoondo Strawberry Gochujang. Kisoondo is a producer of premium Korean sauces and fermented pastes, but what makes their products special is that they are produced using traditional techniques. For example, in the production of their Gochujang, organic ingredients are matured in ceramic pots, as opposed to being machine or vat fermented, which enhances natural flavors, preserving the best qualities of what makes gochujang so appealing. In addition, Kisoondo's gochujang's ingredient list is pleasantly lacking in anything that requires a chemistry degree to pronounce, featuring no artificial preservatives or artificial flavors. Red peppers, strawberry, fermented soybean powder, the glutinous rice mentioned above, along with bamboo salt and malt, is all you'll find on the back of the package. For quality gochujang, Kisoondo is the brand you want.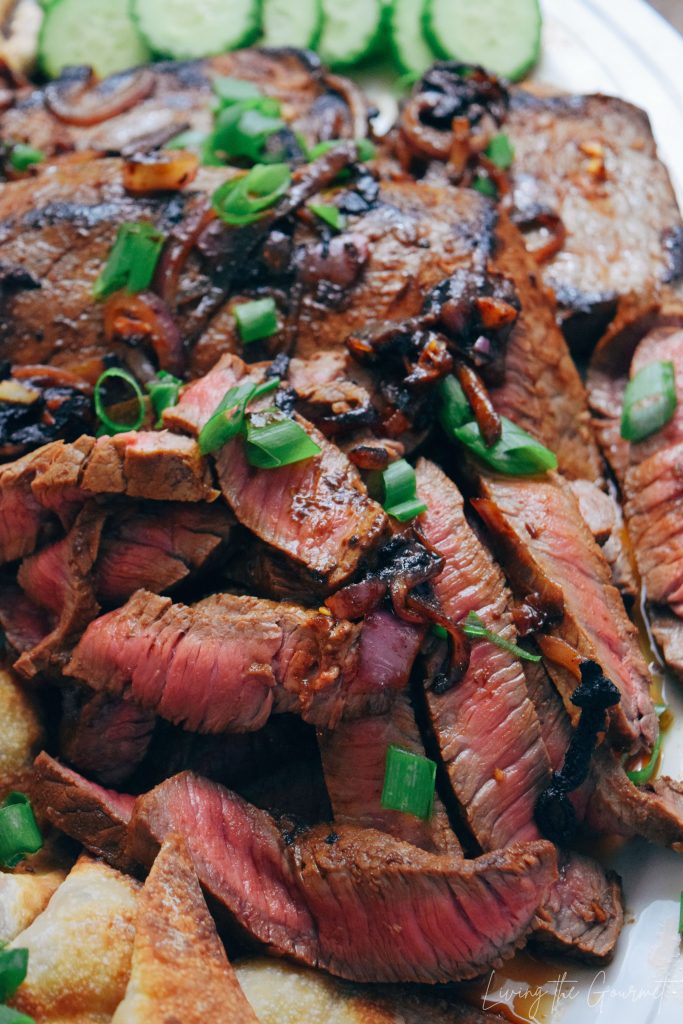 2) Soy Sauce. The two principle types of soy sauce are 'light' and 'dark.' Light soy sauce is probably what most people think of when they think of 'soy sauce.' It's 'thinner,' having roughly the consistency of vinegar, and is sharp and salty tasting. Dark soy sauce is notably thicker, and somewhat sweet.
Today's Soy Sauce. A light soy sauce that's been aged for up to four years, Kisoondo's Traditional Soy Sauce is produced from hand-harvested, naturally grown soy beans in Damyang. The soy sauce features a deep umami flavor that really speaks to its quality. This soy sauce, to me, is best used for dipping or as a base for homemade sauces, it's just that good.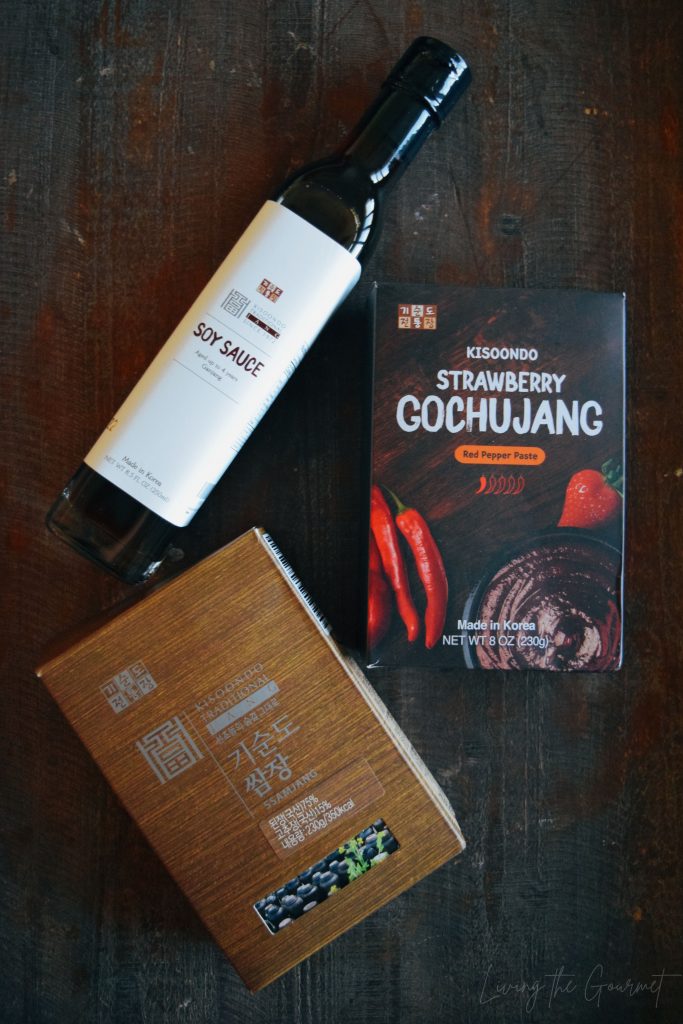 3) Yams vs Sweet Potatoes – What's the difference? The answer is "Everything but usually nothing." In most American grocery stories, according to Alyse Whitney writing in 2017 for Bon Appetit, yams are almost always simply orange-fleshed sweet potatoes. Thus, for practical purposes, if you're shopping in America, there is 'not' a difference between the items you see labeled as 'yams' and sweet potatoes. Sorry about that. In reality, yams are a wholly different root vegetable, closer in taste and texture to yucca than to sweet potatoes. If you've ever eaten yucca, you're well familiar with its starchy texture and signature flavor, which might be described as 'mildly nutty' and 'moist-tasting yet dry.' Completing the comparison to yucca, real yams have a firm outer skin that looks more like tree bark than potato skin. Why did supermarkets start intentionally mislabeling orange sweet potatoes as yams? Because in the 1930s Louisiana farmers decided to start calling their orange-fleshed sweet potatoes 'yams' to differentiate them from the sweet potatoes being grown elsewhere in the country. The label stuck, and here we are.
Asian Style Sweet Potato Wantons
INGREDIENTS:
1 large sweet potato – peeled and boiled until fork tender
3 – 4 garlic cloves – chopped fine
1 tbs. sesame oil
2 tbs. soy sauce
1 hot pepper – habanero or jalapeno – diced with or without seeds
½ of a small red onion – diced
3 – 4 tbs. fresh Italian parsley or cilantro – stems removed and chopped
1 scallion – chopped
1 inch piece of ginger – chopped fine
Wontons wraps
INSTRUCTIONS:
Cook the sweet potato until fork tender. Drain and place in a large bowl.
Mash the sweet potato with a potato masher.
Add the chopped garlic, hot pepper, onion, parsley, scallion and ginger and incorporate.
Add the sesame oil and soy sauce and again toss.
Place the wonton wrapper on a clean surface and prepare a small dish of water at your work station.
Dip your finger in the water and go around the edge of the wonton wrapper with your finger.
Using a small teaspoon place the sweet potato filling in the center of the wrapper. Do Not put too much filling in the center or the wrapper will not close properly.
Fold the wrapper in half and press the edges with a fork to seal.
Cook in air-fryer at 350 degrees F. for 5 – 7 minutes or until a beautiful golden color.
Serve with soy sauce for dipping.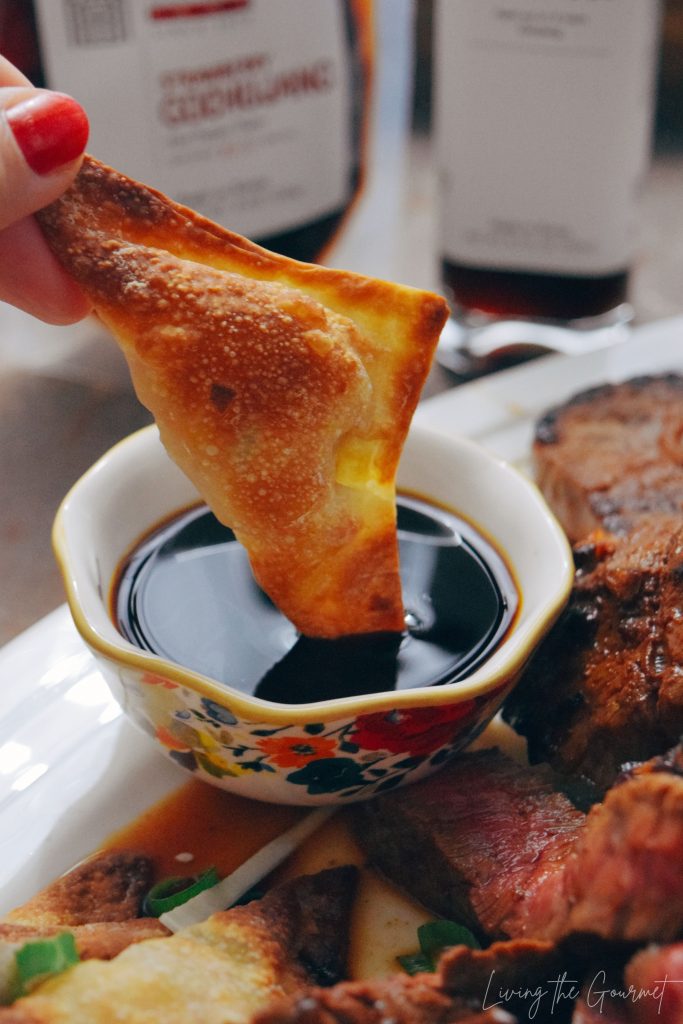 4) Sesame Oil – What is it? A staple ingredient in cuisines from East Asia to India, to the Mediterranean and North Africa, sesame oil is used for a range of applications – although it is most recognizable in stir fry recipes. Sesame Oil, however, is probably best described simply as an 'edible vegetable oil derived from sesame seeds,' since it serves the same cooking applications as corn oil or olive oil, as opposed to something like chili oil – which is more of a flavoring oil than a cooking oil. That said, unlike corn oil or vegetable oil, sesame oil is 'not' flavor neutral. Being quite fatty, sesame oil is much more richly textured than most other cooking oils, and also has – unsurprisingly – a very distinct 'nutty' flavor to it, which carries over to the recipes in which it is used. This distinct nutty flavor is further enhanced if using 'toasted' sesame oil.
View this post on Instagram
Print
Strawberry Gochujang Marinated Steak
---
Author:

Total Time:

2 hours 25 minutes

Yield:

4

-

6

1

x
2

lbs. London Broil

1

small red onion, sliced thin

5

large cloves of garlic, minced

3 tablespoons

Kisoondo Strawberry Gochujang

1/4 cup

vegetable oil

1 tablespoon

Korean chili paste
---
Instructions
In a large bowl, combine all the ingredients for the marinade and toss until the steak is completely coated.  Cover and let marinate in the refrigerator for about 2 hours.
Heat a large cast iron pan, grill the steak until desired doneness.
Serve with your favorite sides and soy sauce for dipping.
Prep Time:

5 minutes

Inactive Prep Time:

2 hours

Cook Time:

20 minutes

Cuisine:

Korean
Keywords: korean cuisine, gochujang, beef, steak, london broil
Recipe Card powered by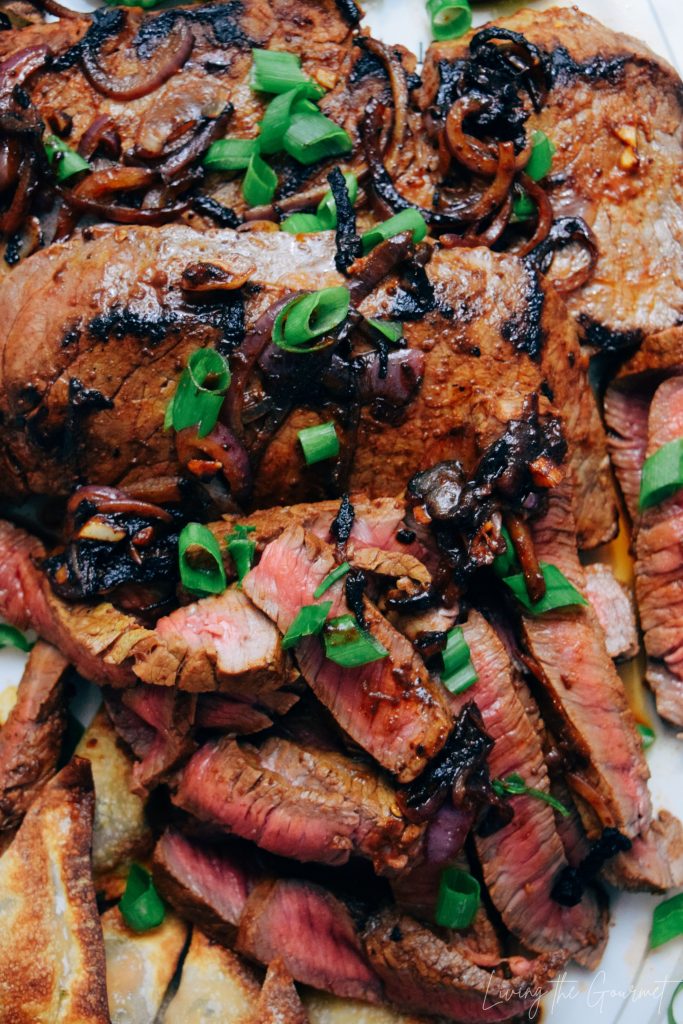 0