Grilled peaches, tangy goat cheese, jalapenos, and sweet balsamic are just some of the outstanding notes of today's pizza. It's a perfect way to enjoy the flavors of the season.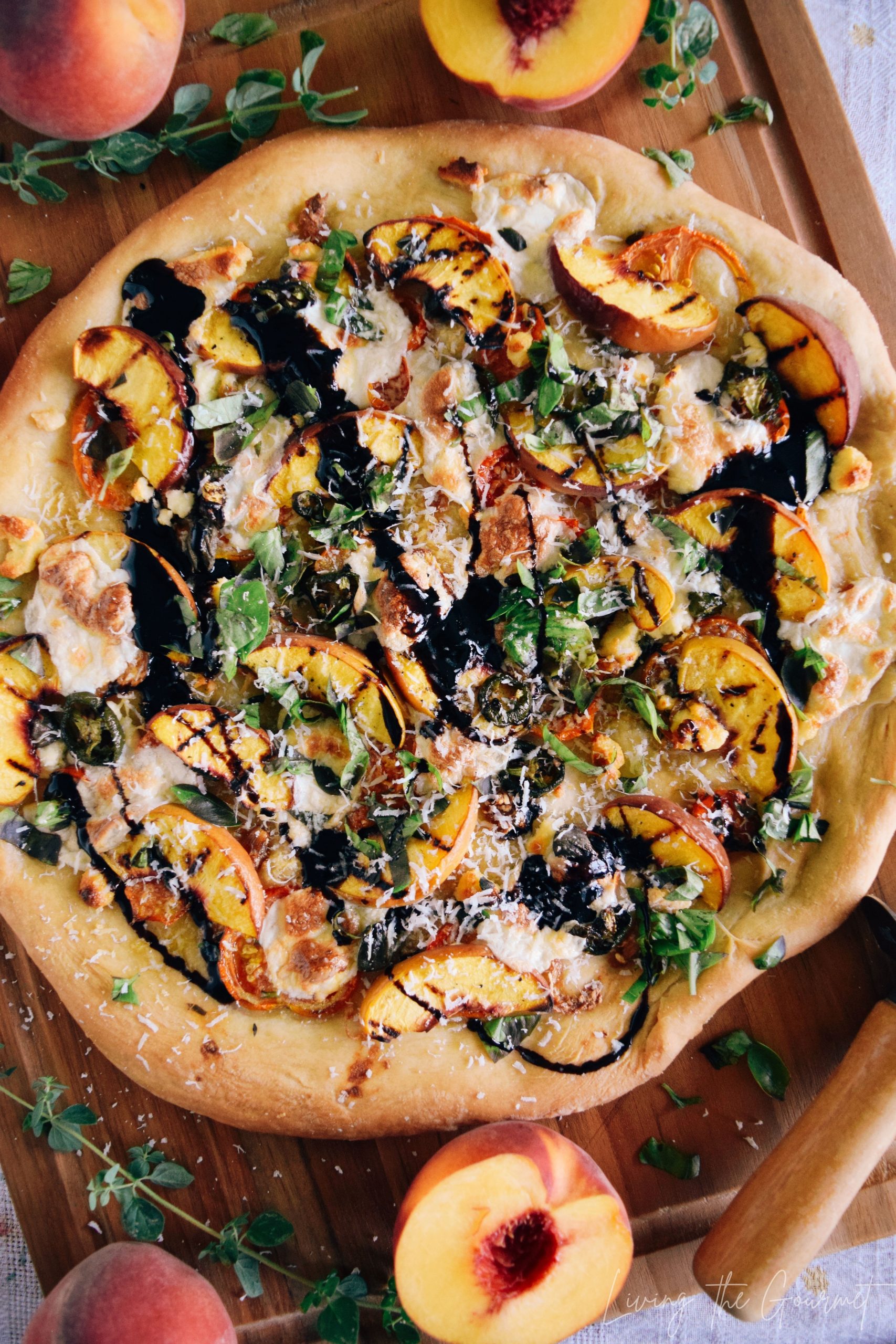 It's a decades old debate, but does fruit really belong on pizza?
Ask Gordon Ramsay and he'll tell you fruit- particularly pineapple- has no place on pizza. That should be enough to satisfy sceptics. Actually, it is enough for most…
Admittedly, I can be real a hard-nosed food snob. Haling from New York, when it comes to pizza, I have very strong opinions. The crust should be thin, but not too thin that it snaps if you fold it. Fresh is always better- dollops of soft cheese as opposed to grated, though I can be a bit more lenient on this rule. If you're using sauce, make it a thin layer; if you're using fresh tomatoes, make the slices thin but use beefsteak or cherry tomatoes (halved). I prefer fresh herbs or seasoned oil rather than meat toppings- if you do choose meat, choose one. We won't even speak about pasta on pizza. Also, hold the fruit.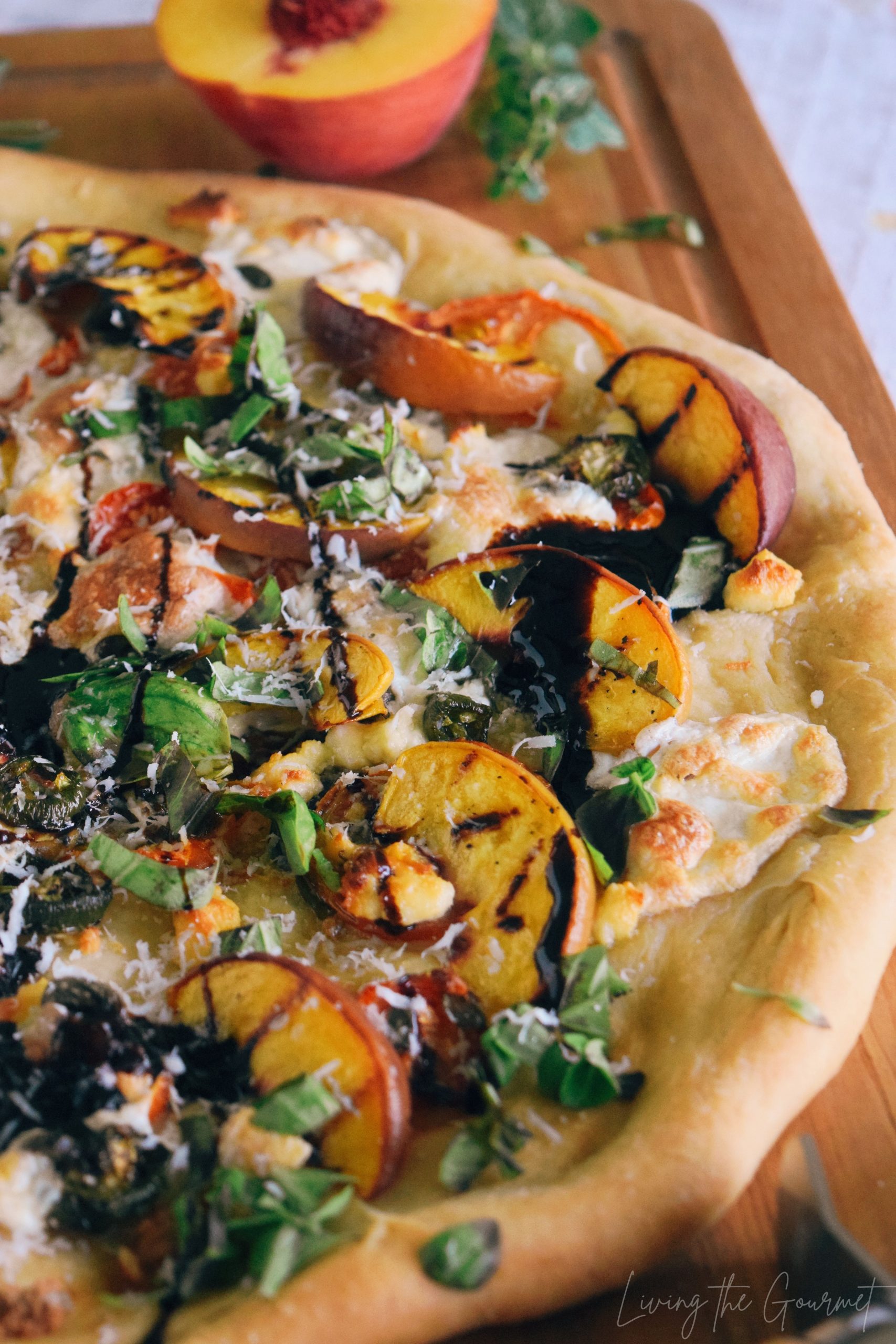 I had some peaches on the counter and a package of goat cheese that I had no idea what to do with. Then I got this wild idea to make a pizza with the two and finishing it off with a balsamic glaze.
I hope you liked this recipe. If you are as addicted about cooking pizza as I am and ready to turn your passion for cooking into a career, try to find a pizzaiolo job and let the adventure begin!
As I was savoring this unexpected impromptu meal, I realized something- I had just broken my own rule.
I had an internal moment of reflection, maybe you could even call it a revelation- an awakening? What else had I been wrong about?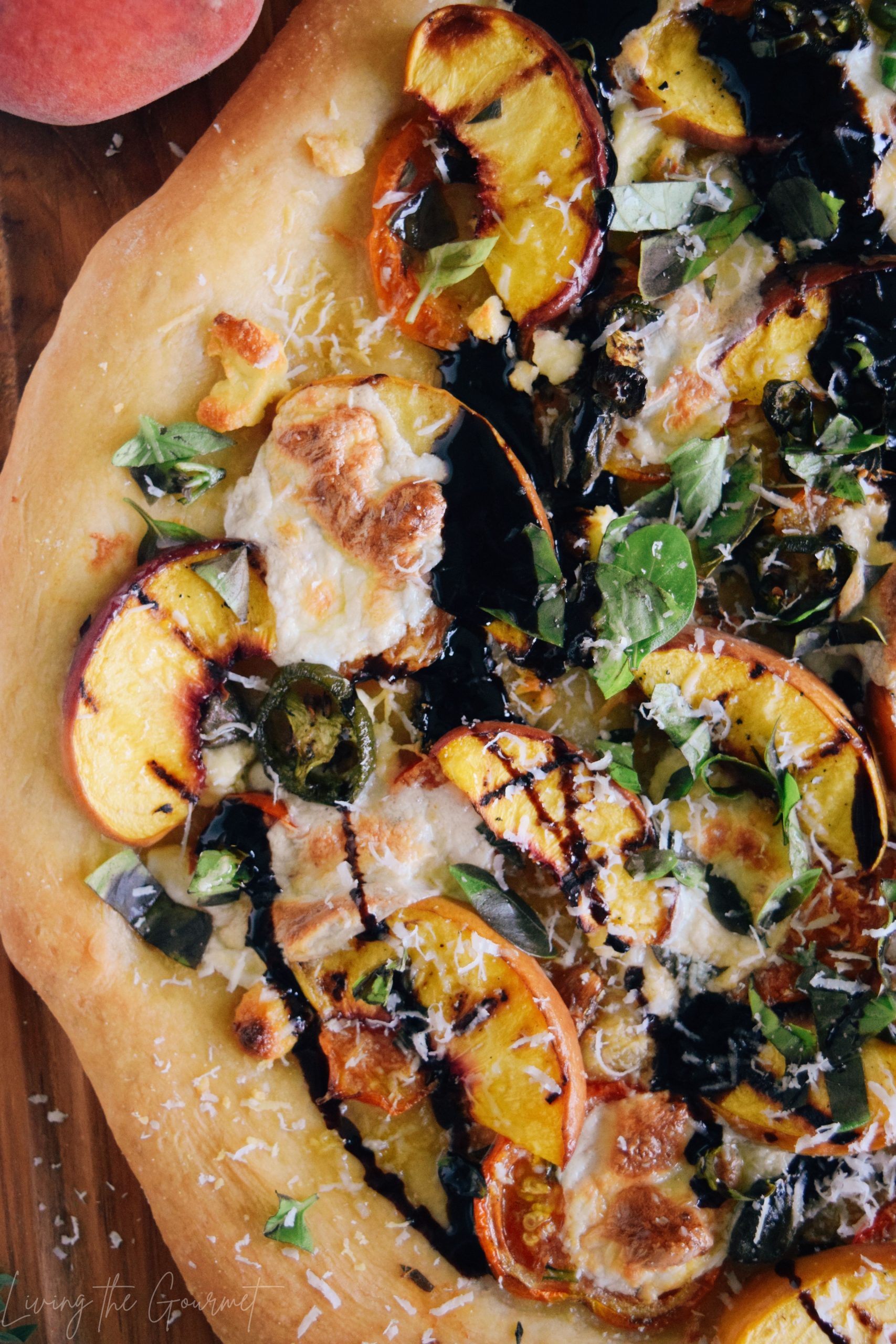 As stubborn as I may be, I'm also pretty damn humble. In today's case, I have no problem admitting I might have been wrong about fruit on pizza since I'm taking credit for said pizza. Who knows, maybe pineapple does belong on pizza…(verdict coming soon).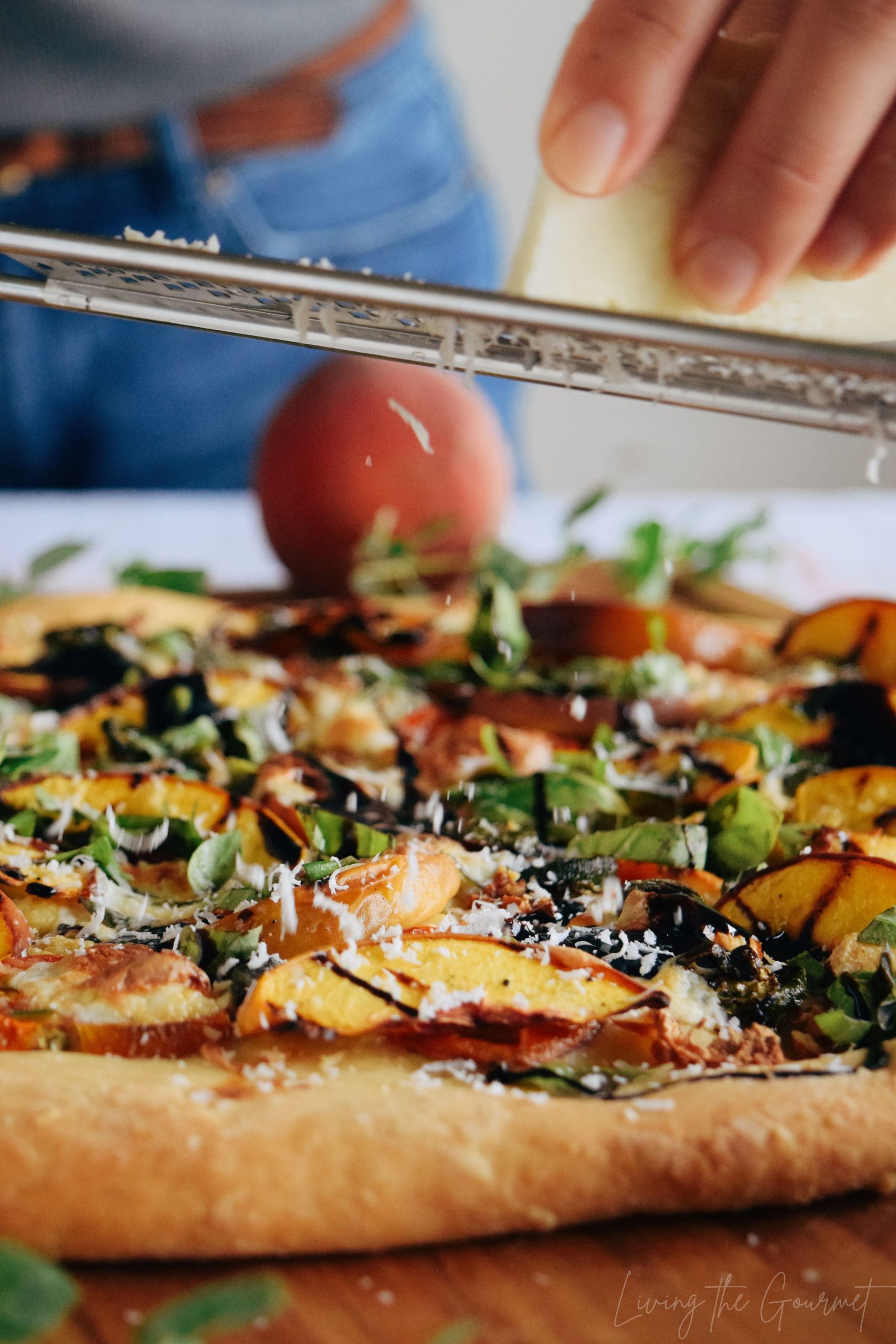 There are some important takeaways from today's recipe (aside from the fact that fruit on pizza is actually damn delicious). I grilled the peaches and topped them on the pizza after it was done baking. I did this for two reasons: 1) if your peaches are juicy and very ripe, you don't want that juice baking out onto the pizza. 2) there is no reason to cook your peaches twice.
The next important note is the balsamic. I love this balsamic glaze but you can certainly make your own balsamic reduction. The balsamic vinegar really ties the flavor profile together. It's a perfect combination of sweet, spicy salty, and tangy.
The result is a pizza that is light but also satisfying. There are no heavy sauces here, hearty meats, or even an overabundance of cheese. The flavors are fresh and playful. Truly a perfect summer edit as far as pizza goes.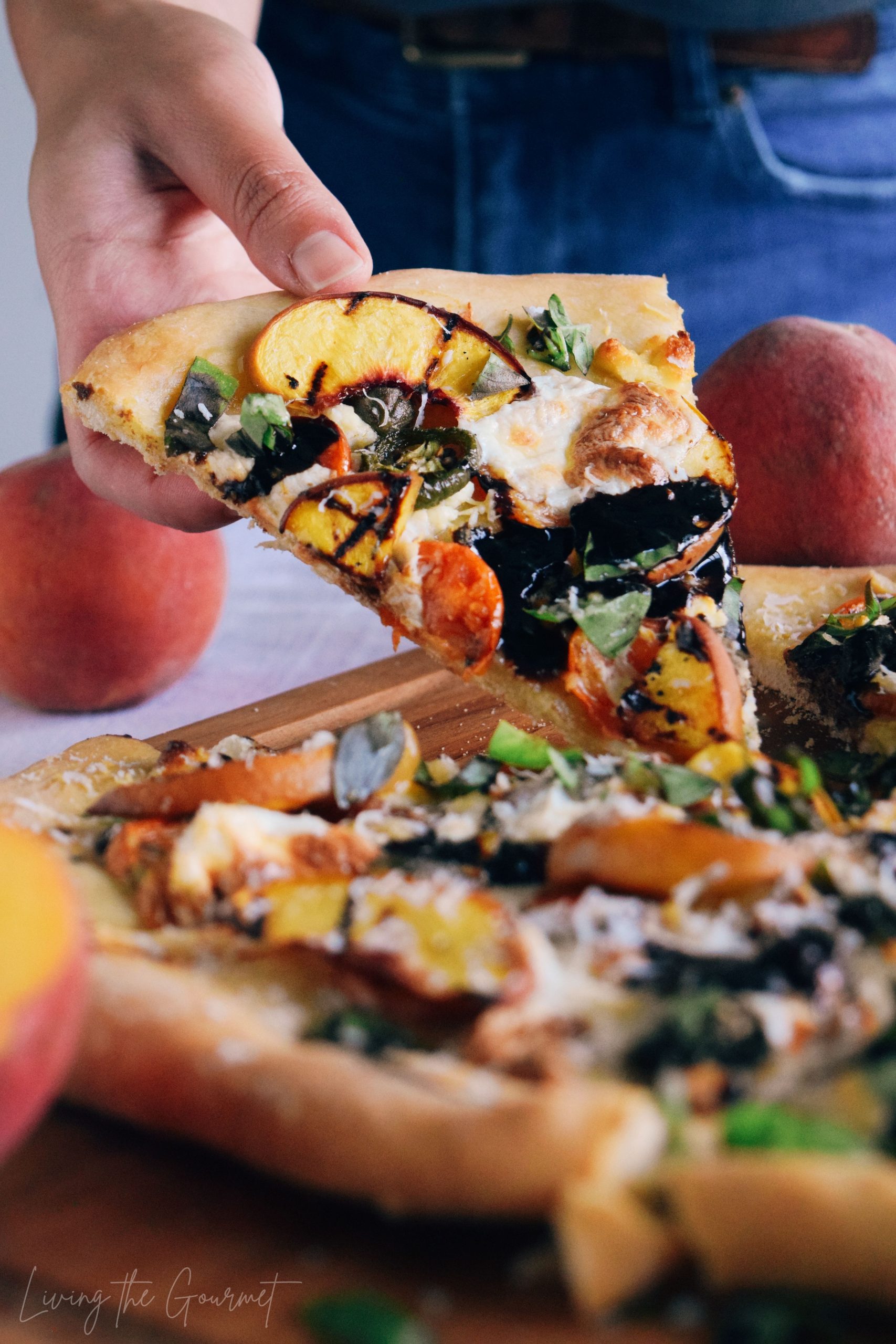 Print
Grilled Peach & Goat Cheese Pizza
Author:
Prep Time:

15 minutes

Cook Time:

25 minutes

Total Time:

40 minutes

Yield:

2

pizzas

1

x
For the dough:
1

packet active dry yeast

1

cup

warm water

1 teaspoon

sugar

3

cups

AP flour

1 tablespoon

Kosher salt

1/4

cup

extra virgin olive oil
Toppings:
2

peaches, sliced (best if the peaches are slightly underripe)

2

jalapenos, sliced

4

ounces

goat cheese

8

ounces

fresh mozzarella

3

cloves garlic, minced

2

cups

cherry tomatoes, halved

2 tablespoons

capers

2 teaspoons

red pepper flakes

1 tablespoon

fresh oregano, finely chopped
Handful fresh basil, roughly chopped

4

ounces

Parmesan cheese, grated
Olive oil, for drizzling
Balsamic glaze, for serving
Instructions
Begin by proofing your yeast by dissolving the yeast and sugar into a cup of warm water. Let stand for about 10 minutes until the yeast has risen and frothed.
In a large bowl, whisk together flour and salt. Add the proofed yeast and olive oil. Mix until a soft, sticky dough comes together. Cover and let rise until it has doubled in size.
Preheat oven to 425 degrees F.
On a well-floured surface, turn your dough out. Divide the dough into and roll out into two 10-inch rounds. Dust your pizza trays with cornmeal and transfer your doughs onto the prepared trays.
Top the pizzas with the tomatoes, capers, goat cheese, mozzarella, parmesan, red pepper, and oregano. (Don't add the fresh basil until the end otherwise it will burn). Drizzle each pizza with a tablespoon of olive oil and bake until the crust is golden and the cheese is bubbling.
While the pizzas are baking, grill your peaches and jalapenos. Once the pizzas are fresh out of the oven, add the peaches, peppers, and fresh basil. Drizzle with the balsamic glaze and serve!
Keywords: pizza, grilled peaches, jalapenos, balsamic, goat cheese
Recipe Card powered by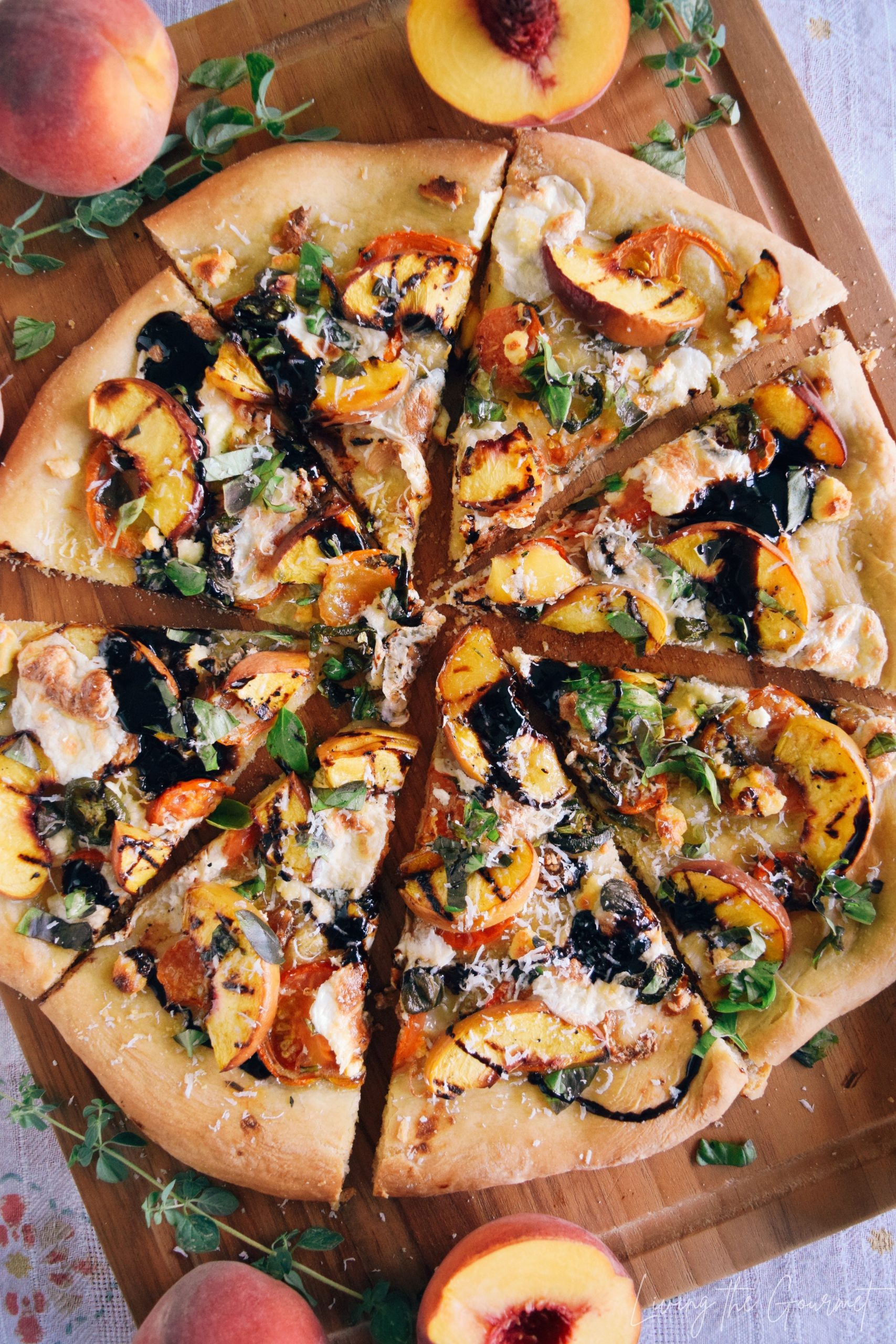 0