Crisp on the outside, soft and chewy on the inside, these NY-Style Bagels are easy to make and consist of only pantry basics.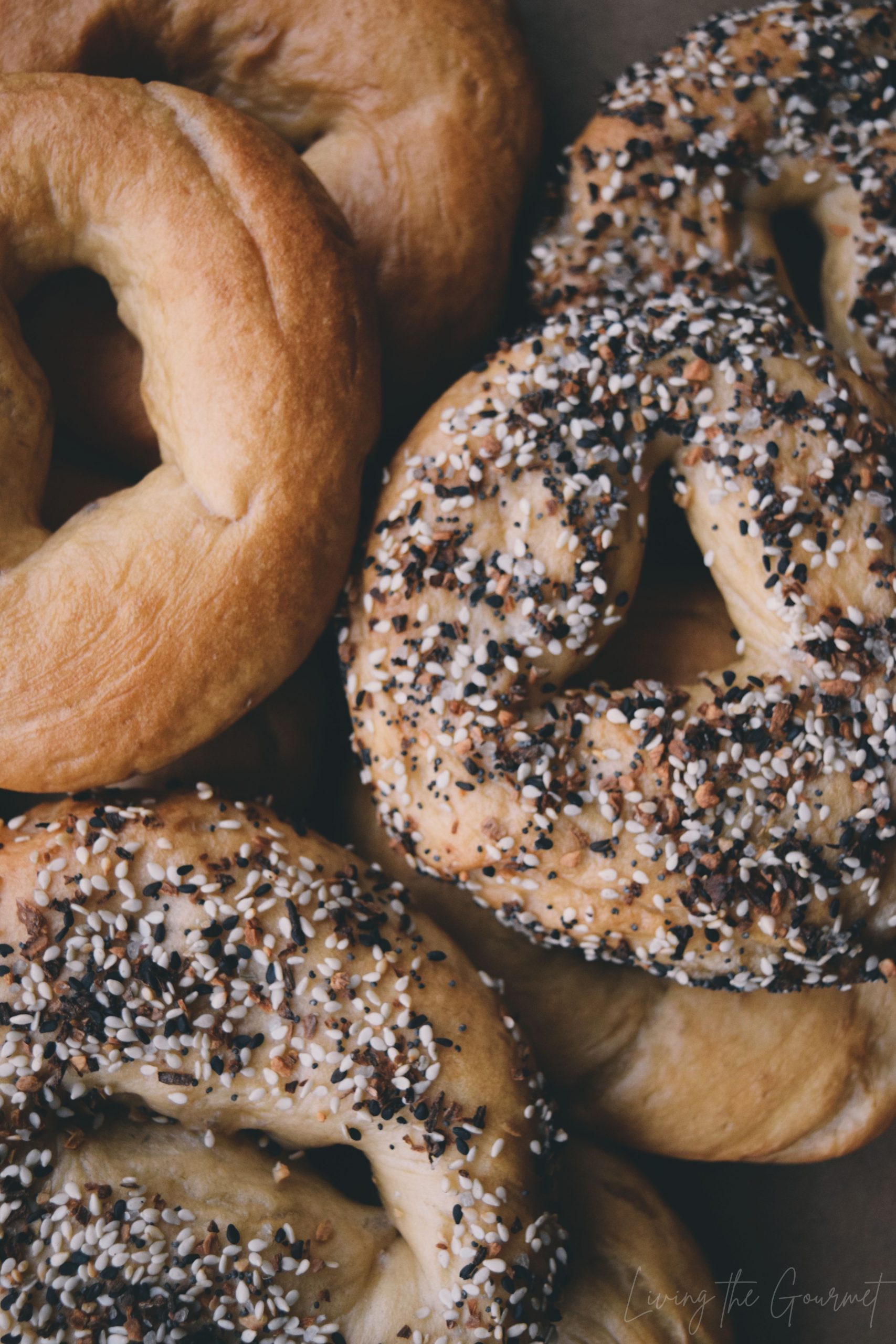 There is something indisputably comforting about fresh bagels whether they be store-bought or homemade. Thinking back on my fondest memories, most revolve around food- in the kitchen with my family on holidays, after school treats at the donut shop (mom and I always ordered cinnamon braids), weekend mornings at the diner, Wednesdays out at our local bagel shop. Bagels were half off on Wednesdays so almost every week my mom and I would go and pick up a fresh bakers dozen and bring them home to have with coffee. The bag was always still warm and nothing compared to a buttered bagel and hot coffee. Honestly, nothing even comes close still.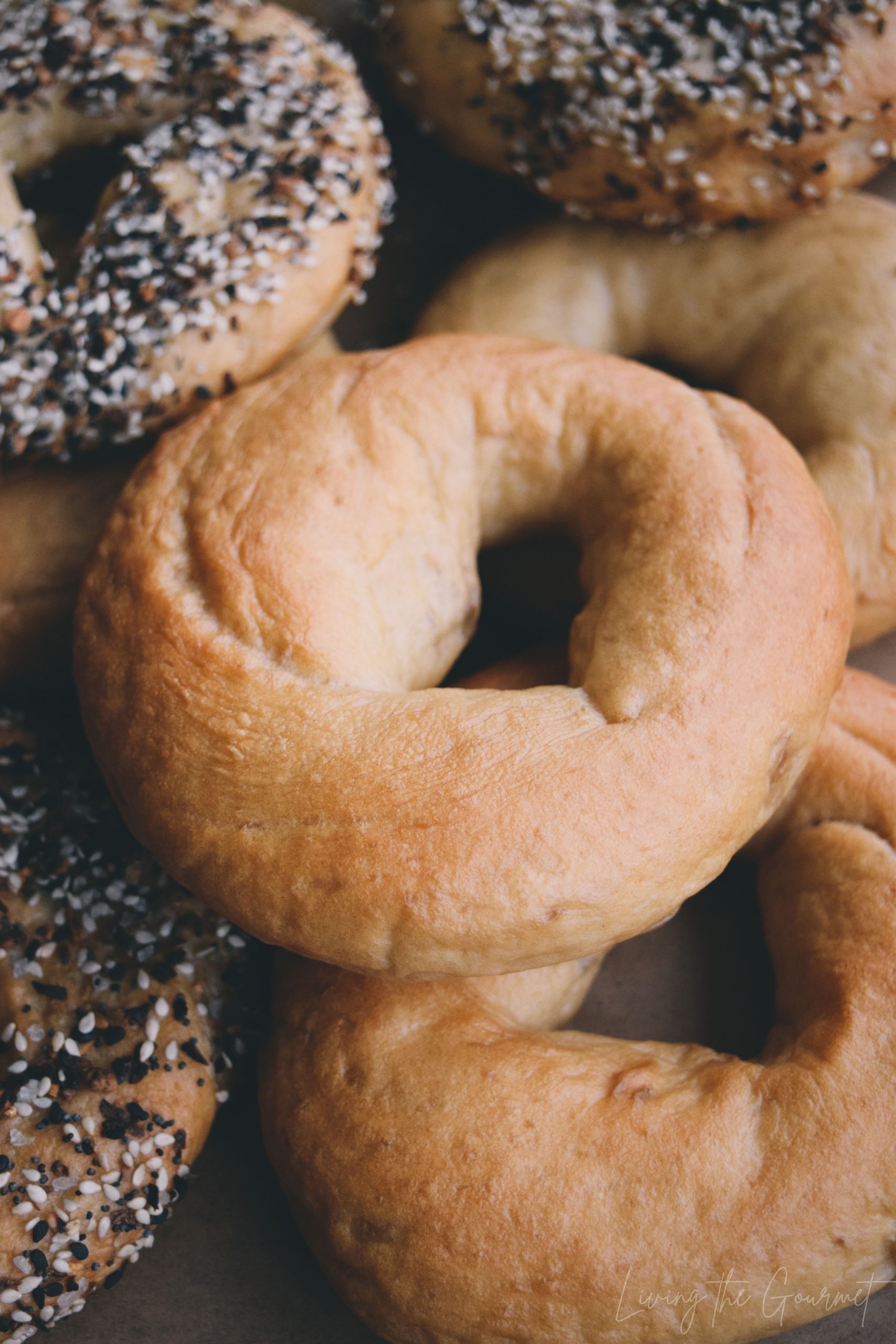 It had been a long time since I'd made bagels and I had such a hankering for one, I decided to revisit an old recipe of mine and give it an update. Three batches later, I'm glad to have finally nailed the process and have a bagel worth talking about.
If you're a novice bread maker, homemade bagels will definitely seem a little overwhelming at first. It's a process, though not a complicated one, but when it comes to making homemade bread, patience is as important as any other ingredient. So, without further adieu, let's jump right into it-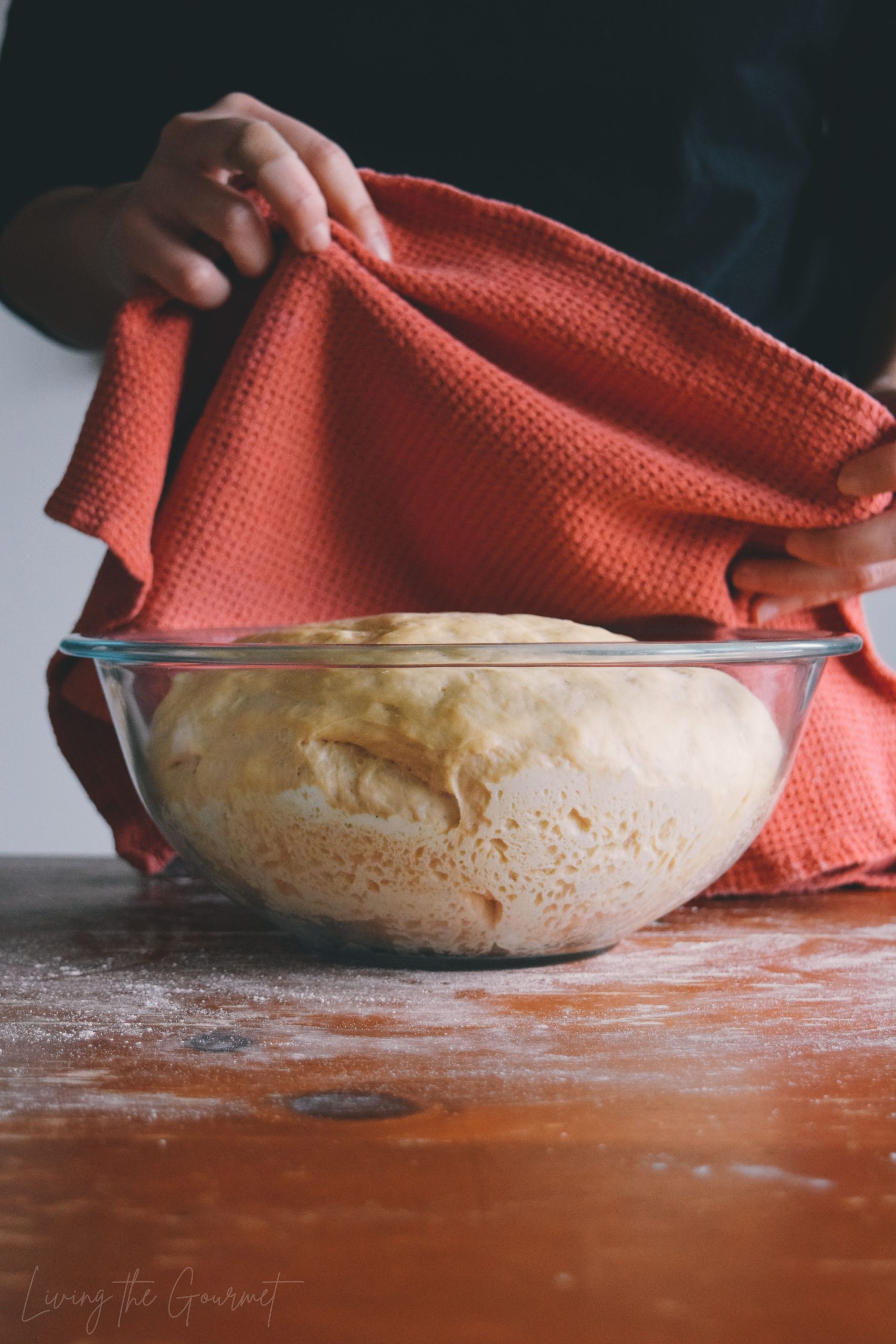 Bagel Basics
Flour. There are two key components that set bagels apart from the rest of the pack- flour and barley malt syrup. Only one of these can be substituted- and it's not the flour.
Technically, yes you could use all-purpose (AP) flour though I highly recommend against it. Use bread flour. You need the extra protein from the bread flour for that gluten build up. In the end, it's what gives you that chewier, dense result. I used King Arthur's Bread Flour for today's recipe.
Barley Malt Syrup. What is it? And do you need it? It's an unrefined sweetener that is more common in beer than baked goods. So, why is it important for bagels? Well, aside from its extra protein and minerals, it has dough conditioning enzymes, and adds a slight sweetness as well. It also contributes to that golden color bagels tend to have. However, it's not a common ingredient and certainly not something I'd consider to be a pantry staple. While you can certainly go out and buy or order some for this recipe and all future bagel recipes (Barley Malt Syrup doesn't expire), you can easily get away with substituting it with some robust molasses.
Baking Soda. This is an essential believe it or not, but it is not to be added to your dough. This ingredient is strictly for the cooking process. When added to the boiling water with the barley malt syrup, it help gives the bagels that crisp, crackly exterior crust when they hit the oven to bake after.
Yeast. I'm not going to pretend that I'm a bonafide bread maker here. I still have yet to demystify sourdough if I'm being perfectly honest, and I cannot even begin to tell you how many starters I've gone through, but I digress. Yeast is a notoriously, finicky ingredient. Even the pros proof their yeast and I highly urge you to do the same. I've never been comfortable with recipes that call for foregoing the proofing process and just mixing the yeast right in with the rest of the ingredients. That's a level of confidence I aspire to achieve one day, but not today. Until then, play it safe and proof your yeast. Let it bubble and foam and get its own party going before you mix it in with the dry ingredients.
Roll, Twist, Repeat
Kneading is also very important and you're going to want to knead your dough for a good twenty minutes. You really want that gluten development so you need to work the dough good. Let it rise until it has doubled in size and then it's time to shape the bagels.
Shaping bagels may be the trickiest part of the process. Not because symmetrical circles are hard, but because the consistency of the dough has to be perfect and by perfect I mean tacky- slightly sticky. So, make sure the surface you're rolling it out on is smooth and sparsely floured, if at all.
Now it's time to divide the dough into equal portions. The recipe calls for about 8-10 large bagels. Roll each divided piece of dough into smooth balls. Let them rest for about 10 minutes before you begin shaping them. This will help them keep their shape.
Roll each piece of dough into about a 10-inch rope. Pinch the edges together to make a ring. To seal the edges, press and roll the ring against a smooth work surface. Place on a lined baking sheet, cover, and allow the bagels to puff and rise.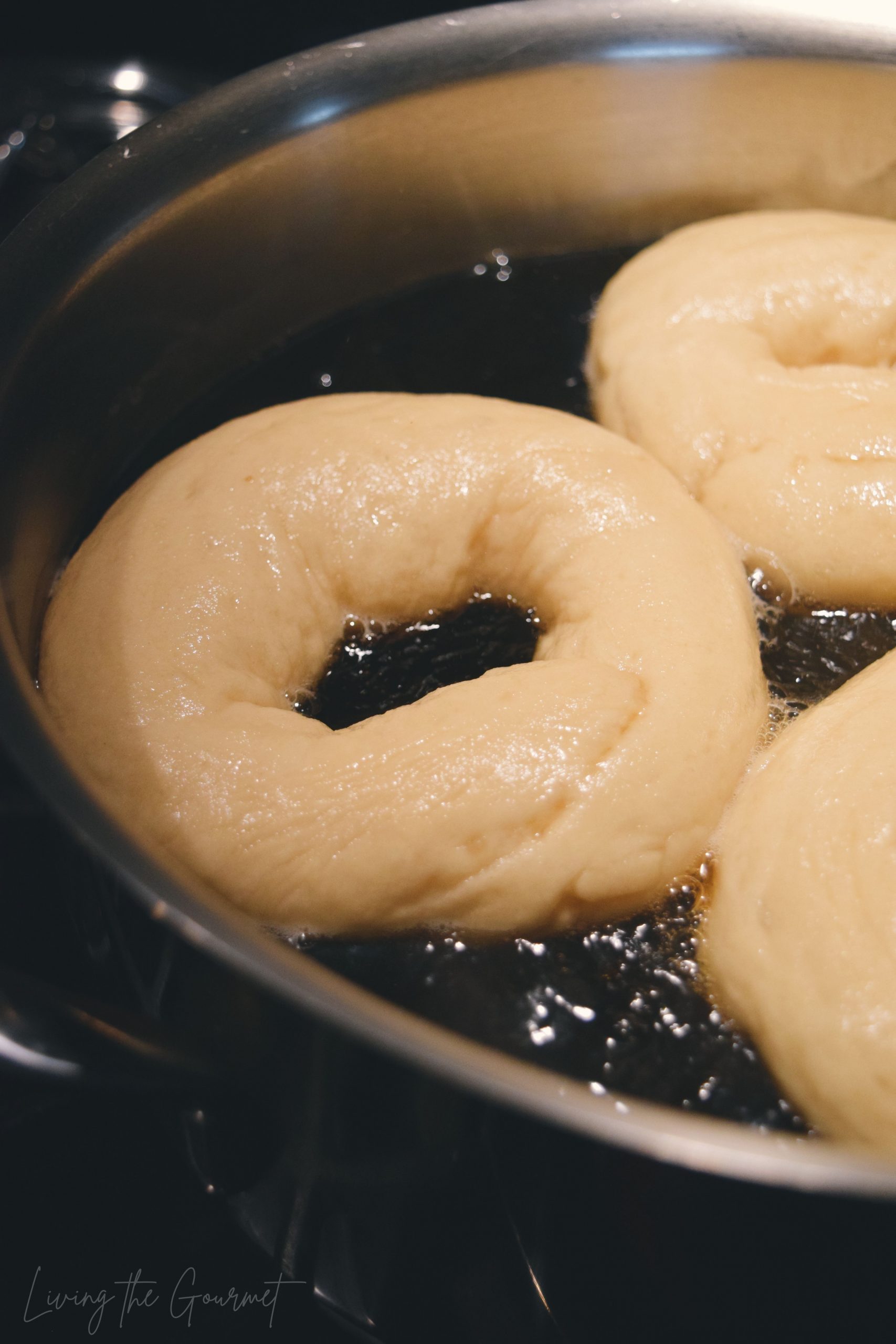 Boil & Bake
Cooking the bagels is a two-step process. First you boil them in a pot of water with the barley malt syrup or molasses. From there, cover them with your desired toppings, and place them in a 400 degree oven and bake for about 15 minutes until golden and crisp.
Now it's time to serve with cream cheese, butter, fruit preserves, jams, or mascarpone, the possibilities are limitless.
Once you bite into a fresh bagel, you'll find it was all worth the effort and the more you make this recipe, the easier it gets. Enjoy!
Print
NY-Style Bagels
---
Author:

Total Time:

40 minutes

Yield:

8

-

10

bagels

1

x
2 teaspoons

active dry yeast

1 teaspoon

sugar

1½ cups

warm water

3½

  cups bread flour

1 tablespoon

salt

2 tablespoon

barley malt syrup (or robust molasses)

1 tablespoon

baking soda
Everything Bagel Seasoning, for topping (optional)
---
Instructions
In a small bowl, proof your yeast by combining yeast, sugar, and warm water.  Let stand for about 10 minutes until the yeast has bubbled.
In a large bowl, whisk together flour and salt.  Add the proofed yeast and stir to combine with your hands.  (I prefer working the dough by hand from start to finish over the mix master with the dough hook attachment).
On a smooth work surface, knead the dough for about 20 minutes.  If the dough is too wet, sprinkle with a bit of flour until it is tacky.  (You do NOT want a dry dough).
Return the dough to the bowl, cover, and let rise for 2 hours until it has doubled in size.
Turn the risen dough out onto a smooth work surface and divide into 8-10 portions.  Shape each portion to create a tight smooth ball.  Cover and leave to rest for only 10 minutes.  (This allows for the gluten in the dough to rest so they hold their shape).
Shape the Bagels: Roll each portion out into 10-inch long ropes. Pinch the ends of the ropes together to make a ring.  Place the bagels on a lightly floured tray and leave to rise again for about 2 hours or up to overnight.
Cook the Bagels: Preheat oven to 400 degrees F.  Meanwhile, if using seasonings to top your bagels, prepare them in shallow dishes and set aside.  Bring 6 quarts of water to a boil.  Add the barley malt syrup and baking soda to the water and stir until dissolved.  Add the bagels about 3-4 at a time but do not overcrowd them.  Cook for 1 minute on each side, roll your bagels in the shallow dishes with the prepared seasonings, transfer to a baking sheet lined with parchment paper.  Bake in the preheated over for 15 minutes, until the bagels are golden.  Serve and Enjoy!
Notes
*Prep Time does NOT include Inactive Prep Time
Prep Time:

20 minutes

Cook Time:

20 minutes
Keywords: bread, homemade bread, bagels, everything bagels
Recipe Card powered by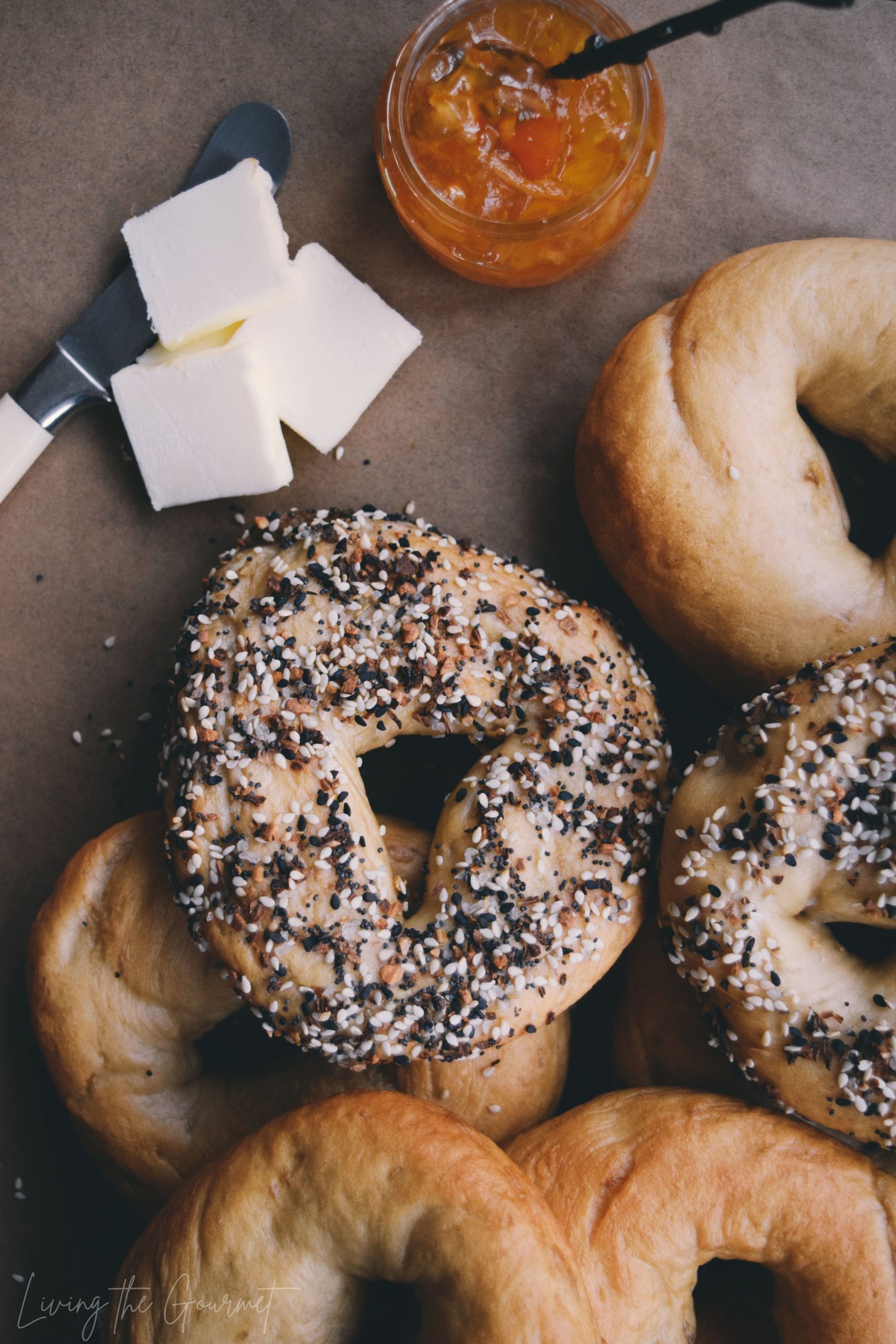 0