Sweet and savory, with just a hint of background spice, combined with umami notes from crushed garlic and a medley of Italian-themed spices, today's sauteed peppers are delicious as toppers for crostini, or layered between crusty bread, swathed in a pita, or even tossed with pasta. Conversely, this is also a great base recipe for sausage and peppers, or as a topping for a homemade pizza.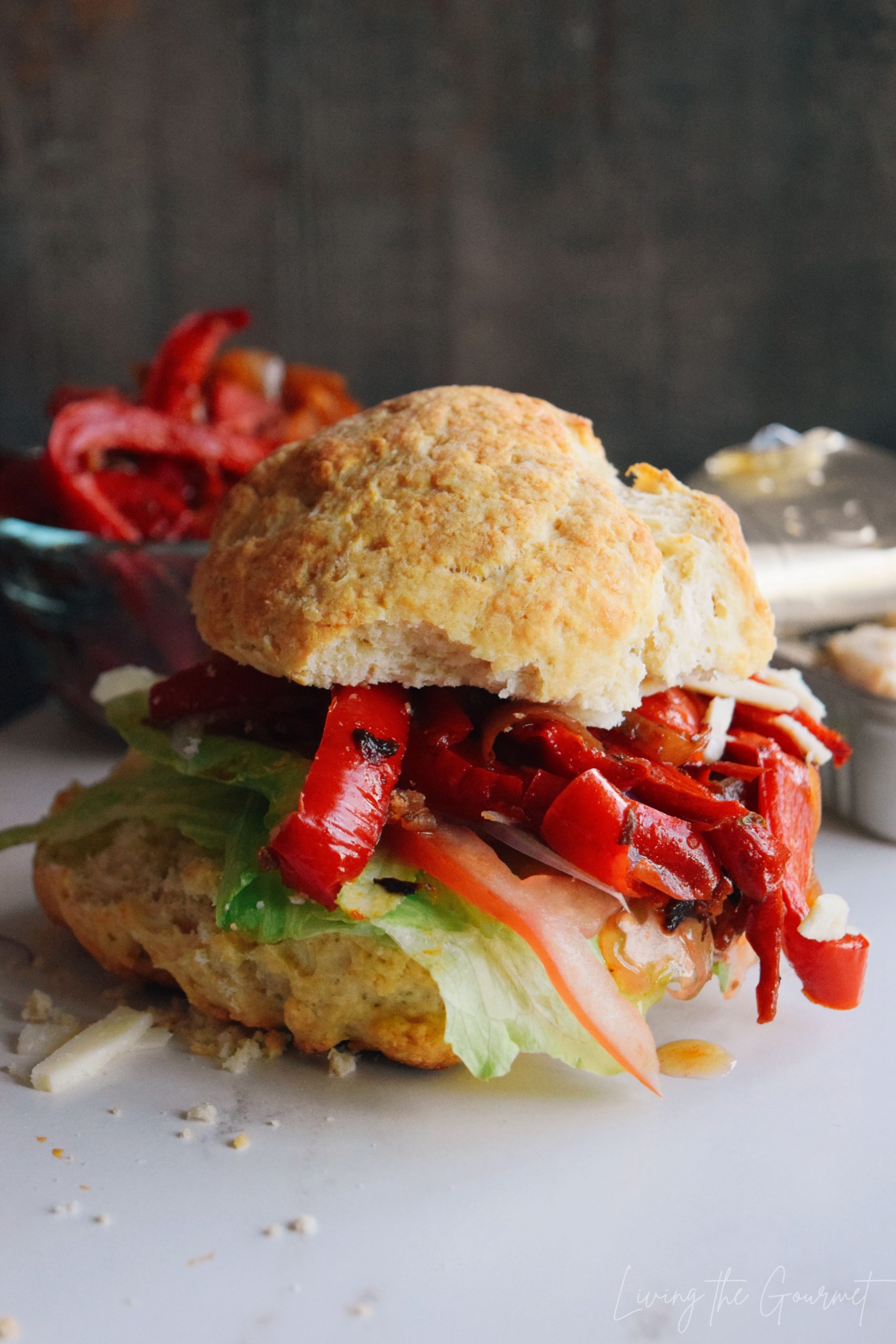 Why You'll Love Today's Sauteed Red Peppers
1) They Keep. These are perfect for making ahead of time, since they actually marinate in their own juices as they sit in the fridge. They stay beautifully for up to four or five days.
2) Super Versatile. As alluded to above, these peppers go great on a sandwich, or tossed with pasta, or as a topping for crostini. As a plus, these are delicious both warm and cold
3) Couldn't be easier. If you can crush garlic, slice some peppers, and heat up a pan with oil, you can prepare today's peppers. Really, this recipe couldn't be easier.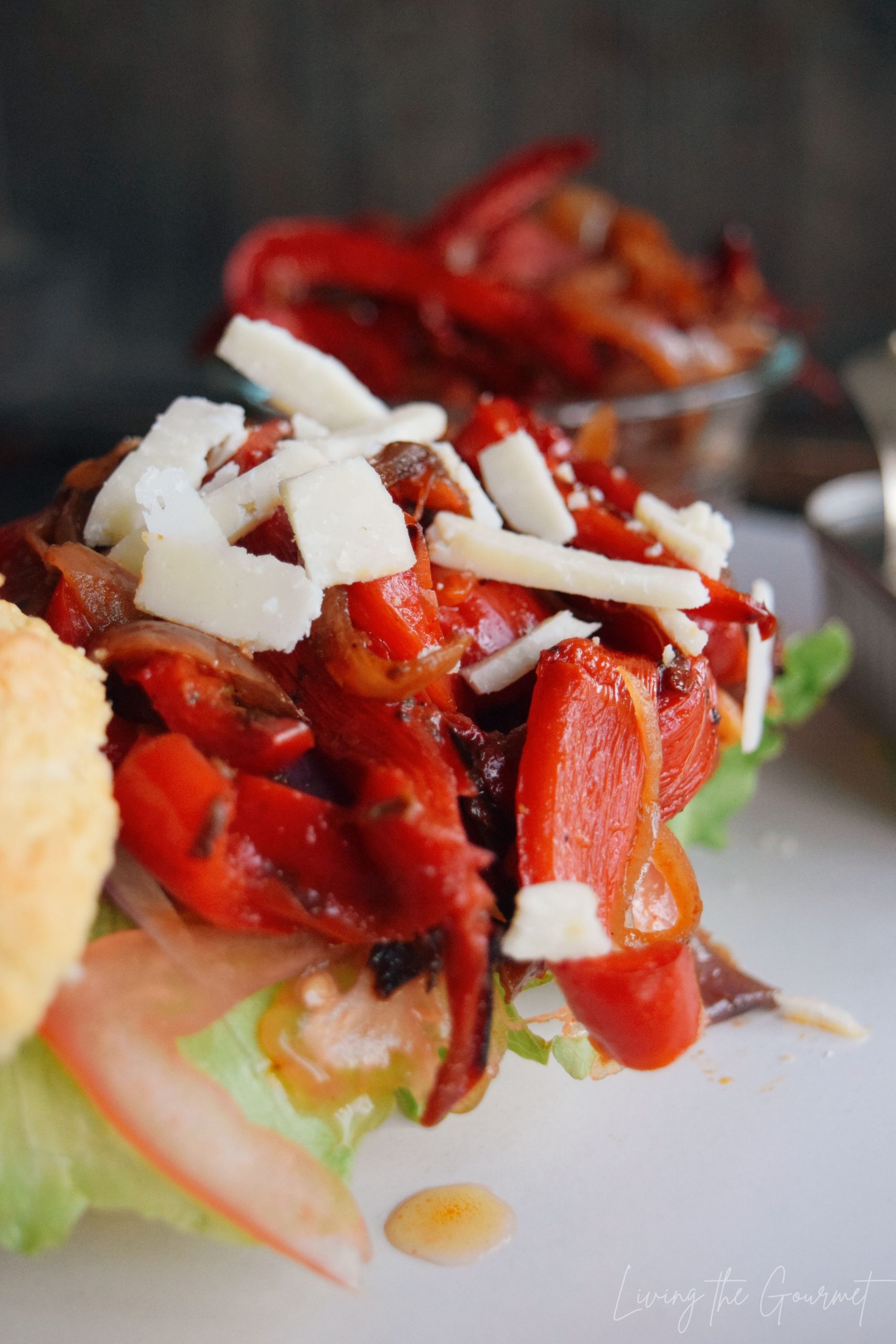 Ingredient Notes and Tips
1) The Bell Peppers. These are the 'meat' of today's recipe. Clocking in a whopping 'zero' on the Scoville Heat Scale, it goes without saying that Bell Peppers are 'not' spicy peppers. On the contrary, they're fairly sweet, and can be bitten into raw like an apple – although I wouldn't suggest doing so due to the copious amount of seeds they contain. However, they tend to lose their sweetness during cooking, becoming more 'earthy umami' than anything else. This is true of green, yellow, orange, 'and' red Bell Peppers.
Tip for those who like it hot: If your palate is anything like my son's, feel free to toss in a few spicy peppers of your choice. Jalapenos, long hots, habanero, serranos, or really 'any' pepper will work just fine alongside the bell peppers.
2) Sugar – The 'Why' Behind the 'Sweet.' Like salt, sugar is a 'blurring' or 'melding' agent. That simply means that sugar helps to 'bind' flavors together. In recipes like red sauces, chilis, stews, or today's red peppers, where you have a medley of different flavors coming together, some of which actually contrast quite sharply, you need 'something' to help 'blur' or 'meld' those ingredients together. The primary item for doing this is salt, but sugar also has a very similar effect. However, unlike salt, sugar also 'mutes' or 'blunts' acidity – despite being somewhat acidic itself (chemically speaking). That said, unlike the 'saltiness' of salt, which can come through quite powerfully, the 'sweetness' added by sugar is much milder and harder to detect, especially when used in very small quantities. Thus, sugar serves two purposes inside of today's recipe, melding together flavors and blunting acidity, while itself being a nearly 'invisible' ingredient.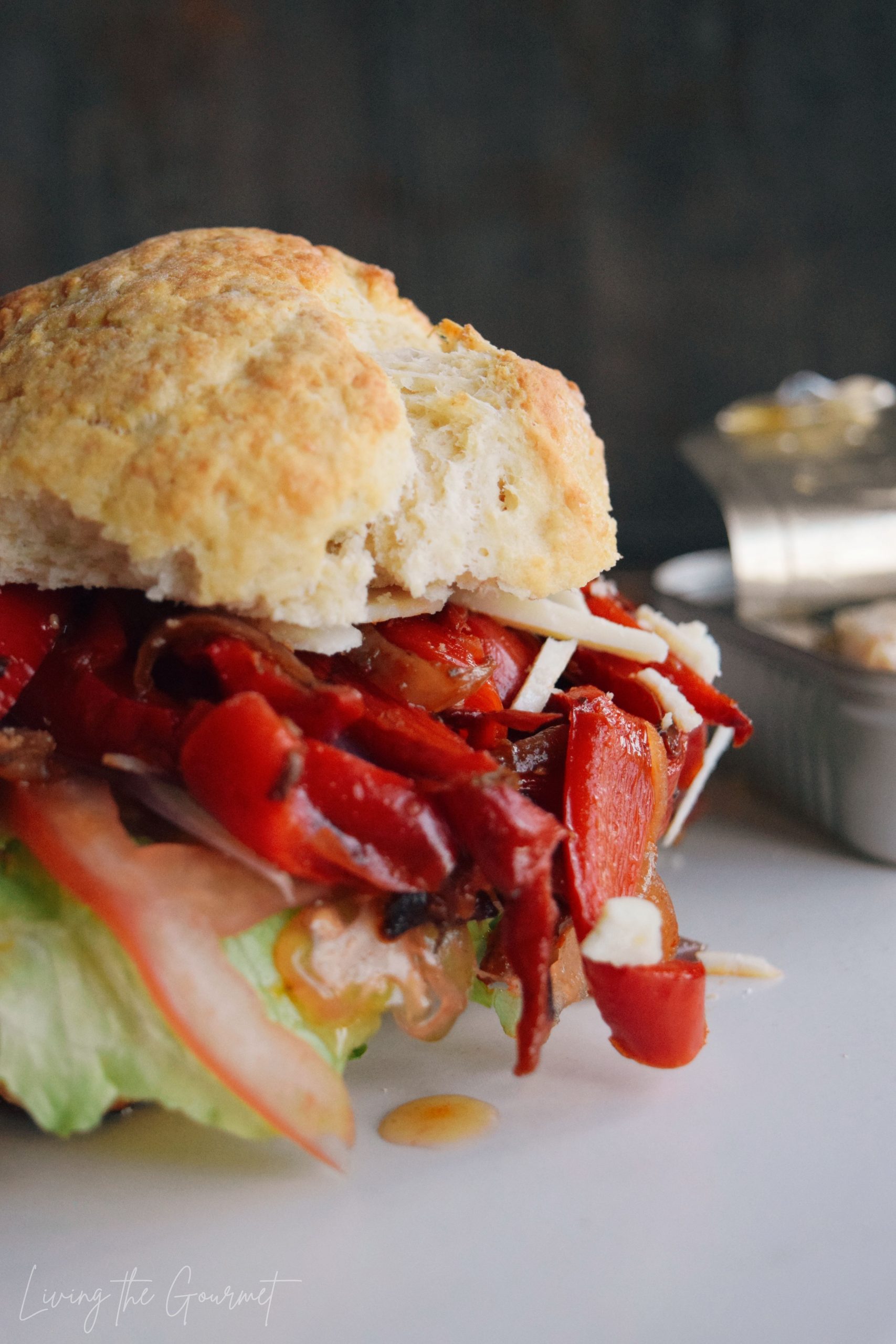 Serving Tips
1) Make a Sandwich. Today's sauteed peppers are well at home between two slices of crusty Italian bread, or rolled into a flatbread, or piled onto a roll with salami and provolone. Or make a meal out of a loaf of Italian bread by layering them with some fresh mozzarella, sliced sausages, a drizzle of oil, and maybe a fresh dusting of grating cheese and red pepper flakes, and you're good to go.
2) Tossed with Pasta. Conversely, you could easily toss today's recipe with some pasta – your choice of noodle – and you've got a light pasta recipe ready to go.
3) As a Crostini Topper. You can find my preferred way to prepare crostini with this delicious Truffle Goat Cheese & Pignoli Crostini.
4) Sausage and Peppers. Today's sauteed peppers are an ideal base for a sausage and peppers recipe. Simply grill or fry up some sausages, and I would suggest halving them lengthwise before adding them into the peppers.
5) In Pitas. Make a pita pocket out of these peppers with some feta and salad greens, and what could be better?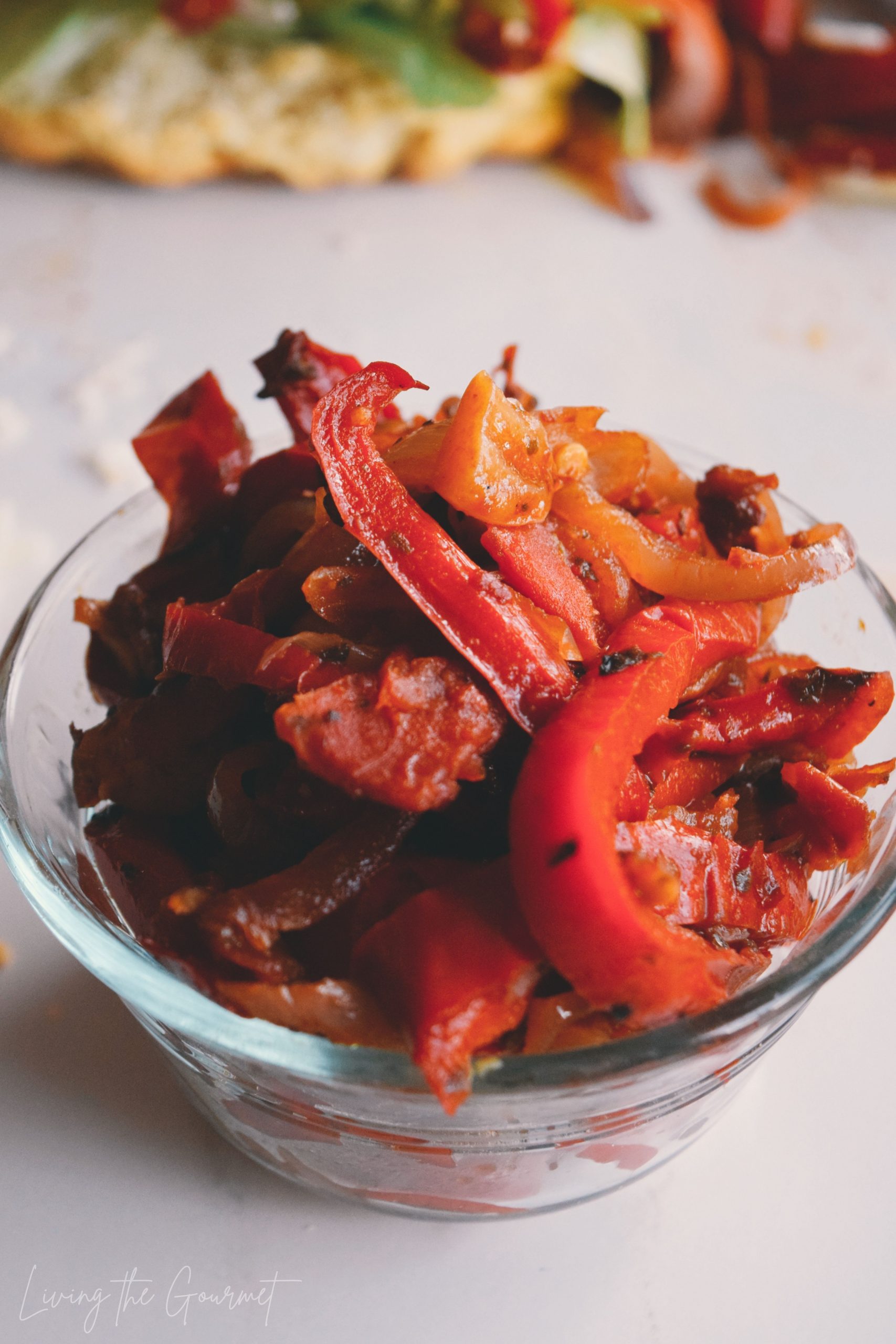 Print
Bell Pepper & Onion Saute
Author:
Prep Time:

5 minutes

Cook Time:

15 minutes

Total Time:

20 minutes

Yield:

4
2 large red bell peppers – sliced thin
5 – 6 large garlic cloves – crushed
1/2 tsp. red pepper flakes
1 tsp. fresh ground black pepper
Fresh Romano or Parmesan cheese for grating and slicing
Instructions
Heat a large dry cast iron frying pan and place the sliced peppers, onions, garlic and diced tomatoes and dust with sugar.
Allow a bit of a char to form on the peppers and onions then drizzle with two tablespoons of olive oil.
Add the rest of the seasonings and toss.
Continue to sauté until the onions are caramelized.  This will take about 15 to 20 minutes or so.
Taste for seasonings and drizzle with another 2 tablespoons of olive oil.
Serve with fresh Romano or Parmesan cheese, your favorite bread and olive oil.
Recipe Card powered by
0