Layers of the flakey puff pastry are wrapped around a sweet apple filling and baked to golden perfection. Reminiscent of those Sunday morning bakery pastries, this Apple Danish is a treat that can be enjoyed in the A.M. with coffee or in the evening as a finishing note to a long day.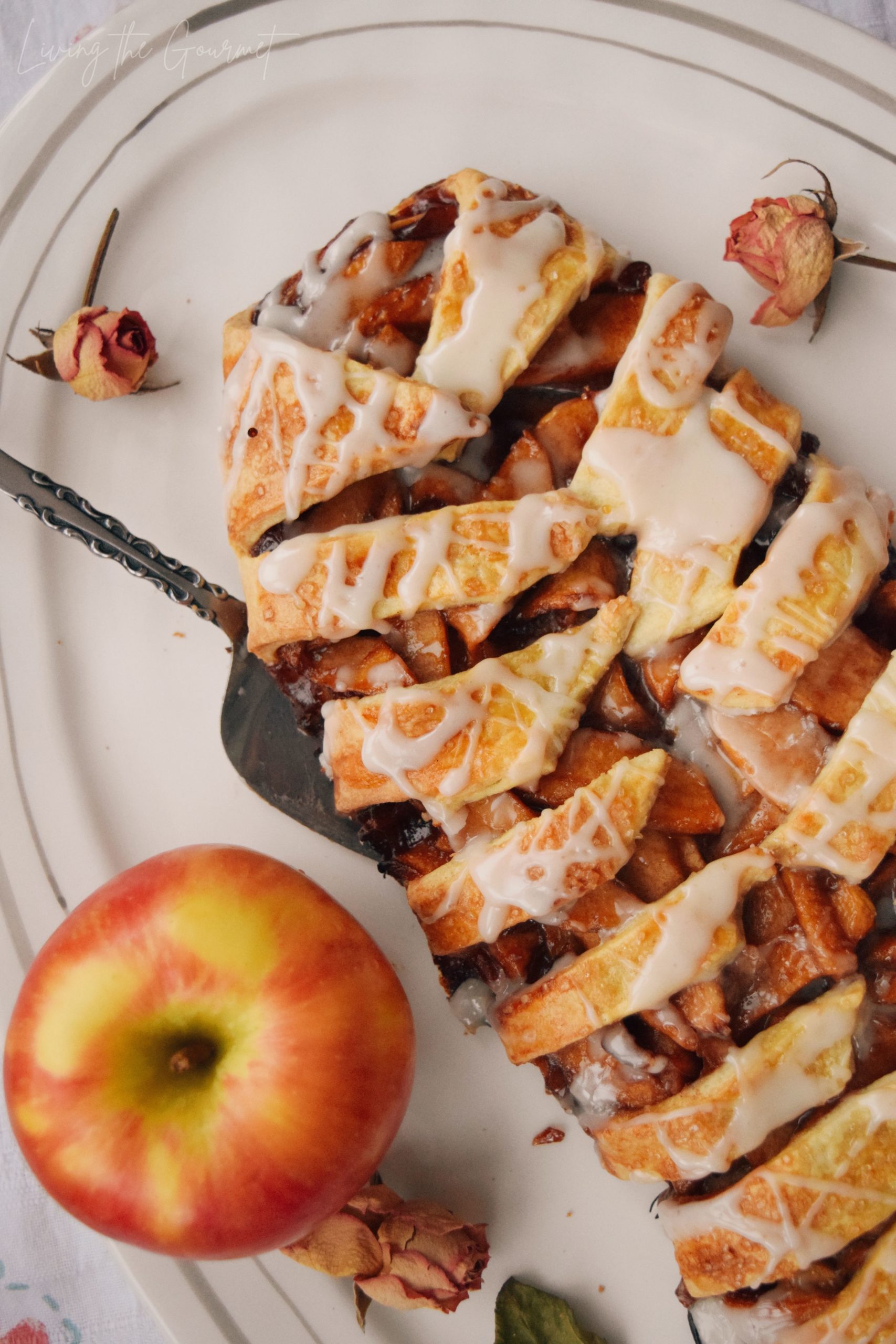 Let me paint a picture for you. The largest snowflakes you could possibly imagine are dancing in the wind, all around, blanketing the world outside in the purest shade of white I've ever seen. Love it or hate it, the sight of fresh snow is both comforting and mesmerizing. The outside is quiet and still while inside, the aroma of sweet apples and buttery dough bakes and bubbles away. The dim light of the stovetop adds a soft glow to the gray light pouring in from the back windows.
Rarely without a mug of coffee beside me, I sit writing this letter to you. Admittedly, my mind gets distracted by the current view. My soul feels full yet restless at the same time. Part of me yearns for a sign of spring, yet another part of me relishes in the seclusion of this winter storm- sweet beautiful turmoil. As John Steinback once wrote, "What good is the warmth of summer, without the cold of winter to give it sweetness?"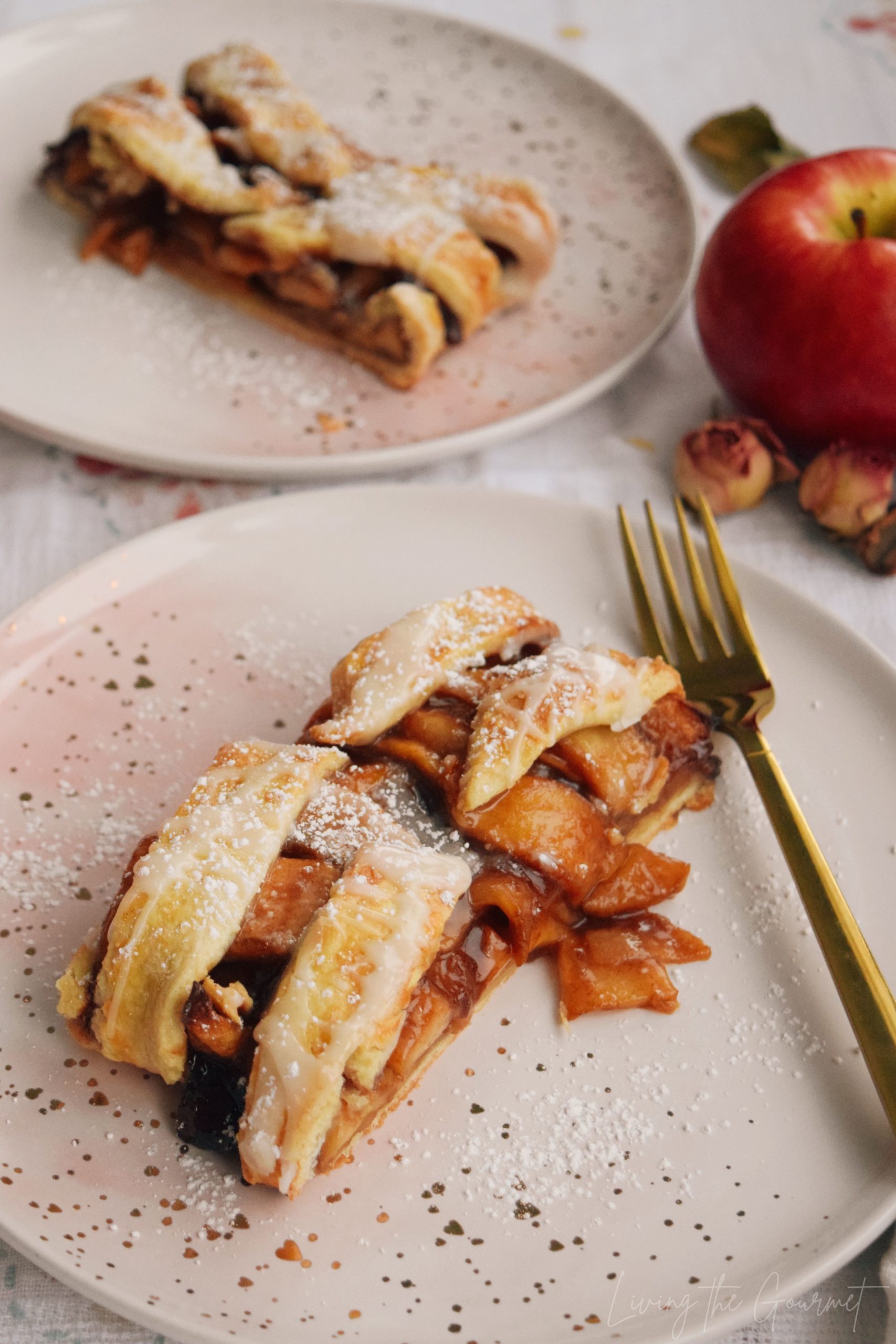 What is your comfort? Mine is spending such a day, as today, in the kitchen with fresh dough. Mixing and rolling (or kneading)- it is truly a healing process. I am excited to watch the rest of the snowfall with a warm slice of Danish and I'm even more excited to be sharing today's recipe with you. May it bring some peace and joy to your day and make this long winter a little more favorable.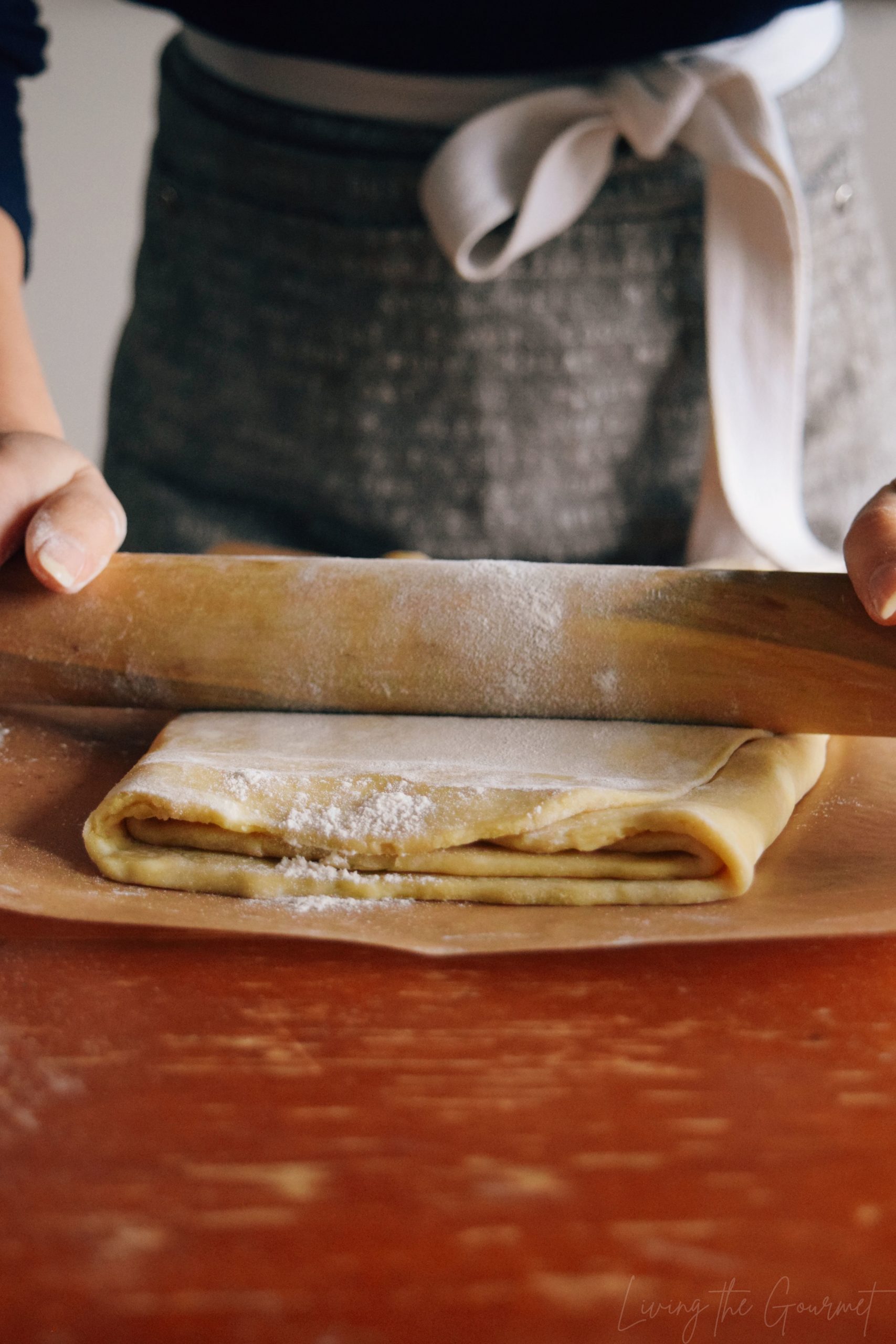 To begin, let's talk about puff pastry. For years I was under the illusion that homemade puff pastry was nearly impossible. The method was tedious and long (some recipes I found have you wait literally days until you can bake it). Surely there must be a simpler method?
Lo and behold, there is. The trick lies not in the rest time per say, but in the layering of the dough. Divide the chilled dough in half, rolling each half into a 10×20-inch rectangle. Place one on top of the other, fold like a book (as pictured above), and roll out again.
Place the prepared filling down the center of the rectangle and using a paring knife (or pizza wheel), cut the sides into even strips and fold over the filling. Finally, brush the pastry braid with an egg wash and if desired sprinkle with raw sugar, or regular sugar if that's what you have on hand.
It is a process but not a complicated one and worth every minute. The final result yields an incredibly flakey dough that puffs while baking and holds it's shape. As a finishing touch, I drizzled it with a simple icing though you could certainly enjoy it as it, or dust it with confectioner's sugar.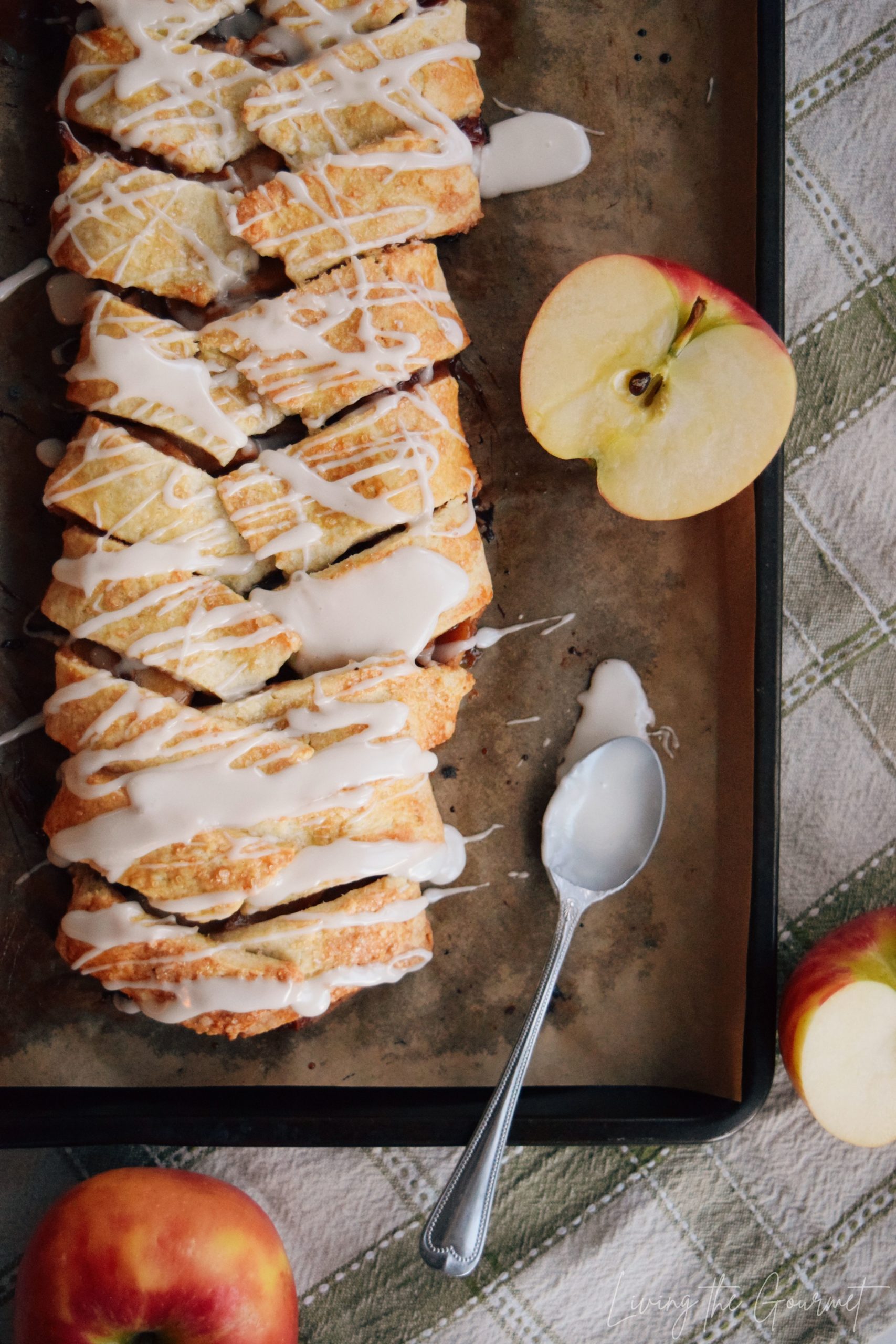 Let's quickly take a moment to talk fillings.
For this recipe you can substitute any fruit for the apples. Try blueberries or cherries if you have those on hand, and yes, for those wondering, frozen fruit will work fine. My best tip for achieving that smooth, thick fruit filling is to cook your fruit down slightly before adding the cornstarch to thicken. If you're using frozen fruit, you may need a bit more cornstarch since there will be more liquid in the pan. If you add more cornstarch later in an attempt to thicken the fruit, you'll end up with clumps because cornstarch doesn't break down that easily. My preferred method, is to mix cornstarch and water separately into a small bowl or cup until the cornstarch has dissolved and you get a fine paste. Once the fruit has cooked down, add this mixture to the filling and over low heat. Your filling will begin to thicken immediately- clump free.
And there you have it- Homemade puff pastry that you can use for a variety of other recipes, and Danish if you are craving something sweet and comforting on these cold days. Enjoy and delight in the final days of winter, friends.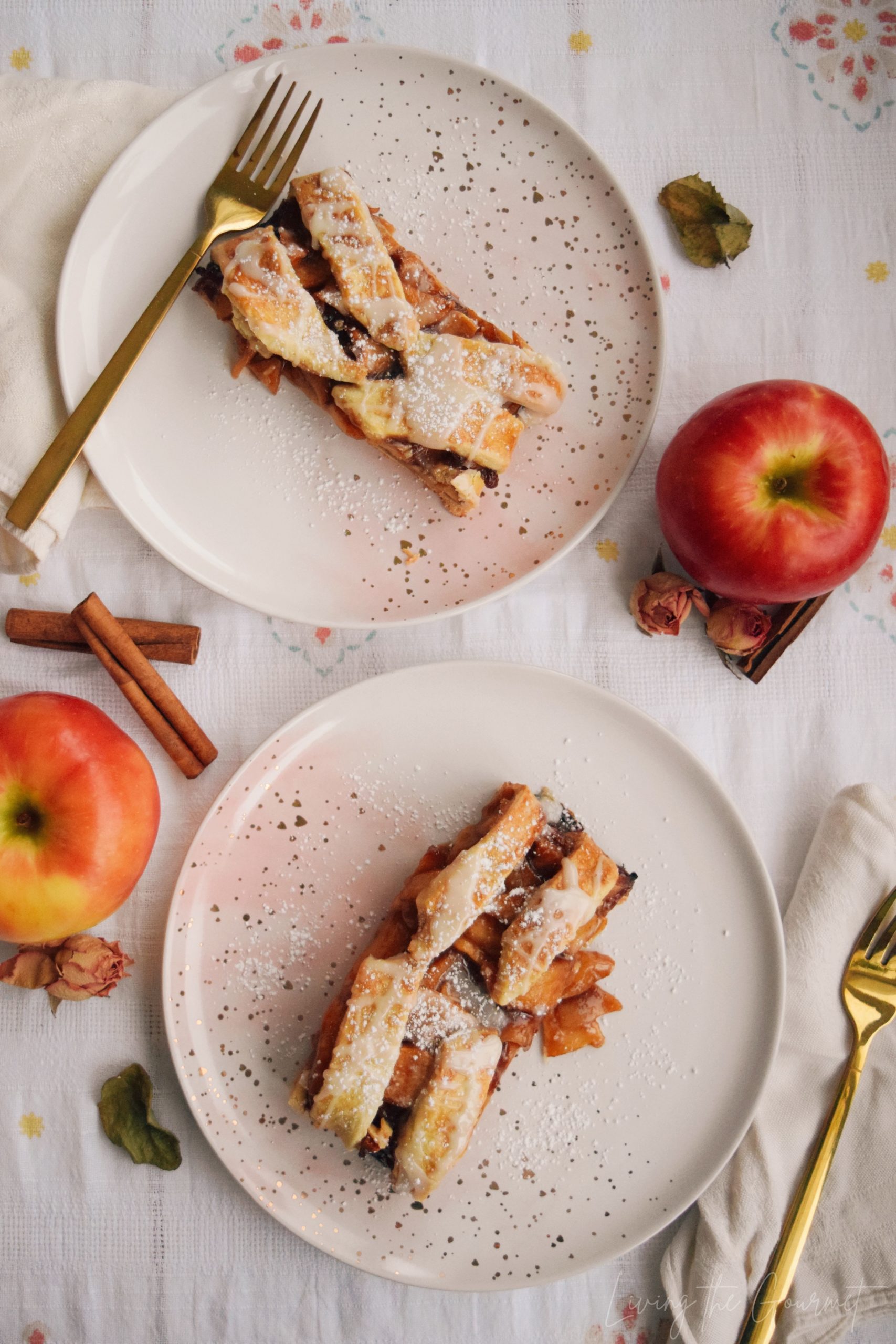 Print
Apple Danish with Homemade Puff Pastry
Author:
Prep Time:

15 minutes

Cook Time:

25 minutes

Total Time:

40 minutes

Yield:

1

Apple Danish Braid

1

x
For the Pastry Dough:
2 1/2

cups

AP flour

1/3

cup

sugar
Pinch of salt

1/2

cup

butter, chilled and cubed

3 tablespoons

shortening

1

large egg, beaten

4

–

5

tablespoons ice water
For the Apple Filling:
4

ripe apples (I like honeycrisp)

1

cup

brown sugar
Juice of

1/2

lemon

1 tablespoons

vanilla

1 teaspoon

cinnamon

1 tablespoon

butter

1 tablespoon

cornstarch

2 tablespoons

water
For the Egg Wash:
1

large egg

1 tablespoon

water
Turbinado sugar, for sprinkling
For the Icing:
1

cup

confectioner's sugar

2 teaspoons

vanilla

1 tablespoon

corn syrup

2

–

3

tablespoons whole milk
Instructions
In a large bowl, whisk together flour, sugar, and salt. Add cubed butter and shortening. With a pastry blender, mix until the dough is crumbly. Add beaten egg and 3-4 tablespoons ice water until a soft dough begins to form. Turn over onto a lightly floured work surface and shape into a disk. **If the dough is still too dry, add an addition 1-2 tablespoons ice water. Wrap the dough in clingfilm and let chill for at least an hour.
Meanwhile, peel, core, and slice the apples. Toss them in a large bowl with sugar, lemon juice, vanilla, and cinnamon.
In a large pan over medium heat, melt down butter. Add the apples to the pan and cook down slightly, about 5 minutes. Mix cornstarch and water in a small cup. Turn the heat down to low and add the cornstarch mixture to the apples. Toss until the apples begin to thicken. Remove from heat promptly and set aside to cool.
Preheat oven to 375 degrees F. Line a large baking sheet with parchment paper and set aside.
On a lightly floured work surface, divide your dough. Roll out each half into a 10×20-inch rectangle. Place one on top of the other and fold, like a book, as pictured within the post. Sprinkle the dough and rolling pin with flour. **At this stage, I transfer the dough to the parchment paper for easy transfer to the baking sheet.
Roll out the dough again into a 10×20-inch rectangle. Take the cooled apple filling and spoon it down the center of the dough.
Using a knife or pizza cutter, cut 1-inch strips on both sides of dough. Braid the dough, folding the strips over the filling, overlapping each other. Trim the edges of the dough if needed.
In a small bow, whisk an egg and 1 tablespoon of water for the egg wash. Brush the Danish and sprinkle with Turbinado sugar.
Bake for 25 minutes or until the center is bubbling and the crust is golden. Remove and let cool.
Combine and whisk all ingredients for the icing. Drizzle liberally over the Danish. Serve & Enjoy!
Notes
Prep Time does NOT include Inactive Prep Time.
Nutrition
Serving Size:

12 slices of Danish
Recipe Card powered by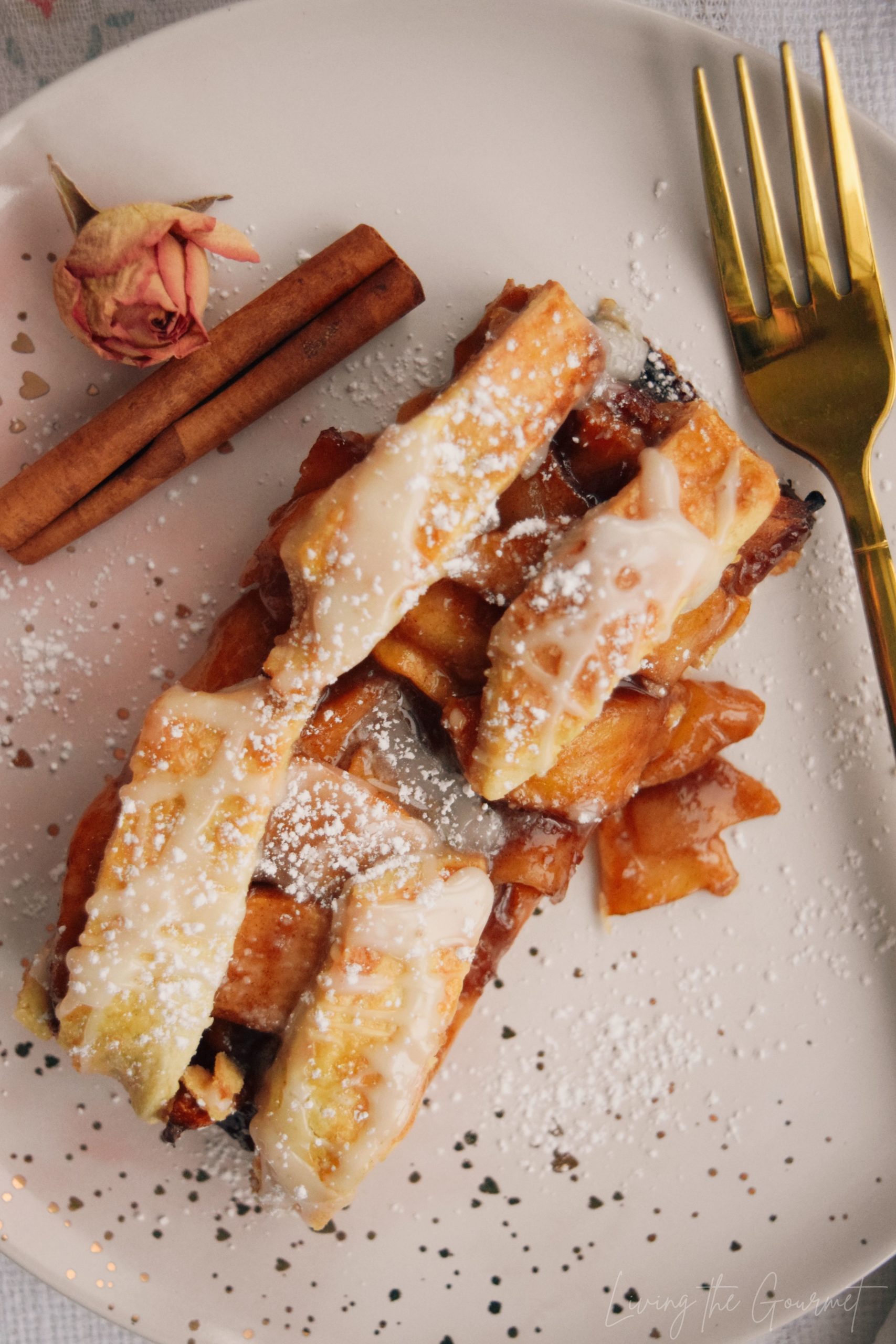 2