Thank you Libby's for sponsoring this post.
Today we're preparing one of life's classic comfort foods – pierogies, which are always a favorite in my home during the holiday season. We'll be preparing ours 'classic style,' with a mashed potato and sauerkraut stuffing, along with sausage, cheddar cheese, peas, and garlic, and then serving them with a topping of sour cream, bacon, and chives.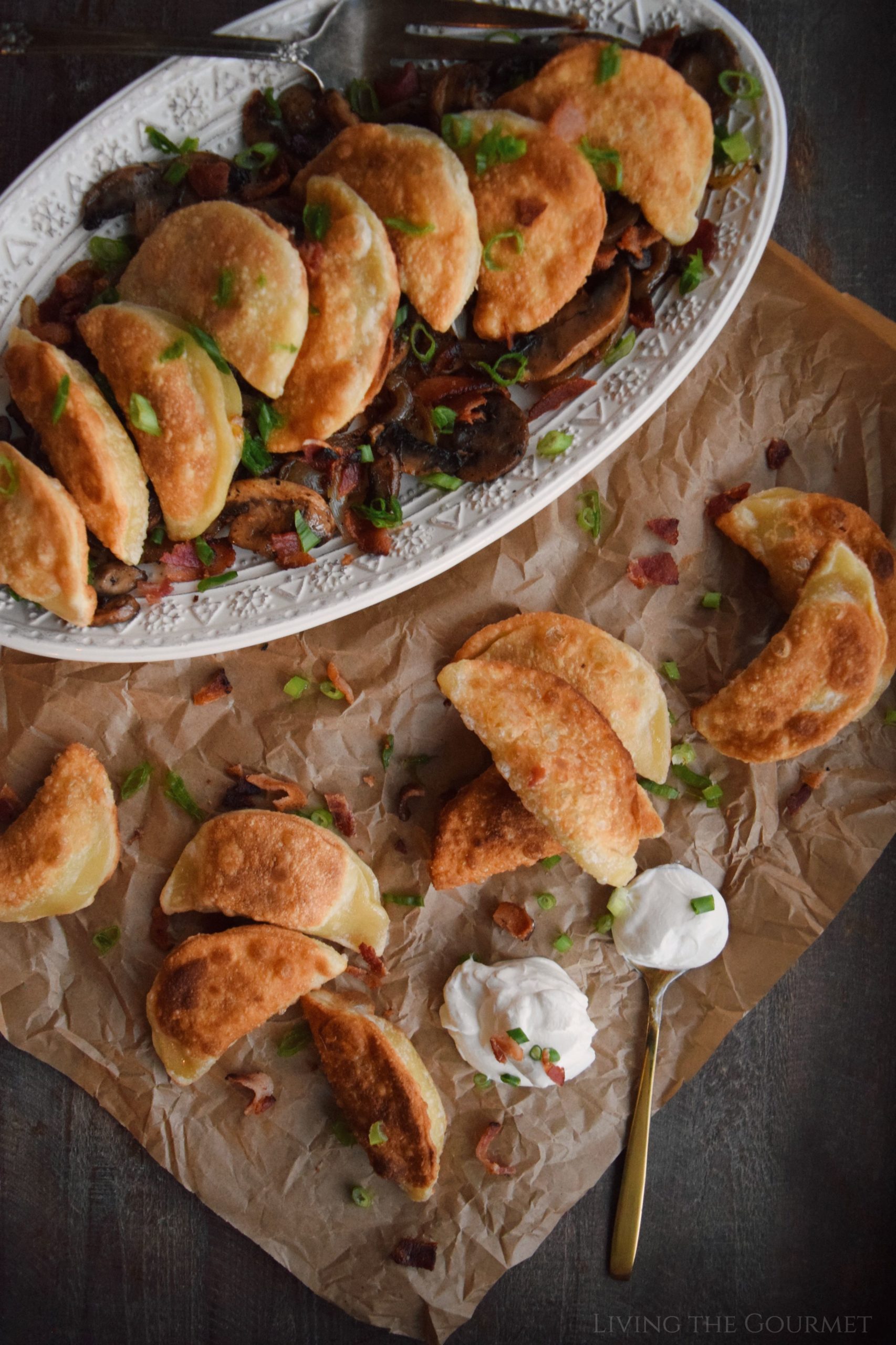 We'll be doing all of this with a little help from our new friends over at Libby's Vegetables, whose products are perfect for creating fun, easy holiday dinners and appetizers. Pierogies are a simple delight that the entire family can enjoy, and Libby's Vegetables help create these kinds of meals, meals that bring family and friends together.
Now, without further introduction, let's dive right in, because we've got a lot to cover.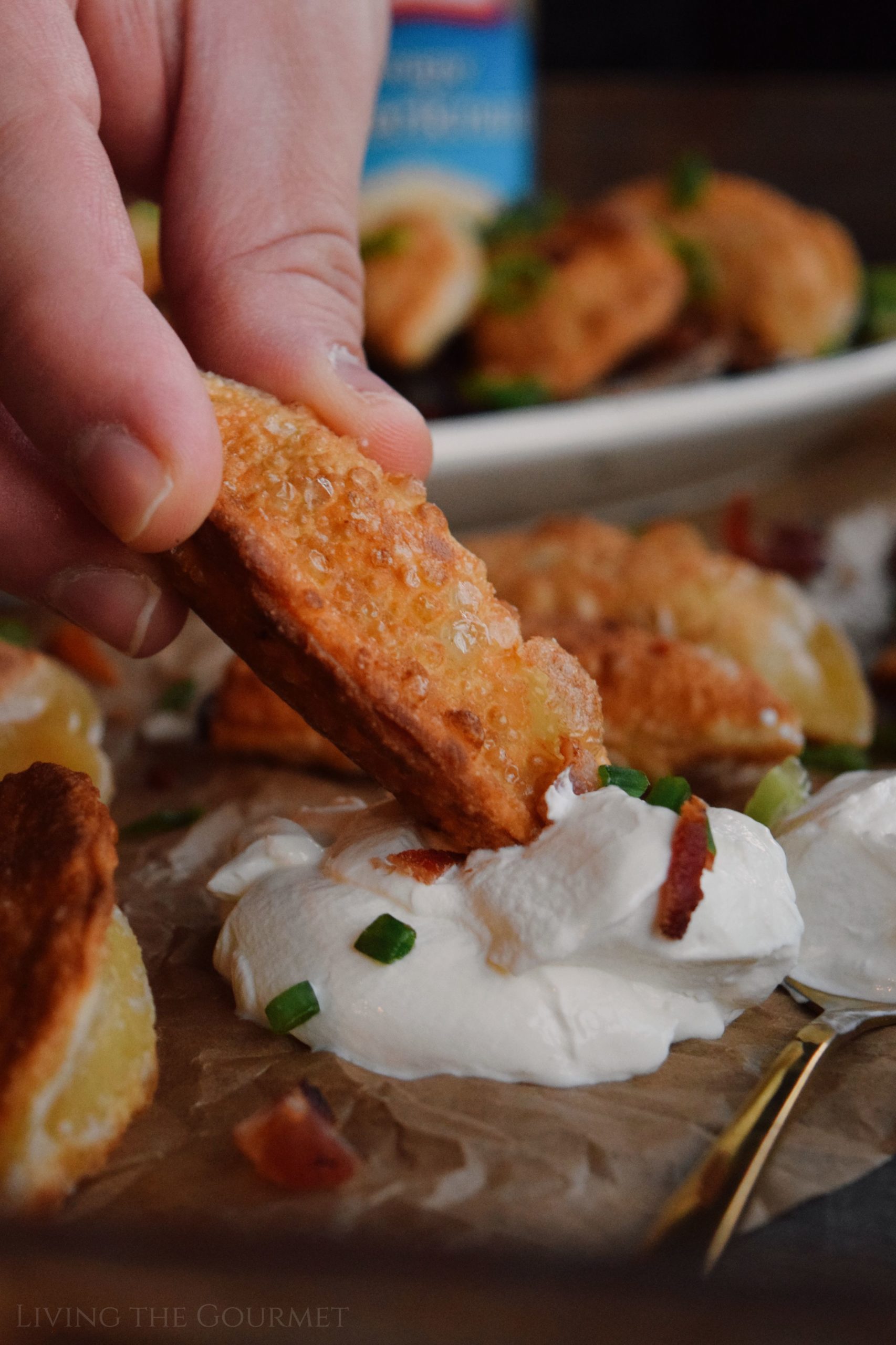 Ingredient Notes, Tips, and Substitutions
1) Red Onion vs. White Onion vs Yellow Onion vs Sweet Onion vs Vidalia. We want a sweet onion for the topping we're pairing with today's pierogis. For starters, yellow onions are basically the 'workhorse' of the 'onion family.' They are perfectly palatable raw, and cook up quite nicely, while lacking the 'pungency' of other onions, and feature a balanced astringency. This makes them ideal for almost any cooked recipe that calls for onions, especially sauces and soups, since they become sweeter the longer they cook. Spanish Onions are a type of yellow onion, but are somewhat sweeter, and pack less of a 'bite.' By contrast, Red Onions are the go-to onion for 'uncooked' recipes, being sweet, crisp, just a touch pungent, and bearing a beautiful shade of 'vegetable red.' This is why they often feature prominently in things like Greek and Sicilian salads, fresh salsas, and the like. Also, if we're being honest, Red Onions really do 'not' cook well, since their beautiful red color simply washes out under heat, while their taste becomes almost identical to that of yellow onions, taking on something of a 'muted' sweetness. Then we have Sweet Onions, which completely forgo 'oniony bite' and astringency in favor of 'actual' sweetness. Seriously, I've bitten into these things like an apple. Since these onions are so delicious raw, they feature prominently in things like garden salads, sandwiches, raw salsas, uncooked relishes, and the like. However, this sweetness comes at the price of perishability, meaning Sweet Onions tend to sour a bit more rapidly than their non-sweet counterparts. For today's pierogis, I'm using vidalia onions simply because of how sweet they are. However, regular sweet onions or yellow onions will serve just fine in today's dumplings.
2) The Potatoes. For pierogies, you want medium to high starch 'mashing potatoes,' think Russets and Yukon Golds. Russets are high starch with a mealy texture, making them ideal for baking, mashing, and frying. Meanwhile, Yukon Golds are medium starch potatoes, and are generally considered 'all purpose.' However, 'any' potato can be mashed, and therefore made into a filling, so there's really no need to fret over which type of potato you're using.
3) The Sauerkraut. For today's recipe we're using Libby's Crispy Sauerkraut, which features a barrel-aged and savory flavor that the entire family can enjoy. Sauerkraut adds an 'acidic savory' flavor to the pierogis, and is among one of the 'core' traditional ingredients in these dumplings. Using Libby's Crispy Sauerkraut saves me the hassle of making my own, while providing me with a brand I trust to get the job done.
4) The Peas. We're using Libby's Sweet Peas as part of the filling for today's pierogis, which gives the filling a nice pop of color, while providing the 'sweet' portion of today's pierogi's sweet-and-savory flavor. In that regard, Libby's Vegetables provide a simple solution for giving your holiday meals a much-needed veggie boost.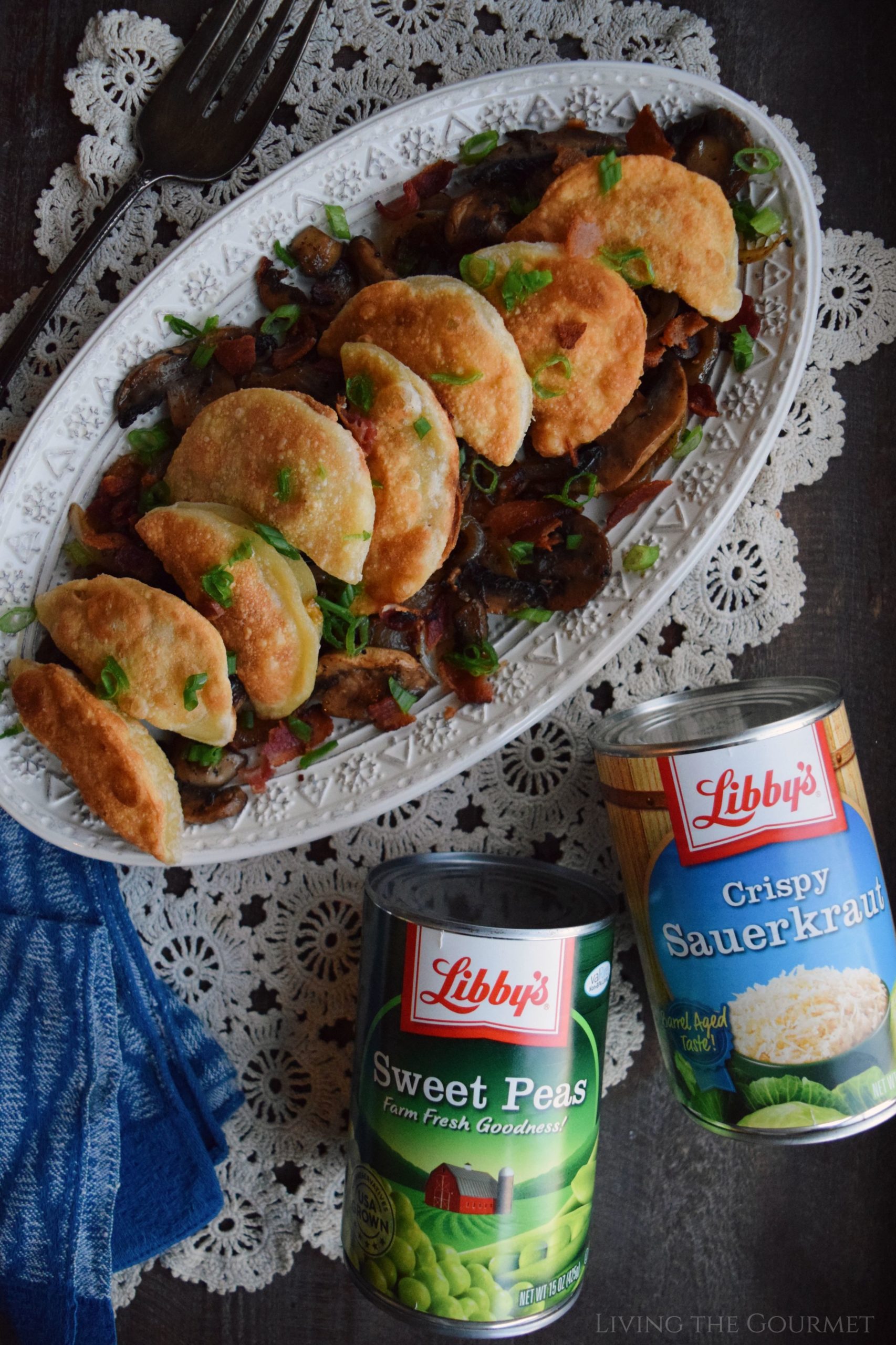 Building a Better Pierogi
1) What are Pierogi? Pierogi are dumplings made using an unleavened dough, which is then boiled before being either pan-fried or deep-fried (deep frying is more common in the US than in Eastern Europe or Russia). These dumplings typically feature a sauerkraut and potato-based filling, along with some combination of pork, beef, mushrooms, various cheeses, and onions (fresh, fried, or caramelized). However, there really is no 'rule' as to what these dumplings are stuffed with, since sweet fillings, such as blueberries and cherries, aren't uncommon.
2) What's in a Name? In America, we know these dumplings almost exclusively by their Polish name 'Pierogi,' since they entered the national consciousness courtesy of a once-popular brand of premade frozen pierogies. However, these little dumplings are known by a variety of names throughout Eastern Europe, such as 'varenyky' in Ukraine, and 'pirohy' in Slovakia, to name just a few. No matter what you call them, these dumplings are ubiquitous across the Slavic world, with only minor distinctions popping up regionally across the various local recipes.
3) The Dough. Pierogi typically features a half-moon or crescent moon shape, and are prepared with a basic unleavened dough typically consisting of just flour, eggs, salt, water, and usually – but not always – sour cream. The dough should create a dumpling that's flaky and crisp on the outside, and tender on the inside.
4) The Cooking Process. While pierogi 'can' be served immediately after boiling, this typically is only done when they are being served in a soup, stew, or under a heavy sauce. Even then, most pierogi are pan-fried after boiling to give the outside of the dumpling a crisp texture. Pierogies 'are' sometimes deep fried, but this is most popular in the United States, and is only rarely done in Eastern Europe.
5) No 'Right' Way. The truth is, there's really no 'right' way to make a pierogi. Some people make them pan-fried, deep-fried, or not fried at all. Some prefer savory fillings that include cheese, potatoes, sauerkraut, and onions. Others prefer sweet fillings that include baked blueberries, cherries, or even raspberries – or some savory take on a fruit filling. Some serve them topped with sour cream, chives, and bacon, or topped with warmed cherry syrupy. Some serve them shaped in half-moons or made in the shape of oversized gnocchi. Some serve in the soup, stew, or under a heavy red sauce, or a heavy white sauce. Still, others prefer them served on their own alongside a pint of beer. All of these pierogies are considered 'traditional' and 'like grandma used to make' by 'someone.' You tell them they're wrong. In short, today's pierogi recipe is just one among many, many ways to make these little pan-fried dumplings, so don't be afraid to experiment to your palate's, content – because there really is no 'right' way to do this…although probably are a few 'wrong' ways to do it.
Recreate this recipe and learn more about Libby's Vegetables here.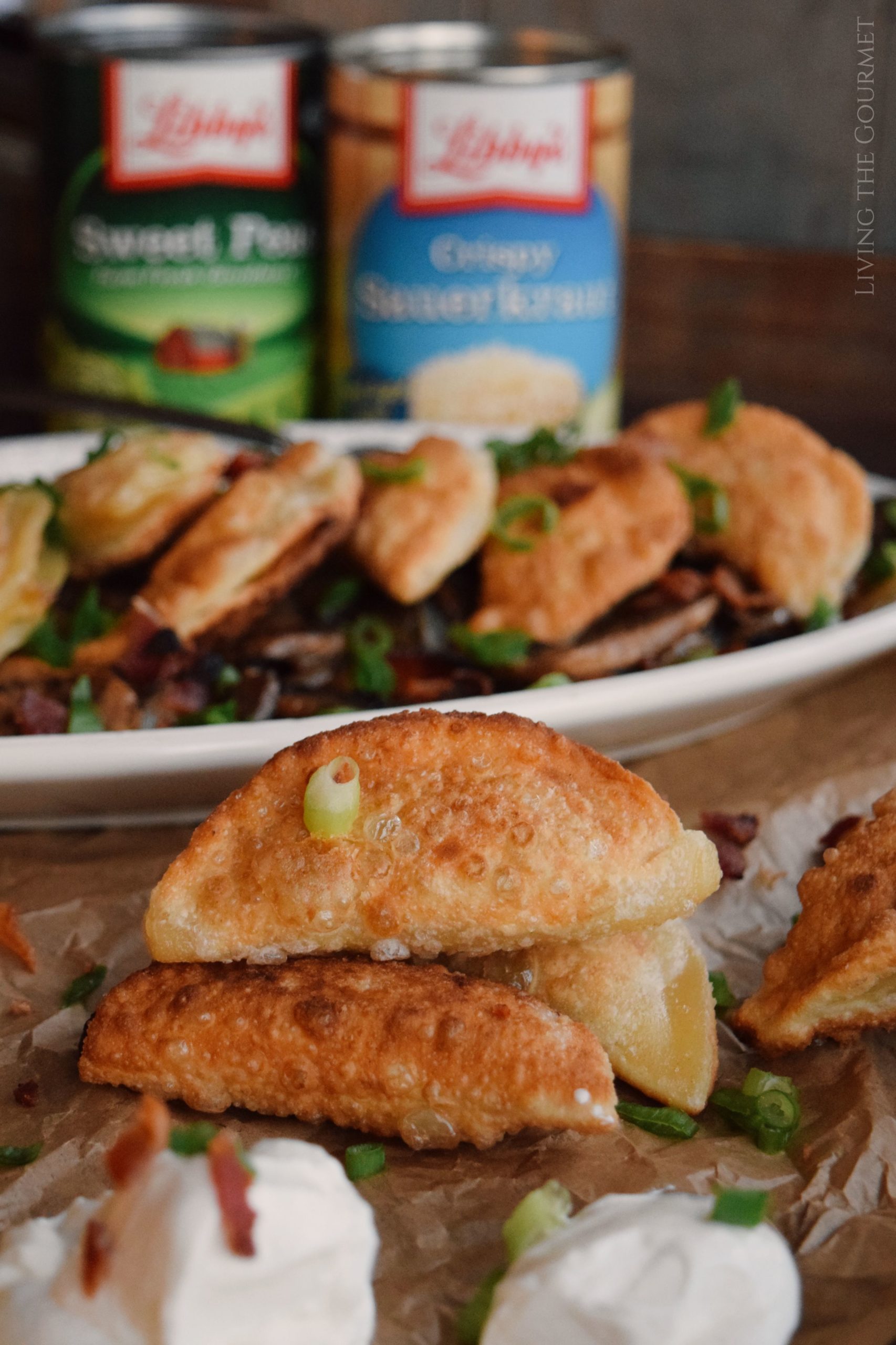 Living the Gourmet
Yields 2 dozen pierogi
Cheesy Sauerkraut Pierogi
15 minPrep Time
20 minCook Time
35 minTotal Time
5 based on 9 review(s)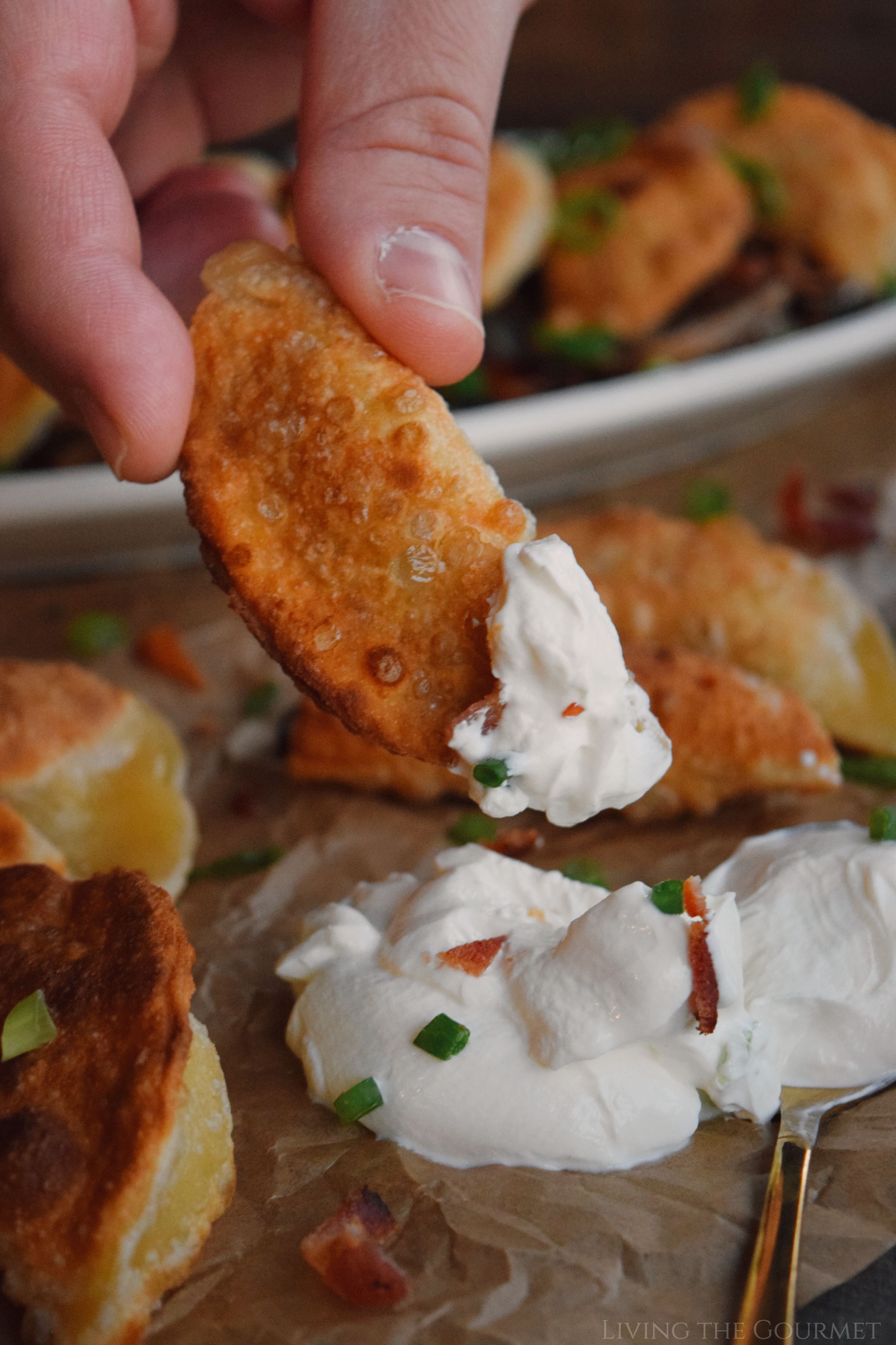 Ingredients
For the Pierogi Dough:

2 cups AP flour
1 teaspoon salt
½ cup sour cream or plain yogurt
1 large egg
4 tablespoons butter

For the Filling:

4 small russet potatoes, peeled and boiled
4 sweet sausage links
1 cup cheddar cheese, shredded
3 cloves garlic, minced
¼ cup Libby's Crispy Sauerkraut
½ cup Libby's Sweet Peas
1 teaspoon salt
1 teaspoon pepper

Toppings:

1 large vidalia onion
4 strips bacon
Sour cream
Chives
Instructions
For the Pierogi Dough:

In the bowl of a food processor, pulse together ingredients for the dough until it is slightly sticky and tacky. Turn out onto a lightly floured surface and knead until smooth. Shape in disk and wrap in clingfilm. Refrigerate until ready to use.

For the Filling & Making of Pierogis:

In a large bowl, mash potatoes. Set aside.
In a fry pan, sauté the sausage with the minced garlic until fully cooked. Add in sauerkraut, peas, salt and pepper. Continue cooking for about 5 minutes. Remove from the heat and add to the mashed potatoes along with the shredded cheese. Mix until fully incorporated.
Once ready, turn the dough out on a lightly floured surface. Roll out until ¼-inch thick and use a 3-inch round glass or pastry cutter to cut out the rounds for the pierogi.
Fill with about 1 teaspoon of filling and fold into a halfmoon shape. Gently but firmly seal the pierogi by pinching and squeezing the edges together. Continue with remaining dough and filling.
Bring a large pot of water to a boil and add the pierogi no more than 6 or so at a time. You do not want to overcrowd them. Once the pierogi float to the top, they are done. Carefully drain them and place on a nonstick baking sheet until ready to fry.
In a large pan, with a drizzle of olive oil, give the pierogis a quick fry on each side, until golden and a little crispy.

For Serving:

In a fry pan, sauté a sweet onion until caramelized. Season with a pinch of salt and pepper. Once translucent and golden, set aside.
In the same fry pan, cook the bacon strips. Drain on a paper towel lined plate.
Once ready to serve, plate the pierogi with sautéed onions. Crumble the bacon strips on top along with the chives and a bowl of sour cream for dipping on the side.
Notes
Prep Time does NOT include Inactive Prep Time.
7.8.1.2
1496
https://livingthegourmet.com/2020/12/cheesy-sauerkraut-pierogi.html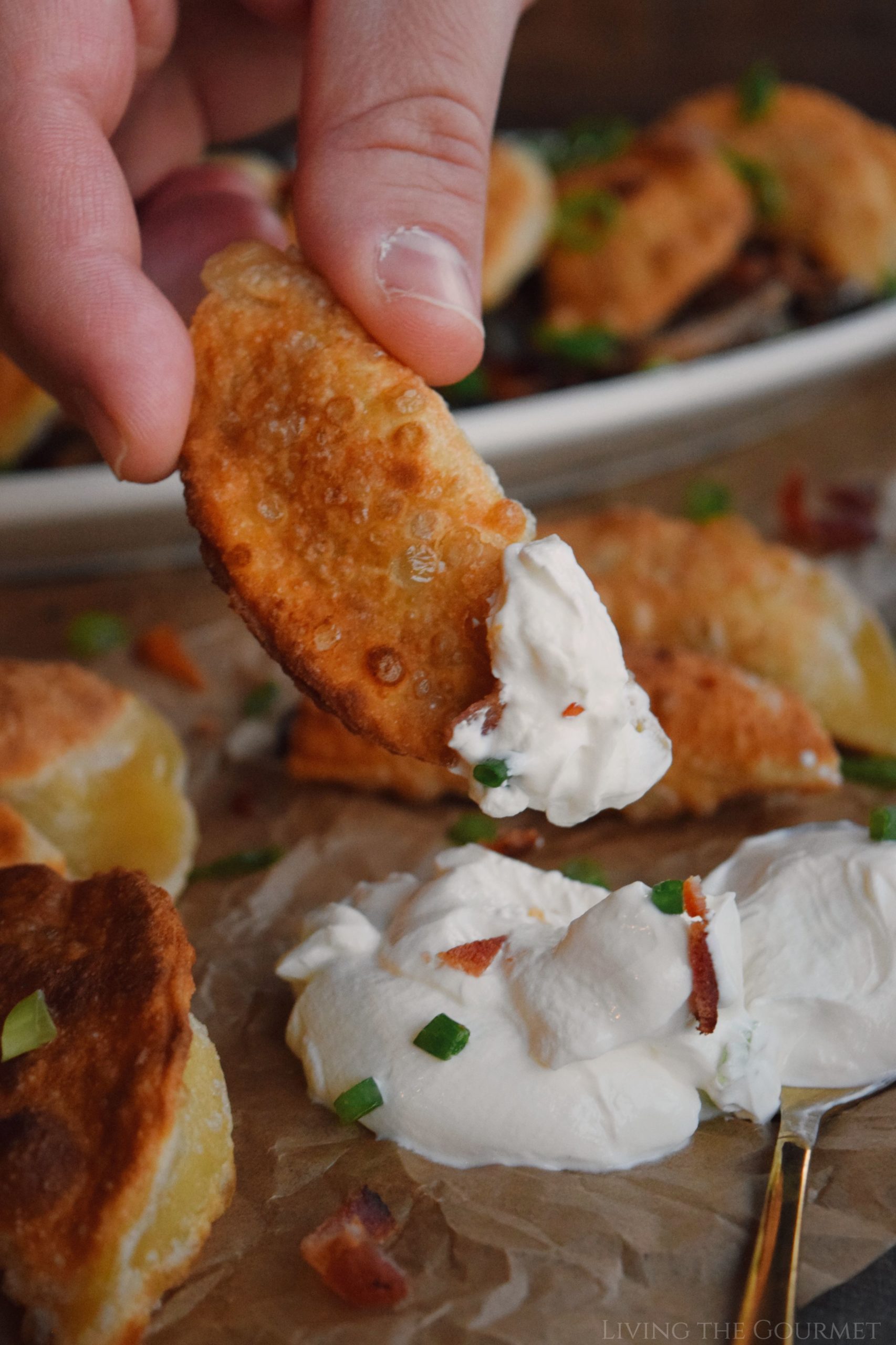 If You Enjoyed Today's Recipe…
Be sure to follow us on Instagram to stay up to date with all things Living the Gourmet, and for more great recipes, tips and tricks.
Did you make this recipe?
If so, let me know in the comments down below, or post a picture to Instagram, or to Pinterest, and I'll give you a shoutout on Instagram, or post your pin to one of my Pinterest boards!
0