Today we're preparing a Pumpkin Coffee Cake, which combines some of our favorite autumn flavor combinations, such as brown sugar and vanilla, with a dusting of nutmeg. We'll topping it with homemade streusel crumbs, and finishing it off with a super-simple two-ingredient homemade icing.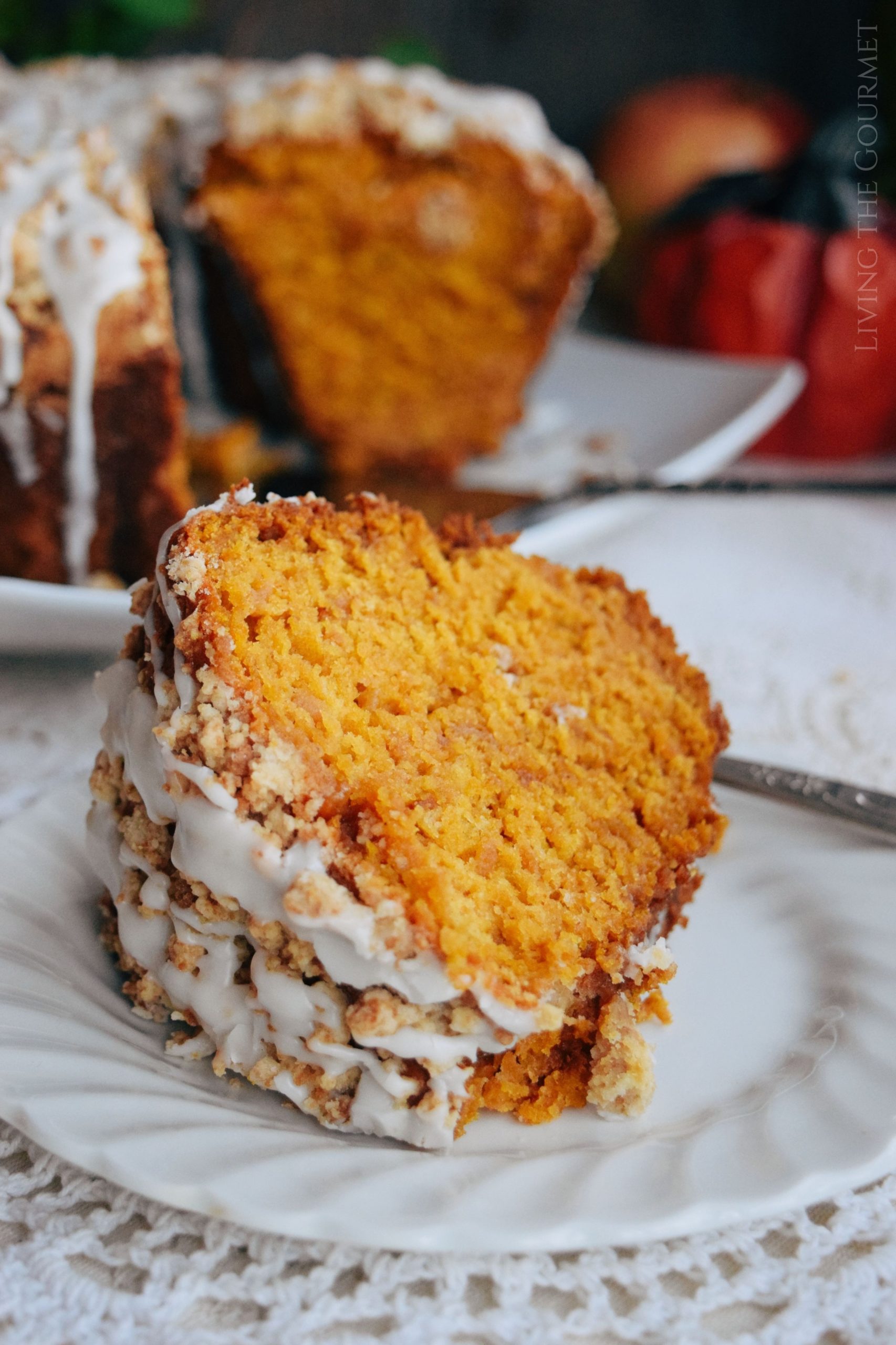 Why You'll Love Today's Pumpkin Coffee Cake
1) Seasonal Goodness. This cake is all levels of 'fall flavor,' from the mix of pumpkin and brown sugar, to the nutmeg and vanilla, this cake simply exudes 'autumn warmth.'
2) It Keeps. Today's cake keeps beautiful over the course of a week, provided you store it properly, meaning you can bake today's cake on the weekend, and then have it as a treat throughout the week.
3) More than Dessert. Today's cake 'can' serve as a light dessert, but really it's much more at home being served as a morning or afternoon treat over coffee, when you just want to take a moment and enjoy a 'mildly sweet' bite.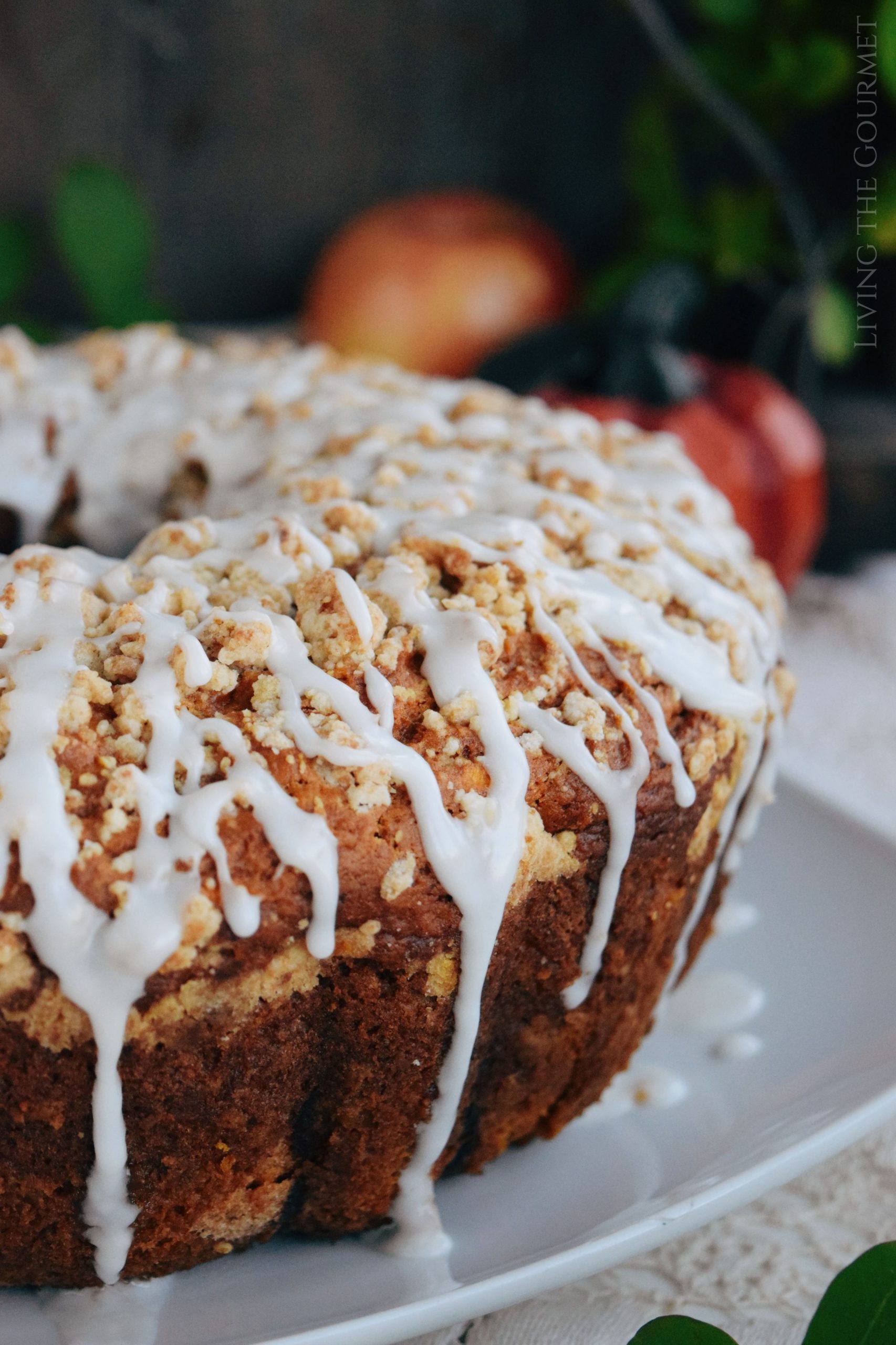 Pumpkin Spice – The Trend That Wouldn't End
1) Pumpkin vs Pumpkin Spice – A Tale of Conflicting Flavors. Pumpkins taste nothing like pumpkin spice. Just the contrary, in fact. The sad truth is that 'pumpkin flavor' is the flavor of 'bland squash.' You may or may not be surprised to learn that within the squash family there are a range of items that are not only 'more' flavorful on their own, but that are in fact 'sweeter' as well, such as butternut squash, spaghetti squash, and delicata. In fact, pumpkins are so unpalatable on their own, that in colonial times they functioned purely as a 'food of last resort,' being viewed in a similar light to 'almost inedible' items such as decorative gourds. So, why do we – especially in America – have this love affair with pumpkins, when so many of its readily available cousins taste better? The answer really is quite simple – because pumpkins are cute. After all, what's not to love? Their big, round, a 'cheerful shade' of orange, and they've been associated with All Hallows Eve since time immemorial. Nevertheless, that does leave us with one big question when it comes to 'pumpkin flavor' – is our love affair with pumpkins really are about the pumpkins themselves, or are we in love with 'pumpkin spice?' Almost certainly the latter. Thus, 'how' do we achieve 'pumpkin flavor' in the absence of…well, of pumpkins having any real flavor of their own? In sweet recipes, pumpkin is melded and accentuated by things like sugar, cinnamon, ginger, allspice, and nutmeg, which gives us recipes like the beloved pumpkin spice latte and pumpkin pie. In savory recipes, the story is much the same – such as in pumpkin soups and stews. Umami flavors play quite well with pumpkin, as with other squash-based recipes, where the base flavor of the pumpkin is accentuated into the flavor we recognize and love things like pumpkin soup and savory pumpkin muffins – or as in today's lasagna. So, in that regard, it might be best to think of pumpkin not really as a 'flavor' unto itself, but rather as a base ingredient that's molded and shaped by the ingredients added to it.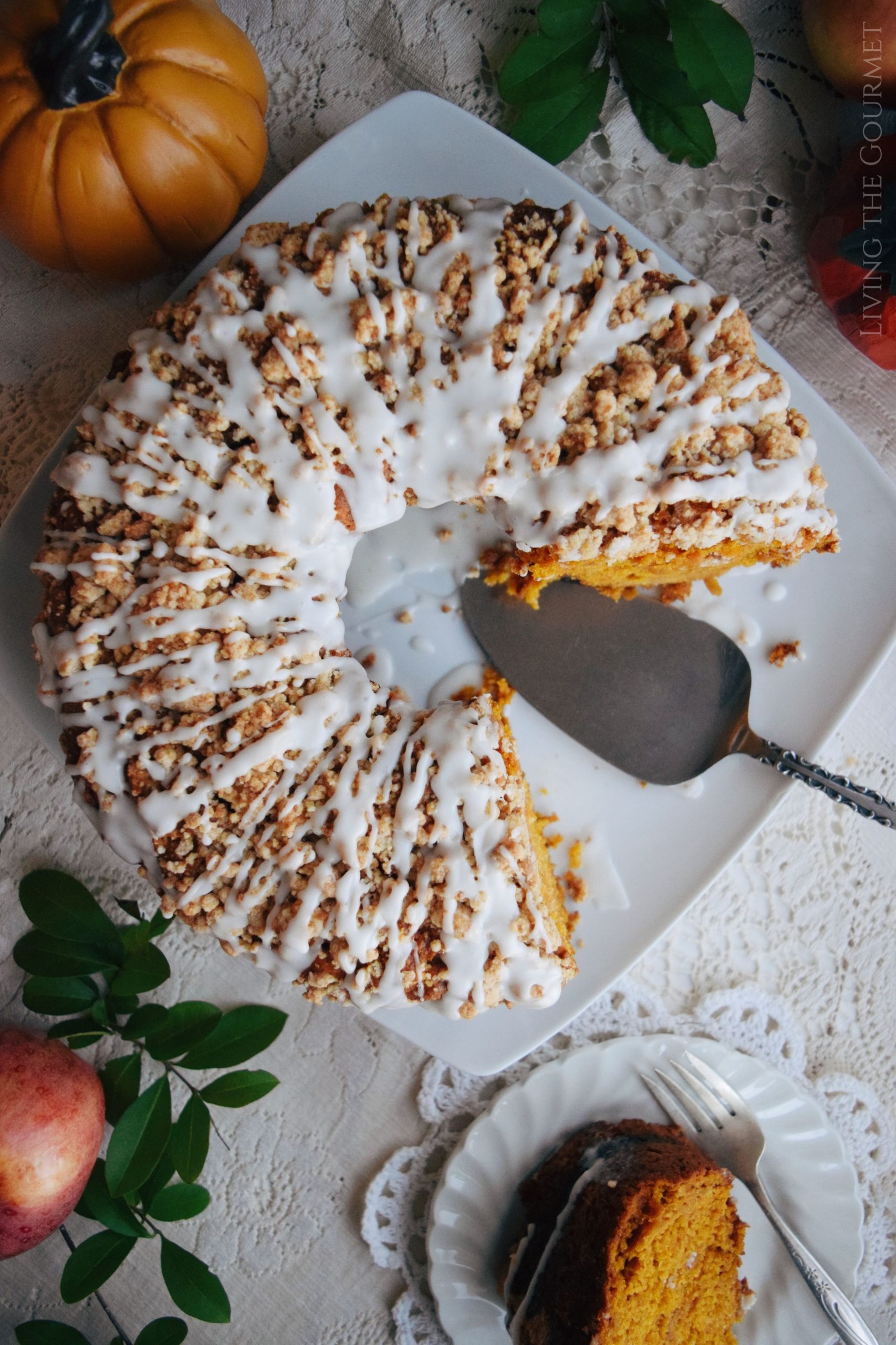 2) Canned Pumpkin vs Pureed vs Fresh vs Pumpkin Pie Filling. Very simply, canned pumpkin is pumpkin and nothing more. It's intended largely as a stand in for 'fresh,' saving you the hassle of slicing up a pumpkin and then processing it on your own. This is especially useful for recipes where you don't want chunks of pumpkin, but rather a smooth, evenly processed 'filling' or 'puree' – as in today's cake. Pumpkin puree is the same thing, sans the labeling difference. In something like a soup or stew, where whole chunks of pumpkin are preferable, you'll want to go through the extra effort of handling a whole fresh pumpkin. Finally, we come to pumpkin pie filling, which is pureed pumpkin mixed with things like cinnamon, cloves, nutmeg, and ginger, along with brown sugar, and possibly white sugar – these added ingredients vary from brand to brand.
3) Pumpkin Spice? This little spice mix was once meant simply to encapsulate the flavor of pumpkin pie - today it's the embodiment of the entire autumn season. The star ingredients of this mix are by no means set in stone, and can vary quite widely, but generally include some mix of cinnamon, ginger, cloves, nutmeg, brown sugar, and allspice. If that sounds familiar, you've probably indulged in British 'Pudding Spice' at one point or another, also known as 'Mixed Spice,' the traditional recipe for which is almost identical to the most popular incarnations of American Pumpkin Spice. Today, vanilla, nutmeg, brown sugar, and pumpkin are forming the base of the 'pumpkin flavor' for today's cake.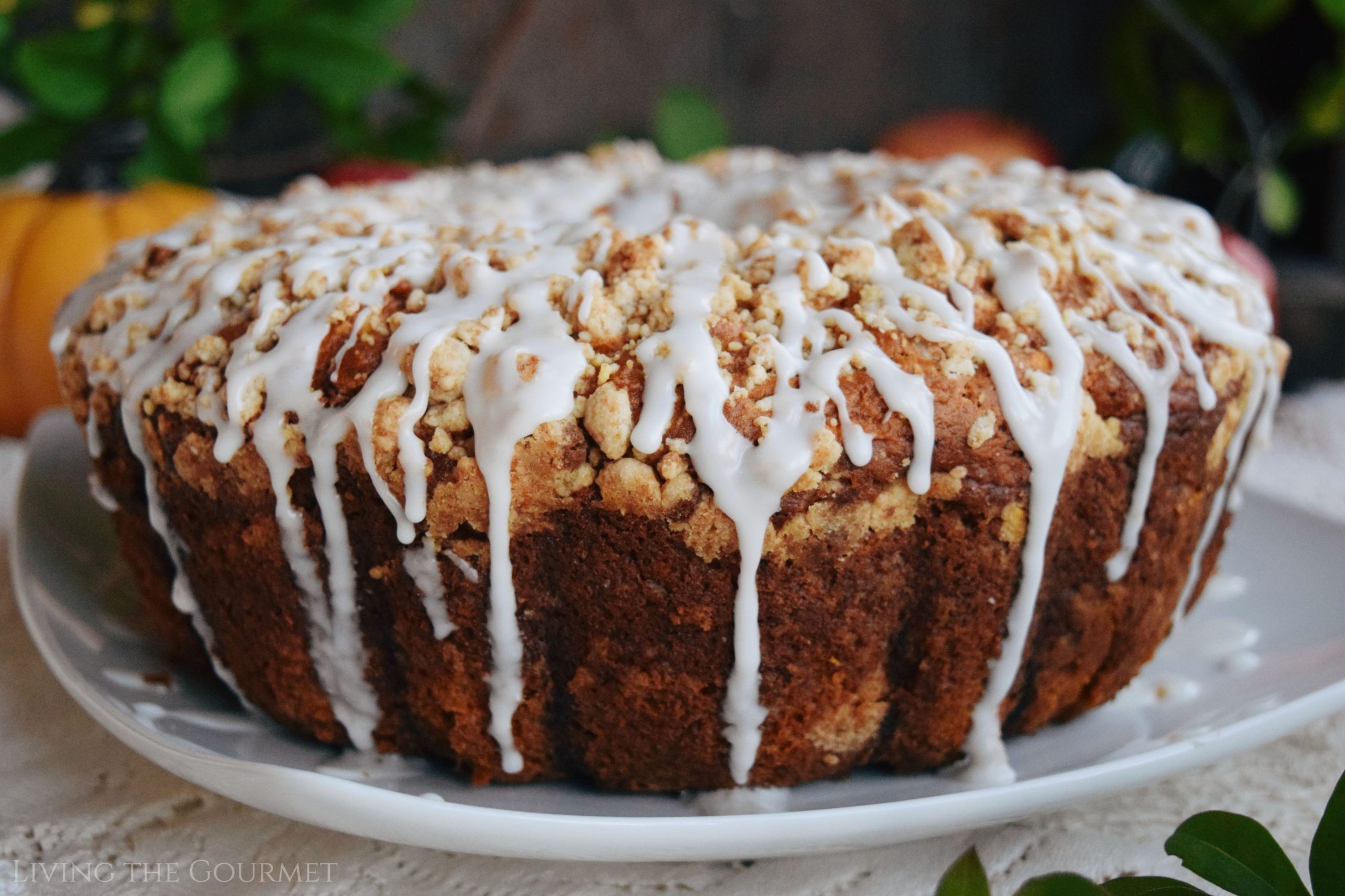 More Pumpkin Goodness From Living the Gourmet
1) Homemade Pumpkin Spice. Made from just four simple ingredients, pumpkin spice is one of the easiest things to prepare for yourself, and it goes great in everything from breads to coffee to pancakes.
2) White Chocolate and Pumpkin Bundt. An elegant yet decadent bundt, this cake is a perfect centerpiece for a seasonal dessert spread.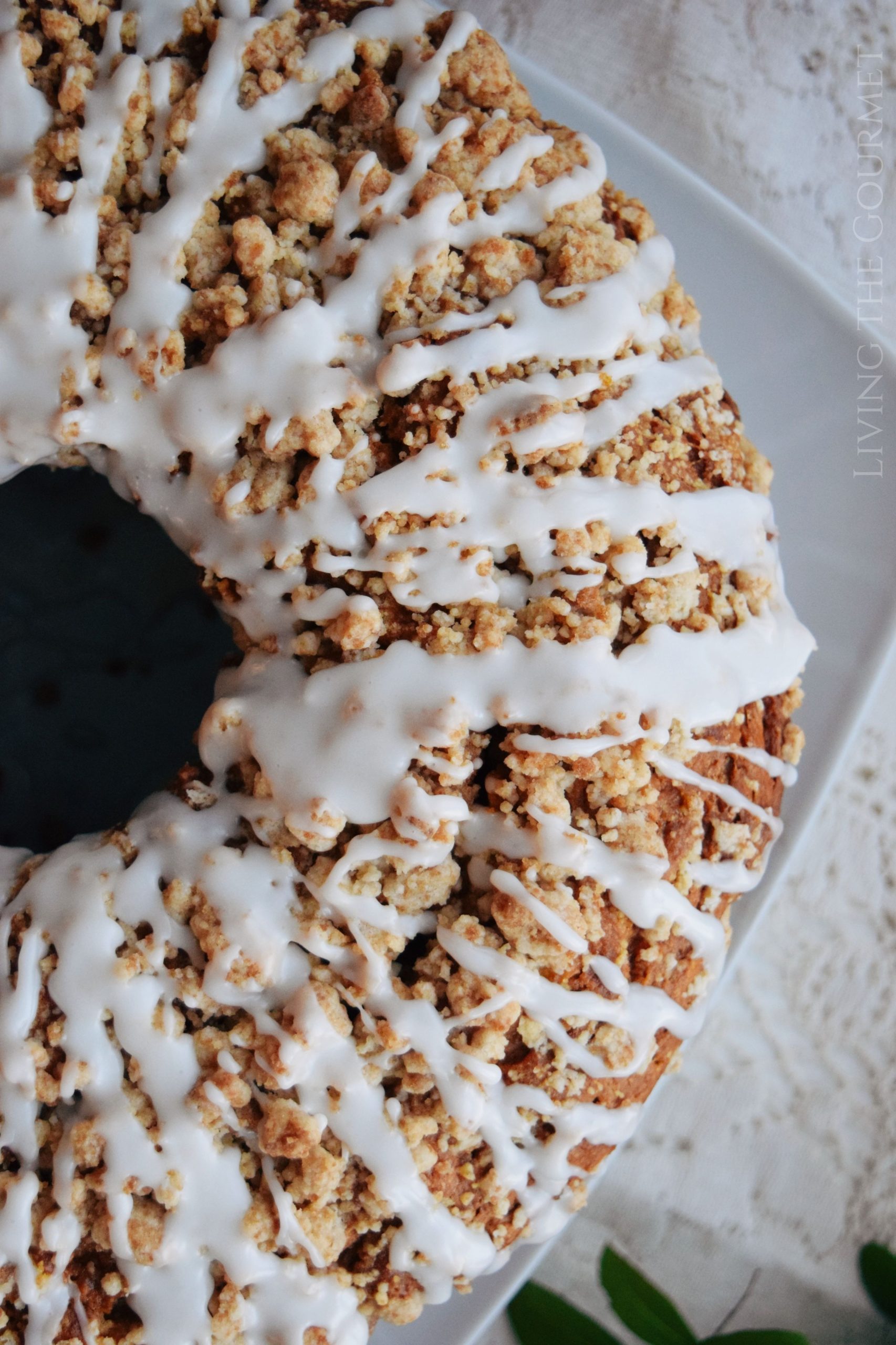 Print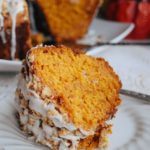 Apple Pumpkin Coffee Cake
---
Author:

Total Time:

1 hour

Yield:

1

bundt cake

1

x
3

cups

flour - sifted

1

cup

shredded fresh apple - (about 2 medium sized apples)

15 oz

. can of pure solid pumpkin

3

egg yolks

3

egg whites

1/4

cup

of fresh orange juice plus about 2 tsp. orange zest

1

cup

brown sugar

2 tsp

. vanilla
Fresh grated nutmeg - about 1/2 -1 tsp.

1/2

cup

cooking oil

2 tsp

. baking powder

2 tsp

. baking soda

1/2 tsp

. salt

1

cup

sugar
Butter for greasing the pan
For the Streusel Crumbs:
4

tbs. softened butter
Heaping

1/4

cup

of flour
Heaping

1/4

cup

of brown sugar
For the Icing:
1

cup

powdered sugar
About

2

-

3

tbs. milk
---
Instructions
For the Streusel Crumbs:
Combine the softened butter, flour and brown sugar and mix until combined and able to form crumbs. Set aside.
For the Cake:
Preheat Oven 350 degrees F.
In a medium sized bowl whisk the pumpkin, shredded apple, brown sugar, egg yolks, oil, orange juice, nutmeg, orange zest and vanilla.
In a separate larger bowl sift together the flour, baking powder, baking soda, salt and sugar.
In a separate bowl, using an electric mixer beat the egg whites until soft peaks form.
Prepare a bundt pan with the butter.
Combine the wet ingredients with the sifted ingredients, then fold the egg whites into the batter.
Place the batter into the prepared bundt pan.
Top the batter with the streusel.
Bake 45 – 50 minutes or until the cake tester comes out clean.
Cool the cake then remove from the pan.
For the Icing:
Place the powdered sugar in a medium sized bowl.
Add the milk, one tbs. at a time and mix. Continue this process until the icing is smooth and able to drizzle over the cake.
Prep Time:

10 minutes

Cook Time:

50 minutes
Nutrition
Serving Size:

10 slices of cake
Recipe Card powered by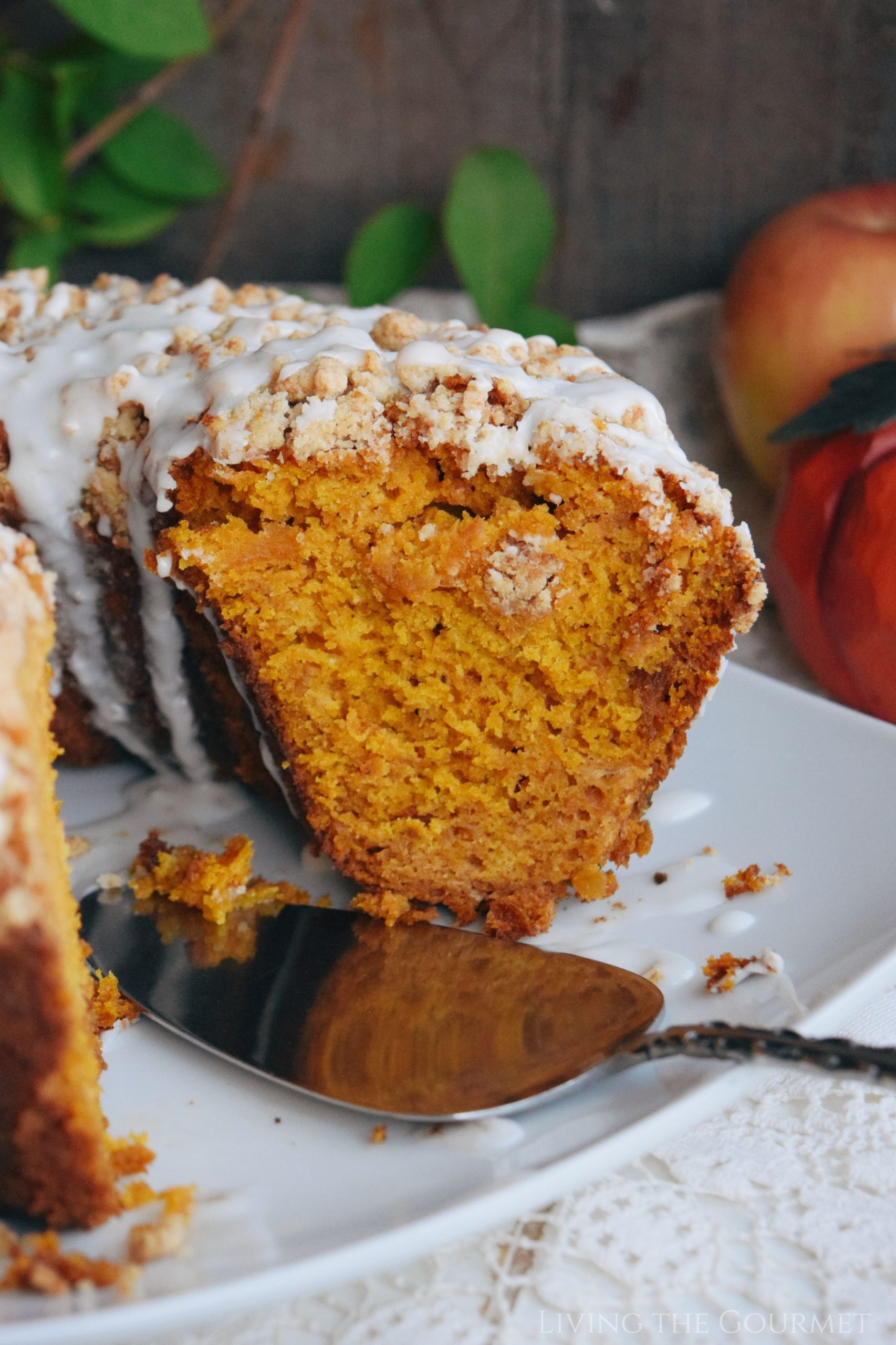 If You Enjoyed Today's Recipe…
Be sure to follow us on Instagram to stay up to date with all things Living the Gourmet, and for more great recipes, tips and tricks.
Did you make this recipe?
If so, let me know in the comments down below, or post a picture to Instagram, or to Pinterest, and I'll give you a shoutout on Instagram, or post your pin to one of my Pinterest boards!
2