This chicken salad is the answer to hot summer days- easy to make, bright, and refreshing. We're topping it off with a sweet mustard & tahini vinaigrette and fried peaches.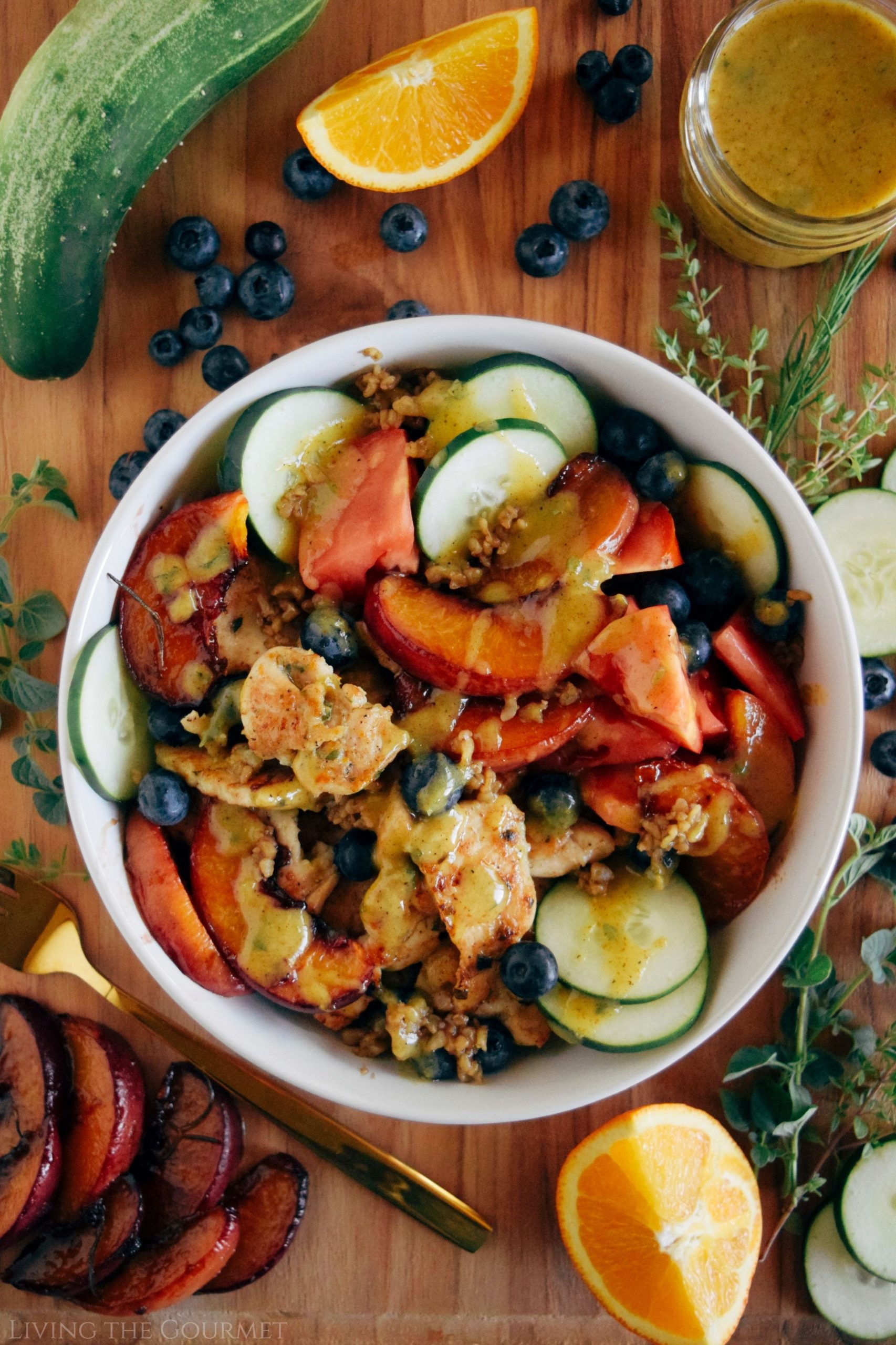 There is something deeply satisfying about a well-balanced salad. I'm not being facetious here either, I'm speaking as a bit of salad-snob actually.
I like hearty salads, dark leafy greens, ancient grains, nuts, fruit, the whole shebang. So last week, when we were hit by a week long heatwave and no one wanted to cook, or even think about hot food in general, I figured it was the perfect time to make a hearty salad for the season.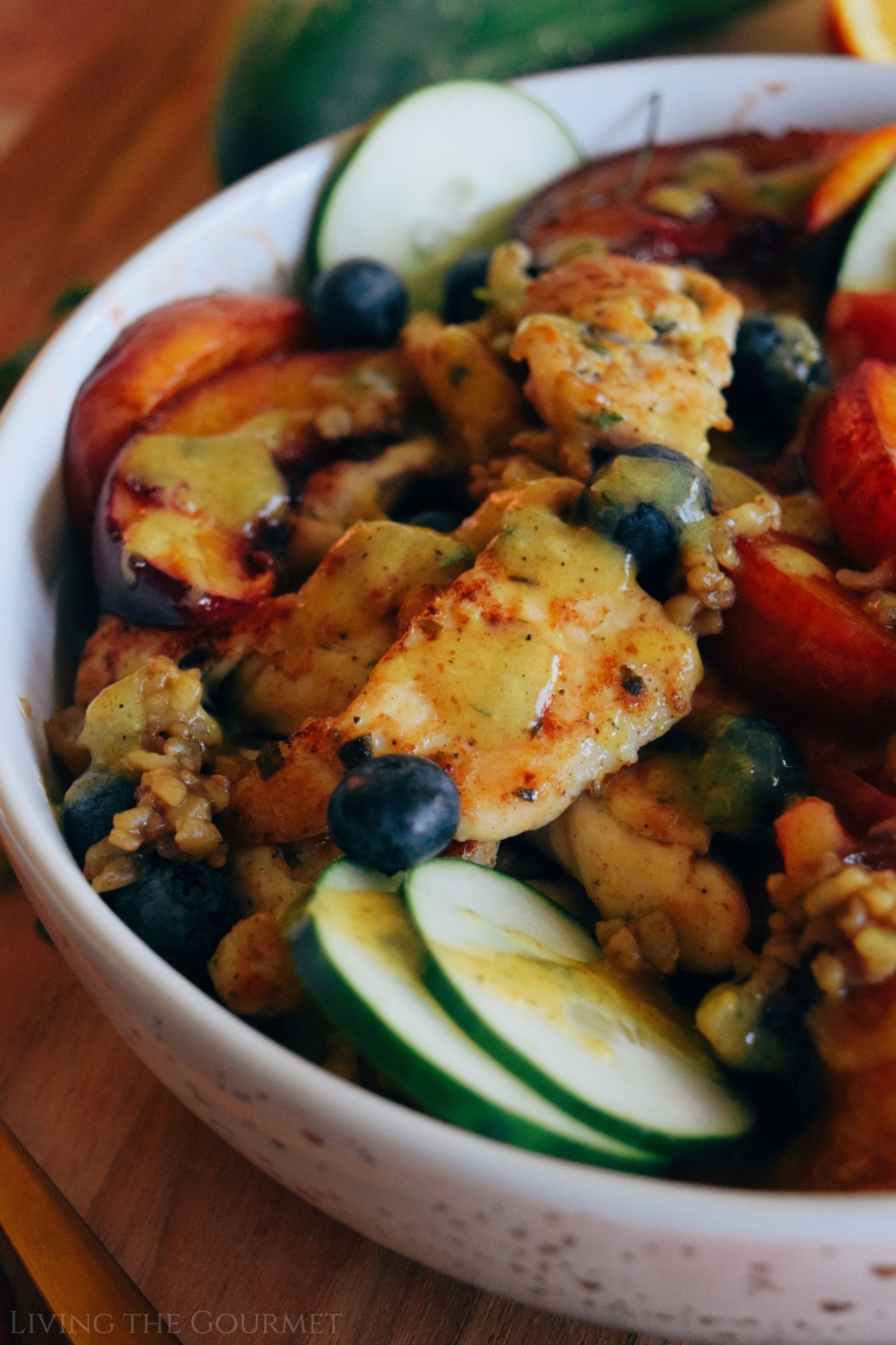 This salad is like a crescendo. There's a lot going on with layers of flavors, each leading up to the next. If you have leftover chicken in the fridge this is a perfect recipe to make with minimal effort. Even if you don't have any leftovers stored away, I prioritized making the chicken as simple as possible with just a few yet impactful ingredients like lemon thyme and oregano fresh from the garden.
For a little extra 'heft', I served the chicken over a bed of freekah, though you can use any grain you have on hand, even pasta will do.
So, you have your grains, your protein, but now we need to get some fresh fruit and veggies into the mix.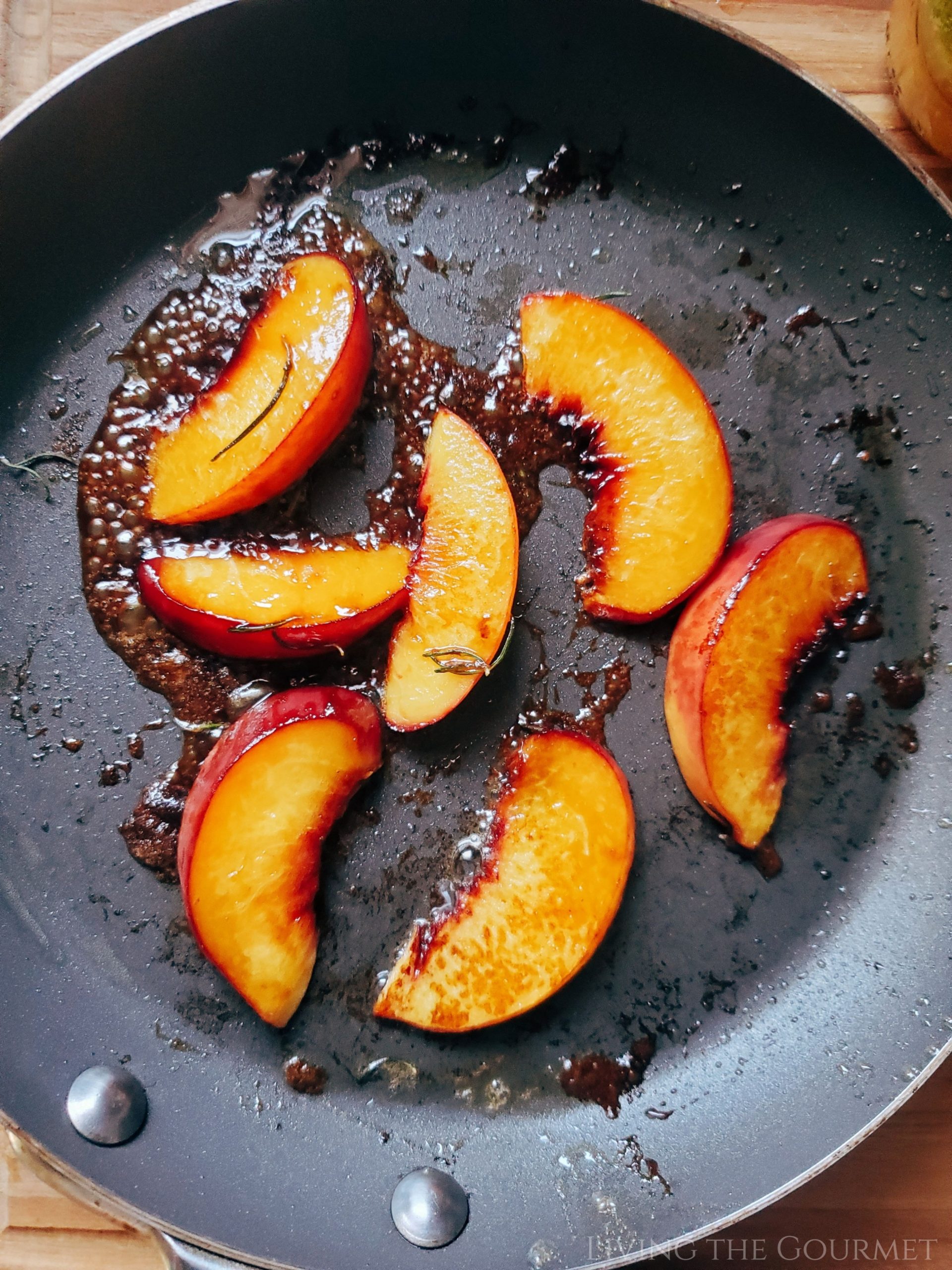 In place of leafy greens, I opted for whole grains, crisp cucumbers, and juicy tomatoes for added body. As a matter of personal preference, I love fruit in my salad so here I added blueberries and fried peaches. Naturally, you can add any kind of fruit you like. It is a highly versatile dish, so feel free to get creative.
Fried peaches, grilled peaches- they're basically the same only I used a frying pan over the grill. Whichever you choose, the recipe remains the same. Fry them up (or grill) with a generous pat of butter, some brown sugar, and a sprig of rosemary. It offers another flavor of depth that melds the dish together.
No salad is complete without some sort of dressing or vinaigrette. I've always opted for homemade and I especially love a honey mustard alongside chicken. This one is a good combination of a zesty vinaigrette and a creamy dressing without the fat, thanks to a spoonful of tahini. Its added creaminess and subtle nutty flavor is a perfect balance to the mustard and vinegar.
Top it all off and savor the flavors of summer. You've got a salad bowl that's perfect for lunch or dinner. The best part is, you'll have plenty leftover too.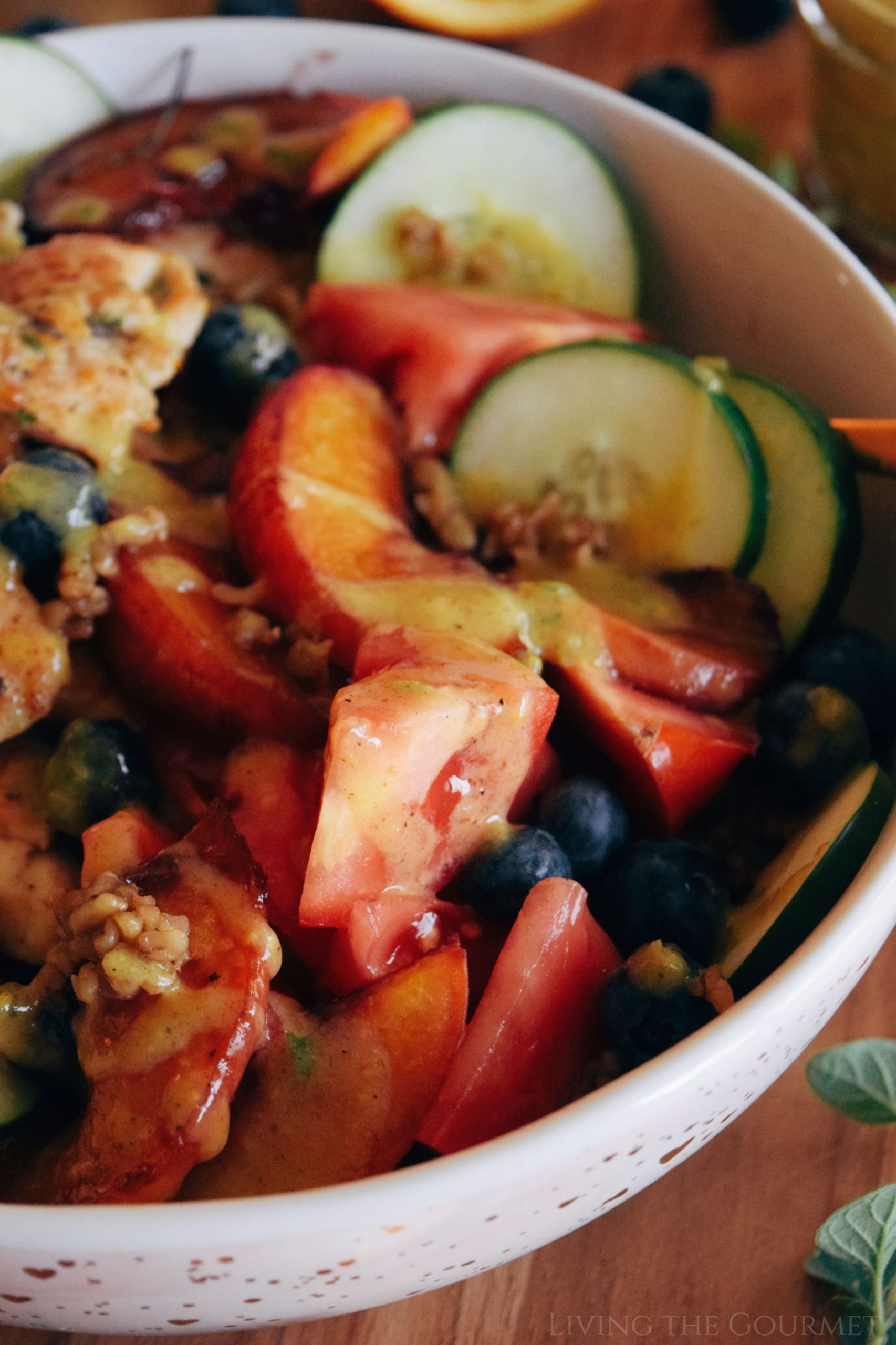 As mentioned earlier, salads are uniquely versatile and this one is no exception. Here are few additional ingredients you can use in place of or in addition to:
For the Protein:
Grilled pork or seared salmon are great swaps if you don't have chicken on hand or if you're just craving something a little different. Even leftover steak strips would serve well with this meal.
If you're looking for meatless variations try grilled mushrooms, tofu steaks, or our crispy fried cauliflower balls.
For the Grains:
I love ancient grains mixed into my salads, but if you're not a big fan or if you don't have freekah on hand, buckwheat and quinoa are perfect substitutes. Feel free to go for short grain rice or fine pastas like pastina.
For the Fruits and Veggies:
Use whatever you have on hand. If your blueberries are frozen that works too and it will add a nice refreshing bite. Other ideas are apples, orange slices, cherries, strawberries, plums, grapes, and pears. You can also use dried fruit like apricots, figs, dates, or dried cranberries.
I love avocados in this salad. Other great vegetables to consider in place of leafy greens are bell peppers, string beans, mushrooms, radishes, and corn.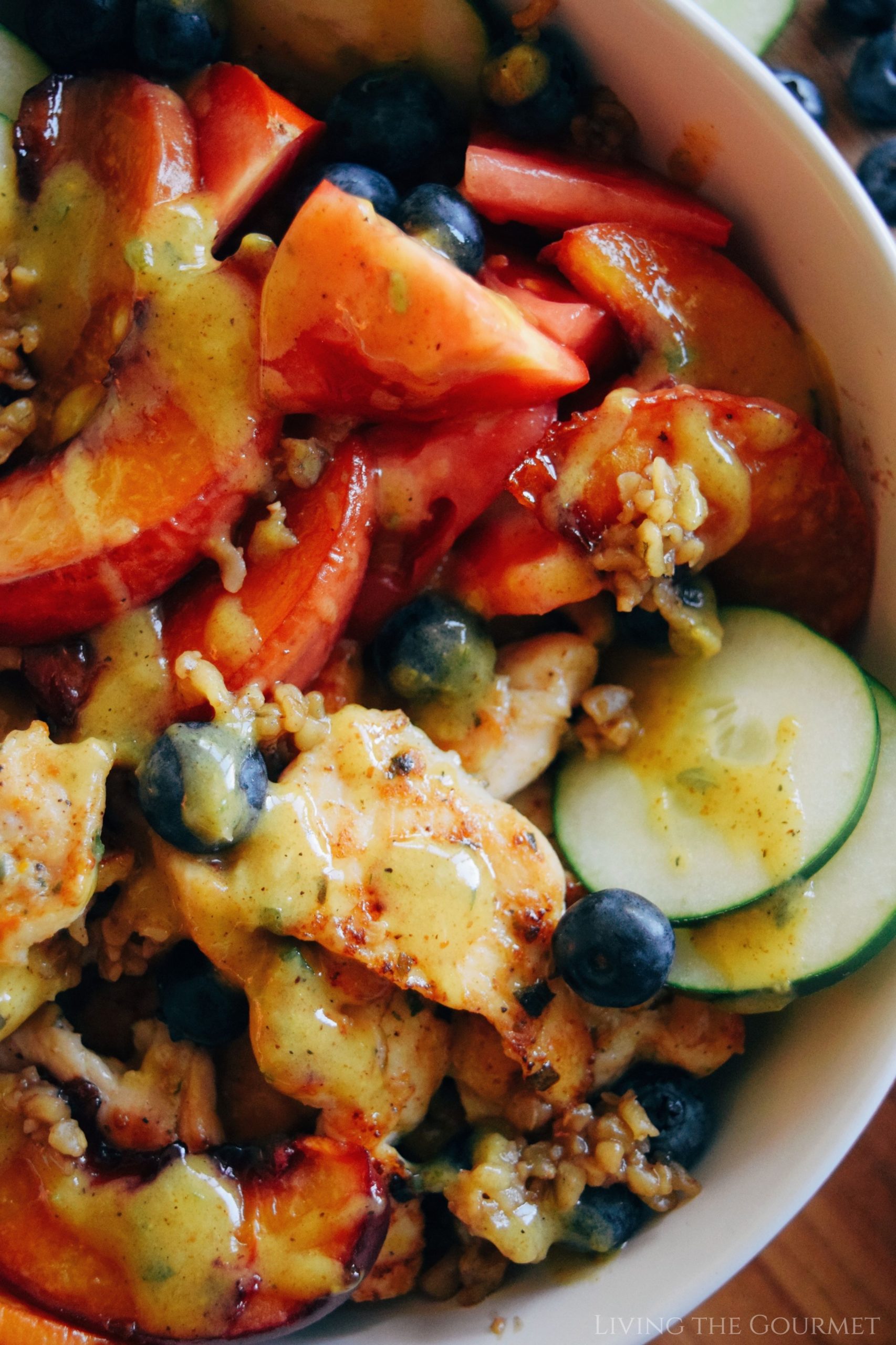 Living the Gourmet
Yields 4
Summer Chicken Salad Bowl
15 minPrep Time
25 minCook Time
40 minTotal Time
5 based on 10 review(s)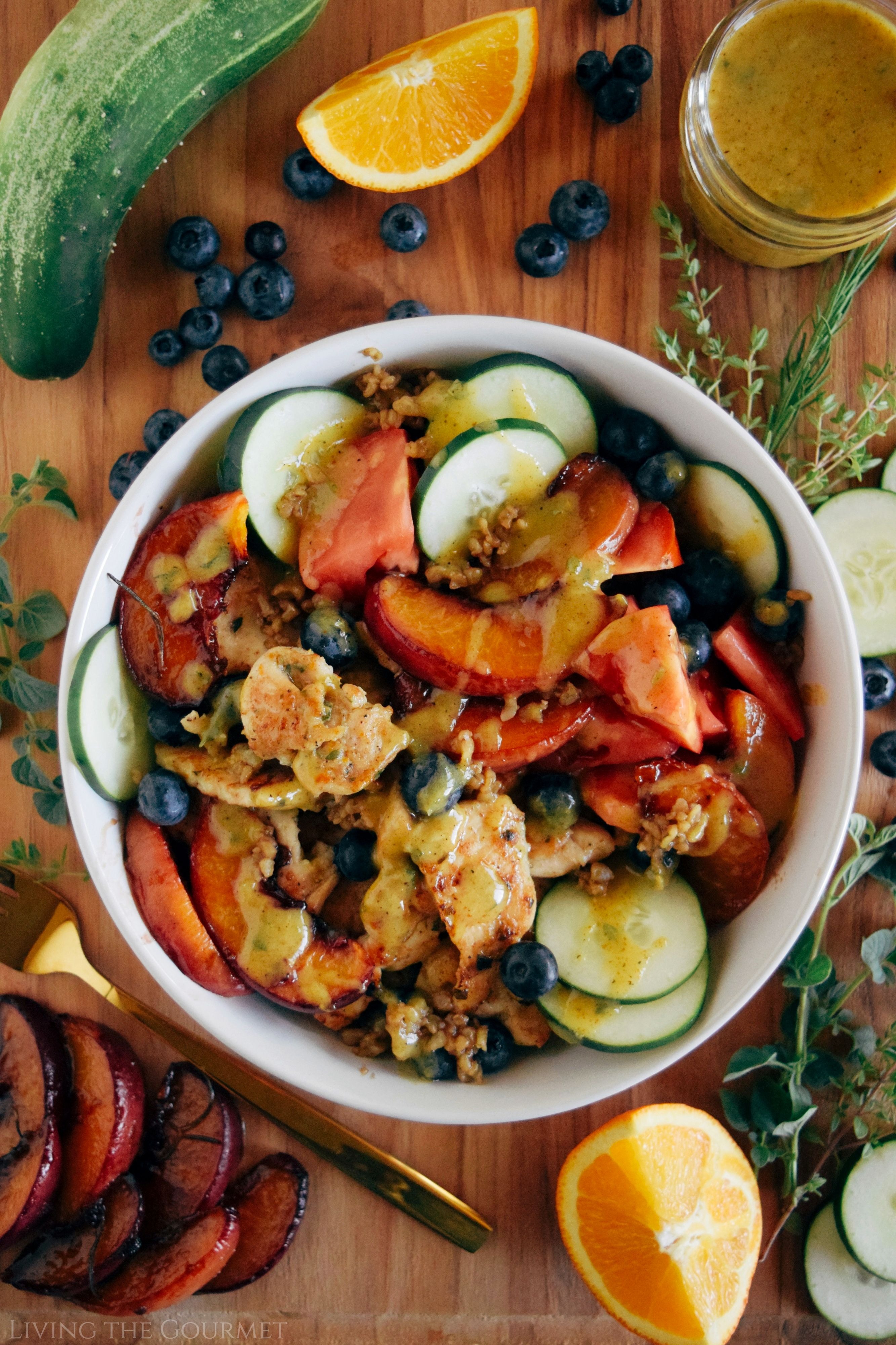 Ingredients
For the Chicken:

1 lb. chicken breast, sliced into 1-inch chunks
2 tablespoons olive oil
2 cloves garlic, grated
2 tablespoons fresh lemon thyme, finely chopped
2 tablespoons fresh oregano, finely chopped
1 teaspoon coriander
1 teaspoon salt
½ teaspoon black pepper
Zest of 1 orange

For the Fried Peaches:

2 large peaches
1 sprig fresh rosemary
2 tablespoons brown sugar
2 tablespoons butter

For the Mustard & Tahini Vinaigrette:

2 heaping tablespoons raw honey
2 tablespoons extra virgin olive oil
1 tablespoon apple cider vinegar with the mother
Juice of ½ orange
1 heaping tablespoon tahini
¼ cup Dijon Mustard or Spicy Brown Mustard
1 garlic clove, grated
1 teaspoon fresh lemon thyme, finely chopped
1 teaspoon fresh oregano, finely chopped
½ teaspoon salt
½ teaspoon black pepper

For the Salad:

1 Kirby cucumber, sliced thin
1 vine ripe tomato, diced
2 cups freekah (prepared as directed)
½ cup fresh blueberries
Instructions
In a large bowl, combine all ingredients for the chicken. Let it sit and marinade in the refrigerator for at least 1 hour or overnight.
In a frying pan set over medium heat, saute the chicken until golden. Set aside.
Prepare the freekah as directed. Set aside.
In a small non-stick frying pan, fry the sliced peaches until golden and tender. Set aside.
Next, combine all ingredients for the vinaigrette and whisk until smooth.

Assemble the salad:

Place about ½ cup of the prepared freekah at the bottom of each salad bowl. Top with the sauteed chicken, sliced cucumbers, tomatoes, blueberries, and fried peaches. Drizzle the vinaigrette over each salad and serve immediately. Enjoy!
7.8.1.2
1459
https://livingthegourmet.com/2020/08/summer-chicken-salad-bowl.html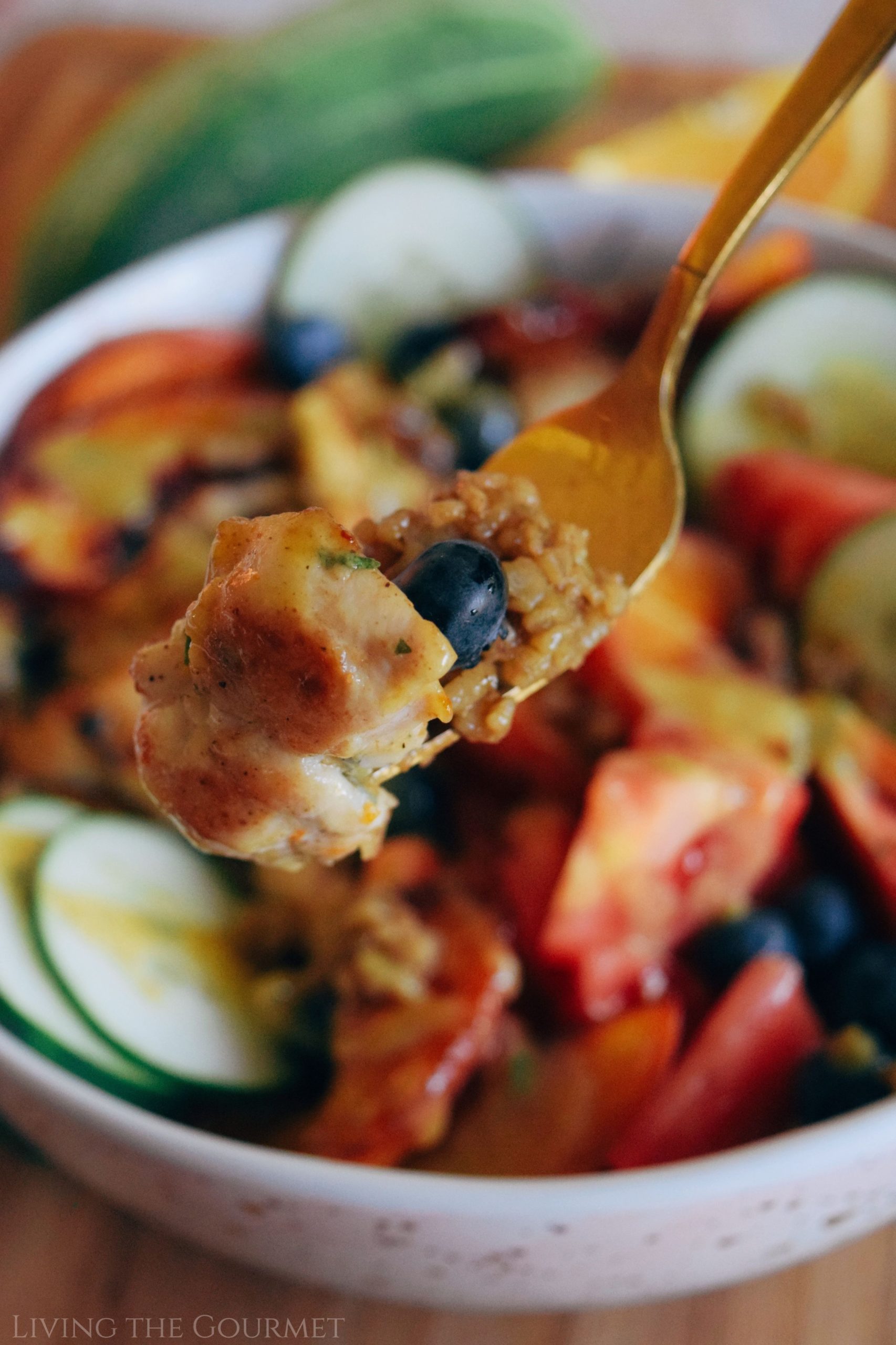 If You Enjoyed Today's Recipe…
Be sure to follow us on Instagram to stay up to date with all things Living the Gourmet, and for more great recipes, tips and tricks.
Did you make this recipe?
If so, let me know in the comments down below, or post a picture to Instagram, or to Pinterest, and I'll give you a shoutout on Instagram, or post your pin to one of my Pinterest boards!
0