Today we're preparing a bundt that is especially tailored to the winter and holiday seasons, featuring 'warming' and 'rustic' flavors carried on a background of rum and vanilla. Pair this with a hot coco, coffee, or tea, and you've got a seasonal combination that couldn't be better.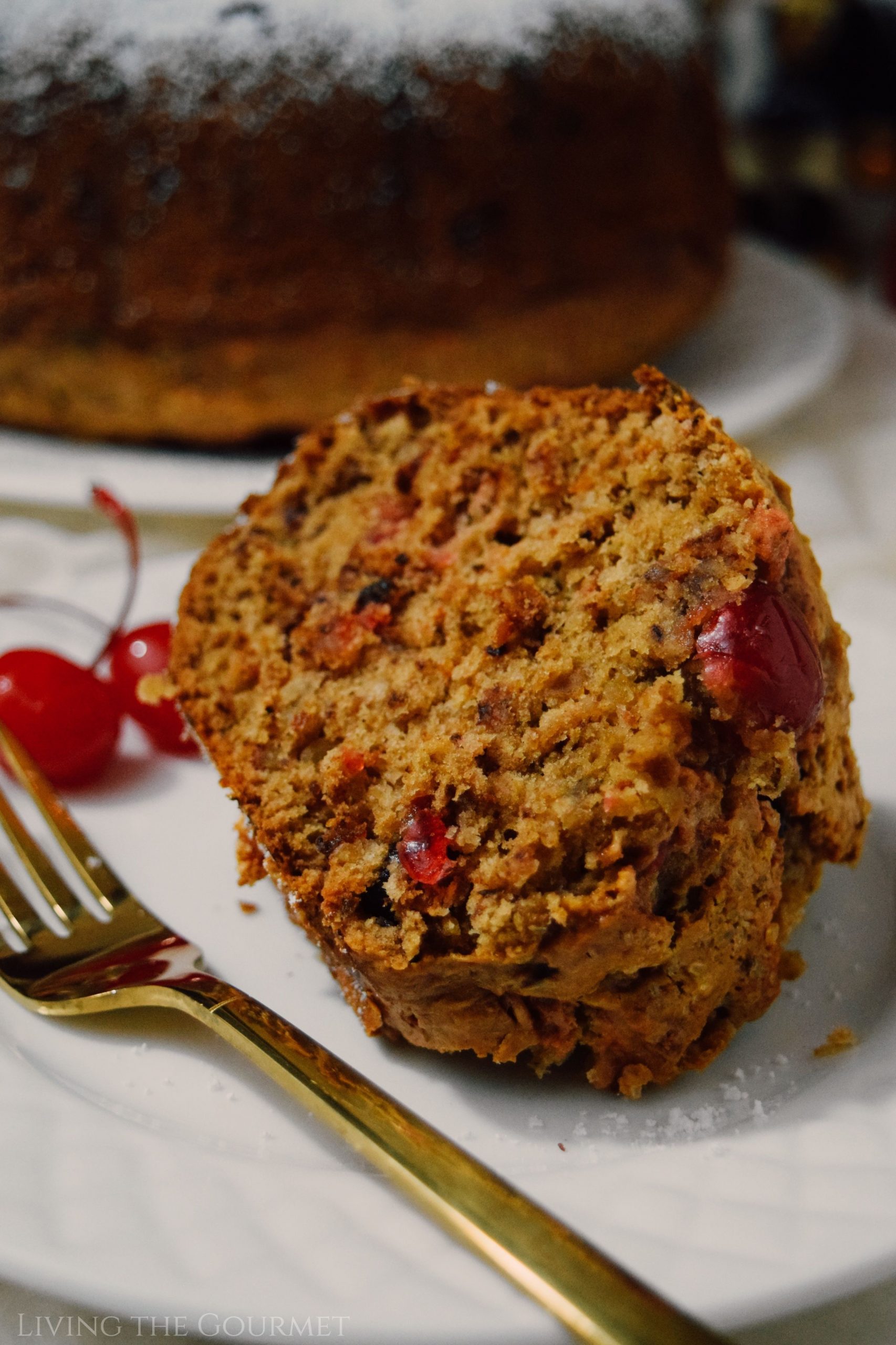 Why You'll Love Today's Bundt
1) Christmas In A Loaf. From cinnamon and citrus, to cherries, rum, and toasted nuts, today's bundt combines all of your favorite Christmas flavors in a single, easy to prep loaf. This also pairs great with spiced or peppermint whipped cream, or cinnamon syrup, or even warmed maple syrup.
2) Bake Ahead. This loaf keeps excellently wrapped in plastic wrap and tin foil for up to four days at room temperature, or up to a week in the fridge, meaning that you can bake this over the weekend, and have it throughout the week to come.
3) Simple Baking Process. No specialized tools or baking processes are required to prepare today 's recipe, making it accessible to home bakers of all skill levels.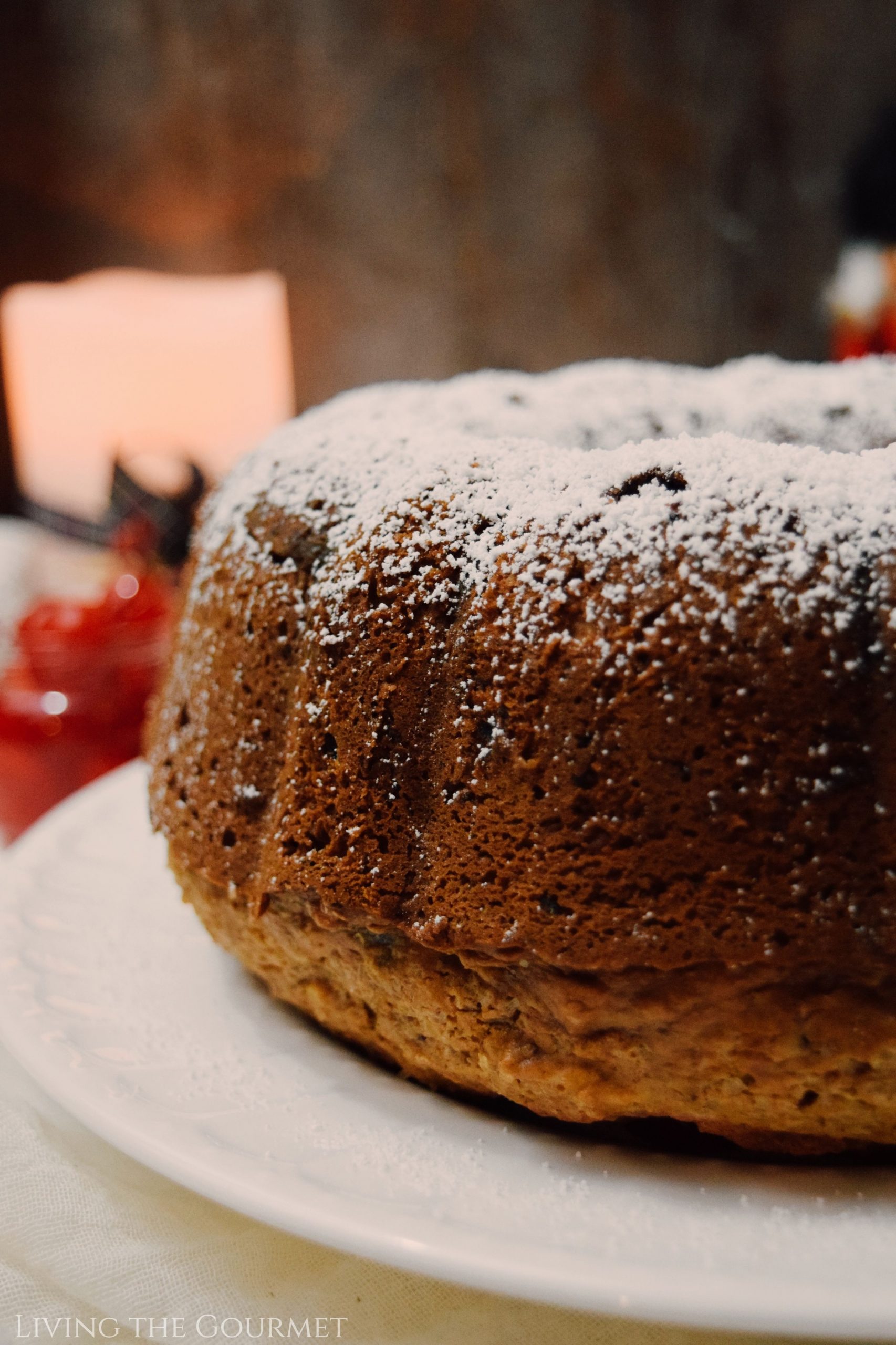 What You'll Need
1) A Bundt Pan – Not a Barrier to Entry. Naturally, to achieve the shape you see in the pictures you'll need a bundt pan. However, if you don't have one, feel free to use a loaf pan.
2) Food Processor. You'll need a food processor to properly chop and combine the fruit, nuts, and orange rind. However, if you don't own one, or are feeling like doing things the old fashioned way, you can replace the food processor with a sharp knife and some patience.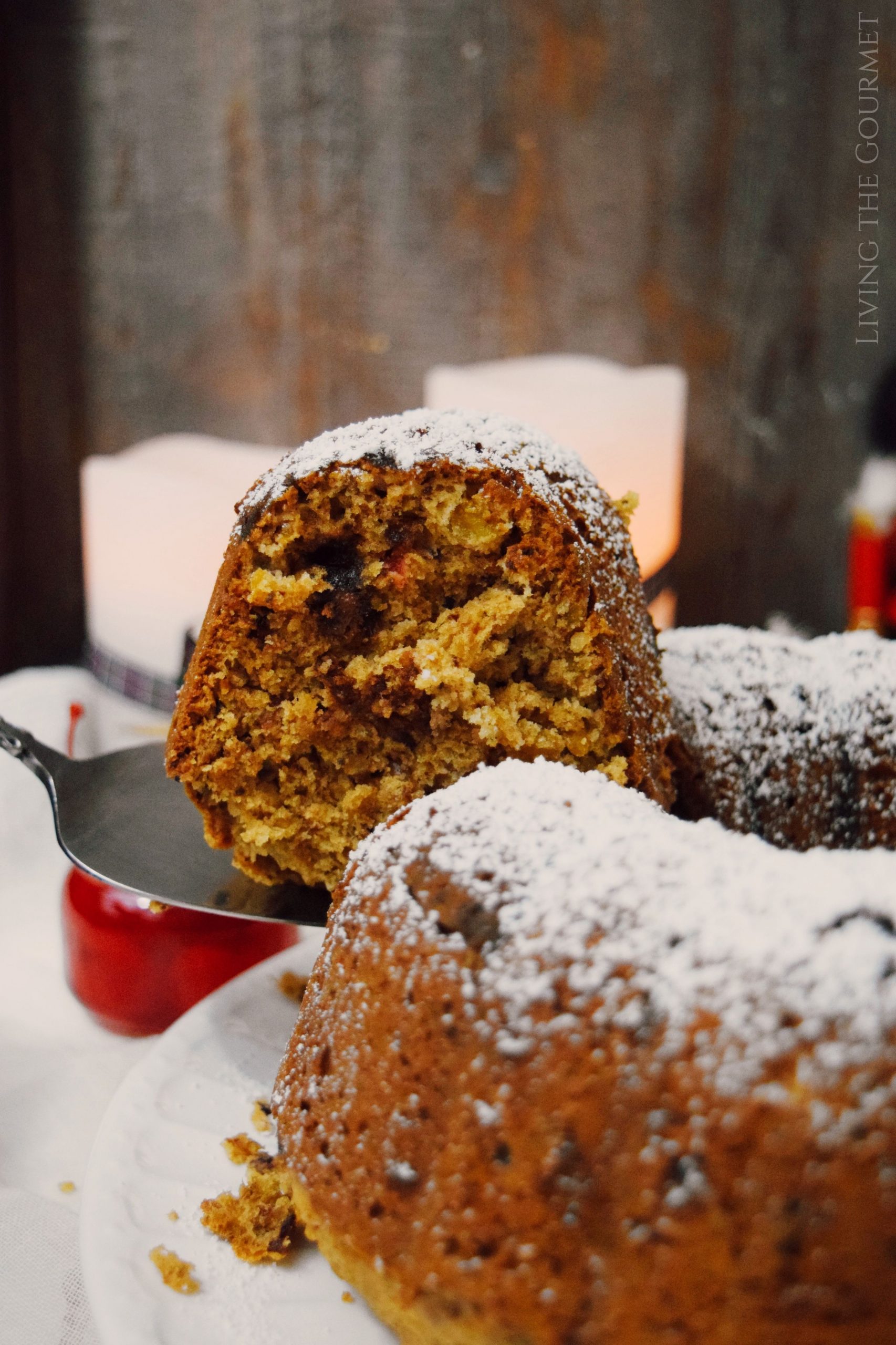 Ingredients Tips, Notes, and Substitutions
1) Maraschino Cherries vs Fresh vs Dried. Let's be real and admit that maraschino cherries are pretty much what most people think of when they think 'cherries,' those delightful firetruck red 'confections' that simply ooze sugary red syrup, and 'burst' in your mouth with bountiful 'sugar cherry' flavor, such that you can swear "That's what red tastes like." However, they are probably closer to 'candy' than they are to 'cherries.' So, what if you wanted to be a bit more 'natural' and replace them with either the fresh or dried version of the 'real' thing? The answer is a resounding "Feel Free." That said, there are a few things worth noting. First, the reason I'm using maraschino cherries is for a 'brighter' more 'intense' cherry flavor, and for decoration, since they simply 'look' precious when cutting the cake. Second, be warned that swapping out dried or pitted fresh cherries 'will' dial back the cake's sweetness a fair few notches (this is doubly true with dried cherries), and they simply won't 'look' as nice – but again, this is all preference.
2) Rum and its Substitutes. While nothing tastes quite as good as the real thing, there are a few decent substations to rum if you so choose, or if you don't have it on hand. First and foremost is 'simple syrup' flavored with rum extract, or you could use simple syrup flavored with almond extract. In both cases, use the same four tablespoons of total liquid as outlined in the ingredient list. Conversely, you could also use white grape juice – again the same four tablespoons as outlined below. I wouldn't use apple juice or cider for this particular recipe, although those are typically considered acceptable rum substitutes in baking.
3) The Dried Fruit – Do's and Don'ts. You want to use dried fruit that is inherently 'fleshy' and 'sweet' (such as dried apricots), and that does not have a skin that might peel or flake (low or improperly stored quality dates), or copious amounts of small seeds (dried figs). You also don't want dried fruit that is overly tart or 'harsh' on the palate (such as dried cranberries). Instead you want sweet and warming flavors, free of peeling skin, and small seeds – such as those used today.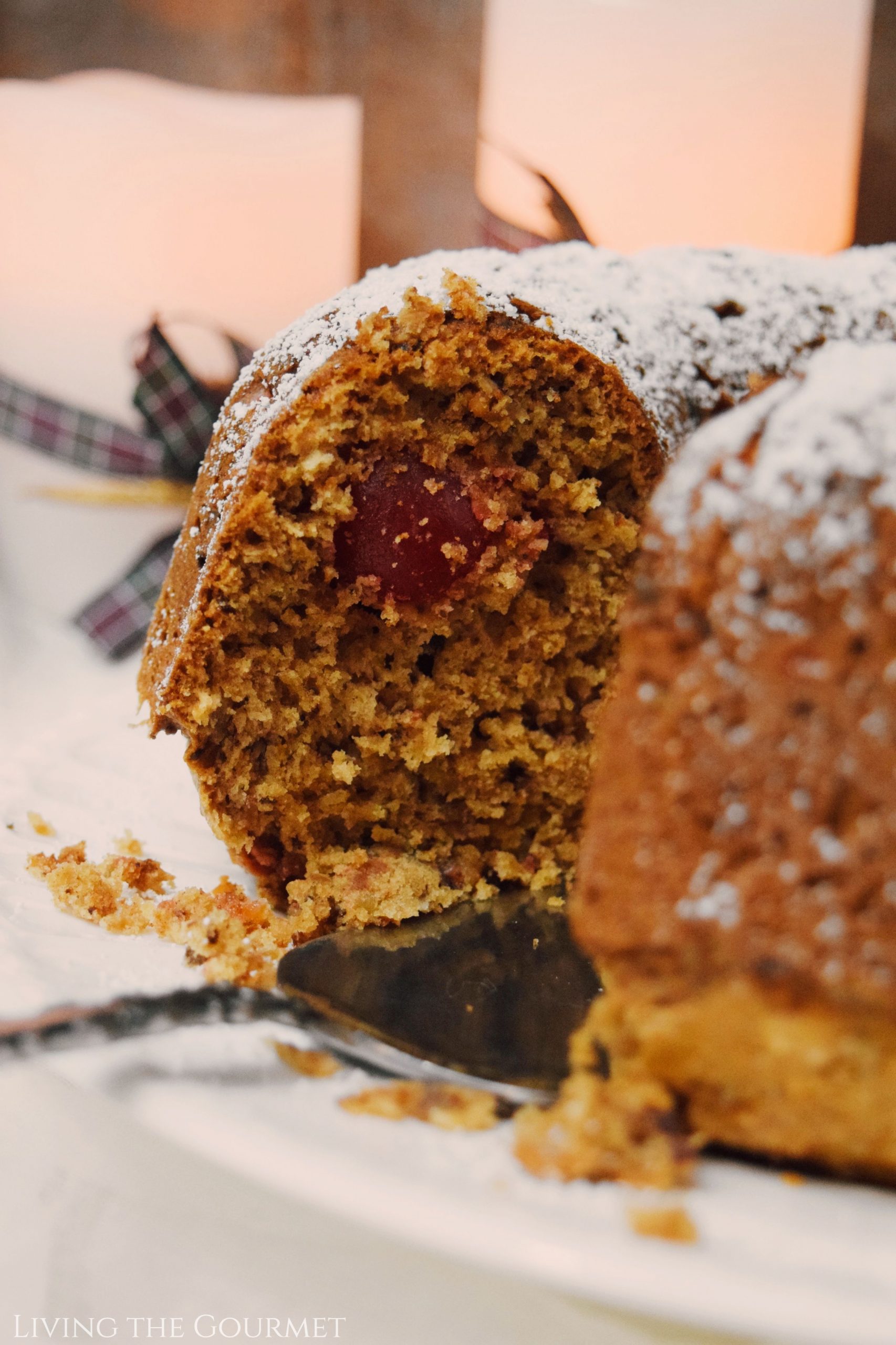 Some of My Favorite Bundts
1) White Chocolate and Pumpkin Bundt. An elegant yet decadent bundt, this cake is a perfect centerpiece for a seasonal dessert spread.
2) Chocolate and Nutella Bundt. This bundt is a essentially chocolate on chocolate, with a medley of nutty goodness from the Nutella.
3) Chocolate Oreo Bundt. Chocolate cake and crumbled Oreo cookies combine to create a super moist, super decadent loaf.
Print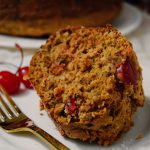 Dried Fruit Bundt Cake #BundtBakers
---
Author:

Total Time:

55 minutes

Yield:

1

bundt cake

1

x
1

cup

water plus 1/2 cup orange juice

1

cup

quick-cooking oats

1/2

cup

unsalted butter - softened

1

cup

sugar

1/2

cup

brown sugar

2

eggs

4

tbs. rum

1 tsp

. vanilla

1 3/4

cups

flour

1 tsp

. baking powder

1 tsp

. baking soda

1/2 tsp

. salt

1/4 tsp

. cinnamon

1

tbs. grated orange rind

1/2

cup

walnuts

1/2

cup

raisins

1/2

cup

pitted dates

1/2

cup

dried apricots

6

-

10

maraschino cherries - rinsed and patted dry

1/2

cup

chocolate chips
Powdered sugar - for dusting
---
Instructions
Preheat Oven 350 degrees F.
Combine the dried fruit, nuts, orange rind, rinsed maraschino cherries and chocolate chips in a food processor and give a few good chops.
Bring the orange juice and water mixture to a gentle boil and pour over the oats and set aside.
Cream the butter and the sugar until light. Beat in the eggs, vanilla and rum.
Sift together the flour, baking powder, baking soda, salt and cinnamon and add to the batter alternately with the oats.
Stir in the dried fruits, nuts and chips into the batter.
Generously butter the bundt pan.
Place the batter into the bundt pan.
Bake 35 – 40 minutes or until the toothpick test comes out clean.
Let the cake rest on a cooling rack 10 – 15 before removing from the pan.
Dust with powdered sugar before serving.
Prep Time:

10 minutes

Cook Time:

45 minutes
Recipe Card powered by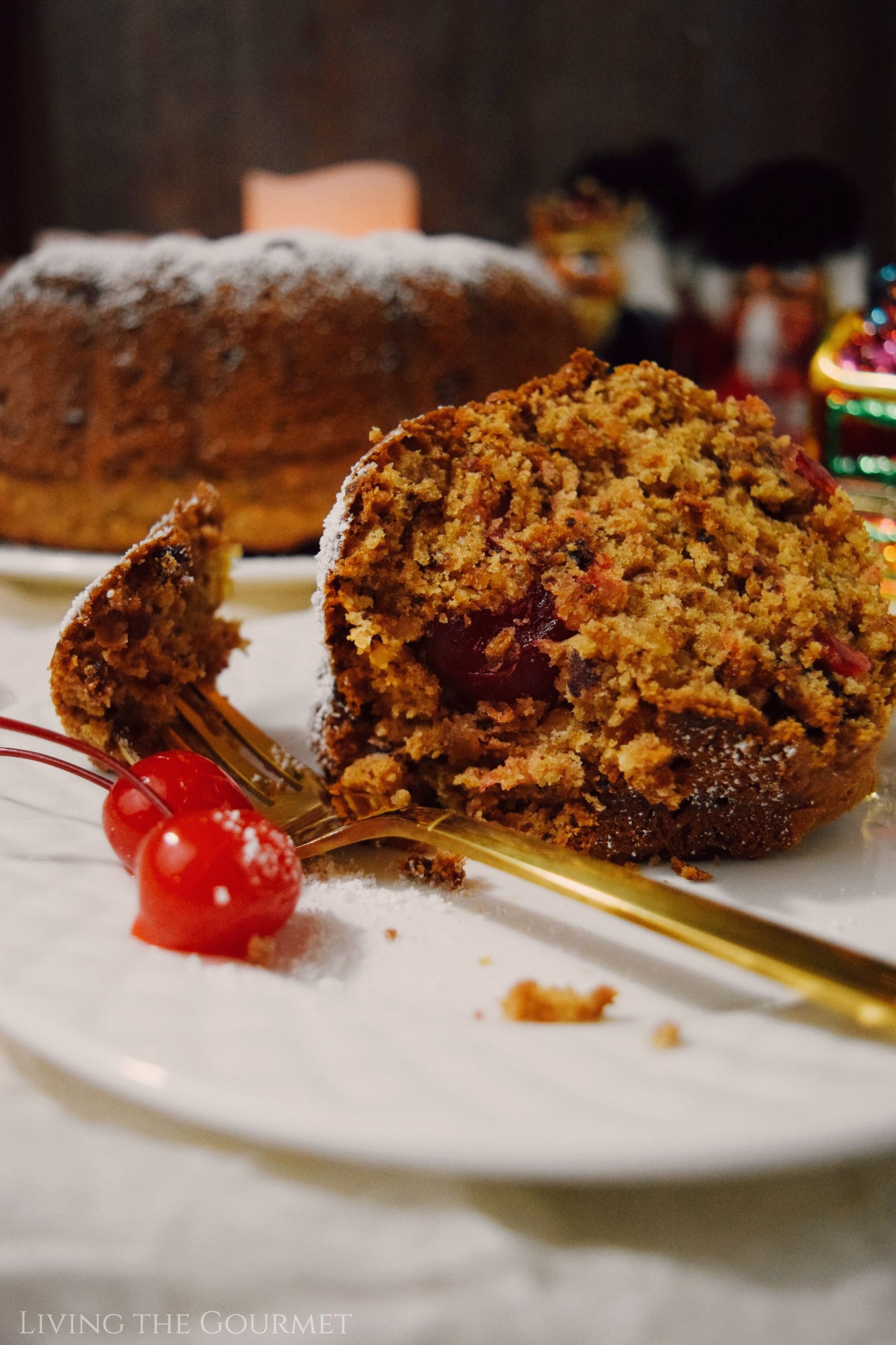 Be sure to visit all the lovely bundts from our bakers this month and thank you to our hostess this month, Stacy from Food Lust People Love!
Updated links for all of our past events and more information about BundtBakers, can be found on our home page.
#BundtBakers is a group of Bundt loving bakers who get together once a month to bake Bundts with a common ingredient or theme. You can see all our of lovely Bundts by following our Pinterest board. We take turns hosting each month and choosing the theme/ingredient.
If You Enjoyed Today's Recipe…
Be sure to follow us on Instagram to stay up to date with all things Living the Gourmet, and for more great recipes, tips and tricks.
Did you make this recipe?
If so, let me know in the comments down below, or post a picture to Instagram, or to Pinterest, and I'll give you a shoutout on Instagram, or post your pin to one of my Pinterest boards!
1