As the days get shorter and the nights a little colder, settle down with a slice of warm, flaky pie baked to perfection with a hearty filling that boasts of fresh veggies, tender chicken, and a slightly creamy broth.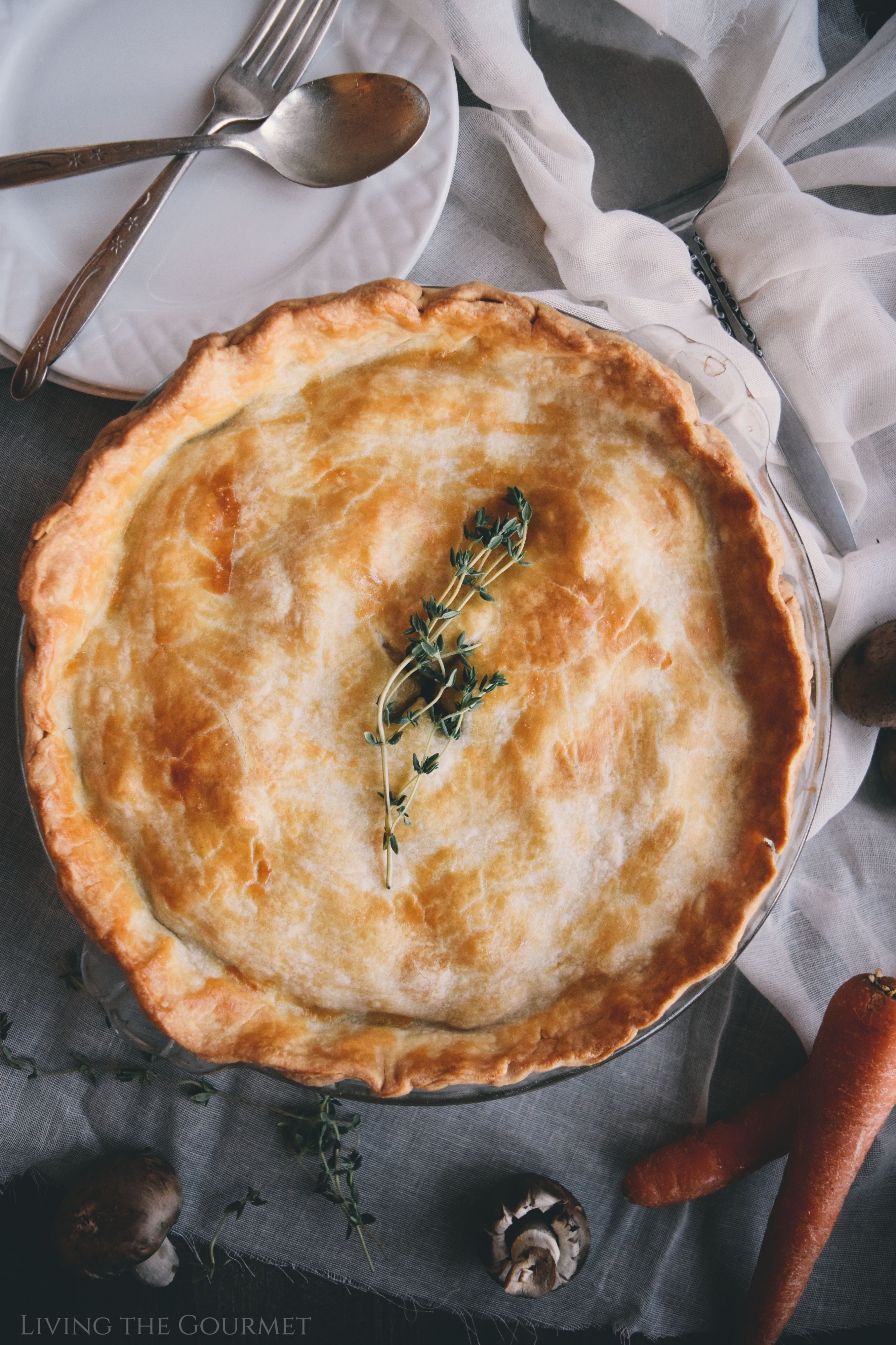 HUMBLE PIE
Let me state clearly before we begin, that my mother is a fantastic cook. These are the same words uttered by my mother as she reminisces her own mother's cooking. It seems to be a common scenario- each generation touts the former as the best. (Godspeed the next generation).
It's crazy for me to think, because often I've said, if I had to have one final meal on earth it would be my mom's Eggplant Parmesan, but many times throughout the years she has lamented that it doesn't come close to her mother's.
Fast forward to now, and I, as a young twenty-something year old, can completely empathize with that feeling. I marvel at my mother's self-taught ability to cook and bake (despite my reputation for being the baker in the house, everything I know my mother taught me). She has this 'sixth sense' when it comes to cooking. She knows exactly how much to add to a dish without measuring, and can think up all these different flavor combinations and spice mixtures. Needless to say, she is more of a risk-taker in the kitchen than I am.
Regardless of this admittance, we still clash at times in the kitchen. Sometimes, we'll even have a competition. Recently, we had a pie crust competition.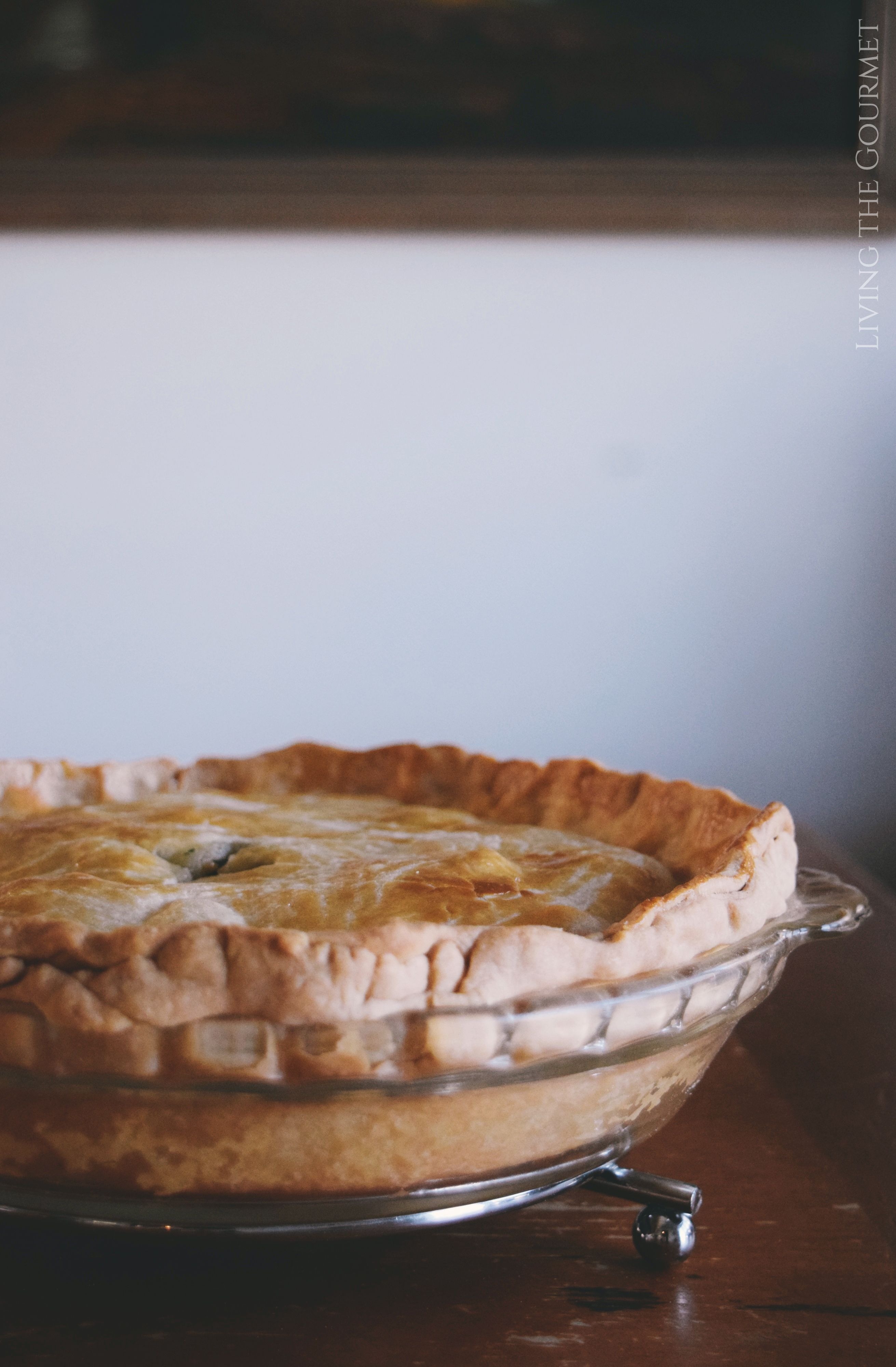 I critiqued and speculated that my mother's crust would be dry and hard, but she just smiled confidently and kept going her merry way. I should clarify she was making an apple pie, and as 'the baker' of the house, I thought her dough needed to be softer.
Long story short, that night while everyone was enjoying a slice of apple pie, I was served a warm slice of humble pie. For the record, it was delicious and the crust turned out perfect. I may have had two slices…
The following day, I decided to humor myself and make a pie as well. The problem was, we already had an apple pie. So I opted for a savory pie instead. Enter today's recipe.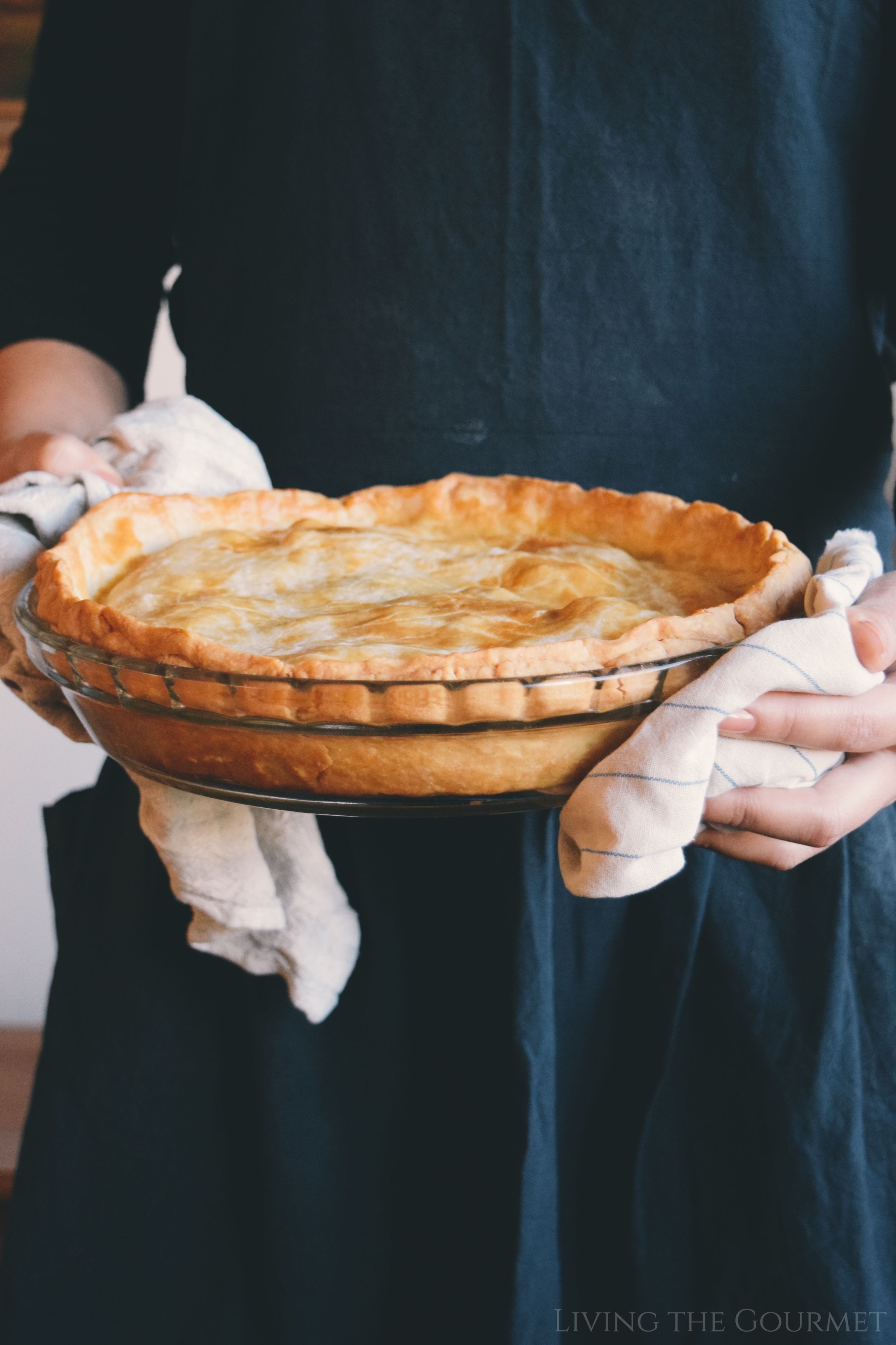 A PIE FOR ALL SEASONS
Few things are as comforting as Chicken Pot Pie. A buttery, flakey pie crust is baked until golden and bubbly with a creamy, hearty center. What's not to love really?
For the crust, I used both butter and shortening for ultra flaky layers. As for the filling, I didn't go quite as heavy on the cream side. I made a roux to thicken the filling, but rather than the traditional heavy cream, I went for half and half. The result was more of a creamy broth than a thick, goopy sauce.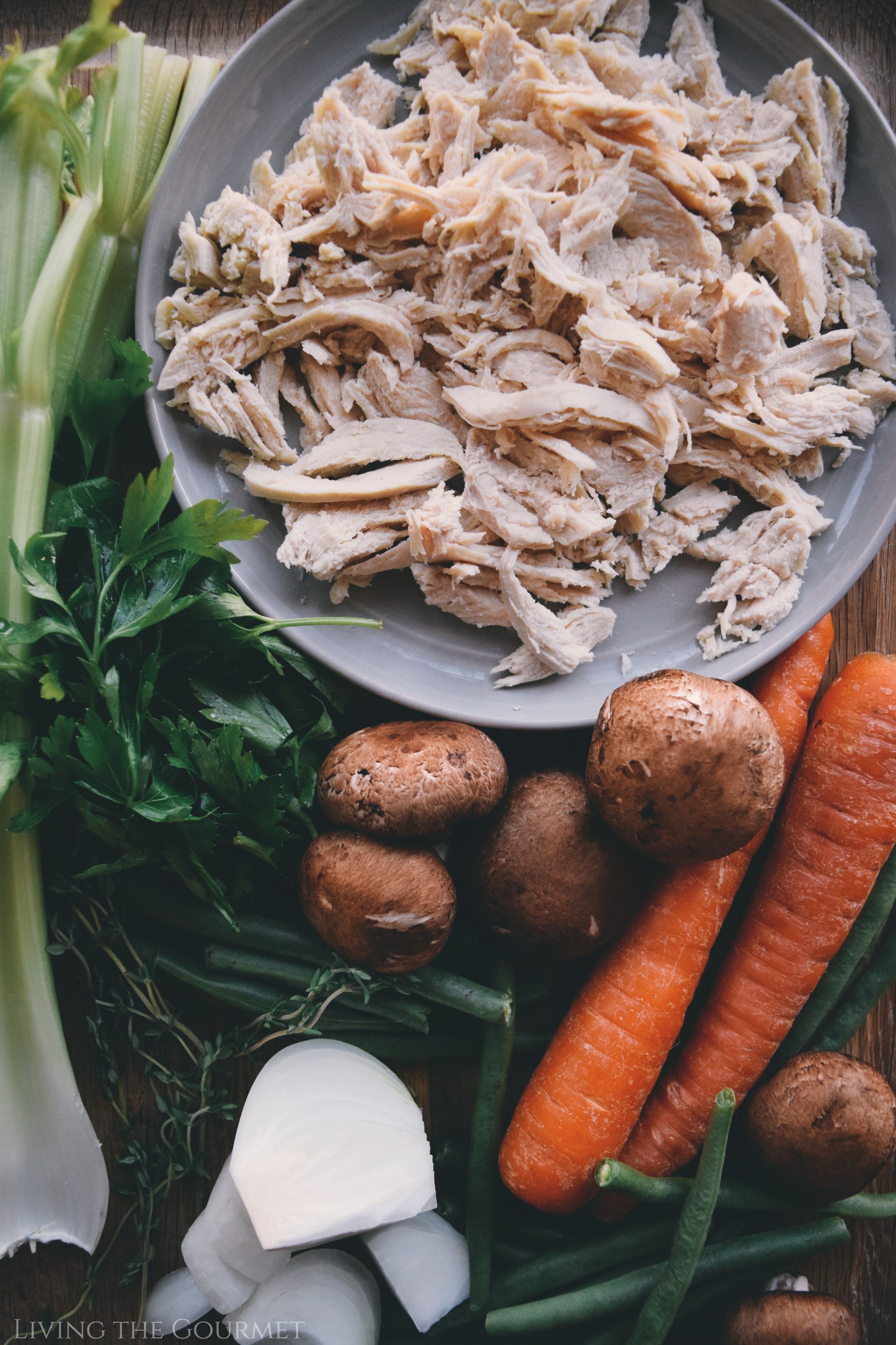 The star of the show here is really the thyme. I strongly encourage you use fresh thyme for this recipe. It makes all the difference.
The pie keeps up to four days in the refrigerator, if it lasts that long. And yes, it is delicious hot or cold. I served it hot, and enjoyed it again later in the midnight hour. I told myself it was for research…just to make sure the crust kept its texture. It does.
Living the Gourmet
Yields 1 chicken pot pie
Chicken Pot Pie
15 minPrep Time
1 hr, 20 Total Time
4.9 based on 9 review(s)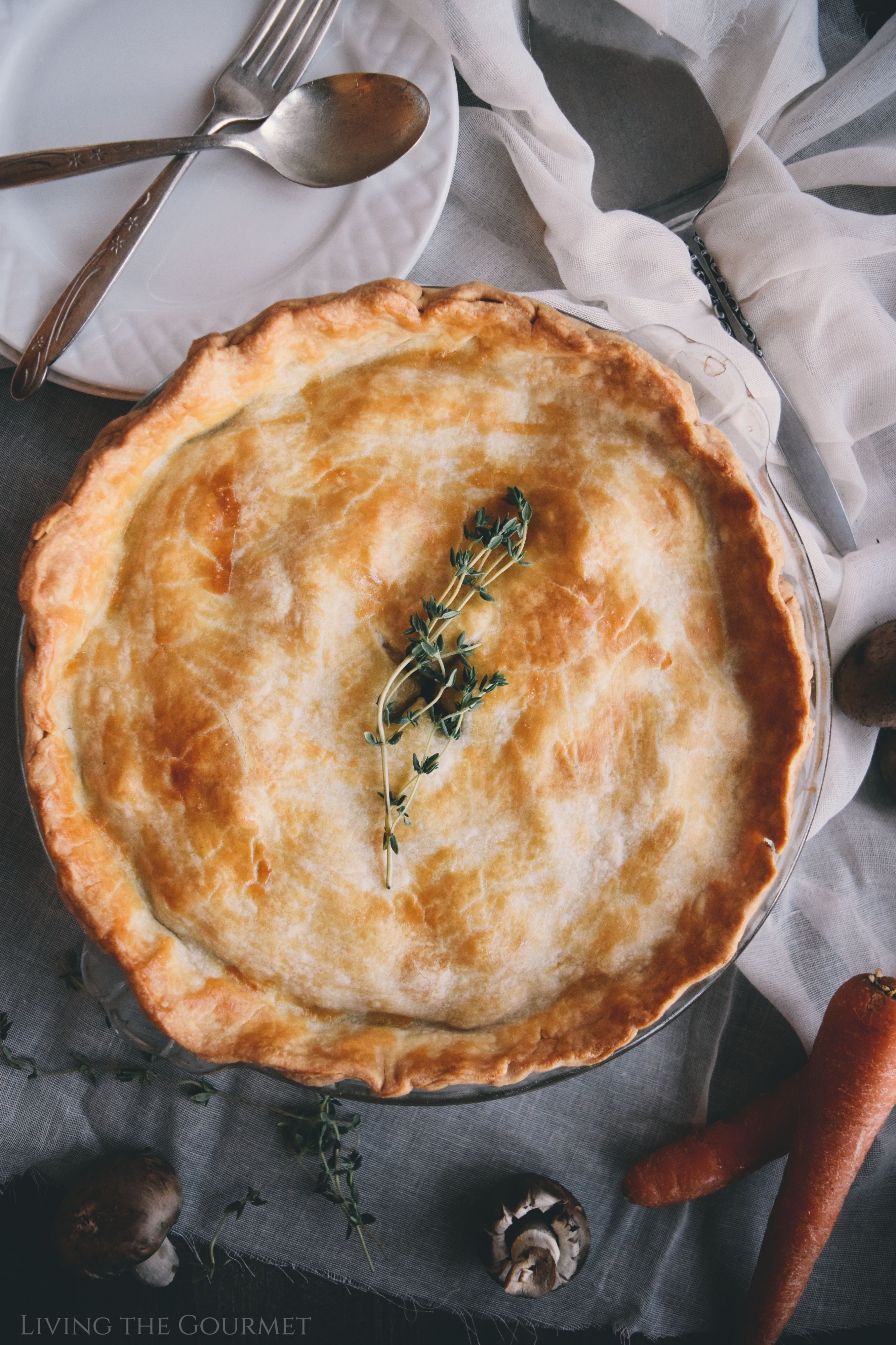 Ingredients
Classic Flaky Crust:

2½ AP flour
1¼ teaspoons salt
6 tablespoons unsalted butter, chilled and cubed
½ cup shortening
¼ cup cold water
1 egg plus 1 tablespoon water

Filling:

2 tablespoons butter, melted
2 tablespoons AP flour
1 tablespoon Olive Oil
1 small Vidalia onion, chopped
2 large carrots, peeled and sliced
1½ stalks celery, chopped
2 cloves garlic, minced
5 Portobello or button mushrooms, sliced thin
1 tablespoons fresh thyme, finely chopped
2 tablespoons fresh parsley, finely chopped
½ cup stock or bone broth
½ cup half and half
2 cups cooked chicken breast, shredded
1 cup blanched string beans, chopped
Salt and Pepper to taste
Instructions
In a small bowl, whisk melted butter and flour. Set aside.
In a large frying pan over medium heat, saute onion, carrots, celery, and garlic in olive oil. Season with salt and pepper as needed. Once the onions are clear, add the mushrooms, thyme, and parsley. Once the mushrooms have cooked down, add the roux and pour the bone broth (or stock) a little as you go. Add the half and half and keep stirring until thickened. Finally, add the chicken and string beans. Toss and season again if needed with salt and pepper.
Remove from the heat and proceed with the pastry shell.

Classic Flaky Crust:

Preheat oven to 400 degrees F.
In a food processor, combine flour, salt, butter, and shortening. Pulse until the mixture becomes crumbly. Add ¼ cup of ice water and pulse again until a soft dough begins to form. You may need to add more water if the dough is still sandy. Add one tablespoon at a time as needed.
Form the dough into a disk and wrap in clingfilm. Refrigerate for at least 30 minutes or up to overnight.
Turn the dough out onto a well-floured surface and divide it half. Roll out one half into ¼-inch thickness and fit into a pie plate.
Roll out the other half of pie dough into ¼-inch thickness. Fill the pie shell with the chicken and vegetable mixture, then cover with the other half of pie dough. Crimp the edges and slice a vent at the top to release the steam as the pie bakes.
In a small bowl, whisk together 1 egg and 1 tablespoon of water. Brush the entire pie with the egg wash. Bake the pie for 15 minutes at 400 degrees F. then reduce the heat to 350 degrees F. until browned and bubbly, about 30-35 minutes.
7.8.1.2
1375
https://livingthegourmet.com/2019/11/chicken-pot-pie.html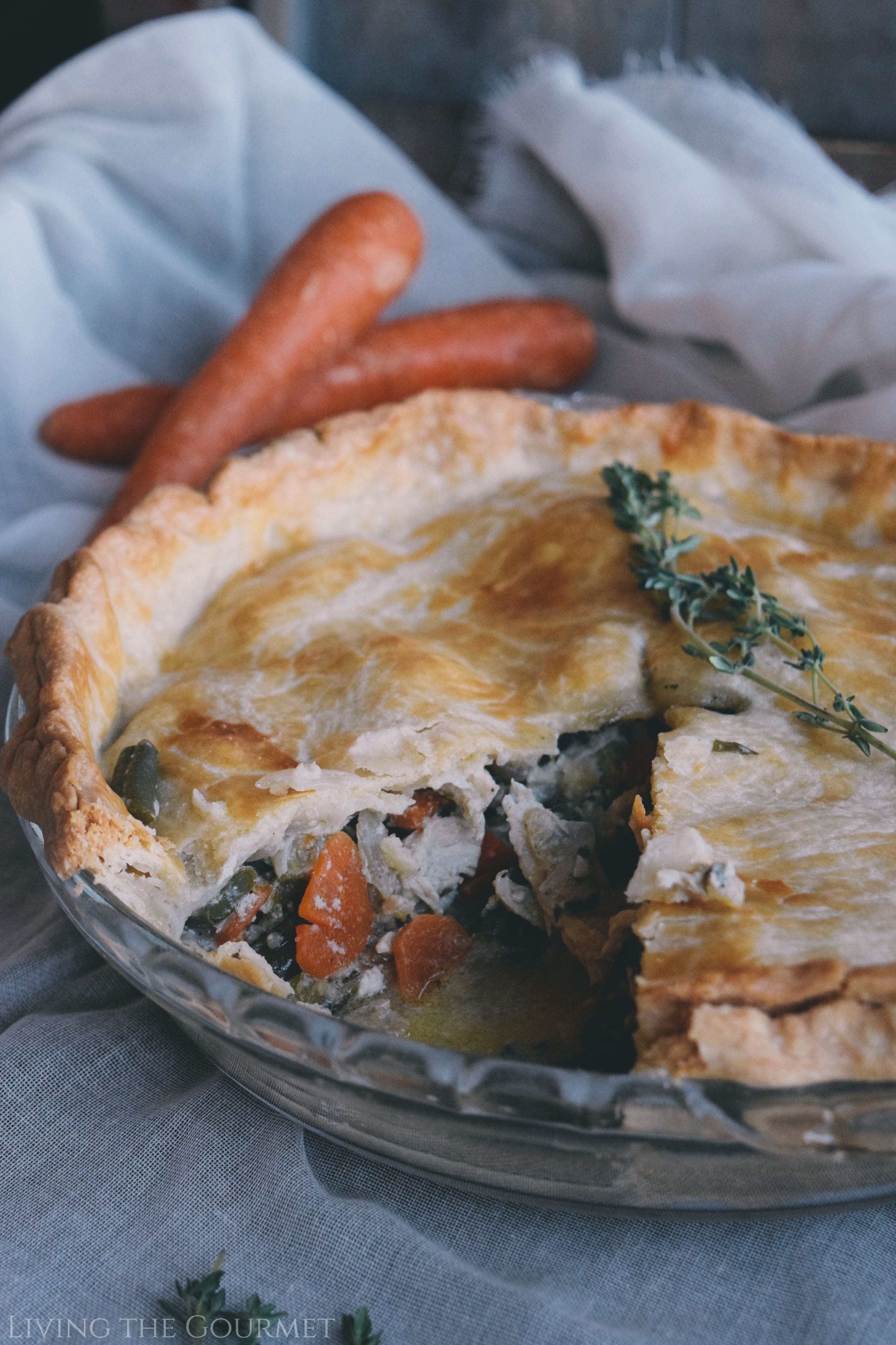 So you see, my mother and I have our own styles of cooking and our own preferences, yet somehow it works and compliments one another in the most unexpected way.
On that note, I leave you with today's recipe and the promise of a very delicious apple pie recipe coming soon. Until then, enjoy with love.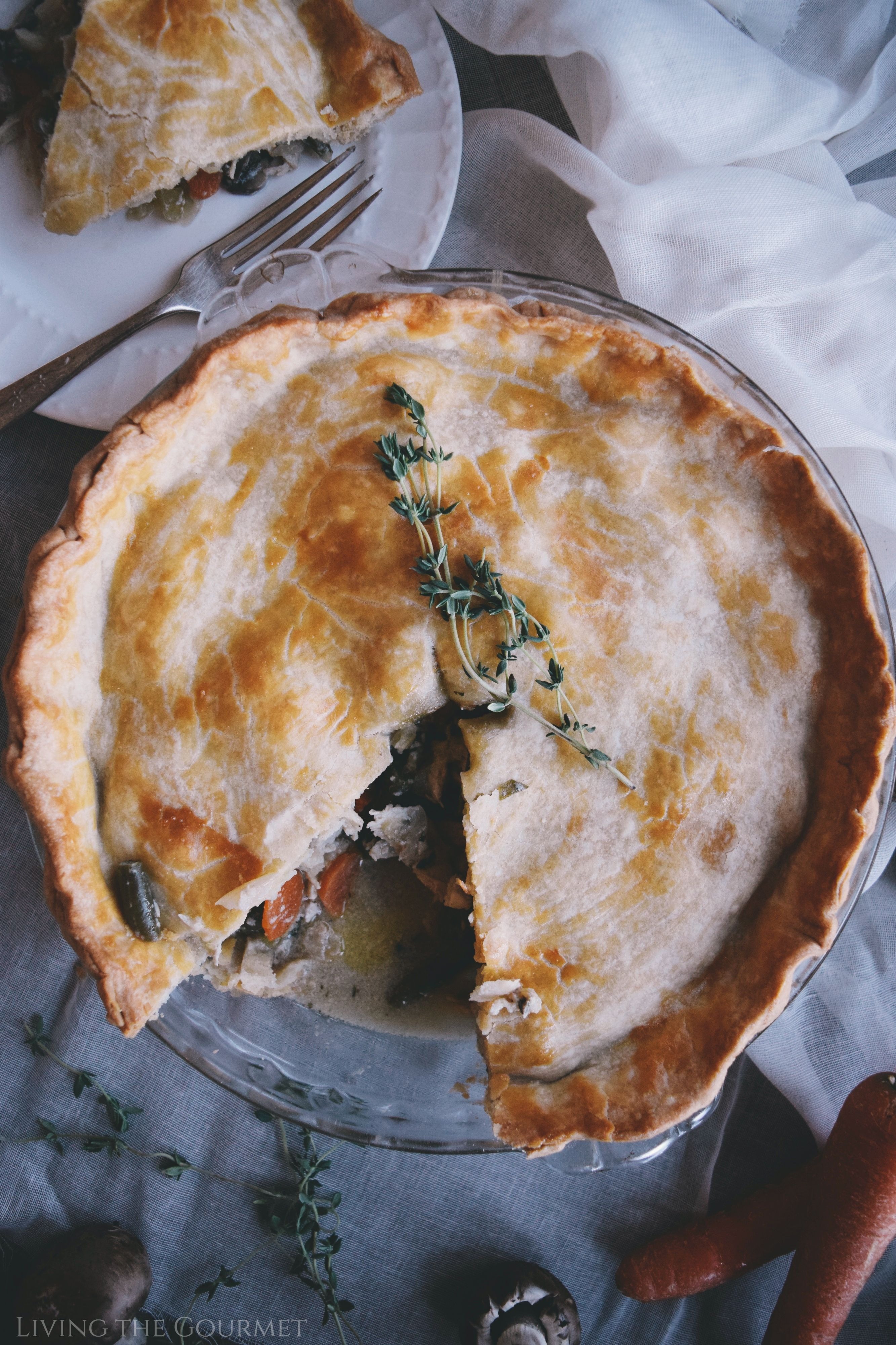 If You Enjoyed Today's Recipe…
Be sure to follow us on Instagram to stay up to date with all things Living the Gourmet, and for more great recipes, tips and tricks.
4