This post has been sponsored by Mionetto. All opinions expressed are my own. #MioMosa
With the holidays just around the corner, we're sharing one of our first celebrations of the season- a #MioMosa Brunch featuring Mionetto in a bubbly Limone Spritz served alongside hot Pastrami on Rye. To finish the afternoon feast on a lighter note, we have a refreshing spiced fruit & mousse parfait.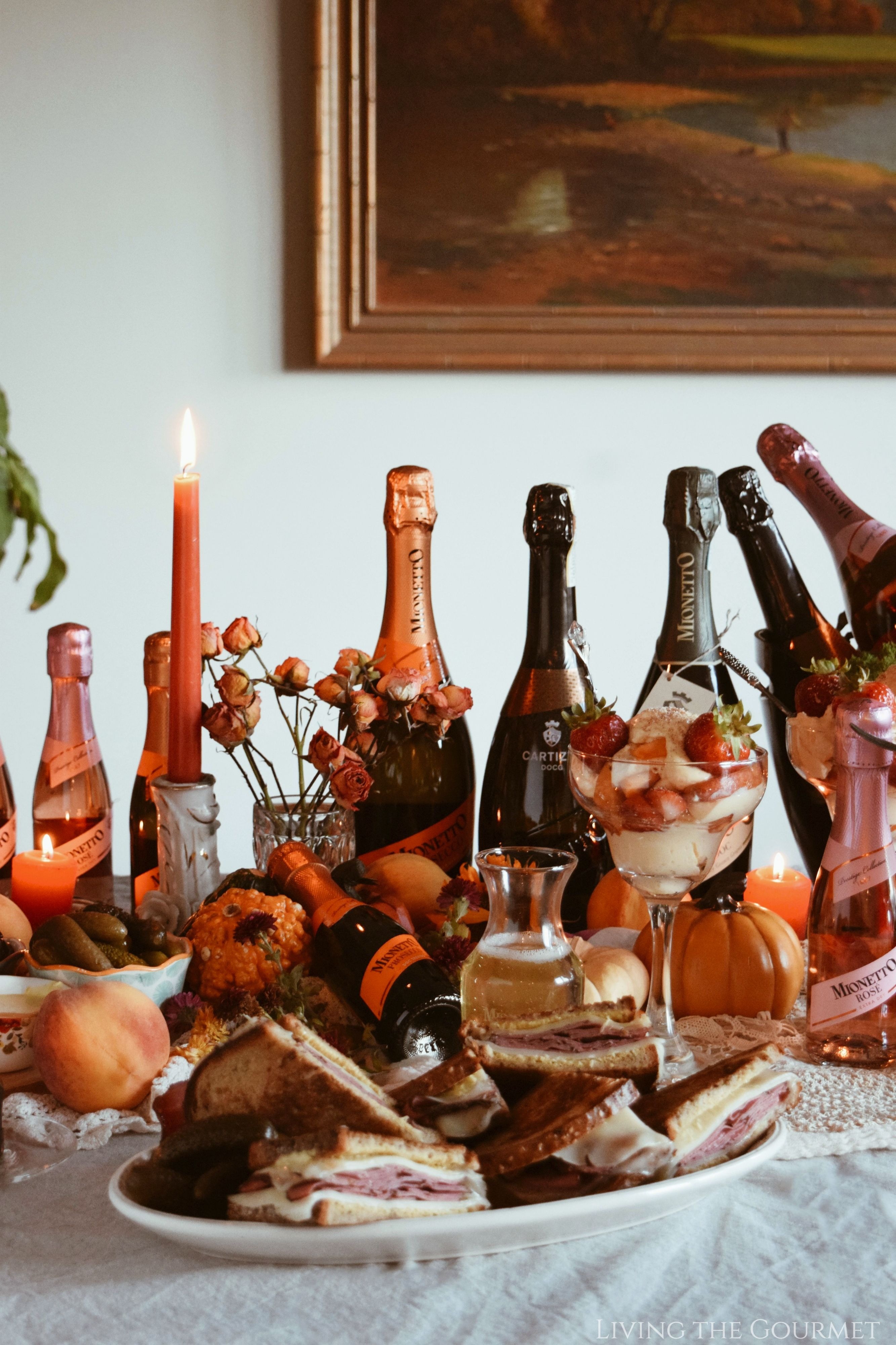 Featuring lush autumn décor, an equally lush Prosecco arrangement, and hardy Autumn-friendly food, and light mousse and fruit parfait to end on, today's spread is a seasonal crowd-pleaser like few others.
Now, without further delay, let's get to it.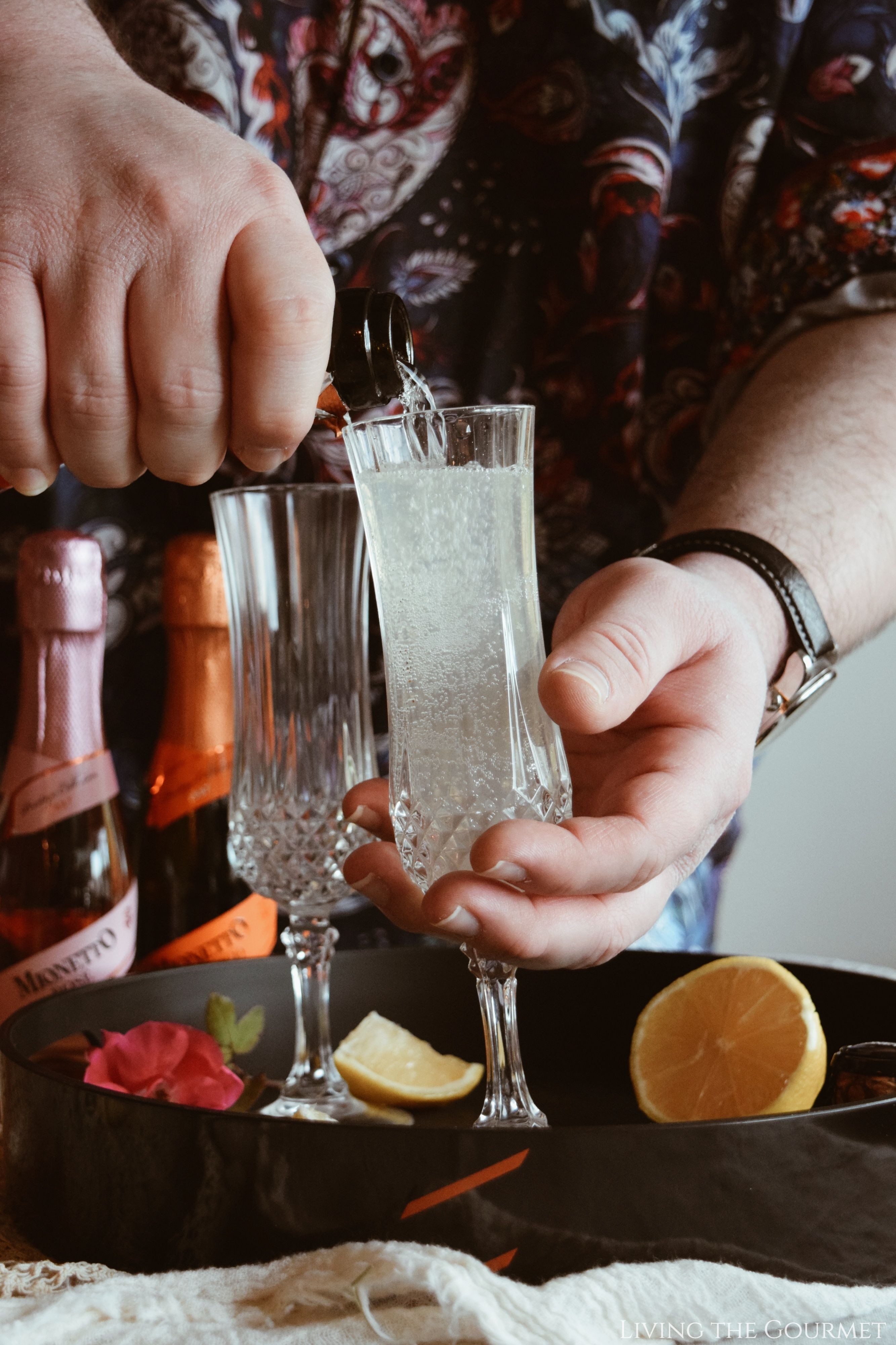 The Brunch Bar: Setting The Scene
1) The Wines. A spread like the one we're putting together today needs a 'fun,' 'bright,' and above all else 'refreshing' selection of wines. Today's bottles fit that bill precisely, and what we're going to do with them in a festive and inviting manner that simply begs our guests to indulge. To achieve this, we simply spread the bottles out over the length of the 'bar' or 'table,' using them as something of a backdrop for the food. More on the wines themselves below.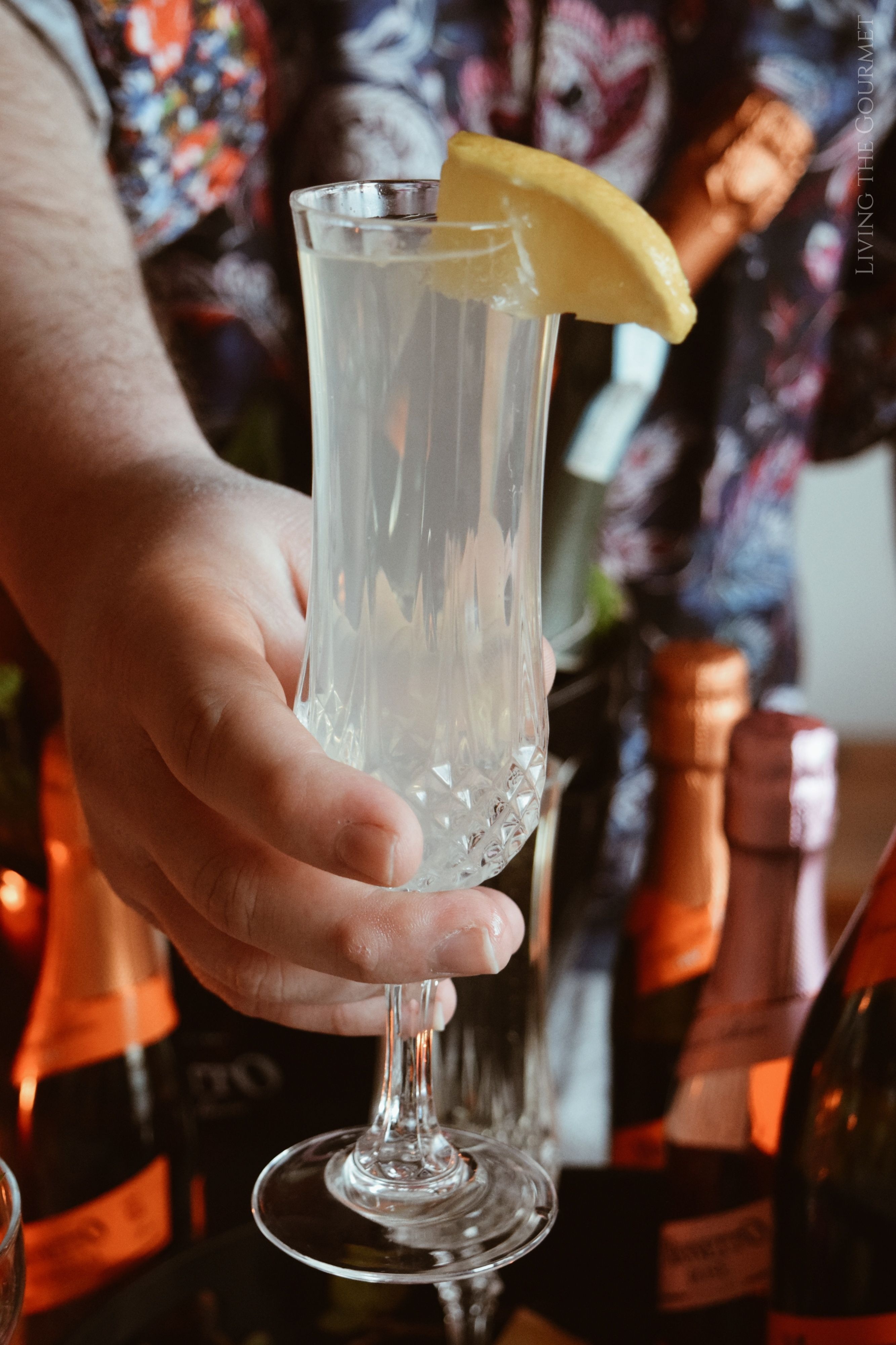 2) The Decorations. This is a fall themed brunch, and so the decorations are meant to invoke images of the season from start to finish, with a selection of orange, gold, and 'late season' floral colors, which meld beautifully against the backdrop of the wine.
3) The Food. The food today is meant to be reminiscent of what once was standard fare in "Old Time" New York City delis. Combined with the fall décor, the overall theme of today's spread might easily be considered "Autumn In New York." Because why not?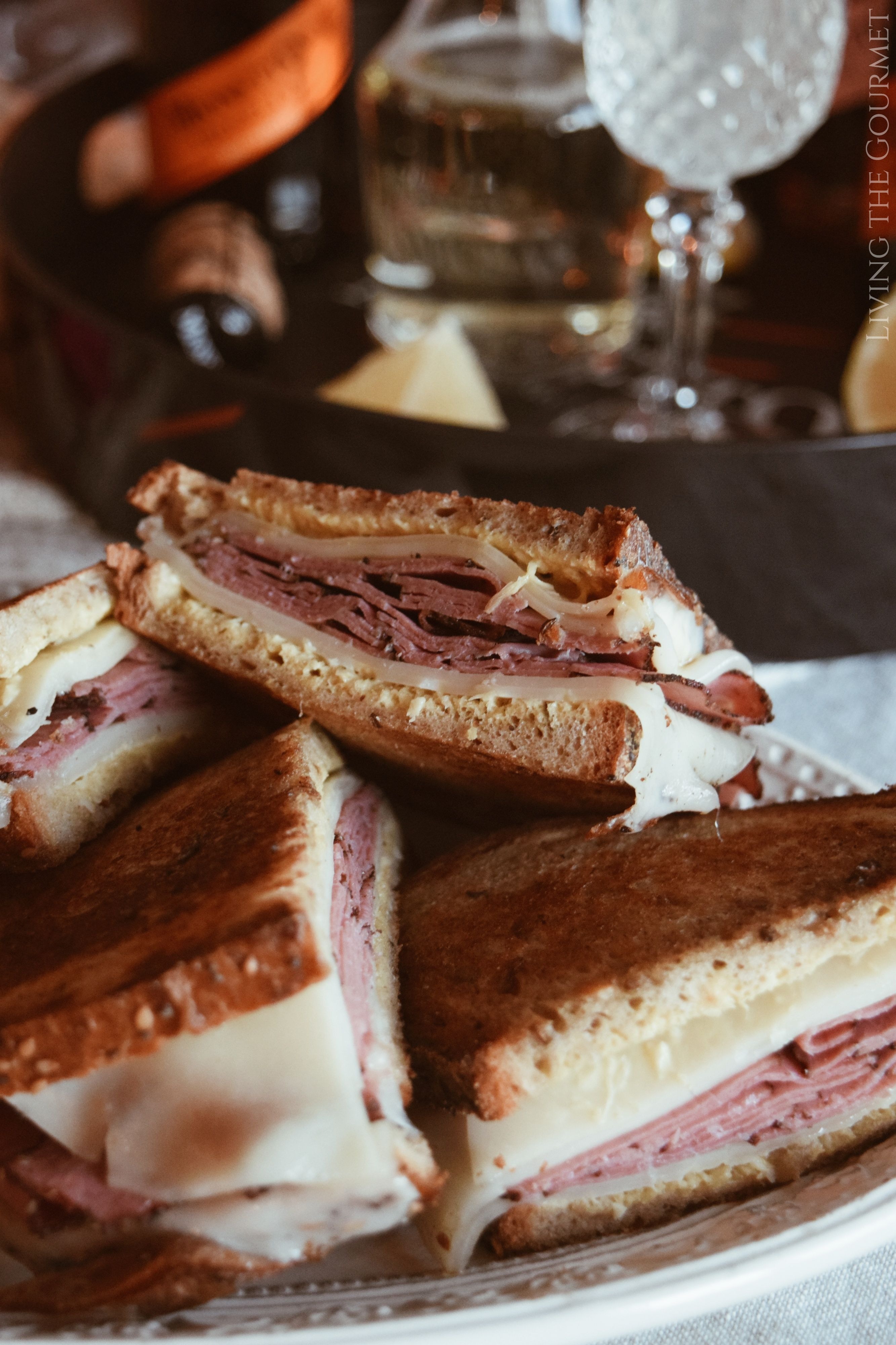 Brunch: Old New York Style
1) Pastrami and Provolone. Yes, it is true that pastrami is of Romanian origins, but let's be honest – it was commandeered long ago as a staple of the New York City deli scene of bygone decades. We're combining pastrami with a few slices of provolone on rye bread, with a mayo and mustard sauce, and then grilling those sandwiches in a cast iron pan to achieve a texture that's crisp on the outside, and warm and melted on the inside.
2) Mayo and Mustard Sauce. A simple combination of mayo, mustard, honey, horseradish, and pepper, we're using this in place of plain mayonnaise or mustard for an added layer of complexity and texture. However, if you prefer, plain mayo or a quality deli-style mustard will suffice.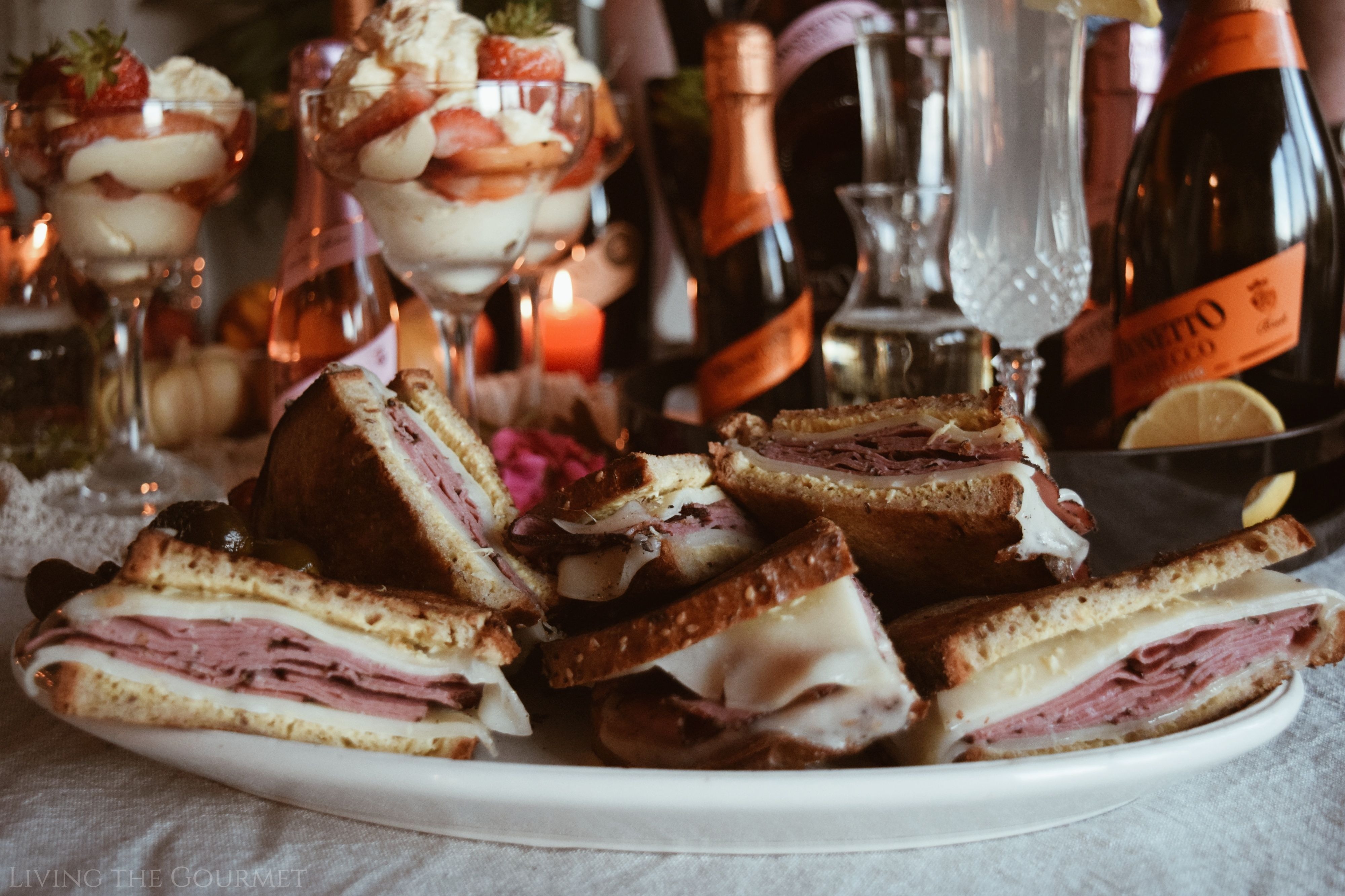 3) Ending on a Touch of the Modern. The end note to today's spread is a Fresh Peach Parfait prepared with vanilla mousse layered over sliced peaches, honey, and vanilla, and then dusted with nutmeg,fresh ground black pepper and cinnamon. This adds a touch of 'summer freshness' to the otherwise wholly 'Autumn' aesthetic and flavor profile of the table, adding a bit of delicious contrast.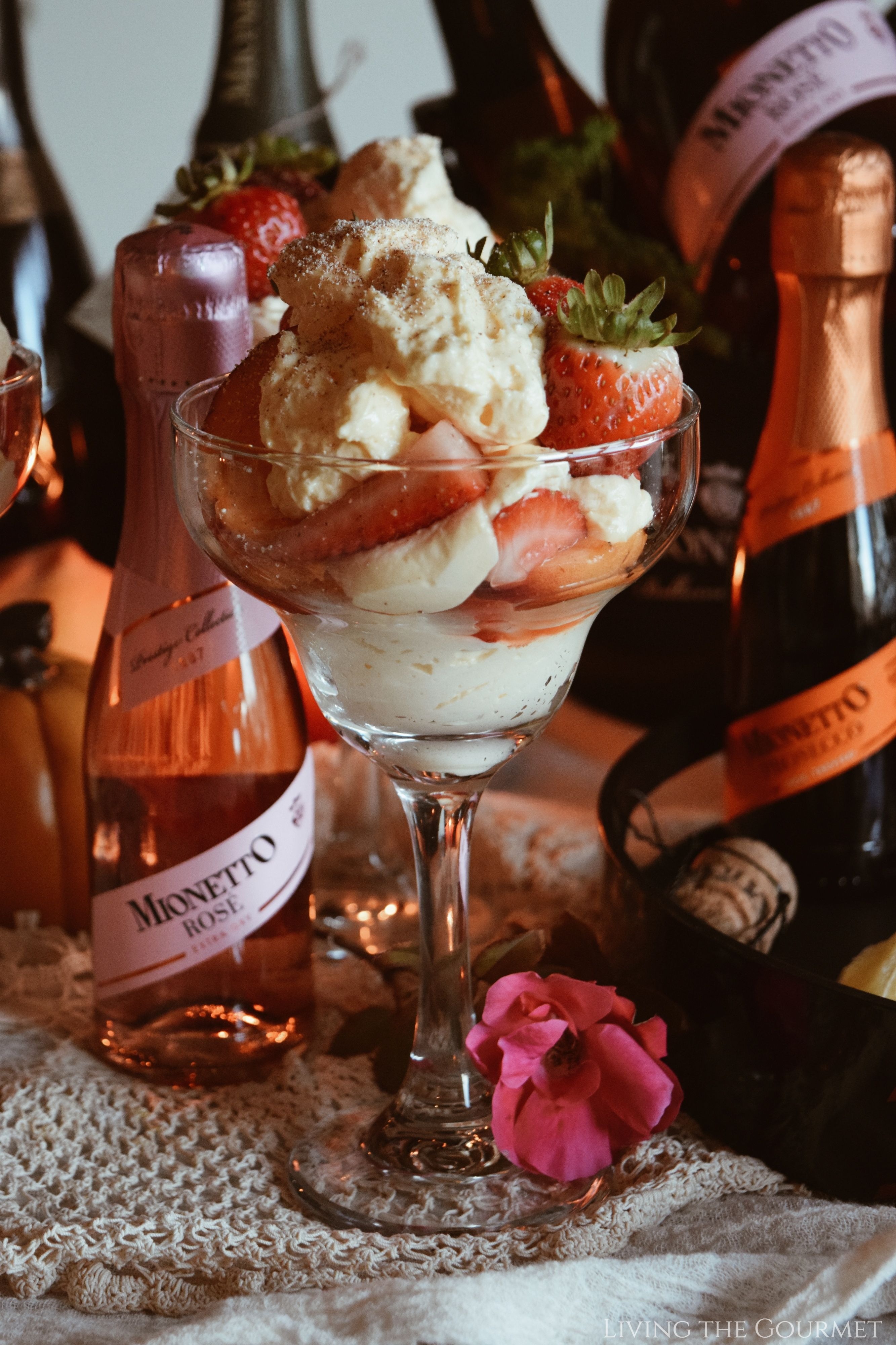 The Bottles: A Showcase
Up first we have the adorable six ounce (187 milliliter) bottles, which we received in Rose Extra Dry, and DOC Treviso Prosecco.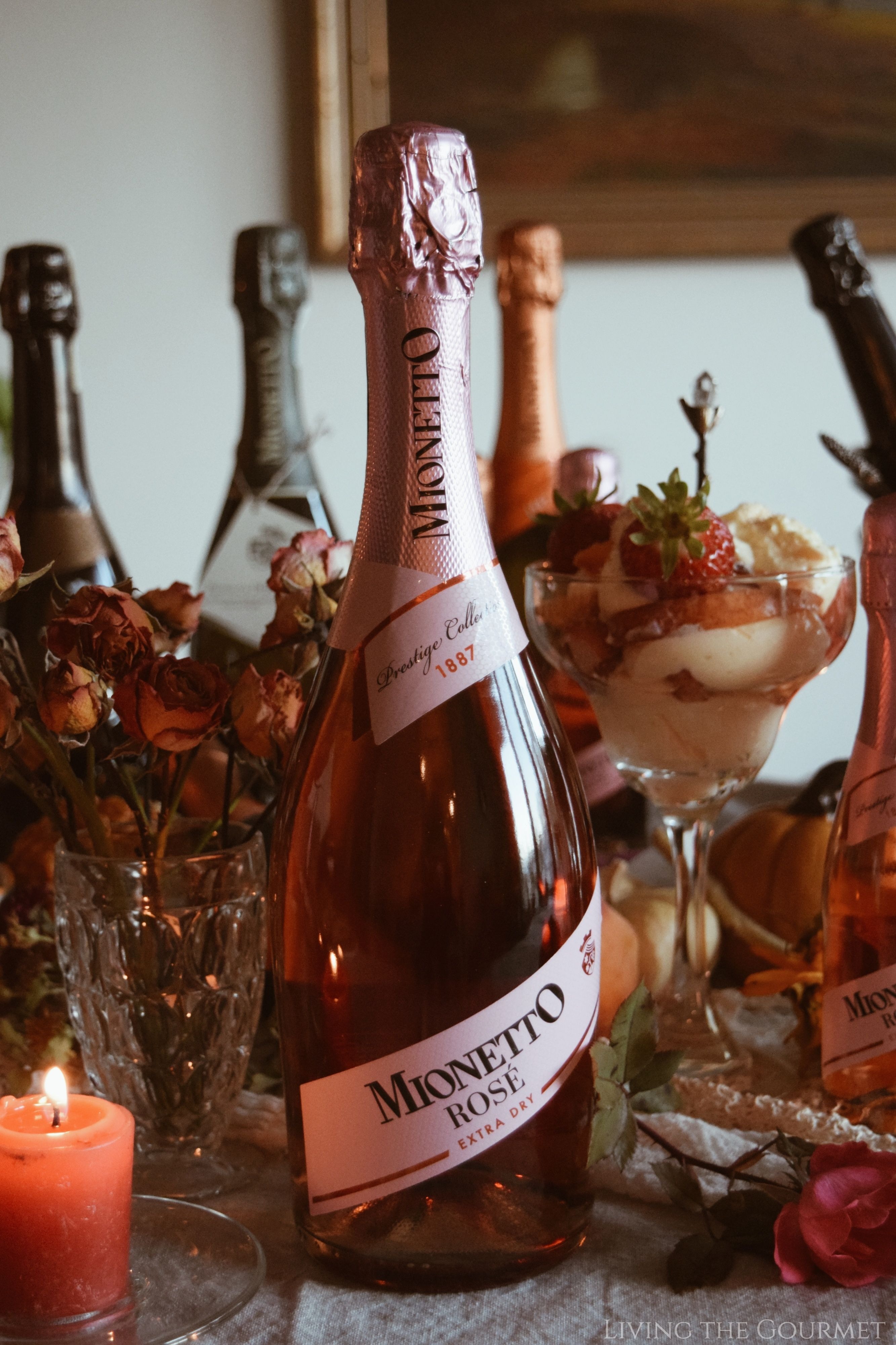 Next, we have Mionetto Prosecco DOC (Denominazione di Origine Controllata), featuring organically grown grapes.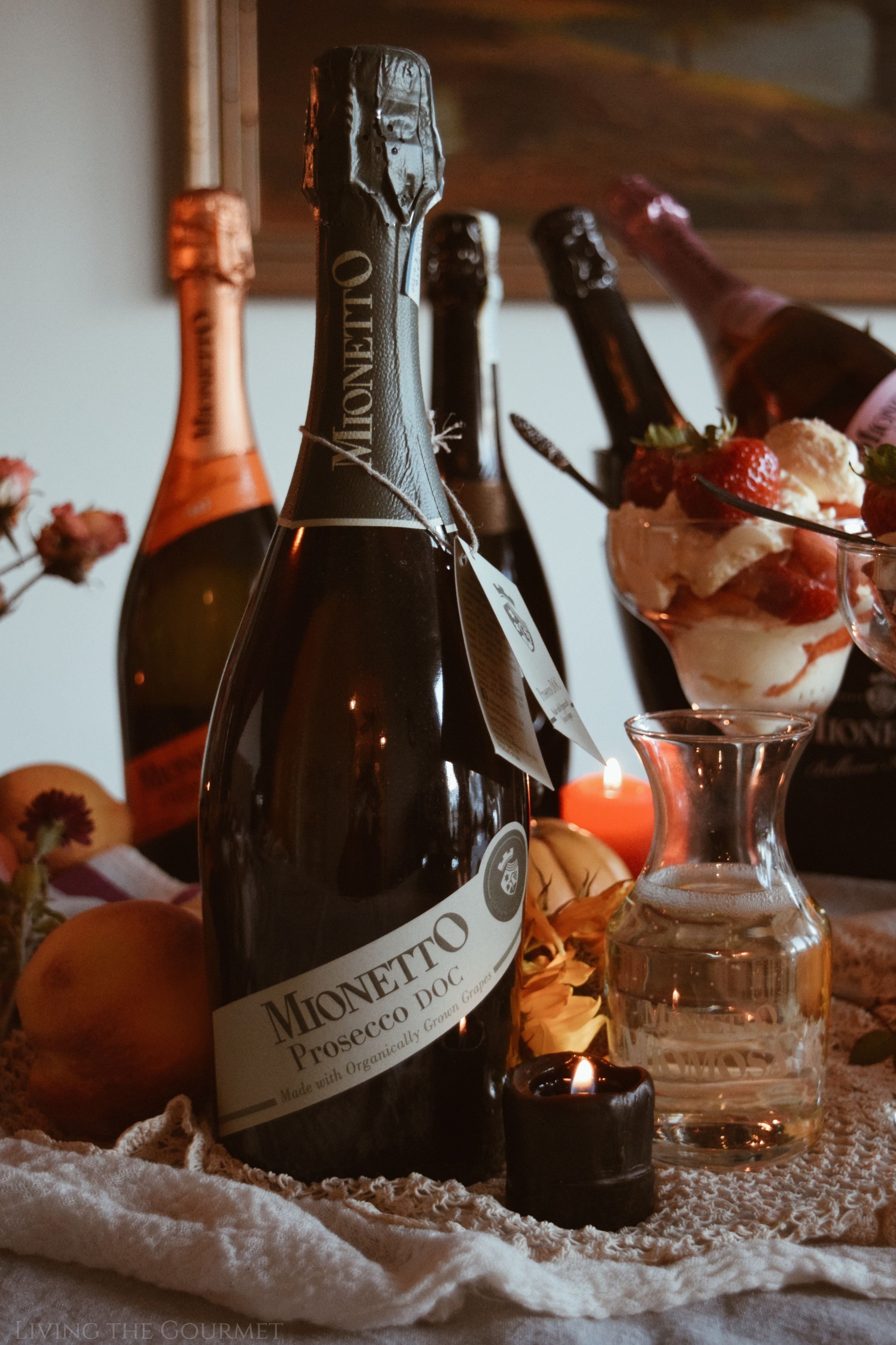 Finally, we'll sample a Cartizze DOCG (Denominazione di Origine Controllata Garantita).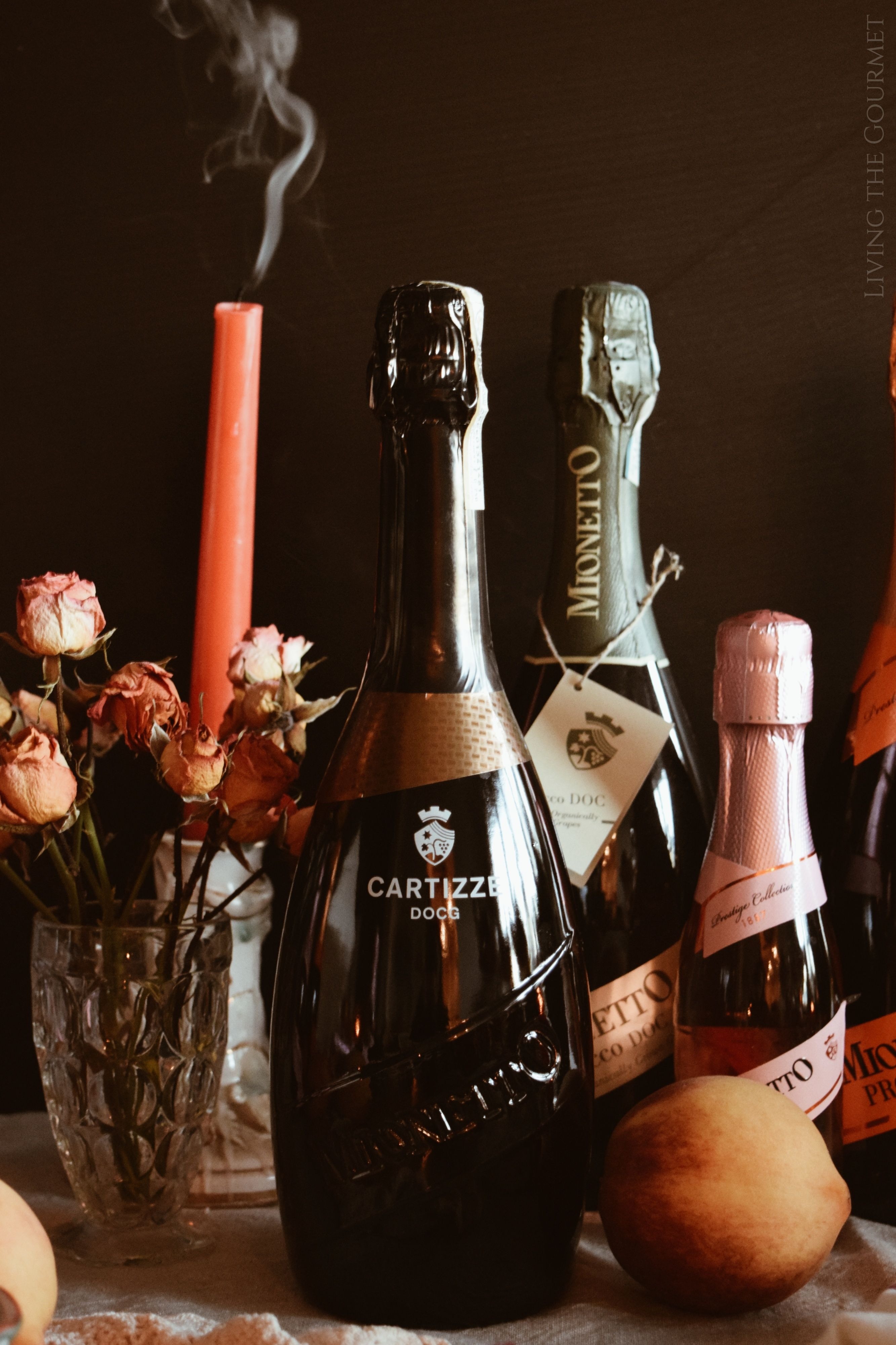 And, of course, we also received a standard sized bottle of DOC Treviso Prosecco.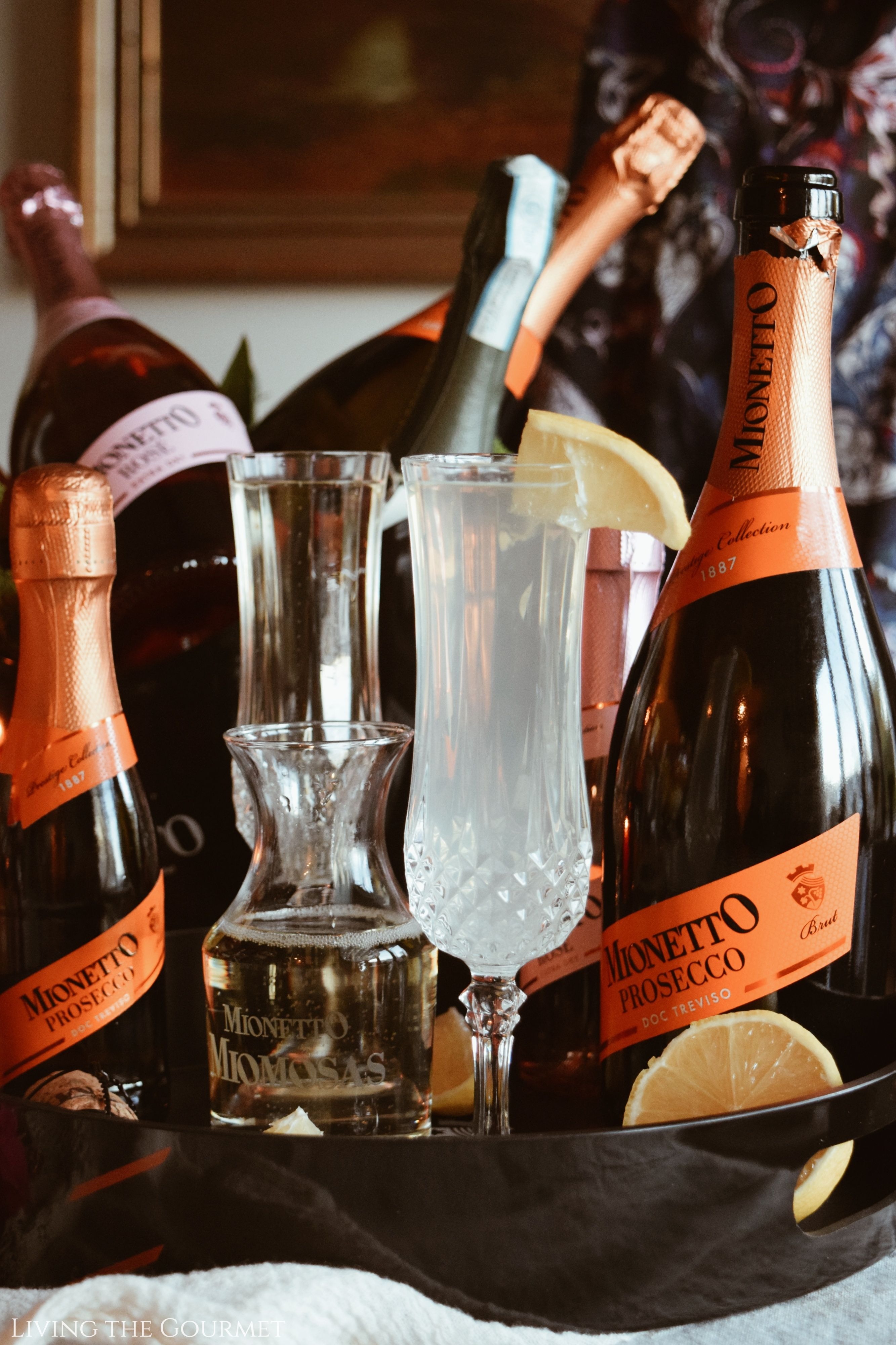 Tasting and Aromatics: The Review
1) The DOC Treviso Prosecco opens with abundant effervescence, carrying crisp green apple aromatics, hints of ripe peach, and assorted floral notes, with perhaps just a hint of 'bread crust' towards the end. On the palate, the Prosecco is carried on a creamy texture, created by persistent tiny bubbles, with the peach, green apple, and bread crust carrying over from the bouquet. A very enjoyable experience from start to finish.
2) The Mionetto Prosecco DOC, featuring organically grown grapes introduces itself with a bright floral arrangement laced in notes of vanilla, set over crisp tropic fruit and hints of citrus. On the palate, the wine has a full and rich mouthfeel, with the phrase 'summer citrus' coming to mind in terms of flavor.
3) The Rose Extra Dry features dry, nutty, and acidic aromatics. Think crushed cranberries mixed with chopped walnuts or crushed almonds, with perhaps just a hint of light red berries in the background. On the palate, the wine is true to its name, being quite dry to the point of being tonic-like, which is perforated by a crisp acidity, and then ending on a mineral finish. Cranberries laced in vanilla notes are the primary flavor profile.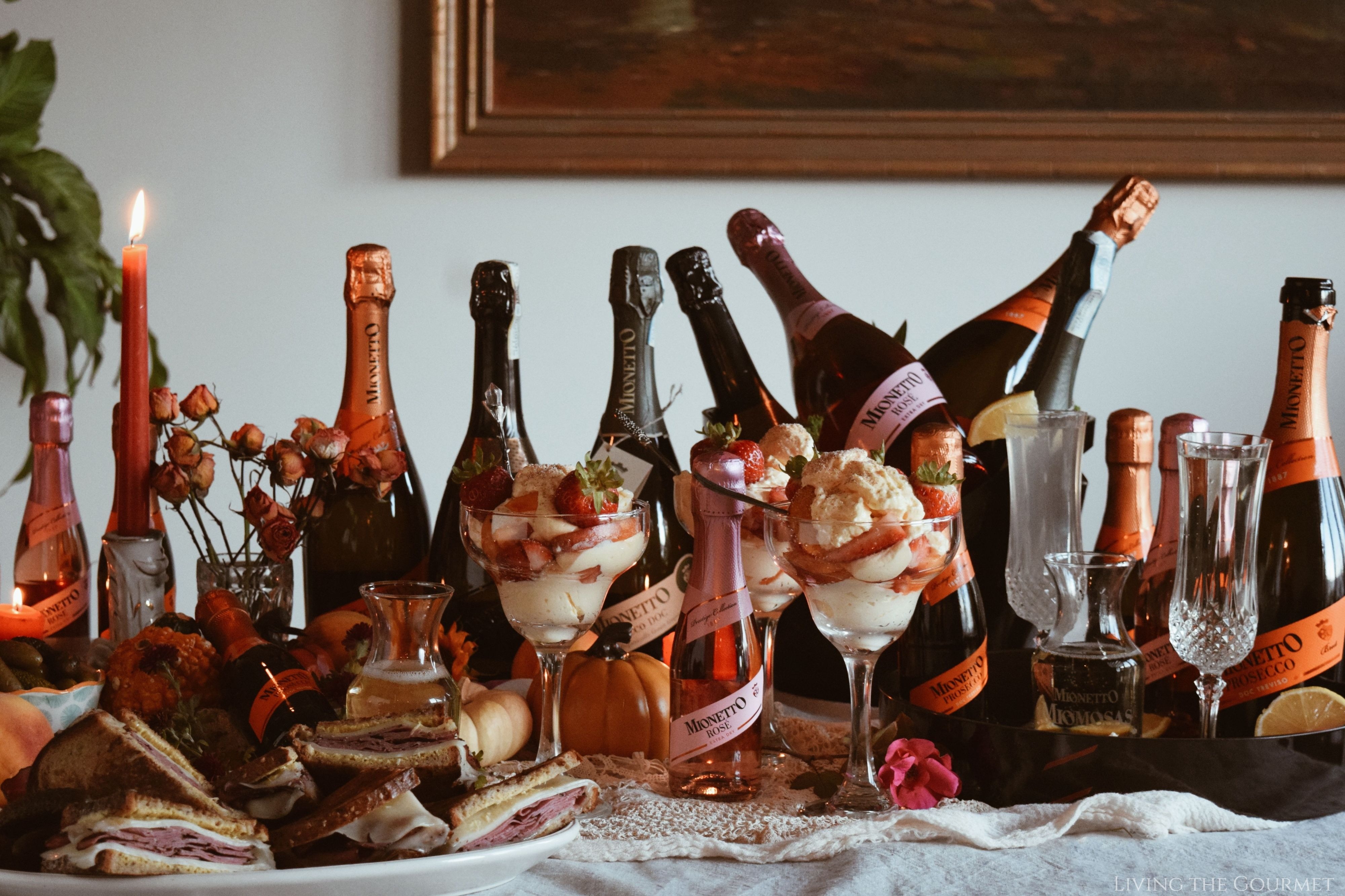 Print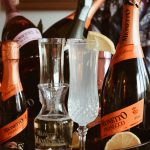 Pastrami on Rye & Limone Spritz
---
Author:

Prep Time:

10 minutes

Cook Time:

15 minutes

Total Time:

25 minutes

Yield:

4

-

6

1

x
For the Pastrami Sandwich:
1

of pastrami

1

of sliced provolone cheese
Mayo and Mustard Spread – recipe below
Loaf of rye bread
For the Sauce:
6

tbs. mayonnaise

3

tbs. mustard – spicy or sweet – your preference

2

tbs. honey

3

tbs. horseradish
Fresh ground black pepper to taste
For the Fresh Peach Parfait:
4

fresh peaches – sliced thin

1 quart

of fresh strawberries – sliced with a few set aside for garnish

1

large packet of Vanilla mouse, prepared as directed *Note: this will also work with fresh whipped cream between the layers of fruit.
Marinade for the Peaches and Strawberries:
2

tbs. of vanilla

3

tbs. of honey
Juice of

1

lemon

¼ tsp

. of ground nutmeg

½ tsp

. of cinnamon

¼ tsp

. of fresh ground black pepper
For the Limone Spritz:
3 oz

Mionetto Prosecco DOC Treviso

2 oz

Soda Water

1 oz

Limoncello
---
Instructions
For the Sauce:
Mix mayonnaise, honey, mustard, horseradish and black pepper in a small bowl. Taste for seasoning and set aside.
To Build the Pastrami Sandwich:
Smooth the mayo sauce on each slice, of bread then place cheese on each slice of bread followed by the pastrami and close the sandwich.
Melt a pat of butter in a cast iron pan and place the sandwich in the pan to warm, flipping the sandwich once.
Remove from heat when you see the cheese is melting.
Slice and serve.
For the Fresh Peach Parfait:
Place the sliced peaches and strawberries in a bowl. Add all of the ingredients for the marinade to the bowl and toss. Taste for seasoning.
Place in the refrigerator while preparing the mouse, pudding or whipped cream.
To Build the Parfait:
Place the fresh marinated fruit at the bottom of a parfait glass followed by the pudding, followed by more fruit. Continue this until you have filled the glass.
Garnish with the whole strawberries.
Finish the parfait with a bit fresh grated nutmeg.
For the Limone Spritz:
Pour all ingredients in desired cocktail glass. Enjoy with a lemon twist in a coupe glass
Recipe Card powered by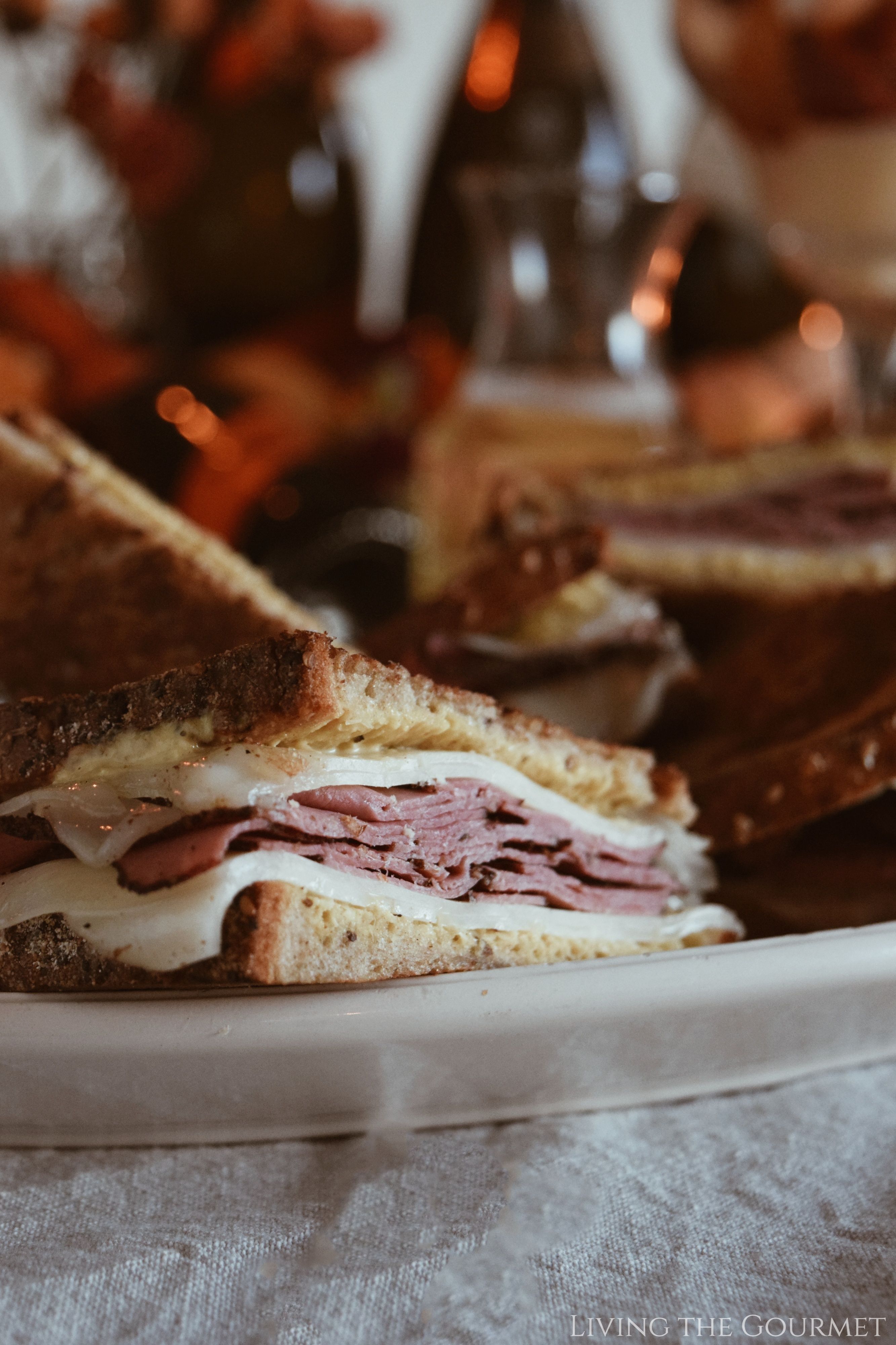 If You Enjoyed Today's Recipe…
Be sure to follow us on Instagram to stay up to date with all things Living the Gourmet, and for more great recipes, tips and tricks.
Did you make this recipe?
If so, let me know in the comments down below, or post a picture to Instagram, or to Pinterest, and I'll give you a shoutout on Instagram, or post your pin to one of my Pinterest boards!
0