Today we're putting together a spin on one of my favorite recipes – Stuffed Bell Peppers.
Featuring just nine basic ingredients, and being oven free, these peppers are great way to start off the fall, whether you preparing them as appetizers, or as a light accompaniment to the main course.
Without further delay, let's get to it.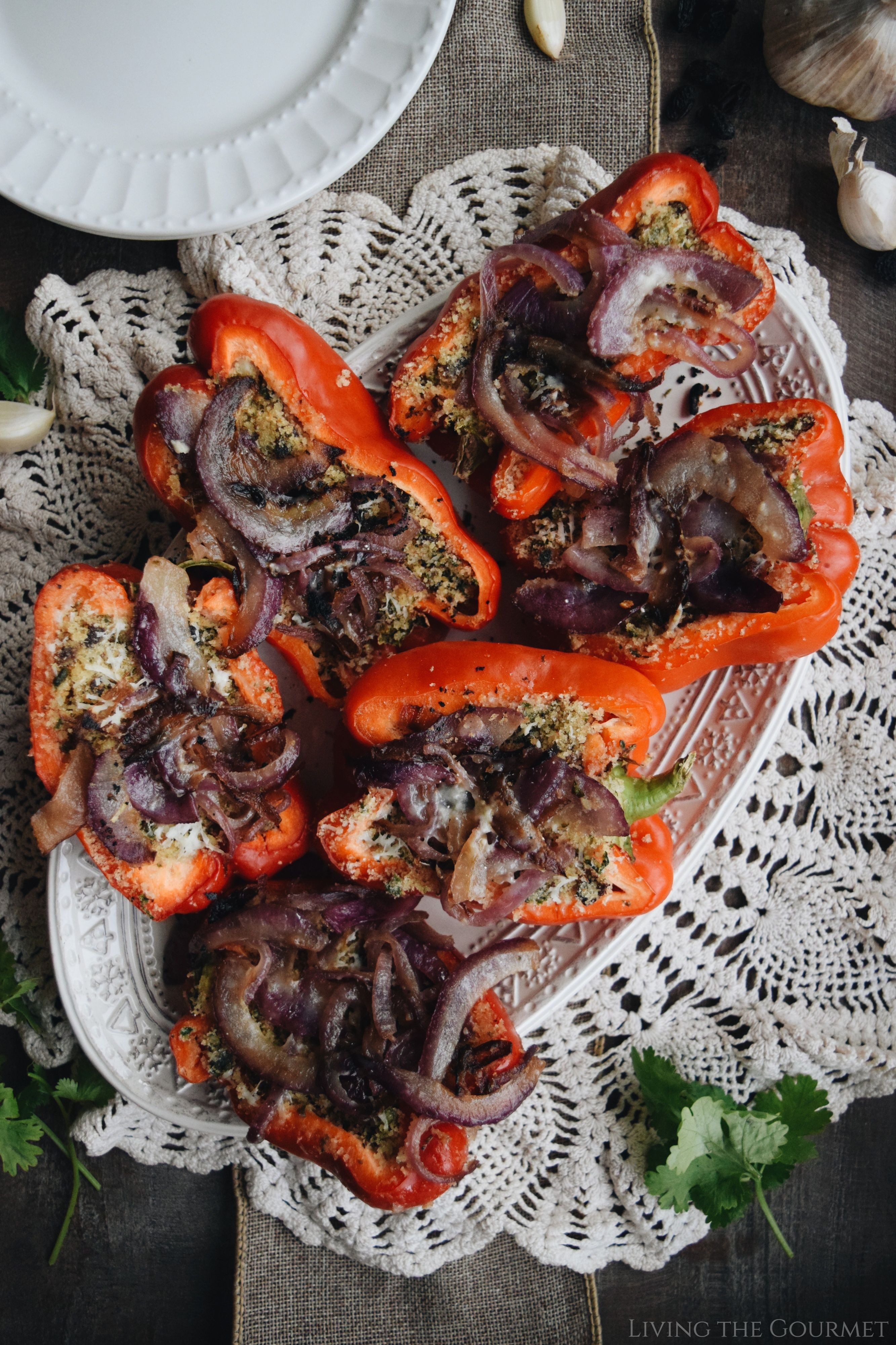 Stuffed Bell Pepper Tips
1) Firm Peppers Are A Must. Since we aren't baking these peppers, but rather giving them a quick char in a cast iron pan, you'll want the absolute firmest, crispest peppers you can get your hands on. First and foremost, you want the peppers to stay together, firmly, after stuffing and charring. You also want them to retain a crisp 'crunch' when biting into them. A quick rule of them when selecting peppers in general is to select peppers that feel 'heavy,' that have a nice sheen to their skin, and that are firm in the hand.
2) Serve As Soon As Possible. Unfortunately, today's recipe is 'not' make-ahead friendly. You 'can' make the stuffing a day or two ahead of time, but you want to serve these peppers as promptly as possible, since charred peppers tend to 'wilt' and lose their firmness in the fridge.
3) Experiment. The great thing about this recipe is just how versatile it is. Feel free to try adding in chopped anchovies, or roasting the garlic before chopping it up into the breadcrumb mix, or even using a different pepper such as poblano or thin red Italian peppers.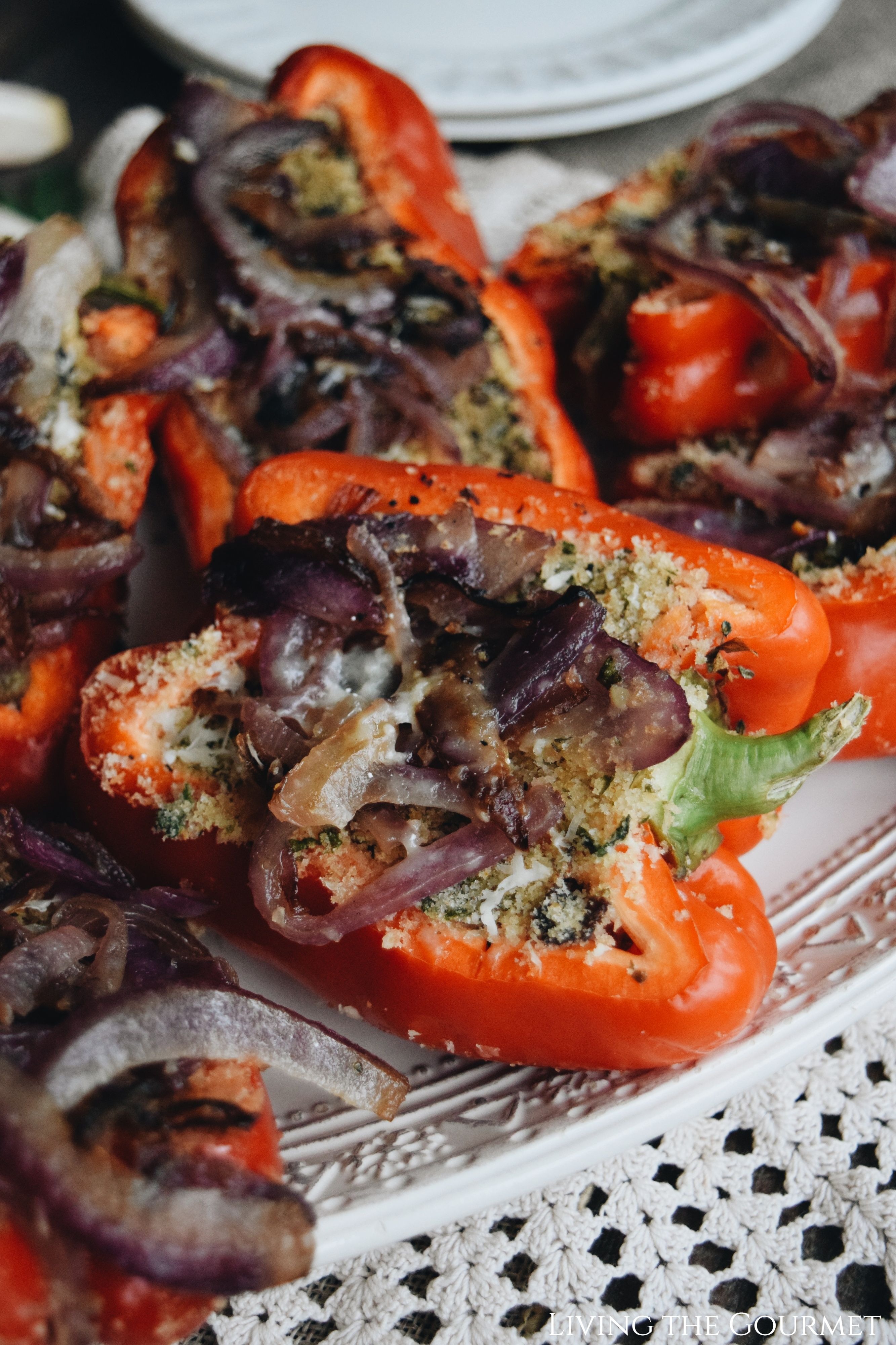 Prep Tips
1) Cutting the Peppers. There are two ways to cut peppers for stuffing. The first is cut the peppers lengthwise to create 'boats,' as pictured in today's the recipe. The other way is to 'cap' the peppers, meaning to take just the tops off to leave behind large 'pepper bowls' for stuffing. While both ways can work for today's recipe, I strongly suggest the former. To do this, merely insert your knife just through the 'flesh' of the pepper, and then cut along the perimeter of the pepper lengthwise – from one end of the stem to the other, such that the pepper is easily separated into two halves. Then simply lift out the core, brush away any remaining seeds, and you're done.
2) A Question of Stems. You 'will' have the stem left over on one the remaining halves. I prefer to leave the stem for garnish, especially since removing it risks damaging the half of the pepper that it's left in. However, this comes down to preference.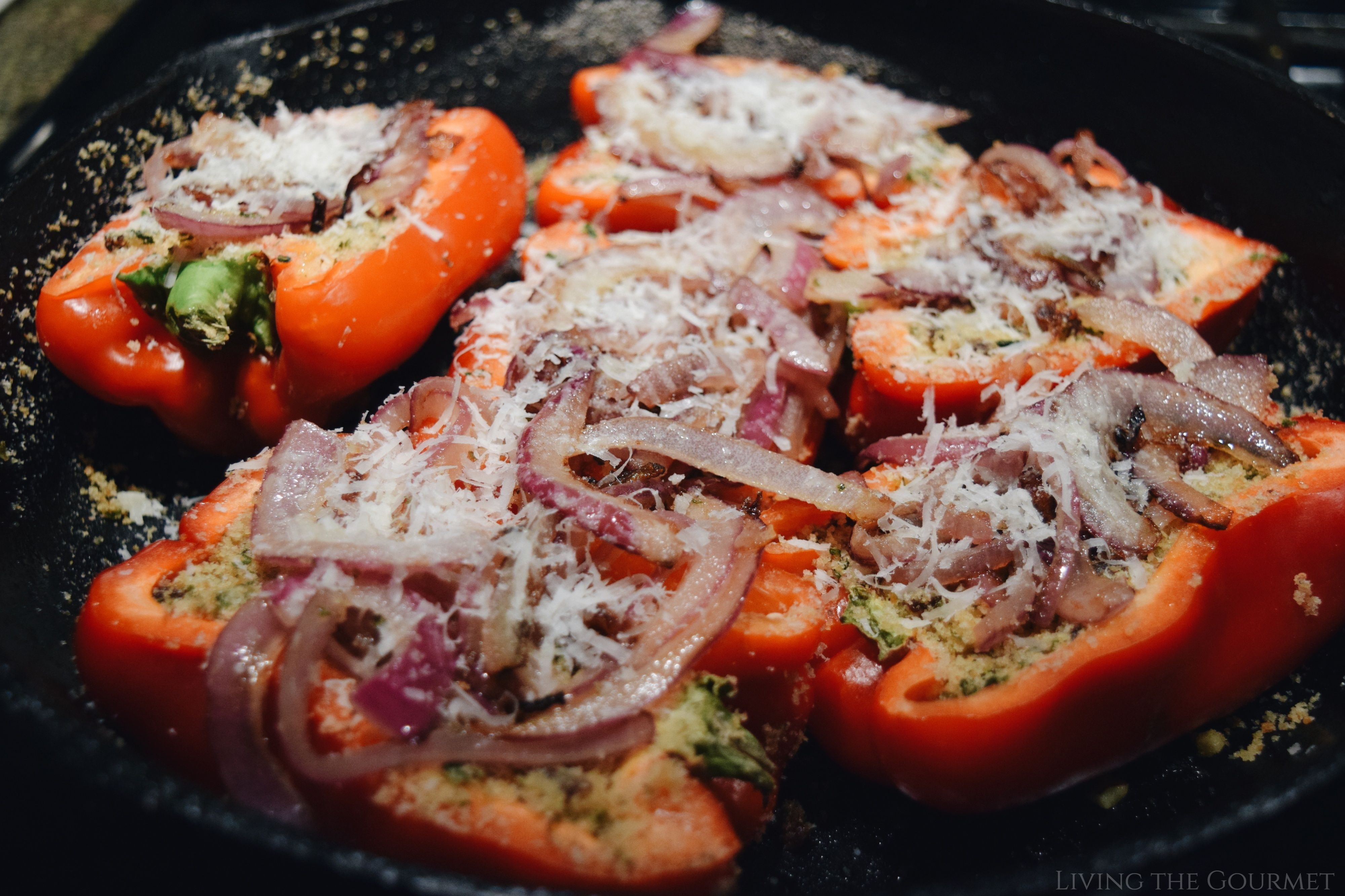 3) Avoiding the Oven. You might be wondering exactly why or how we're skipping the oven, since virtually every stuffed pepper recipe out there involves either baking the stuffed peppers. The answer here is simply "Because we can." Instead, we're simply cooking the stuffing briefly in a cast iron pan, add it to the peppers, and then giving the peppers a quick char before serving. No baking, no waiting.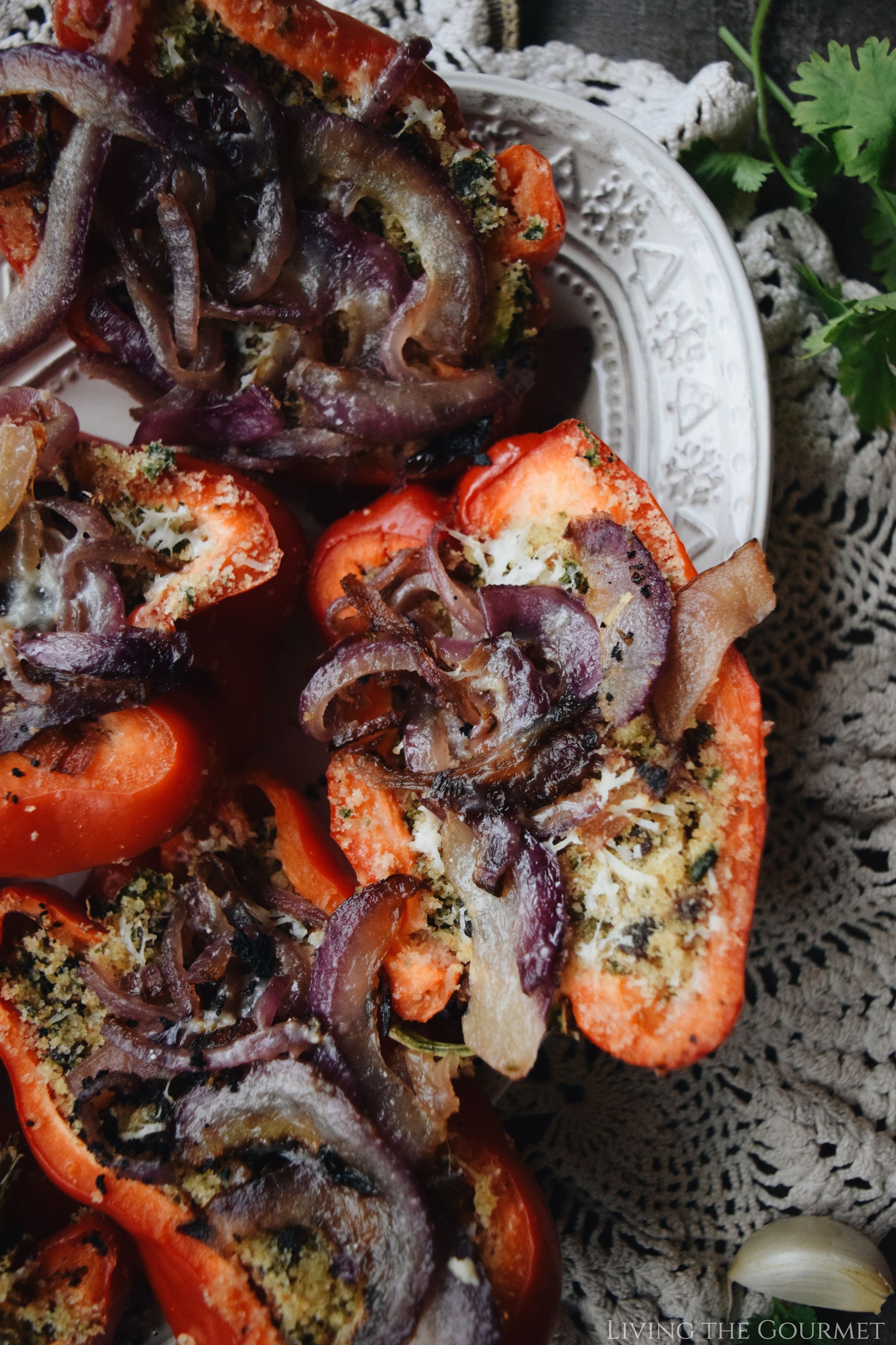 More Stuffed Pepper Goodness
Hungry for more stuffed peppers? Here are two more of my favorite ways to prepare stuffed peppers.
1) Chili Stuffed Peppers. Featuring a spicy vegetarian chili stuffed inside charred bell peppers with cilantro, grilled jalapenos and plenty of minced garlic, these peppers are hardy, satisfying, and have something for every palate.
2) Italian Style Stuffed Peppers. Featuring just twelve ingredients in total, these are thin red Italian peppers stuffed with a savory-yet-simple mix of Italian parsley, breadcrumbs, red wine, garlic, anchovies, and grated provolone. Being this simple, there's no excuse not to try them at least once.
Print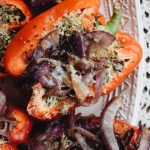 Stuffed Bell Peppers
---
Author:

Total Time:

20 minutes

Yield:

6

stuffed pepper halves

1

x
3

red bell peppers, halved - ribs and seed removed

1

cup

of loosely packed fresh whole cilantro - remove stems - then chopped

1 1/2

cups

of Italian style bread crumbs

2 tsp

. capers

1/4

cup

chopped almonds

1/4

cup

raisins - chopped

3

-

4

tbs. olive oil
Red onion - sliced very thin
Fresh grated Romano cheese
---
Instructions
Heat a small cast iron frying pan with a tablespoon or two of olive oil and sauté the red onion until it is slightly charred and set aside.
Heat a large cast iron frying pan with 2 – 3 tbs. olive oil.
Add the chopped cilantro, garlic, raisins, capers, almonds and bread crumbs and toss for a minute or two. Add more olive oil if the mixture is a bit too dry.
Fill the halved peppers with the mixture.
Place the stuffed peppers in the cast iron frying pan and top with fresh grated Romano cheese and the charred red onion.
Loosely cover the stuffed peppers and cook until the cheese has melted and the bottoms of the peppers are slightly charred.
Prep Time:

5 minutes

Cook Time:

15 minutes
Recipe Card powered by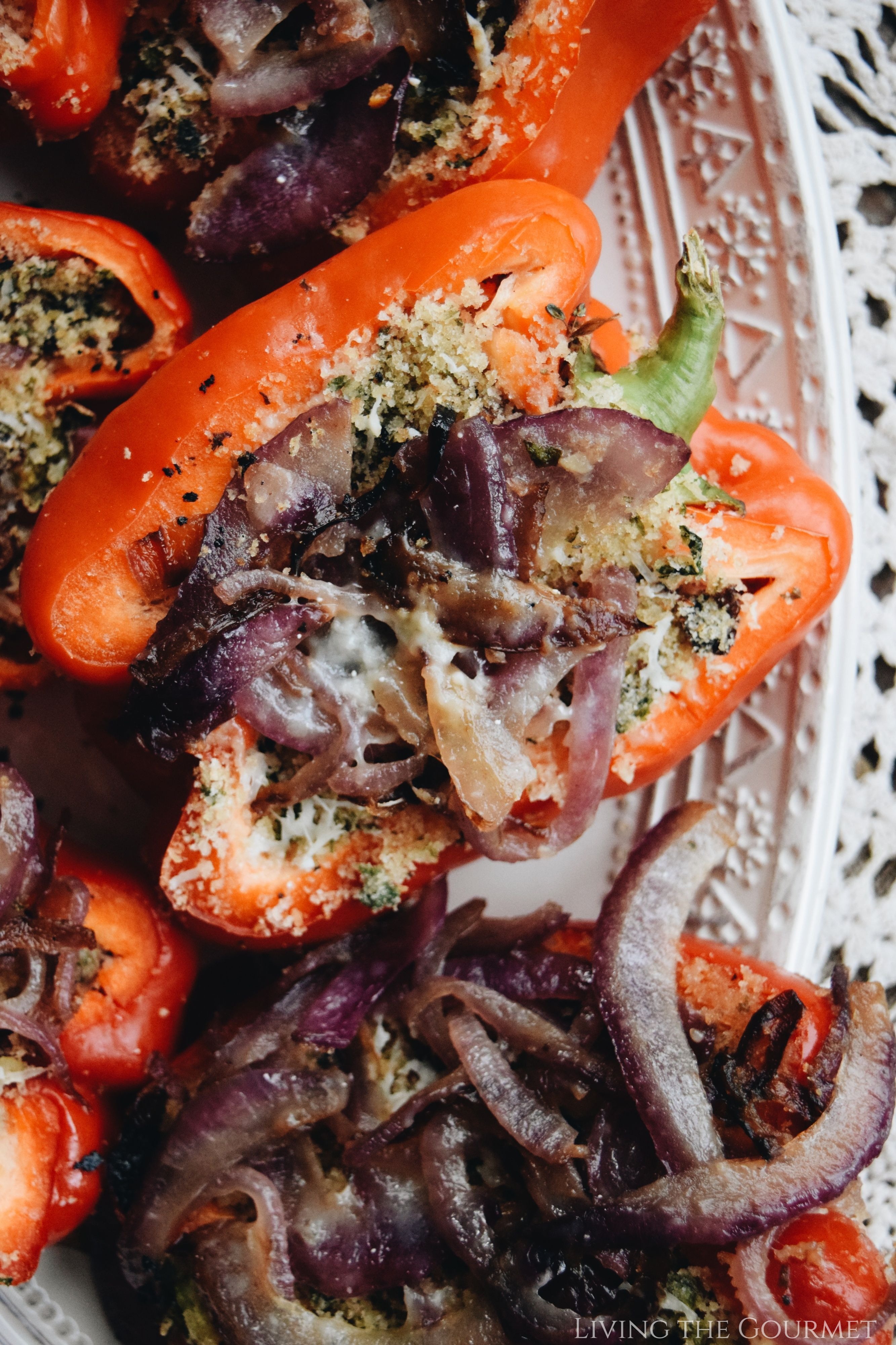 If You Enjoyed Today's Recipe…
Be sure to follow us on Instagram to stay up to date with all things Living the Gourmet, and for more great recipes, tips and tricks.
Did you make this recipe?
If so, let me know in the comments down below, or post a picture to Instagram, or to Pinterest, and I'll give you a shoutout on Instagram, or post your pin to one of my Pinterest boards!
0