Coffee and cream. Chocolate and peanut butter. Grey autumn days and hardy soups. Orzo and red peppers. Certain things were seemingly destined to go together, and we're focusing on those last two pairs with today's recipe – Peppers & Orzo Soup, prepared with warming combination of garlic, serrano peppers, and oregano.
Now, let's get to it.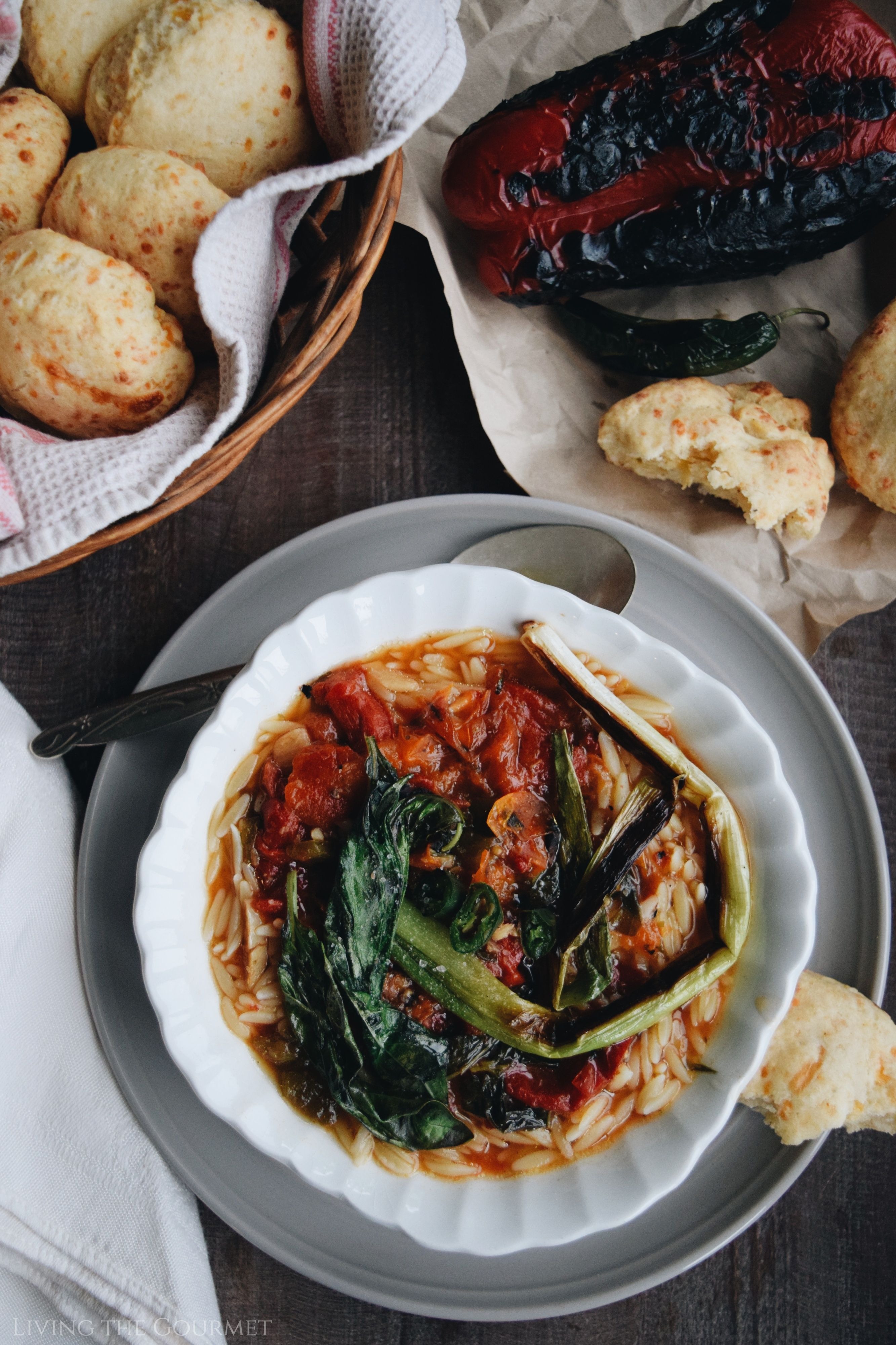 Ingredient Notes, Tips, and Substitutions.
1) Serrano Peppers. The source of the soup's heat, as well as a fair share of its 'earthy' and 'warming' flavor profile, I decided on serranos over Jalapenos or Italian Long Hots for a couple of reasons. Though considerably hotter than jalapenos, serrano peppers have a less 'distinct' flavor, being somewhat more muted and earthy, whereas jalapenos are 'brighter' or even sometimes 'crisp' of flavor, and, to my palate, have a very distinct 'jalapeno flavor' apart from their heat. Italian Long Hots, by contrast, have very little heat, but pack a decided 'punch' of bright 'peppery' flavor. To my mind, that makes serrano peppers perfect for today's soup. However, if you want to dial back the heat, poblanos would work excellently.
2) Orzo. Far and away the best known type of Greek pasta (zymariká), is orzo, and to most minds outside of Greece, Macedon, and Turkey, it is perhaps the only known type of Greek pasta. With that being said, feel free to substitute rice, elbows, or really any diminutive pasta in place of the orzo if you prefer. I'm using orzo purely as a matter of preference, as I find it hardier and bit more 'substantial' than the alternatives, which I think plays to the rest of the soup rather nicely.
3) Chicken Stock – Not Broth. Contrary to popular misconception, chicken 'broth' and chicken 'stock' are two very different things. Chicken stock is prepared from chicken bones which have been left to boil over a low heat for hours on end (sometimes even up to a day), often with assorted vegetables and seasonings. By contrast, chicken broth uses primarily the meaty parts of the chicken, or simply the remnants of a carved carcass, which is then boiled down for one to three hours (sometimes a little more). Chicken stock tends to have a thicker consistency and fuller flavor due to the gelatin and nutrients released from the long simmering bones, whereas broth – by design – is thinner textured and less fully flavored. While homemade chicken stock is generally better, since you're controlling what's in it – meaning no preservatives or flavor additives – feel free to use your favorite brand of chicken stock, since the flavor and texture tend to be on par with homemade.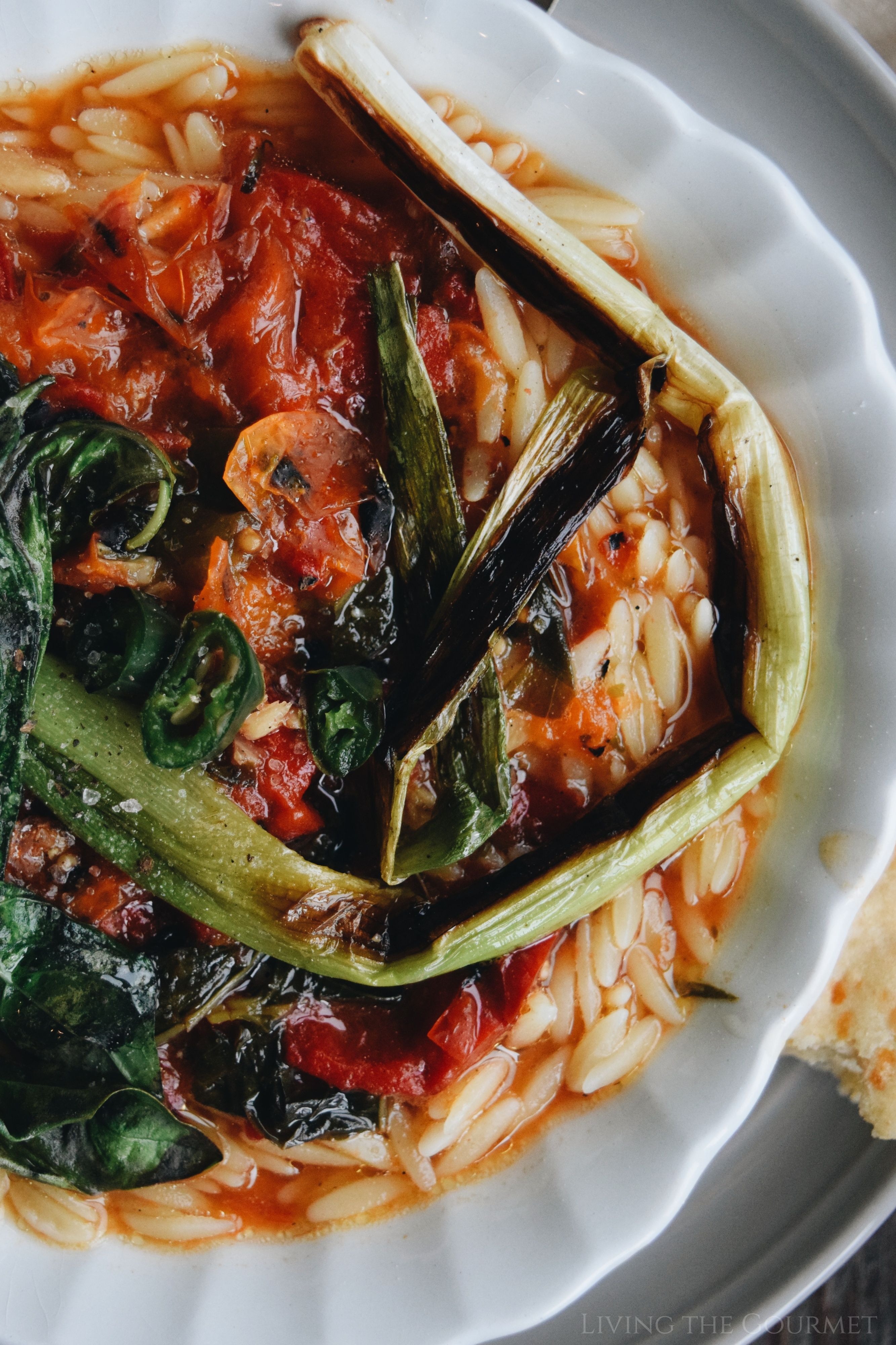 Serving Tips
1) First the Orzo, then the Soup. I prefer to prepare the orzo and soup separately, and then to keep them that way. Instead, I set a cup or two of orzo in a bowl, and then spoon the soup over the orzo. This assures a set ratio of orzo to soup, ensuring each guest or family member has a perfectly balanced bowl. However, this is purely preference.
2) Bread is a Must. While any crusty bread would pair great with this soup, I cannot recommend enough that you try it alongside Homemade Breadsticks.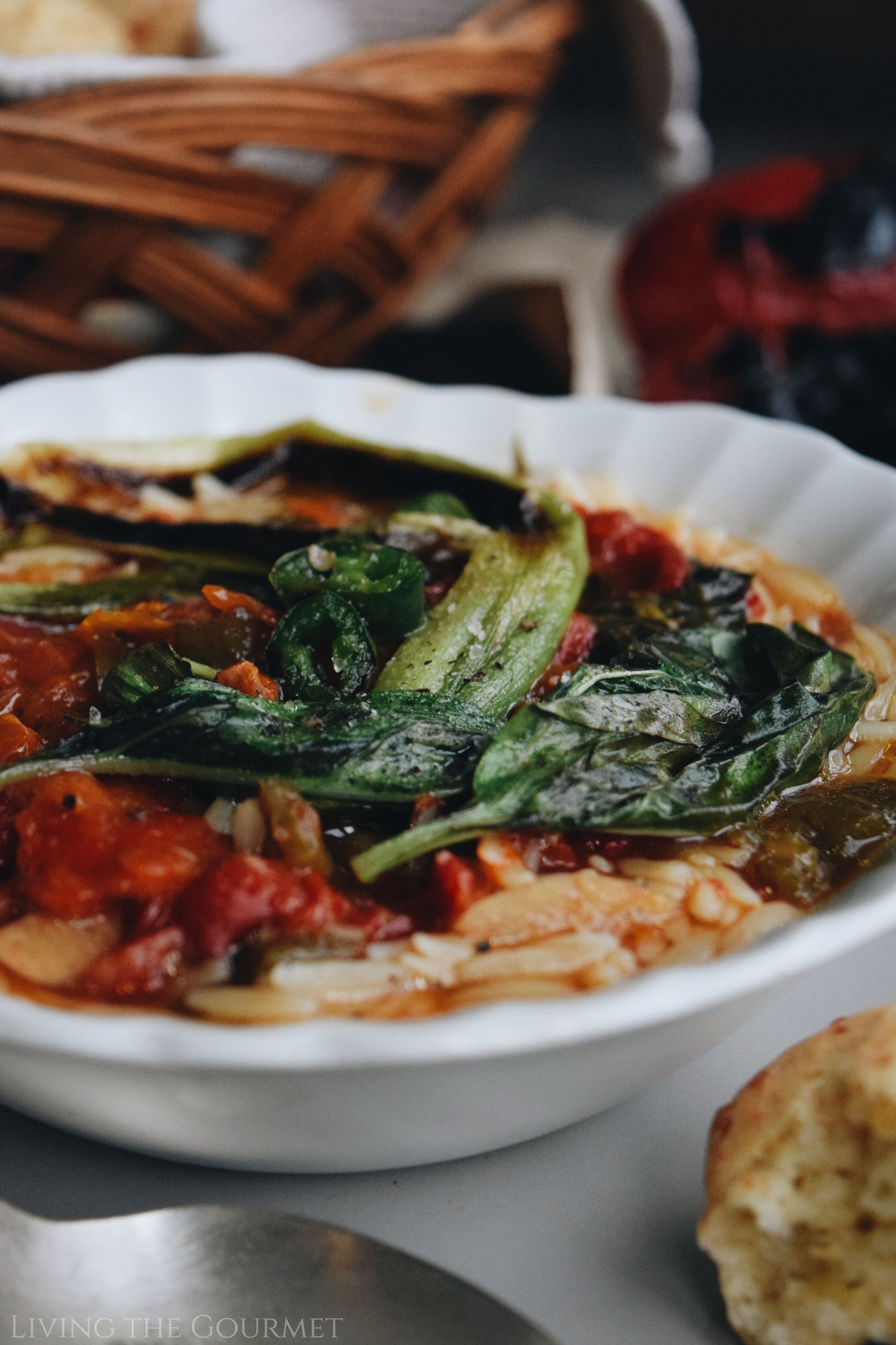 More Autumn Stews and Soups From Living the Gourmet.
1) Stovetop Chicken Stew. A quintessential autumn chicken stew, combining vine-ripe tomatoes, baby bella and portabella mushrooms, and chicken rubbed with coriander, fresh lemon, salt, and freshly ground nutmeg.
2) Beef Bourguignon. My take on one of the most iconic French recipes. Cubed chuck roast simmered to perfection in a red wine sauce with bay leaves, thyme, shallots, parsley, and potatoes. This recipe is a must for the autumn season.
3) Potato Leek Soup. A super simple combination of potatoes, shallots, and carrots in a cream based broth, served alongside homemade croutons.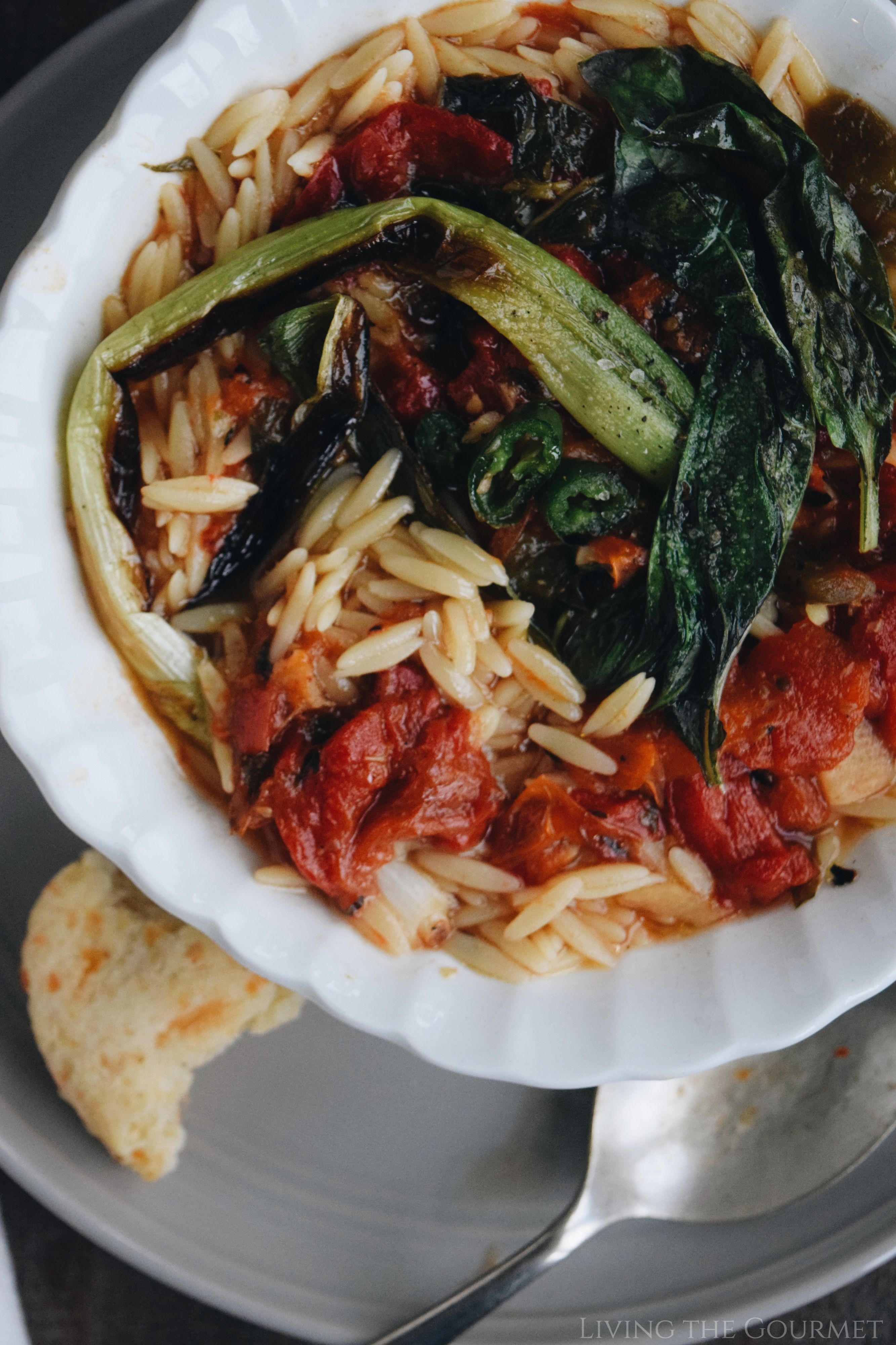 Print
Peppers & Orzo Soup
Author:
Prep Time:

10 minutes

Cook Time:

40 minutes

Total Time:

50 minutes

Yield:

4

-6

1

x
3

red bell peppers – charred

1

–

2

Serrano peppers – charred

4

large cloves of garlic – chopped

1

jalapeno – charred

1

–

pint

grape tomatoes

2

Handfuls of fresh basil leaves

1 1/2 tsp

. dried oregano

1 tsp

. sugar

1 1/2 tsp

. sea salt

1

bunch of fresh scallions

1

quart

of chicken stock

1

lb

. of orzo

2

–

3

tbs. olive oil
Instructions
Place the bell peppers on an open flame to char. Carefully monitor the peppers and using tongs turn as the char is achieved. Set aside to cool before scraping the car off. If you do not have a gas burner stove you may achieve this in a dry cast iron pan.
Place the Serrano peppers and jalapeno pepper in a small dry, cast iron frying pan to achieve a nice char and set aside. The Serrano peppers are for garnish when the dish is served.
Place the grape tomatoes in a dry sauce-pot and let char. Add the sugar and dried oregano over the tomatoes. Add a tablespoon of olive oil and the garlic gently mash the tomatoes and garlic.
When the bell peppers cool, scrape the char and remove the ribs and seeds and slice thin. Add to these to the tomatoes. Slice the jalapeno pepper thin with or without the seeds, the seeds add more heat to the dish so this is up to your preference, and add to the pot.
Using a pastry blender, chop the peppers into small chunks.
Add a handful of chopped fresh basil to the pot and toss.
Add the chicken broth and salt and let this gently simmer for 15 – 20 minutes. Taste for seasoning.
Prepare the orzo as directed and drain.
In a small cast iron frying pan grill the scallions a tablespoon of olive oil and the other handful of fresh basil. Add a sprinkle of sea salt and cook until a nice char is achieved on the scallions.
Add to the pot of peppers and broth.
Slice the Serrano pepper for garnish.
Place the orzo at the bottom of a bowl and top with the peppers and broth, a drizzle of olive oil another dash of sea salt and fresh ground black pepper and garnish with a slice or two of the Serrano pepper.
Recipe Card powered by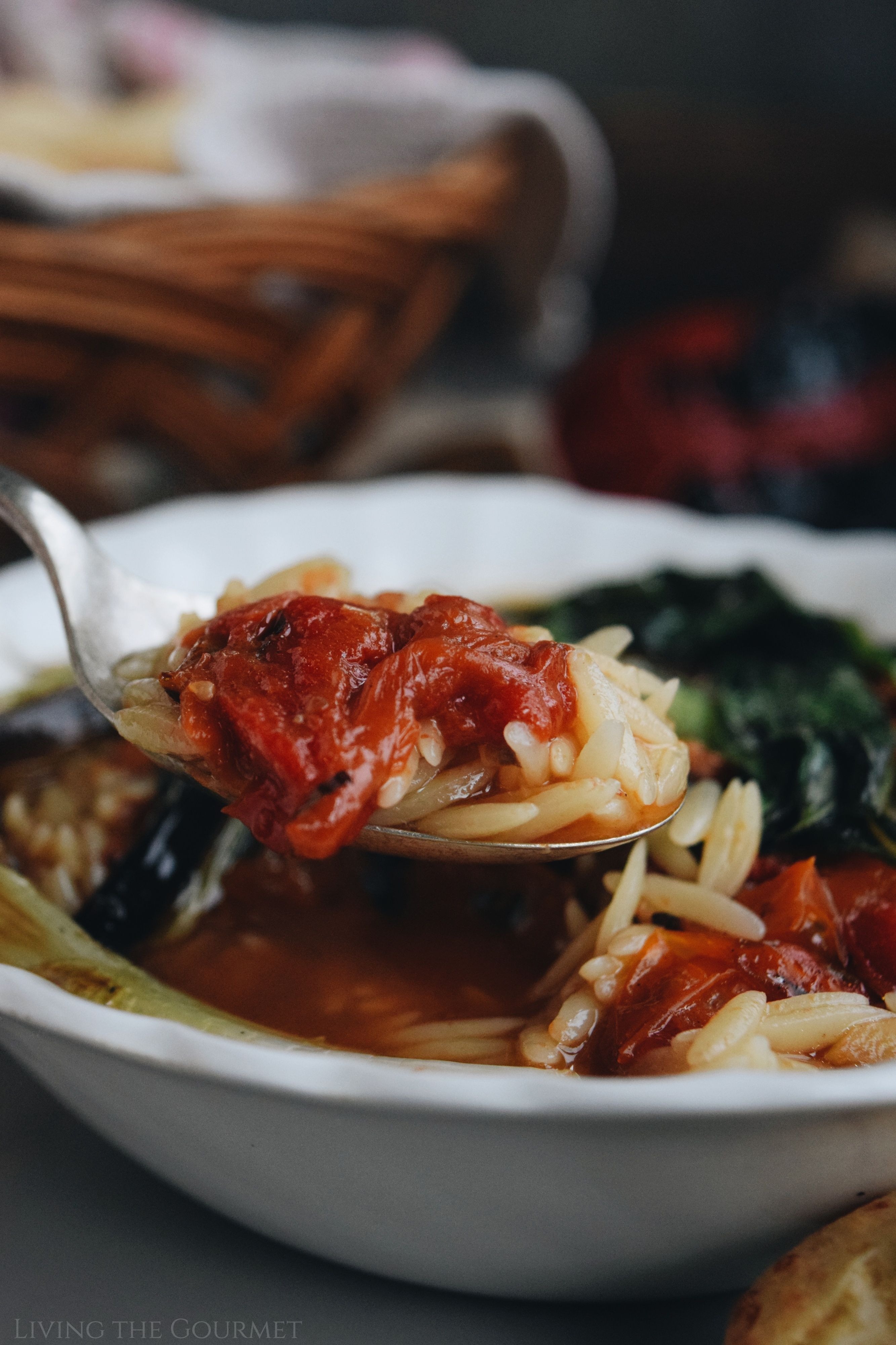 If You Enjoyed Today's Recipe…
Be sure to follow us on Instagram to stay up to date with all things Living the Gourmet, and for more great recipes, tips and tricks.
Did you make this recipe?
If so, let me know in the comments down below, or post a picture to Instagram, or to Pinterest, and I'll give you a shoutout on Instagram, or post your pin to one of my Pinterest boards!
Enjoy with Love!
0