This shop has been compensated by Collective Bias, Inc. and its advertiser. All opinions are mine alone. #McCormickONE #CollectiveBias
We're bringing the heat today with this simple One Pan Skillet Chicken & Peppers. It's a delicious welcome to the fall season!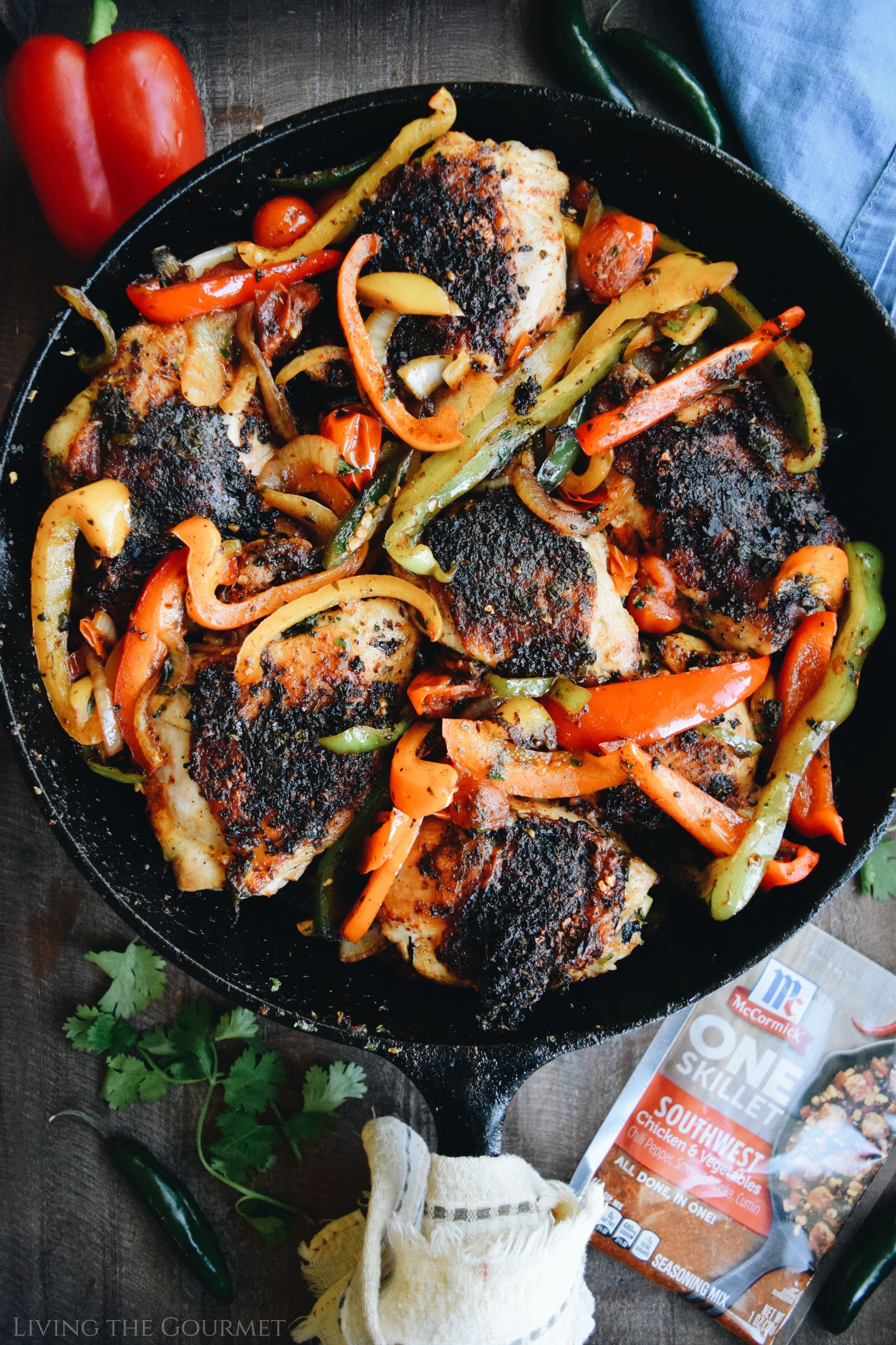 We've all been there, it's the end of a long day and you're hungry and tired in equal measure, but starting on a complicated or time consuming recipe is about the last thing you feel like doing. Despite that, however, you cringe at the idea of something 'ready-made.' Instead, you want something 'weeknight gourmet,' something that's as satisfying and flavorful as a homemade meal on the weekend, but that can easily fit inside of a busy weeknight schedule.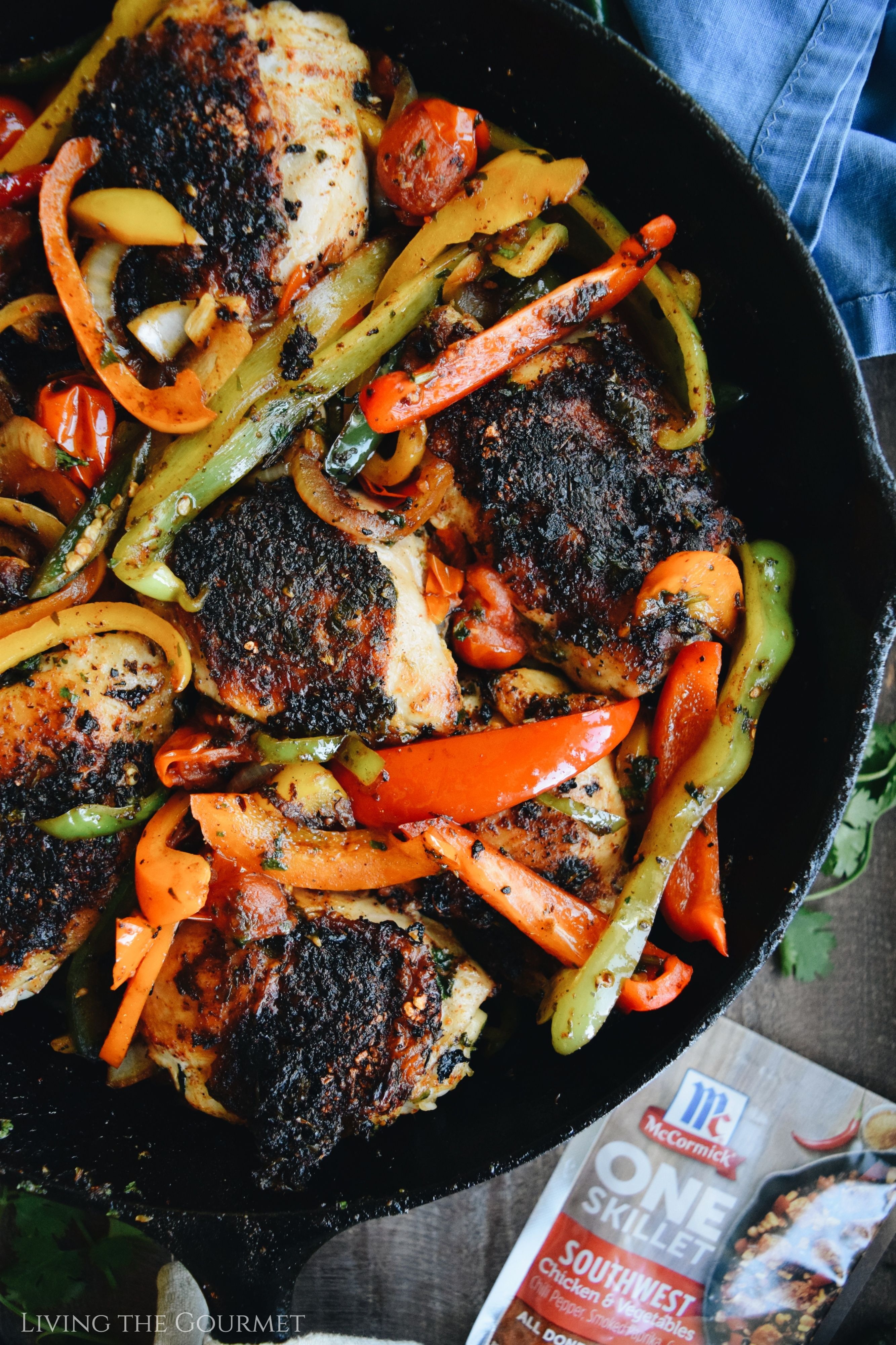 Today we're putting together something that fits that bill perfectly – Spicy Skillet Chicken and Chilies, which is a sublimely simple one pan one meal recipe, made even simpler and more flavorful using McCormick® ONE Southwest Chicken Skillet seasoning mix which you can find at your local Stop & Shop in the spice aisle.
Why You'll Love This Recipe:
1) One Pan, One Meal. Combining bone-in chicken thighs, a menagerie of peppers, fresh garlic, and McCormick® ONE Southwest Chicken Skillet all in a single cast iron pan, today's recipe is a quintessential one pan meal that can "Make Homemade Happen More." 2) Weeknight Gourmet. Given the simple preparation process, readily available and easy to use ingredients, and the convenience of the McCormick® ONE Southwest Chicken Skillet mix, this is a perfect recipe for busy weeknights. 3) More than Just Heat. While today's recipe definitely ratchets up the heat index a bit, the heat is far from this recipe's defining feature. On the contrary, the subtle heat of the peppers complements the recipe's layered savory flavor profile, adding to and framing the dish's flavors rather than overwhelming them.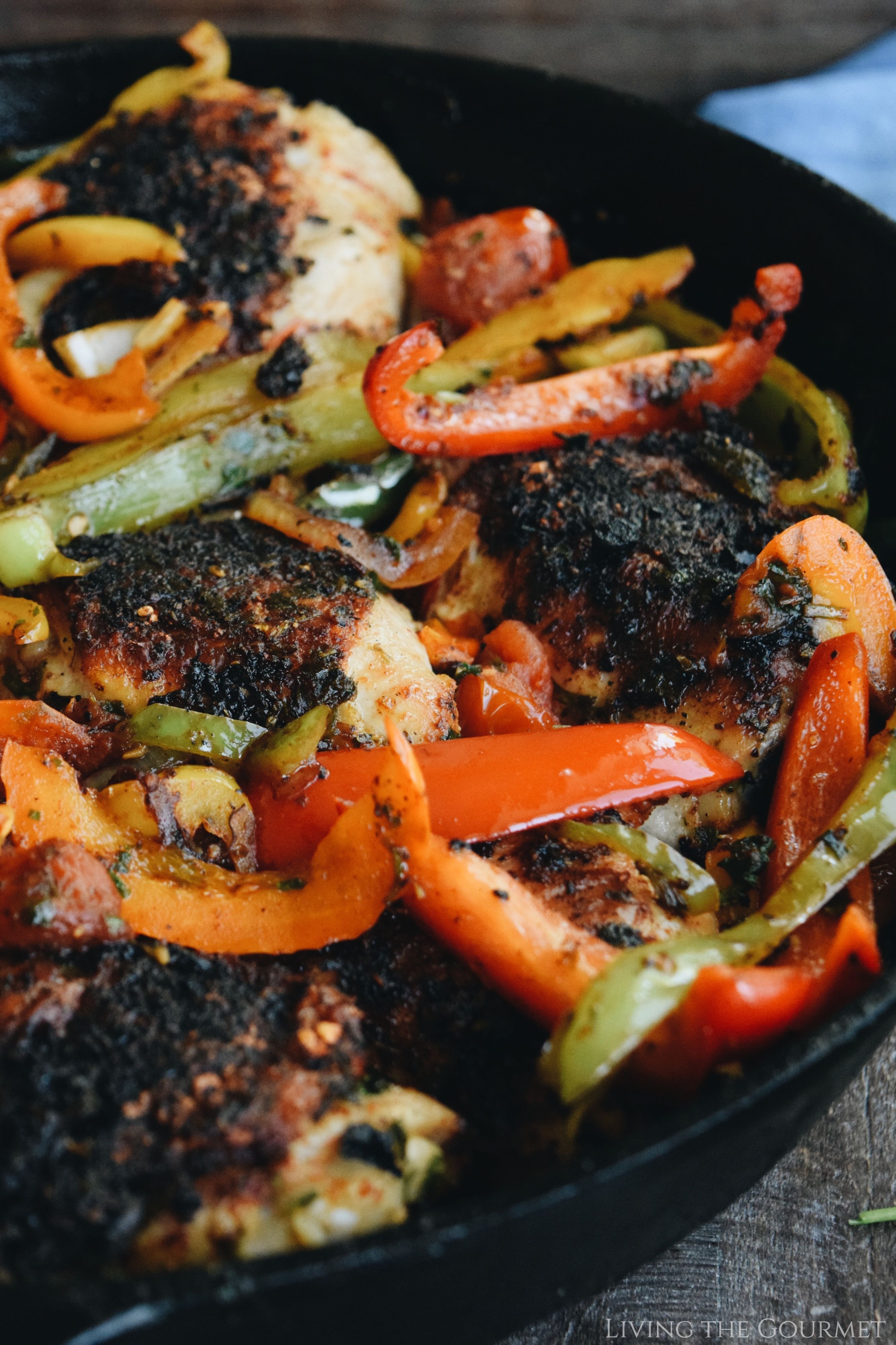 Ingredient Tips and Explanations:
1) Fresh Cilantro. One of the most perplexing myths I've come across is that parsley and cilantro are somehow interchangeable. Parsley has a 'fresher,' 'subtler,' and 'crisper' flavor than cilantro. The Italian variety is also much more 'eye-appealing,' having a naturally 'fuller' look courtesy of its frilled leaves. Cilantro on the other hand has a decidedly earthier flavor profile, and markedly more 'herbal' aromatics than parsley. In recipes that call for cilantro, you're likely to find much more robust or 'heavier' mix of ingredients, where the cilantro is able to hold its own as well as complement the heavier flavors and textures with its own earthy qualities – as in today's recipe, where parsley, by contrast, would simply be overwhelmed.
1) Peppers, Peppers, and Peppers. The first thing you'll likely notice when glancing over the ingredient list is…lots of peppers. The reason 'why' is simple. We're getting crunch and color from the trio of bell peppers, along with savory-spice from the Serrano and jalapeno peppers. Now, if you're averse to heat, or sensitive to capsaicin, feel free to sub in an extra bell pepper or two in place of the Serrano and jalapeno, or simply leave out the seeds – which is where most of the heat is located.
2) McCormick® ONE Southwest Skillet Chicken. This is where all of the seasoning for today's recipe is coming from. A single use packet of seasoning "Made with McCormick® Spices," means easy prep, easy clean up, and no measuring or fussing with spices on busy weeknights. Made with no artificial flavors and no MSG, this is meal path convenience and flavor that you can feel good about eating.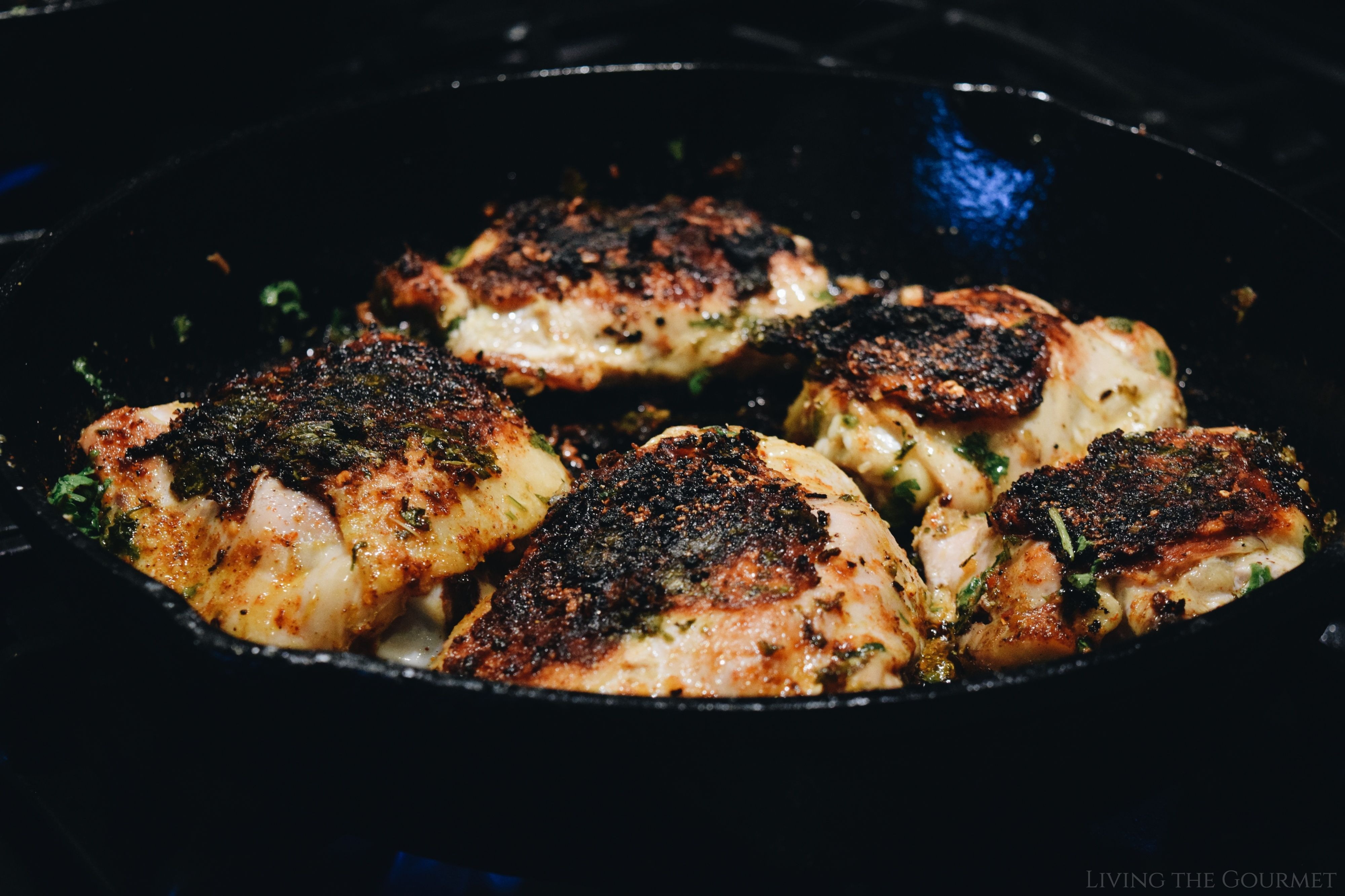 Living the Gourmet
Yields 10-12 chicken thighs
One Pan Skillet Chicken & Peppers
10 minPrep Time
20 minCook Time
30 minTotal Time
5 based on 10 review(s)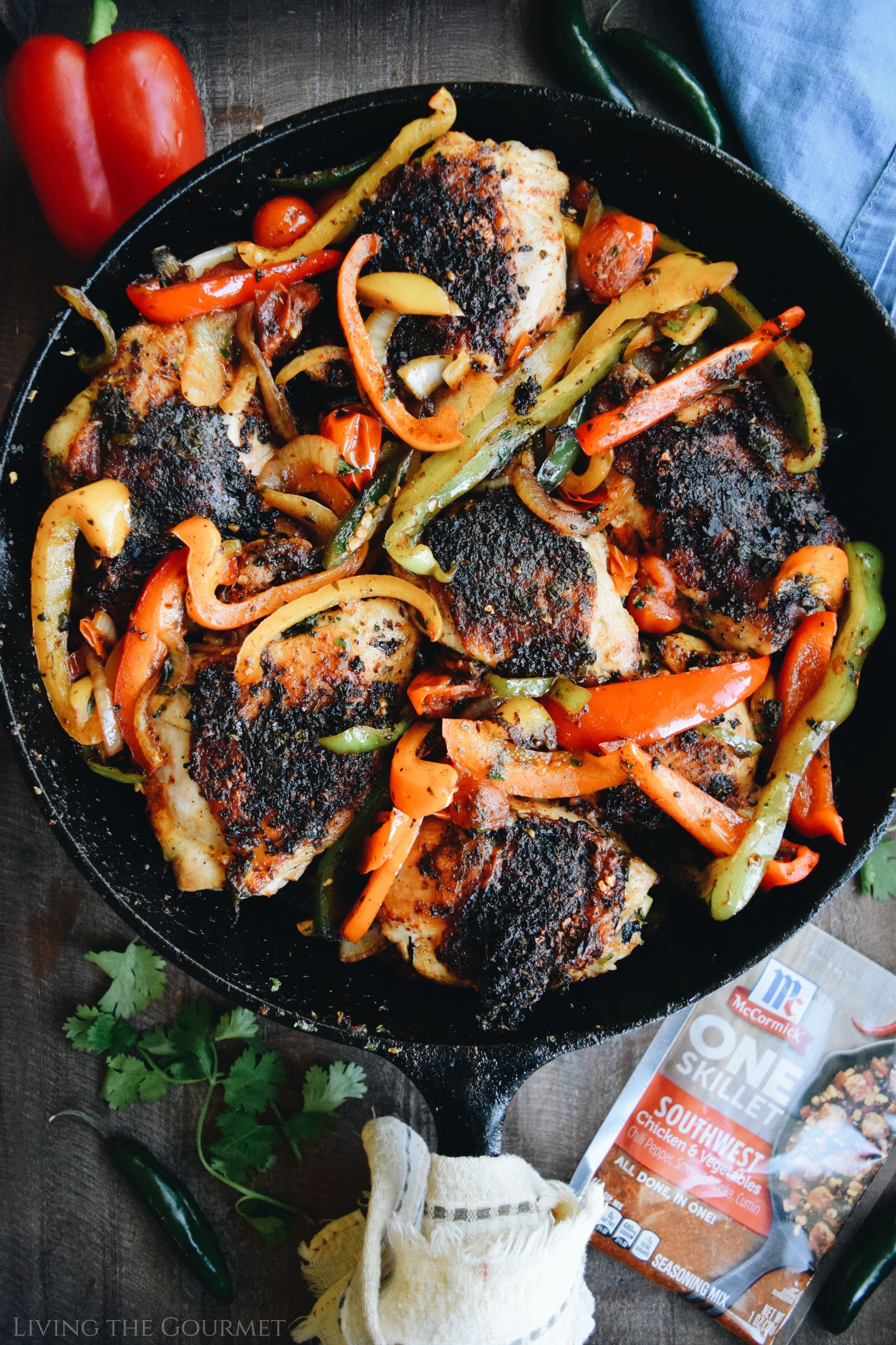 Ingredients
For the Chicken:

10 – 12 bone-in chicken thighs
6 – 7 garlic cloves – chopped
¼ cup of loosely packed fresh cilantro - chopped
1 tbs. dried oregano
2/3 McCormick® ONE Southwest Chicken Skillet , divided
3 – 4 tbs. olive oil

For the Peppers:

2 Serrano peppers
1 jalapeno – sliced thin
1 yellow bell pepper – sliced thin
1 orange bell pepper – sliced thin
1 red bell pepper – sliced thin
1-pint grape tomatoes
4 large cloves of garlic - chopped
1 sweet onion – sliced thin
½ cup loosely packed fresh cilantro – chopped
2 – 3 tbs. olive oil
Instructions
For the Chicken:

Heat a large cast iron frying pan over medium-high heat with 3 – 4 tbs. of olive oil, chopped garlic and a tbs. of dried oregano. Sprinkle about 1/3 of the McCormick® ONE Southwest Chicken Skillet on the skin of the chicken.
Cook the chicken in the oil for about 10 minutes or until light brown; and then reduce heat to low. Turn chicken skin over and season the other side of the chicken with another 1/3 of the McCormick® ONE Southwest Chicken Skillet .
Cook the chicken uncovered about 20 minutes, without turning, until the juice of the chicken is clear when the thickest pieces are cut to the bone (internal temperature of the chicken should be at least 165°F).
Remove the chicken and set aside while cooking the peppers, which will only take about 10 – 12 minutes to cook.

For the Peppers:

Heat a large cast iron frying pan with about 2 tablespoons of olive oil.
Add the garlic and tomatoes. When the tomatoes soften add in the peppers, the chopped cilantro, the onions, and sauté for about 10 – 12 minutes until the onions become translucent and the peppers soften.
Season with the remaining third of the McCormick ONE Southwest Chicken Skillet .
Arrange the chicken thighs with the peppers and serve.
7.8.1.2
1342
https://livingthegourmet.com/2019/09/one-pan-skillet-chicken-peppers.html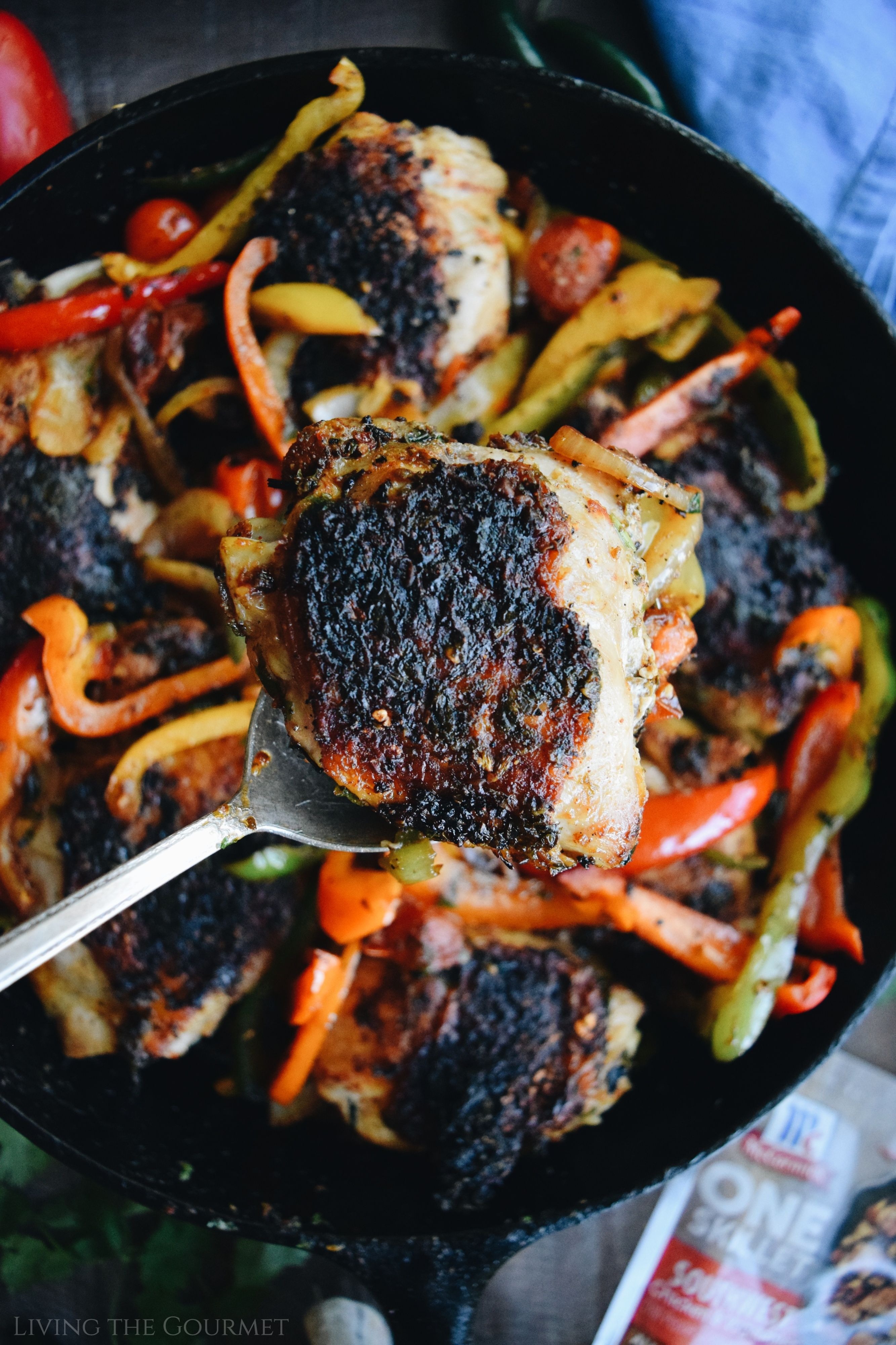 If You Enjoyed Today's Recipe…
Be sure to follow us on Instagram to stay up to date with all things Living the Gourmet, and for more great recipes, tips and tricks.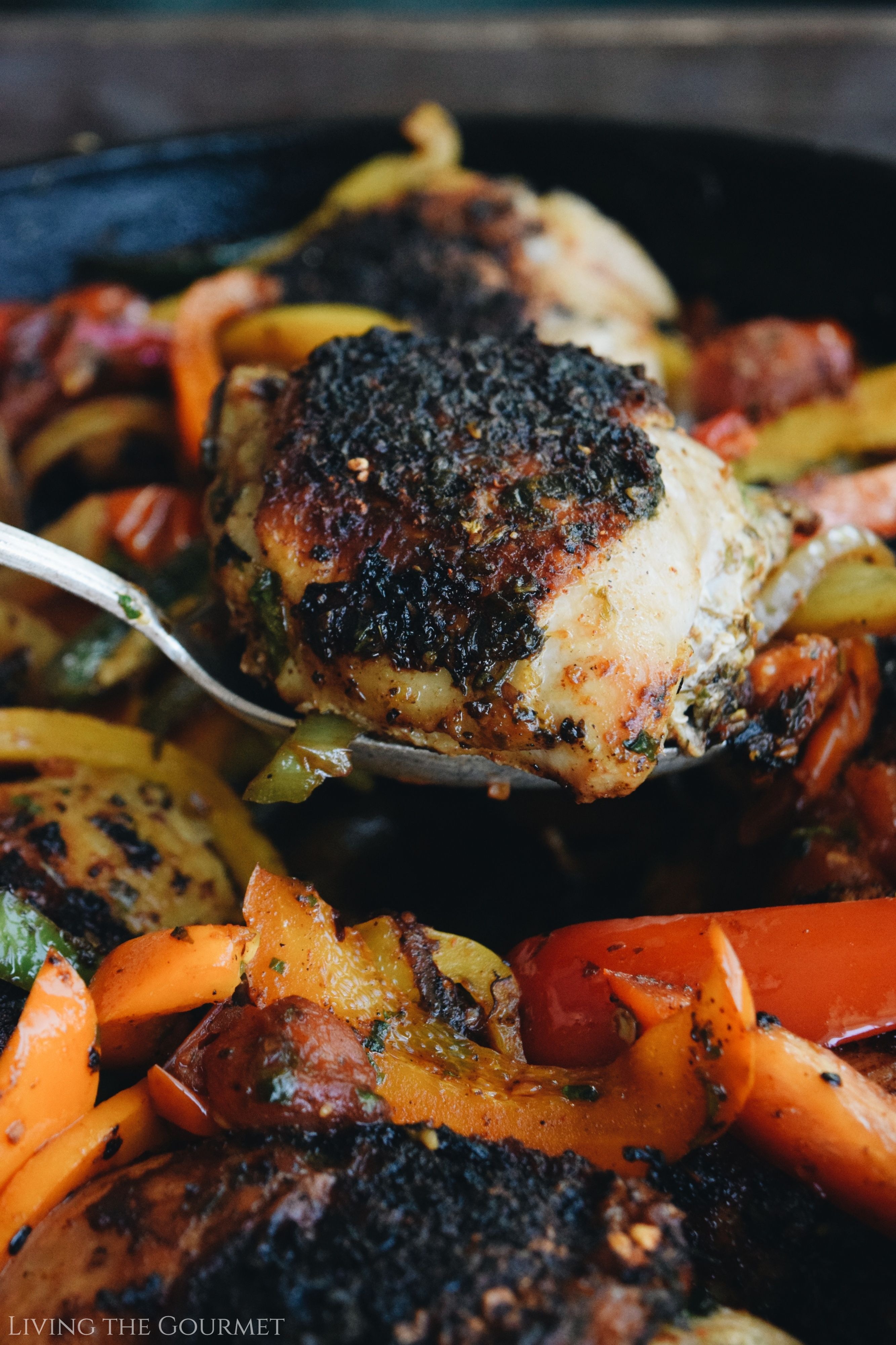 Did you make this recipe? If so, let me know in the comments down below, or post a picture to Instagram, or to Pinterest, and I'll give you a shoutout on Instagram, or post your pin to one of my Pinterest boards!
5