This post has been sponsored by Yarden Wines. The following message is intended for an audience 21+ and all opinions expressed are my own. Please enjoy responsibly.
Today we're on the final post of our Israeli wine tour, courtesy of the Galil Mountain Winery, and today we'll be pairing a 2016 Grenache with a jalapeno and fried egg burger topped with provolone and onions, to create the ultimate summer cheeseburger.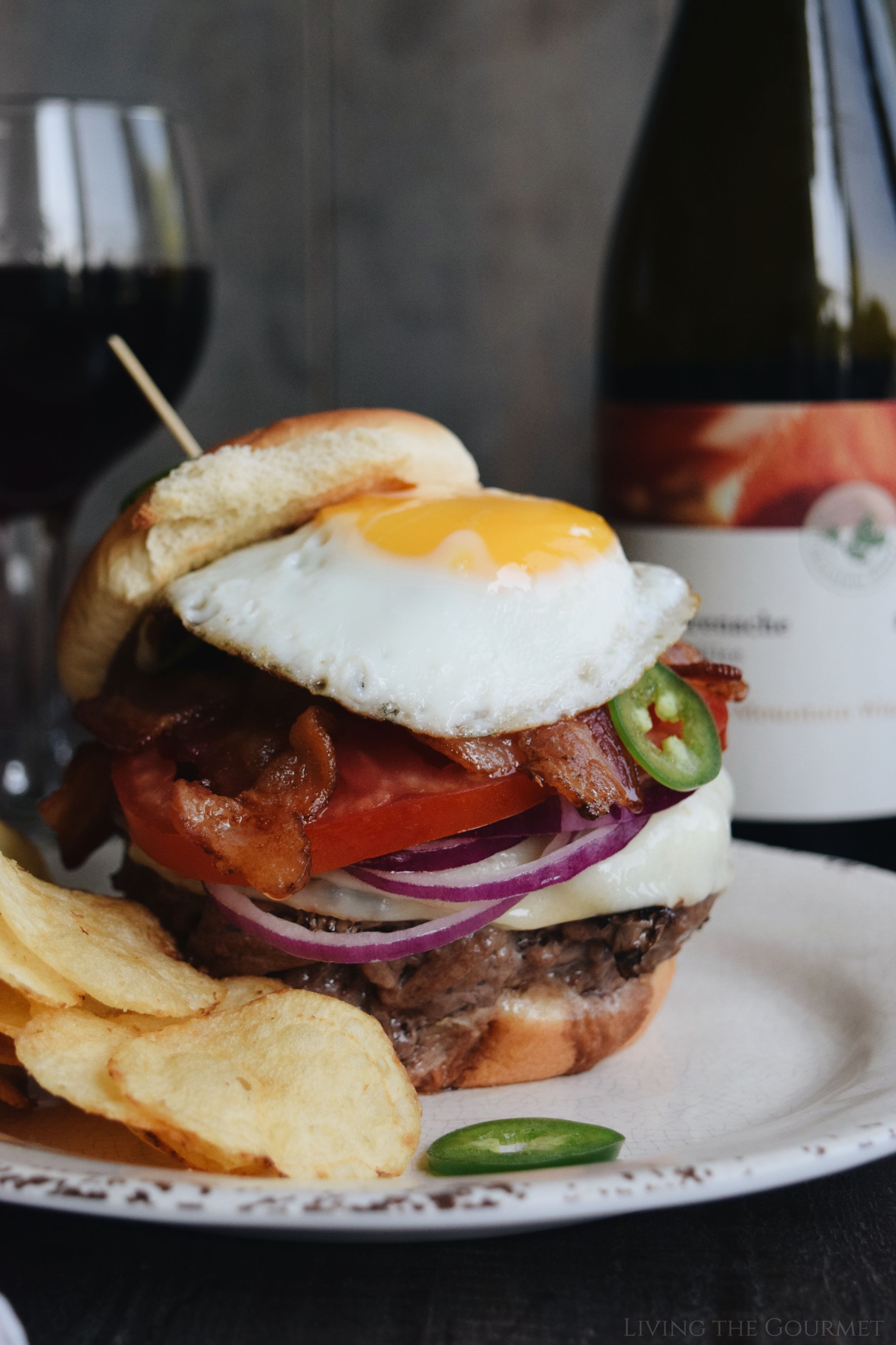 The Bottle – A Showcase
Today, we're reviewing a 2016 Grenache from the Galil Mountain Winery located in Upper Galilee.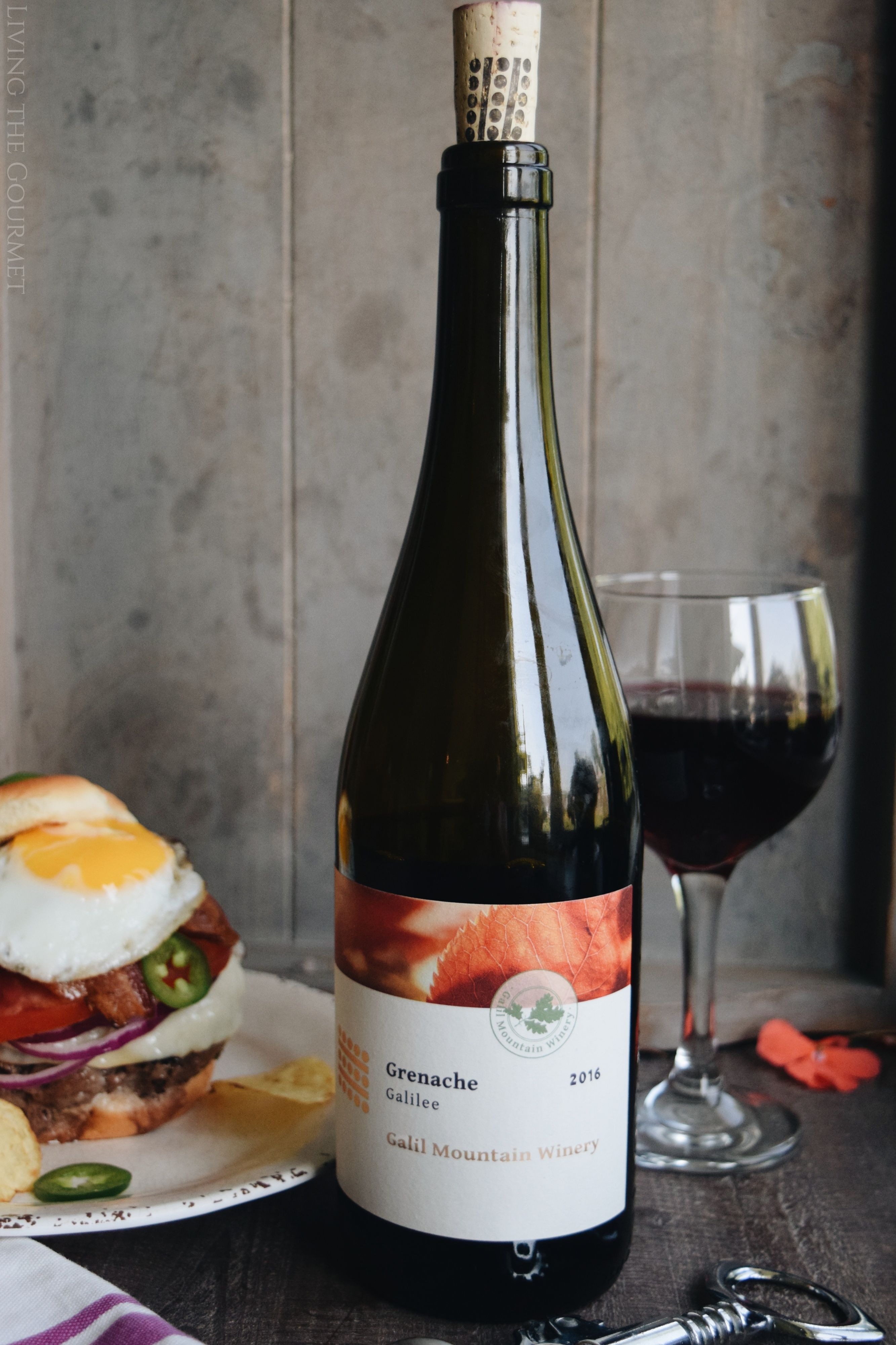 The Where – Galil Mountain Winery, Upper Galilee, Israel
As I touched on previously, Galilee is divided into three wine regions, Upper Galilee, Lower Galilee, and the Golan Heights. The Galil Mountain Winery was founded by the Golan Heights Winery in Upper Galilee, where elevations reach well over a thousand meters. Like the Golan Heights, the soils of Upper Galilee vary quite widely, but generally feature volcanic basalt, limestone, and free-draining gravels, coupled high elevations that guard against high local temperatures. These are the ingredients that come together in many of the world's star wine regions. Comparisons to the Sierra Foothills of California are well warranted, while parallels could also be drawn to Burgundy and Santorini.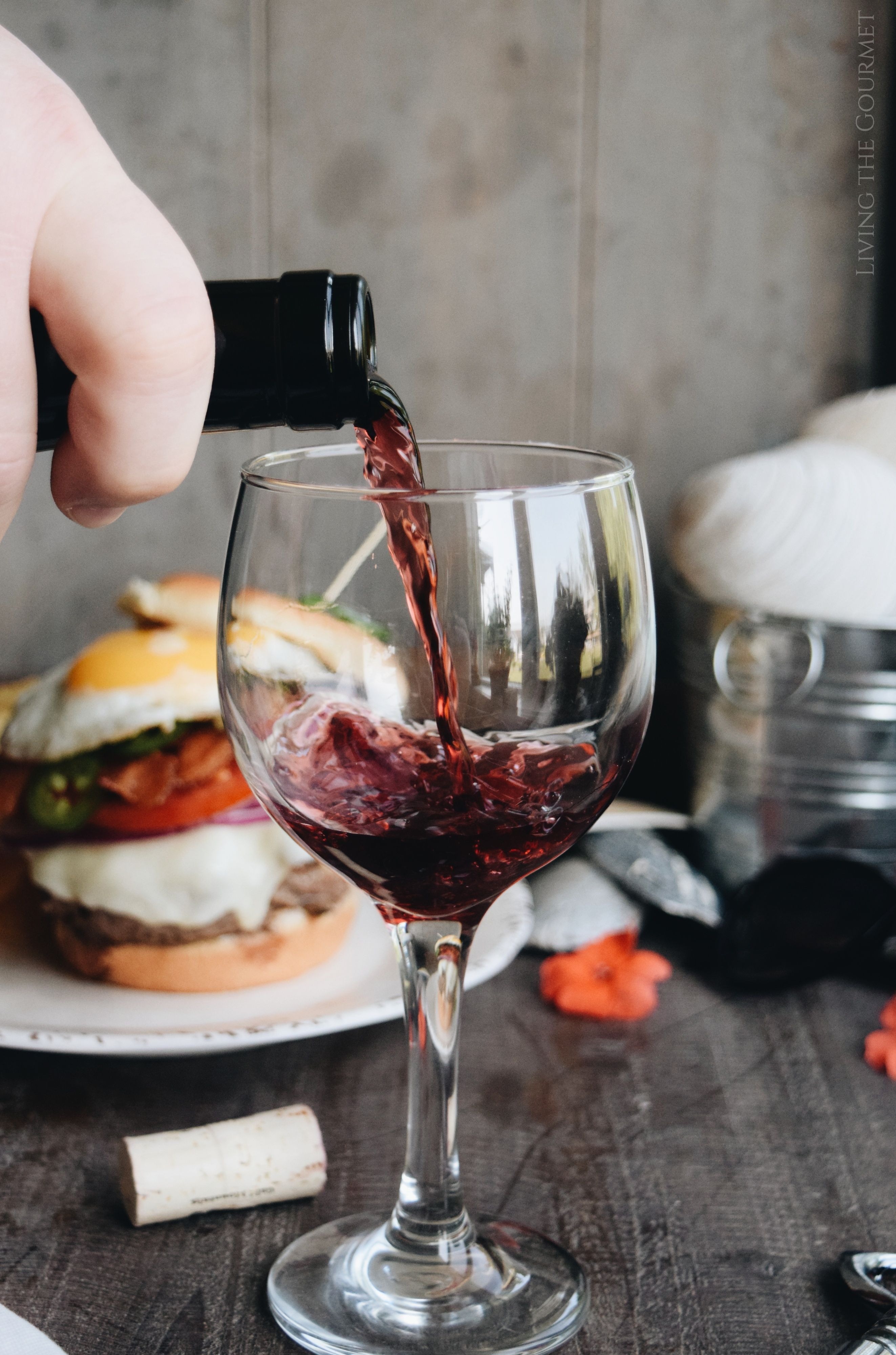 Aromatics and Tasting – The Review
The wine introduces itself with a semi-translucent light-ruby coloration, and opens with an aromatic profile that I'll describe as dry and earthy off the top of the glass, perhaps a touch of cinnamon mixed with citrus rind or anise. The bouquet ripens deeper into the glass, think sliced black cherry dusted with dried oregano mixed with faint hints of tobacco leaf. On the palate, the wine is largely a characteristic Grenache experience, featuring a medium body and silky mouthfeel, with a muted red and black fruit flavor profile.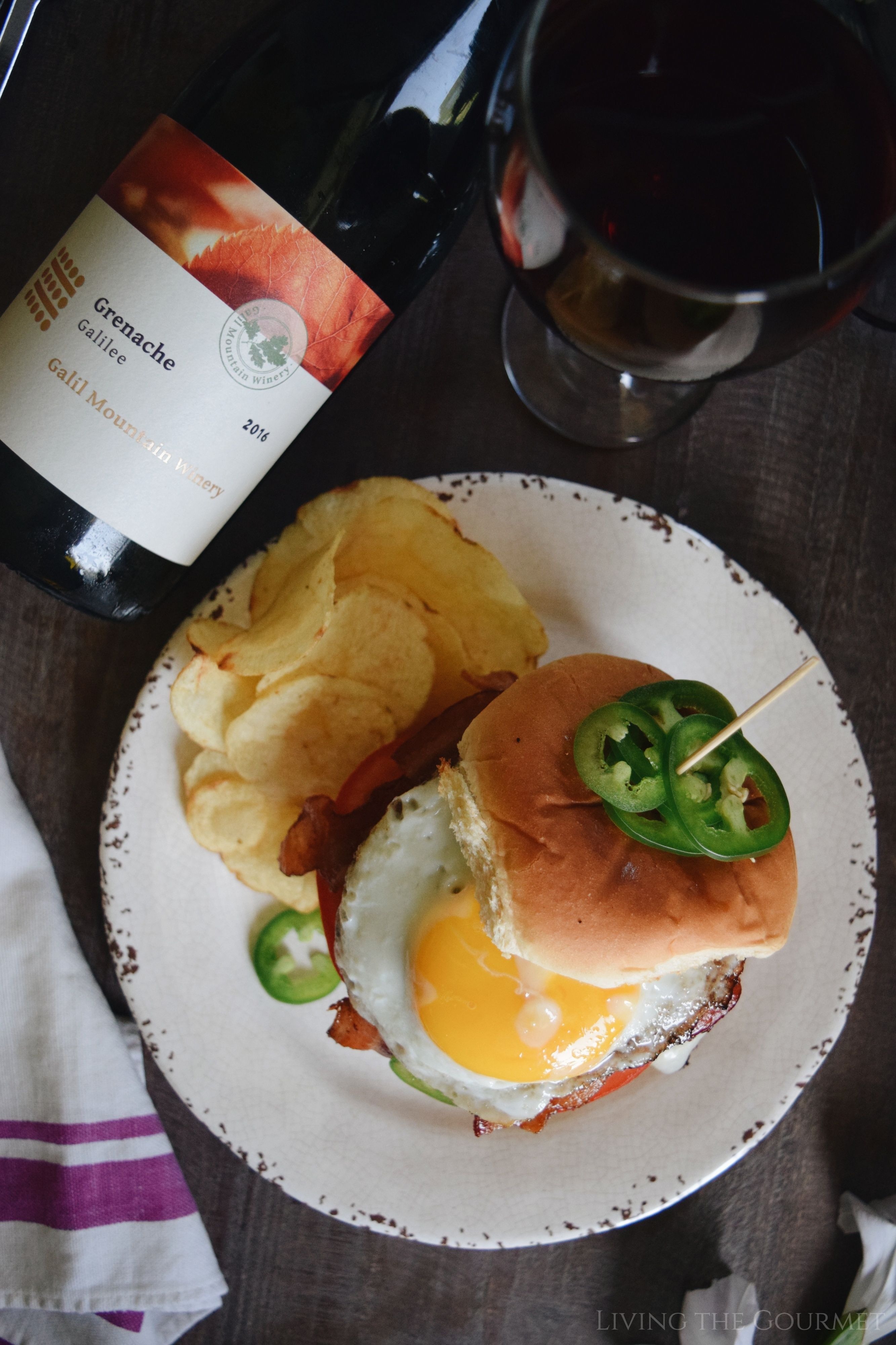 What To Eat – The Pairing
There's a conventional wisdom when it comes to Grenache, and that's to pair it with recipes that are "meaty" or "spicy." Today, we're taking that conventional wisdom and replacing the 'or' with an 'and.' Today's burger is equal parts meat and spice, with the moist meatiness of the burger combining with the added fatty texture of the fried egg, which meld together deliciously with the spice of the jalapeno and the added 'bite' from freshly sliced red onion. This may not be a 'quintessential' Grenache pairing, but it is assuredly a delicious one that will be a crowd-pleaser like few others.
Other pairings might include herbed roasts or steaks. A rack of lamb scored and then stuffed with oregano, garlic, and basil would pair excellently, check out our recipe for Herbed Rack of Lamb as an example.
Spicy food also pairs excellently. Think spicy red sauces with hot sausages, Korean barbecue, Cajun barbecue, and curried chicken. Spicy stuffed peppers served as an appetizer would also pair deliciously.
The Occasions – When to Drink This
From the pairing notes, you can probably guess the occasions for drinking a bottle like this. First and foremost, enjoy this bottle before the summer is over, because to my mind there are very few bottles that pair quite as well with something like today's recipe, especially when eaten outdoors or even seaside if you can.
This is also a great "Barbecue Bottle," since Grenache truly does pair well with most roasts and steaks, or, as we prepared today, a good burger.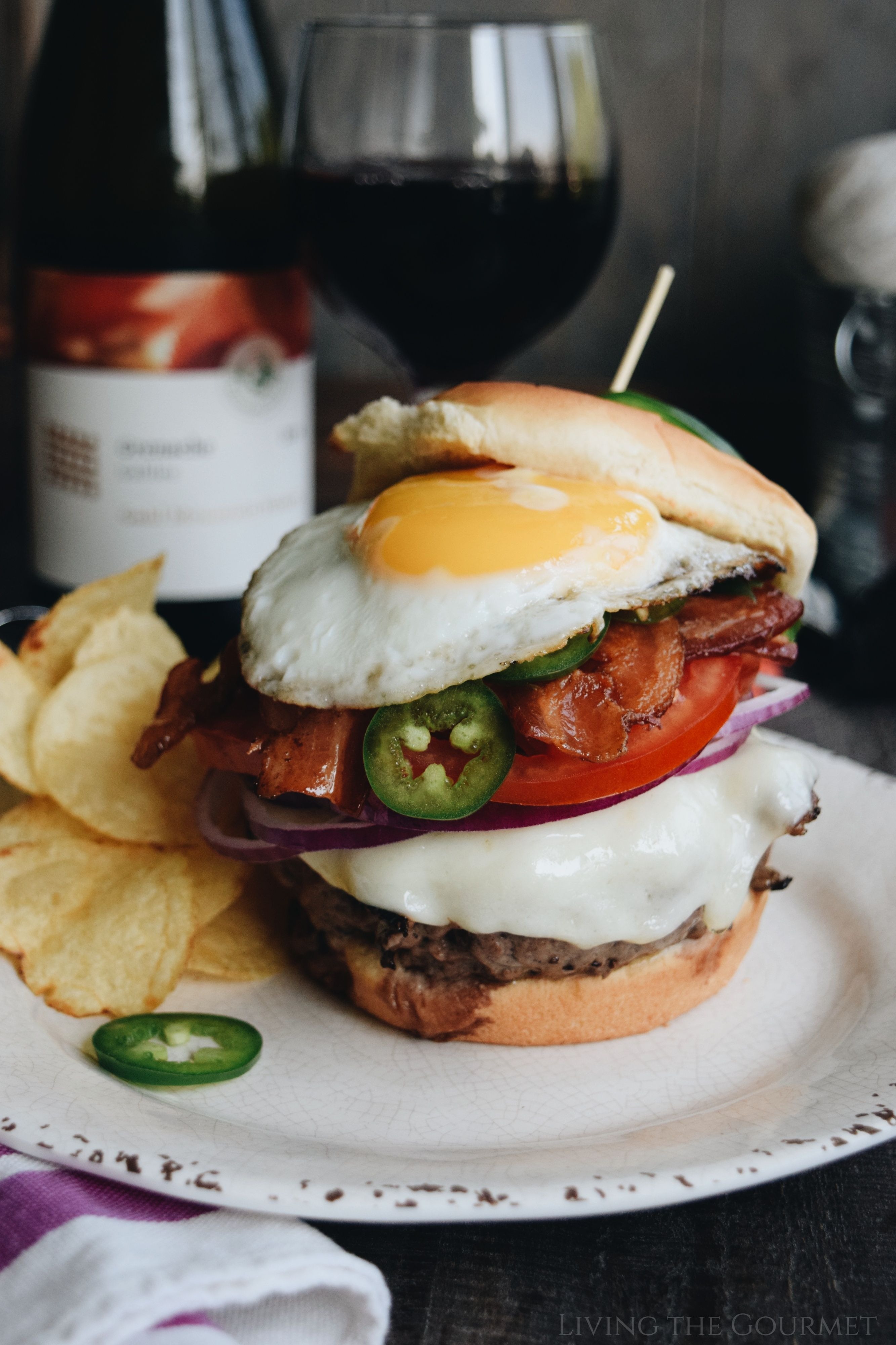 Print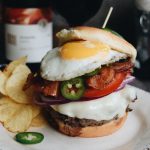 Ultimate Summer Cheese Burger
---
Author:

Prep Time:

8 minutes

Cook Time:

12 minutes

Total Time:

20 minutes

Yield:

1

cheese burger

1

x
¼

lb. ground beef
Sliced Provolone
Crispy bacon slices
Red onion – sliced very thin
Tomato – sliced very thin
Jalapeno – sliced very thin
One egg – fried

1 tsp

. butter
Your favorite burger bun
---
Instructions
Form the ground beef into a burger.
Heat a cast iron frying pan with a tsp. of butter.
Place the burger in the heated pan and let a nice char form on one side, this should take about 3 – 4 minutes. Flip the burger and cook on the other side to form a char, place one or two slices of cheese on the burger while the second side is cooking, and place a loose-fitting cover over the pan during the last minute or two of cooking so the cheese melts. This cook time should take about another 4 – 5 minutes or cooked until the desired doneness is achieved.
Fry the egg and place on the top of your burger if desired.
Toast the bun if desired and build your burger.
Recipe Card powered by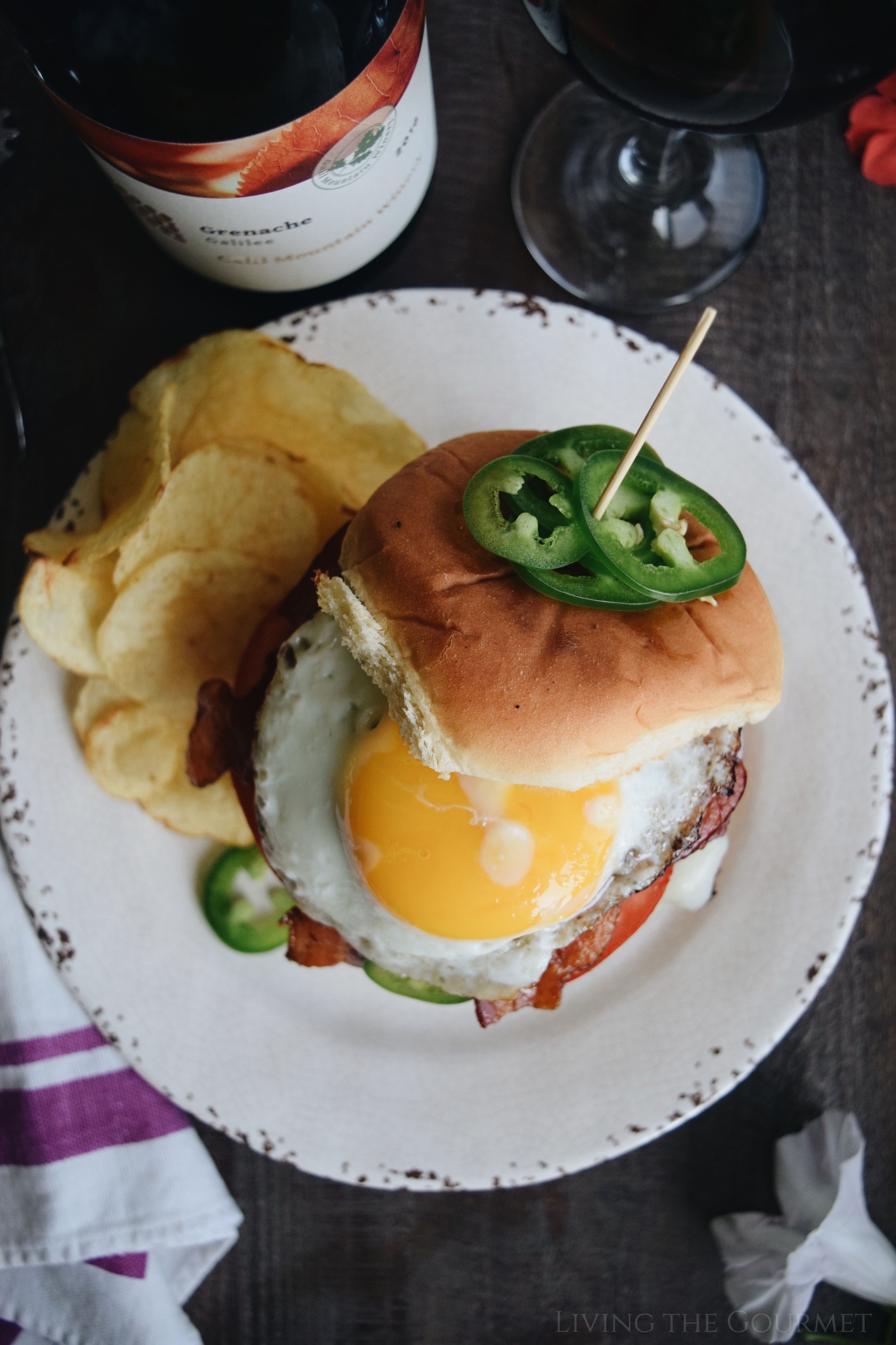 Have you Tried it? Have you tried today's wine, or prepared today's recipe? If so, we would love to hear from you! Give us a shout out on Instagram or Facebook with a picture of what you prepared, or let us know down below in the comments how it turned out! We can't wait to hear from you!
Cheers!
0