This post has been sponsored by Yarden Wines. The following message is intended for an audience 21+ and all opinions expressed are my own. Please enjoy responsibly.
Last week, in reviewing the bottle I received from the Golan Heights Winery, I touched briefly on the Galilee region for which the winery is named, and I'll go into a bit more depth today for those who might interested.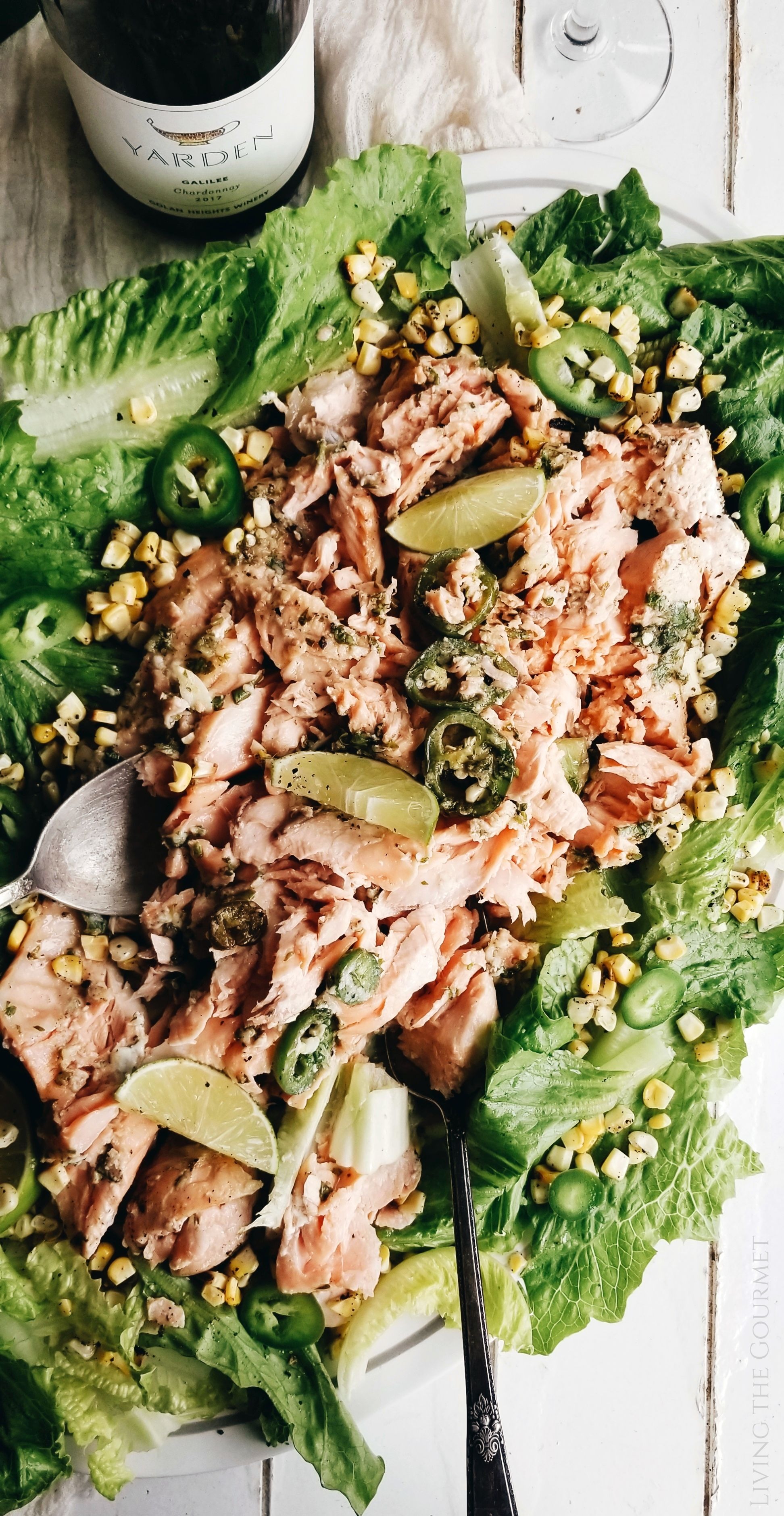 As promised last week, we're taking another dive into what is lovingly described as "One the most interesting New World wine regions of the Old World" – Galilee.
The 'Where' – Golan Heights, Galilee, Israel
The Galilean wine region is divided (unofficially) into three areas, Upper Galilee, Lower Galilee, and the Golan Heights – which is the area we're covering today. Like some of the best Old World wine regions, much of the Golan Heights sits at elevations in excess of fifteen-hundred feet, which helps guard against over-warm local temperatures, and facilitates higher than average rainfall. Add on soils that vary from being rich in limestone, volcanic basalt, and free-draining gravels, and you have the ingredients necessary for a star wine region. For these reasons, Galilee is comparable to New World wine regions such as the Sierra Foothills of California, or to Old World wine regions such as Rapsani in Greece, or to Burgundy, all of which feature similarly mineral-rich soil, balmy climates, and high elevations.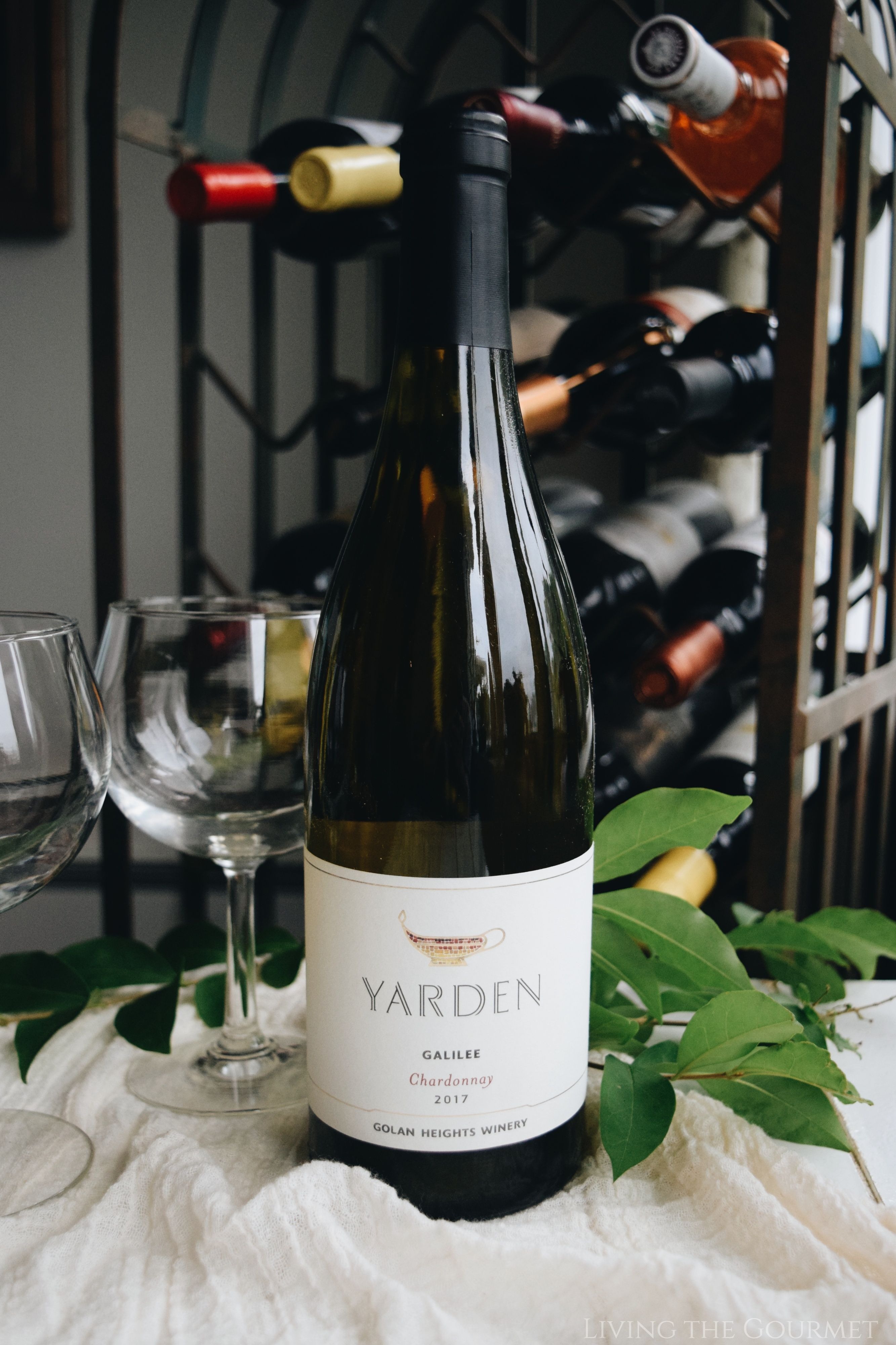 The Bottle – A Showcase
Today, we're taking a look at a 2017 Yarden Chardonnay courtesy of the Golan Heights Winery.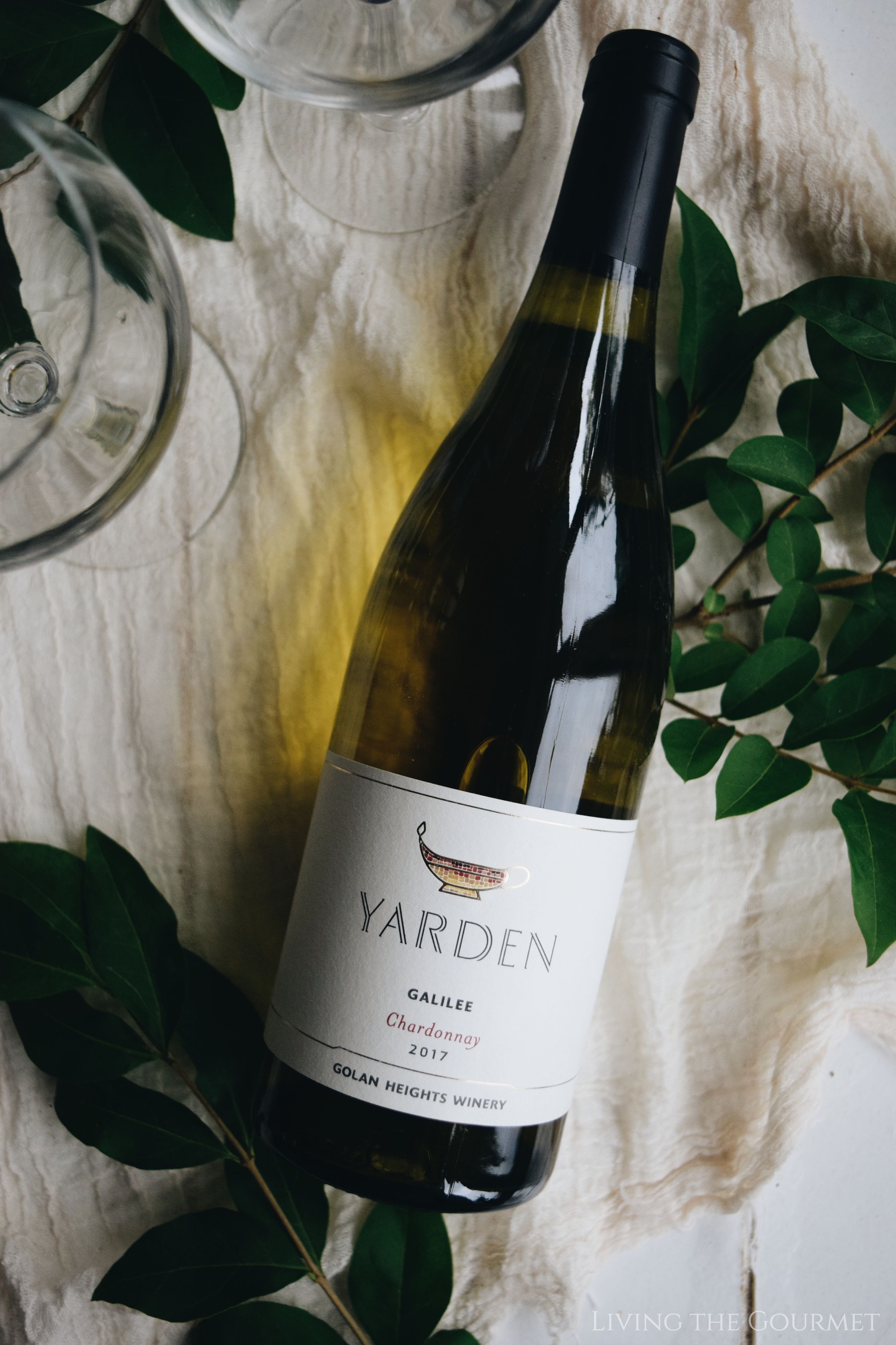 Aromatics and Tasting – The Review
Off the top of the glass, the wine introduces itself with citrus and tropic fruits, with lush white flowers lingering in the background. On the palate, the wine is quite oaky, with vanilla-laced through a sliced pineapple, peach, and passion fruit experience, and ends on a lasting finish.
These qualities combined for a pleasant and refreshing wine, that I can wholeheartedly recommend to my readers.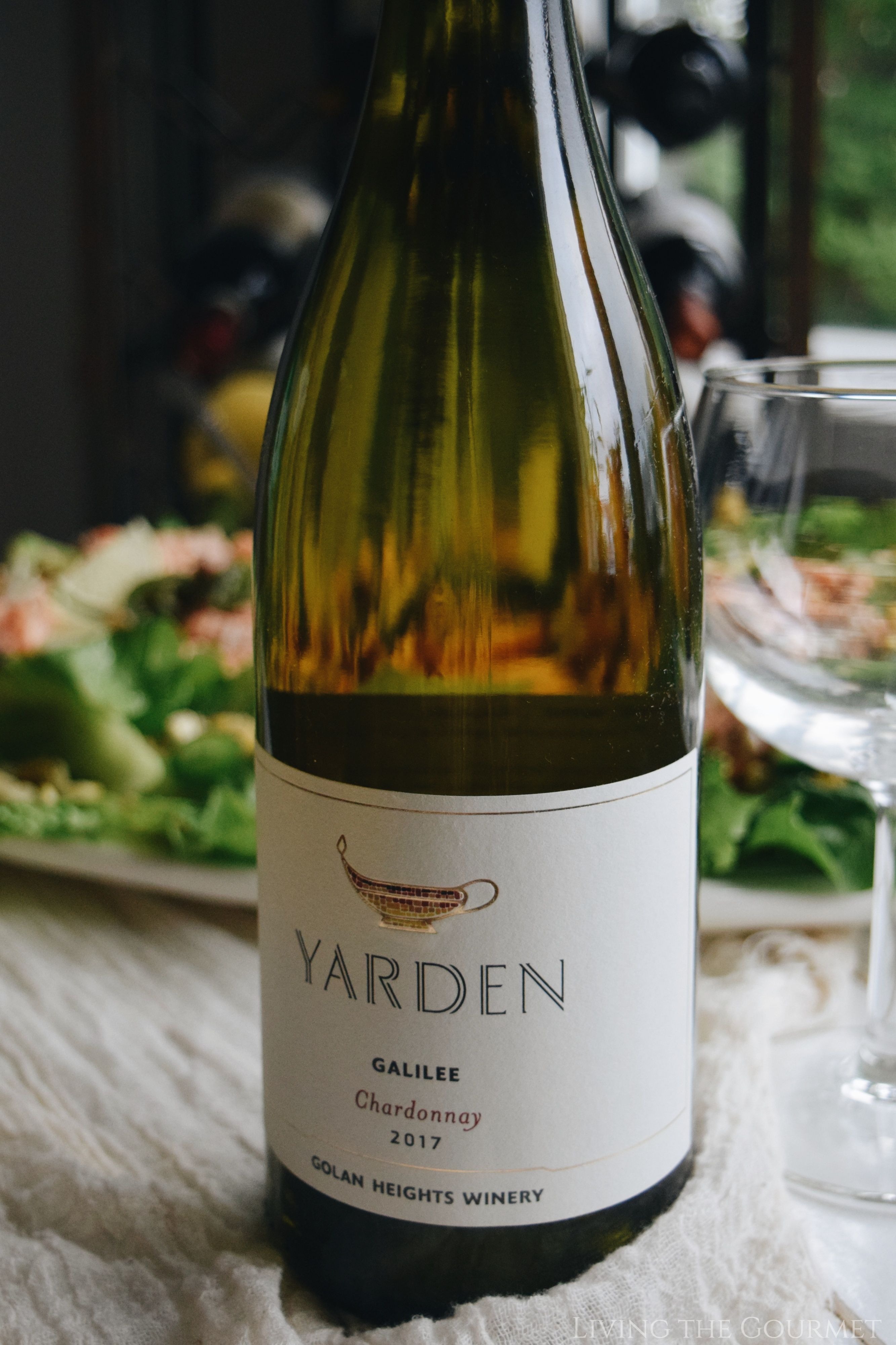 What to Eat – Pairing Today's Bottle
For pairing, the winemakers suggested seared salmon, and I decided to take their advice with today's recipe – kind of. Now, while seared salmon is likely a delicious pairing, I wanted something that screamed "Summer!" a bit more forcefully and decided to prepare a salmon salad platter. I prepared my salmon in a cast-iron frying pan with a marinade consisting of jalapeno, grated garlic, fresh lime juice, honey, cilantro, sesame, and olive oil, and then plated the salmon shredded over romaine leaves with lime wedges, grilled corn and sliced jalapeno as a garnish. The pairing was simply divine.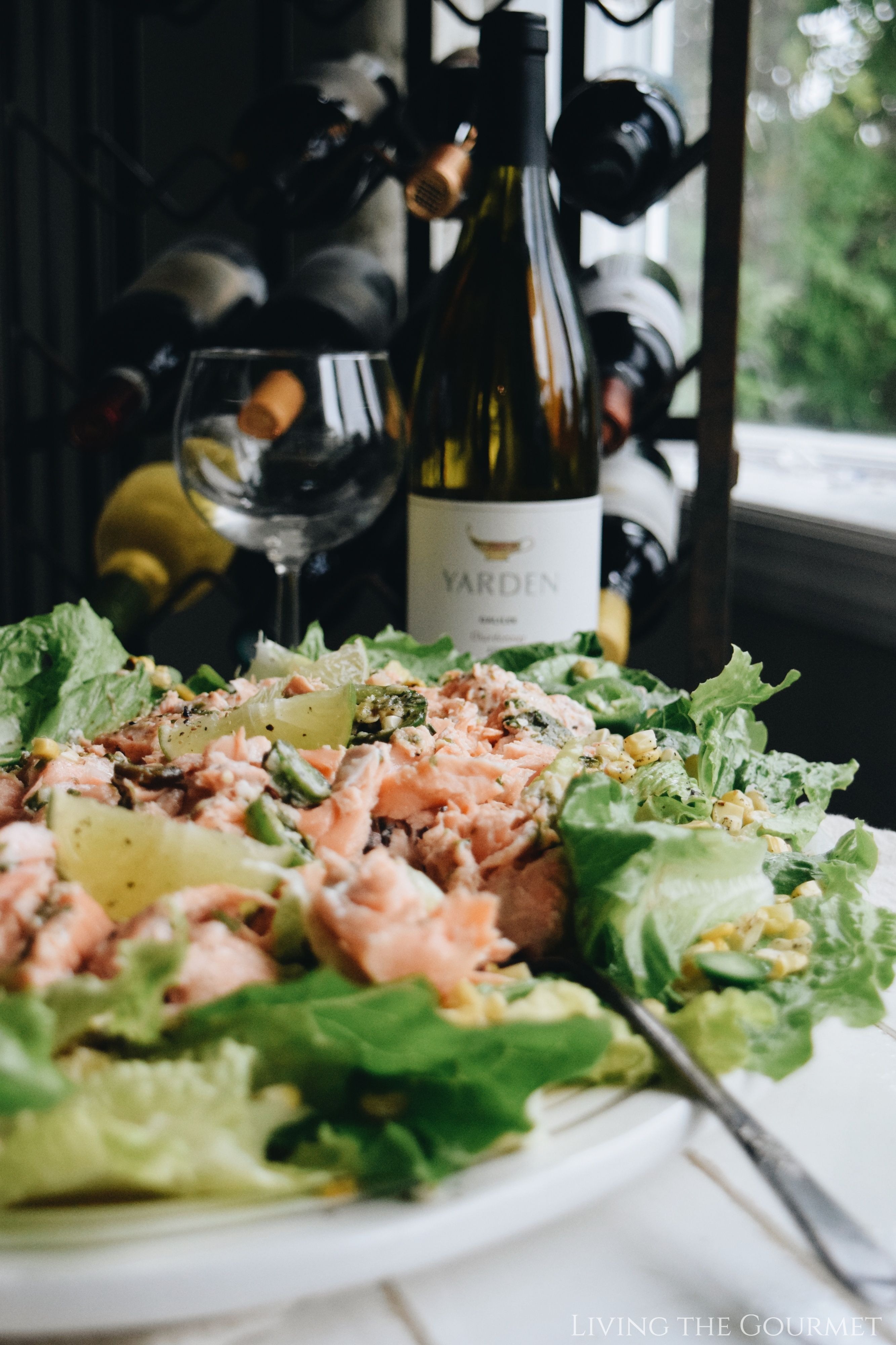 Coincidentally, the winemakers also suggest pumpkin ravioli, and I actually prepared something very similar to that a couple of years ago – Sweet Potato Ravioli, which I think would pair equally well.
With all of that said, the standard chardonnay rules still apply here nevertheless. This is an oaky chardonnay, so you'll want to compliment the oak with toasted or smoky flavors. Think grilled chicken, pan-seared fish, and salads topped with roasted nuts. Avoid bitter flavors, overly spicy dishes, and overly heavy foods.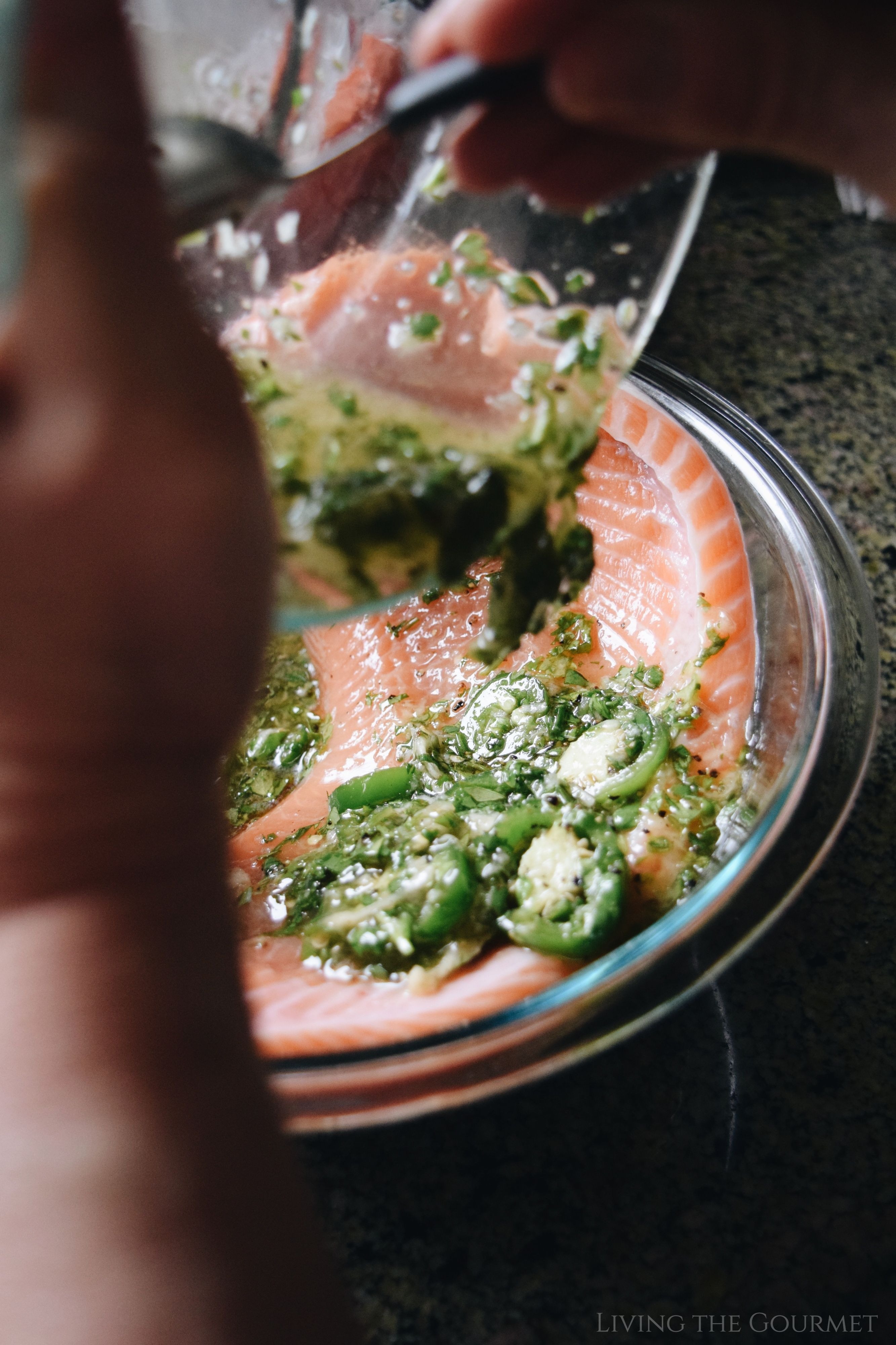 Summer Salmon Salad featuring Yarden Wines
Author:
Prep Time:

12 minutes

Cook Time:

13 minutes

Total Time:

25 minutes

Yield:

1

salmon filet

1

x
2 1/4

lb

. piece of salmon filet

1

head of Romaine lettuce

1

lime – quartered

1

large jalapeno – sliced with seeds
Grilled corn on the cob – shaved from cob
For the Marinade:
Juice of

1

lime

2

–

3

large cloves of garlic – grated

1

large jalapeno – sliced

3

tbs. of honey

1 tsp

.of fresh ground sea salt

1 tsp

. of fresh ground black pepper

1

tbs. of sesame oil

3

tbs. of olive oil

1/4

cup

of fresh cilantro – chopped
Instructions
Combine all of the ingredients for the marinade in a medium sized bowl and stir.
Place the salmon filet in a large bowl and pour the marinade over the fish.
Cover the bowl and place in the refrigerator for 30 minutes to 1 hour.
For Cooking the Fish:
Heat a large cast iron frying pan with 1 – 2 tbs. of olive oil.
Place the fish in the pan and pour the rest of the marinade over the fish.
Loosely cover the pan and let the fish cook for 10 – 12 minutes, or until the salmon is slightly firm. Don't over-cook it! Salmon should still look slightly pink in the center.
Salmon will change from red to pink as it cooks. After about 10 – 12 minutes of cooking check for doness.
Take a knife to the thickest part of the salmon and gently see if the meat is beginning to flake, but still has a little translucency in the middle, then it is done. The salmon should not look raw.
To Plate the Salmon:
Place the ripped Romaine leaves on a platter.
Place the cooked salmon in the middle and pour the drippings from the pan over the salmon.
Shred the salmon by using 2 forks.
Garnish with the lime wedges, shaved grilled corn, sliced jalapeno and a drizzle of olive oil.
Serve immediately.
Recipe Card powered by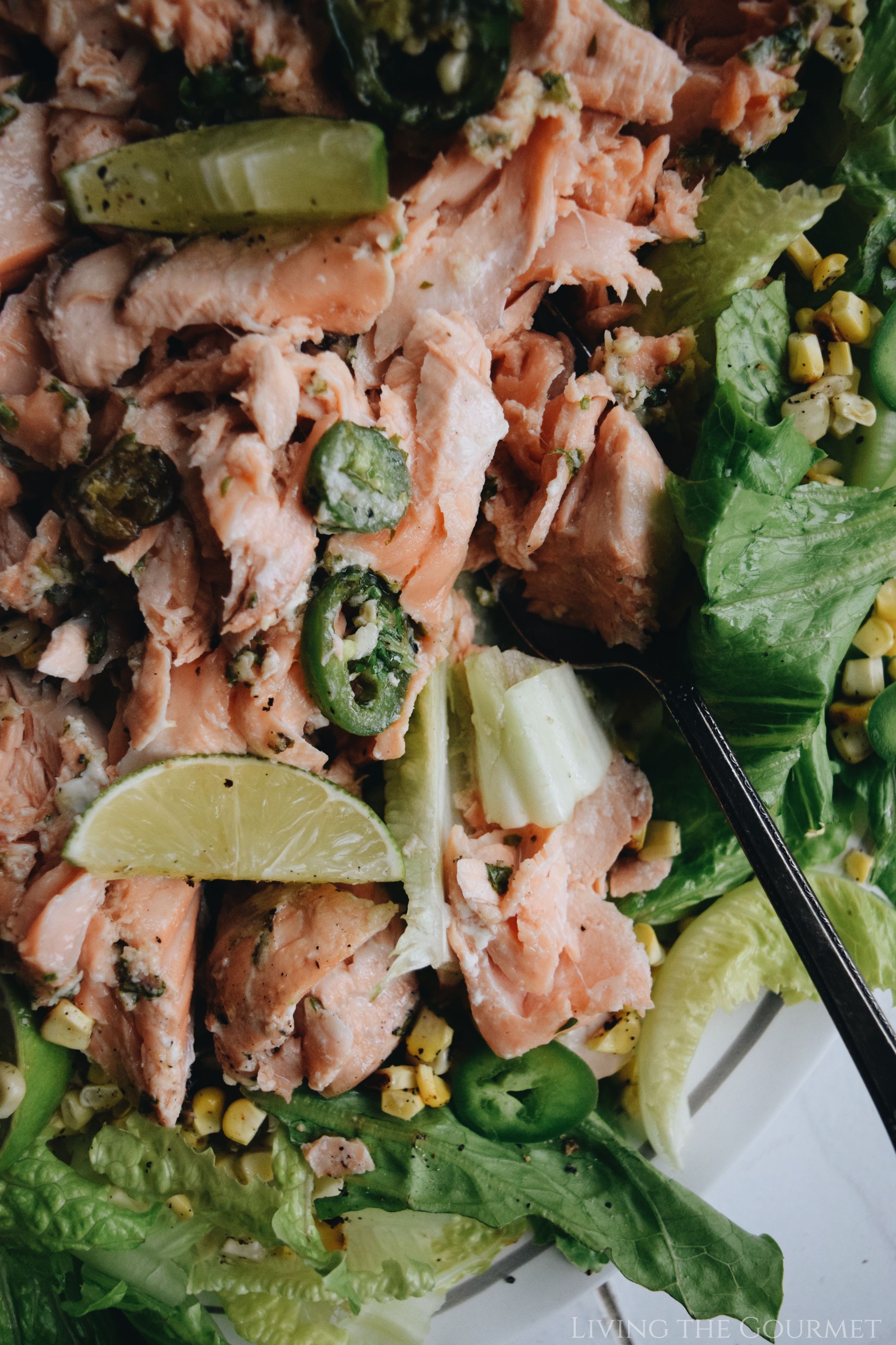 The Occasions – When To Serve This Bottle
For myself, I find this to be a very 'relaxed' wine. I can picture myself drinking this out on my dock under an umbrella with shellfish starters, or picking on brie warmed with pine nuts and orange peel with crackers or crostini, or drinking this out on my porch with a summer sunset.
In other words, enjoy this wine as an accompaniment to any relaxed summer activities, from garden parties to seaside lounging, to sunsets out on the porch.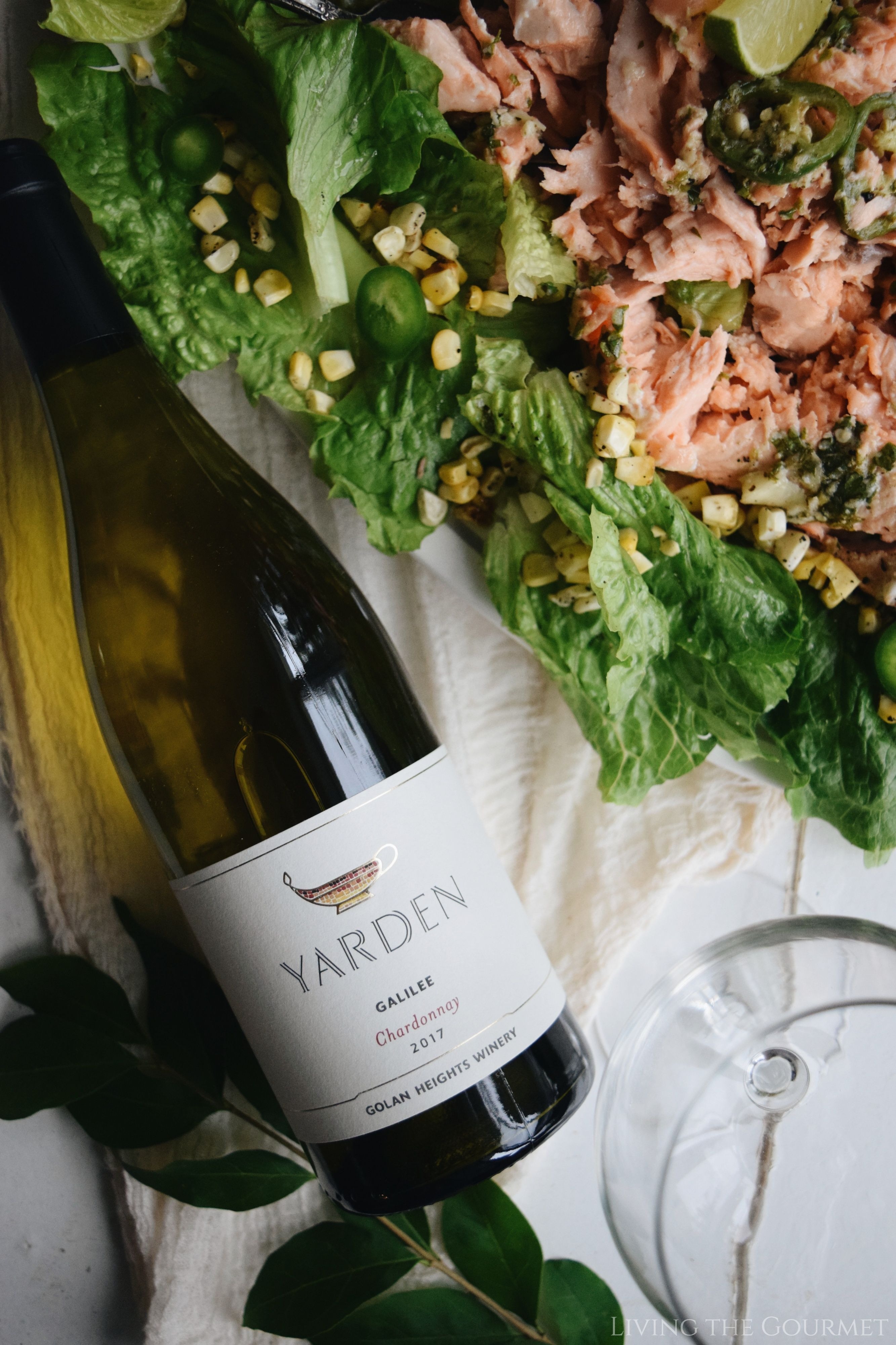 Have you tried today's wine, or prepared today's recipe? If so, we would love to hear from you! Give us a shout out on Instagram or Facebook with a picture of what you prepared, or let us know down below how it turned out! We can't wait to hear from you!
Cheers!
1