The following message is intended for those 21+ and products have been provided by Pedernales Cellars. All opinions expressed are my own. Please enjoy responsibly!
We're kicking off our second Summer wine series here on LTG. This year, we're touring the wine country of the south and kicking it all off in the Lone Star State.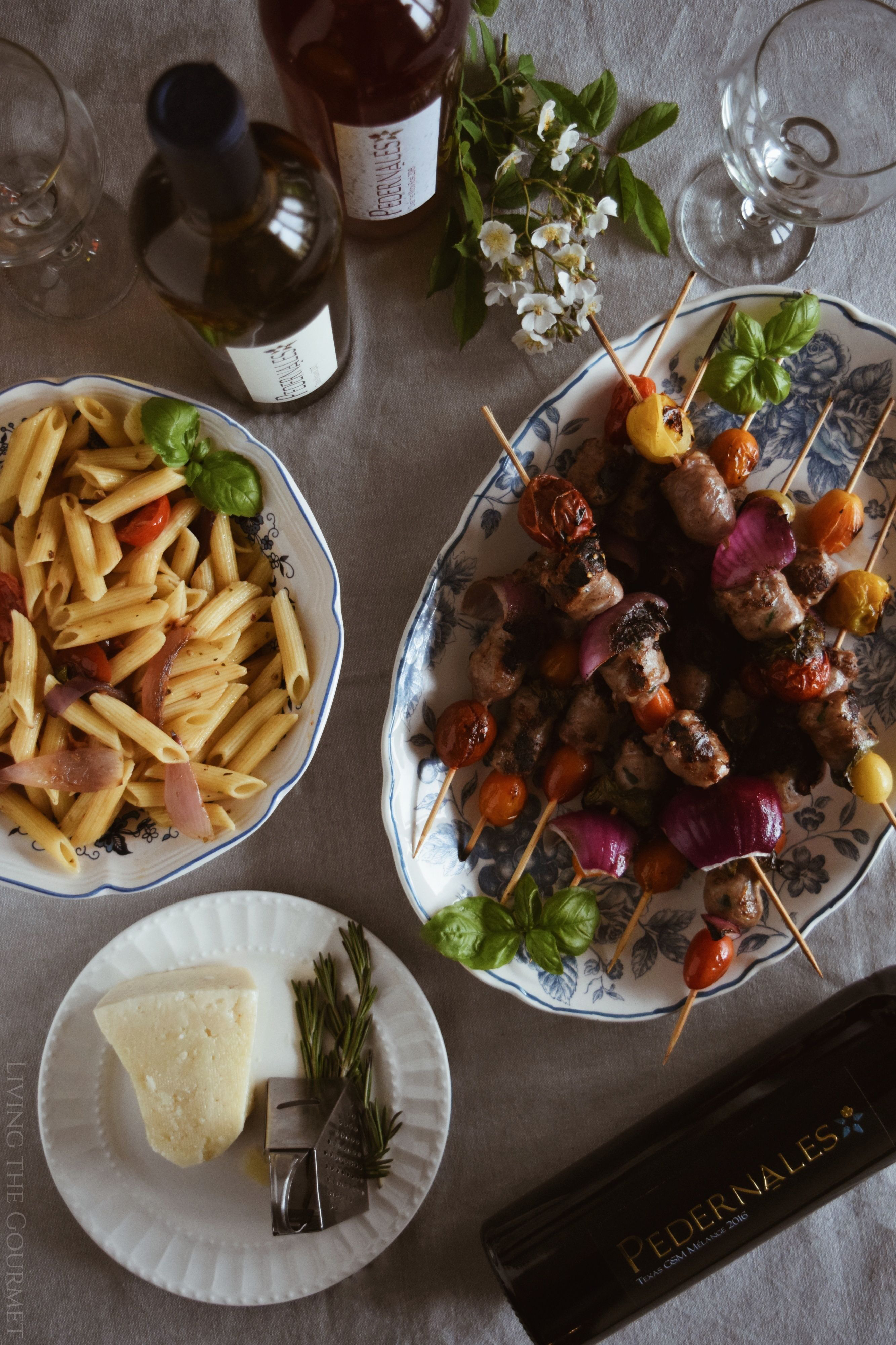 I was recently contacted about a tasting conference being held in NYC by a variety of Texas wineries, and they kindly asked if I would be interested in attending. Unfortunately I was unable to participate in person, however, a number of those wineries were gracious enough to provide me with samples.
A big thanks to all those involved, and I invite all my readers to stay tuned over the coming weeks as I take you on a digital tour of Texas wine.
However, for the uninitiated, let's begin with a little background.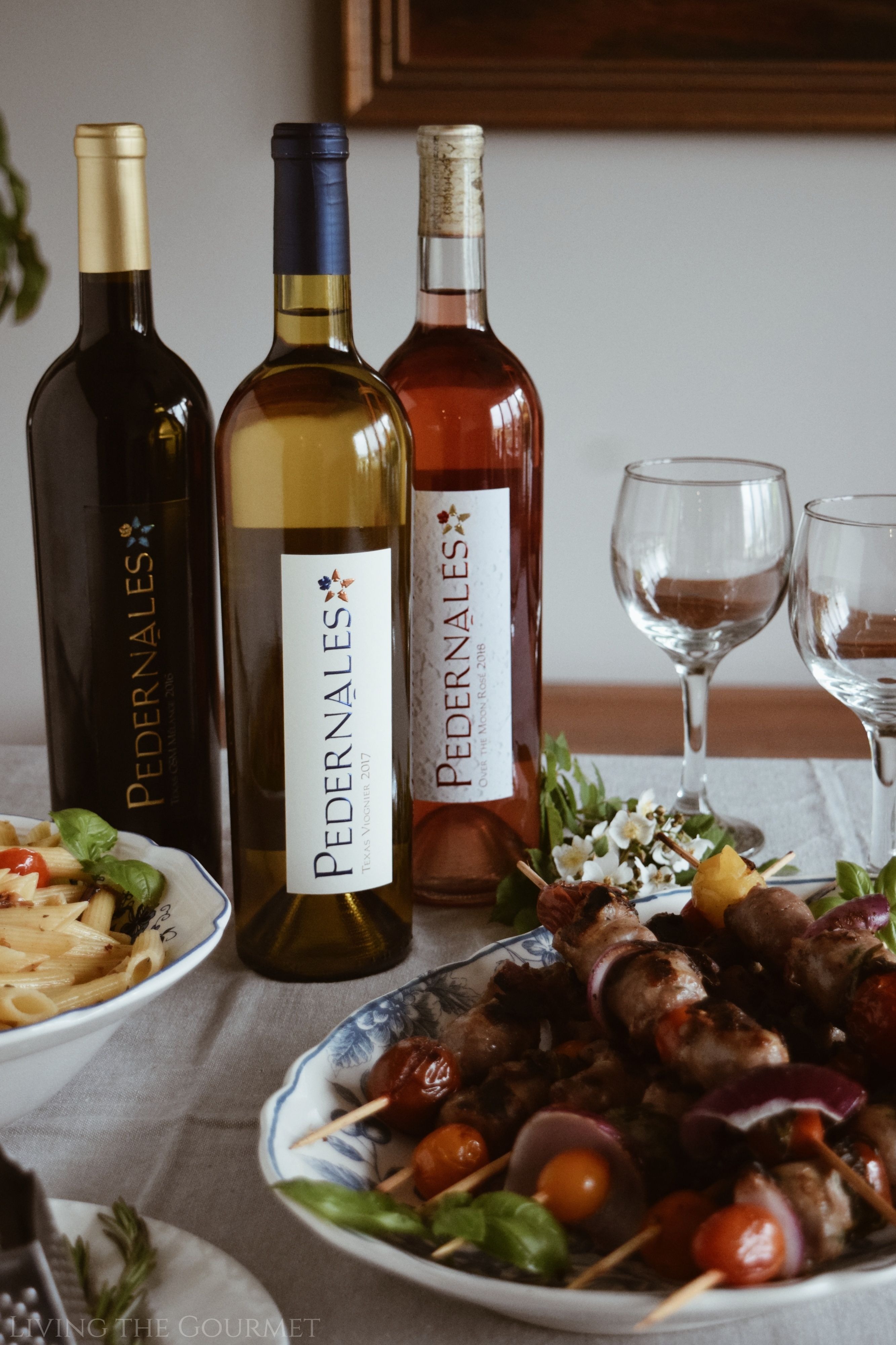 To start off, US wine production is divided into something of an unofficial 'Triumvirate,' with by far the most prolific American wine regions being located in California, Washington, and New York. "In terms of wine, it's become cliché to say that California is the France of North America, producing more, fetching higher prices, and winning more attention than anyone else," I remarked to a friend at dinner some months ago. However, if California is America's France, what about that neighbor with a slighter drier, balmier climate? Perhaps, ironically, that neighbor has actually been producing wine for far longer, but for some reason has simply been overshadowed? In that regard, Texas is to California what Portugal or Spain is to France in terms of winemaking – a comparison that probably gets repeated a tad too often by those covering Texas wine.
Strangely enough, this analogy likely finds its origins with Chemistry Professor Clinton McPherson, the 'godfather' of Texas wine. In the mid-1960s, he found that Grenache, Tempranillo, and Muscat responded the best to the local climate, along with Viura vines which he had smuggled over from Spain. Tragically, those Viura vines would be ripped up less than a decade later – a decision the current head of McPherson Cellars was bemoaning as recently as 2017 in an interview he did for VinePair. While Professor McPherson wouldn't quite do for Texas what Dr. Konstantin Frank did for New York, who revolutionized winemaking in the Finger Lakes, McPherson nevertheless planted the first seeds of what would become the now thriving Texas wine tourism industry.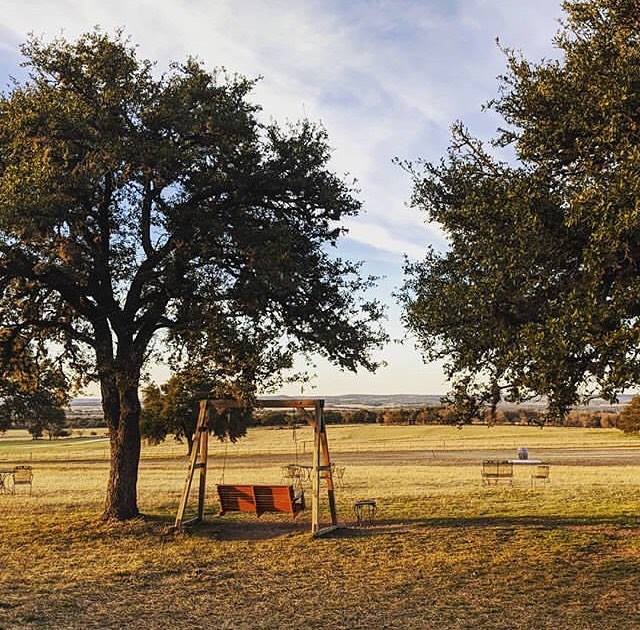 Now, while that's all well and good, there's a saying that "If we weren't so hopelessly captivated by champagne and spellbound prosecco, the world would be drunk on cava." But can the same be said for Texas wines in comparison to their New York and Californian counterparts?
With the trio samples here today from Pedernales Cellars, let's find out.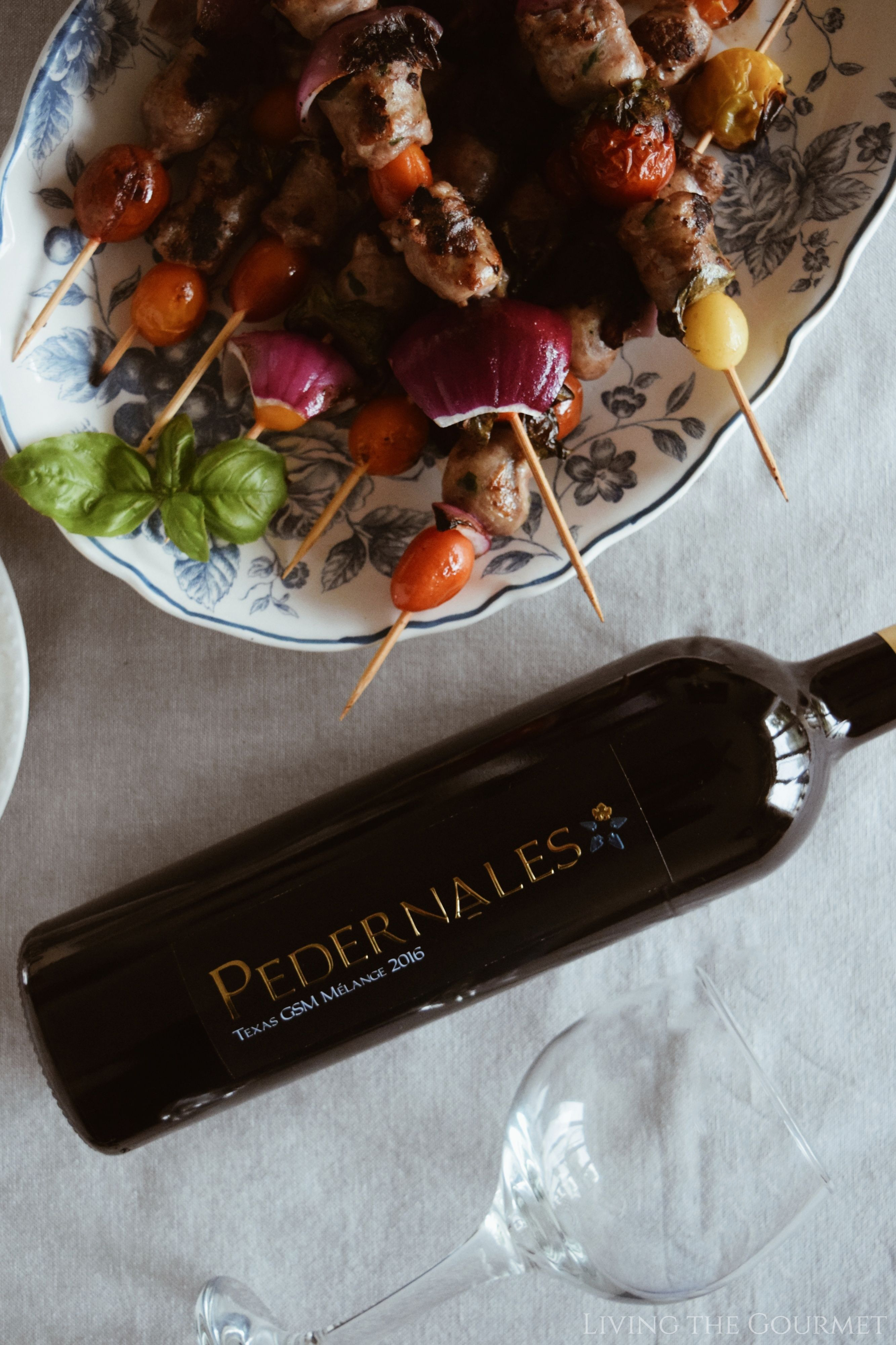 All things red being first, the Pedernales Texas GSM Melange 2016 introduces itself with herbal aromatics, chiefly sage with perhaps just a hint of basil in the background. Deeper into the glass, light red fruits and sliced black cherry perforate through the herbal notes. On the palate, the wine features black cherries and mixed dark red fruit dusted with white pepper carried on a medium body, which ends on a lasting acidic finish.
For pairing, think warmed salads, meaty bodied fish, roasted game meats, soft cheese, and lamb. In terms of flavor, you want to lean towards spice and herbs, and rich, fatty textures in entrees.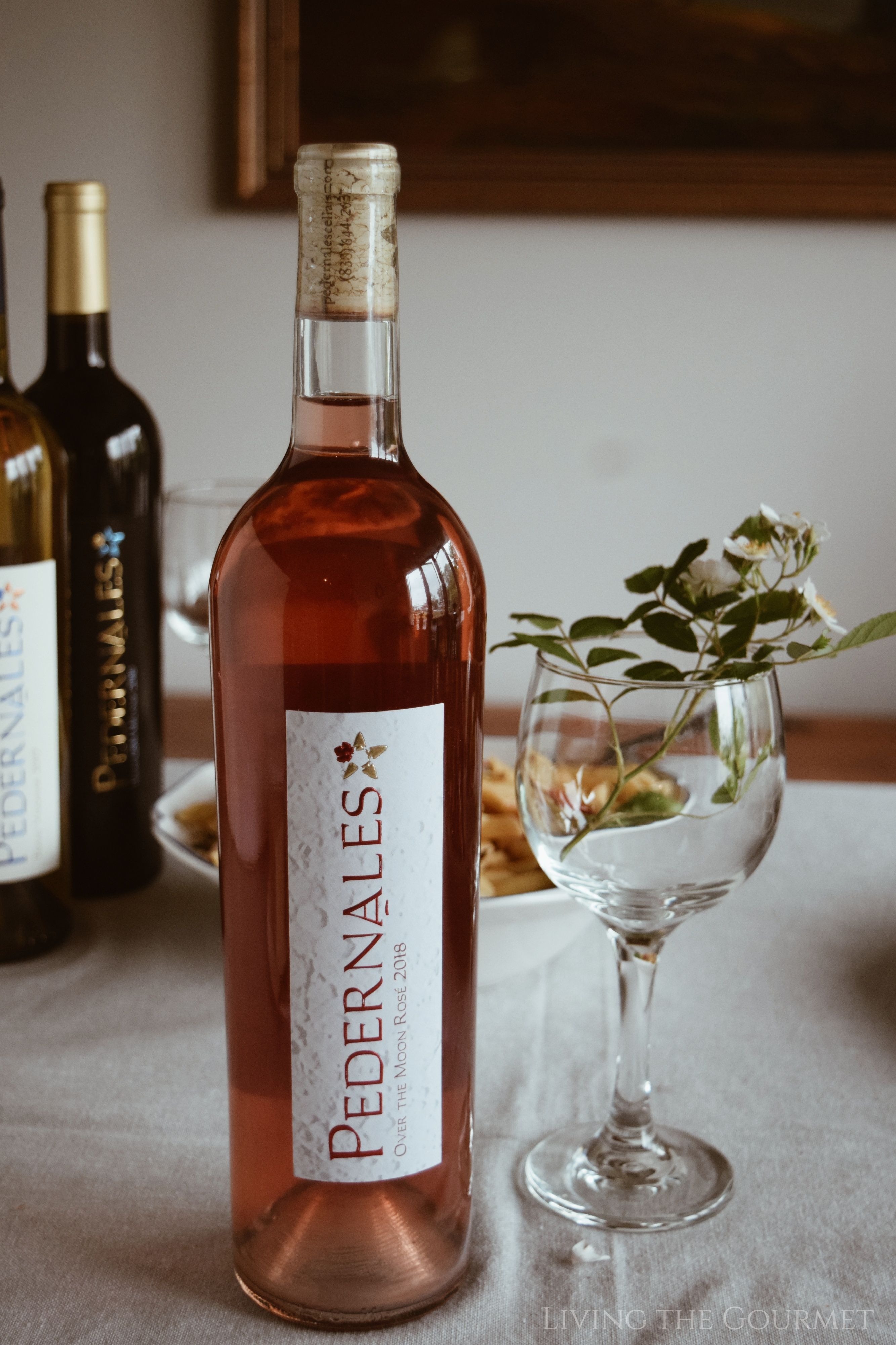 Up next, we have the "Over The Moon Rosé 2018." The wine opens with what I'll describe as muted or acidic fruity aromatics. Think guava and tart raspberries, mixed with just a hint of either vanilla or sweet cream. On the palate, this a dry and medium-light bodied wine, featuring a lush palate of mixed summer berries.
For pairing, think of things such as light mixed green salads, light pasta dishes, lightly cooked shellfish, grilled white bodied fish topped with herbs, and cheeses such as gorgonzola and feta.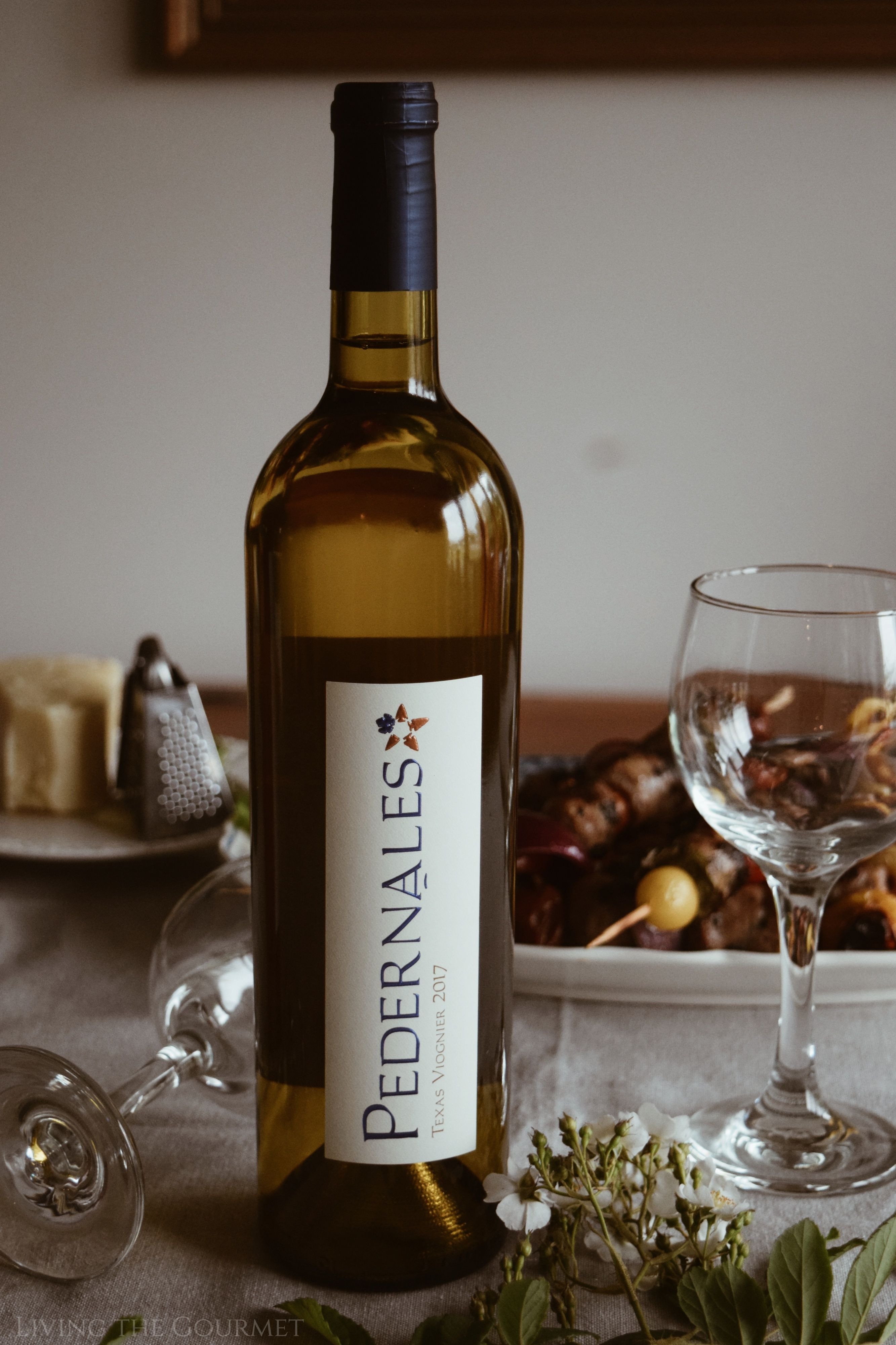 Finally, we have the 2017 Viognier. Off the top of the glass, the wine features notes of crusty baked bread, which are perforated by a mild fruity sweetness. On the palate, these aromatics take the form of baked green apple laced with vanilla, and just a hint of what I'll call mild cinnamon. Overall, it was a surprisingly complex wine, and a very pleasant drinking experience.
For pairing, spicy dishes are the first thing to come to mind. However, rabbit or chicken prepared with a creamy white sauce would also pair excellently. The 'white wine and seafood' cliché also work surprisingly well here, since this bottle would pair excellently alongside seared scallops or grilled lobster.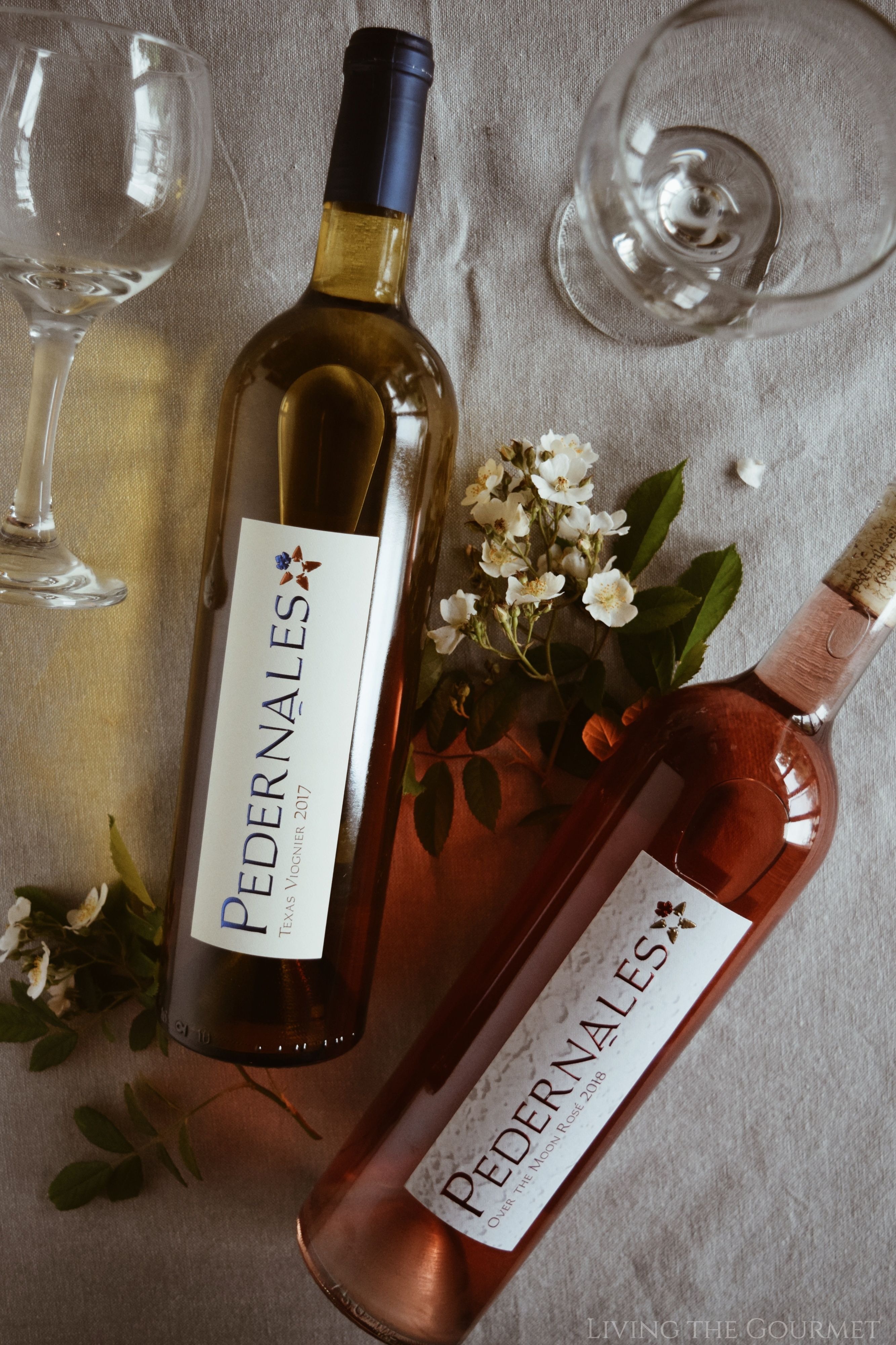 Today, we're savoring the flavors of these southern wines with a light, yet satisfying dish- Pork Skewers with juicy grape tomatoes, fresh basilico, and roasted onions. This is summer's fare at it's best- effortless, tasty, and elegant.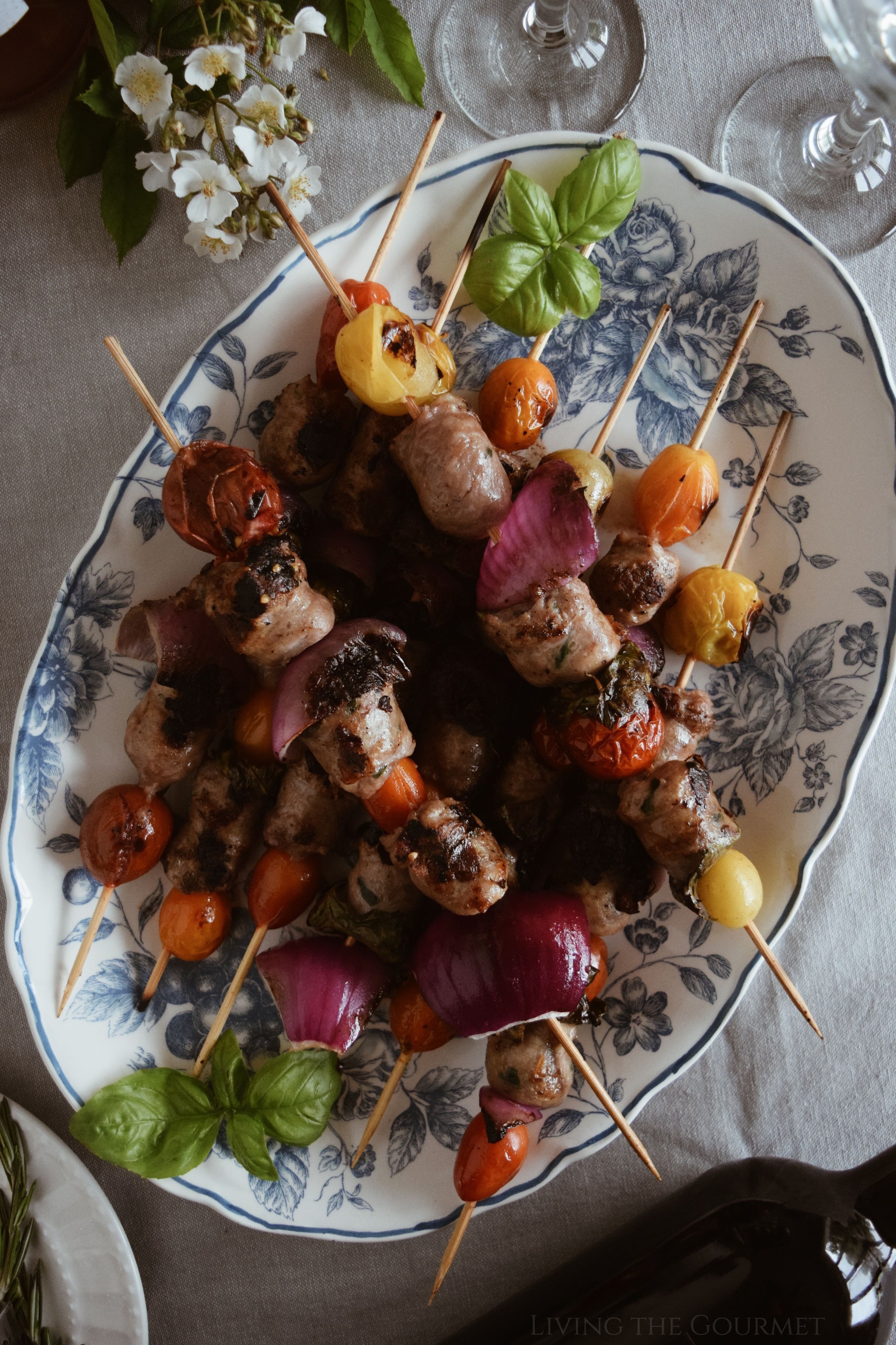 Living the Gourmet
Yields 8 skewers
Summer Pork Skewers featuring Pedernales Cellars
15 minPrep Time
10 minCook Time
25 minTotal Time
4.9 based on 13 review(s)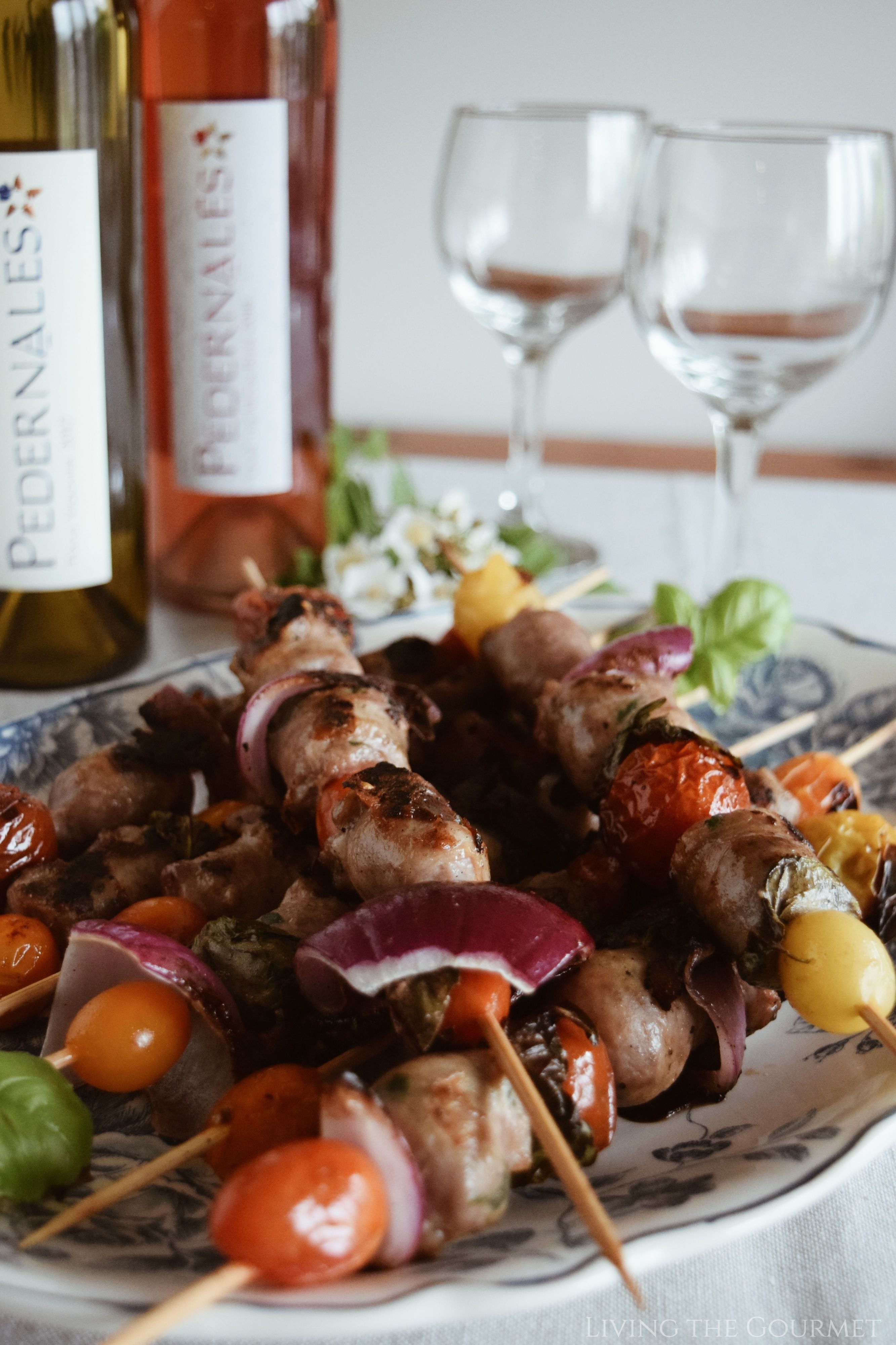 Ingredients
8 Italian sausage links, cut into thirds
12 or so fresh basil leaves- optional
1 large red onion, quartered and slice the quarters in half and separate
1 pint of tri-colored grape tomatoes
8 – 10 bamboo skewers, soaked in water
Olive oil, for brushing
Instructions
Be sure to soak the skewers in water before beginning.

Building the Skewer:

Alternate the sausage, tomato, fresh basil leaves, and onions on the skewer.
Heat a large cast iron griddle and brush with oil. Place a few skewers on the griddle, do not overcrowd.
Grill over medium heat for 7-10 minutes, turning occasionally, until sausage is cooked through.
Notes
This recipe may also be cooked using a bbq.
7.8.1.2
1306
https://livingthegourmet.com/2019/06/summer-pork-skewers-featuring-pedernales-cellars.html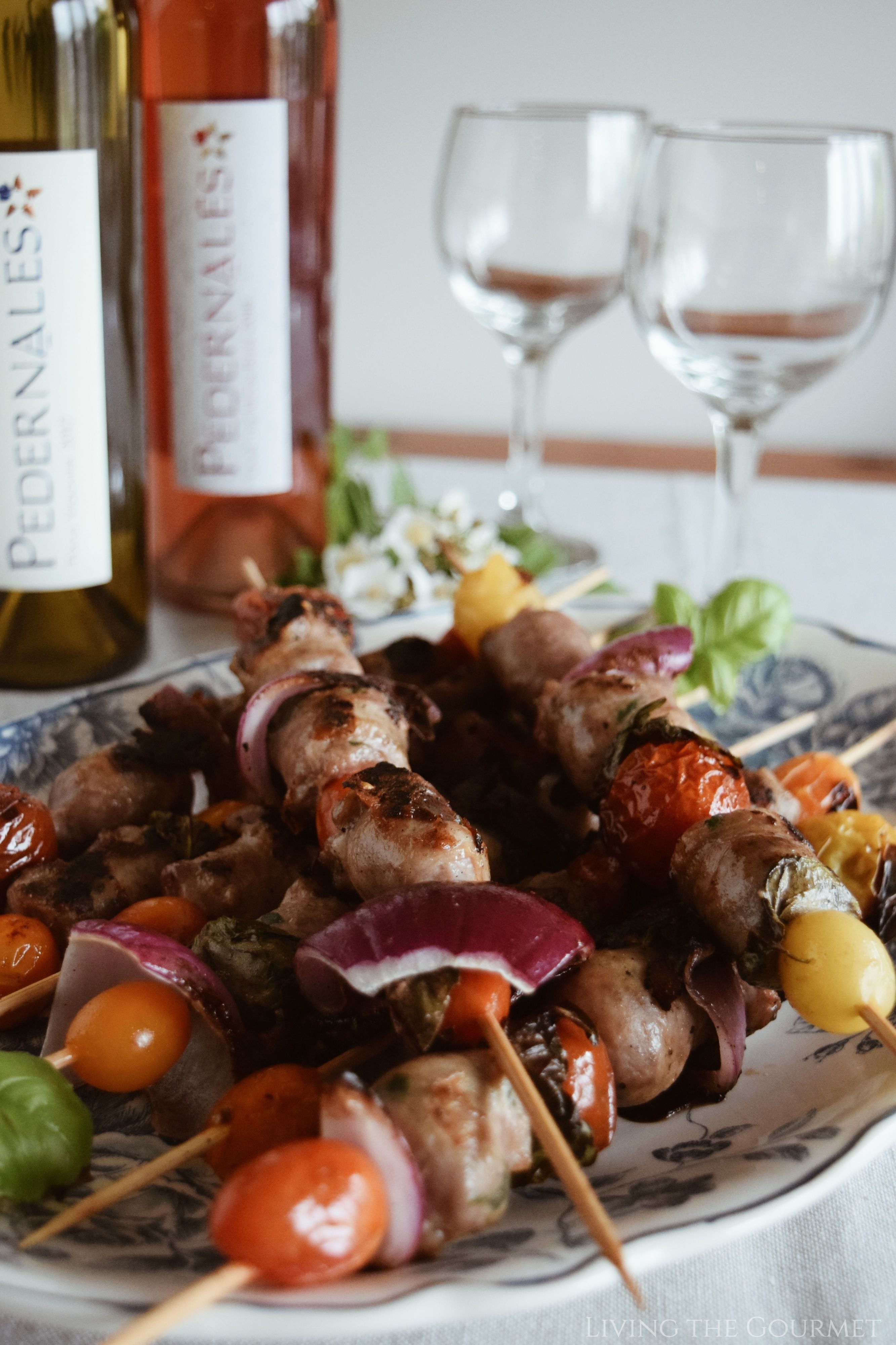 With all of that being said, I was very pleased with what the Lone Star State had to offer and sincerely look forward to continuing this tour over the coming weeks.
If you're interested in trying these bottles for yourselves, check out Pedernales Cellars at https://www.pedernalescellars.com/.
Cheers!
0